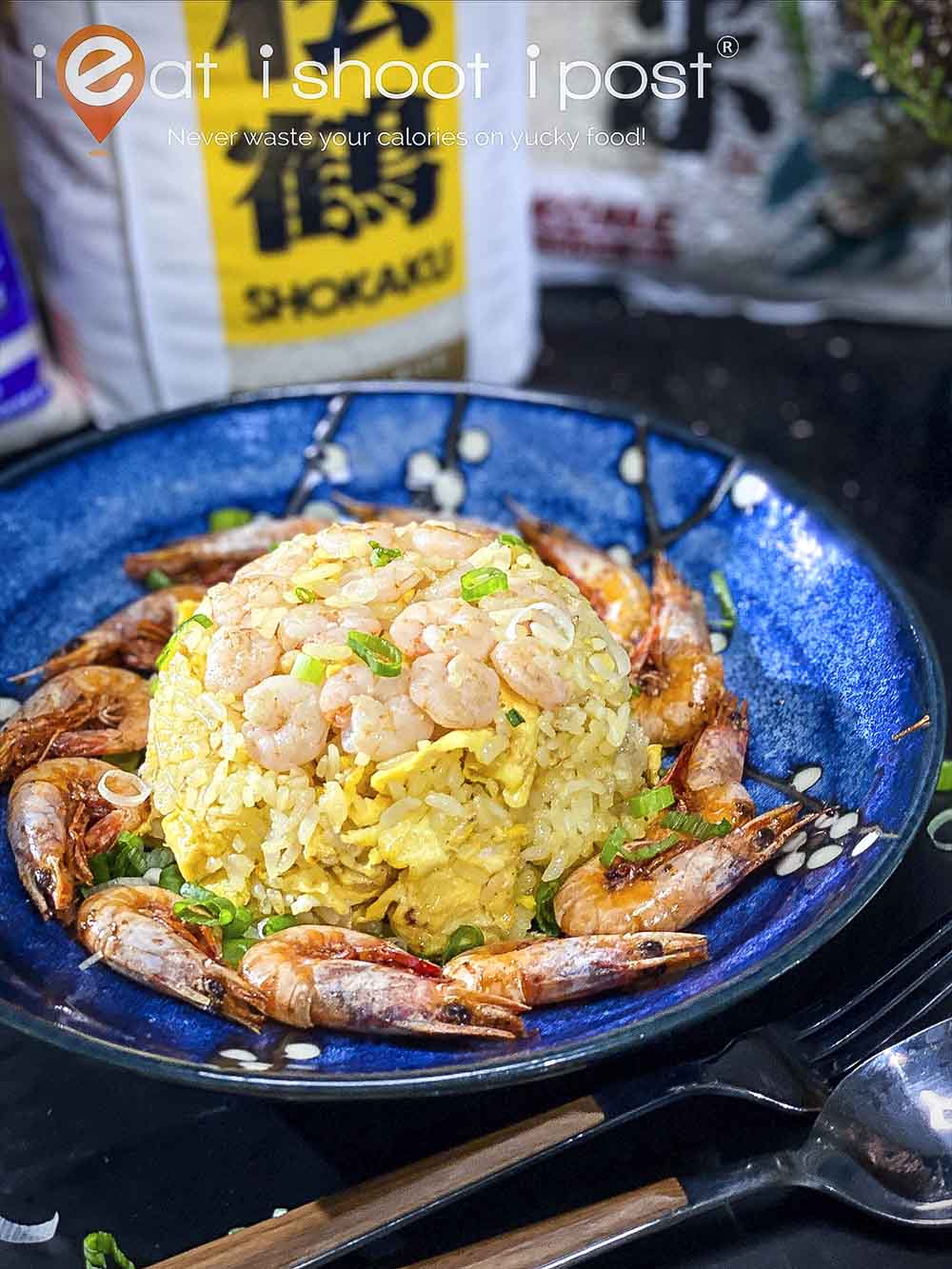 Good Fried Rice needs Wok Hei!
There are two keys aspects of good egg fried rice. Firstly, the rice has to be plump, toothy and moist and secondly, it has to infused with the "breath of wok" ie wok hei! At the restaurants, Chefs achieve this by frying the rice over very high heat. At home, in an effort to get that wok hei, the common mistake is to fry the rice too long such that the rice becomes dry and chewy. Today, we will share with you a few hacks so that you too can achieve restaurant quality prawn egg fried rice in your home kitchen.
US Calrose Rice
First, let's talk about the rice. When it comes to prawn fried rice, the one which usually comes to mind is the one from Din Tai Fung. Being a Taiwanese restaurant, they use short grain Japonica rice. In our recipe, we are using US Calrose rice which is a medium grain Japonica rice that is grown in the US which has that plump toothy bite. The Calrose variety was cultivated in California in 1948 and won World's Best Rice in 2013 and 2015. The grains are soft, moist and tender with a slight stickiness which makes its perfect for sushi as well as for our egg fried rice. The particular brand that we are featuring today is Shokaku "Musenmai" (無洗米), or no-wash rice, which has been processed to remove a sticky coating called the hada nuka (肌糠), or skin bran. This means that all you need to do is to add water to the rice and turn on the rice cooker!
Learn more about USA Rice here: www.usarice.com and www.thinkrice.com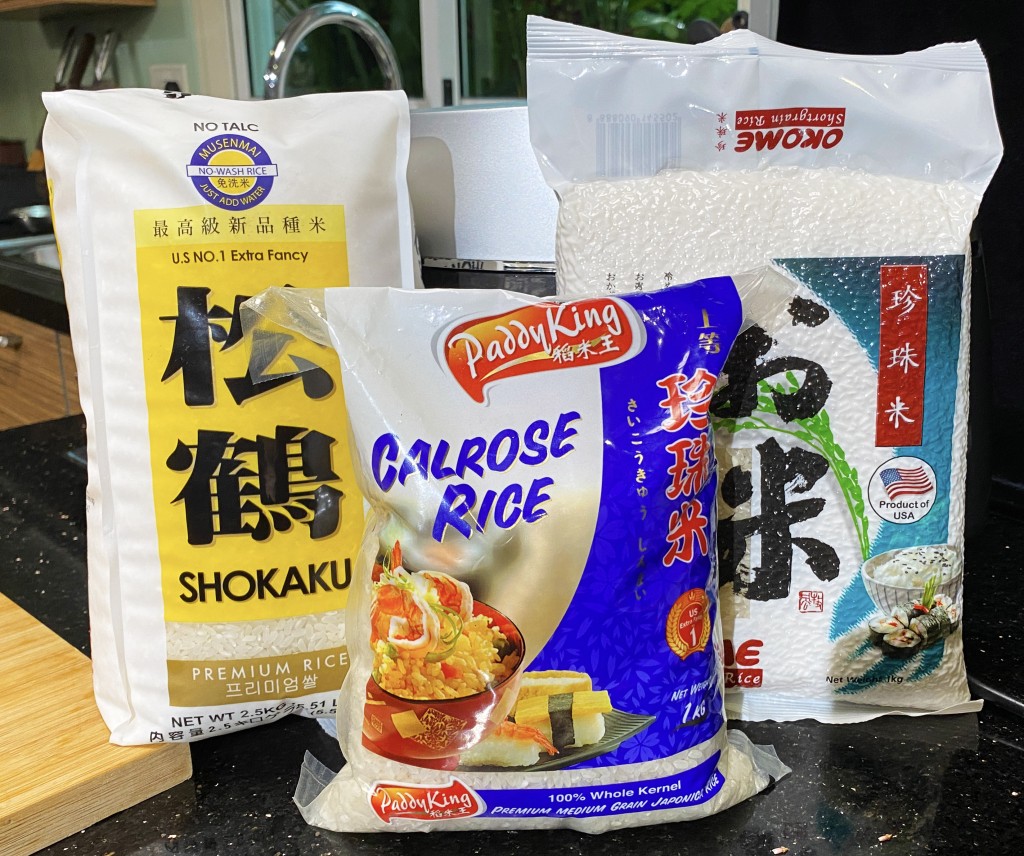 Tips on Egg Fried Rice
Conventional wisdom has it that you need to use overnight rice to cook fried rice. However, I have found a way of preparing Calrose rice so that you don't need to cook your rice a day ahead. All you need to do is to cook your rice with just slightly less water and when the rice is just cooked, removed it from the rice cooker and add some butter to separate the grains and allow it to cool. The texture is perfect for fried rice!
I like to add egg yolks to the rice when it is cooled so that the rice grains will be evenly coated with the yolk. Chinese chefs simply do this in the wok, but it takes quite a bit of skill to do it quickly. If you are not quick enough, the rice will be overcooked while the coating of the eggs are still uneven. I find it easier to mix the yolks with the rice together with the seasoning first so it just needs a quick toss in the wok to cook the eggs.
Tips on the Prawns
With the prawns, it is best if you can get your hands on some 剑虾 – Sword Shrimp. These can only be bought from the wet market. Their small size is perfect for fried rice. If you use prawns that are too big, then you will be making egg fried rice with prawns instead of prawn egg fried rice. The difference is that every spoonful of fried rice needs to have both prawns and egg fried rice so that you can taste the prawns and the egg together. If you use large prawns, then you basically eat the egg fried rice with prawns separately! If you can't get your hands on the small prawns, then just cut your larger prawns into smaller pieces! These sword shrimps can also be deep fried till crispy which adds another dimension to the fried rice.
Read more about the sword shrimp in my Prawn Files!
How to achieve Wok Hei at home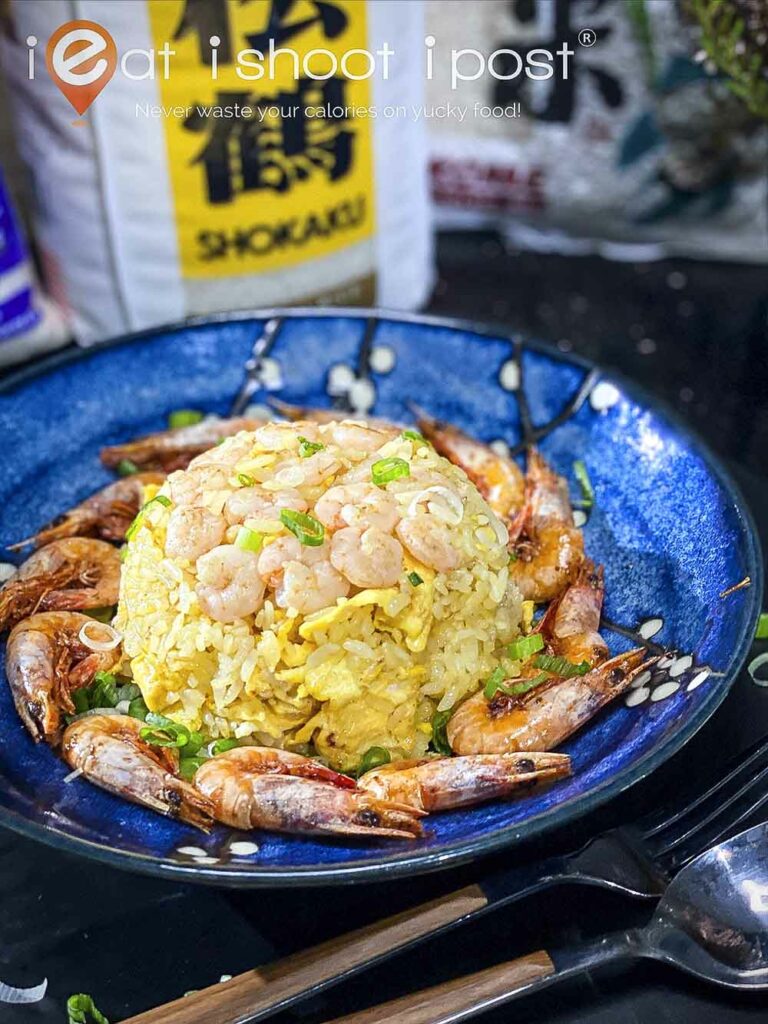 The final hack is the infusion of the wok hei to the fried rice.  This is perhaps the holy grail of any wok fried dish which is really difficult to achieve at home.  The key to wok hei is high heat.  The way to do it at home is to use a small pan and fry a small quantity of rice each time.  With this technique, you basically complete cooking your egg fried rice first, then infuse it with wok hei.
This is done in two stages. The first is to infuse wok hei to the prawns. As you toss the prawns over the edge of the pan, the oil will catch fire, and the prawns will be infused with the wok hei. Then heat up a carbon steel pan (it will work even better if you have a small copper pot) till it is really smoking, add a bit of oil to render it non stick, then add a bit more cold oil and a bowl of fried rice. You should see lots of smoke developing. Toss the rice for a minute and you should be able to smell the wok hei. Finally, deglaze the pan with a bit of water. This will pick up more wok flavour from the pan as well as moisten the rice! Those of you who bother to observe the Char Kway Teow hawker fry kway teow will recognize this technique straightaway.
Recipe
Ingredients
Shokaku US Calrose Rice 2 cups
Butter 50g
Eggs 4
Chicken powder 1 tsp
Salt 1 tsp
Prawns 600g (with shell) + Extra for deep frying (optional)
Scallions for garnishing
Method
1. Add 2 cups of Shokaku US Calrose Rice to rice cooker. Add water to just below the 2 cup mark and cook. (30mins)
2. When the rice is just cooked, immediately remove from pot into a bowl and using a spoon, gently cut through the rice to cool it down. Add butter and mix well to coat each grain.
3. When the rice is cool to touch, add 2 egg yolks and mix.
4. Add chicken powder and salt and mix
5. Peel prawns and remove veins. Add 1 tsp salt and 1/2 tsp baking soda. Mix and leave for 30mins. Then wash and drain
6. Crack 2 eggs and add to extra whites and beat.
7. Add eggs to pan and scramble. Add rice and toss to mix evenly. Remove from pan.
8. Add oil to pan, then prawns and toss and flambe. Add prawns to rice and mix.
9. Heat pan for a few minutes till smoking hot, add rice to pan and toss for about 1 min, deglaze pan with a splash of water, add spring onions, toss and serve!
10. Optional: Deep fry the prawns with shell on till crisp, sprinkle with salt and serve with rice.
Other Rice Recipes:
Seafood Pao Fan using USA Calrose rice
Fan Choy recipe using USA Calrose rice
Hawker Home Recipes: Chicken Rice
Din Tai Fung Style Pork Chop and Eggs Fried Rice
Fried Glutinous Rice
Claypot Chicken Rice
Cabbage and Yam Brown Rice
Chef Theong Tips on Fried Rice
Disclosure: this post is made possible by USA Rice and Shokaku Musenmai rice by Tong Seng Produce.
Disclosure: Some links above are affiliate links, meaning, at no additional cost to you, we will earn a small commission if you click through and make a purchase.
https://www.facebook.com/USARice.SG/
https://www.facebook.com/SongHeRice/
https://www.instagram.com/usarice.sg/
https://www.instagram.com/songhe.rice/