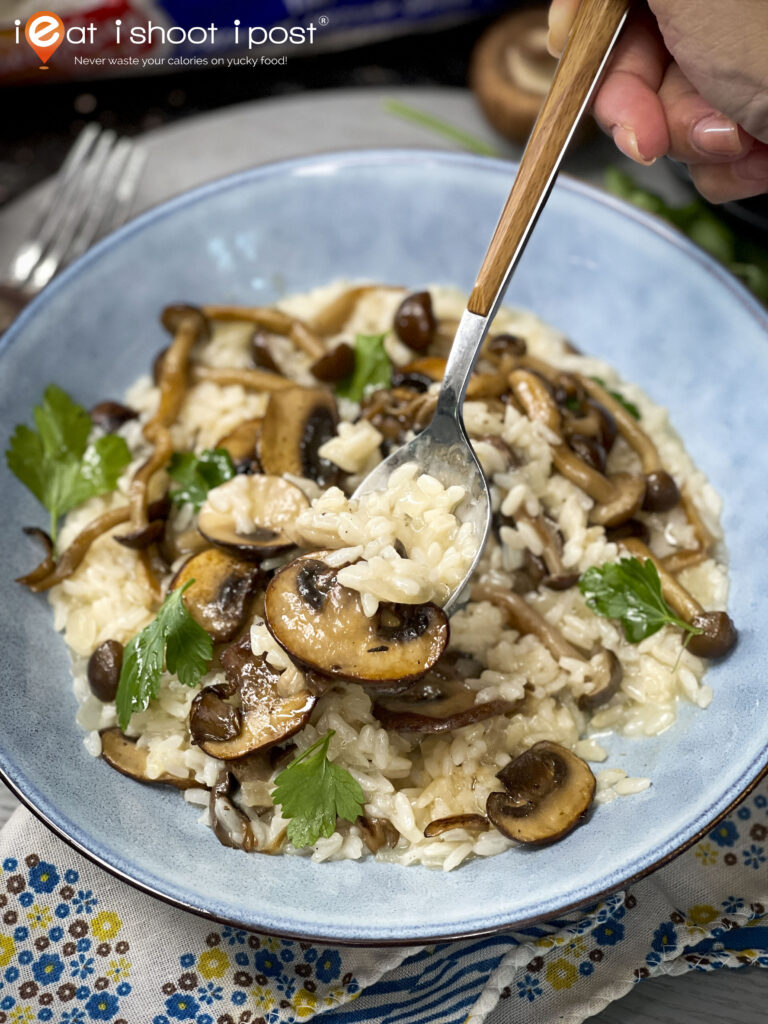 A creamy truffle mushroom risotto is one dish that I always look forward to eating whenever we visit an Italian restaurant. It's one of the few vegetarian dishes that I would actually choose over a meat dish on certain occasions! The dish is easy to make but difficult to master. You need a bit of practice to ensure that the rice is still cooked through, yet still retains a nice bite.
You also need to have the correct type of rice, which traditionally is Italian carnaroli or arborio rice. However, since we only make risotto occasionally, you usually end up with an open packet of carnaroli rice which sits in the cupboard for a while.
With my mushroom risotto recipe, we will be using USA Calrose rice, which is a medium-grain rice that is quite versatile. We have used it to make Claypot Rice, Blue Pea Flower Nasi Lemak, Wok Hei Congee, Fan Choy, Pao Fan, and other dishes.
We will also be employing a few tricks so that you don't have to stand in front of the stove for 20 minutes to stir the risotto! We start by pre-cooking the USA Calrose rice with 75% of the water it usually takes to cook the rice, and then, instead of having to stir the rice to release the starch, we will simply add a cornstarch slurry at the end! You will end up with a creamy risotto with a nice bite! Promise!
Let's make Risotto!
Recipe Card
Serves: 2 portions
Prep time: 1 hour
Cooking Time: 15mins
Ingredients
Rice
USA Calrose rice 1 cup (180ml)
Water 135ml
Ingredients
Swiss Brown 200g
Shimeiji Mushrooms 1 punnet
Butter 50g
Soy sauce 2 tsp
Salt 1/2 tsp
Mirin 1 Tbsp
Onion 1 medium-diced
Mushroom Stock 500ml (1 Tbsp of mushroom stock powder to 500ml of water)
Corn flour 1 Tbsp dissolved in water
Grated Parmesan Cheese 1/4 cup
Flat leaf parsley
Truffle oil
Method
Start by cooking the rice first. You can do this earlier, allow the rice to cool and store in the fridge until ready to use.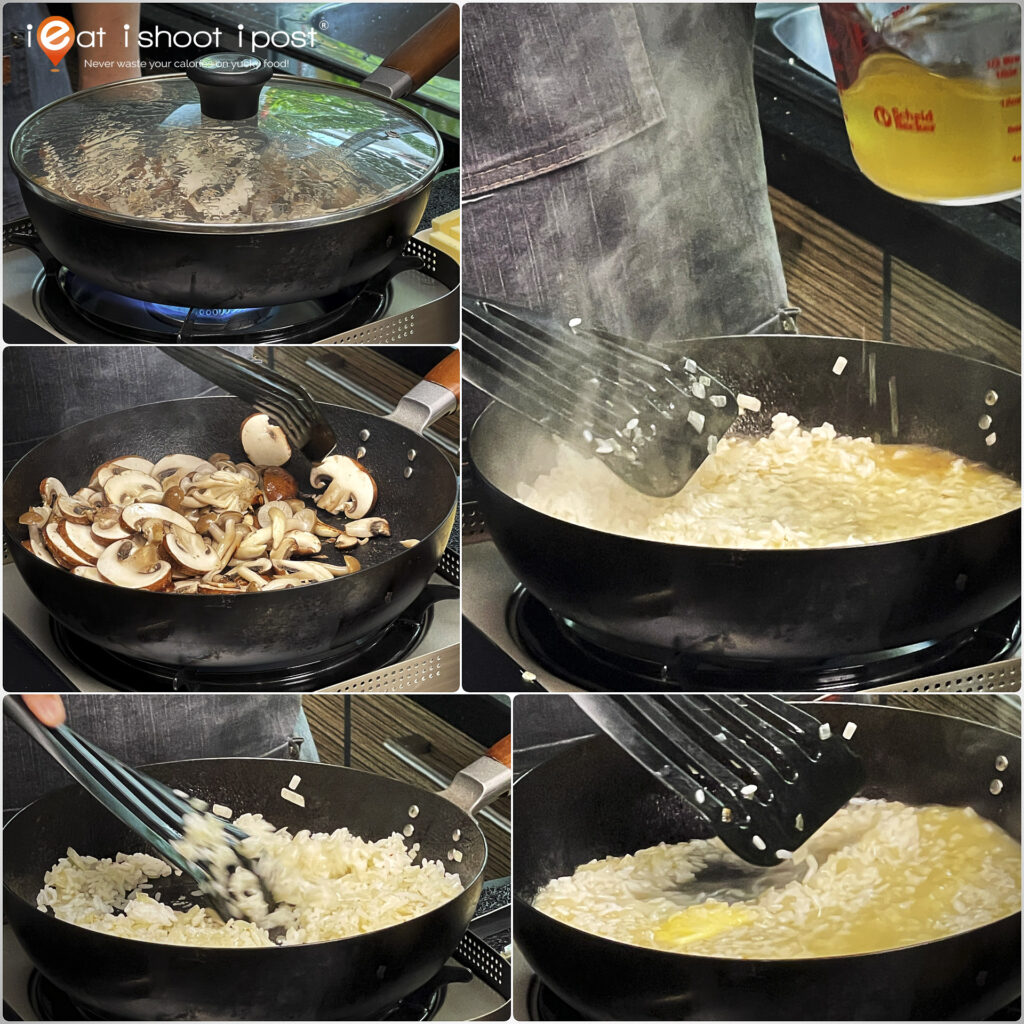 Wash and cook rice. Set aside to cool
Slice mushrooms
Add mushrooms to pan and 2 Tbsp of water. Cover and cook till mushrooms have softened
Add butter and fry till golden brown
Add soya sauce and salt
Deglaze with mirin or water and set aside
In a fresh pan, sauté onion with butter and oil
Add rice and toss to coat evenly
Add 3/4 of the stock and simmer for 3 mins until the rice is plump and sauce is thickened
Add cornflour slurry and thicken
Add 1/2 sauted mushrooms, grated parmesan cheese, and add more stock till the consistency of the sauce is light and slightly creamy. (it will thicken as it rests)
Plate the risotto
Top risotto with the rest of the sauteed mushrooms, and flat leaf parsley and drizzle with truffle oil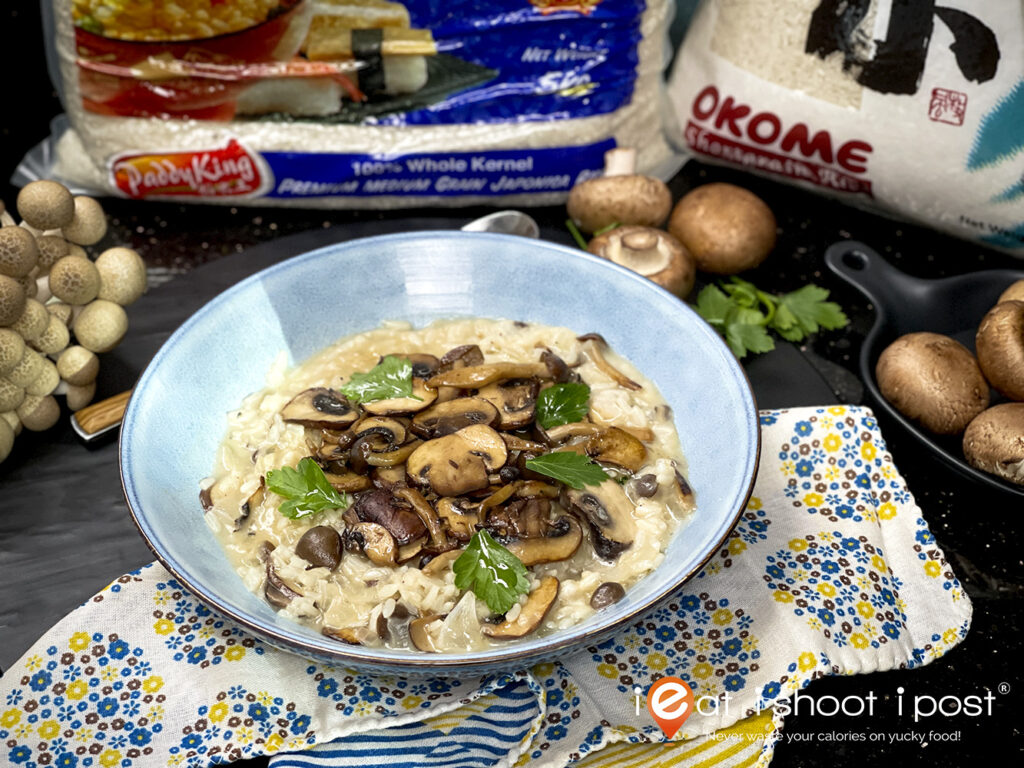 You can buy USA Calrose Rice here:
PaddyKing Rice
Okome Rice
Check out other recipes that are perfect with USA Calrose Rice:
Disclosure: This post is made in collaboration with USA Rice Federation and using PaddyKing USA Calrose rice by Hong Lian Gim Kee.
https://www.facebook.com/USARice.SG/
https://www.instagram.com/usarice.sg/
https://www.facebook.com/paddyking.sg/
https://www.instagram.com/paddyking.sg/