We continue our Hokkaido in Autumn: Part 1 trip where we visited Otaru, Lake Toya, Niseko and Sapporo to the islands of Rishiri, Rebun and to the northernmost city in Japan – Wakkanai.
Day 4 – Rishiri Island
Where the Best Konbu Comes From!
I have always wanted to visit Rishiri Island because I have been told that it is where the best konbu (kelp) comes from. And, when the konbu is good, the uni (sea urchin) would be good too since the spiky little creatures feed on konbu.
Rishiri is a remote volcanic island located about 20 km from the northwestern part of Hokkaido. Its most dominant feature is Mt. Rishiri-Fuji, a dormant volcano that stands at a height of 1,721 m. It has a population of around 4000, mainly engaged in the fishery or tourism industry.
For foodies, the best time to visit is from June to August because that is when the uni season is on! You can visit Rishiri during this time to feast on some of the best uni in the world and even try your hand at catching a few! In between, you can cycle around the island's 20 km cycling track or hike up Mount Rishiri!
We arrived after the uni season, so we didn't get to feast on uni, but we still enjoyed the rugged scenery and managed to buy some fresh seafood to barbecue ourselves! The local salmon (sake) is in season from early Sep to late October, so we got to taste some really excellent ikura (salmon eggs).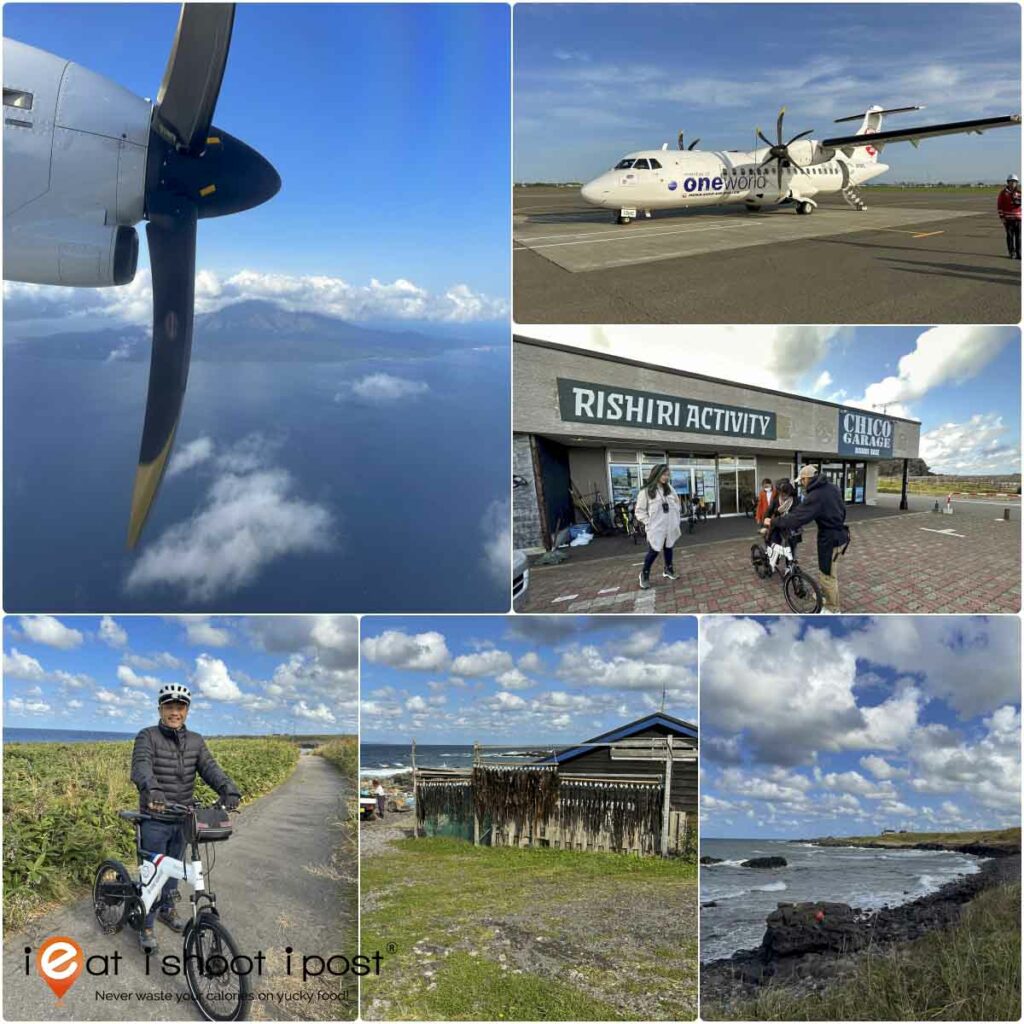 Things to do on Rishiri Island
Our Rishiri adventure began at Sapporo Okadama Airport, where we boarded a 48-seater turboprop plane for our about-an-hour flight to Rishiri Airport. As we approached Rishiri, we could see the island with Mt. Rishiri Fuji prominently located at its centre. After landing at Rishiri Airport, we made our way to Rishiri Activity, where we rented an e-bike. We also booked our 'Glamping' BBQ pit with the same people.
Rishiri Island is remote, rugged, windy, and incredibly beautiful. It's the perfect escape for city dwellers looking for a few days of respite to reconnect with nature! If time permitted, we would have rented two bikes and spent a whole day traversing the many routes around the island.
Rishiri Activity
Map and Details
Below is the Tourist Map of Rishiri for you to download!
Michelin Bib Gourmand Ramen – Rishiri Ramen Miraku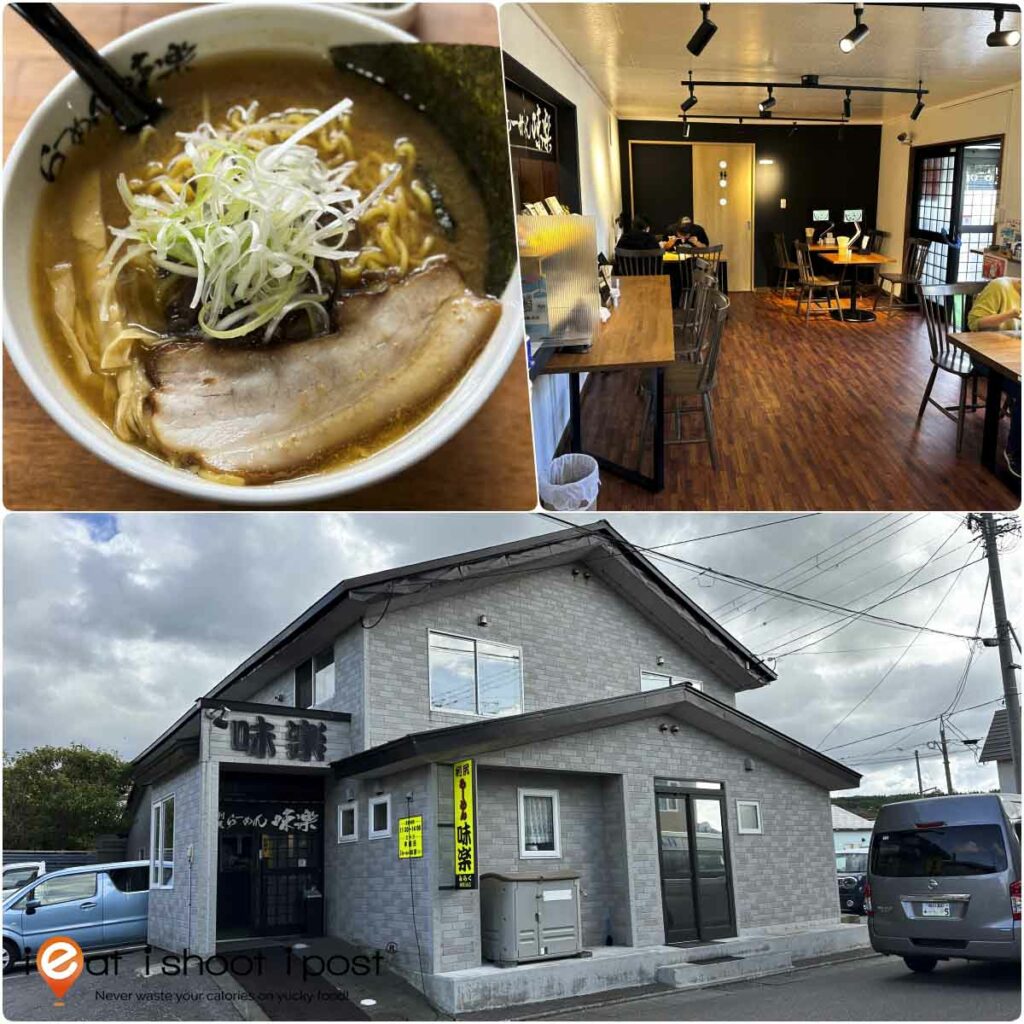 After cycling, we made our way to Rishiri town for lunch. There are two town centers on the island. The airport and ferry terminal are located at Rishiri Fuji in the northeast part of the island, while Rishiri town is a 20-minute drive away along the eastern side of the island.
For lunch, we visited Rishiri Ramen Miraku, which had earned a place in the Hokkaido edition of the Michelin Guide as a bib gourmand eatery. This remote ramen shop has garnered a devoted following, with ramen enthusiasts making an 8-hour pilgrimage from Tokyo to Rishiri to savor its unique yaki shoyu ramen.
The broth is crafted using an abundance of Rishiri konbu, pork bone, and scorched soy sauce. Needless to say, the broth was outstanding and brimming with natural umami flavors. In the summer, they also offer cold ramen in kelp stock, which (I am told) is a must-try!
Rishiri Ramen Miraku
Map and Details
Yoneta Shoten: Specialty Shop for Seafood and Konbu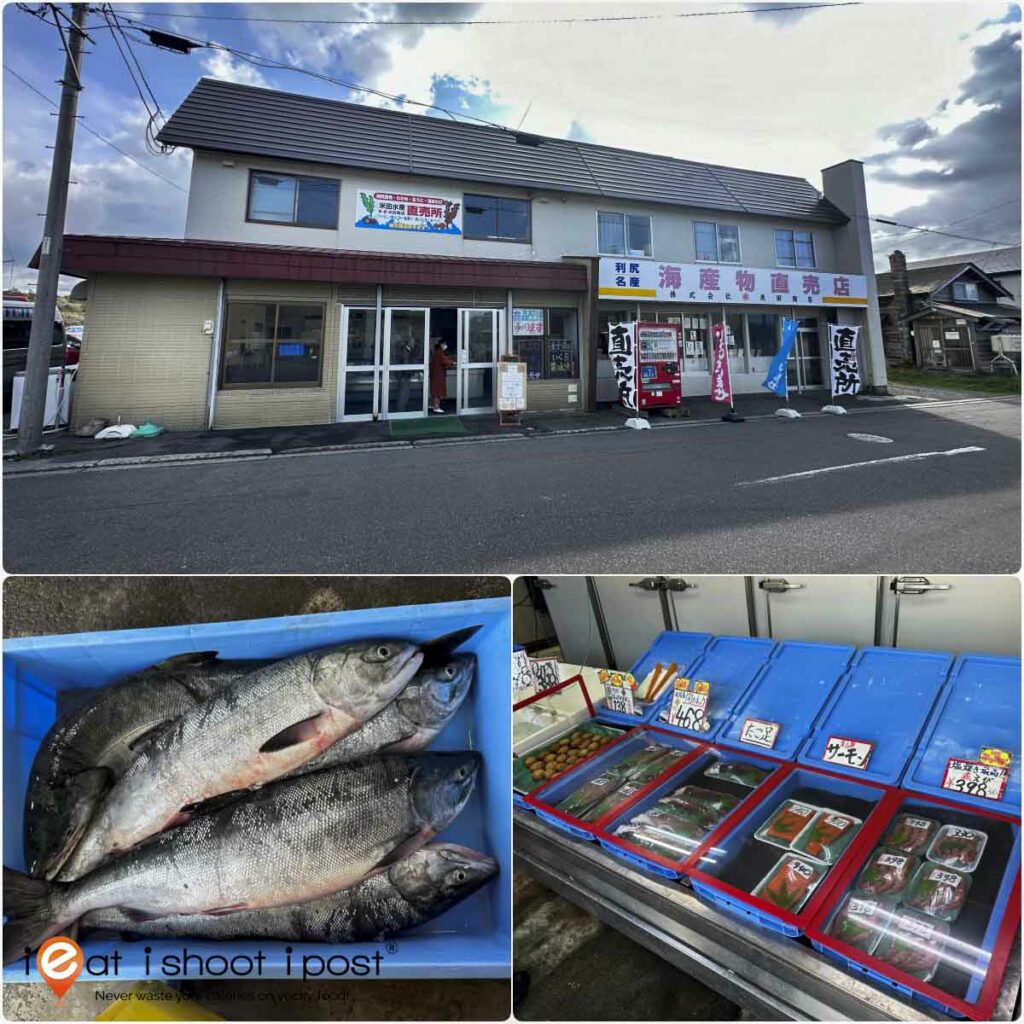 After lunch, we visited Yoneta Shoten to buy the ingredients for our evening BBQ. In summer, this is where you can buy your uni and scallops. Since it's salmon season, we picked up some fresh salmon and fresh ikura which were made on the premises. This specialty shop also stocks Rishiri Konbu and other local ingredients!
Yoneta Shoten
Map and Details
Kamui Kaigan Park: Uni Catching and Konbu Craft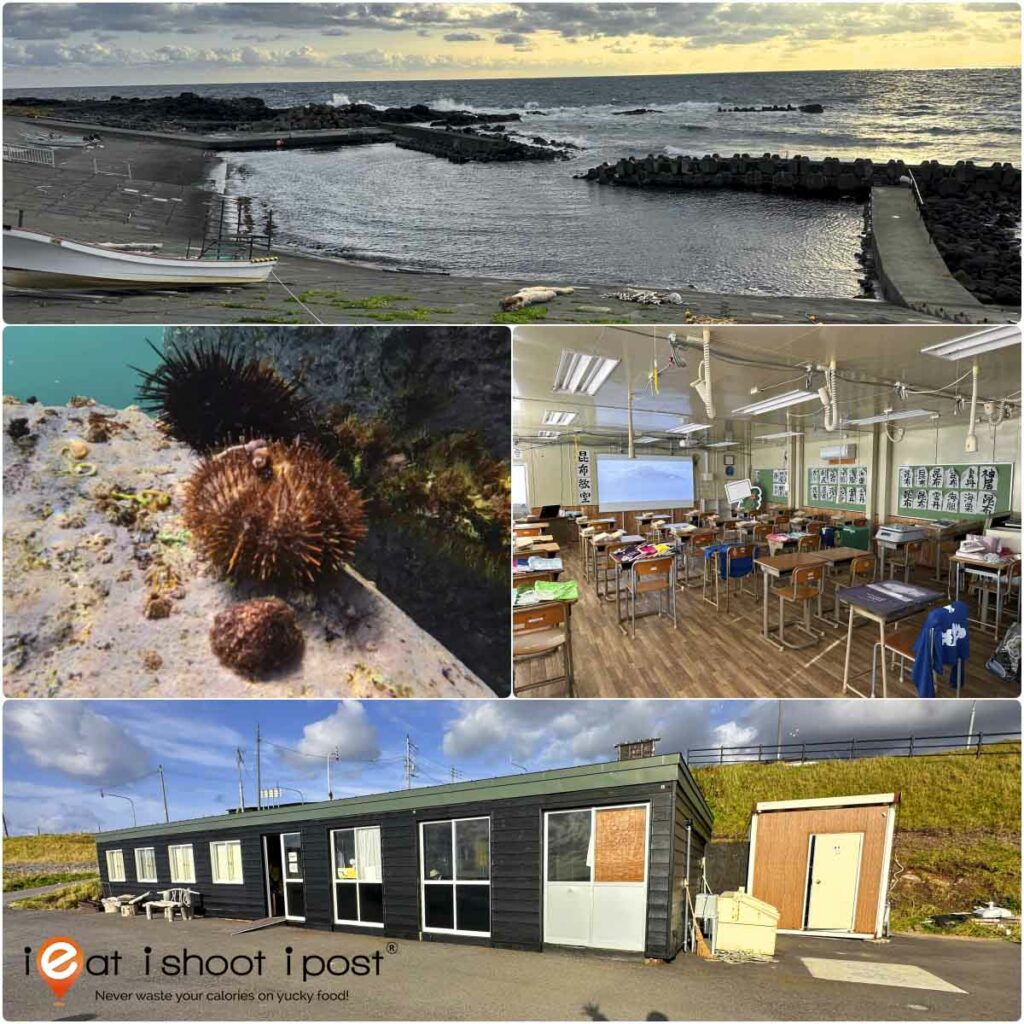 Uni is like durian. You would know if you are a lover or hater the first time you taste it. I fell in love with the spiny creatures' gonads the very first time I tasted them at Nogawa. Since then, I have always wanted to catch one and get a taste of live uni!
So, I was very excited when I found out that we were traveling to Rishiri, where there was a chance to catch not only uni but what is widely regarded as the best uni in Japan! It wasn't meant to be, as our trip got delayed, and we only landed on Rishiri Island after the uni season. We ended up in a classroom where we learned how to pack konbu into souvenir gift bags instead.
If you happen to plan a trip to Rishiri in the summer months, this is the place where you can get on a boat to fish for uni.
Kamui Kaigan Park
Map and Details
Kamui Whisky: Why Make Whisky on a Remote Island?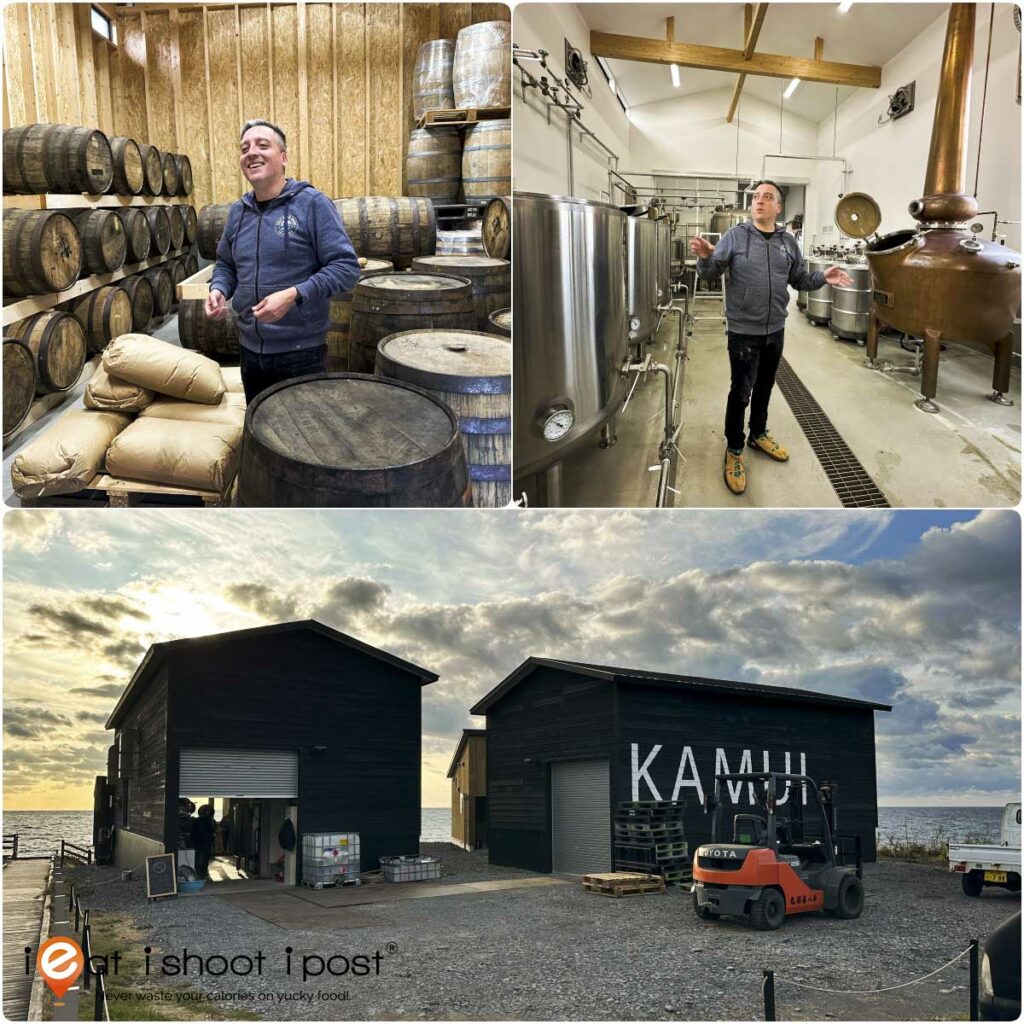 With a price tag exceeding $3,000 for a bottle of Single Malt Yamazaki 18, it's no surprise that Japan has yet another new whisky distillery. What is intriguing is why Rishiri Island was chosen as the location, given its remoteness and that all the essential raw ingredients must still be sourced from elsewhere.
The answer to this puzzle lies in the mineral-rich volcanic spring water concealed beneath the island's surface. This pristine spring water plays a pivotal role in shaping the distinctive terroir of Rishiri whisky, complemented by the influence of the cold, briny winds blowing in from the Sea of Japan, which aid in the aging process of the whisky barrels!
The distillery has recently been established (in 2021), so the whisky hasn't matured for a sufficient duration yet. However, for those who are willing to wager that their whisky will ultimately become something extraordinary, you can begin acquiring a barrel. Who knows, you might strike gold in 18 years' time!
Kamui Whisky Distillery
Map and Details
Japanese Style DIY BBQ!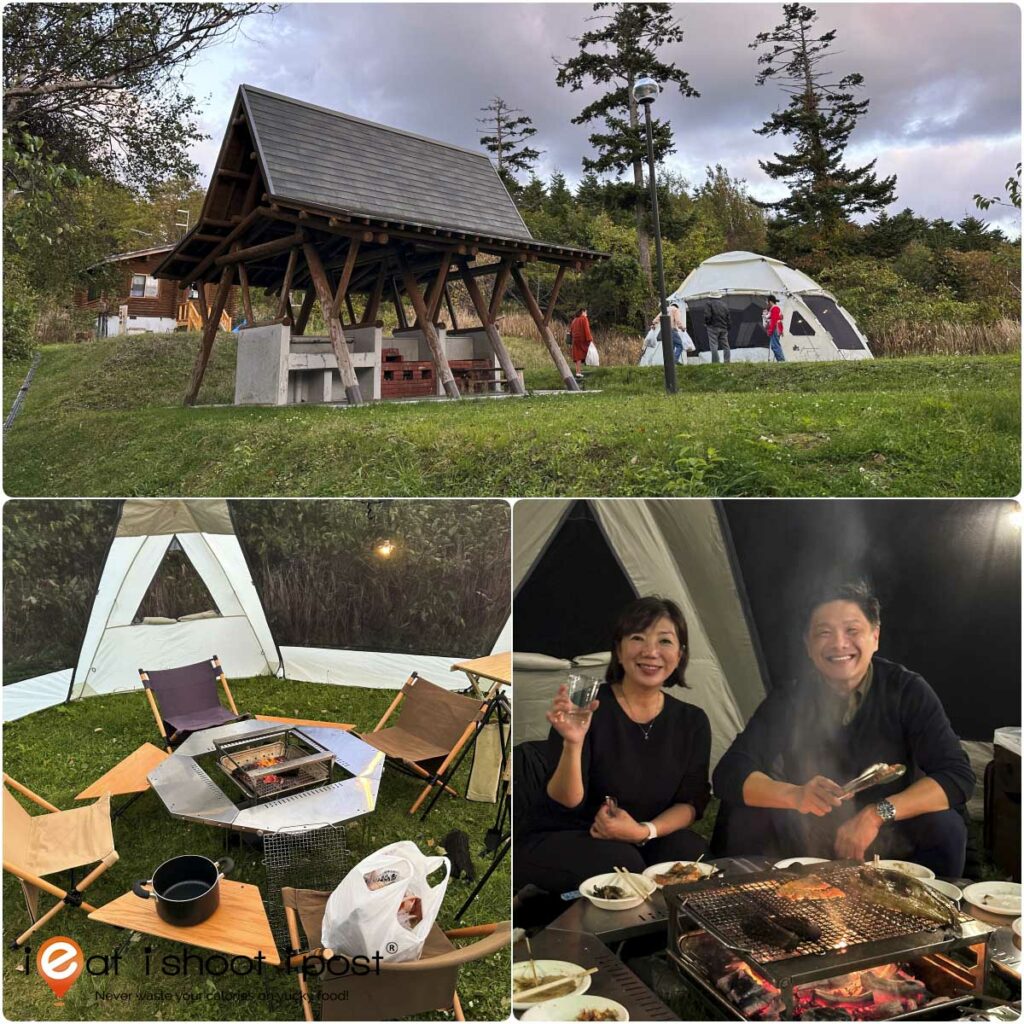 Having a DIY BBQ in Japan was not something I would have originally considered. It was probably the furthest thing on my mind! But I must say, it turned out to be quite an interesting experience, especially since I loved to play with fire! All we needed to do was buy the ingredients for the BBQ, and they provided everything else. That includes setting up the tent, lights, starting the fire and supplying all the necessary items for the BBQ. You do need to get your own plates, cups and utensils.
We've never had a BBQ in a tent before and it all seem to make sense. The tent is well ventilated and did a great job shielding us from the wind and cold. It's a great activity for an extended family gathering, and the kids would absolutely love it!
Rishiricho Forest Park Camping Grounds
Map and Details
Book through rishiriactivity.com
Day 5: Photos spots in Rishiri and then to Rebun
That Mountain on Shiroi Koibito Boxes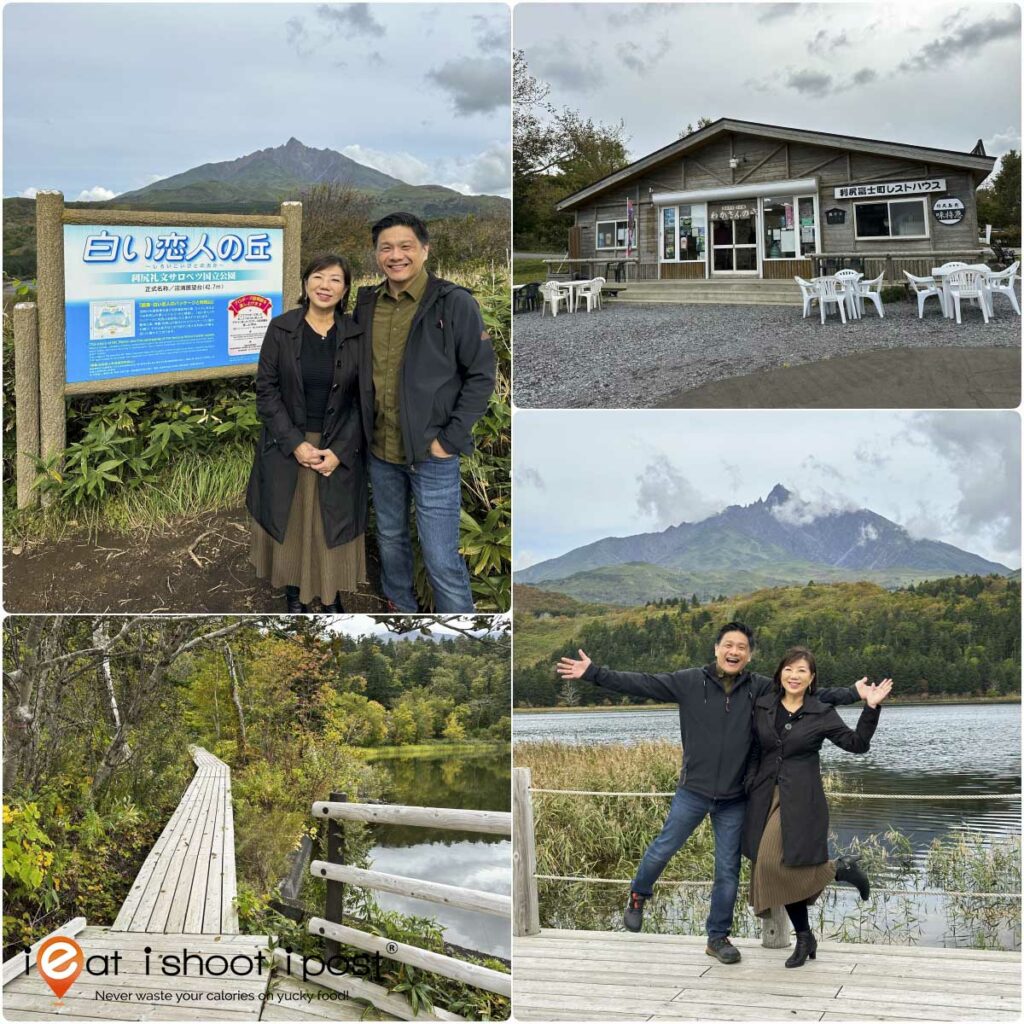 Rishiri Island is quiet at this time of the year. I'm not sure how crowded it gets in the summer, but when we were there at the beginning of Autumn, it almost felt like you had the entire place to yourself! There are numerous picturesque spots where you can take a leisurely walk and soak in the beauty of nature.
One of the most popular spots is the Numaura Observatory, which is also nicknamed "Shiroi Koibito no Oka." It's no surprise if you get a sense of déjà vu while gazing at Mt. Rishiri Fuji here, as it was precisely at this spot that the former president of Ishiya was inspired by the silhouette of Mt. Rishiri Fuji and subsequently featured it on the packaging of the Shiroi Koibito sweet when it was first launched. This is Japan's second most popular souvenir and I am sure that you would have come across it before!
Just a few minutes from Numaura Observatory is the Otadomari Swamp where you can take photos of Mt Rishiri Fuji with its reflection on the still waters. There is also Rishiri Kameichi, a souvenir shop at the carpark selling special local konbu products which you can pick up.
Hime pond is yet another spot where you can take photos of Mt Rishiri with its reflection on the still waters. There is also a very nice wooden boardwalk which runs around the pond which you can traverse in about 20mins.

Himenuma
Map and Details
Numaura Observatory
Map and Details
Otadomari Swamp
Map and Details
Rebun
The Interesting Thing About Japanese Ferries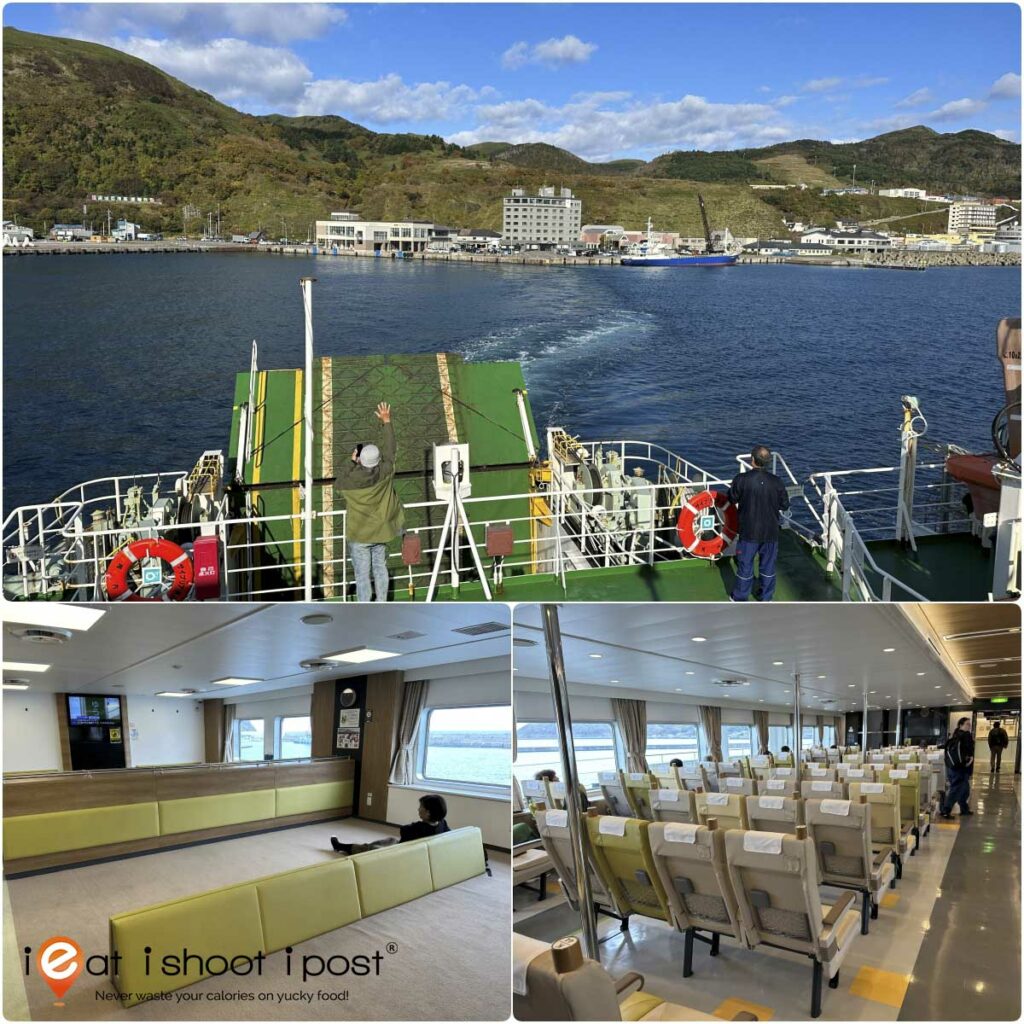 We embarked on a ferry journey from Rishiri to Rebun Island which is part of the Rishiri-Rebun-Sarobetsu National Park. Rebun Island is celebrated for its abundant flora, boasting an array of alpine flowers found nowhere else. These exceptional blossoms adorn the island's landscape from around June to August, which is also uni season, making this timeframe the ideal season for a visit to Rebun.
The brief ferry voyage proved to be an experience in itself. Much like the rest of Japan, the ferry was impeccably clean, and it offered designated areas where passengers could comfortably recline on the floor and even catch a short nap during the journey!
Scenic Capes of Rebun
A cape is defined as a protruding piece of land extending into a lake, river or ocean. And Rebun has many of those to offer!
Click for Tourist Map of Rebun Island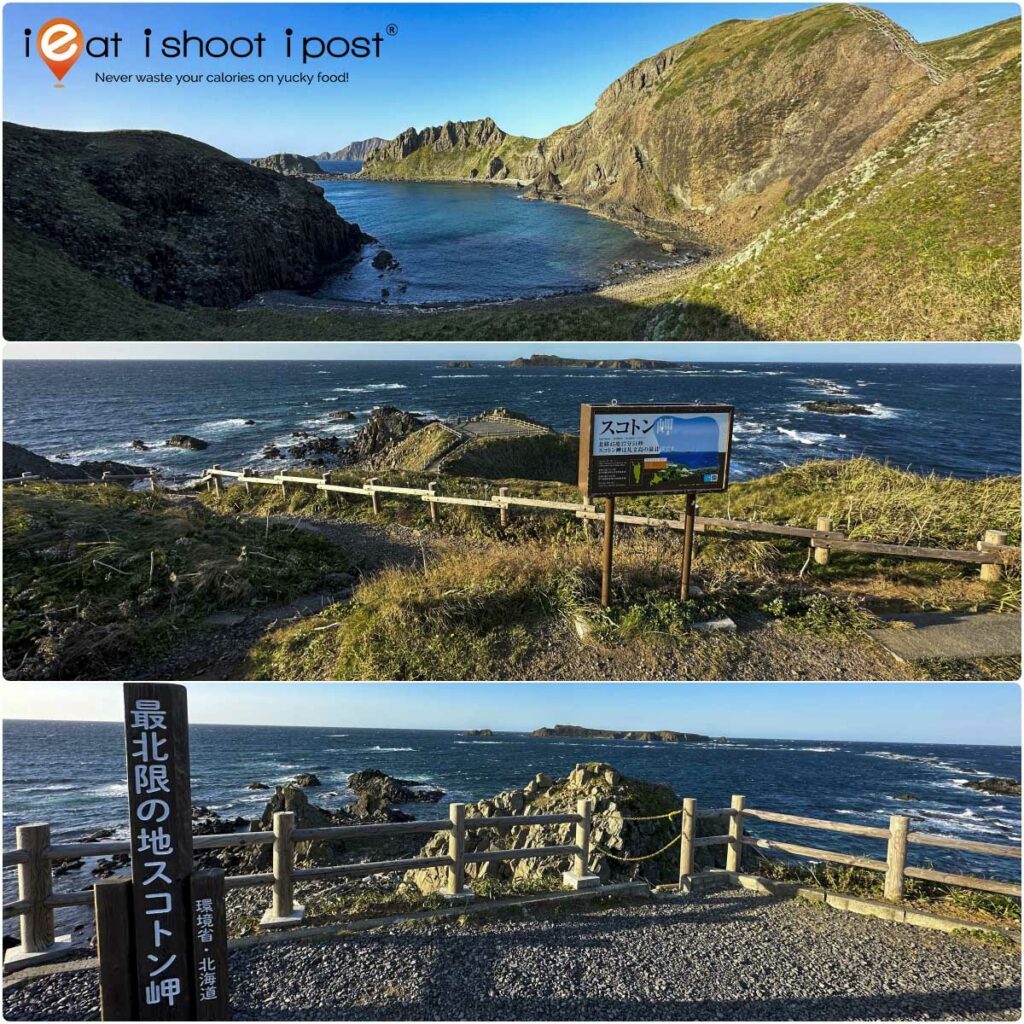 CAPE SUKAI stands as one of Rebun's most enchanting destinations. The crystal-clear azure waters of the bay, cradled by the jagged hillside and verdant knolls, create a truly breathtaking vista.
CAPE SUKUTON is the northernmost point in Rebun. From here you can appreciate the panoramic vista but it won't be long before you go into the souvenir shop to shield off the wind and get a cup of coffee to warm up.
CAPE SUKAI
Map and Details

CAPE SUKUTON
Map and Details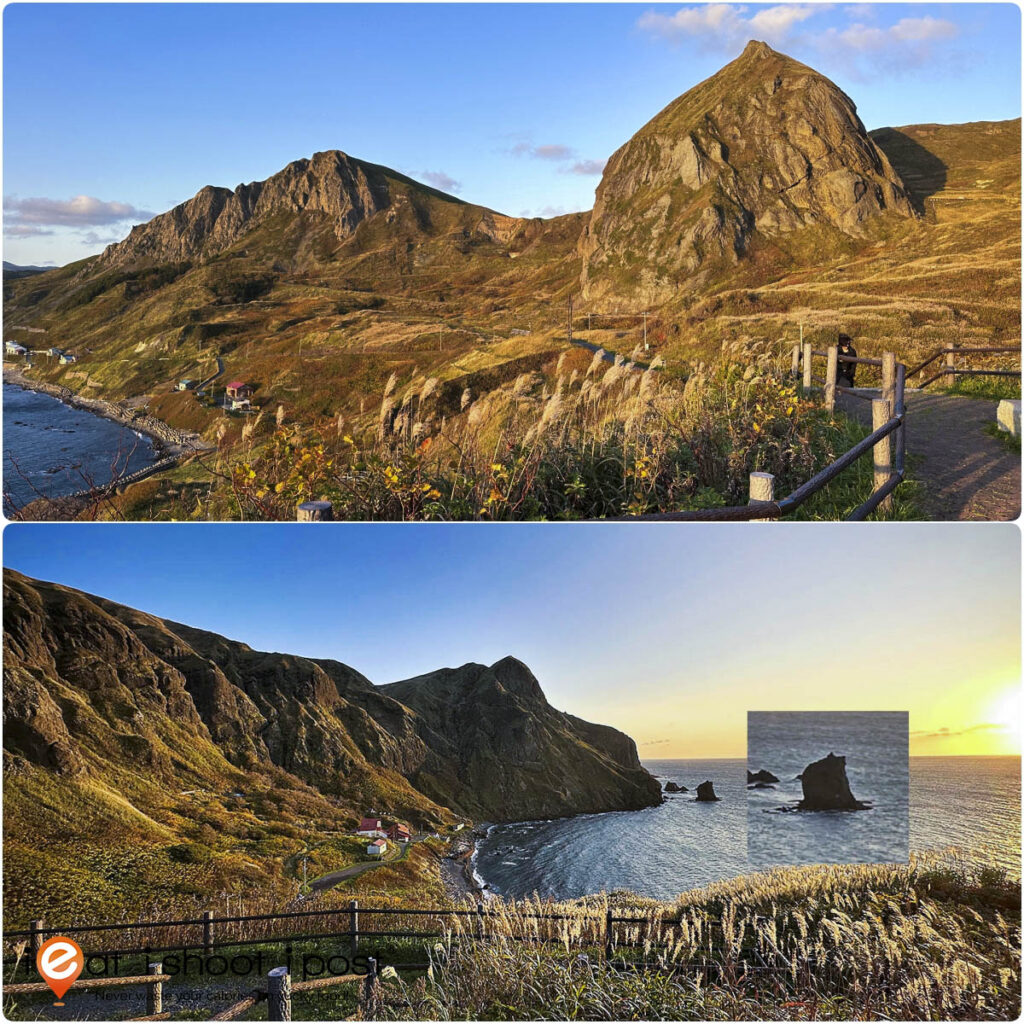 It's amazing how humans are so enchanted by inanimate objects that bear the semblance of living things. Whether it's cloud formations, rock formations, or even a face on a pizza, we're fascinated by discovering familiar patterns in unexpected places.
At the Momodai Nekodai Observatory, we were informed that one of the rock formations resembles a peach (momo), while on the opposite end of the bay, there is a rock that looks like a cat (neko). The peach was clear to me, but I needed some guidance to spot the cat (it's supposed to be that small rock formation in the bottom photo)!
Momodai Nekodai Observatory
Map and Details
Visit the Movie Set of Kita no Kanaria-Tachi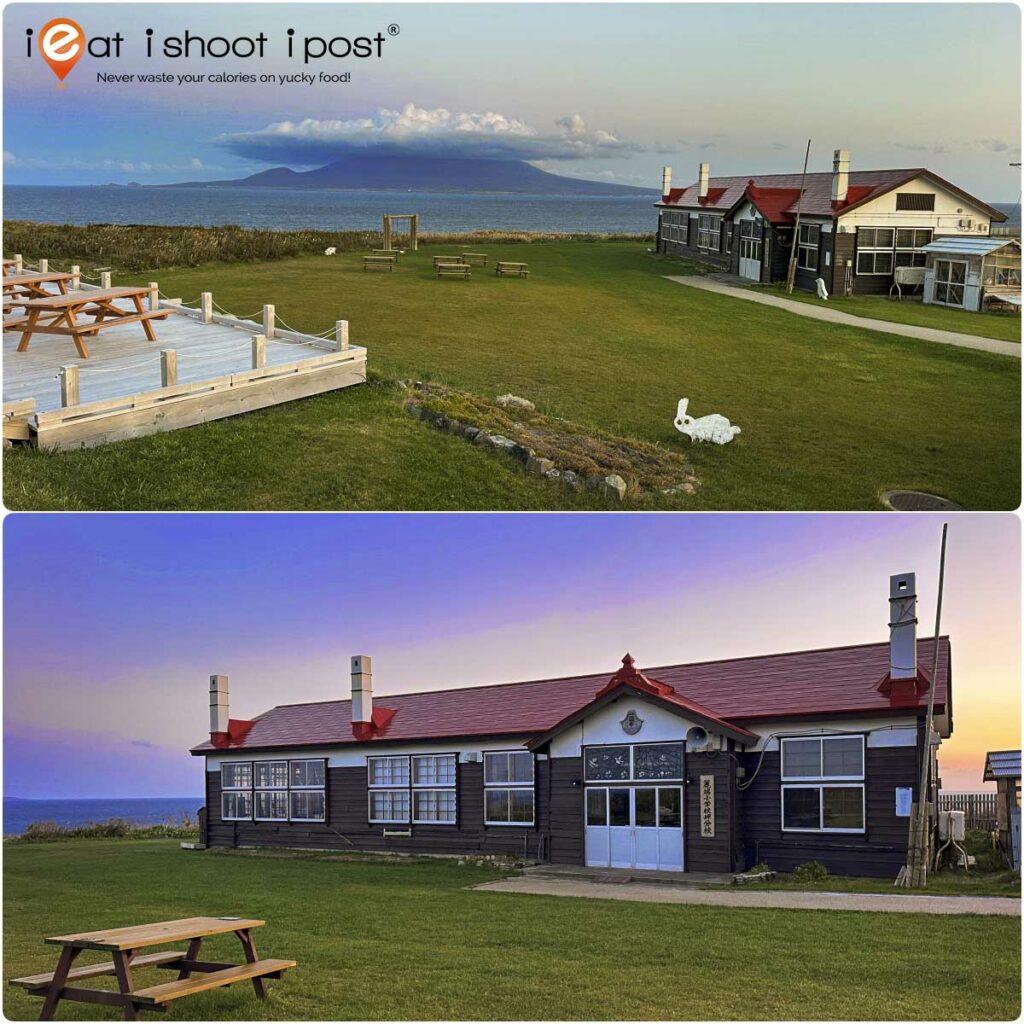 One of the best locations to capture a photo of Mt. Rishiri Fuji is actually here on Rebun Island, at Kitano Canary Park. This place served as the schoolhouse set for the 2012 movie "Kita no kanaria-tachi" (A Chorus of Angels), featuring the legendary Japanese actress Sayuri Yoshinaga. Unfortunately, we arrived a little late, and both the café and the schoolhouse set were already closed. Nevertheless, we were able to capture some beautiful sunset photos with Mt. Rishiri Fuji as a stunning backdrop!
Kitano Canary Park
Map and Details
Day 6: Rebun to Wakkanai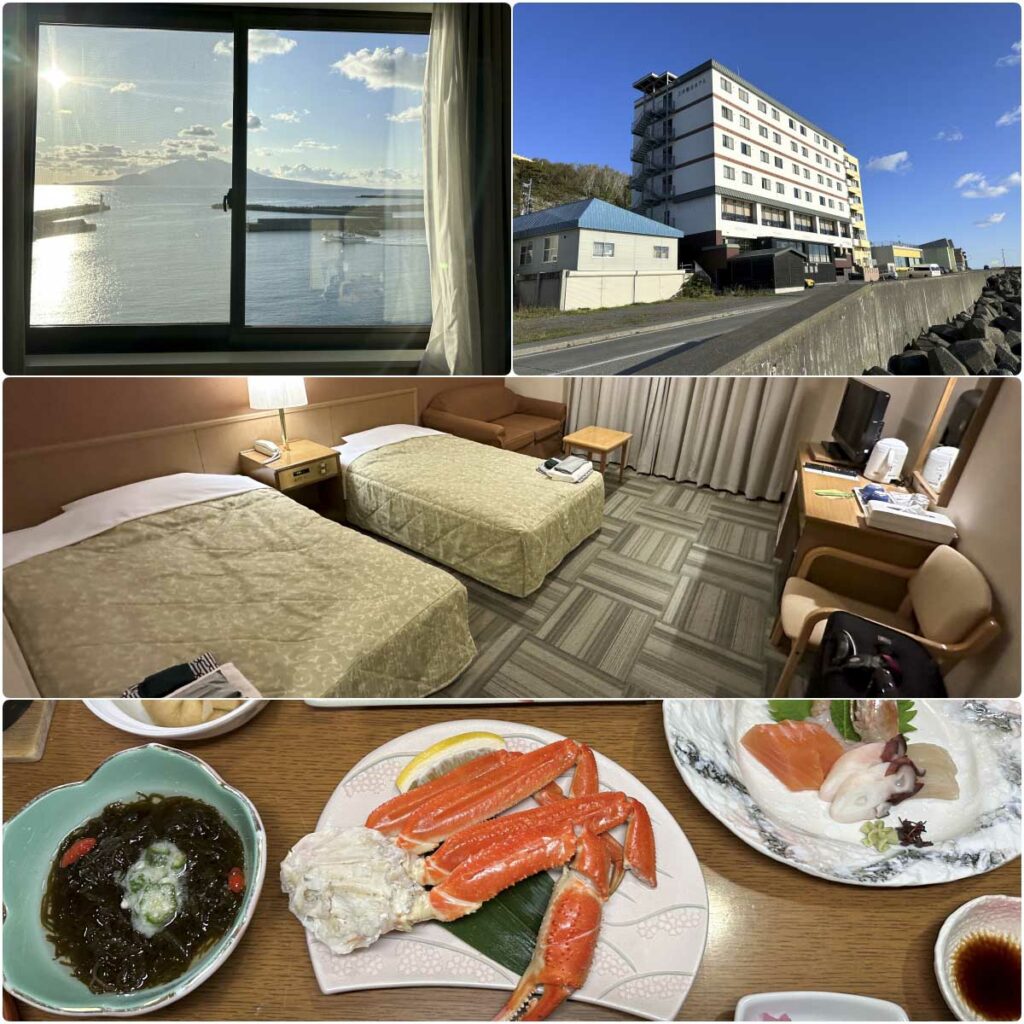 While at Rebun, we stayed at the Mitsui Kanko Hotel where we awoke to a beautiful framed view of Mt Rishiri. Mt Rishiri is also commonly known as Rishiri Fuji. Dinner that night was at the hotel's restaurant where we were served a Seafood Kaiseki meal.
Mitsui Kanko Hotel
Map and Details
From Rebun we boarded the ferry for a 2-hour trip to Wakkanai, the northernmost province of Japan.
Wakkanai
Iconic Romanesque Breakwater Dome of Wakkanai
The North Breakwater Dome at Wakkanai Port was constructed over five years and completed in 1936 as a safeguard against recurrent tidal waves. This half-arched structure stands at a height of 13.6 meters, featuring 70 robust columns arranged in a uniform pattern, reminiscent of classical Roman architecture.
The structure was designed by twenty-six-year-old Tsuchiya Minoru a graduate of the Department of Civil Engineering and has since become an iconic symbol of Wakkanai Port. It is said to be the only one of its kind in the world!
Wakanai North Breakwater Dome
Map and Details
Visiting the sights in our Kimonos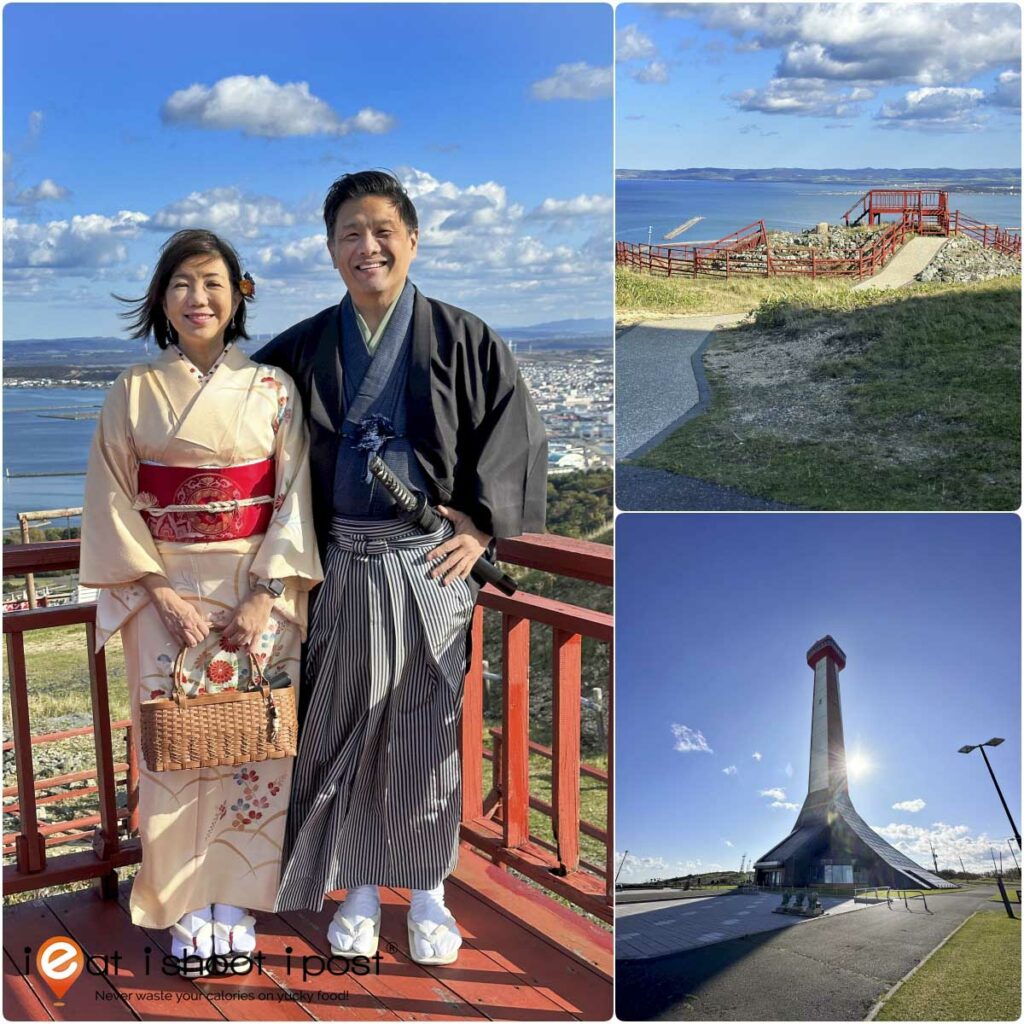 To make our visit to Wakkanai more memorable, we dressed in full kimono attire before exploring the various scenic attractions in Wakkanai. The Kimono rental shop is conveniently located at the JR train station and we were dressed by the Kimono Sensei after selecting our outfits. And yes, we did go around in those Japanese slippers.
Our first destination was Wakkanai Park, which offers a perfect vantage point of the port. You can also ascend the Founding Centennial Tower to enjoy a 360-degree panoramic view of the Sarobetsu Plain to the south, Rishiri and Rebun to the west and Sakhalin to the north!
Wakkanai Omotenashi Kimono Hire
Located at the JR Train Station Map
Wakkanai Park
Map and Details
The Northernmost Point in the Whole of Japan!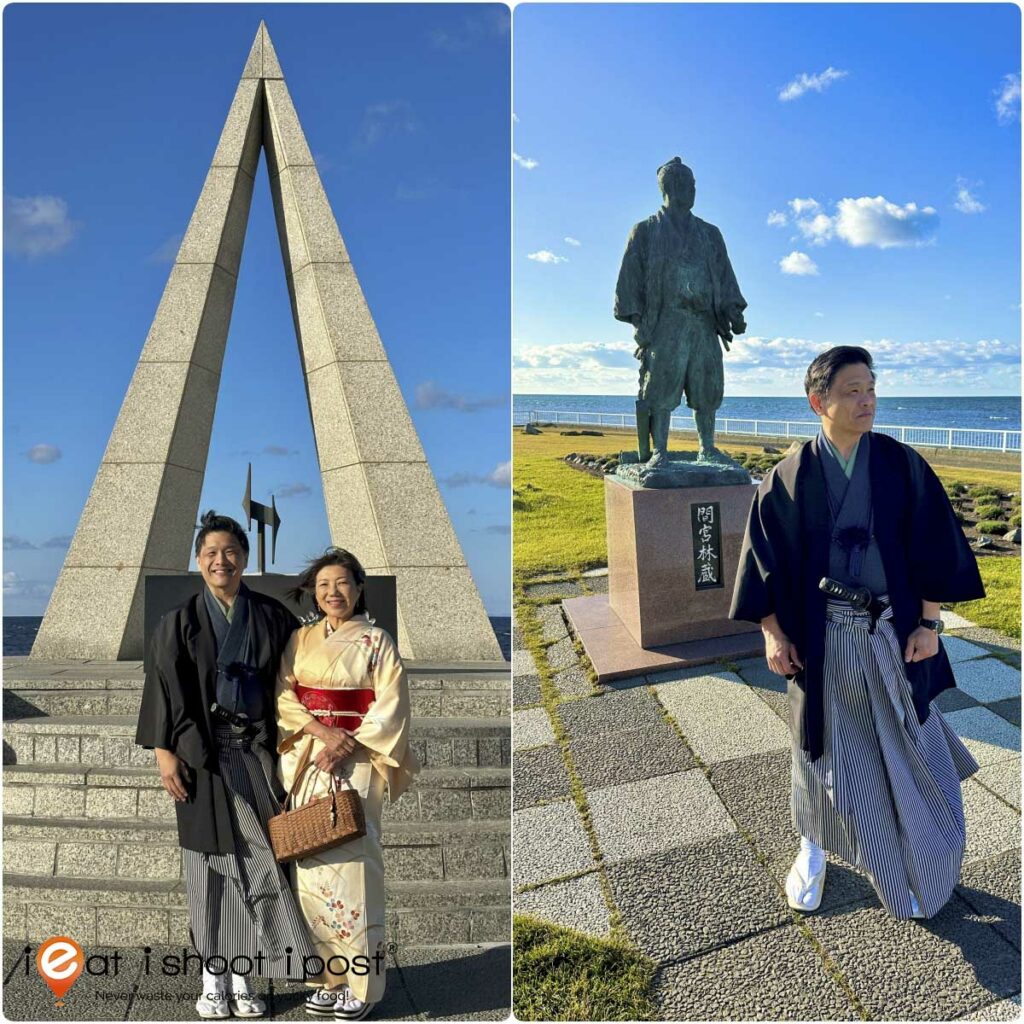 The number one spot to visit in Wakkanai has to be Cape Soya, the northernmost spot in the whole of Japan. The statue of the samurai next to the monument is that of Mamiya Rinzo (1780-1844) who explored Sakhalin in 1809 and discovered that Sakhalin was not a peninsular but an island!
Cape Soya
Map and Details
Windmills that Power a Whole City!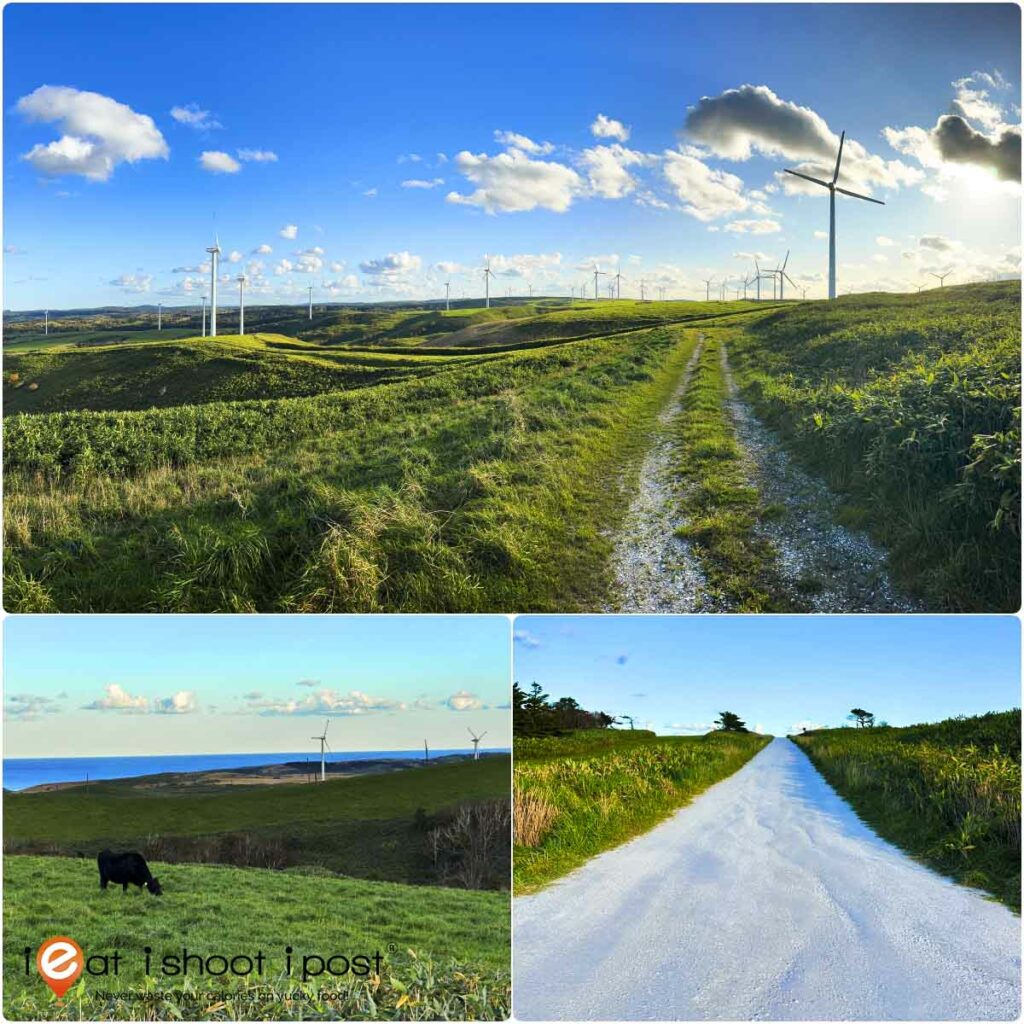 On Soya Hills, you'll find a colossal array of 57 wind-power turbines, making it Japan's largest wind farm. Together with another set of 27 turbines in another locale, they generate a remarkable 120% of Wakkanai's electricity demands!
There's a 3-kilometer Soya Hills Footpath course around the same vicinity where you can stroll along pristine white pathways paved with scallop shells. Can you imagine how many scallop shells it took to create these unique paths? This is a perfect backdrop for wedding photos!
Cape of Windmills
Map and Details
Path of White Shells
Map and Details
Tako Shabu Shabu at Kurumaya Genji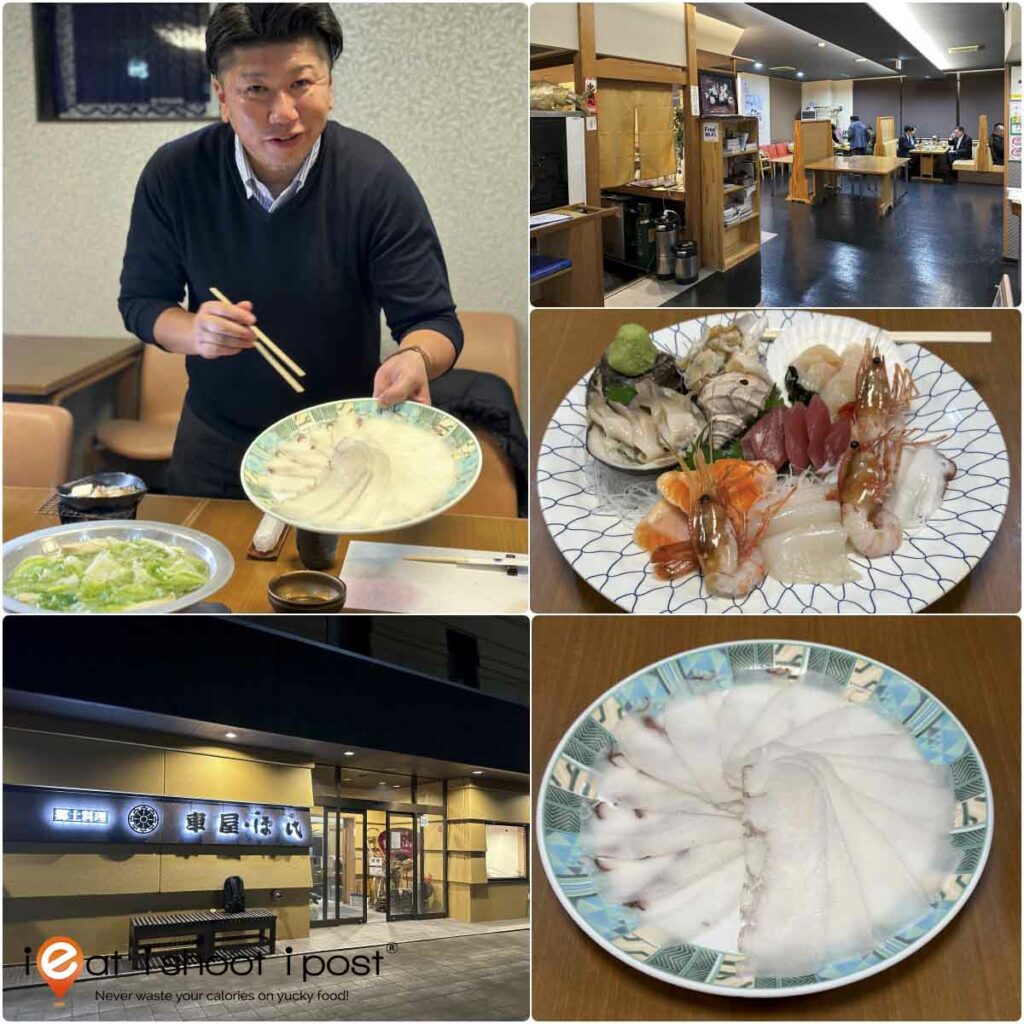 Tako shabu (octopus shabu) is the specialty dish of Wakkanai. It was invited around 30 years ago using the North Pacific giant octopus. We experienced this unique dish at the Kurumaya Genji which is reputed to be one of the best places for tako shabu. Amazingly, the octopus was not chewy when quickly cooked in the konbu dashi. But beware, overcooking it will turn it into chewing gum!
Kurumaya Genji
Map and Details
Surfeel Hotel Wakkanai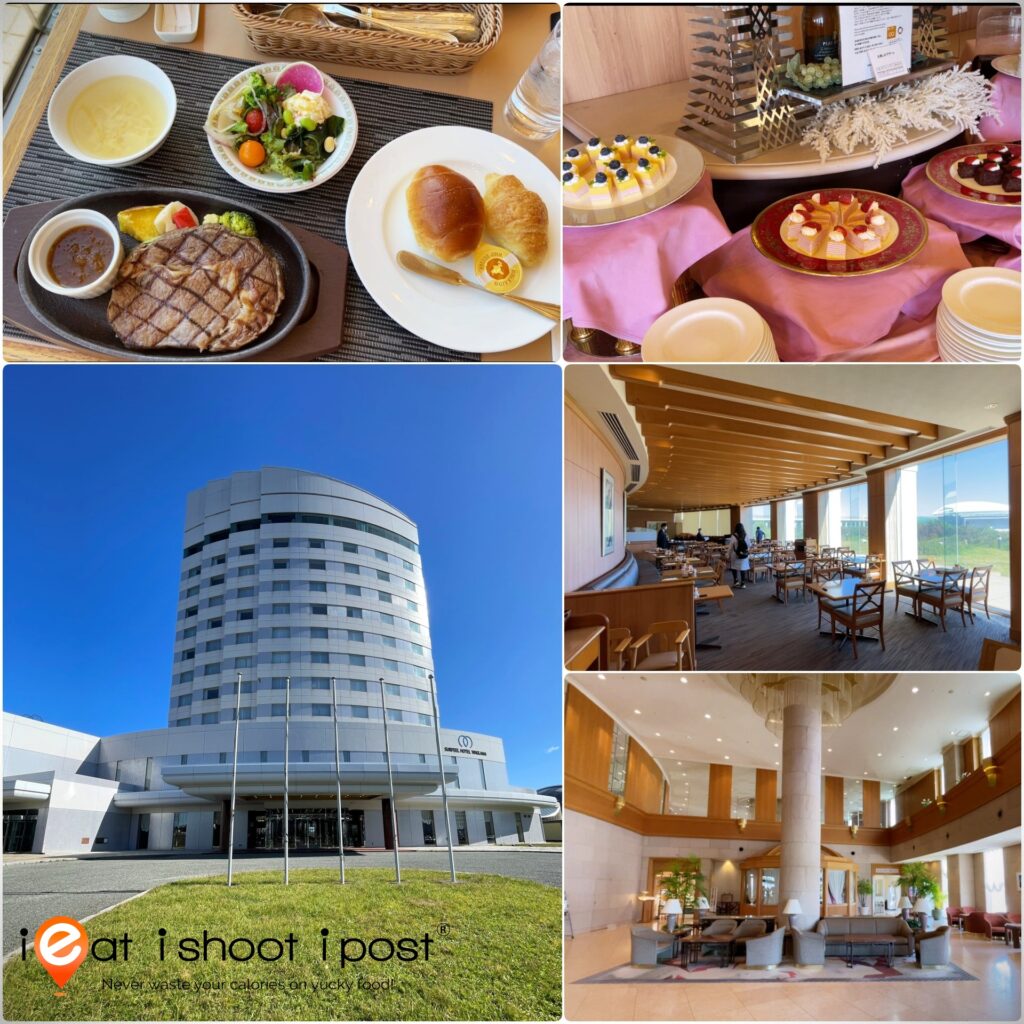 While in Wakkanai we stayed at the Surfeel Hotel Wakkanai, a modern hotel located close to the port. We had lunch at the hotel restaurant where you could choose the mains and help yourself to the salad, bread, soup and dessert bar. Lisa particularly liked the salad bar, appreciating both the dressings and variety of vegetables, which were also available for breakfast.
Surfeel Hotel Wakkanai
Map and Details
Day 7: Last Day in Hokkaido!
Place to buy Souvenirs Before Heading Home!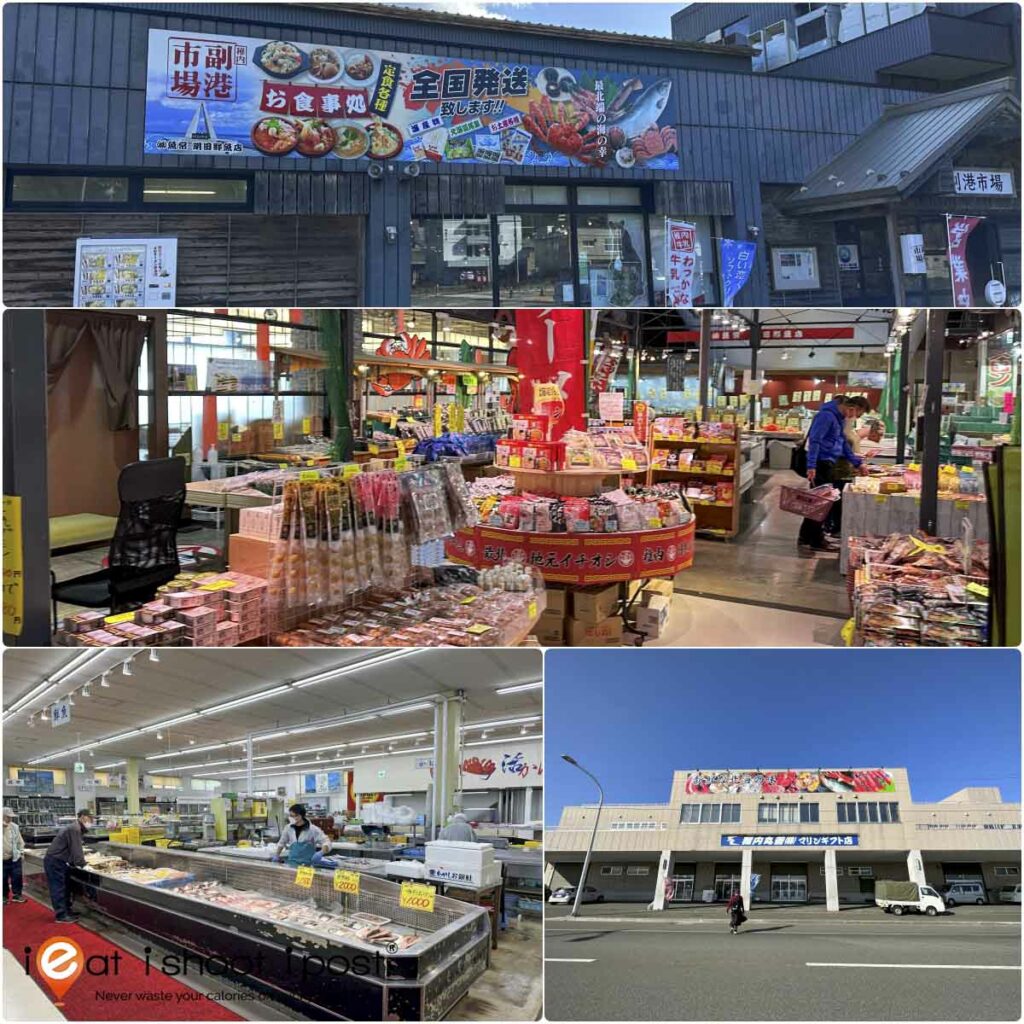 It was our last day in Hokkaido, and en route to the airport, we made a stop at the Wakkanai Fukoku Market to purchase souvenirs to take back home. The market is divided into two sections: one serves as a wholesale market where you can purchase frozen seafood to have shipped back home, while the other end offers a cozier atmosphere where you can pick up snacks, cookies, and other goodies. It's an absolute must-visit for any Singaporean before bidding farewell to Hokkaido, wouldn't you agree?
Wakkanai Fukoku Market
Map and Details
Click here for Part 1 of our Hokkaido trip – Otaru, Niseko, Lake Toya, Sapporo.
Disclosure
This is a media trip sponsored by Hokkaido Tourism Organization