We continue our journey down south as we spent the last 2 days of our trip in Cromwell and Arrowtown where we got to pluck apples off the trees and eat them! We also had food that was smoked in old wine barrels and visited the old gold mining town of Arrowtown which is really beautiful this time of the year (April) with the trees displaying their beautiful autumn colours.
In case you've missed, here are Part 1 (Christchurch, Waipara) and Part 2 (Geraldine, Lake Tekapo) of our trip.
Day 5: Road Trip from Twizel to Cromwell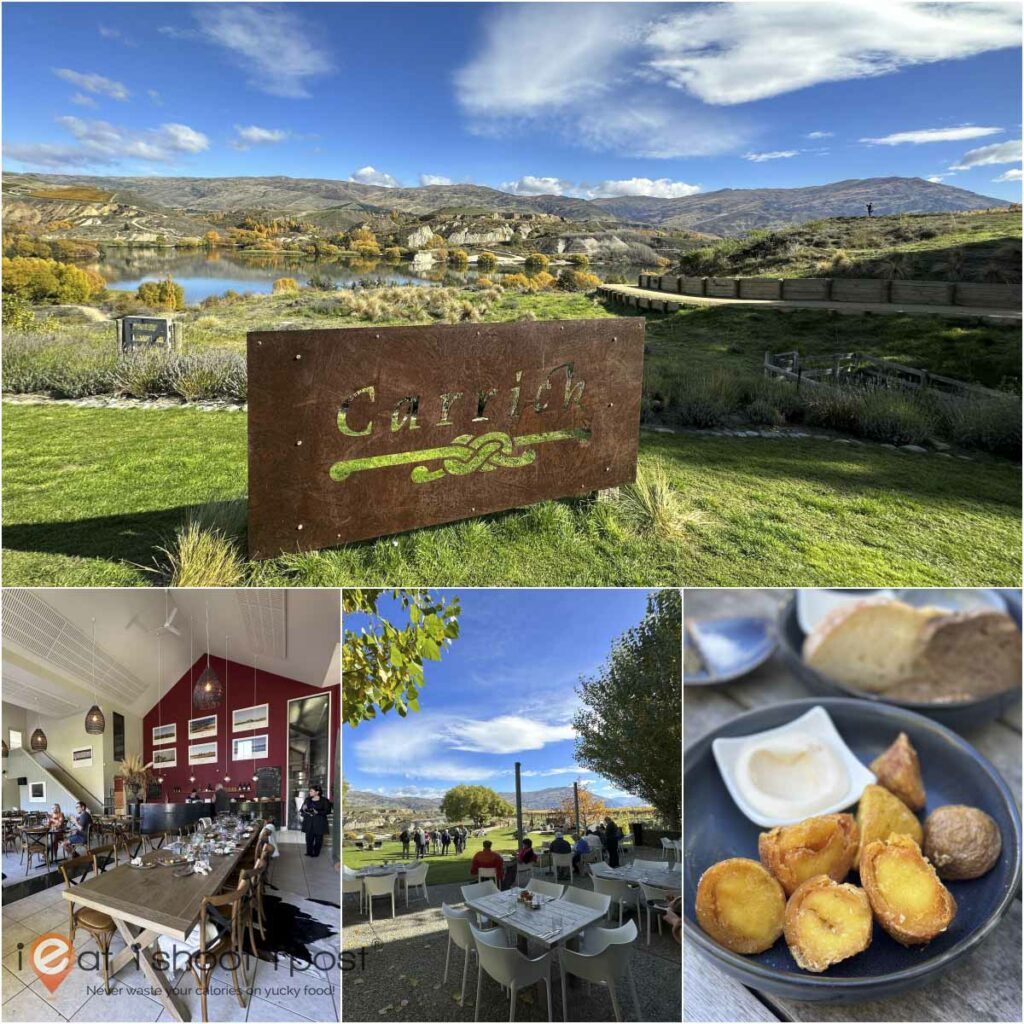 As we made our way to Cromwell, we stopped by the Carrick Winery and Restaurant for lunch. The location is stunning and well worth a stop. The winery overlooks the beautiful Bannockburn Inlet while the restaurant features vegetables from their own garden and local produce. This is one of those places where you can really just spend a leisurely few hours just soaking in the sun and scenery.
Carrick Winery & Restaurant
247 Cairnmuir Road, Bannockburn, Cromwell 9384
Jackson Orchards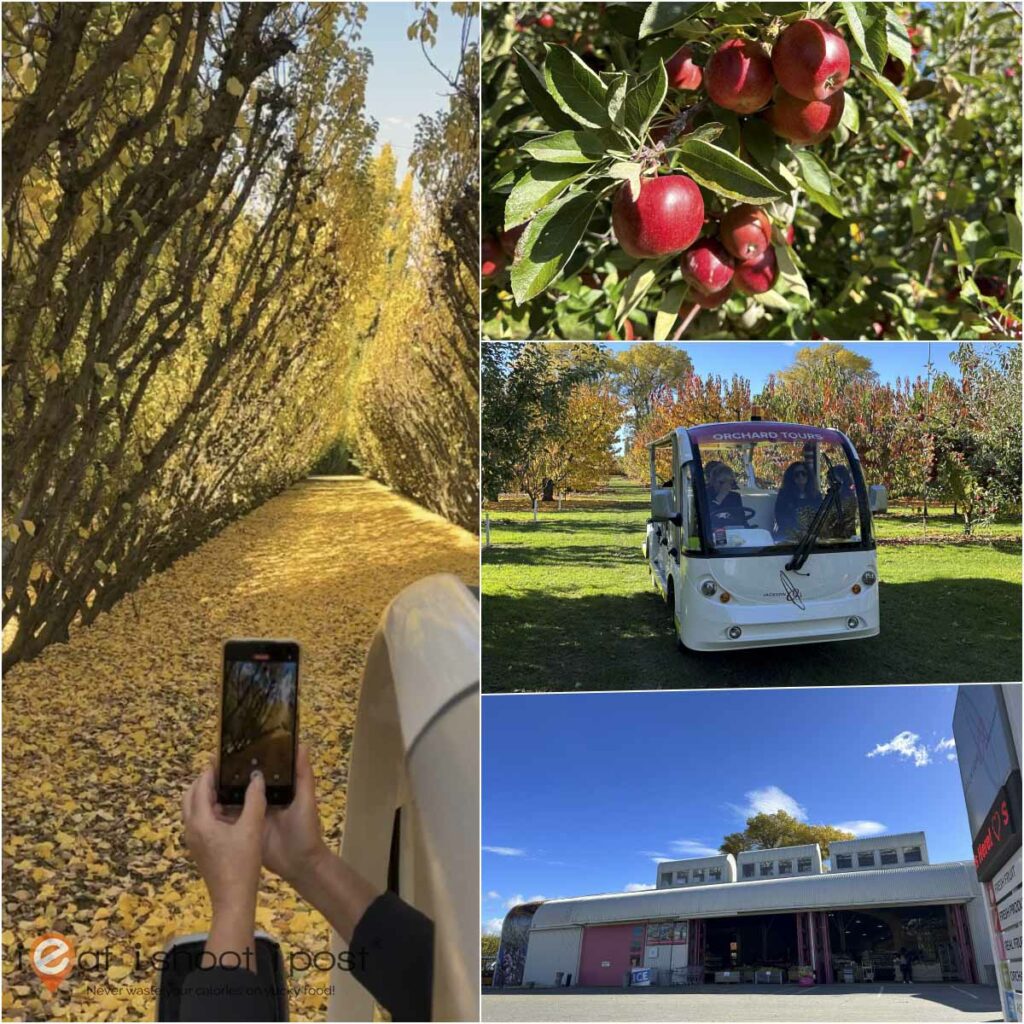 Jackson Orchards plants all sorts of fruits from the very popular cherries to apples, nectarines, apricots, and pears. We hopped on board their electric bus for an educational tour of the orchard. They grow their trees on V-shaped trellis to maximize sunlight hitting the fruits and also to make it easy to harvest the fruits. Good place to visit with the kids so that they learn that apples grow on trees and not in the supermarket shelves!
Jackson Orchard
73 Luggate-Cromwell Road, Cromwell 9384
Misha's Vineyard Wine Tasting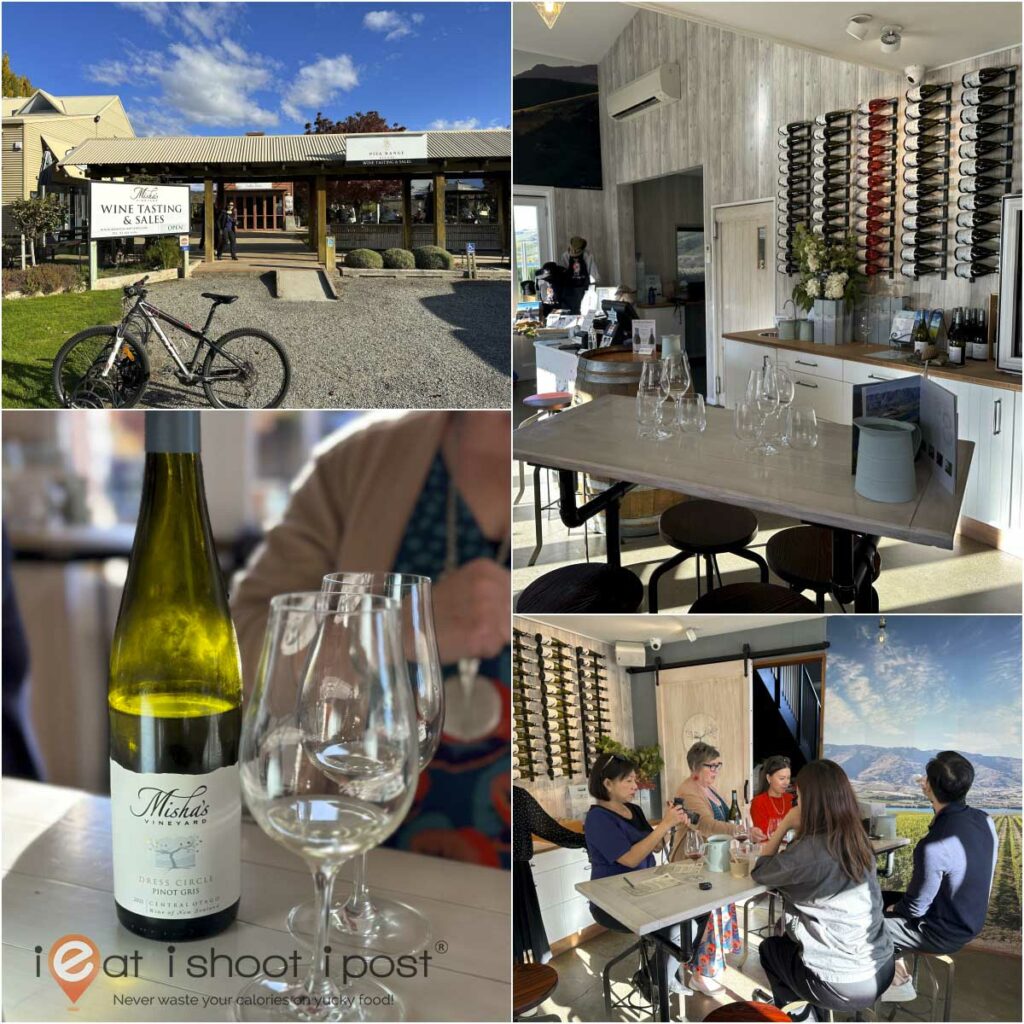 The Central Otago Region is known as the world's most southern region for Pinot Noir. So, if Pinot Noir is your thing, Misha's one of the vineyards to visit. The owners spent 16 years in the IT industry in Singapore in the 1990s and returned to New Zealand with the vision to produce superb wines which will pair with Asian as well as Western food! The bottles are topped with gold because of a gold coin that they picked up in Singapore's Chinatown that was used to plant their first eight vines for luck and prosperity!
Misha's Vineyard Tasting Room
182 State Highway 8B, Cromwell 9310

Burn Cottage Vineyard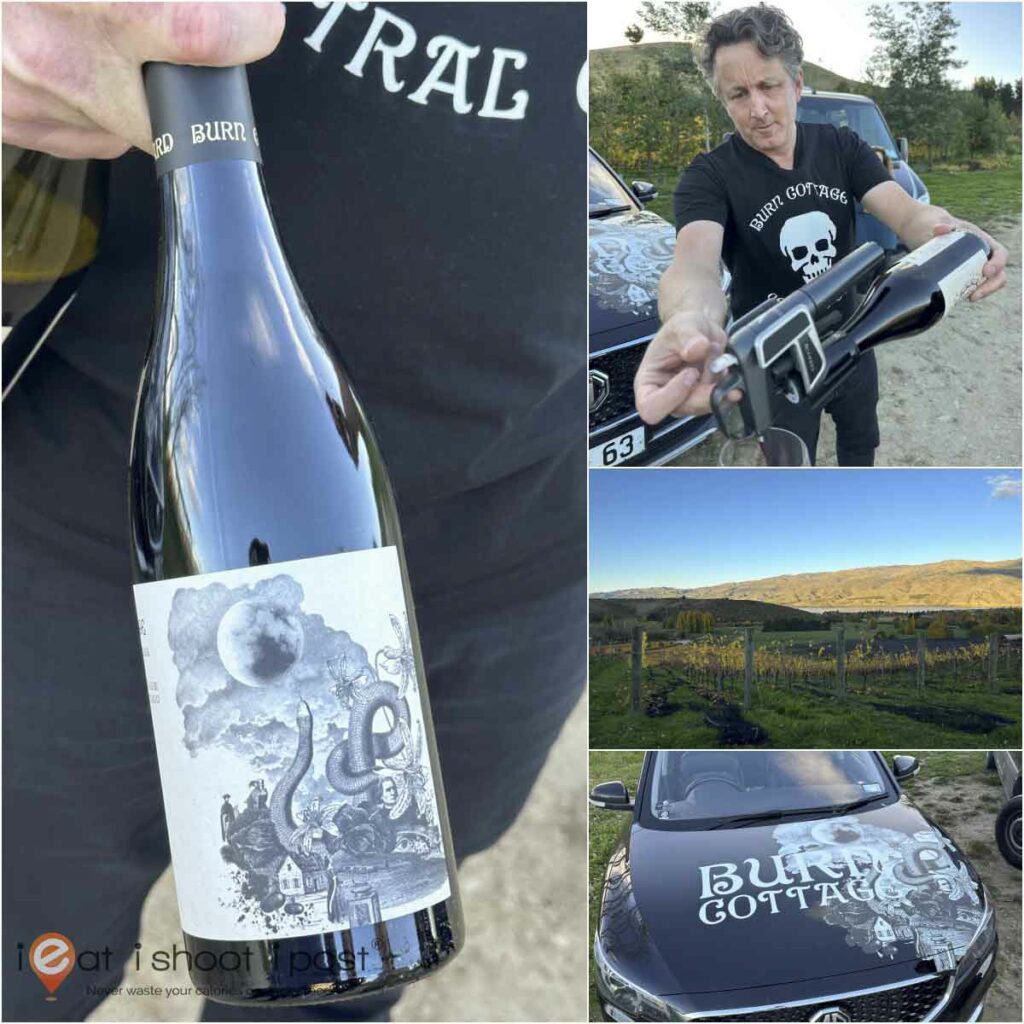 The thing that really caught my eye at Burn Cottage Vineyard was the artwork on the labels. It is inspired by the fairy tale of The Green Snake and the Lily by Johann Wolfgang von Goethe which inspired the owner to embrace bio-dynamic farming techniques. Along with the 10 hectares of vineyards, they have 20 hectares of land used for growing other crops in order to have an enclosed farm system. The wines are bottled according to vineyard blocks with minimal intervention in order to capture the expression of the land. This label is quite popular in Singapore and I am sure those who have tasted it would want to make a special trip to the vineyard!
Burn Cottage Vineyard
91 Burn Cottage Road, Cromwell 9384
The Stoaker Room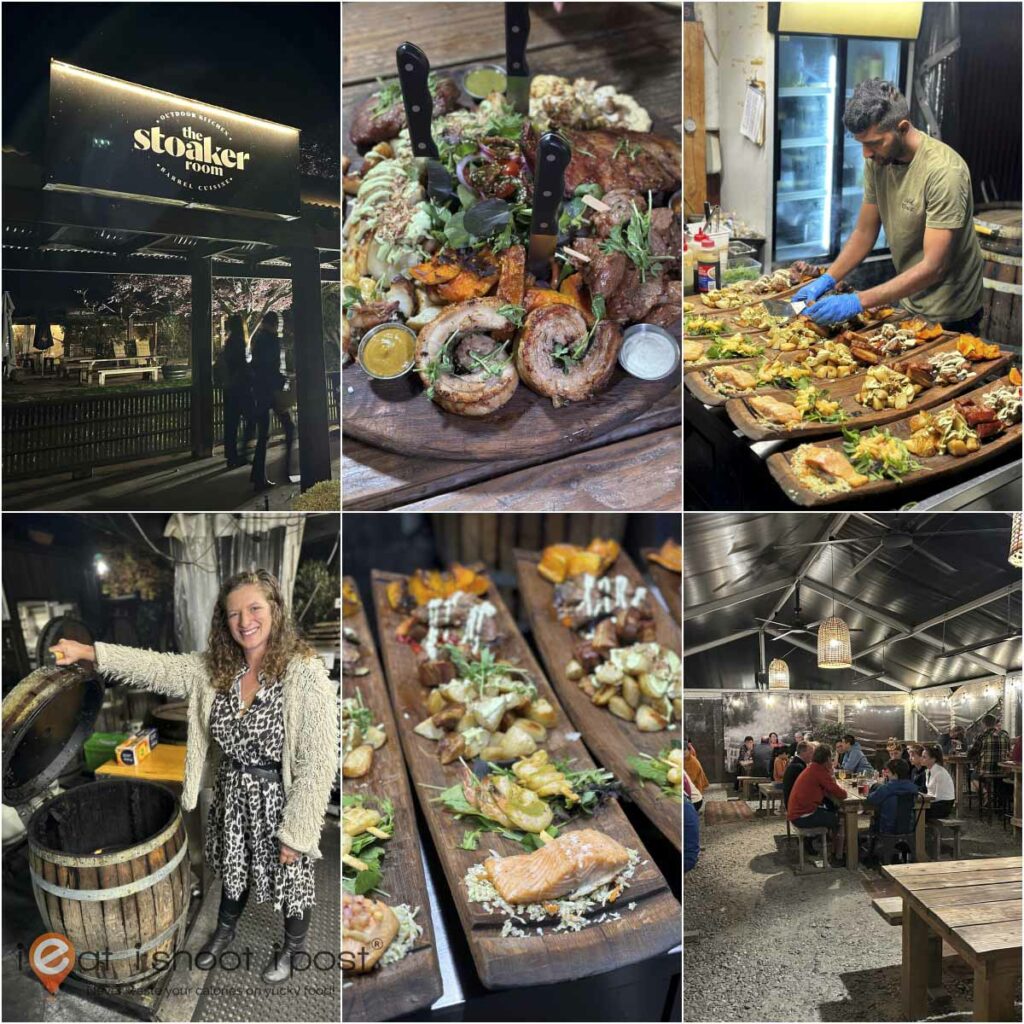 We had one of our best meals at The Stoaker Room. Most of our meals so far have been at proper dining places where we got pieces of protein that are cooked and plated delicately on plates. At the Stoaker Room, we finally got to eat like cavepeople! The meats and vegetables are cooked in re-purposed old wine barrels which were created by the owner himself and placed on the lid or planks of the barrel! The meats are all very good. The method of cooking in the barrel roasts, steams, and smokes the meat at the same time. Well worth visiting for something unique.
The Stoaker Room
180 State Highway 8B, Cromwell 9310
Marsden Lake Resort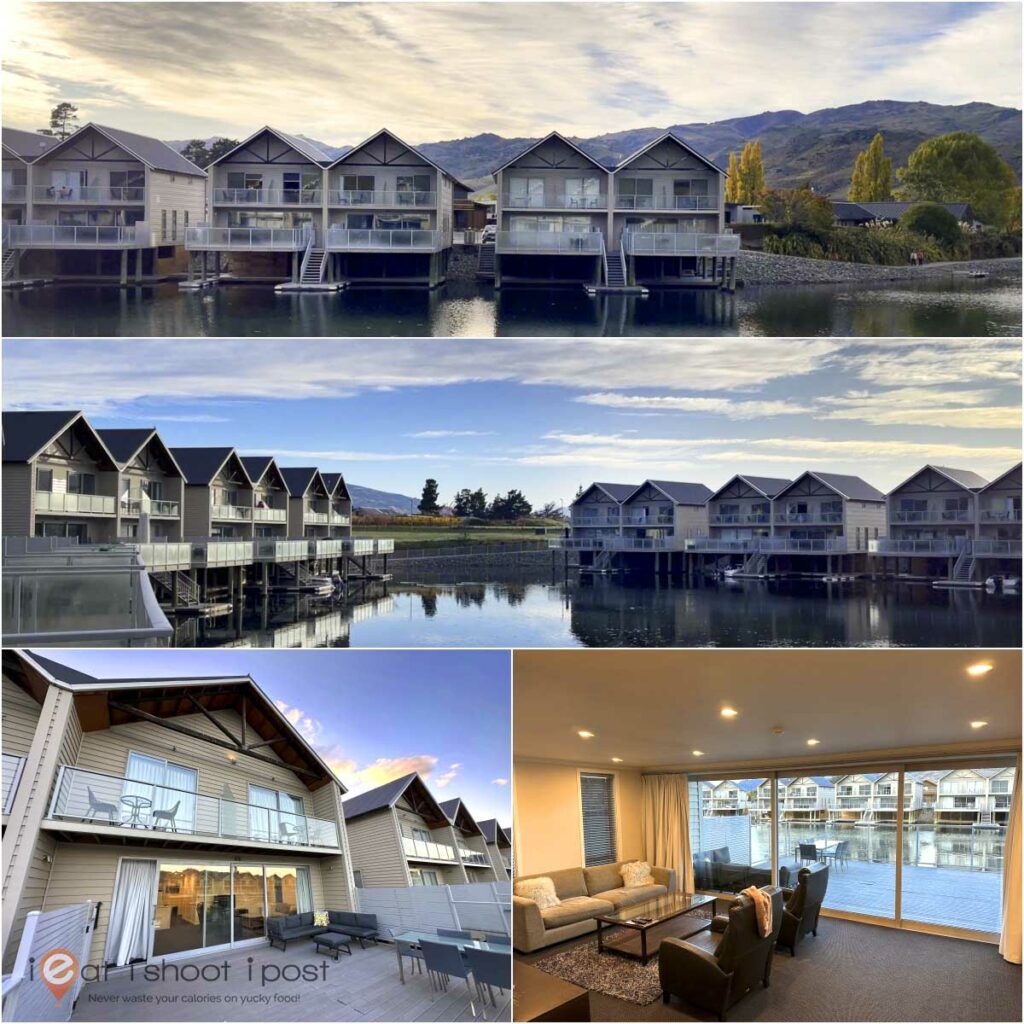 We spent our last night at the Marsden Lake Resort which is designed like a boatshed each with its own private mooring. The lakeside chalets are spacious with a fully functioning kitchen, and large overwater decks. We could easily have spent a few days here!
Marsden Lake Resort Central Otago
35 Perriam Place, Cromwell 9383
Day 6: Road Trip from Cromwell to Arrowtown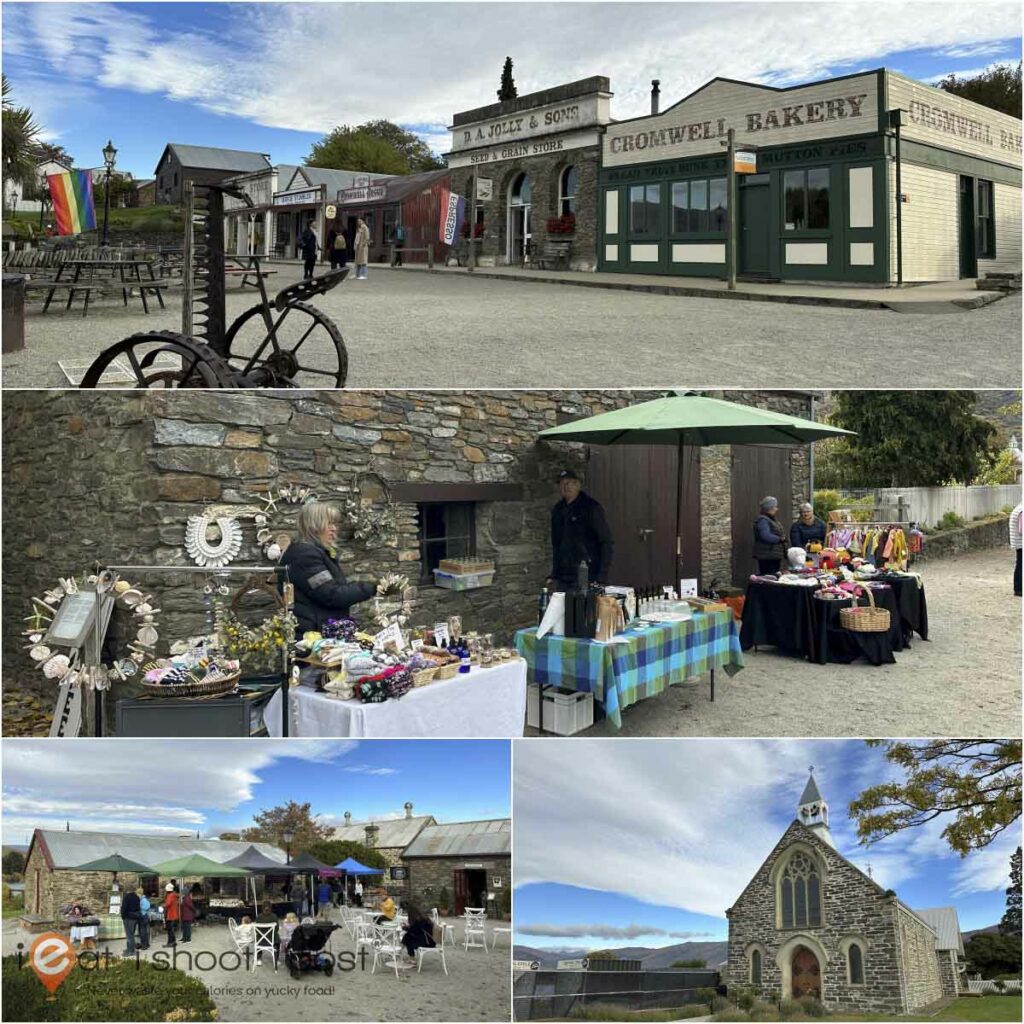 We started our final day in New Zealand by visiting the Cromwell Farmer's and Craft Market which is located in the delightful Cromwell Heritage Precinct which featured Gold Rush-era buildings that have been restored and used as stores and cafes. The row of heritage shops that overlooks the picturesque Lake Dunstan looked like something straight out of Disneyland and is a lovely place to do a quiet morning stroll. The farmer's market is not very big and features a few stalls selling locally made cheeses, olive oils, and various arts and crafts.
Cromwell Farmer's and Craft Market
Inniscort Street, Cromwell 9310
Arrowtown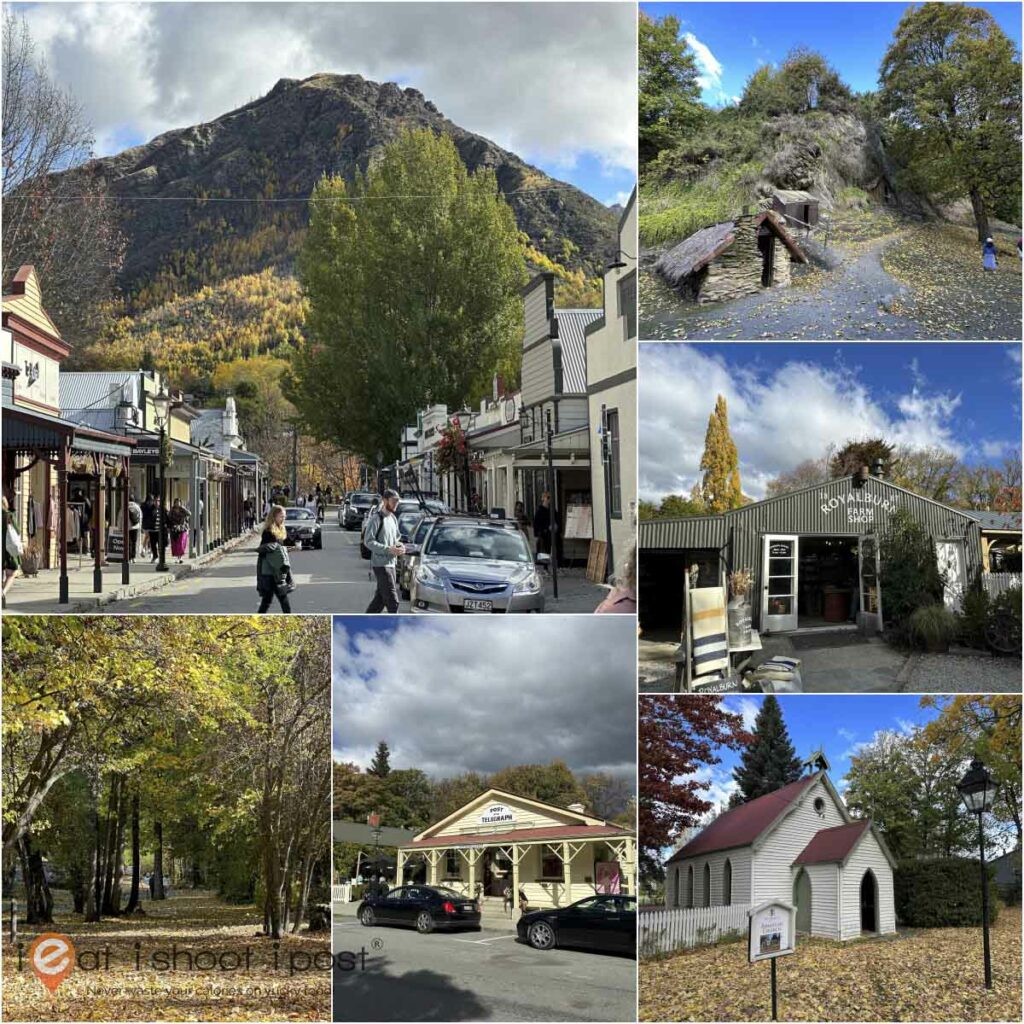 Our road trip ended at the gold mining town of Arrowtown. We had lunch at The Dishery Restaurant which was conveniently located next to the History Chinese Settlement which has been partially restored and shows how living conditions of Chinese miners who came to Arrowtown searching for gold in the 1880's. We visited St Paul's Anglican Church and strolled down the main street to browse the shops and take in the lovely Autumn colors. It is said that Arrowtown is at its most beautiful in Autumn and we don't disagree.
Make sure you don't miss Royalburn Farm Shop which is a little off the beaten path in Arrowtown but easily reachable on foot. This little gem of a store sells products direct from the farm and was where I finally managed to buy a bottle of organic non-homogenized milk. Throughout the trip, we have been seeing lots of cows grazing on green pastures but we didn't manage to come across a shop selling fresh milk and soft serve ice cream, like in Hokkaido. So, I was very happy to finally get to drink real fresh milk. They also have a tasting station where we managed to taste some lamb which has been finished on chicory roots.
The Dishery Restaurant
4 Buckingham Street, Arrowtown 9302

Royalburn Farm Store
Corner Bedford, Merioneth Street, Arrowtown 9302
Amisfield Restaurant and Cellar Door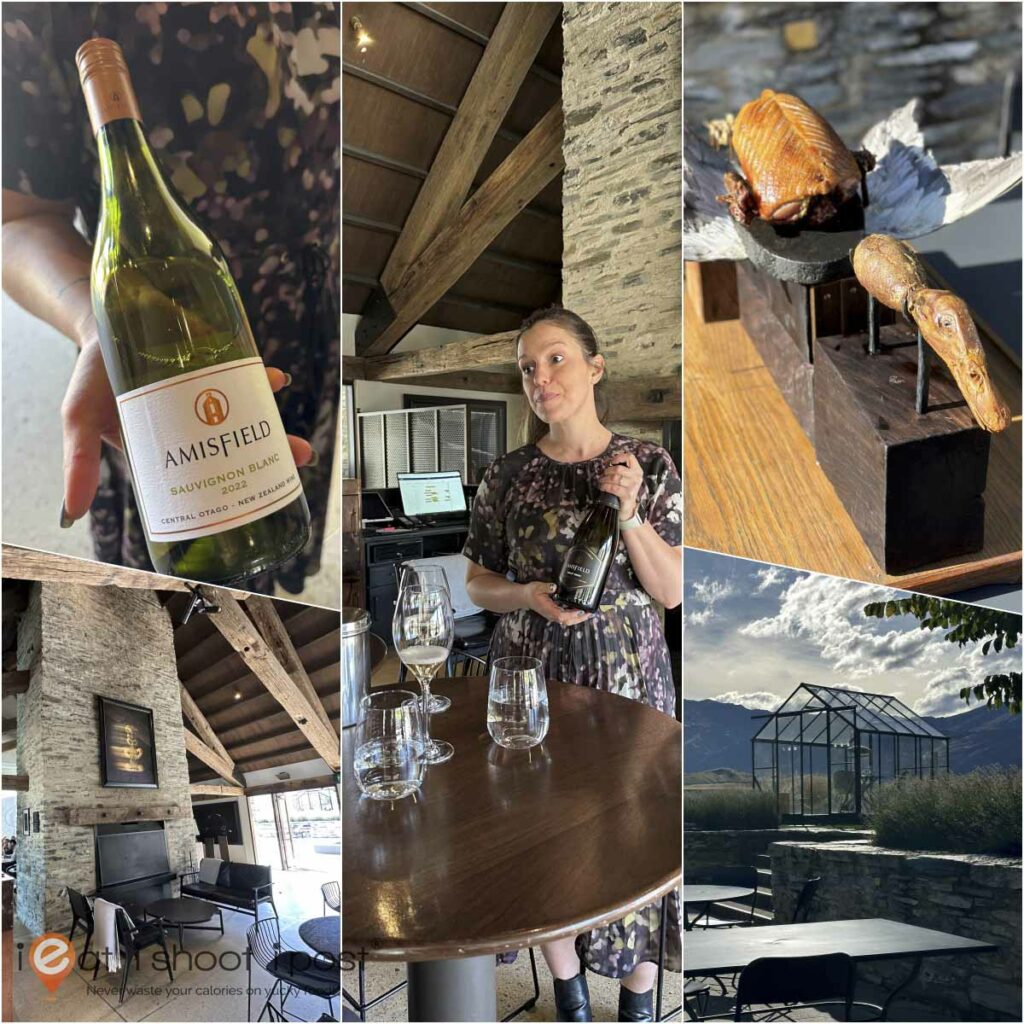 Our final stop before heading to Queenstown Airport was Amisfeld Restaurant and Cellar Door which had recently been crowned the American Express Restaurant of the Year, 2022. We were there for wine tasting, so we didn't get to try the lunch menu which was priced at $180. While the rest were doing wine pairing, I was more distracted by what they were dishing out of the kitchen. They have an intriguing duck done for ways that I would have loved to have tried but you have to book ahead as, like our HDB flats, they are BTO. (made to order)
Amisfeld Restaurant and Cellar Door
10 Arrowtown-Lake Hayes Road, Frankton, Queenstown 9371
Conclusion
Our first trip to the South Island of New Zealand was a great introduction to the rustic landscape of the Cantebury, Mackenzie, and Central Otago regions. Throughout the trip, I couldn't help but think of how much it reminded me of our Hokkaido trips. The scenery, especially around Lake Tekapo is just stunning. We had lots of great wine to try, good food to eat and it was a real escape from urbanity. We could easily have extended our trip to two weeks to really soak in the fresh air and greenery!
Go back to read parts 1 & 2 of our foodie trip to New Zealand South Island
Disclosure
This trip by sponsored by The New Zealand Tourism Board