Perfect Country Getaway!
Hokkaido is a lovely place to visit if you want to get away from the hustle and bustle of city living and enjoy driving through the lush countryside, enjoy a soft serve ice cream, and indulge in fresh seafood. We love Hokkaido and before the pandemic, we had made several trips there to experience Hokkaido through its various seasons. You can check out our recommendations on places to go and things to eat here.
This is our first trip back to the North Island of Japan after the pandemic. This time, we had the opportunity to explore Hokkaido's wineries, discover Niseko in Autumn, take a boat ride around the beautiful Lake Toya, and then embark on a short flight to the islands of Rishiri and Rebun to marvel at the beauty of their rugged terrain! We then took the ferry over to Wakanai where we dressed up in kimonos and got our photos taken at the northernmost point in Japan!
In this 2-part series, we will share the itinerary that was put together by the Hokkaido Tourism Organization, who sponsored our trip, along with important tips so that you will have the resources needed to plan your own amazing trip to Hokkaido!
Ready? Ikimasho! (Let's go!)
Day 1: Otaru
Although we have made several trips to Hokkaido previously, we have never visited a winery before. It had never occurred to us that there were even wineries in Hokkaido. It turns out that Hokkaido is the largest grape-producing region in Japan and although they only started making wines in 1963, Hokkaido wines have been gaining traction and the number of wineries has been growing. There are now 57 wineries in Hokkaido producing wines that are unique to the region.
Exceptional Wine Pairing Lunch at NIKI Hills Winery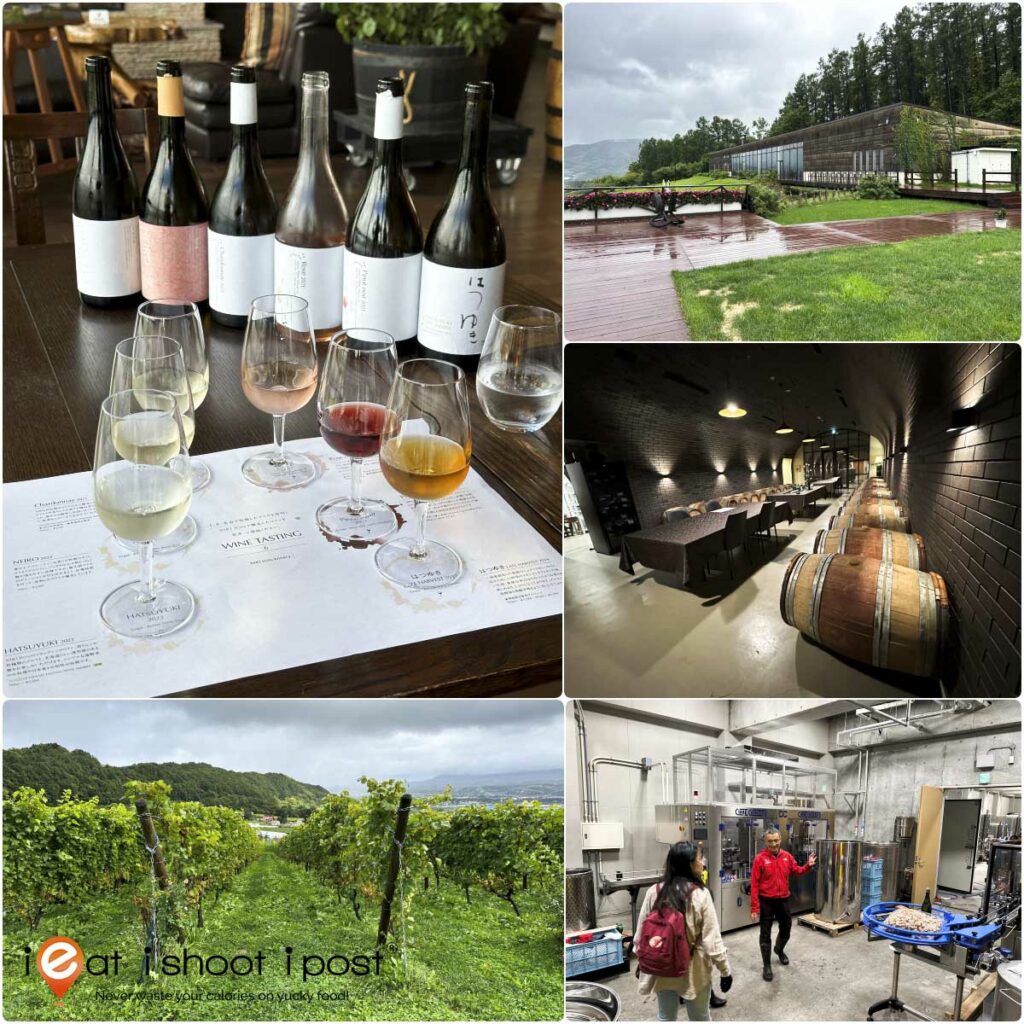 NIKI Hills Winery is quite new. They acquired a disused orchard and began planting the vines in 2016 and in a relatively short period of time, they already managed to produce some award-winning wines. During our visit, we were taken on a tour of their vineyard and winery by the general manager, Keizo Funatsu, who used to live in the Arctic and was the first to cross the Antarctic by ski and dog teams! He met the owner Kazunori Ishikawa in Alaska, who persuaded him to return to Hokkaido to manage the new vineyard and winery.
Our experience at NIKI Hills Winery reminded us of the wine tours we had done earlier in the year in New Zealand. However, as is typical with everything in Japan, they managed to infuse the winery with their distinctive Japanese charm. And, of course, the wines were excellent! We were particularly impressed with their award-winning 2021 Chardonnay.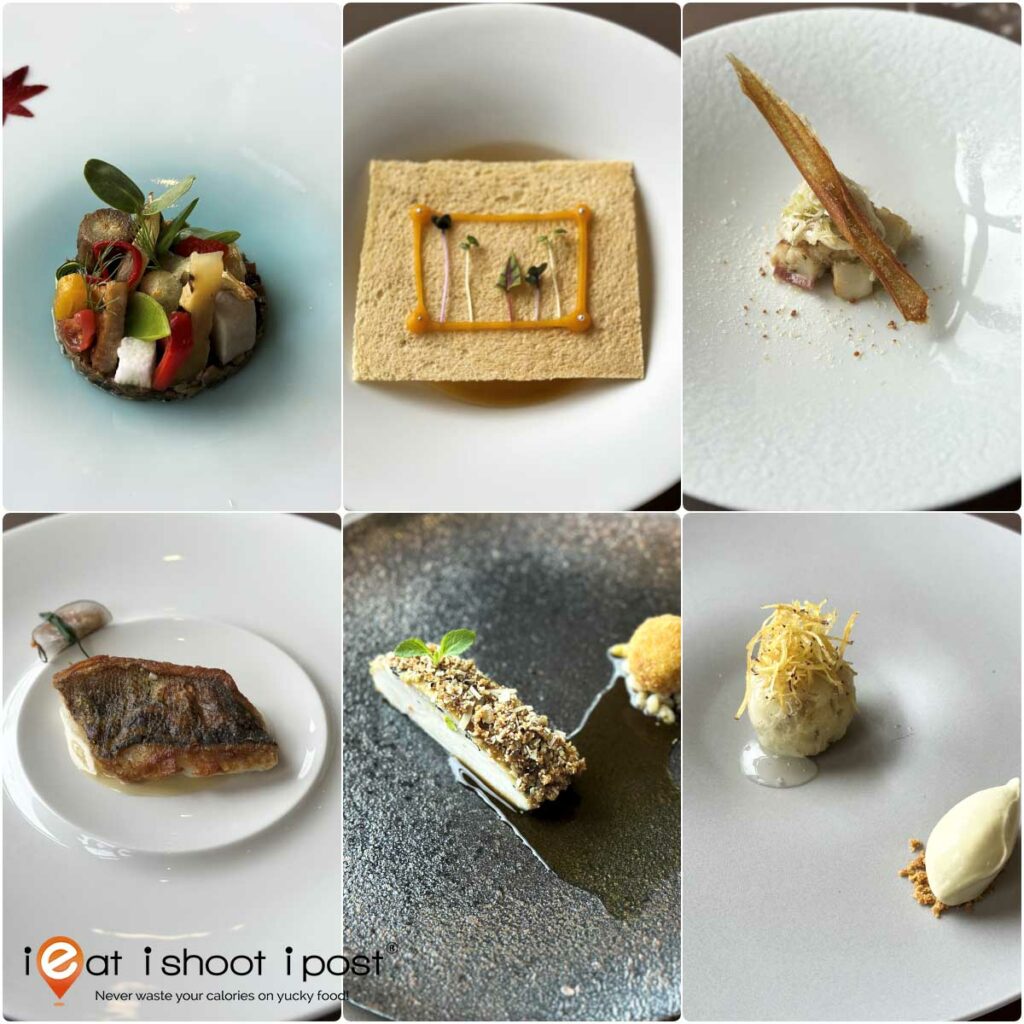 They also offer an exceptional wine-pairing lunch on the premises, using locally sourced Hokkaido ingredients. We had one of the best meals of the entire trip here. I was particularly impressed by the Shiretoko chicken. This gourmet chicken, bred in the Shiretoko region of Hokkaido, is fed with kombu, resulting in a deep umami flavor in the meat. It was one of the finest chickens I have ever tasted. While we would encounter Shiretoko chicken in subsequent meals, the first time is always the most memorable!
NIKI Hills Winery
Map and Details
Website: NIKI Hills Winery
Hokkaido's Largest Winery: HOKKAIDO WINE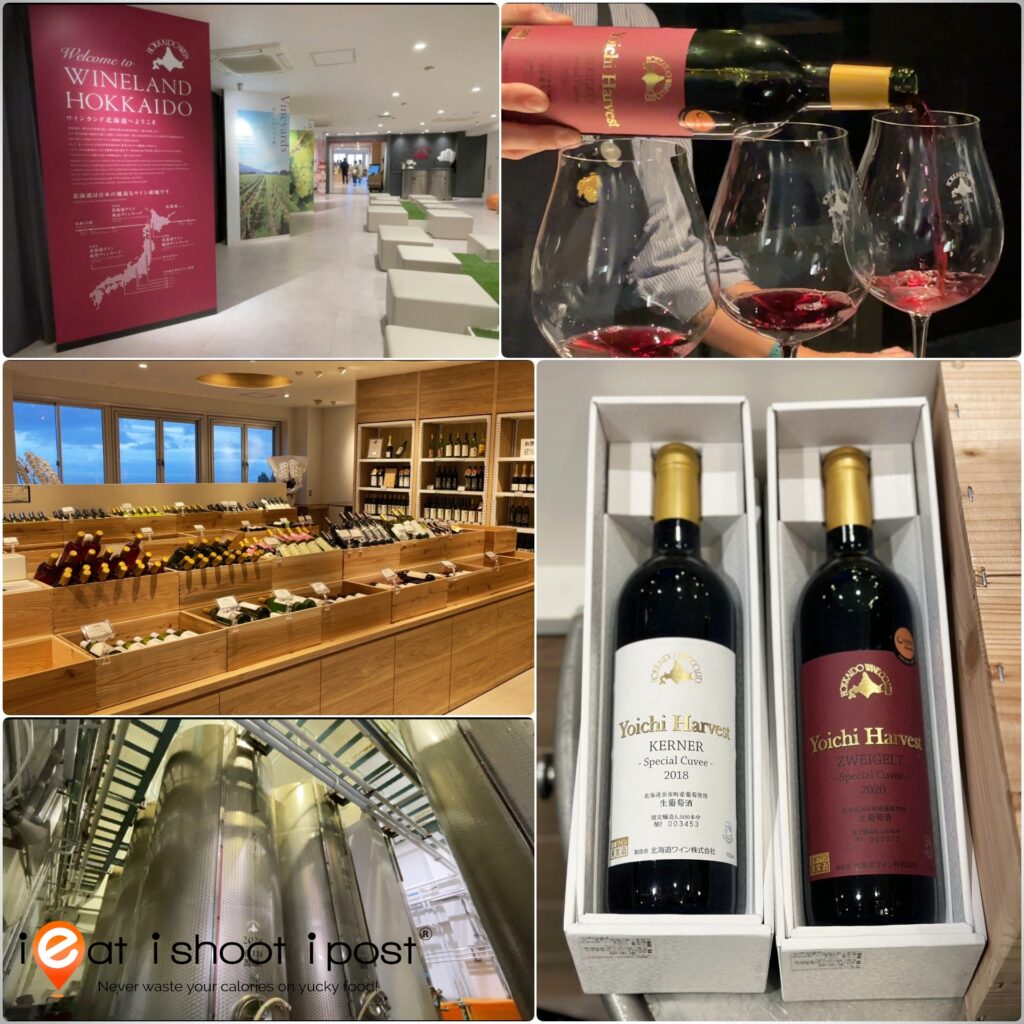 Established in 1974, HOKKAIDO WINE, while not the oldest winery, is the largest in Hokkaido. The winery has three vineyards of its own and collaborates with over 200 grape growers in Hokkaido. Many of the wines produced here are recognized as GI Hokkaido, a geographical indication for wine designated by the National Tax Agency.
The winery features substantial fermentation vats that are constantly regulated by the cooling effect of natural cold water pumped from underground reservoirs. One of their standout offerings is Niagara wine, crafted from Hokkaido's most popular table grape variety. This aromatic and fruity wine is recognized by the Hokkaido Government as a 'High-Grade Food of the North,' judged by top chefs and buyers.
Otaru Wine Gallery
Map and Details
Website: www.hokkaidowines.com
A most splendid Ryokan! Otaru Kourakuen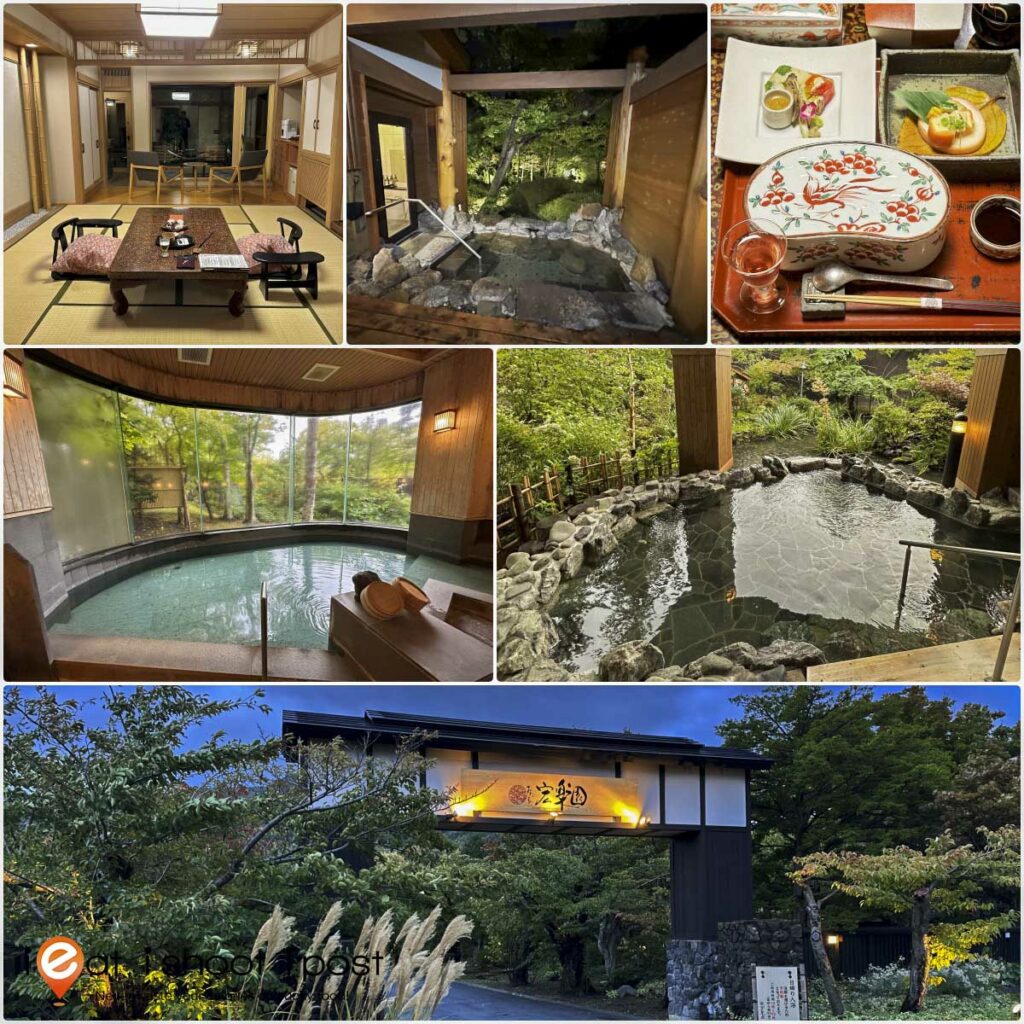 Otaru Kourakuen offers everything one could desire in an onsen ryokan. Nestled within a meticulously nurtured garden spanning two generations, this ryokan features 200 cherry trees that transform the surroundings into a breathtaking spectacle every early May. Despite its over 60-year history, the ryokan underwent a complete renovation approximately 8 years ago due to a devastating fire. The establishment strikes a harmonious balance, exuding a delightful touch of luxury without excessive opulence, blending tradition with modern amenities such as WiFi and contemporary toilets.
One of our most cherished experiences was the inclusion of our own private outdoor onsen, providing a perfect retreat for those who value their privacy, especially for us shy Singaporeans. While we had frequented public onsens on many occasions, it's still nice not to have to avoid eye contact with strangers, or even worse, bump into people you might know!
The pricing covers both breakfast and an exquisite kaiseki dinner, thoughtfully arranged within the comfort of our room. We wholeheartedly recommend Otaru Kourakuen for a luxurious onsen ryokan getaway.
Otaru Kourakuen
Map and Details
Day 2: Niseko
Visit Takahashi Dairy Farm for views of Mt Yotei with Soft Serve!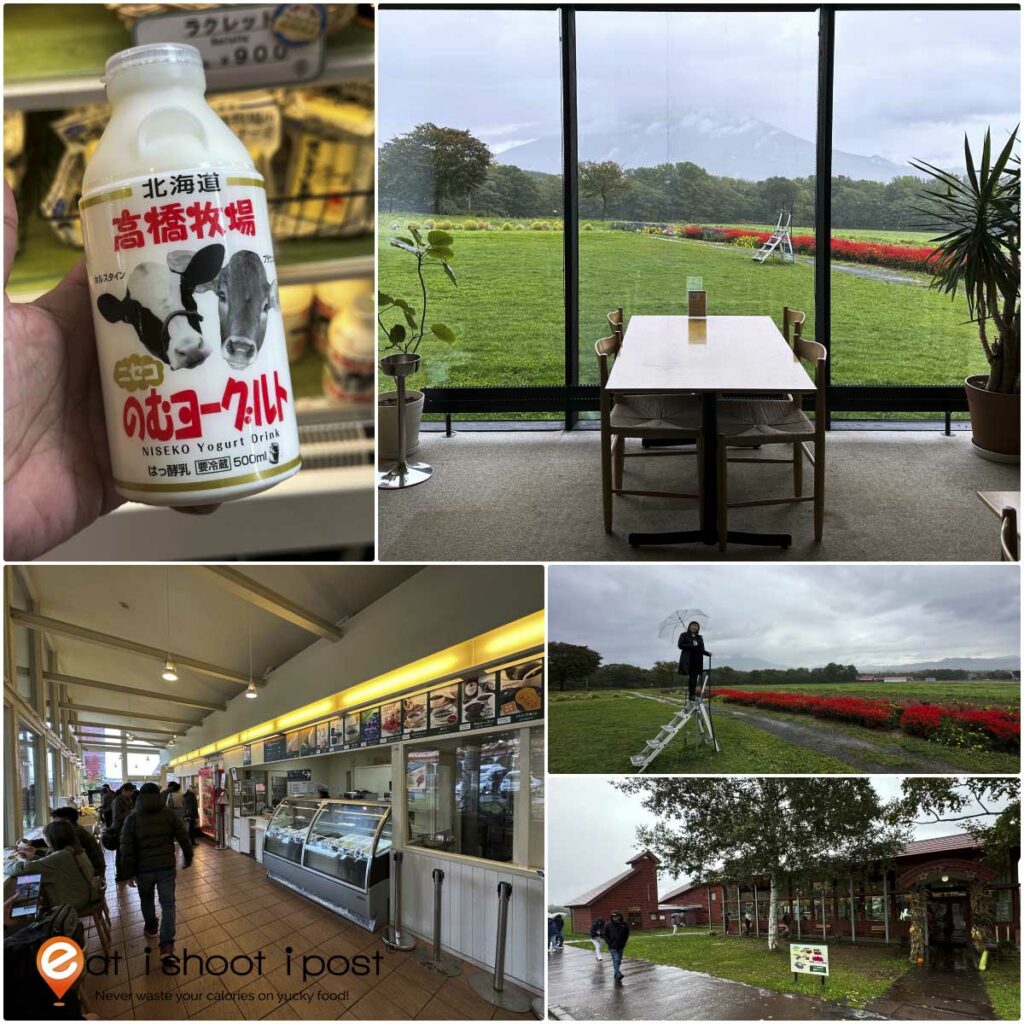 Our initial plan was to go ziplining, but unfavorable weather conditions led us to spend the morning at Takahashi Dairy Farm instead. On a clear day, this location would have been the perfect backdrop for a selfie with black and white Holsteins peacefully grazing on the lush green meadow, framed by the majestic Mt. Yotei in the distance. It's the picture-perfect image for conveying the ideal environment for producing top-quality milk!
Here, you can savor your daily serving of soft-serve ice cream, take a sip of fresh Hokkaido milk, or simply unwind with a cup of coffee while admiring the scenic vista. Just a stone's throw away, across the parking lot, you'll discover a selection of delectable chocolates and baumkuchen. Their chocolate bars are crafted from cocoa beans sourced from various corners of the world, including a surprising one from our neighboring country, Malaysia!
Niseko Takahashi Dairy Farm
Map and Details
Wine Pairing Lunch at the new Park Hyatt Resort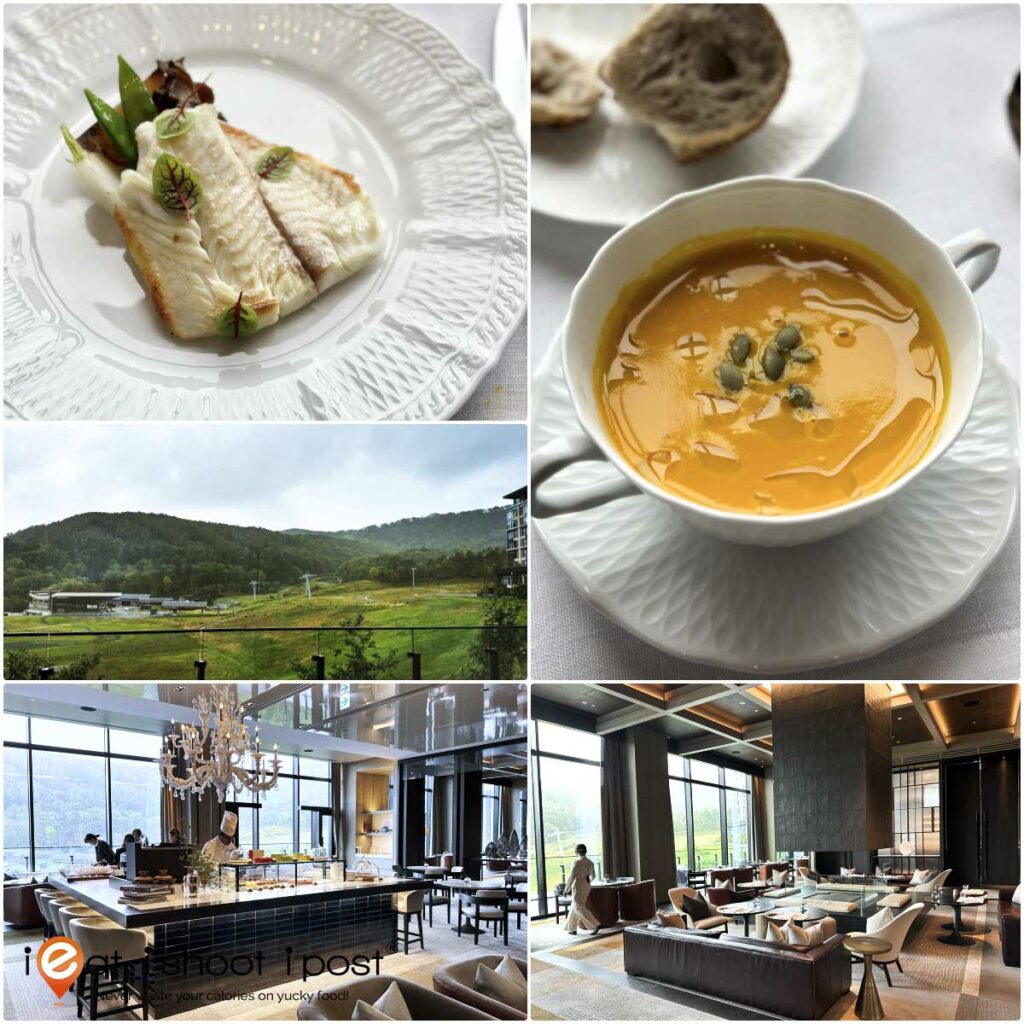 Lunch in Niseko was at the beautiful Park Hyatt Niseko, a five-star luxury resort that opened its doors just before the Covid lockdown. Located in Kutchan, away from the hustle and bustle of Niseko town, the hotel is a standalone entertainment complex. We had a delightful wine-pairing lunch there while gazing across the field at what would have been our ziplining adventure in the morning! I can just imagine the place abuzz with activity during the skiing season, given its direct access to the pristine powder ski slopes!
Park Hyatt Hanazono Niseko
Map and Details
Overnight stay at the brand new Setsu Niseko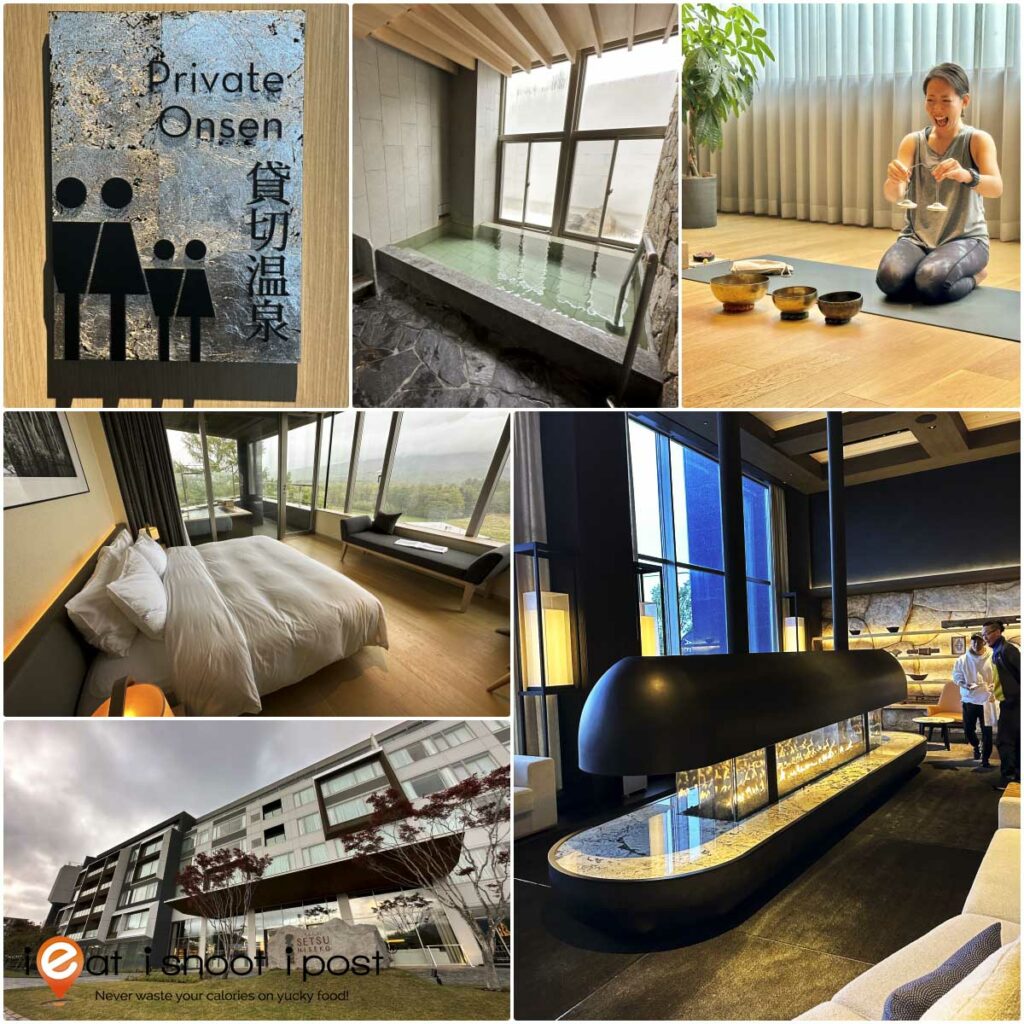 We lodged at Setsu Niseko, a property owned by Singaporean real estate developer SC Global. This hotel, just a year old, offers a pristine experience. We were given a comprehensive tour of the property, which comprises privately owned residential apartments. The interior design is a fusion of modern aesthetics with a nod to Japanese tradition, featuring floating tatami rooms and terraces in select units. Large windows have been strategically positioned to provide breathtaking views of Mount Yotei, often likened to the Mount Fuji of Hokkaido.
We liked the option of private onsens for hotel guests which I am sure is reassuring for those who are not used to public baths. While it's not a ski-in, ski-out facility, the hotel does provide regular shuttle services during the winter season to the Grand Hirafu Gondola, which is less than a 10-minute walk away. They do have in-house rental services for those seeking winter sports equipment.
Setsu Niseko
Map and Details
Night stroll to admire the Mountain Lights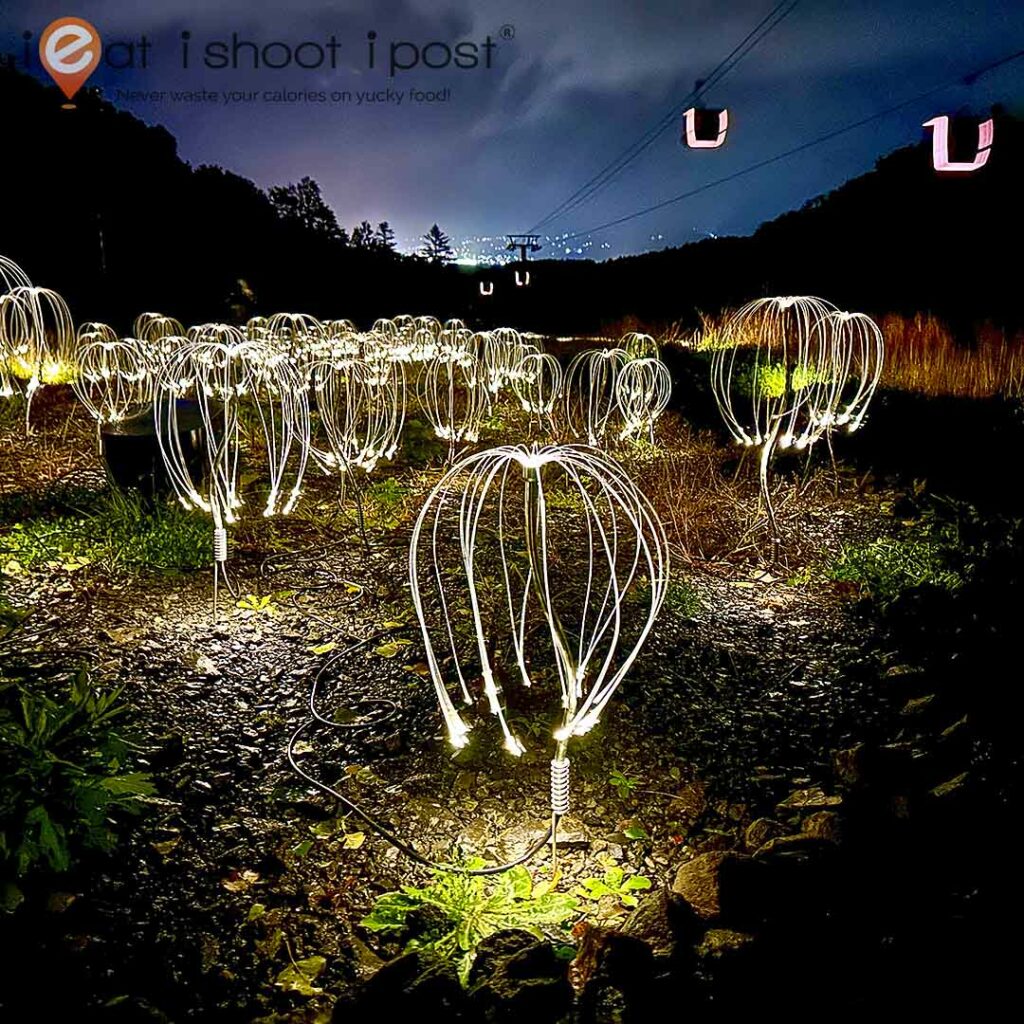 One evening activity you can enjoy during the off-peak season is taking a leisurely stroll down the ski slopes, breathing in the fresh mountain air, and becoming entranced by the dreamlike 'Mountain Lights' of Hanazono.
'Mountain Lights' is the creation of the internationally acclaimed British artist Bruce Munro, and it marks his first art installation in Japan. A staggering 180,000 lights have been installed along the slope, illuminating a walking path that you can traverse in just 20 minutes after taking the gondola up the mountainside. You can book the tickets at the same centre as the Hanazono Zipflight.
Mountain Lights/Hanazono Zipflight
Map and Details
Day 3: Lake Toya
Outdoor BBQ lunch on the shores of Lake Toya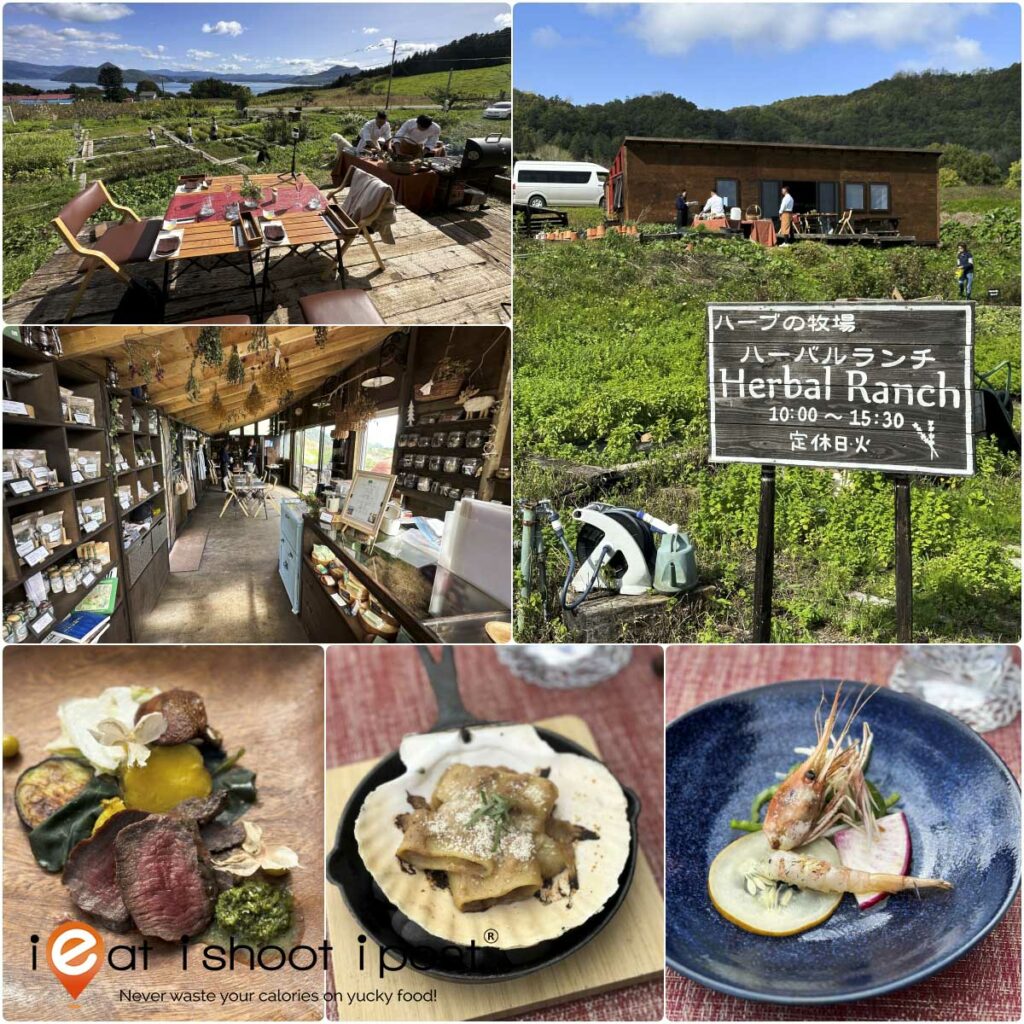 From Niseko, we traveled south to the beautiful region of Lake Toya. This area is known for its active volcanic activity. The lake itself was formed due to a volcanic eruption in the past, leaving behind a caldera that is now filled with water. What makes Lake Toya unique is the small island at its center, which was also shaped by volcanic activity. The place is absolutely stunning, and we highly recommend a visit to this area.
We stopped for lunch at the Herbal Ranch, a quaint spot located at the lake's edge. It's essentially an herb garden where, for a small fee, you can pick your own herbs and enjoy a pot of fresh herbal tea while taking in the picturesque views of the lake. Special arrangements were made for us to have a barbecue lunch, and we were served by our private chef (from Lux Toya) who prepared excellent dishes using locally sourced vegetables and wild venison. Booking in advance is required for the barbecue lunch, but you can simply drop by for their herbal tea or desserts.
Herbal Ranch
Map and Details
Power Boat Ride around Lake Toya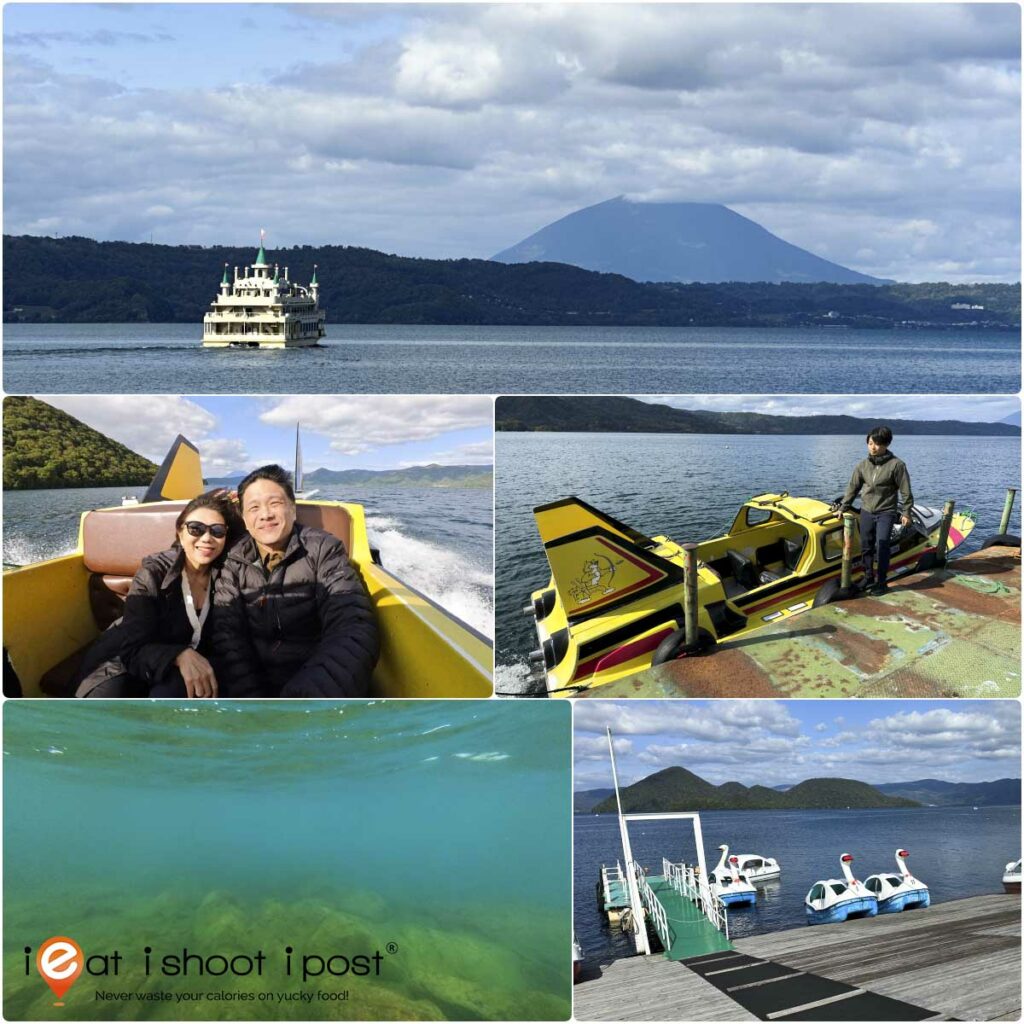 Arriving at Lake Toya, we headed to the boat rental station and boarded a power boat for a ride around the lake. Lake Toya is one of Japan's deepest lakes, which can reach depths of up to 180 meters in some areas. What makes Lake Toya interesting is that there are places in the lake where it becomes quite shallow.
They took us on a journey around the lake to "Zero Point," a location where the water is so shallow that you can almost walk on the lake! Along the southern edge of the lake, several hotels are situated, offering splendid views of Mount Yotei. I can envision spending a few days here, simply taking in the picturesque views of the mountain and the lake while enjoying the onsen!
Boat Rental
Map and Details
Enjoy Breathtaking views from Mt Usu Terrace!
Showa Shinzan is one of Japan's youngest volcanoes. It made a dramatic appearance when it rapidly emerged from a flat wheat field and reached its current height of 398 meters between 1943 and 1945. The mountain was named "Showa New Mountain" in honor of the reign of Emperor Showa (1926-1989). The mountain is bare because it is still too hot for vegetation to grow on it!
We headed to the Mt. Usu Ropeway, where we ascended Mt. Usu. At the Mt. Usu Terrace observatory, you'll find comfortable couches, offering the perfect spot to unwind and relish the breathtaking vistas of Lake Toya and Mount Yotei. The nearby Cafe Mt. Usu serves a menu featuring locally sourced ingredients with seasonal flavors.
Following that, we took a leisurely stroll along the boardwalk to the Usu Crater Basin Observation Deck, from where we had a view of the Gin-Numa Great Crater. This crater, formed in 1977, is still emitting fumes! Mt. Usu last erupted in 2000 and is expected to erupt every 20 or 30 years. We're just thankful it didn't decide to erupt while we were visiting!
Showa Shinzan
Map and Details
Usuzan Ropeway
Map and Details
Sapporo
Rose Garden Christ Church – Planning a Wedding in Sapporo?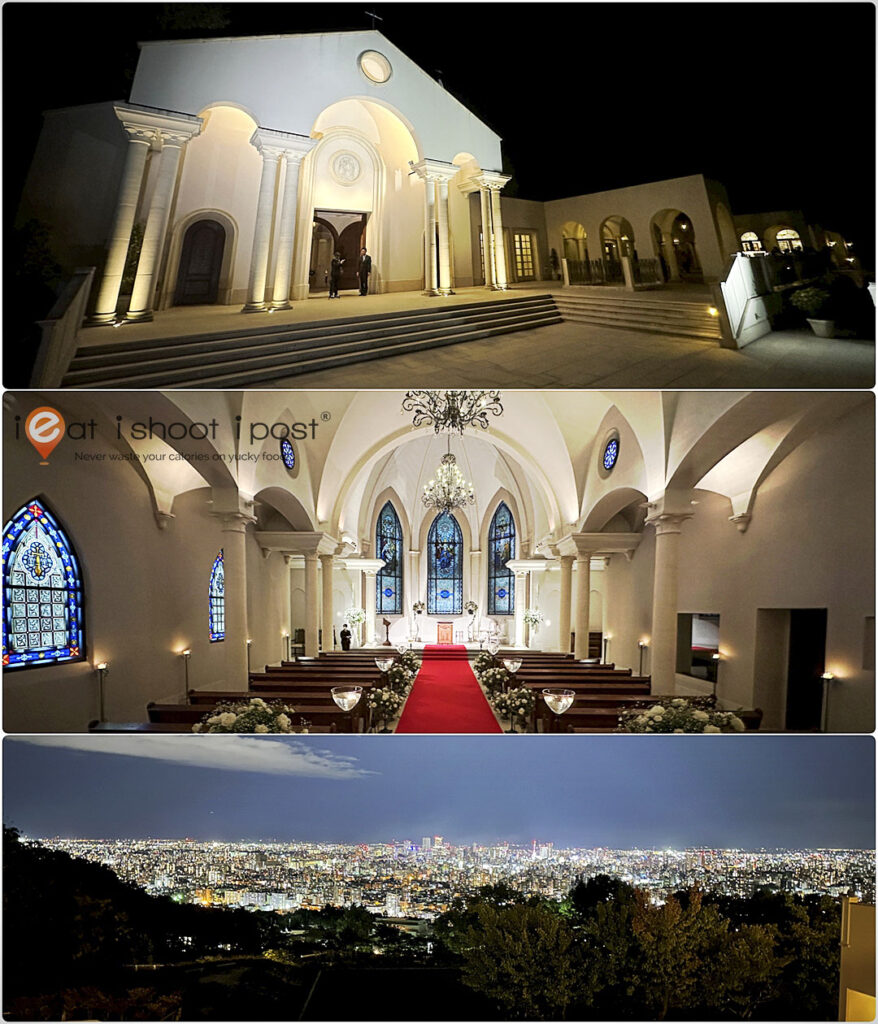 From Lake Toya, we made our way back to Sapporo. Unfortunately, we didn't make it before sunset to catch the panoramic view of Sapporo from Rose Garden Christ Church. The church is a popular location for weddings but unlike a few other wedding churches we have visited, this is a real church with an active congregation that meets every Sunday! It is unfortunate that we only made it there in the evening. The place would have been lovely for photos in the daytime!
Rose Garden Christ Church
Map and Details
Our Most Entertaining Dinner in Hokkaido!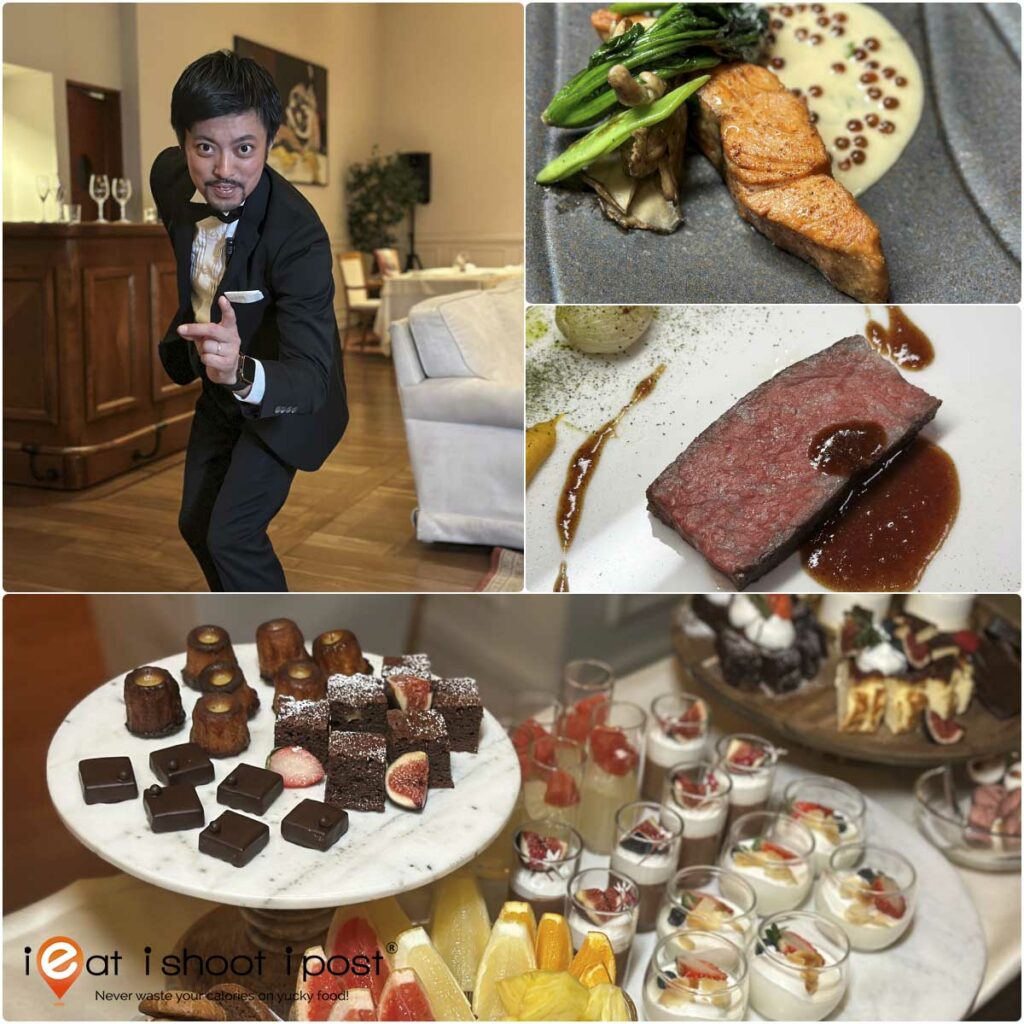 If you are having your wedding at Rose Garden Christ Chuch, you can opt for your reception at Jardine de Bonheur which is also part of the same company. This lovely mansion at the foot of the hill is a 5 min drive from the church and can be a stand-alone Wedding Venue where you can choose a garden setting for the ceremony.
We had a wine-pairing dinner there which is open to the public reservations. While we were there, another couple with a kid was there to celebrate their anniversary after holding their wedding at the same place years ago!
The highlight of the evening was undoubtedly the restaurant service manager, Yuki Takagi! He entertained us with stories of his Ainu heritage and how he doesn't believe in buying fish since you can catch them for free. And launched into a free-styled "hao chi" dance when he found out that "hao chi" was the Chinese equivalent of "Oishii"!
Jardine de Bonheur
Map and Details
A Modern Ryokan in the City – Yuen Sapporo
We stayed the night at the Onsen Ryokan Yuen Sapporo which is a modern ryokan in the heart of the city. The place is lovely, and it was just a shame we only checked in late at night and had to leave first thing in the morning for our flight to Rishiri Island.
Onsen Ryokan Yuen Sapporo
Map and Details
Clean convenient hotel in Sapporo – RICHMOND HOTEL SAPPORO EKIMAE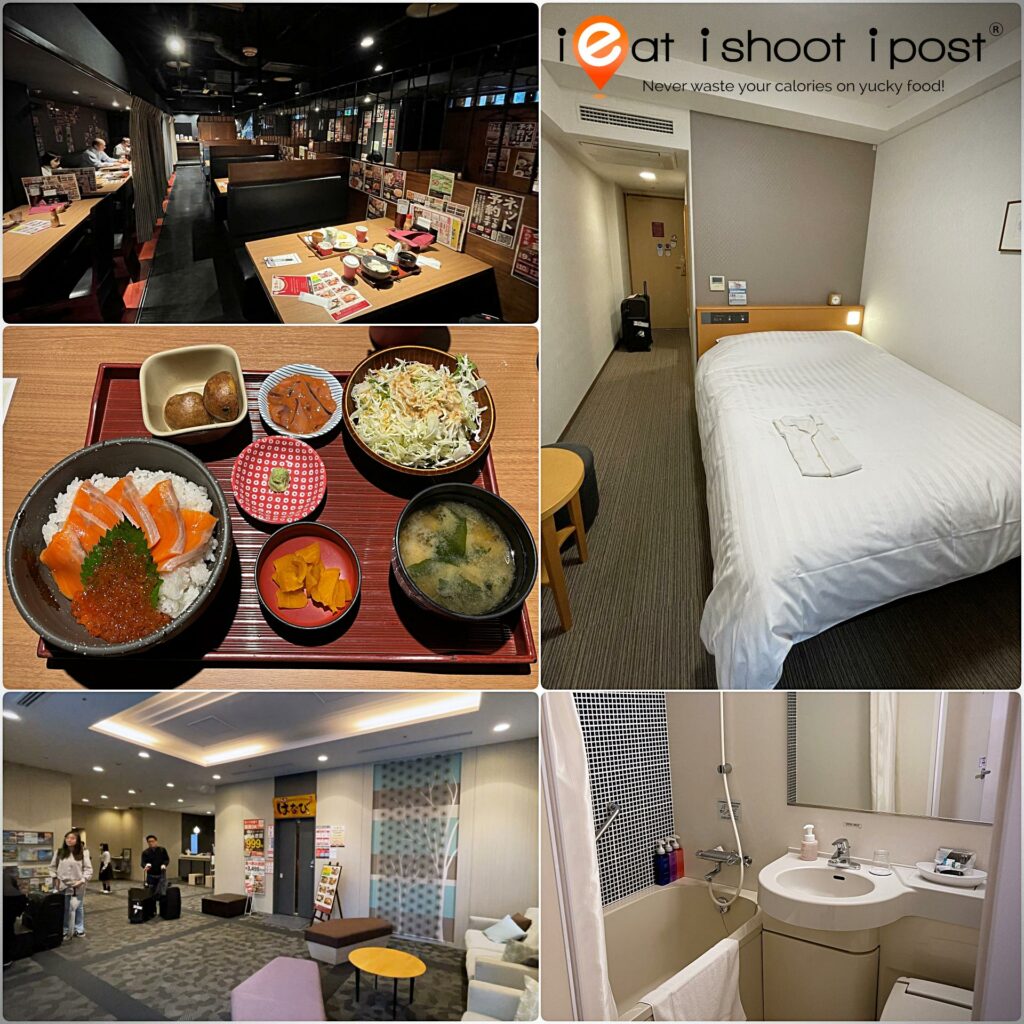 When we first arrived in Sapporo, we stayed at the RICHMOND HOTEL SAPPORO EKIMAE which is a business hotel conveniently located in the city. The rooms are a little tight, but the facilities are clean and modern. The Izakaya restaurant accessible via the hotel lobby also serves breakfast where you get to choose different breakfast sets. Lisa was particularly pleased with her Salmon and Ikura don breakfast set!
RICHMOND HOTEL SAPPORO EKIMAE
Map and Details
Watch out for the next leg of our journey where we went to Rishiri, Rebun and Wakkanai.
Disclosure
This was a media trip sponsored by Hokkaido Tourism Organization.