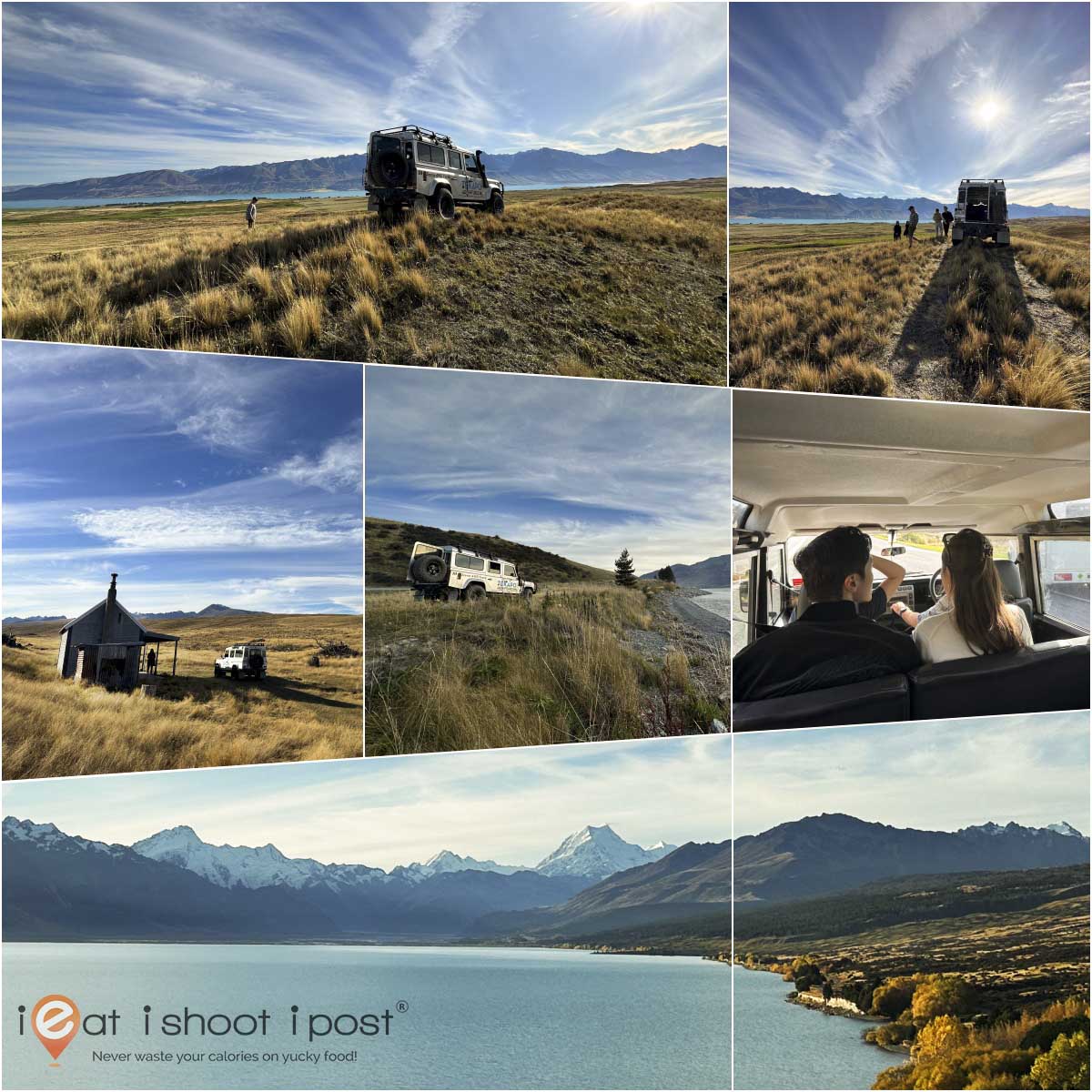 The journey from Christchurch to Queenstown takes about 6 hours by car. Right in the middle of the route is Lake Tekapo which is a popular tourist stop. This is where you can spend a few days admiring the lake, take to the air for an Air Safari or simply soak in a hot pool, gaze upon a sky full of stars, and ponder about just how insignificant we are.
"When I look at your heavens, the work of your fingers, the moon and the stars, which you have set in place, what is man that you are mindful of him, and the son of man that you care for him?" Psalms 8:3-4
Alas, the weather was not in our favour and we didn't get to go on the Air Safari to get up close to Mt Cook and see the glaciers. Still, we were taken in by the majestic mountain range and tranquil lakes and had fun catching salmon and finding some pretty amazing pies along the way.
Go back to Part 1 (Christchurch, Waipara) of our trip or jump forward to Part 3 – Cromwell and Arrowtown
Day 3: Road Trip to Lake Tekapo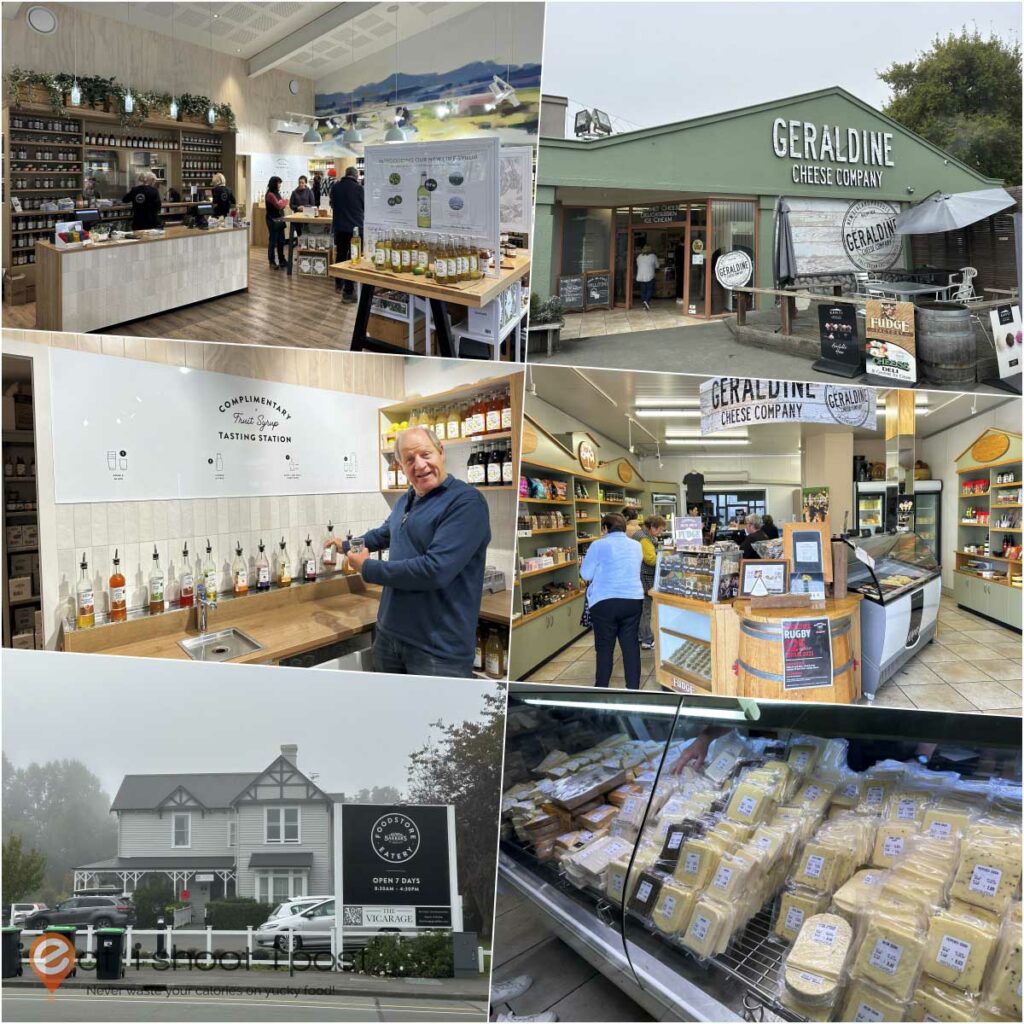 Geraldine
We made a stop for lunch at the charming town of Geraldine where we picked up some cheeses from the Geraldine Cheese Company. They make all their cheeses on the premises and they have a 11-year-old aged cheddar (which is now 13 years old but they didn't want to have to change the name) which is well worth trying!
We had a light lunch over at Barkers Food Store and Eatery which is quite a swanky establishment for such a sleepy little town! They grew out of a mom-and-pop shop across the street and are now located on the former grounds of the St Mary's Vicarage. They became popular for their pure blackcurrent syrup which managed to unseat Ribena as the kids' drink in New Zealand. Since then they have expanded their fruit syrup range and their store features all sorts of jams and conserves made with locally sourced ingredients. Definitely worth a stop to pick up some stuff to bring home.
Geraldine Cheese Company
76 Talbot Street, Geraldine 7930
Barkers Food Store and Eatery
71 Talbot Street, Geraldine 7930, New Zealand
Farlie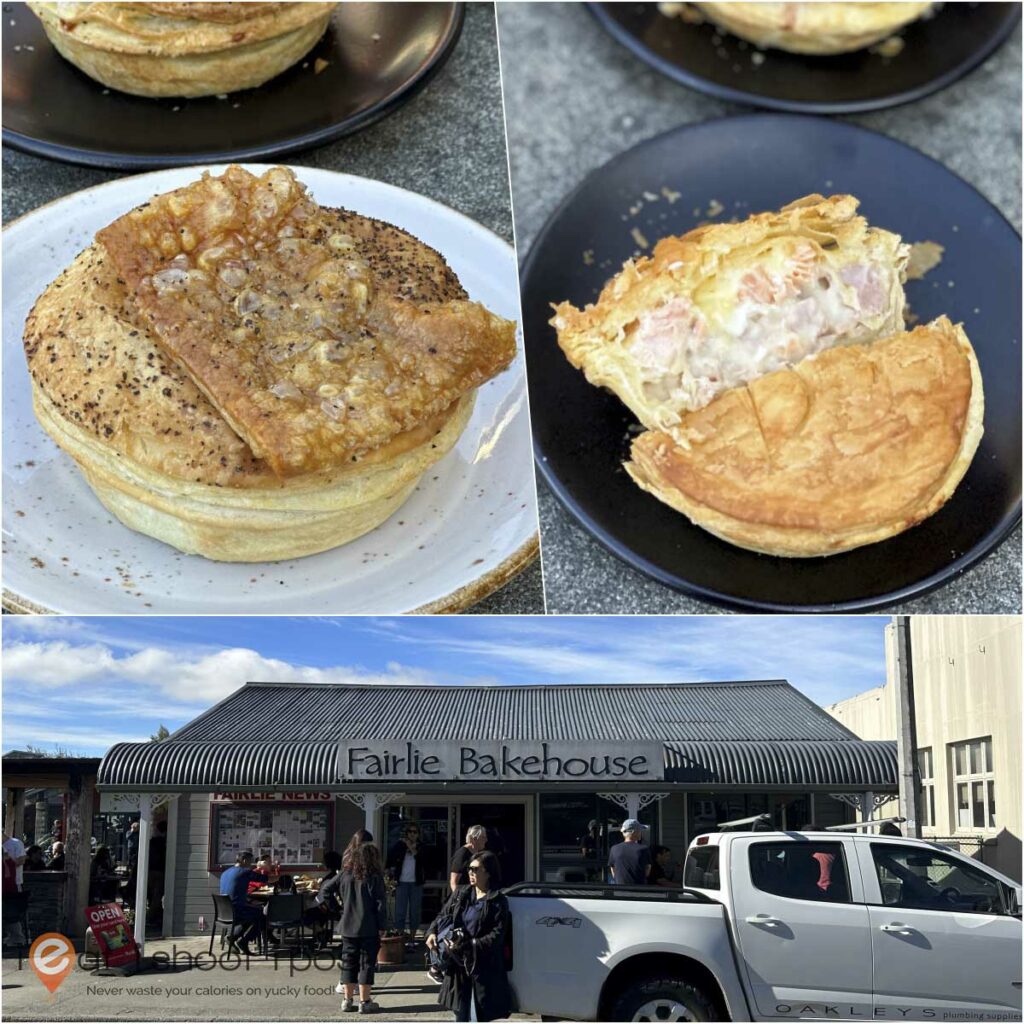 As we continue our journey to Lake Tekapo, we made a stop at Fairlie Bakehouse to sample their pies. This is one place you MUST add to your itinerary if you are on a food trip. I am always on the lookout for a good meat pie whenever I am in Australia and having tasted quite a few, I'd rate Fairlie Bakehouse right up there with the best of them as far as roadhouse pies go. The thing that really sets Fairlie apart is their variety of flavors. Of particular note is their roasted pork pie which has a slice of crispy rind on top and their salmon cream pie. Both are worth a try, but when I go back, I'd probably just go for their classic minced meat pie if I had to choose to eat just one.
Fairlie Bakehouse
7925, 74 Main Street, Fairlie 7925
Braemar Station Backcountry Tour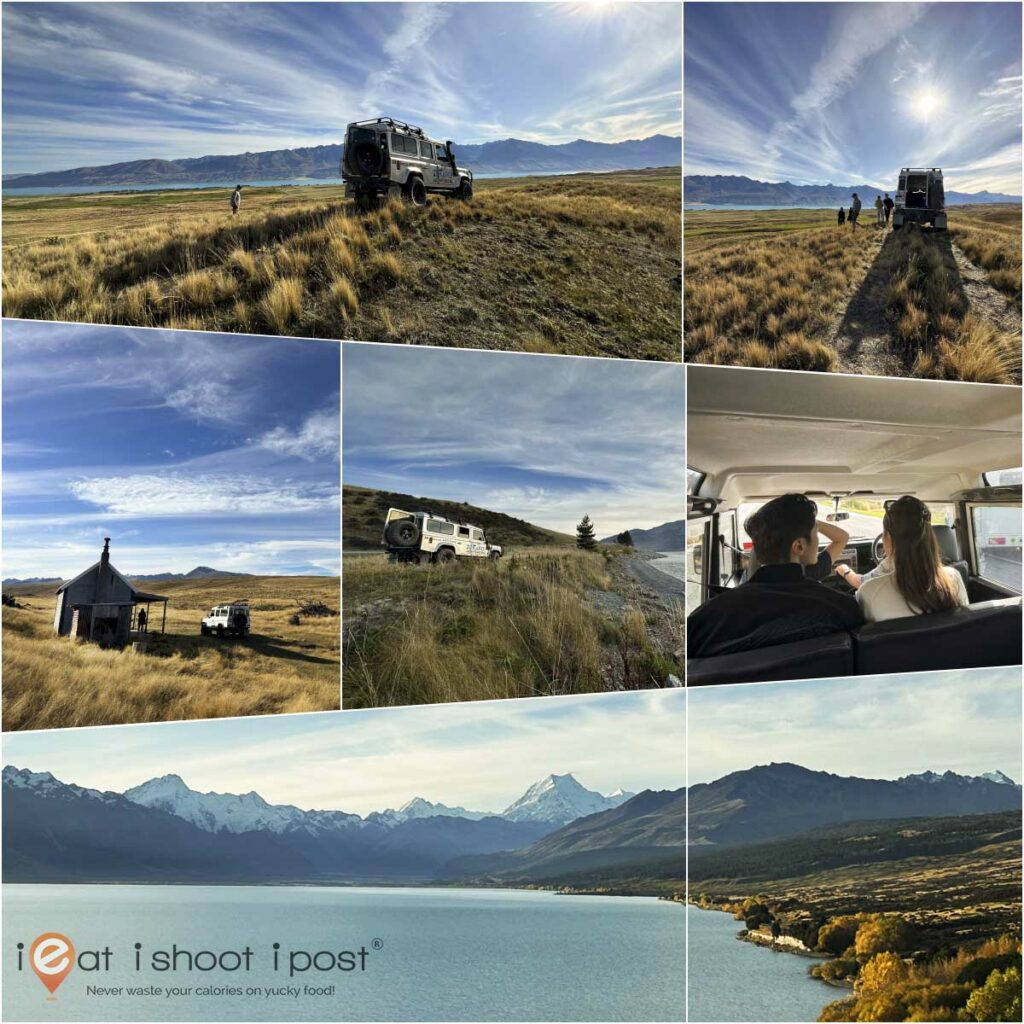 On arriving at Lake Tekapo, we were whisked off on a 4WD tour of Braemar Station, a privately owned high-country farm where we journeyed along remote 4WD tracks to get an up-close experience of the natural landscapes of the Mackenzie region. The highlight was a stop at Lake Pukaki where we caught sight of the majestic Mt Cook and Ben Ohau mountain range. If you do intend to do the tour, we would recommend a shorter journey through the high country with more time spent at Lake Pukaki to rest and take in the scenery, unless you really enjoy being tossed around in a Land Rover.
Tekapo Adventures
8 Rapuwai Lane Tekapo Springs Info Centre, Lake Tekapo 7999
Peppers Bluewater Resort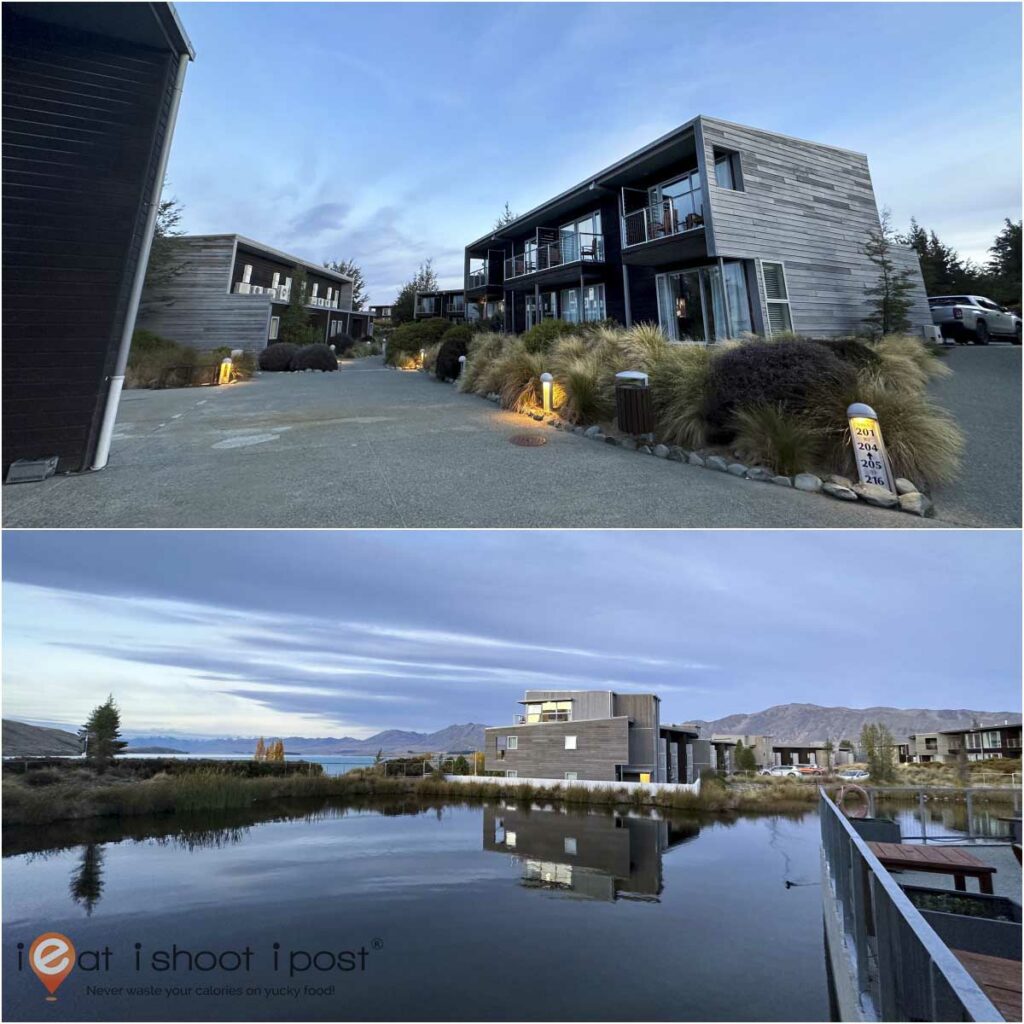 We checked into the Peppers Bluewater Resort for an overnight stay at Lake Tekapo. It is conveniently located near the lake and a short walk to the Church of the Good Shepherd. The resort is relatively new, has updated facilities, and is built around its own pond. It is separated from Lake Tekapo by the main road, but you still wake up to the view of the lake and the snow-capped mountains. Good place for families and if you self-drive, you can park right in front of your chalet.
Peppers Bluewater Resort
State Highway 8, Lake Tekapo 7945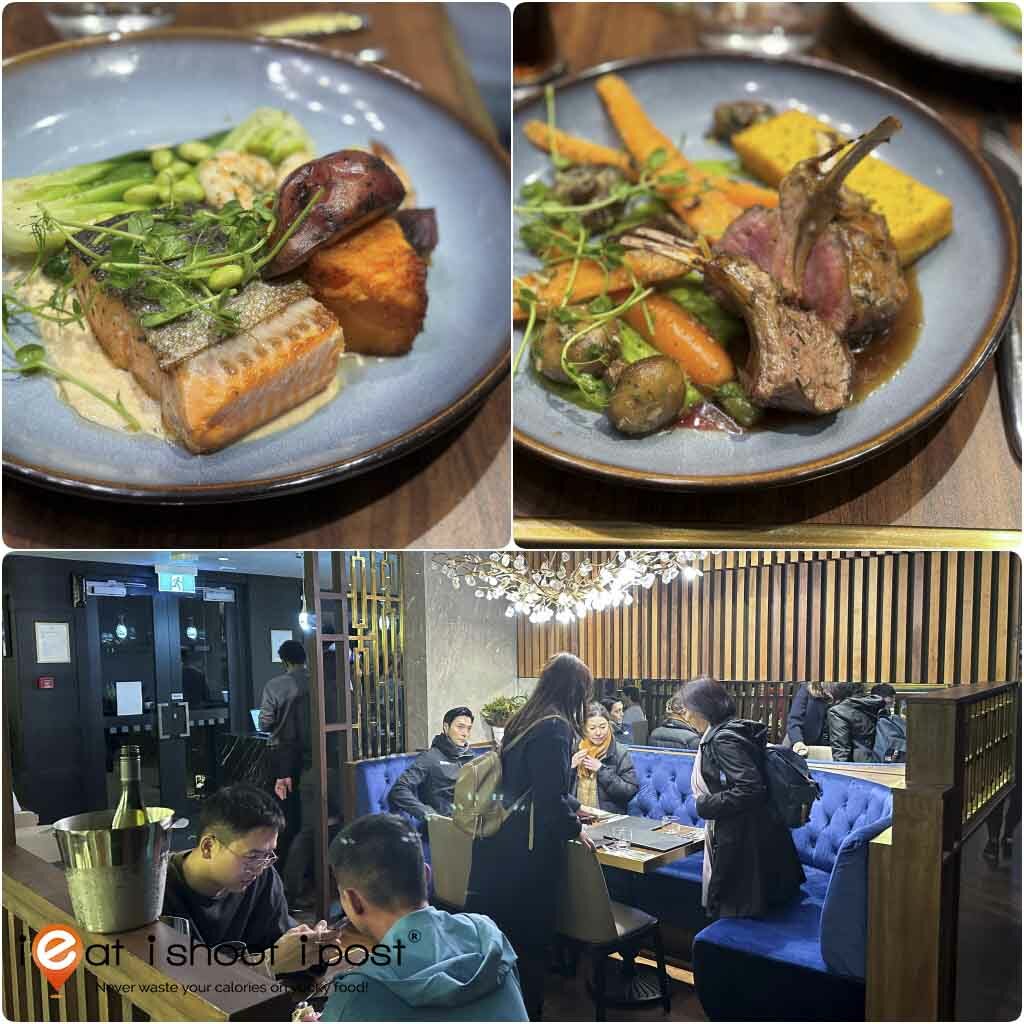 We had dinner at TLV which was located by Lake Takepo. Got there a bit late when it was all dark so we didn't manage to take in the view of the lake. Better to plan it for lunch rather than dinner. The food was good but nothing really notable.
TLV (Tekapo Lake View) Restaurant & Bar
7 Motuariki Lane, Lake Tekapo 7999
Stargazing at the Dark Sky Reserve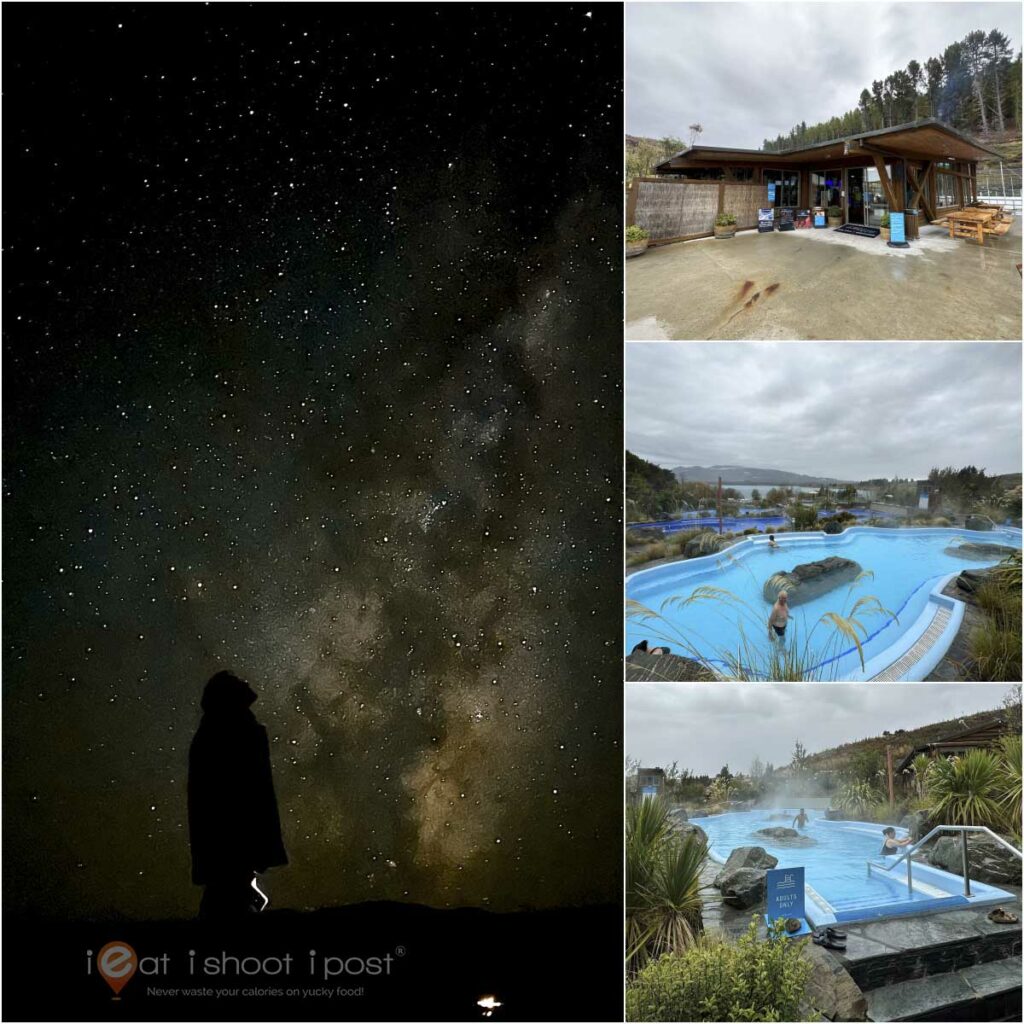 Lake Tekapo is located in the Aoraki Mackenzie Dark Sky Reserve and is a great place to do some serious stargazing! It is a real treat for us city dwellers to be able to look up at the sky and actually see the milky way galaxy! The thought that our own Milky Way galaxy contains 100 – 400 billion stars and our galaxy is but one of 100s of billions of galaxies in our universe just blows the mind!
We checked into Tekapo Springs after dinner for the Tekapo Stargazing Tour. Our tour started with a slideshow presentation followed by guided stargazing using some expensive-looking telescopes. Unfortunately, the conditions weren't perfect for stargazing, but we still managed to see the Southern Cross and Scorpio constellations. Next, we changed into our swimming costumes and spent the next hour lying on floating hammocks in the hot springs to continue stargazing.
Our star guide continued his commentary on the stars and tried his best to answer our questions on black holes, the big bang, and the meaning of life. All in all, a definite must-do while at Lake Takepo, but just be aware that you won't always be having the perfect conditions for stargazing. But when it does clear up, it is absolutely amazing!
Tekapo Stargazing
Lakeside Drive, Lake Tekopo 7999, New Zealand
Note: The photo of the Milky Way was taken on the following night when we were in Twizal.
Day 4: Road Trip from Lake Tekapo to Twizal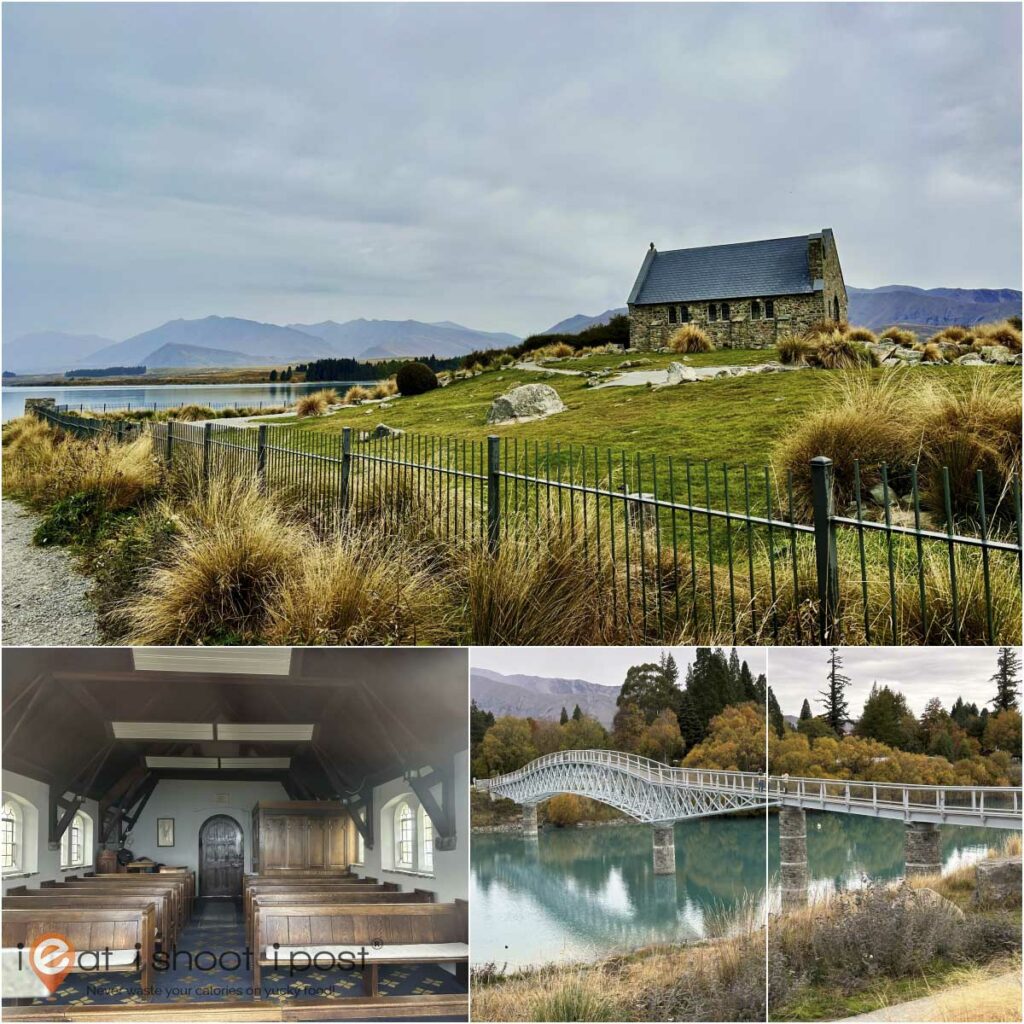 Woke up early in the morning to take a short walk to the Church of the Good Shepherd. This little church built on a knoll overlooking Lake Takepo with snow-capped mountain ranges on each side is the icon of Lake Takepo. It is too bad it was a weekday and there were no services in session as I would have loved to be able to attend a church service there!
We were scheduled to go for an Air Safari that morning, but the weather didn't permit. Our recommendation is that you stay at least two or three days at Lake Tekapo in order to have enough time to take in the beautiful scenery.
Air Safaris, Tekapo
Lake Tekapo Airport State Highway 8, Lake Tekapo 7945
If you are after good coffee, The Greedy Cow is the place to be!
The Greedy Cow
16 Rapuwai Lane, Lake Tekapo 7945
High Country Salmon Fishing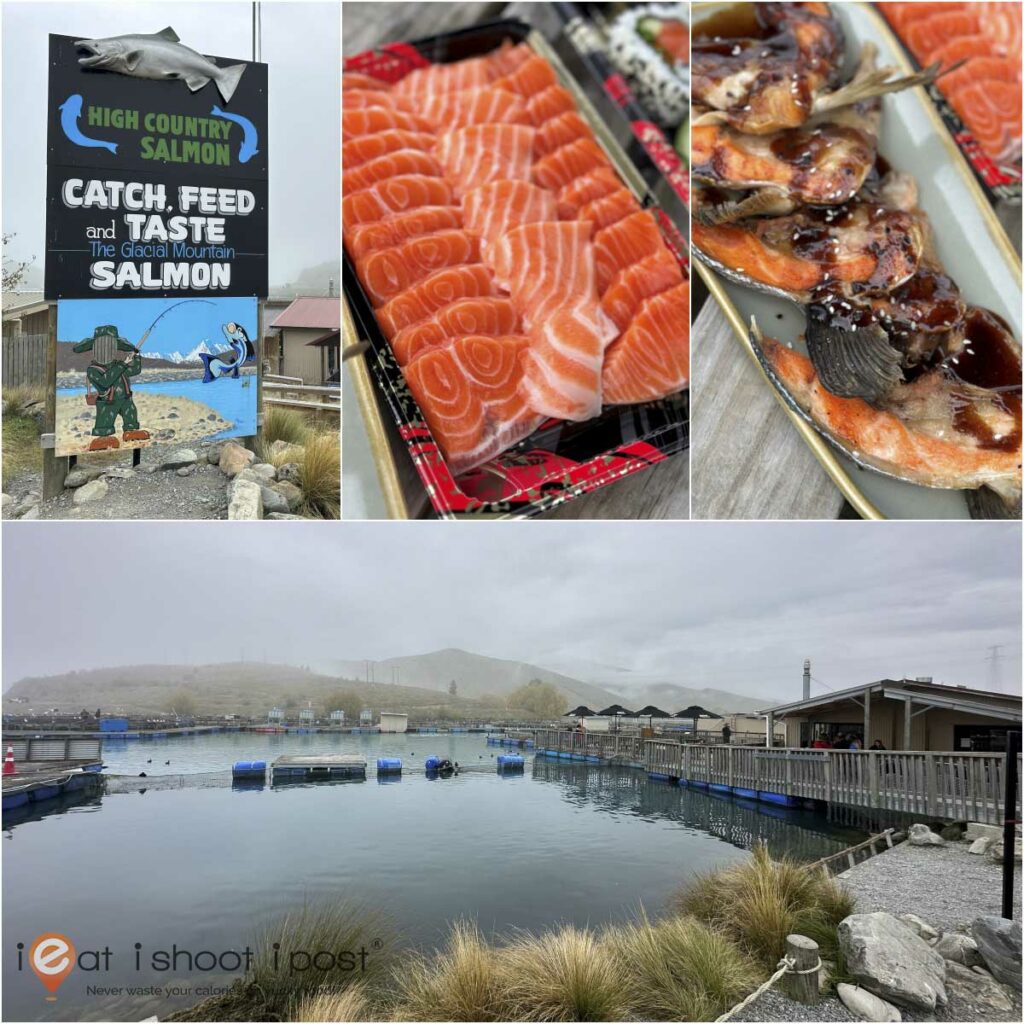 We stopped by High Country Salmon en route to the Mount Cook Lakeside resort. They farm King Salmon (Chinook) salmon here and you get to try your hand at catching your own fish. You don't really need any experience as it is all done for you. All you need to do is to cast the bait and there are so many salmon in the lake that you'll hook a fish within a minute. Then it is just a matter of playing with the fish to tire it out before reeling it in. You can then buy the whole fish or go to the restaurant to buy some sashimi or other salmon dishes.

The salmon are grown in the hydro canal system where the constant flow of clean glacial waters means that their salmon are constantly swimming against the current. This results in firmer flesh and a more delicate flavor.

High Country Salmon
2602 Twizel-Omarama Road, Twizel 7999
Mt Cook Lakeside Retreat: luxury villas and private dining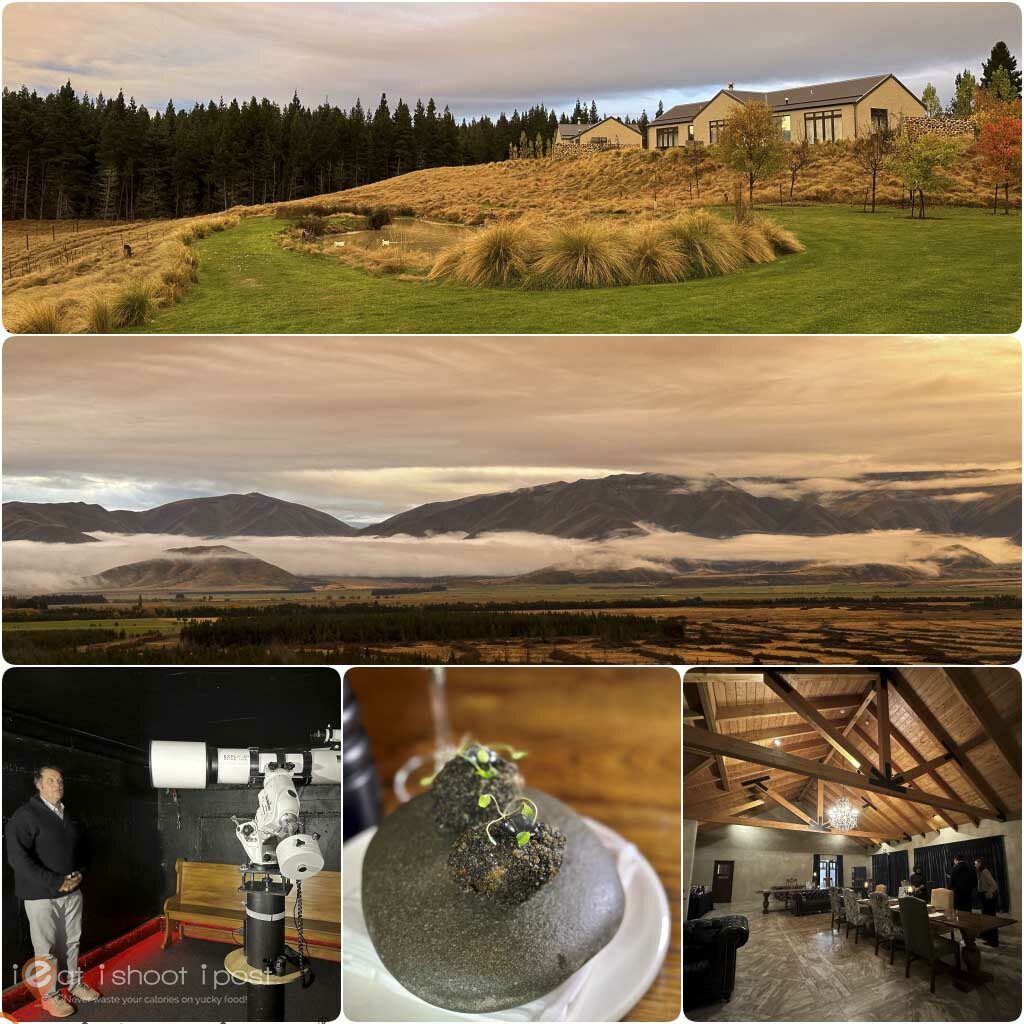 We arrived at the Mt Cook Lakeside Retreat just as the sun was setting and were treated to a magnificent sunset with sweeping vistas of the Ben Ohau mountain range with low-lying clouds. This retreat which is located by Lake Pukaki is the brainchild of Luke and Kaye Paardekooper whose dream was to create an alpine paradise in the heart of South Canterbury. The retreat features several secluded villas and is the perfect venue for a "Middle Earth" themed wedding!
Dinner was a private affair at the Moraine Lodge where we were hosted by Luke and Kaye to a three-course dinner featuring local produce and vegetables from their own garden. On a clear night, we would have proceeded to the Pukaki Wine Cellar and Observatory to do some star gazing which would have been their Billion Star Dining experience! (You can only see about 3 thousand stars even on a clear night) You can dine at the retreat without staying at the villa but do make sure you book ahead as they do very limited covers.
Mt Cook Lakeside Retreat
86 Mt Cook Road (SH80), Lake Pukaki, South Canterbury 7944
We spent the night at a more humble establishment in Twizel; the Mackenzie Country Hotel which is clean and has everything you would need to spend the night. You can also conveniently park right outside your room.

Mackenzie Country Hotel
MacKenzie Country Hotel, Cnr Ostler &, Wairepo Road, Twizel 7901
Disclosure
This trip was sponsored by The New Zealand Tourism Board