Day 1: Arrival in Christchurch
This was our first trip to the South Island of New Zealand and won't be our last. The rich agricultural Canterbury region with its quaint little villages, vineyards, turquoise lakes, starry night skies, and the majestic snow-capped Southern Alps was what we needed to escape urban life and reconnect with nature. As we made our way from Christchurch to Queenstown, I can't help but think about its similarity to Hokkaido which we had visited several times. It's great for family holidays, wine enthusiasts, adventure seekers, and even newlyweds whom we happen to be traveling with.
Our New Zealand food trip started in Changi as we boarded the Air New Zealand plane. We got to experience Maori culture right from the get-go with their safety video which tells the Tiaki Promise to care for nature as "the land was not inherited from their ancestors but borrowed from their children". We were booked on the premium economy and were able to enjoy the extra legroom with a 2-4-2 seat configuration and upgraded meal service. After landing in Auckland, we collected our luggage and boarded a connecting flight to Christchurch.
Can't wait? Jump forward to
Christchurch – A City Reborn
Christchurch has been called the "newest City in the world" as the devastating earthquakes in 2010 and 2011 left many of its buildings in ruins. With its rebirth, there was a concerted effort to introduce more of the Maori heritage as well as greenery to the city. It was actually the first city to be established in New Zealand in 1856 and the largest city on the South Island with a population of almost 400,000. It is not a busy city; there are no skyscrapers and you can get anywhere around the city by foot.
In this post, I have listed all the places we visited so you can plan your own self-drive holiday. (Here is the list of places on Google Map.) In case, you prefer not to drive, we can recommend Canterbury Trails. The driver/tour guides all happened to be women and they looked after us very well.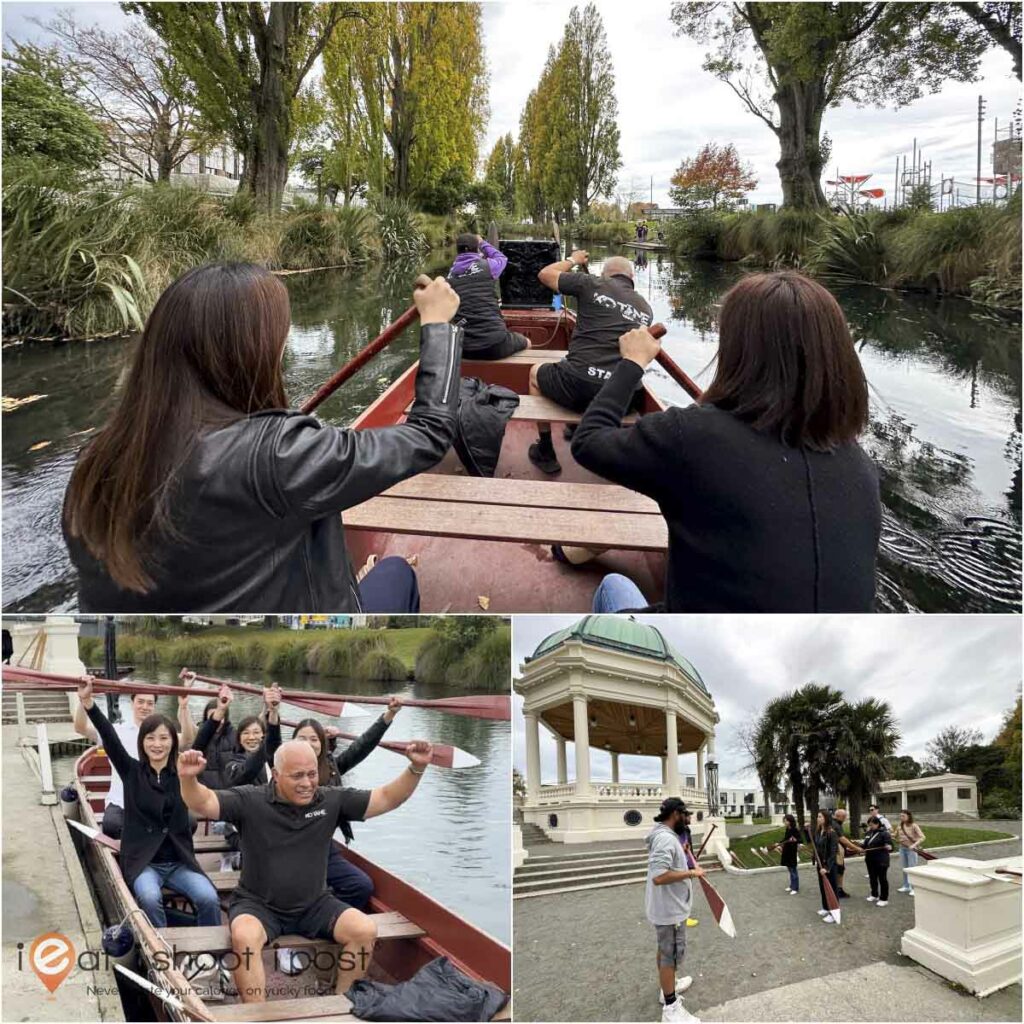 After checking into the Sudima Hotel, which was a brand new hotel built after the earthquake, we took a leisurely stroll over to Waka on Avon, where we learned about Maori culture and how the first Maoris arrived here in similar canoes around 8 centuries ago. The Avon River which meanders through the heart of Christchurch is a quiet and picturesque river that has been repopulated with river eels and brown trout following the earthquake.
After our intense workout, we just had to replenish our energy by visiting She Chocolaterie for some really nice chocolates! They are particularly famous for their hot chocolate which is perfect for a cold Autumn evening. Just a stone's throw away is Riverside Market where you can find food stalls and buy fresh produce! We would have liked to spend a bit more time there but we had an appointment with Amiki Tours!
Waka on Avon
794 Colombo Street, Christchurch Central City, Christchurch 8011
Sudima Hotel
47 Salisbury Street, Christchurch Central City, Christchurch 8013
She Chocolaterie
84 Cashel Street, Christchurch Central City, Christchurch 8011

Riverside Market
96 Oxford Terrace, Christchurch Central City, Christchurch 8011

Food Walking Tour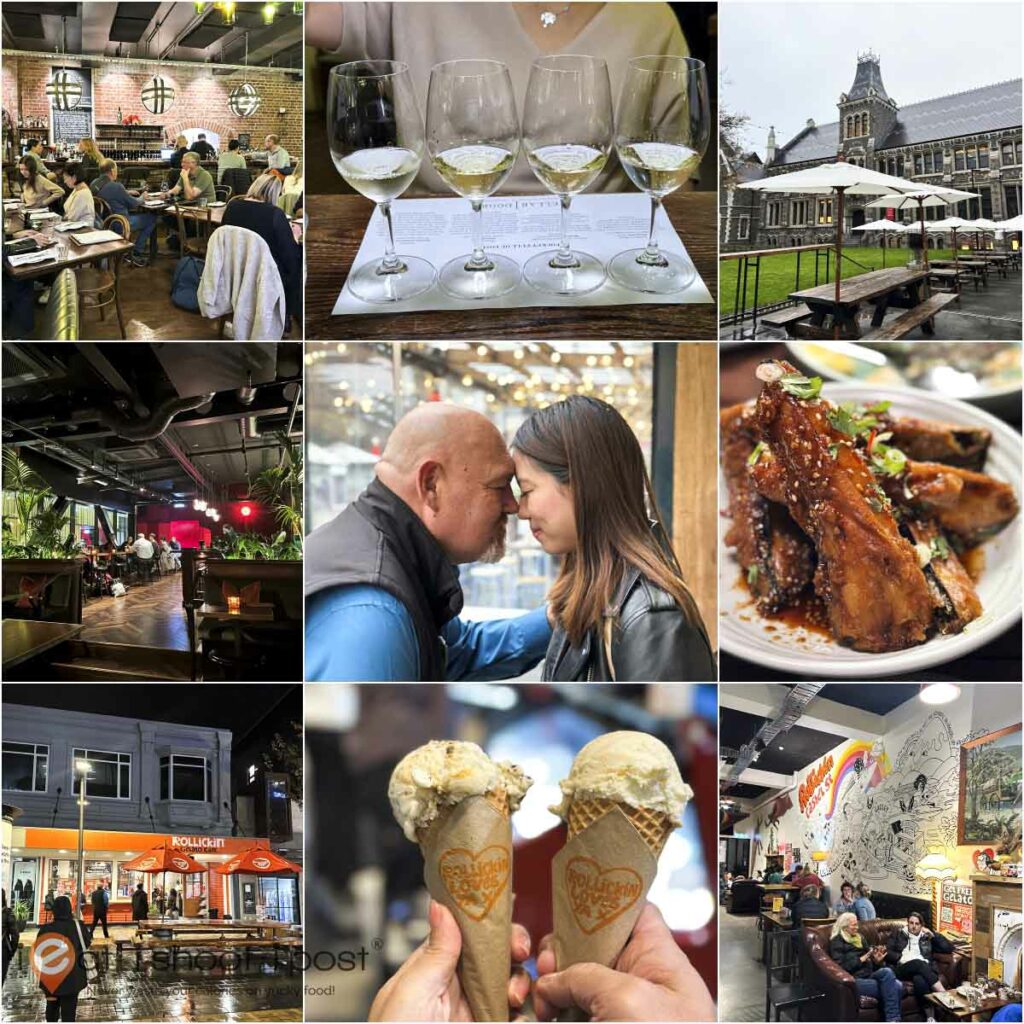 We then met with our tour guide, Riwai Grace, from Amiki Tours who took us on a walking food tour. The tour is well worth doing as he shared with us the history of Christchurch and how the City was literally reborn after the devastating earthquake. Being half Maori, Riwai educated us on the Maori culture and how Christchurch had incorporated Maori Heritage into the redesign of the city. Christchurch had previously been a very "English" city since the time of its founding.
Our first food stop was at the Cellar Door which was located on the grounds of what was Christchurch University. This is one of the few restaurants where you can enjoy a flight of 4-quarter glasses of different wines for the price of one. After pre-dinner drinks, we strolled over to King of Snake for dinner. Along the way, we learned of what the residents of Christchurch had to endure after the earthquake and how it built resilience which helped them weather the Covid pandemic. The food was a modern fusion of Asian and Western flavors that was done very well and they sourced their ingredients carefully. We sat on the balcony which overlooks the Avon. Definitely worth a visit for dinner!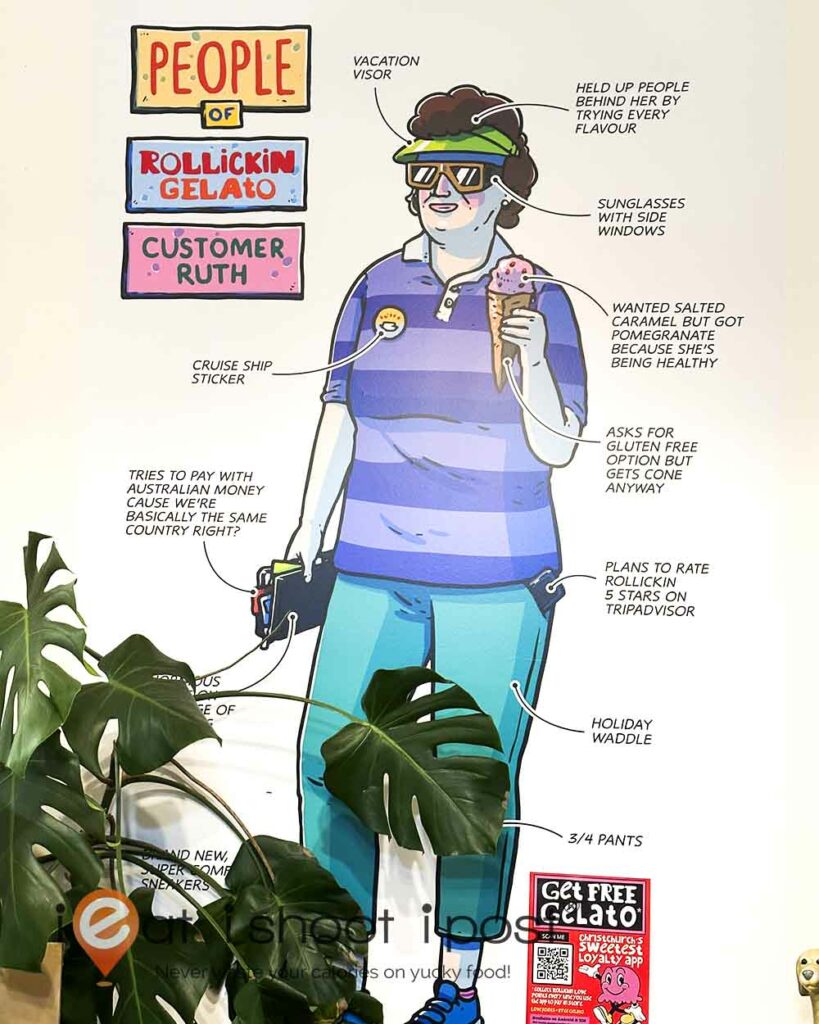 After dinner, we walked over to Rollickin Gelato for some Gelato. Christchurch is not a very big city and I think most of the people were there for dessert! Good gelato with interesting flavors and a quirky vibe as you can see from the mural above!
Amiki Tours
66 Cathedral Square, Christchurch Central City, Christchurch 8011
Cellar Door
1 Hereford Street, Christchurch Central City, Christchurch 8013,
King of Snake
Level 1/79 Cashel Street, Christchurch Central City, Christchurch 8011
Rollickin Gelato
35 New Regent Street, Christchurch Central City, Christchurch 8011

Day 2: Waipara Truffle Hunting and Wine Tasting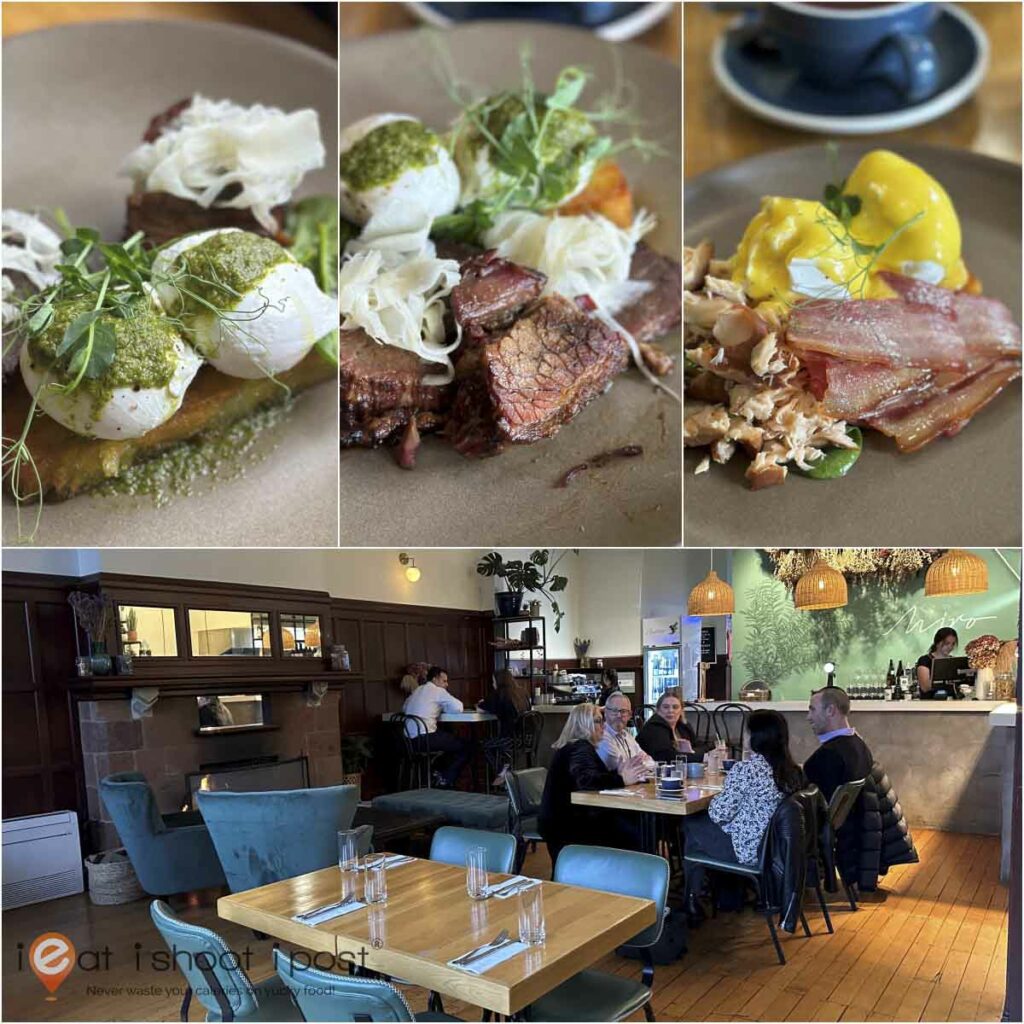 Breakfast on Day 2 was at Miro, one of the hottest spots in town for brunch. The restaurant is located in what was a "Gentlemen's" club, but not that kind of Gentlemen's club; a proper Gentlemen's club where in the old days, men of influence will meet to catch up with the daily happenings in town. Brunch here is well worth the calories. They do a very nice eggs benedict here with potato pave instead of muffins and the poached eggs were perfect.
Miro
176 Oxford Terrace, Christchurch Central City, Christchurch 8011
Truffle Hunting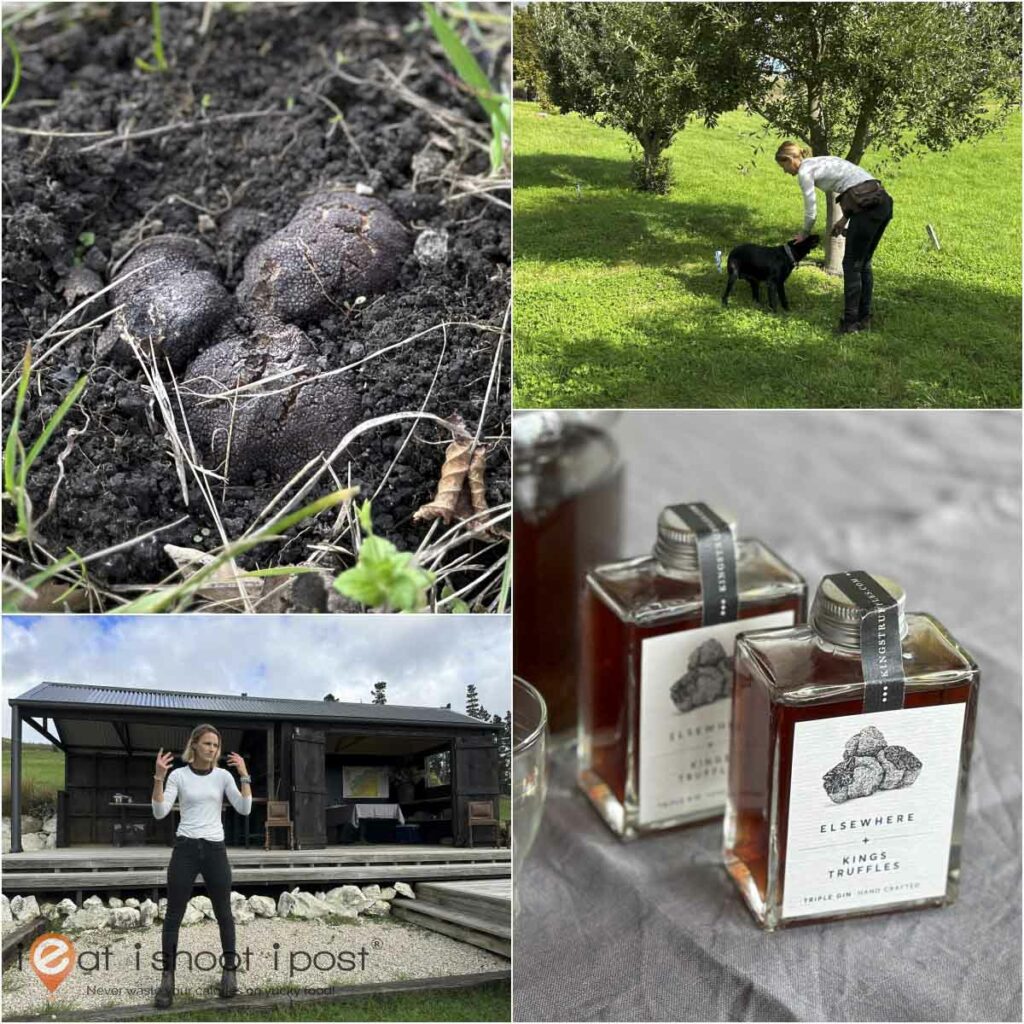 After breakfast, we took a 45min drive up north to the Waipara region which is known for its vineyards. Our first stop was King's Truffles where we learned about truffle farming in New Zealand. We were there in Autumn which was a bit early as truffle season only starts in June. In order to grow truffles, you first have to plant Oak Trees which have been inoculated with truffle spores. Then you wait a few years for the trees to mature. The truffles grow underground and they have to train dogs to sniff them out!
The exact location of the farm is a closely guarded secret, so when you book your trip, they will give you instructions on how to get to the farm! Well worth a visit but don't expect to be able to eat a truffle omelet there even when they are in season. One kg of black truffles is worth $NZ3000, so it's not like you can just go there pick a truffle, and pop it into your mouth!

King's Truffles
249 Mackenzies Road, Waipara 7483
Waipara Wine Region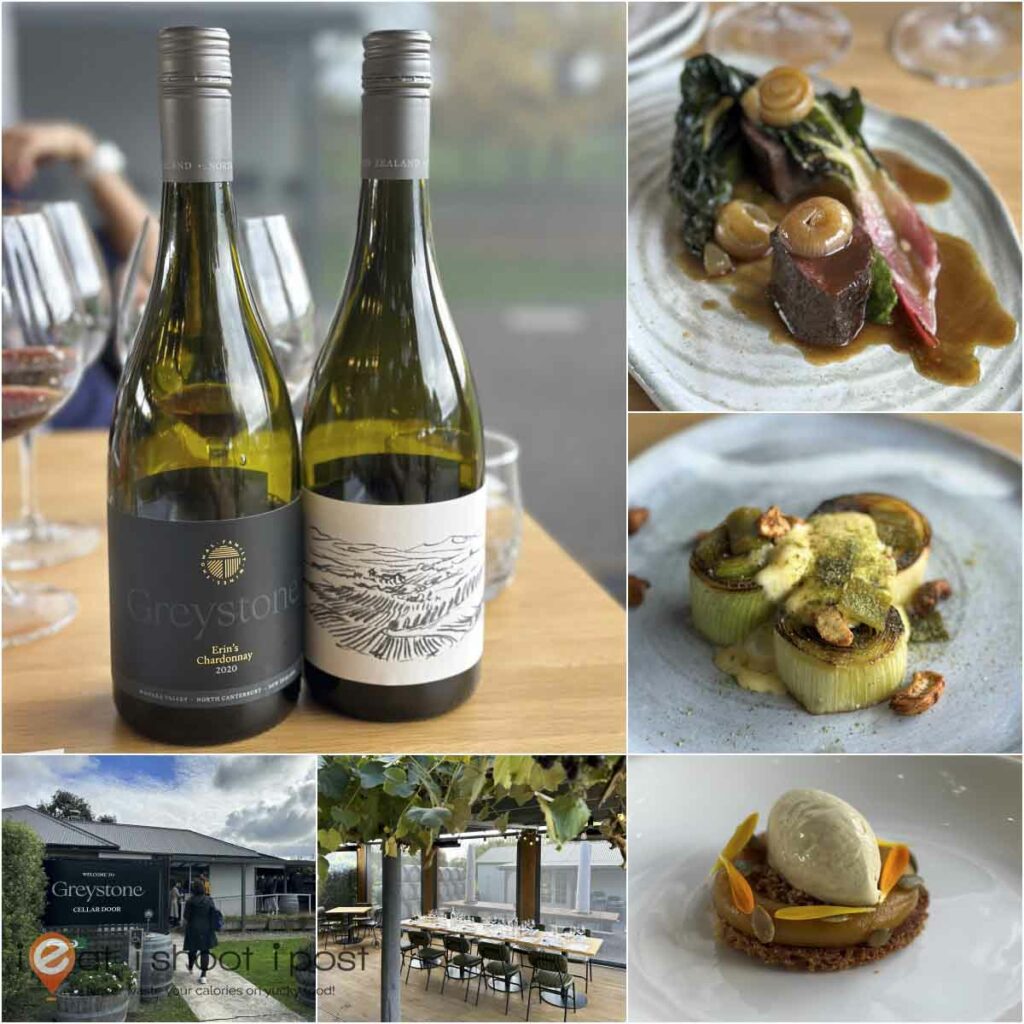 After our truffle hunt, we headed over to Greystone for lunch. They do a lovely long lunch here with wine pairing. ($NZ105 for a four-course meal with wine pairing). Greystone produces wines that are certified organic and they practice regenerative viticulture.
"We believe true fine wines are temporal, each vintage a fleeting snapshot of a place in time. We don't seek to manipulate the final product with additives or flavorings – instead we allow a true interpretation of the soil, vines, and season to shine through."
The owners are so passionate about their mission that they even harvest and ferment the grapes at the end of each row of vines using wild native yeasts from the vineyard. The wine is estate bottled without fining or filtration. We tasted their 2020 Greystone Organic Vineyard ferment Pinot Noir which was lovely!
Greystone
376 Omihi Road, Waipara 7483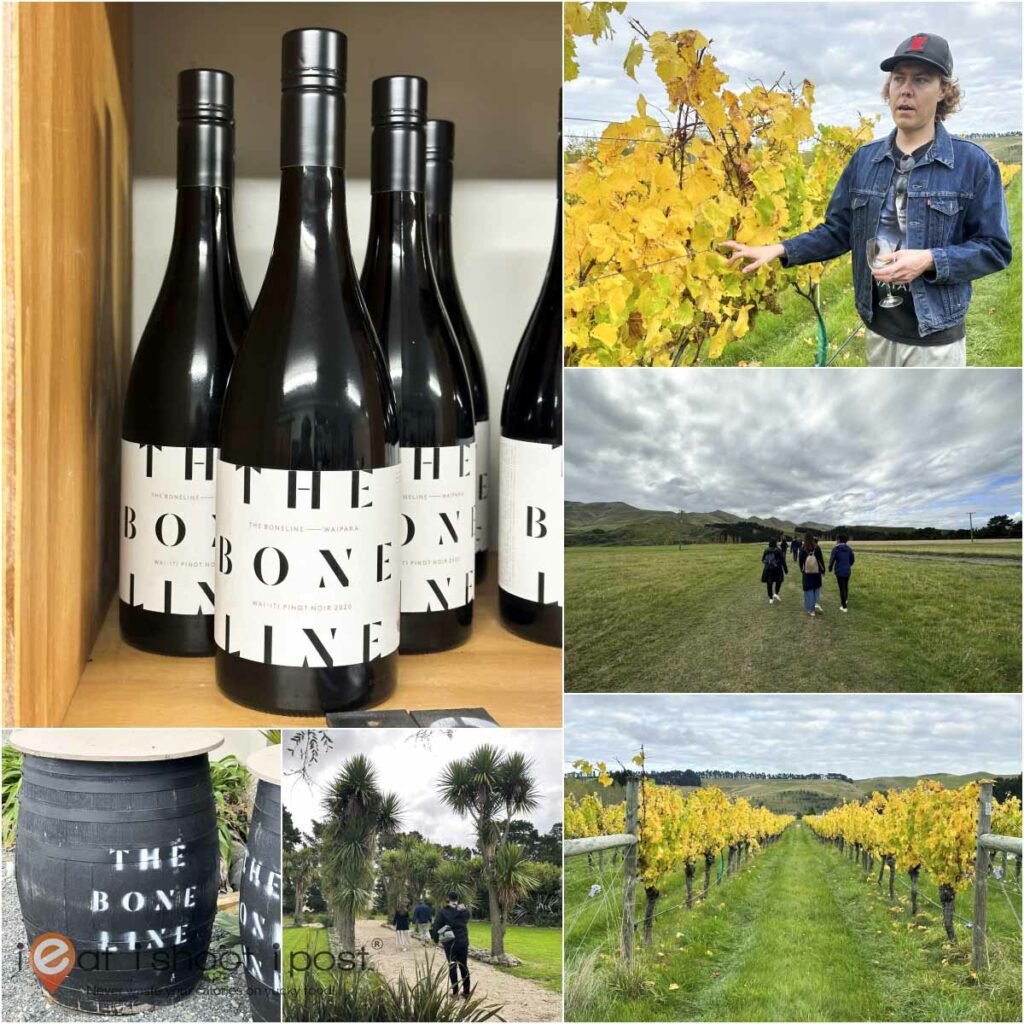 Next, we visited The Bone Line and did a wine tasting while walking through the vineyards where we got to see the blocks where the grapes for the particular wine are grown. The Bone Line takes its name after the nearby K-T Boundary line where fossils dating back 65 million years have been discovered. The wine labels feature some of the fossils discovered and thus link the wine to the land!
The Bone Line Walkway is approximately 2.1km and will take around 50mins to walk.
The Bone Line
376 Ram Paddock Road, Broomfield 7482
Sculpture Park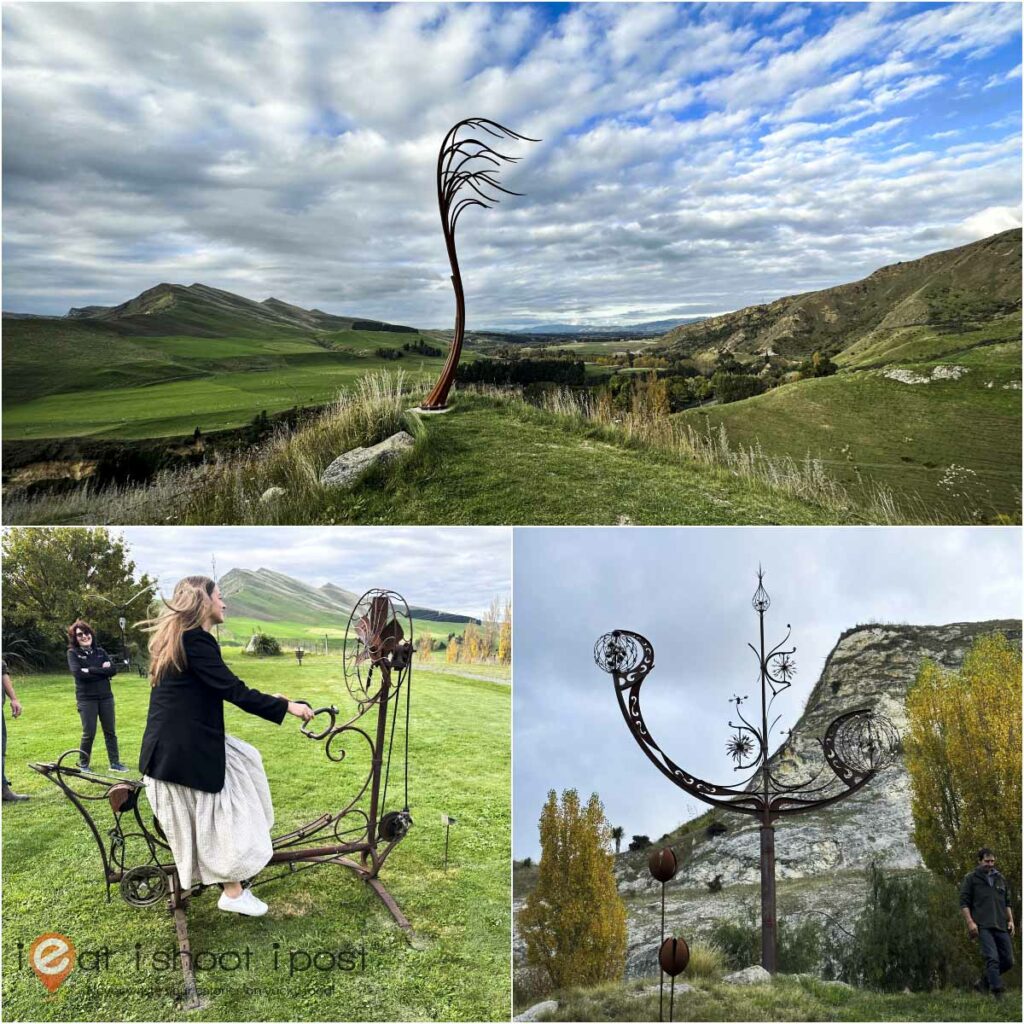 If you are looking to buy some iron sculptures to adorn your next building, then this is one of the places you'd like to visit. I have often wondered where these sculptures come from. Now I know! The Sculpture Park is a private park owned by Raymond Herber who builds them in his workshop there. It occupies a disused Quarry and offers spectacular views of the Valley as well as some quirky iron sculptures which are great for photos. There is an admission fee of $16 for adults while kids are free.

Iron Ridge Quarry Sculpture Park
707 Ram Paddock Road, Amberley
Craft Beers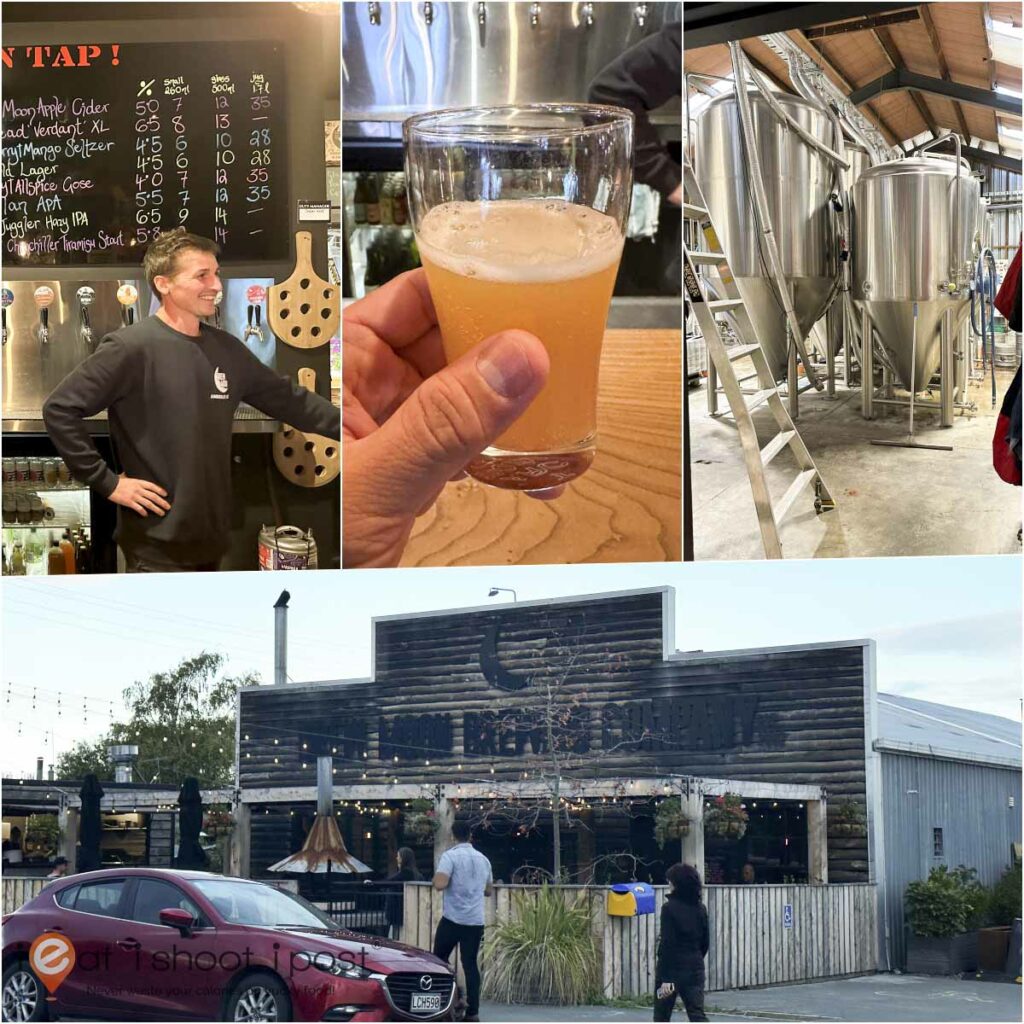 On the way back to Christchurch, we had to stop by the Brew Moon Brewing Company which brews craft beers on the premises. Apparently, they do great burgers too, but we already had dinner plans back in Christchurch so we only tasted the beers! I am not a beer drinker, but our local guide was absolutely ecstatic about it!
Brew Moon
12 Markham Street, Amberley 7410
New Regent Street
Dinner that evening was arranged at a restaurant called Story located on New Regent Street, which is pedestrian mall with 30-40 shops, cafes and restaurants in Spanish Mission architectural style. The interesting thing is the tram runs right through it so you may find yourself sitting just 1/2 metre away from a moving tram!
Story is an intimate little restaurant with a kitchen on the ground floor and a space for about 30 pax on the 2nd floor. They serve international cuisine showcasing seasonal produce, some of which were foraged by the chef himself. Their menu changes weekly and they have vegetarian options as well. A three-course meal costs around $NZ100 nett per pax. The food is good and well-presented but not really a place that I feel the need to go back to again on my next trip.
Story
8 New Regent Street, Christchurch Central City, Christchurch 8011
Continue Reading
Disclosure: This media trip was made by the invitation of The New Zealand Tourism Board