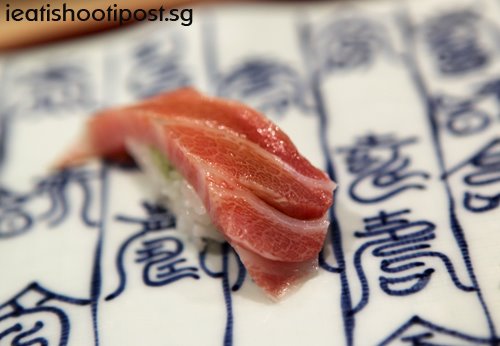 With my newfound fascination for sushi and sashimi, I was determined to learn at least the fundamentals of sushi etiquette. One of the things that I commonly see people do in Singapore is to mix the wasabi with the soy sauce and dip the whole sushi in it. This is really not the right way of doing it although many might argue that there is really no right or wrong way to eat sushi.
For me, I wanted to learn the proper way of eating sushi so I approached Singapore's most famous Sushi Chef, Chef Nogawa of Nogawa Japanese Restaurant to give me a few pointers on how to appreciate sushi.
Hope you got the point about how to pick up sushi correctly and how you should dip the sushi.
Another interesting tip I picked up from Chef Nogawa was about how you can quickly tell the quality of a sushi restaurant by ordering three items from the menu. According to him, any restaurant can serve the freshest fish, but if you really wanted to test the skill of the sushi chef, then you have to order three items that require preparation. These are Tamago (egg), Anago (Sea Eel) and Kohada (Gizzard Shad). Both Tamago and Anago are cooked items. The Kohada is eaten raw but has to undergo a process where the fish is marinated with vinegar and seasoned. So, just as you would try to impress your friends with your wine knowledge by swirling the wine glass to appreciate the bouquet of the wine before drinking it, when you walk into a new Sushi restaurant and ask for these three items, you can show that you know a little bit about sushi culture. (Reminds me of those handbooks where you can appear like an expert in any subject just by reading a few pages of key information).
I am sure some of you would have learnt something from the video. There are many other things about this culinary artform so perhaps the sushi experts among us can enlighten us on other aspects of sushi culture?
Special thanks to Chef Nogawa for teaching us about Sushi!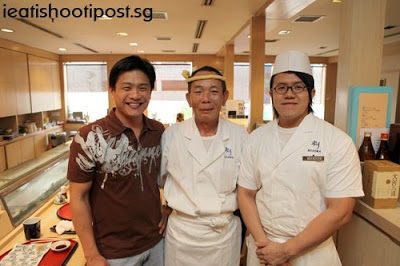 Chef Nogawa and Chef Kevin
Special for ieatishootipost readers! (Lunch only)
Mention ieatishootipost when you order the Sushi Set ($30) and you will get an extra piece of Chutoro (not so fatty tuna belly) worth $12 free! The Sushi Set comes with miso soup, chawanmushi, appetizer and dessert. Amongst the other sushi, you will get the Tamago and the Anago as I mentioned, and of course the Chutoro which is normally not part of the set. Make sure you tell the service staff when you order. If you don't get your Chutoro, look for Chef Kevin. (the guy in the photo next to Nogawa)