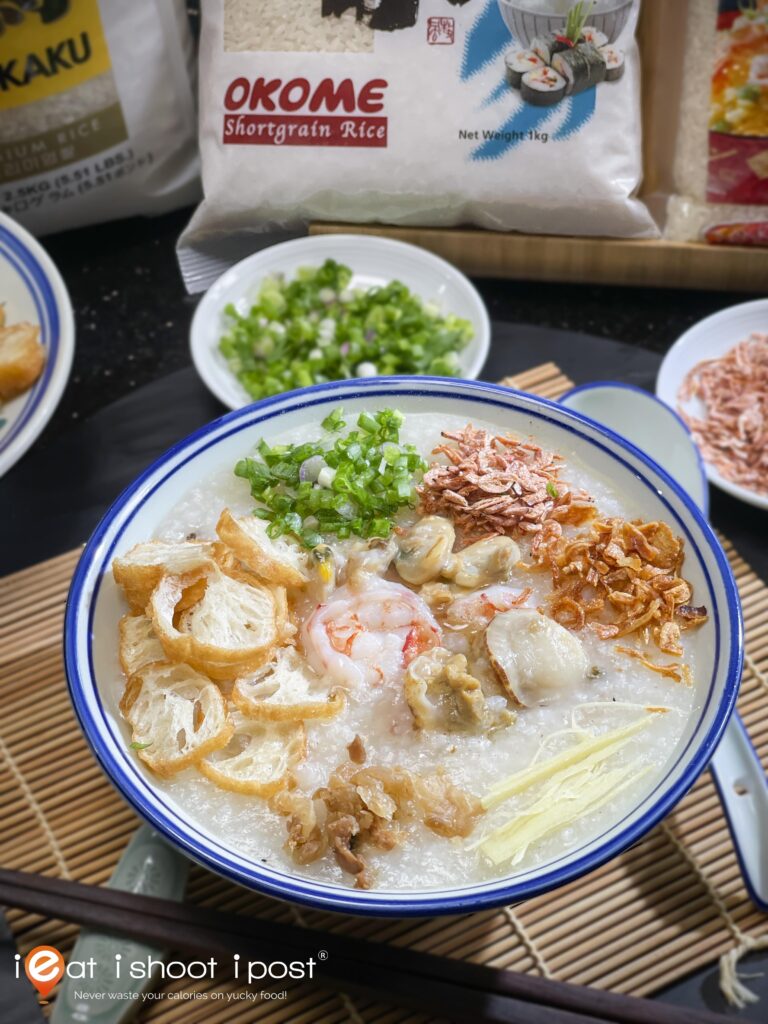 Until my trip to Hong Kong in 2017, I had no idea that it was possible to have Wok Hei Congee! It was at Mui Kee that I had one of those "Eureka!" moments where my mind was sparked with new possibilities!
The very idea of wok hei in a porridge seems like an oxymoron at first, but once you understand that Wok Hei is a flavour that you can capture, then you can add it to anything, including congee.
Cooking Congee
There is Cantonese congee and there is Teochew Muay. While in Teochew Muay, you want to see each unbroken rice grain, with congee, the grains have to be broken up to get that smooth and silky texture.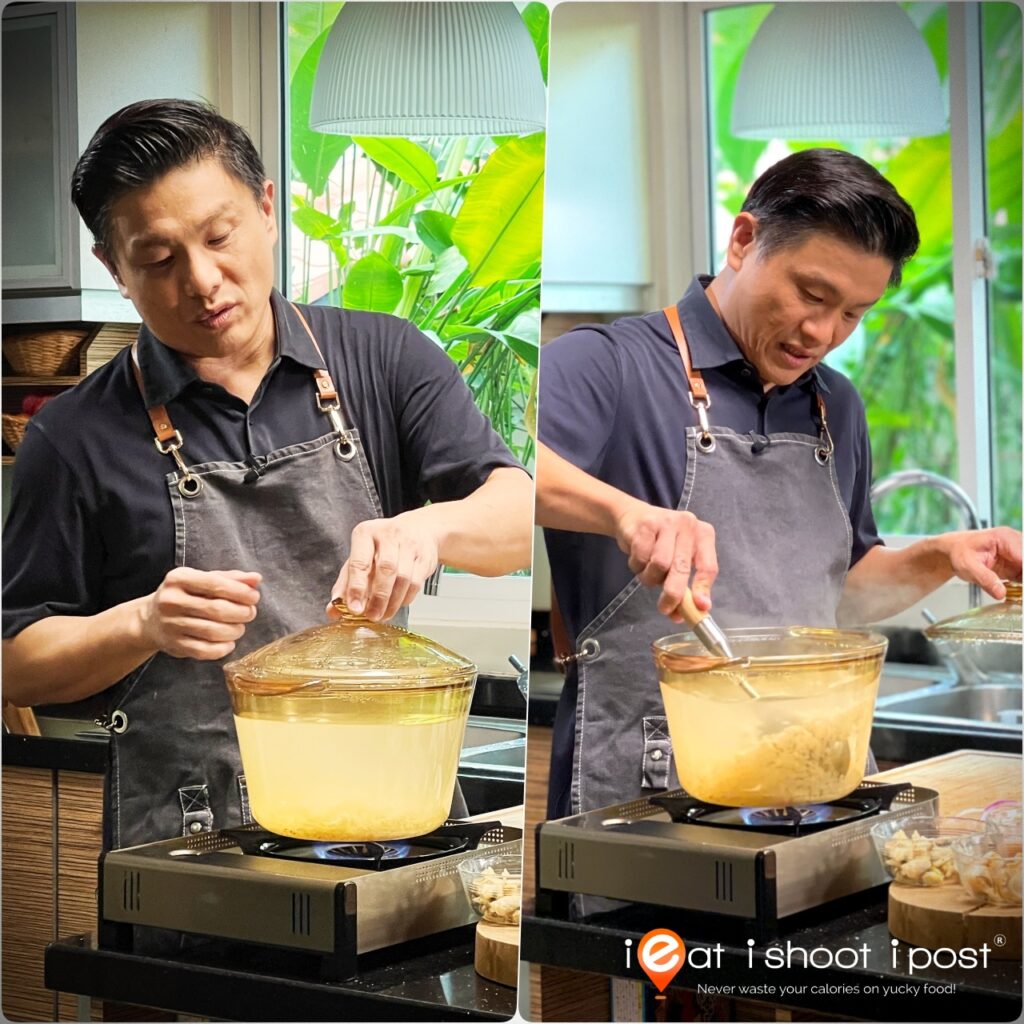 USA Calrose Rice
To cook the congee, I used Okome USA Calrose Rice, a short grain rice which is perfect for the recipe. The short grain rice is starchy and gives the congee and smooth and silky texture. The Calrose rice variety originated in California, USA, and is grown sustainably using fewer natural resources and without the use of genetically modified organisms (GMO).
To the rice, add 1 cup of rice to 12 cups of water and cook it for 25mins. Once the rice is softened, just use a whisk to whisk it till the rice is nicely broken up and the slurry is smooth and silky. You can add some scallop sauce or a chicken stock cube to give it a base flavour.
Infusing Wok Hei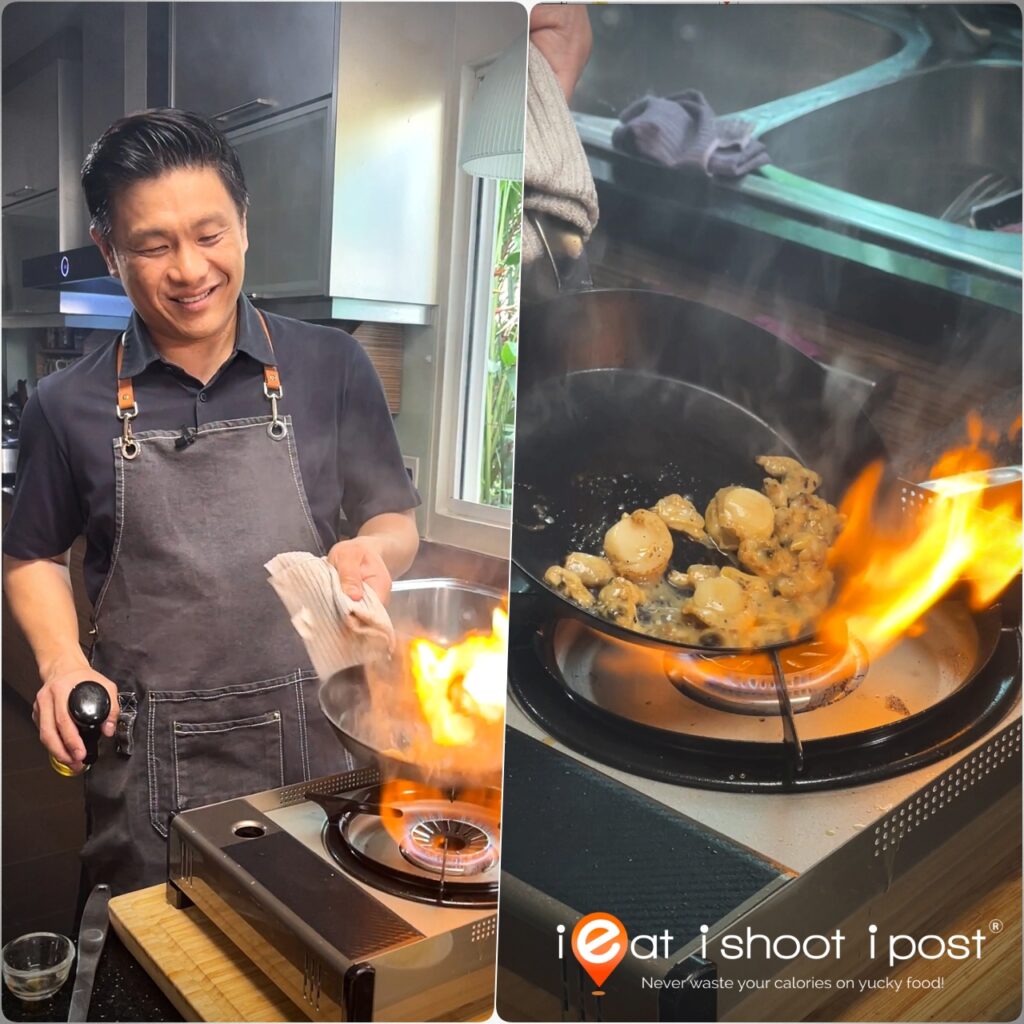 Big Fire!
That's what the famous TV Celebrity Chef, Martin Yan told me when I visited him in San Francisco. It was his response to my question of how to get that Wok Hei flavour into wok fried food. Wok Hei is that magic flavour that differentiates restaurant food to home cooked food and expert chefs with wannabe cooks. To achieve Wok Hei is a significant milestone in every Chinese chef's journey!
So how can we get a big fire in a small kitchen? Well, we apply Einstein's theory of relativity. Small fire, wok looks big, small wok, fire looks big!
Ingredients
Congee
Rice 1 cup (250ml)
Water 12 cups (3 litres)
Dried Scallops 1/4 cup
Scallop Sauce 2 tbsp
Seafood
Frozen Clams 1 cup
Frozen scallops 1 cup
Peeled Prawns 1 cup
Condiments
Toasted Sakuri Ebi
Fried Shallots
Tung Chye
Fresh Green Shallots – chopped
Fresh Ginger – sliced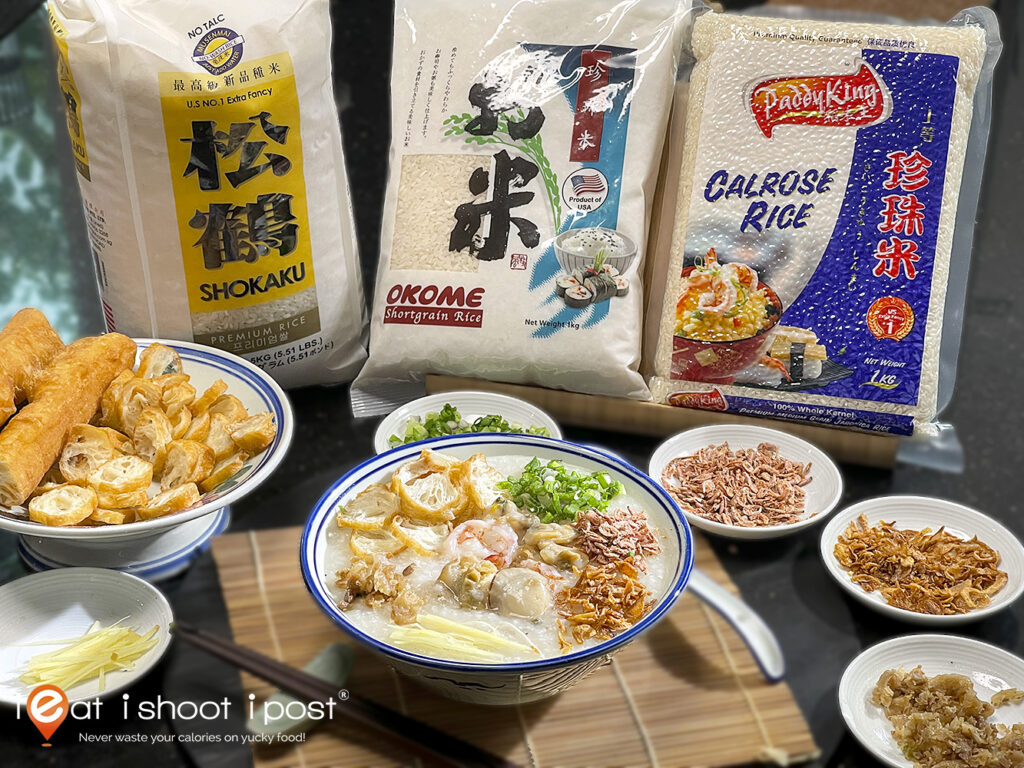 Method
Congee
1. Wash rice and drain.
2. Bring water to boil and add rice and dried scallops (if using)
3. Stir to make sure the rice grains are not stuck to the bottom of the pot
4. Boil for 25mins
5. Whisk the rice till smooth
6. Add scallop sauce and sliced ginger
7. Mix oil and Chinese wine to clams and scallops
8. Heat pan till smoking hot. Working in small batches, add the clams and scallops to the hot pan and toss it. It should burst into flames. If not spray a bit more oil into the pan.
9. Add the wok hei seafood to the congee
10. Add prawns to congee
11. Garnish with you tiao, sakura ebi, fried shallots, scallions, ginger and top with white pepper and sesame oil
You can buy USA Calrose Rice here:
Okome Rice
Shokaku Rice (2.5kg pack)
PaddyKing Rice
Check out other recipes that are perfect with USA Calrose Rice:
Disclosure: This post is made in collaboration with USA Rice Federation and using Okome Shortgrain rice by Topseller Pte Ltd.
https://www.facebook.com/USARice.SG/
https://www.facebook.com/okomeshortgrain/
https://www.instagram.com/usarice.sg/
https://www.instagram.com/okomeshortgrain/