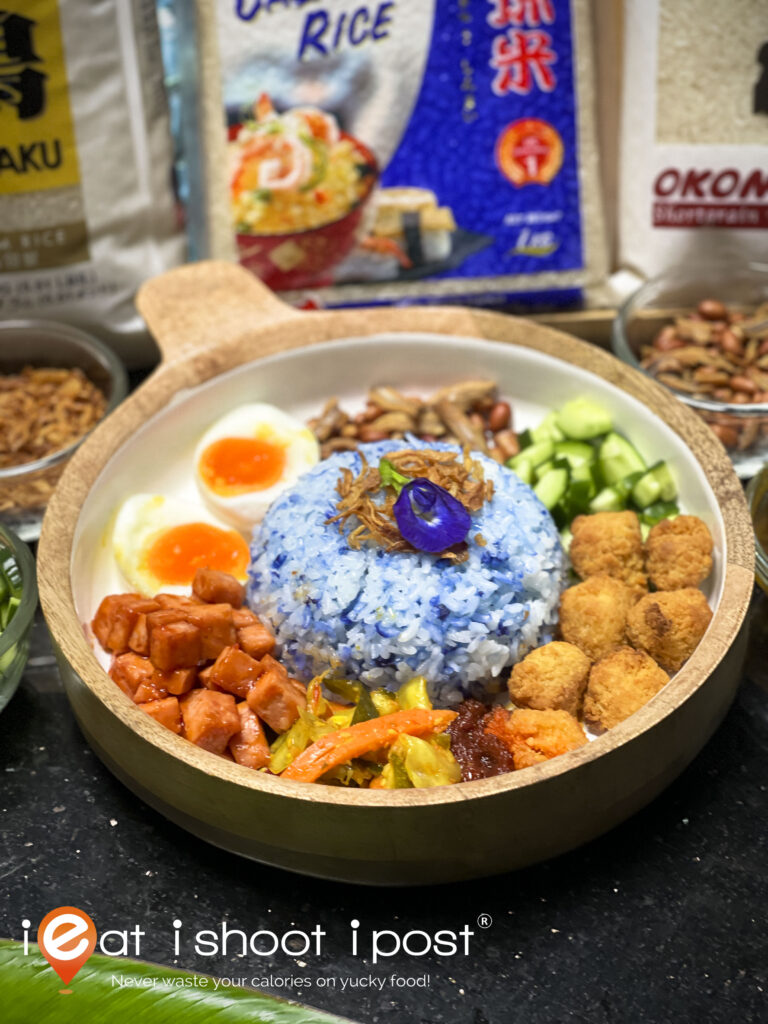 Nasi Lemak is enjoying quite a resurgence in our local food scene with many new stalls opening up in recent years. And so is the popularity of blue pea rice which differentiates Nonya style Nasi Lemak with Malay or even Chinese style Nasi Lemak.
The Blue Pea flower, Clitoria Ternatea has traditionally been used in Nonya cooking as food coloring for funerals. However, in recent times, that traditional usage seemed to have been forgotten as the general population are attracted to its deep lavender blue color.
Aside from just its alluring color, the blue pea flower has traditionally been used in Ayurvedic medicine to improve mental function and a plethora of other uses. There are also reports that taking too much of it can cause nausea and diarrhoea!
Making blue pea rice is actually quite easy! The traditional way of doing it is to add boiling water to the flowers, squeeze out the juice and add the Blue color dye to the rice. However, thanks to Mylene, my helper, we came up with a simpler way of colouring the rice which results in a vibrant and speckled colour which is really attractive!
By adding extra virgin coconut oil and pandan leaves, the blue pea rice is easily made into a light and fragrant rice which can be used as Nasi Lemak rice and served with your favourite a side dishes!
Beautiful and Fragrant Blue Pea Flower Rice
When I first posted my blue pea flower rice on Facebook and Instagram, everyone wanted to know how I created the mosaic like blue hues in the rice.
I am fortunate enough to have blue pea flowers growing in my garden, but if you don't, the dried flowers are easily available and will also be able to give you the deep blue color.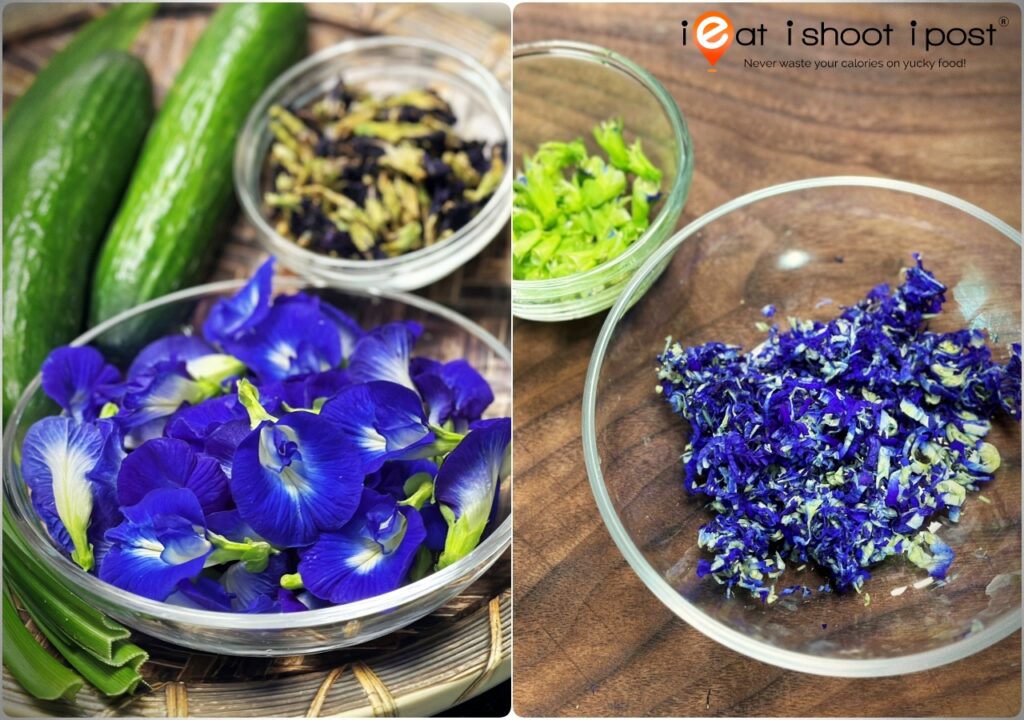 USA Calrose Rice
For a toothy bite and slightly tacky texture, I used Paddy King's USA Calrose rice for this recipe. I like how the individual grains of rice plumps up with the aroma of coconut, pandan and blue pea flowers in every grain.
This Calrose rice variety originates from California USA and was voted world's best rice for 2013 & 2015. Over the past 20 years, U.S. rice farmers have found a way to reduce land use by 35%, water use by 53% and overall energy use by 38%. It surely gives a peace of mind knowing we're consuming a sustainably farmed, all natural product without use of any GMOs too.
Recipe Card for Blue Pea Flower Nasi Lemak Rice
Ingredients
USA Calrose Rice – 2 rice cups (360ml)
Blue Pea Flowers – 50 pcs
Coconut Oil 4 Tbsp (60ml)
Pandan Leaves 6 leaves
Water 2 cups (360ml)
Salt 1/2 tsp
Method
Gently wash 2 cups of USA Calrose Rice
Soak rice for 30 mins to an hour
Strain soaked rice, add to pot with 2 cups of water
Add coconut oil, salt and pandan leaves to rice
Bring to a boil and simmer at low heat for 10 to 15mins or until most of the water is absorbed
Slice Blue Pea Flower thinly after removing the green part of the flower
Place blue pea flowers on top of the rice
Once the water is fully absorbed, turn off the heat and allow the rice to rest for another 15 mins
Fluff and mix blue pea flowers into the rice
For extra fragrance and shine, you can add another tablespoon of coconut oil.
Condiments for your Nasi Lemak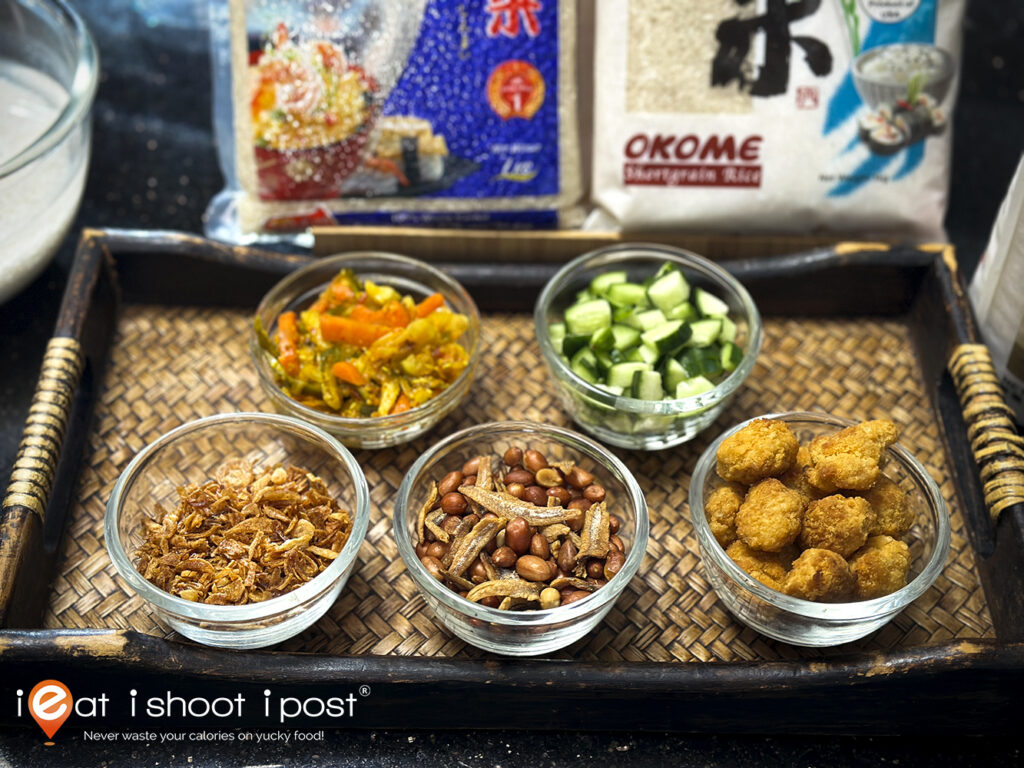 When it comes to Nasi Lemak, there are a few key condiments you cannot miss – sambal, ikan billis, peanuts, egg and cucumber. Depending on what you like, you can also add fried chicken and luncheon meat. I like to dice all my condiments so that it is easy to mix with the rice and eaten with just a spoon.
To make Ramen Eggs, bring a pot of water to boil. add eggs and set timer to 6 mins. Turn down heat to a simmer and simmer for 6 mins. Remove and immediately place in ice cold water. Leave to rest for 30mins and peel.
For the Luncheon Meat, I diced a can of 340g of luncheon meat and stir fried with 1 Tbsp bottled chilli sauce, 1 Tbsp tomato ketchup and 2 tsp sugar. The sweet and sour sauce is a good alternative to the sambal chilli for kids who don't like to eat spicy food.
Conclusion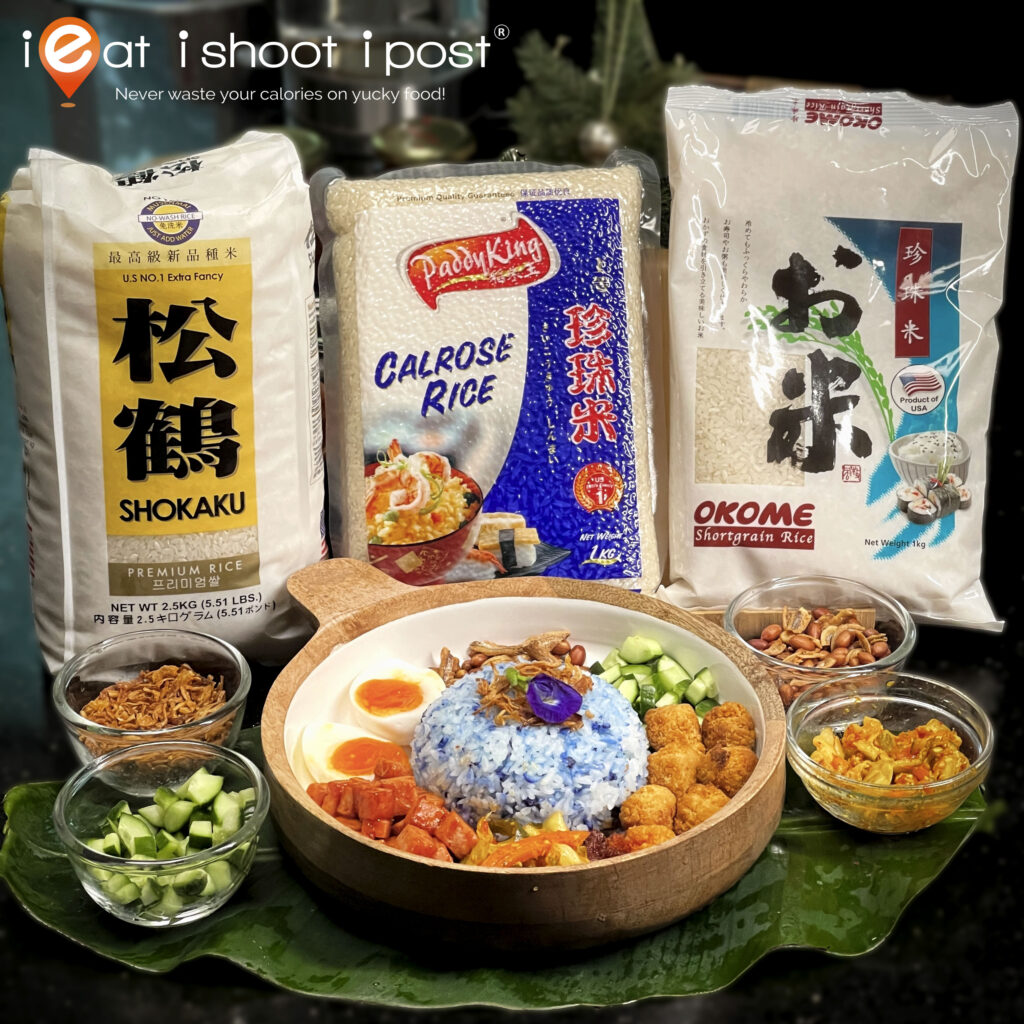 The next time you make Nasi Lemak, just reach out for some USA Calrose rice and consider adding some beautiful blue hues to it using this easy method.
You can buy USA Calrose Rice here:
PaddyKing Rice
Okome Rice
Shokaku Rice (2.5kg pack)
Check out other recipes that are perfect with USA Calrose Rice:
Disclosure: This post is made in collaboration with USA Rice Federation and using PaddyKing USA Calrose rice by Hong Lian Gim Kee.
https://www.facebook.com/USARice.SG/
https://www.instagram.com/usarice.sg/