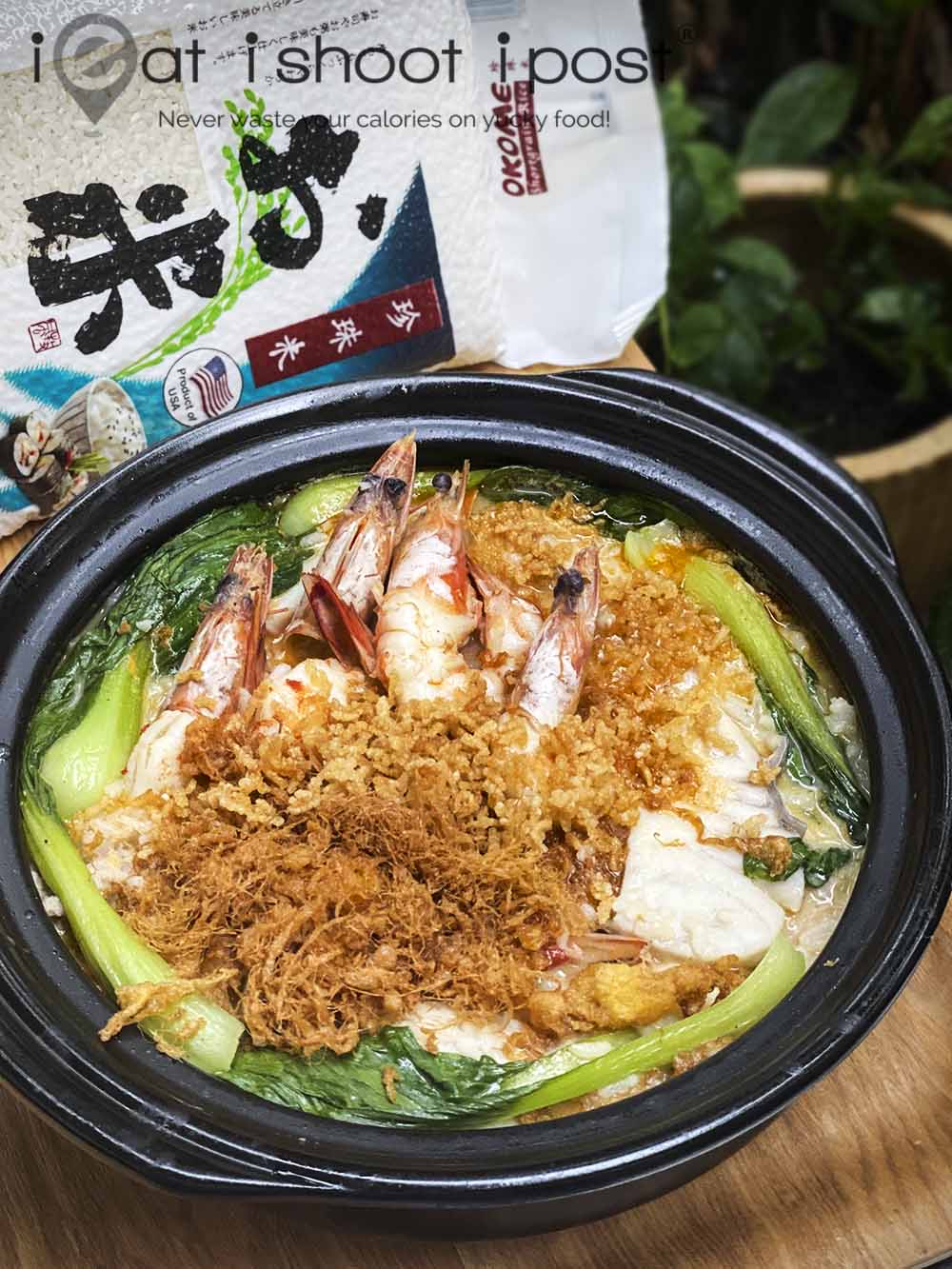 Seafood Pao Fan has gained much popularity in recent years, but at its core, it is simply a way of making use of overnight rice and whatever you have in the fridge to make a flavourful soup to pour over the rice.  However, as you survey the most popular pao fan stalls in Singapore, you will find that there are certain components of the pao fan which are very popular, viz the crispy rice and egg floss.  These are optional, but they do add a lot of character to the dish. Then,  of course there is the soup that is poured over the rice.  When I was growing up, the pao fan that I was familiar with was the Teochew fish porridge which is a clear fish broth into which rice is submerged.  Nowadays, the soup tends to have more body and is made with a variety of seafood.
In this recipe, we will be showing you how to make the crispy rice crisps and egg floss and a very simple way of making the seafood soup base to which you can add whatever ingredients you like!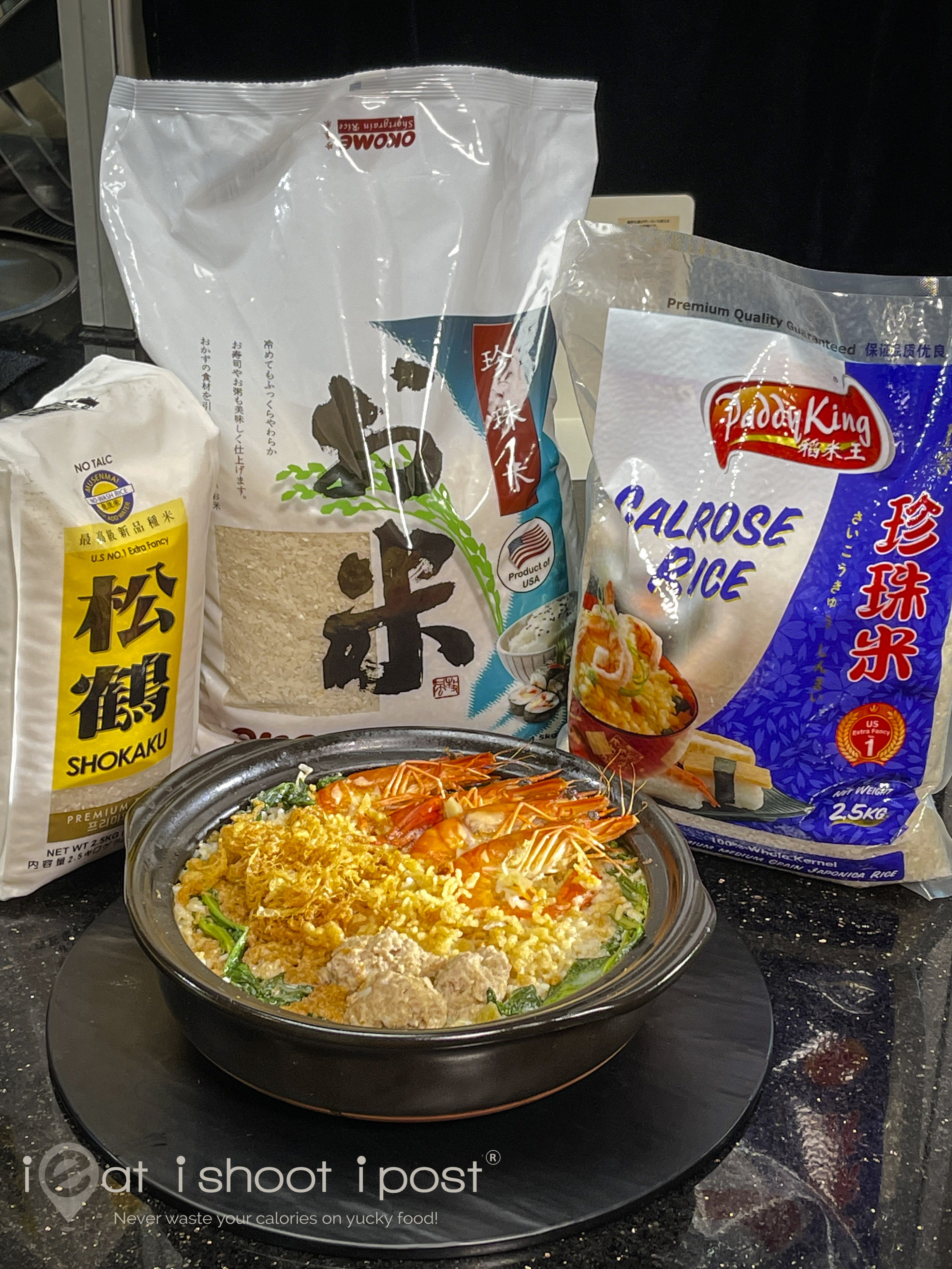 We will be using USA Calrose rice to make this recipe.  This is a short/medium grain rice which is cultivated and grown in the U.S.  The short/medium grain rice has a very nice bite and holds its shape well in the hot soup.  USA Calrose won the "World's Best Rice" award in 2013 and 2015 and is grown sustainably.  Best of all, their prices are comparable to jasmine rice, so do look out for the USA rice label the next time you are shopping for rice!
Now onto my Seafood Pao Fan recipe: USA Calrose Rice!
Ingredients
Rice
Okome USA Calrose Rice 2 cups
Water 2 cups
Egg Floss
Eggs 2
Rice Crisps
Cooked rice 1/2 cup
Oil 1/2 cup
Pork balls
Minced pork 300g
Sole fish powder 1 Tbsp
Salt 1/2 tsp
Sesame oil 2 tsp
White pepper 1 tsp
Cooking wine 1 Tbsp
Cornstarch 1 Tbsp
Water 2 Tbsp
Soup Base
Water 2 Litres
Szechuan vegetable (1/2 cup chopped)
Pork ramen soup stock 200ml
Thai shrimp paste in soya bean oil (3 Tbsp)
Sole fish powder 1 Tbsp
Evaporated milk 2 Tbsp
Seafood (Your Choice)
Prawns, lobster, scallops, clams, crabs, fish
Vegetables
Shanghai greens, chrysanthemum leaves etc
Method

Rice
1.  Wash the rice by vigorously rubbing the grains against each other to remove any residual starch and oil.  Usually this needs about 5 changes of water before the water runs clear.
2.  Allow the rice to soak in the water for 30mins to an hour before cooking.
3.  Cook the rice in rice cooker. Once cooking time is up, immediately fluff the rice and allow to cool on a tray.  Once cooled, leave in the fridge overnight.
4.  If you are cooking rice over the stove, add water to rice, bring to a boil and lower heat to simmer for 15mins.  Turn off the heat and wait 5 mins.  Fluff the rice and cool on tray.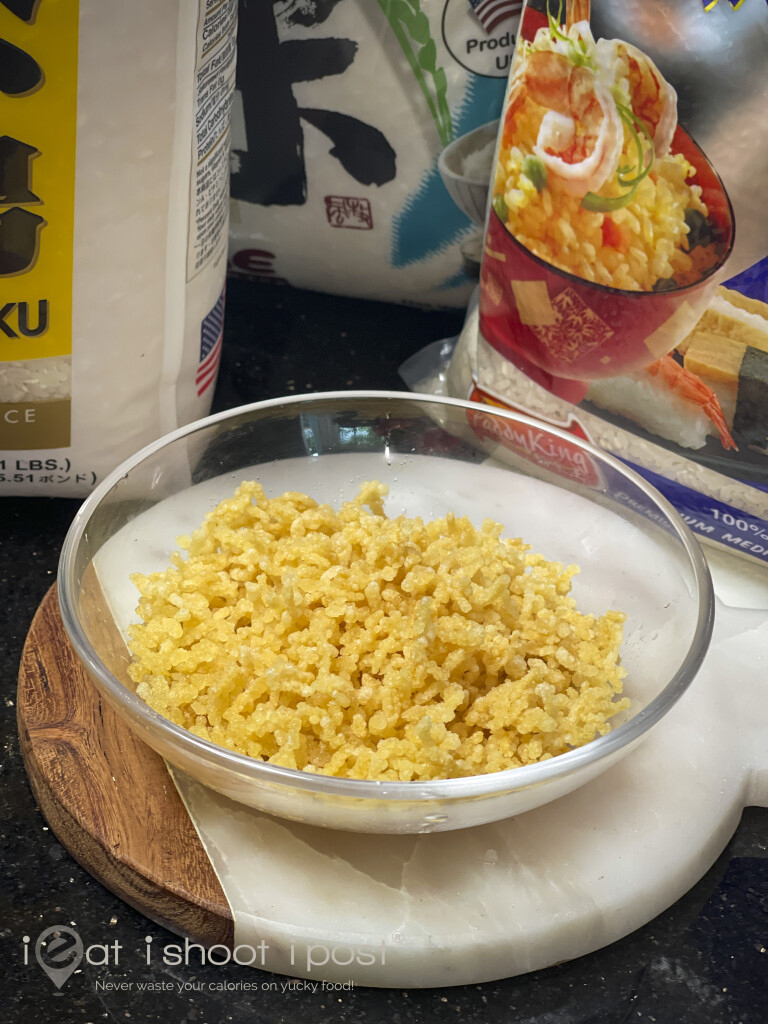 Rice Crisps
1. Add 1/2 cup oil to 1/2 cup overnight rice and break up the rice grains so that they are all coated with oil.
2.  Heat the oil in the pot till 200°C, add the rice to the oil and cover the pot.
3.  Once the splattering has stopped, lift the lid and fry the rice till golden brown.  Gently separate the rice crisps.  Remove from oil and drain on paper.
Egg Floss
1.  Beat the eggs till whites are completely broken.
2.  Stream eggs into hot oil while stirring the oil in clockwise direction.  (only clockwise, not anti clockwise…… ;))
3.  Remove when eggs turn golden brown and drain.
Soup Base
1.  Add all the ingredients except for evaporated milk to pot and bring to a boil.
2.  Simmer for 10mins.
3.  Add other seafood ingredients and simmer till cooked.
4.  Add vegetables.
4.  Add evaporated milk just before serving.
Assemble the pao fan
1.  Add rice to the bowl.
2.  Add seafood soup.
3.  Arrange egg floss.
4.  Microwave rice crisps for 2 mins and add to the soup for the popping effect!
Hope you liked this Seafood Pao Fan recipe: USA Calrose Rice!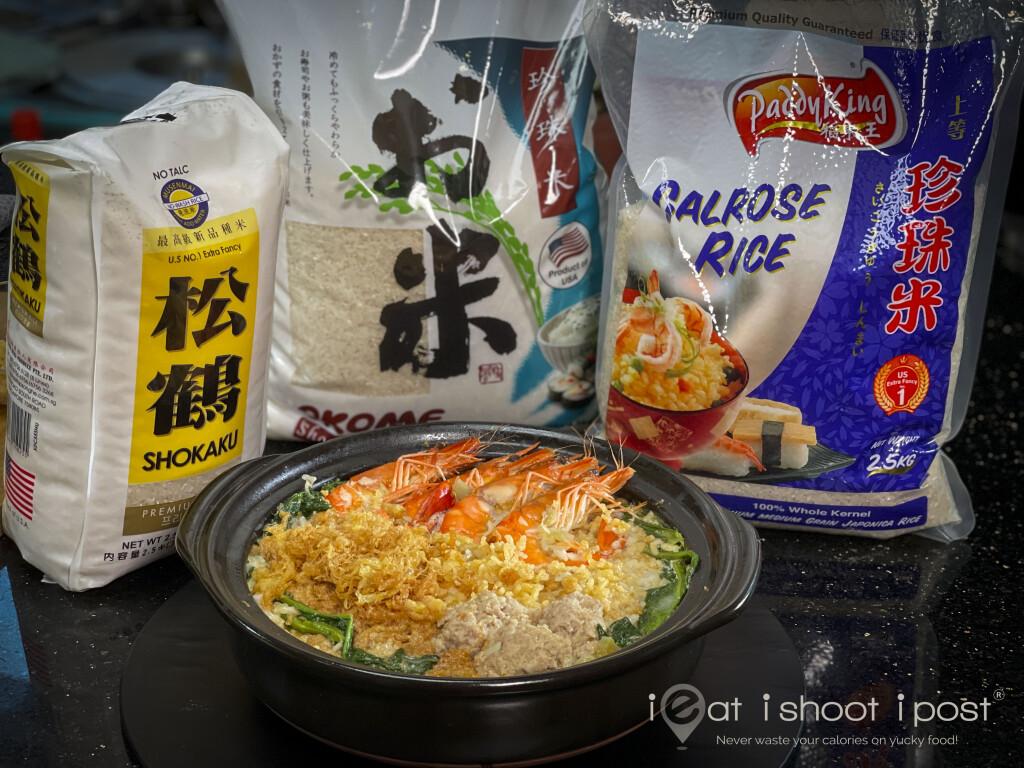 Till then, happy cooking!
You can buy other USA Calrose Rice here:
Okome Rice
PaddyKing Rice
Shokaku Rice
Other USA Calrose Rice recipes:
Wok Hei Prawn Egg Fried Rice
Fan Choy recipe using USA Calrose rice

Disclosure: This post is made in collaboration with USA Rice Federation and using Okome Shortgrain rice by Topseller Pte Ltd.
https://www.facebook.com/USARice.SG/
https://www.facebook.com/okomeshortgrain
https://www.instagram.com/usarice.sg/
Disclosure: Some links above are affiliate links, meaning, at no additional cost to you, we will earn a small commission if you click through and make a purchase.