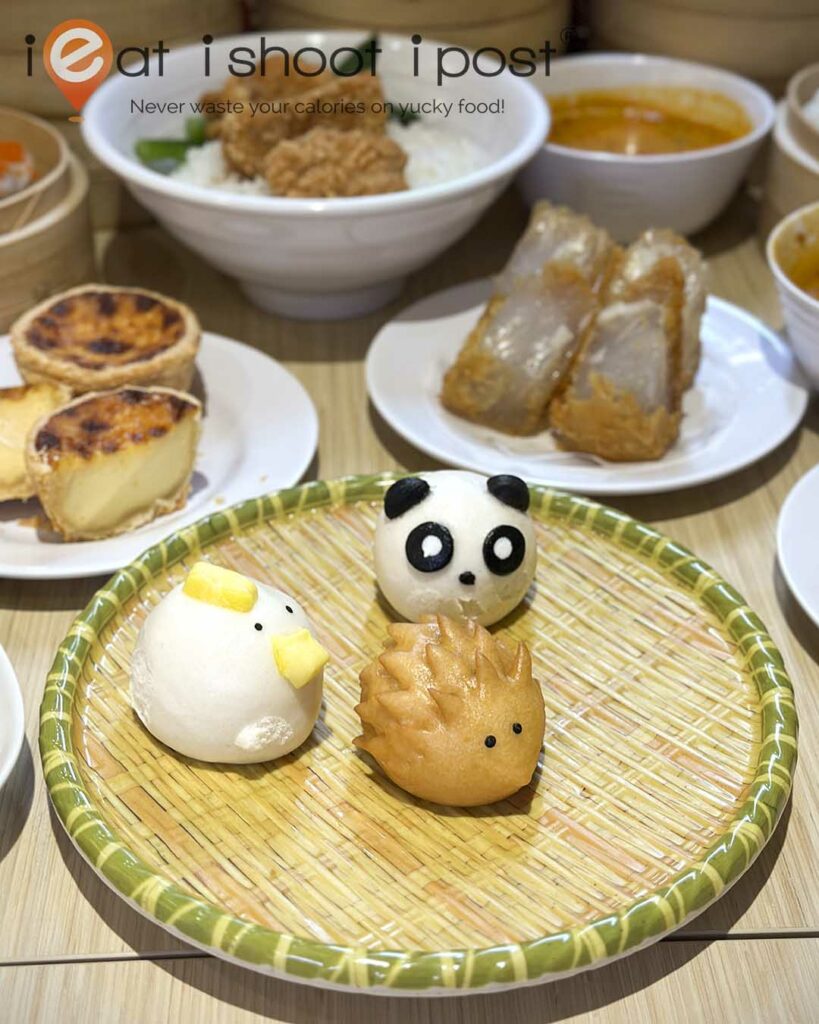 It's great to see more eateries like Little Teahouse emerging to occupy the mid-tier segment of the Dim Sum market. Baskets of Dim Sum at hotels and Chinese restaurants are now priced at $8-$10. What was once a simple snack (点心, diǎnxīn) meant to accompany a pot of tea between meals, has become too much of a luxury treat. Of course, you can still find baskets of dim sum in the $2-$3 range at various coffee shops, but the ambiance is not as appealing. That's why we were eager to check out Soup Restaurant's brand-new dim sum teahouse.
Little Teahouse offers an enticing proposition. It's a self-service restaurant where you can enjoy baskets of Dim Sum crafted by Soup Restaurant's chefs, with most items priced between $4 and $6 (nett). This delightful dining experience takes place in a comfortable environment that remains open from morning till late at night.
Dim Sum to order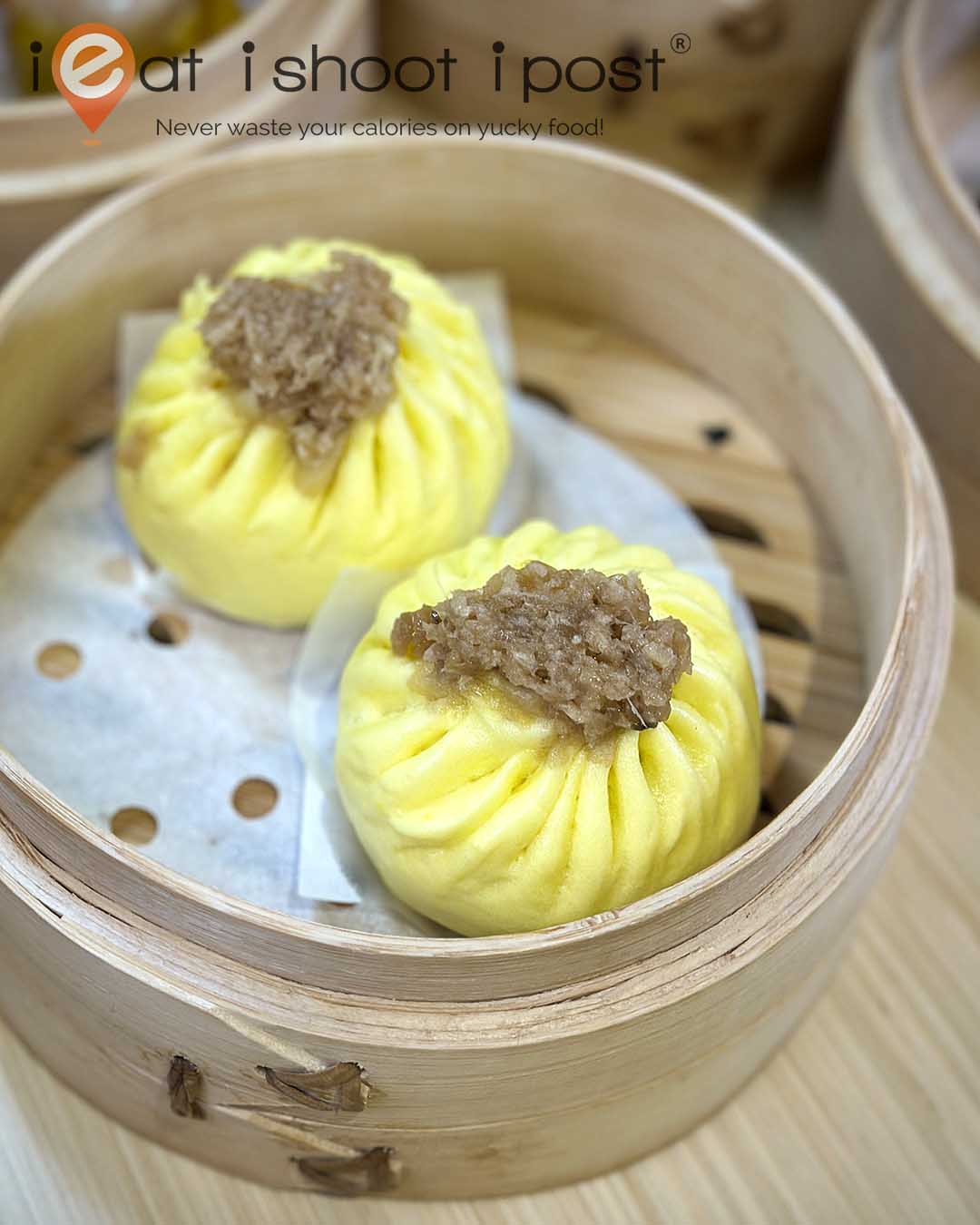 The standard of the dim sum is very good overall. This is to be expected of Soup Restaurant which is celebrating its 32nd anniversary this year. I think most readers would be familiar with their signature Samsui Ginger Chicken which is served with a delicious ginger sauce.
It is no surprise that they have created a new chicken bao which is topped with their iconic ginger sauce. The ginger sauce, we were told, is made of various types of gingers which are specially procured from a farm in Malaysia. They created the bao as an additional way of enjoying their excellent ginger sauce. If you are visiting Little Teahouse, you should definitely order this.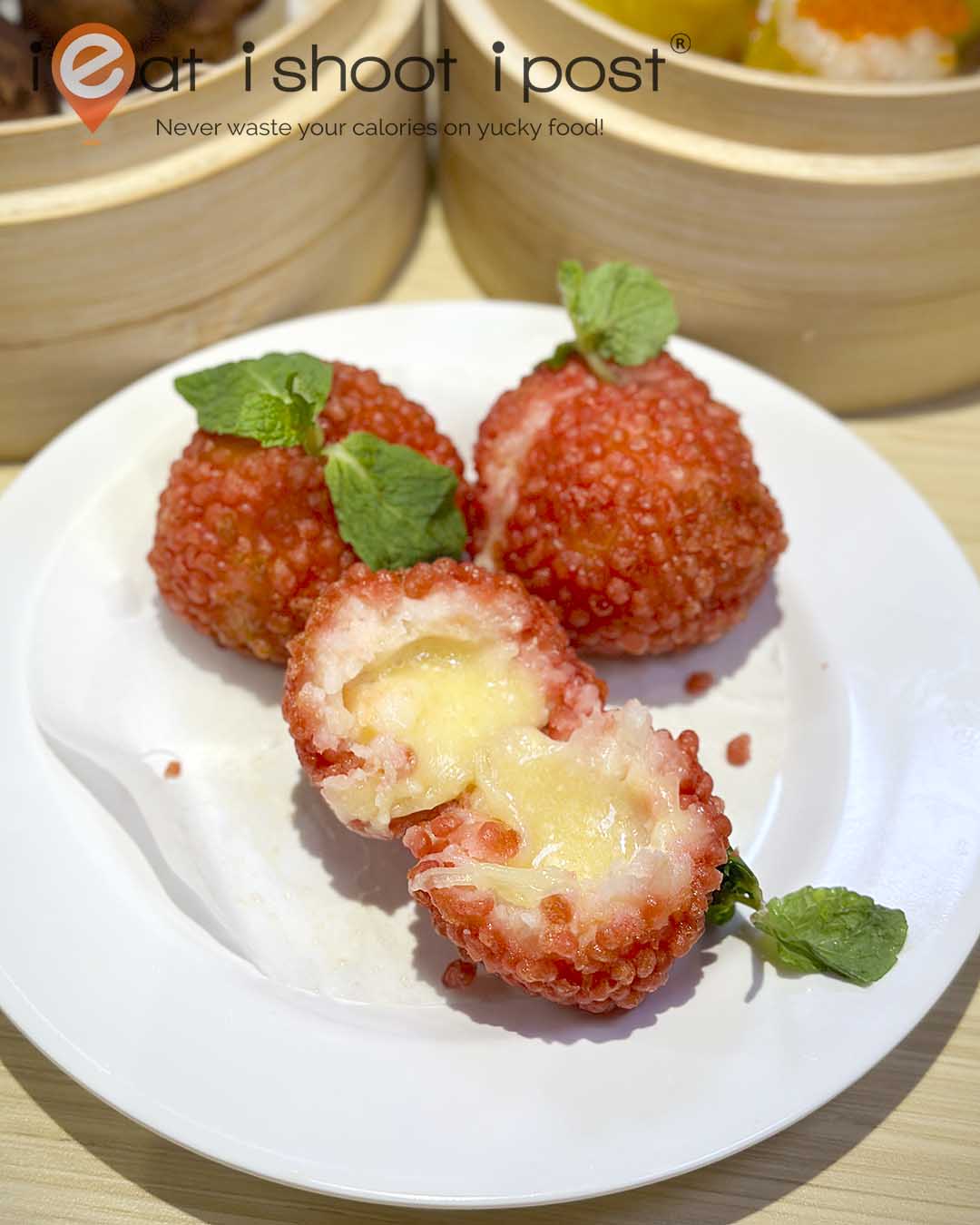 Another dish I would order again is the Lychee Prawn Ball with Mozzarella Cheese. It has a molten core of mozzarella cheese wrapped in prawn paste and encrusted in a crispy shell made from rice crisps. It is colored to make them look like lychees, although the mint leaves sort of betray that image.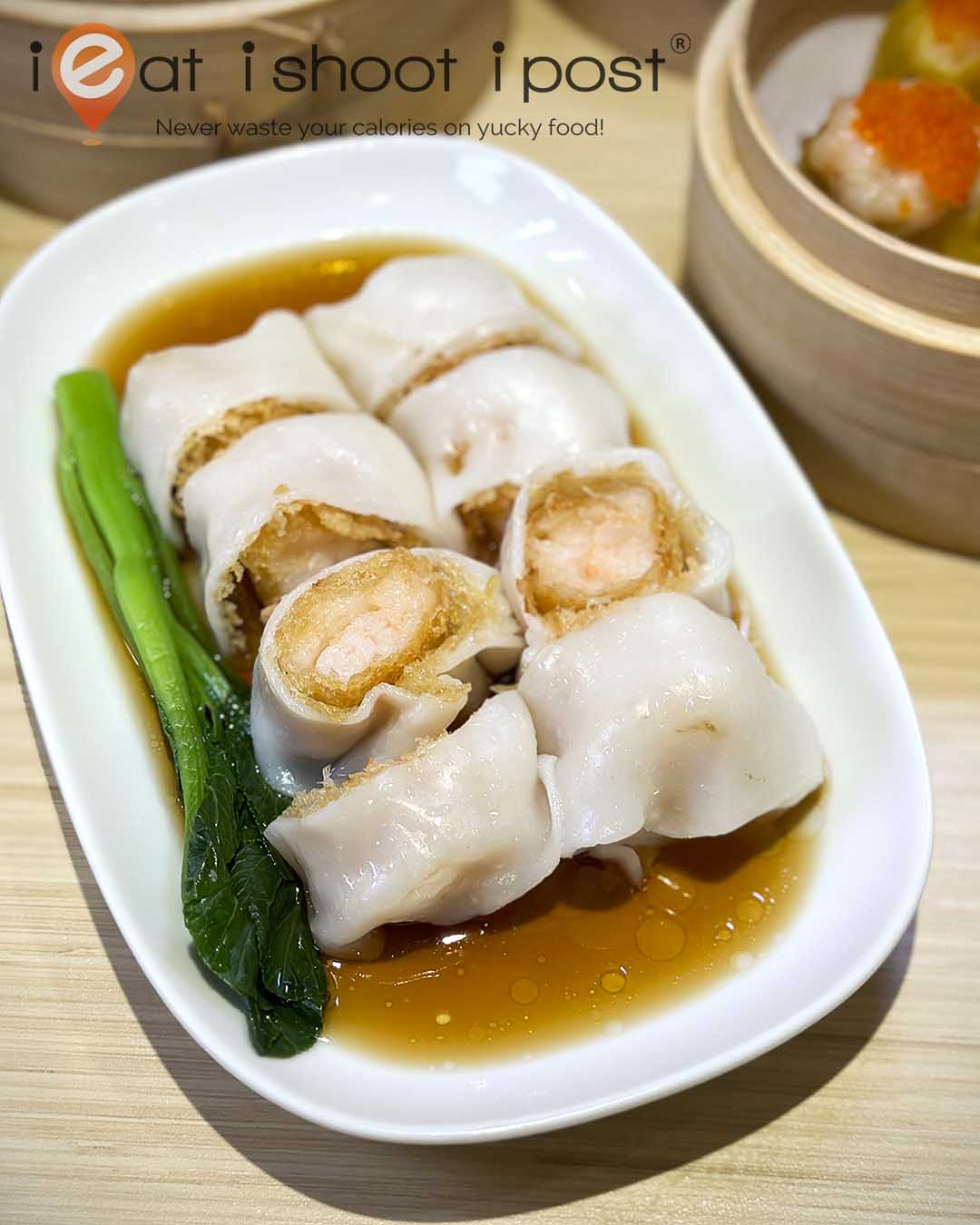 Their freshly made chee cheong fun is very good. Using two pieces of steaming cloth instead of one, they managed to make a cheong fun skin that is smooth and tender. We liked the one with crispy prawn fritters wrapped in it!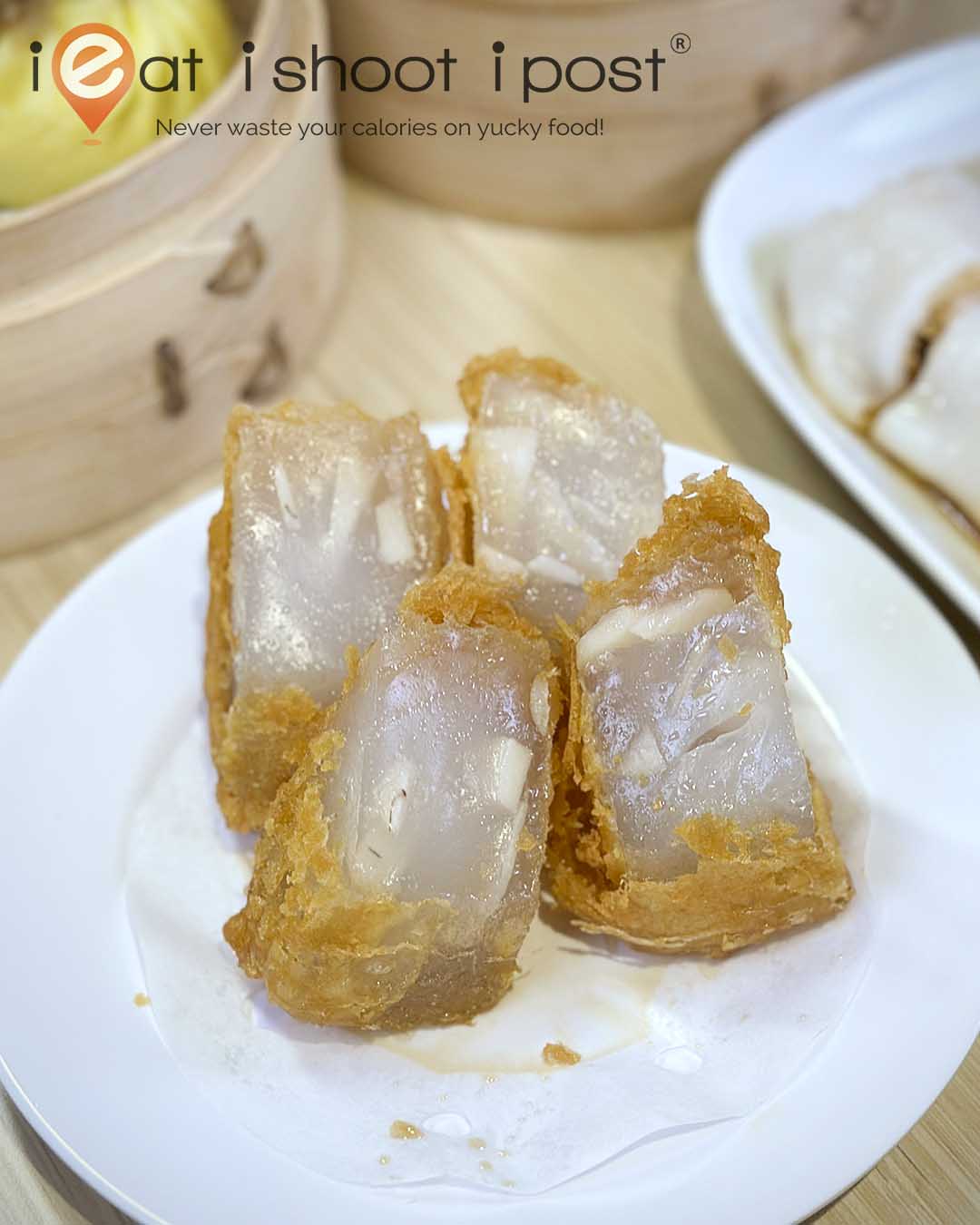 Another unique offering is their crispy fried Water Chestnut Fritter. This item is not usually found elsewhere. It is a sweet item that has crunchy water chestnut embedded in a jelly and fried with a thin and crispy crust. The crust was a little thin and didn't quite cover the whole cake. So we didn't get to enjoy enough of the crunch.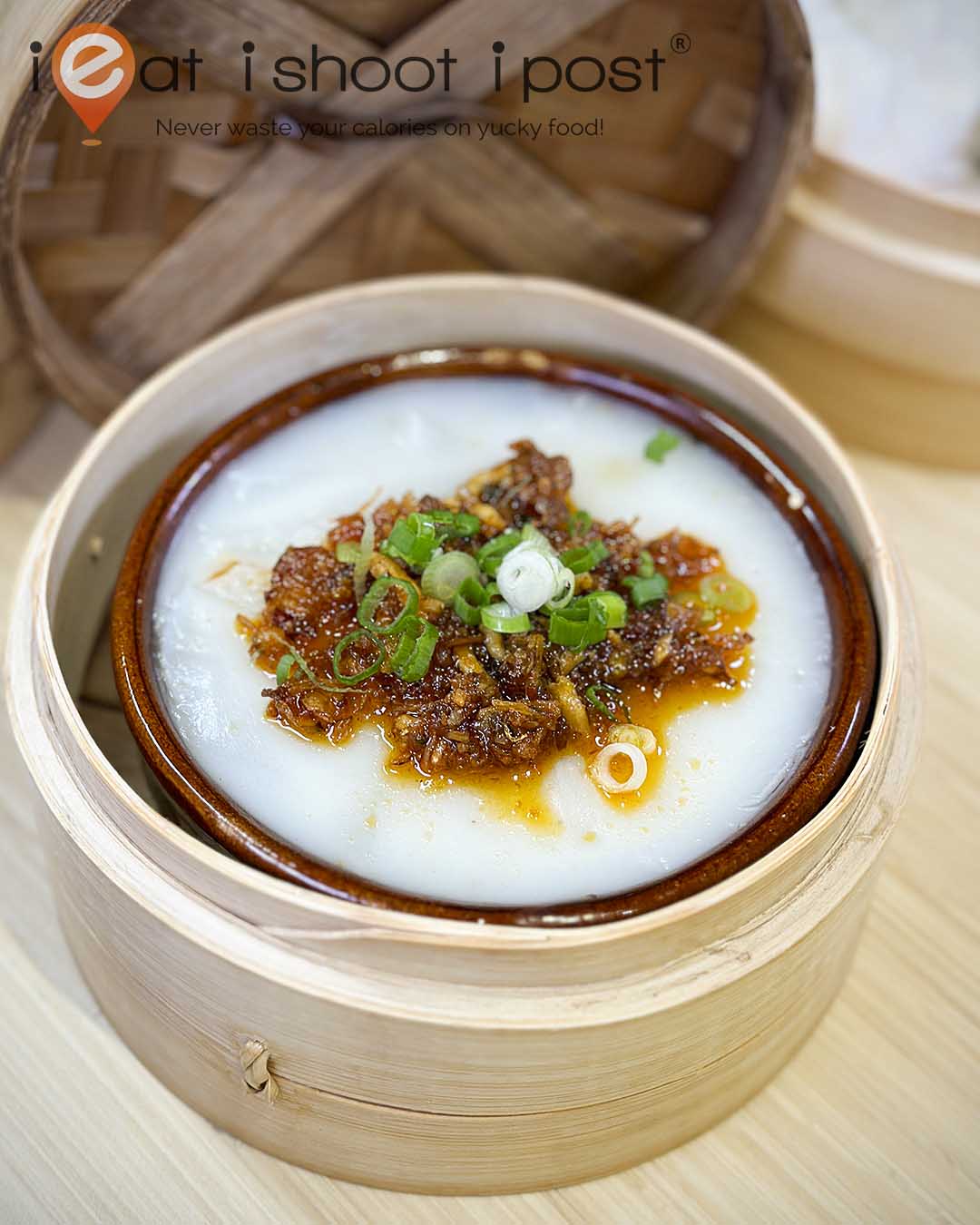 Their steamed radish cake is topped with their own in-house XO sauce. Steamed radish cake is a nice change from the usual pan-fried version and the XO sauce was very good. We do feel however that it needed a bit more sauce to lubricate the cake.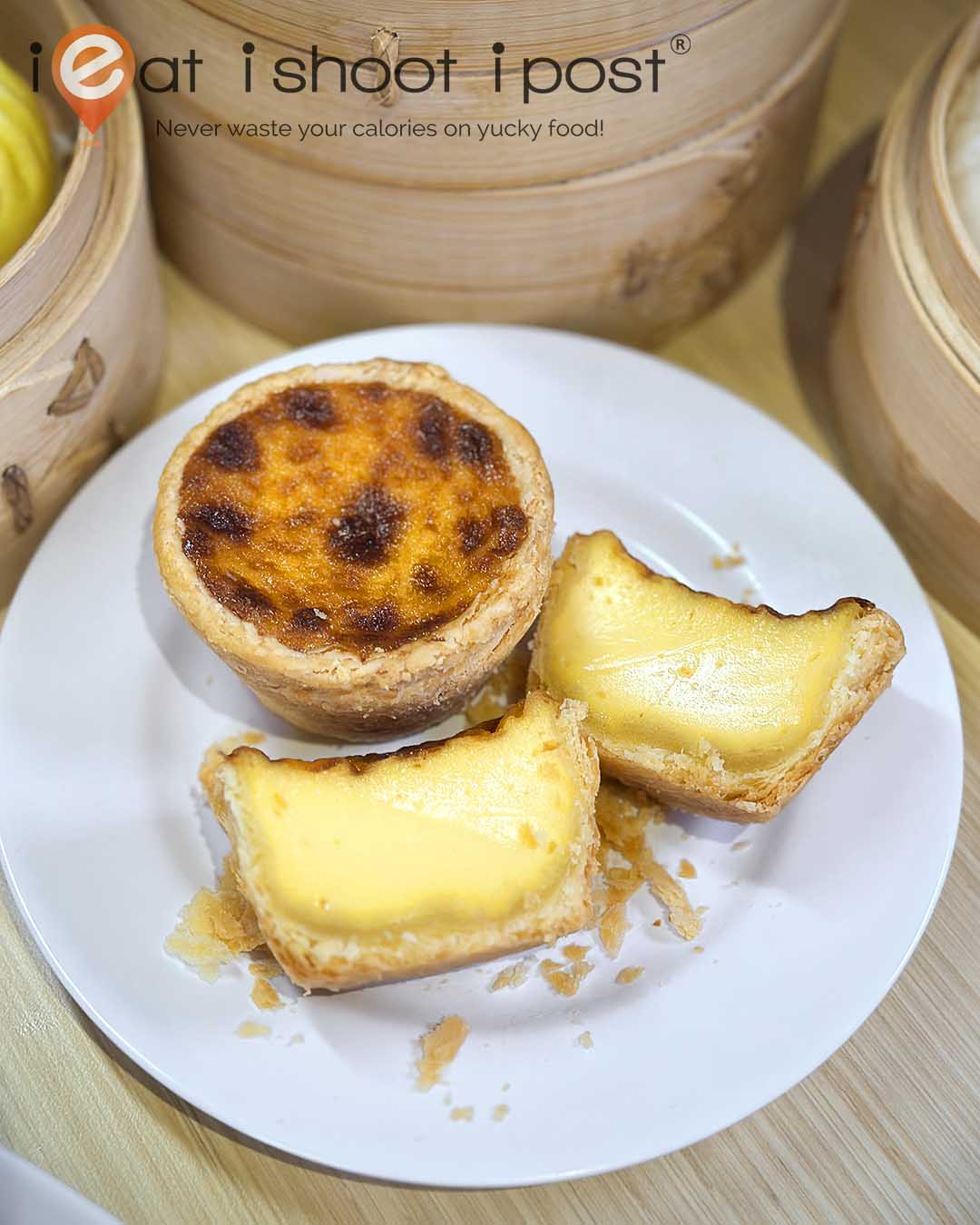 We were also pleasantly surprised with their egg tarts. They had a generous layer of egg custard set in a buttery and flaky tart cup. Another item worth ordering.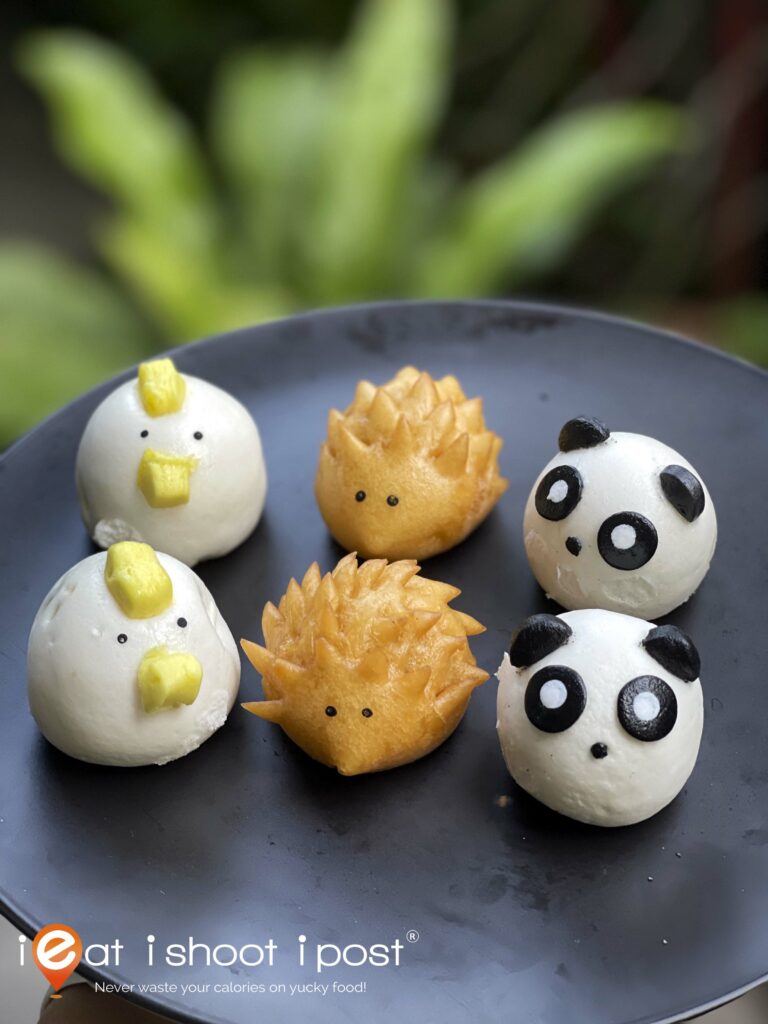 If you have kids, they may enjoy the little animal baos with sweet fillings. Chick-A-Boo bao is filled with sweet corn custard, Hedgehog bao with lotus paste and Pandan Bao with red bean paste. They are cute and good to eat too.
One Dish Meals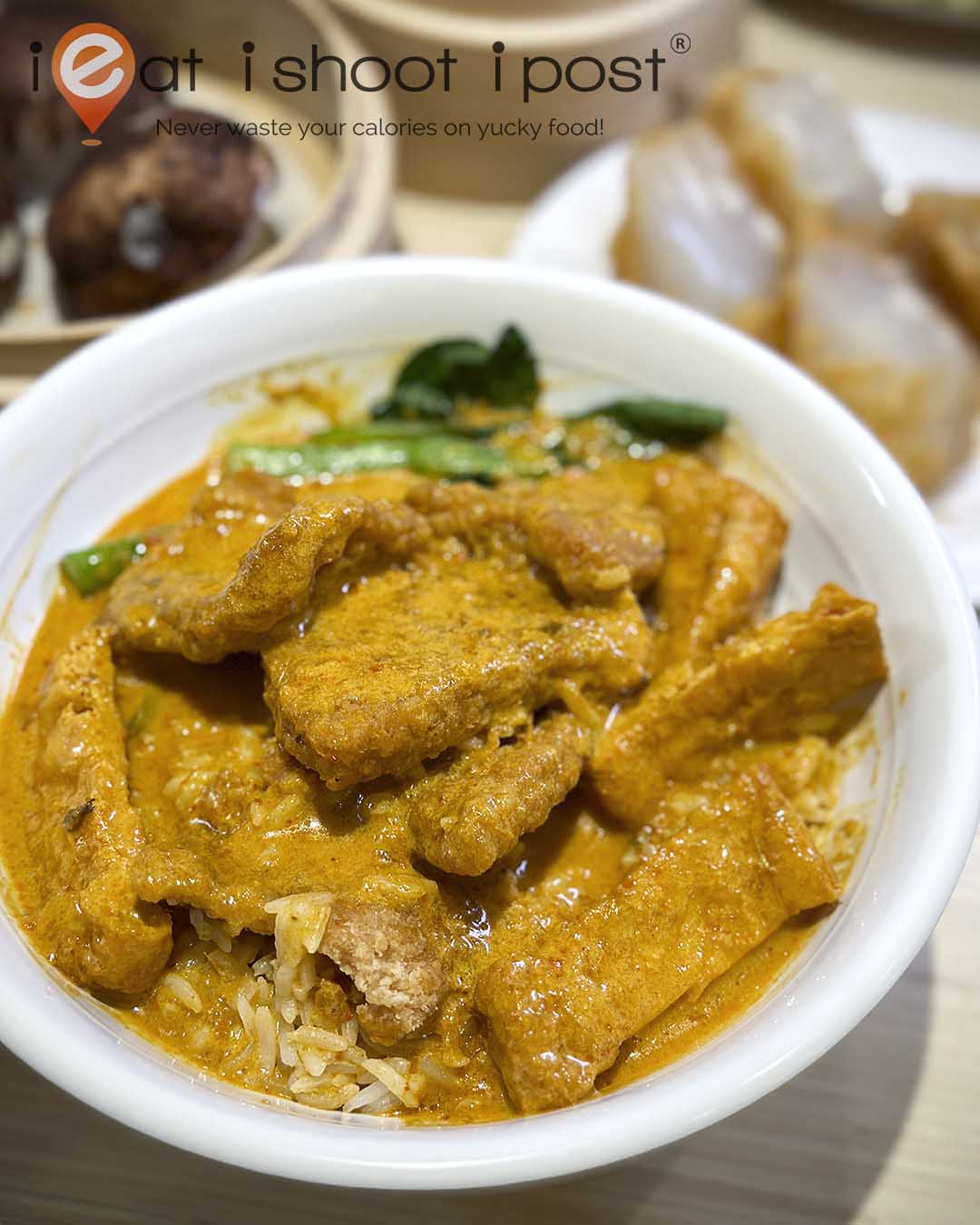 If you are after something more substantial, they do offer a series of rice and noodle dishes. Like black charsiu wonton mee and this Curry Pork Chop Rice. The curry gravy is served separately so you can choose how much curry you want to soak your rice in. The curry gravy that comes with pieces of fried tau pok, has the richness of a Nonya style chicken curry but also the tang of an Assam fish head curry.
Menu Reference
Here are some items and prices for your reference
In summary : Little Teahouse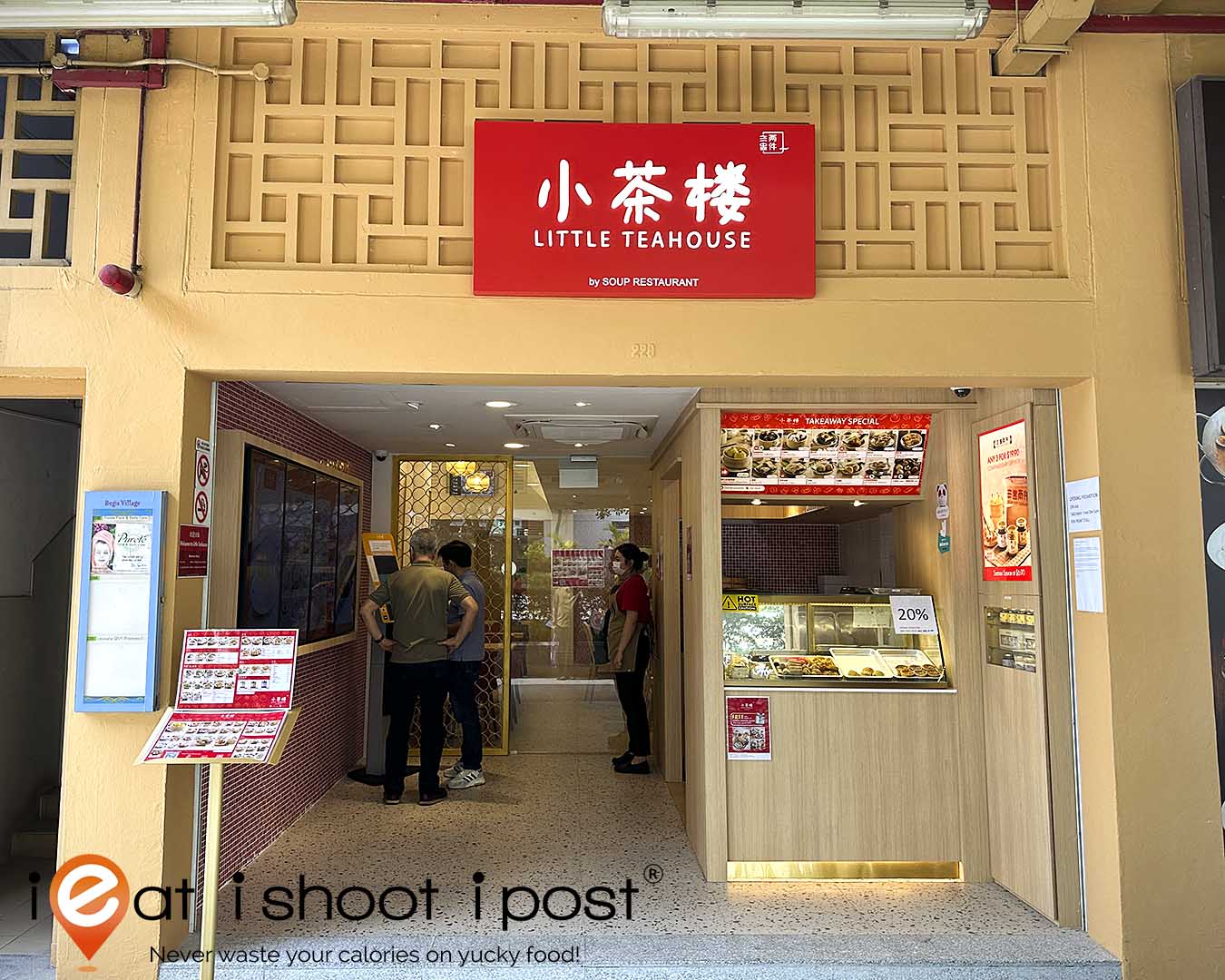 Little Teahouse is a great little self-serve restaurant to enjoy a casual Dim Sum meal throughout the day! Prices are nett and there's no service charge of course. They're opened until 11pm on most days and up to 11:30pm on Fri, Sat and eve of public holidays.
CAFE O : local cafe next door
As part of their 32nd Anniversary celebrations, Soup Restaurant has also opened a new Cafe O outlet right next to the Little Teahouse here. We'll just highlight some two items here as we felt it really deserves its own review.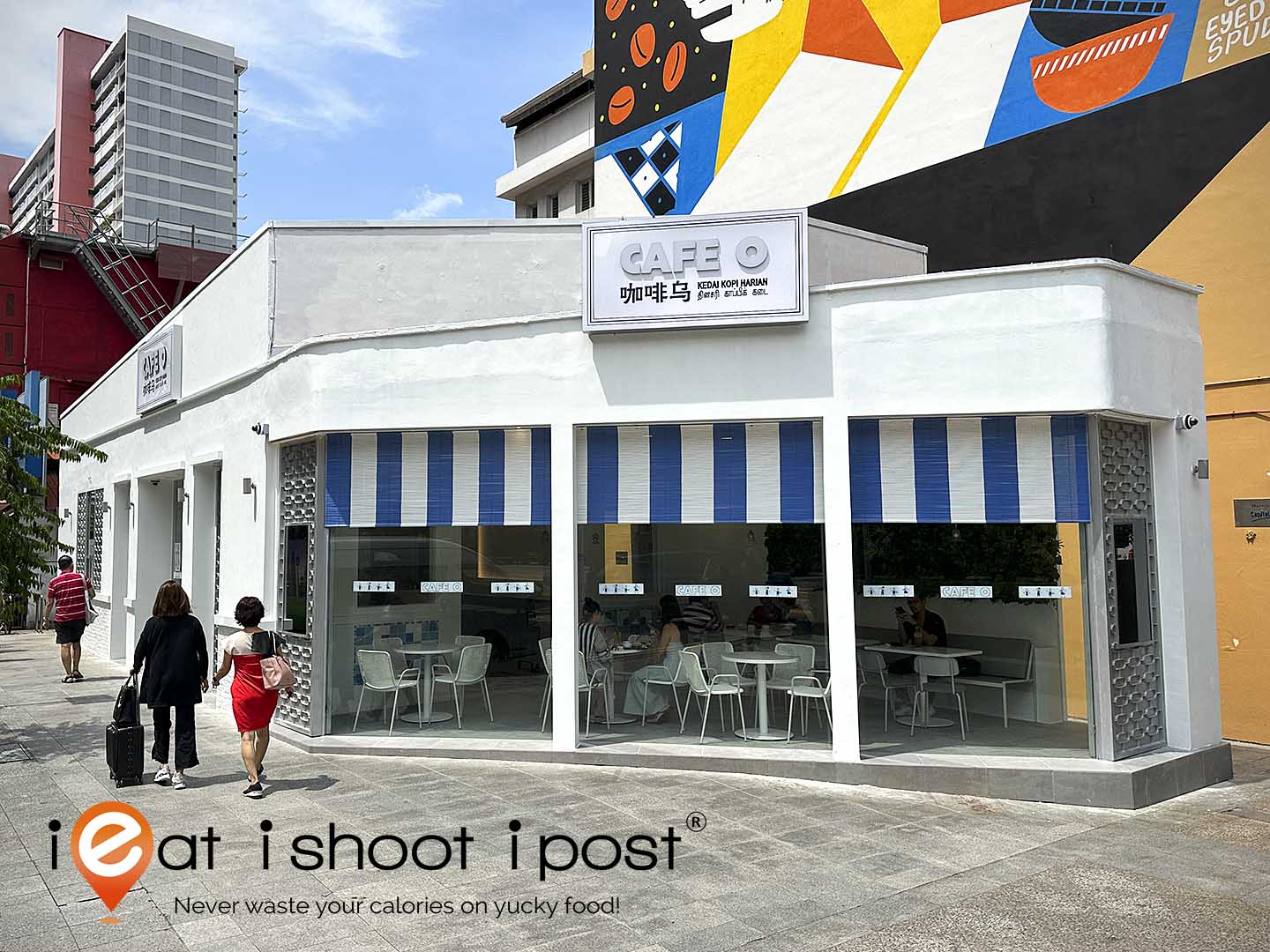 The local cafe concept tries to marry the four major cultures into a distinctly Singaporean menu. Aside from the usual kopi and kaya toast, you can also order roti prata and Malay style crispy chicken rice!
The signature item here is their newly launched Nian Gao prata which you can get all year round. The Nian Gao is specially made in-house into large thin slices so they can added inside the prata. They even made one into a tile with the word Fu on it.
It is interesting but Nian Gao is not something which I am crazy about. I try not to buy it during Chinese New Year. However, we always end up with a few cakes of it as Lisa needs to have it as per their family tradition. So, I end up frying it with eggs during the festive period. Having it with prata is a novel idea which Nian Gao lovers would definitely order, I am sure.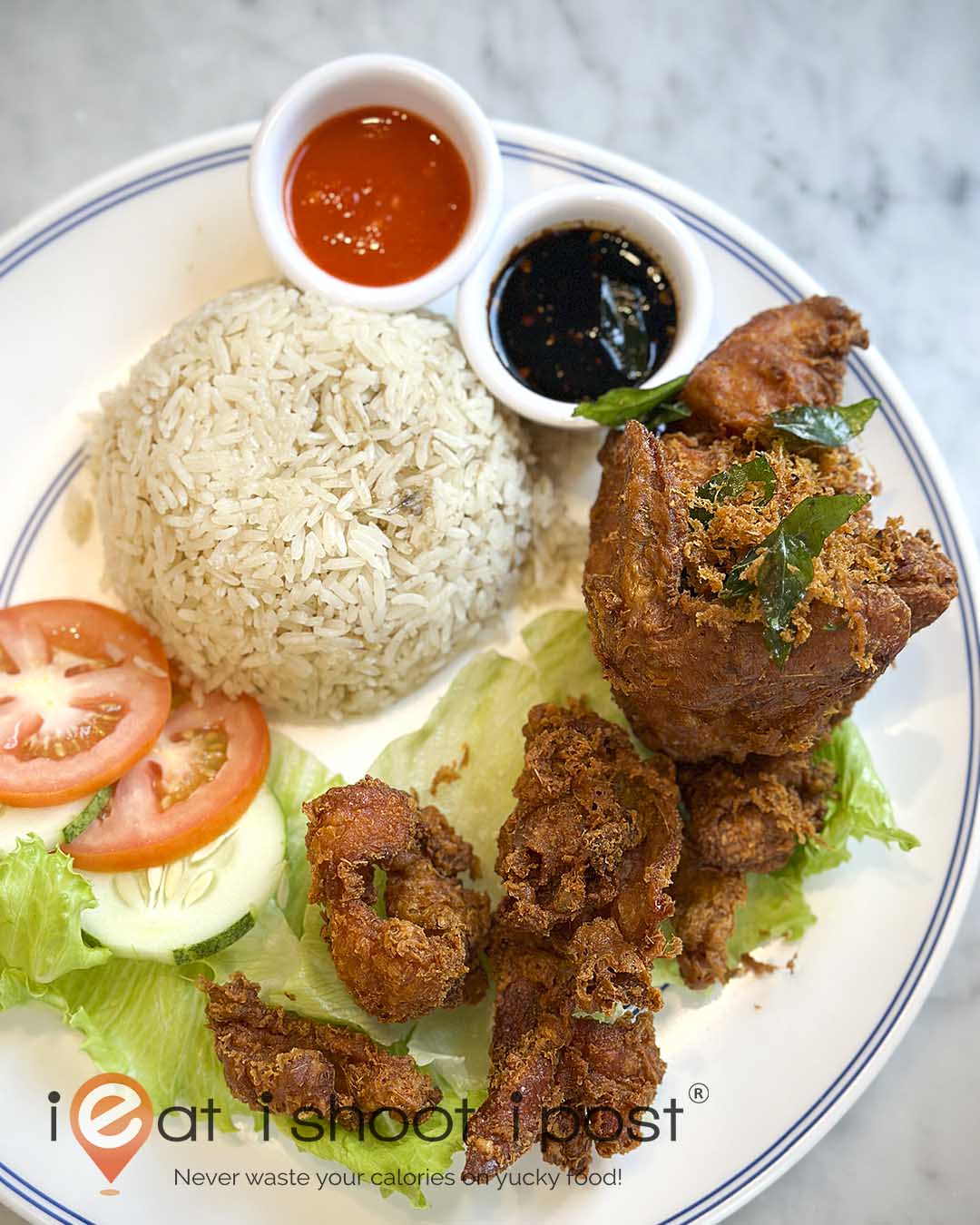 I was pleasantly surprised by the Malay style crispy chicken rice! Aside from a very tasty portion of deep fried chicken, they also have deep fried chicken skin which has been marinated with spices! They were quite addictive when eaten with the rice and the Kecap Manis sauce.
We met their head chef who reiterated that all their menu items (except for the prata dough) are made in house. That includes all the rempah for the laksa, mee rebus and various curries. We will need to visit again to try the other dishes and update you all!
Disclosure: this is written in partnership with the Soup Restaurant. Opinions expressed are that of our own.