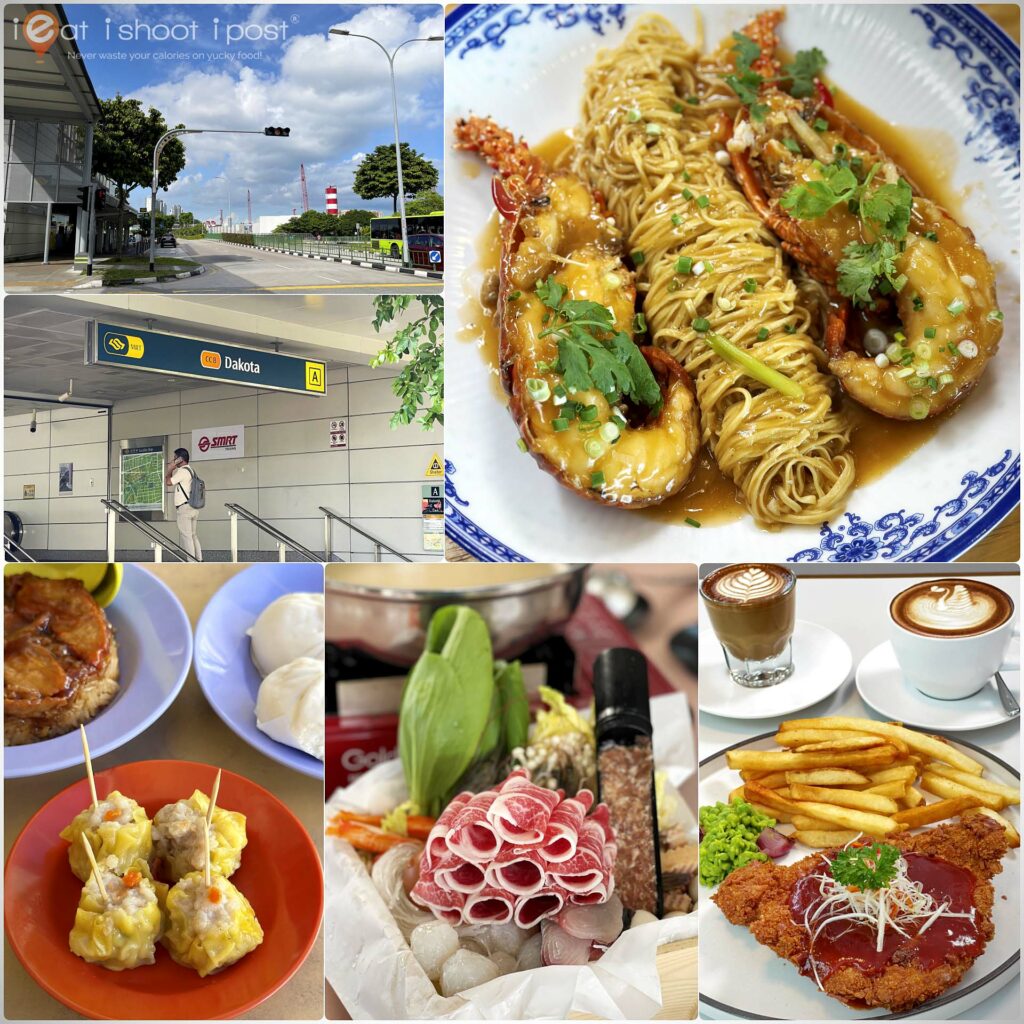 We embark on our latest Food Trail from Dakota MRT station which is just across the road from the site of Grand Dunman, an upcoming luxury residential condominium by SinHaiyi Group and CSC land Group, the sponsors of today's food trail.
This area in the East is surrounded by lots of good food! The nearest is but a stone's throw away (ok, maybe two or three stones throw away) at Old Airport Road Food Centre. There are many famous stalls like Nam Sing Hokkien Mee, Lao Fu Zi Char Kway Teow, Roast Paradise, Chye Seng Satay, Xing Mei Xiang Lor Mee…. we can go on. But, there has been so much written by so many about the venerable Food Centre that we thought we'd explore the roads a little less traveled to see what other amazing eats we can uncover!
1. Dining Enclave: Jalan Batu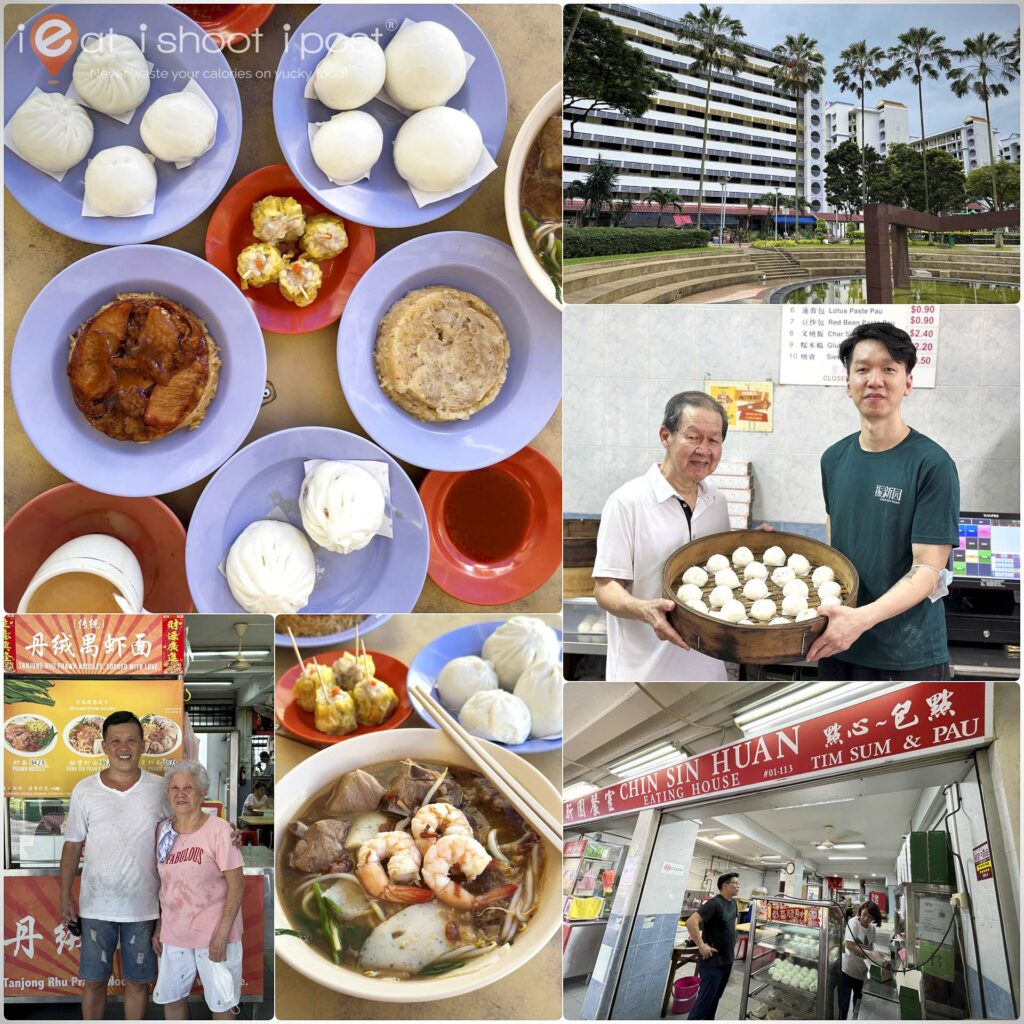 Just 6 min from Dakota MRT by bicycle is the exclusive residential enclave of Di Tanjong Rhu which was built in 1962. This idyllic little estate is home to the Jalan Batu Hawker Centre and Market as well as an unassuming little coffee shop that is responsible for putting Tanjong Rhu Pau and Tanjong Rhu Wanton Mee on the foodie map.
Chin Sin Huan Coffee Shop
I started eating Tanjong Rhu pau back in the 90's when they were $1 for a big pau. Big paus in those days cost $1 at most places but what set Tanjong Rhu pau apart was that their big pau is about the size of a small pau at most other places which were selling for 60 cents!
The two partners recently split the management of the business. One of the partners, a Mr Yap Peng Wah passed the business to his son Wei Jie. He rebranded it to Chin Sin Huan, the name of the coffee shop that is owned by his family since 1963. Here is the full story here.
Although I often buy the paus home, but there is nothing like eating it there when it has just come out of the steamer. The big pau is full of juices and is delicious. It now costs $2 and is still smaller than big paus at other stalls, but fans are willing to pay for it because of the quality of the ingredients. Their siew mai is also very good. At 50 cents a pop, they are small compared to other siew mai but they pack quite a punch. Wei Jie tells me that they are made using fresh pork jowl meat which give the siew mai a really nice texture and flavor! 4.5/5
Also in the same coffee shop is Tanjong Rhu Prawn Noodles which serves a really good prawn noodle soup. This stall had been occupied by Tanjong Rhu Wanton Mee which became quite famous before they relocated to the hawker center next door 7 years ago. Eddie took over the stall and started selling prawn mee with a recipe passed down from his mother. He still recalls how he accidentally threw away a whole pot of prawn broth on his first day of business! How time flies!
The prawn mee is pretty old school. The broth is sweet and robust and quite satisfying. While Lisa, a self-professed Prawn Mee pro, would not especially travel here to have this, we did meet someone who did traveled all the way from Choa Chu Kang for it! 4.25/5
Chin Sin Huan Eating House
7 Jln Batu, #01-113, Singapore 431007
9am – 6pm, closed on Sundays
Tanjong Rhu Prawn Noodles
7 Jln Batu, #01-113, Singapore 431007
7am – 1pm, closed on Wednesdays
Jalan Batu Hawker Centre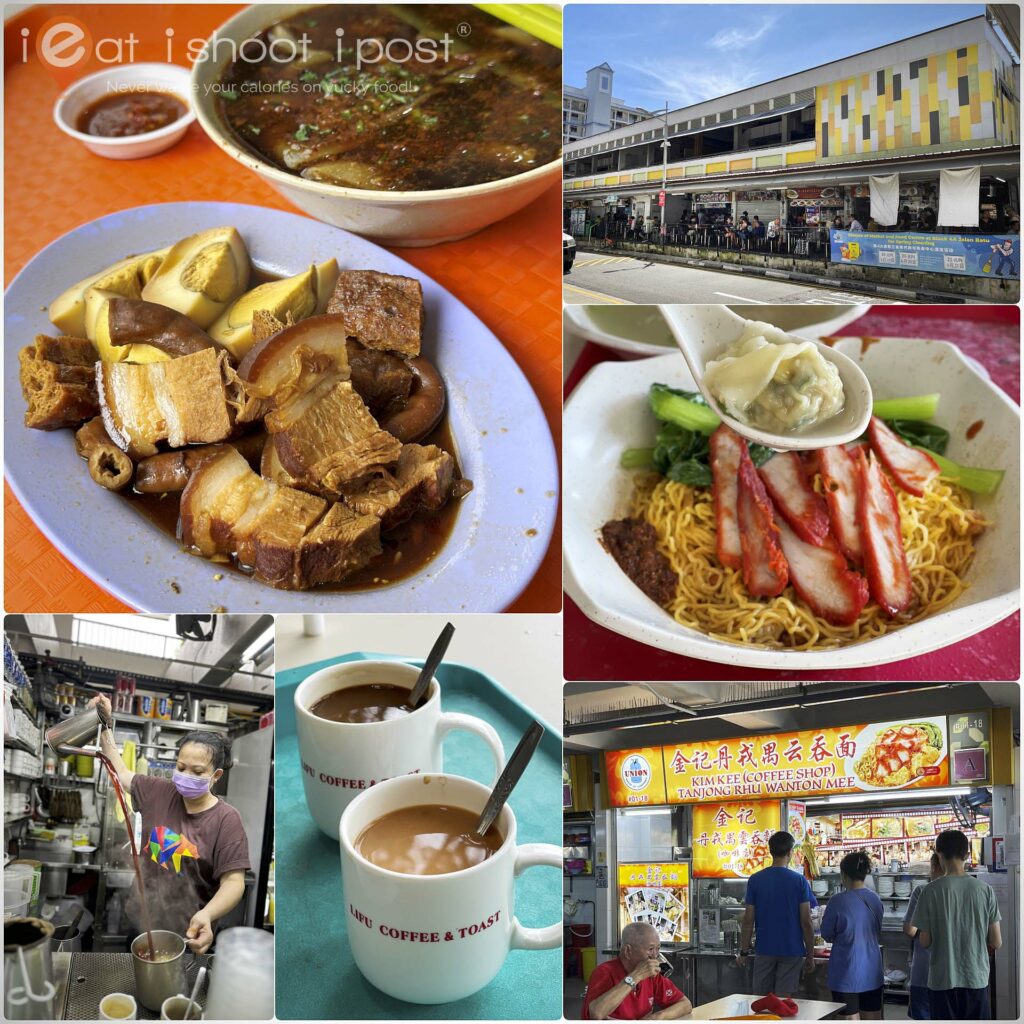 There are many unassuming hawker stalls at Jalan Batu Food Centre that are worth checking out. Best news is that this Food Centre is also very close to Grand Dunman!
We have recently published our story on Feng Ji Kway Chap which made headlines with their generous $2.50 set. But prices aside, we felt this kway chap is really worth a trip because of how they managed to get the kway to absorb the braising sauce. 4.5/5
Just opposite them is Tanjong Rhu Wanton Mee which had moved there from the coffee shop. They serve an old school wanton mee which has its fair share of fans, though we wouldn't go all the way there ourselves for it. 4/5
Over at the other end of the hawker center is Lifu Coffee and Toast which makes quite a good teh si and kaya toast. To order, you line up for the toast first to put in your order, then you order your drinks. Make sure you don't mess up the sequence. The toast will take some time to prepare as they will take their time to slowly toast it so that it will be nice and crispy! 4/5
Feng Ji Kway Chap
4A Jln Batu, #01-20, Singapore 432004
6:30am – 11am, closed on Fridays

Kim Kee (Coffee shop) Tanjong Rhu Wanton Mee
4A Jln Batu, #01-18, Singapore 432004
7am – 1pm, closed on Wednesdays and Sundays

Lifu Coffee and Toast
4A Jln Batu, #01-11, Singapore 432004
5am – 5pm, 5am – 8pm on Saturdays
2. Dining Enclave: Tanjong Katong Cafes and Eateries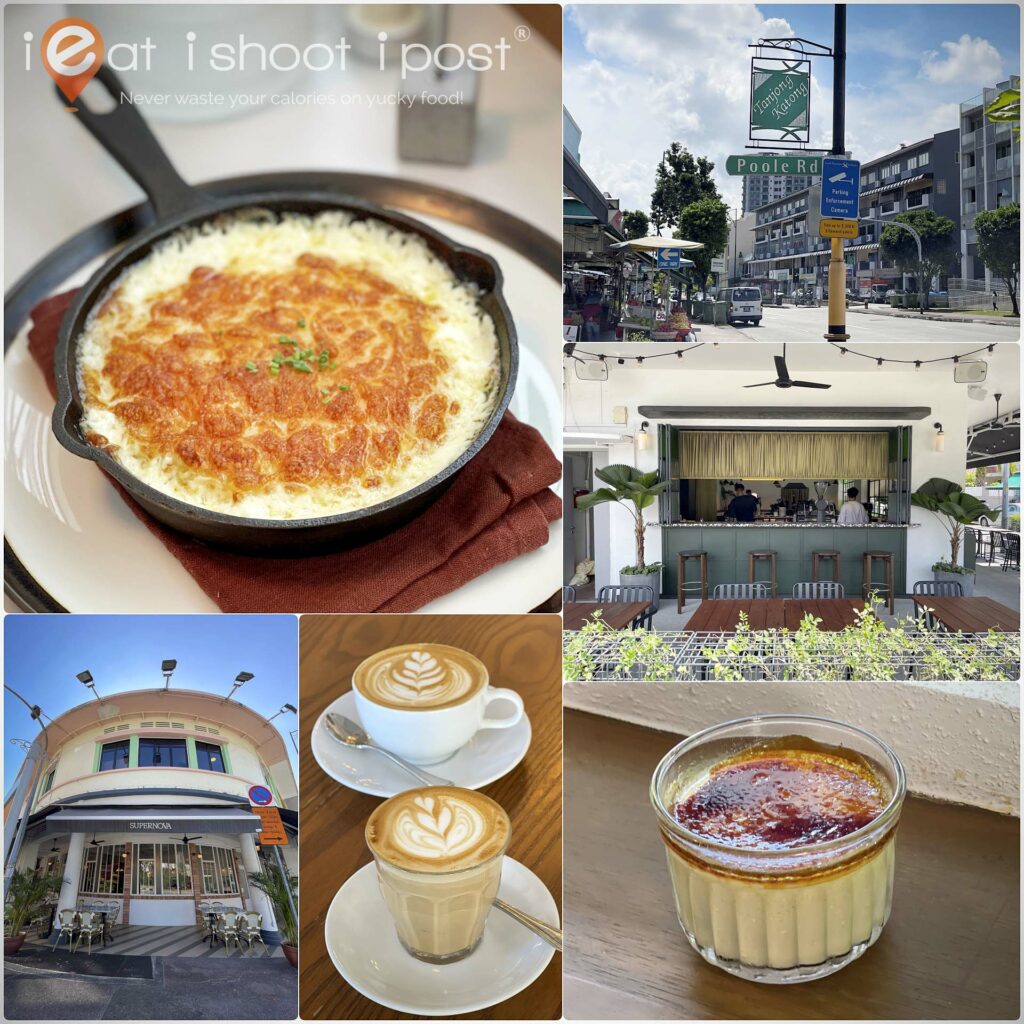 Just around the corner from Grand Dunman is Tanjong Katong Rd which is home to many interesting eateries, cafes, and even durian sellers. It's just a 3-min drive or 5-min cycle. It's a little bohemia with established eateries like Nan Xiang Chicken Rice, Punggol Nasi Lemak, and Heng Long Teochew Porridge. But in recent years there have been many cafes that have opened in this stretch of shophouses.
Seng House – A Modern Singaporean Cafe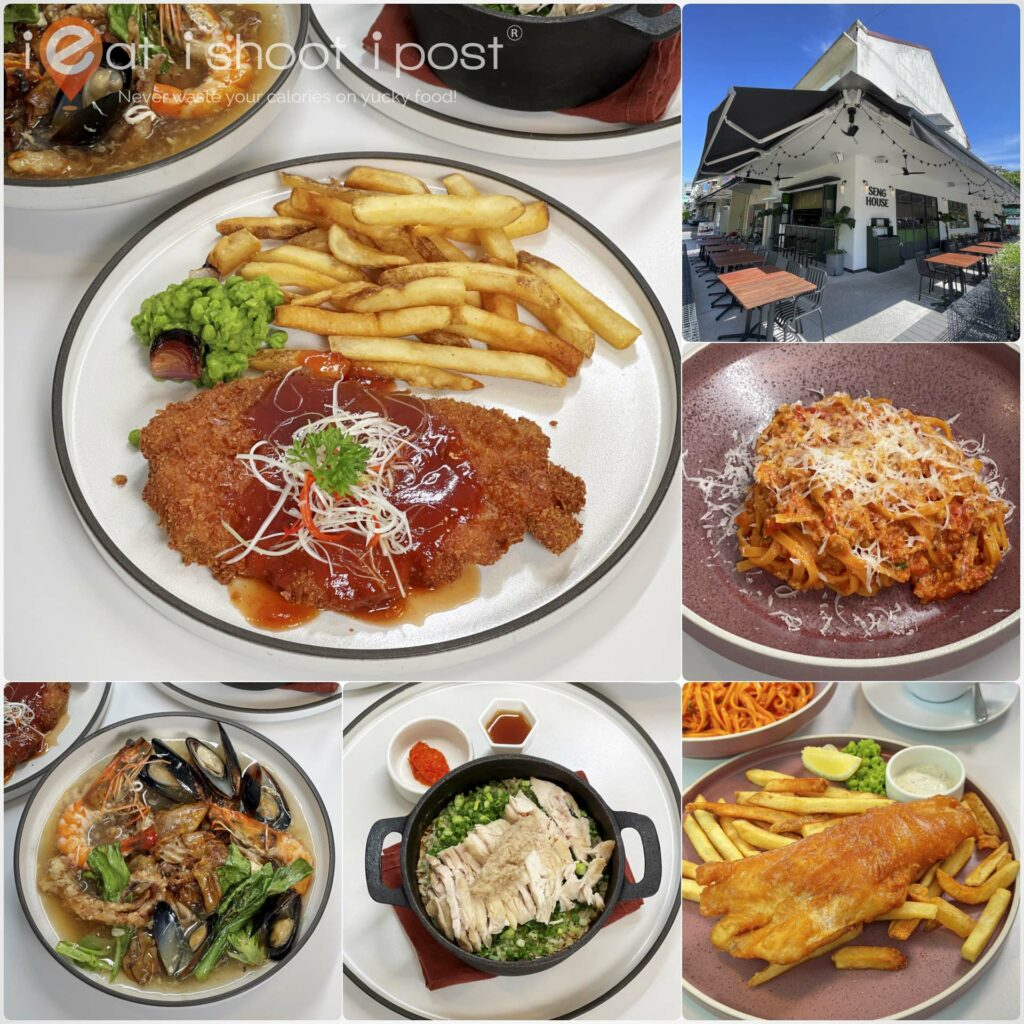 We were drawn to Seng House because of its promise to deliver an old-school Hainanese Coffee House experience. This is their 2nd cafe after the initial success of Seng Coffee Bar along Changi Road.
The Hainanese Iberico Pork Chops ($22.50) were the one dish that won us over. The pork was nicely marinated and juicy while the cream cracker crust gave it that unmistakable crunch which was truly nostalgic. It is one of the best Hainanese pork chops we have come across. 4.25/5
Other dishes which we can recommend are Linguine Bolognese ($19) and British Fish and Chips ($19.80) 4.25/5 They actually make their own linguine noodle which has a good bite. And you had a flaky Haddock coated in a crispy batter for the latter.
Lisa liked the Wat Dan Hor Fun ($24.80) though personally, I would go all the way there to have this particular dish since there was plenty of good hor fun elsewhere. Their Claypot Chicken Rice ($18.80) which was served in a cast iron pot is an interesting take on the traditional chicken rice. I liked the rice crust but felt it could be more moist. 4/5
They also have your usual lattes and cappuccinos which are very good, though it would have been nice to have an option with a more local twist.
Seng House
214 Tanjong Katong Rd, Singapore 437007
8am – 10:30pm daily
3. Dining Enclave : Jalan Benaan Kapal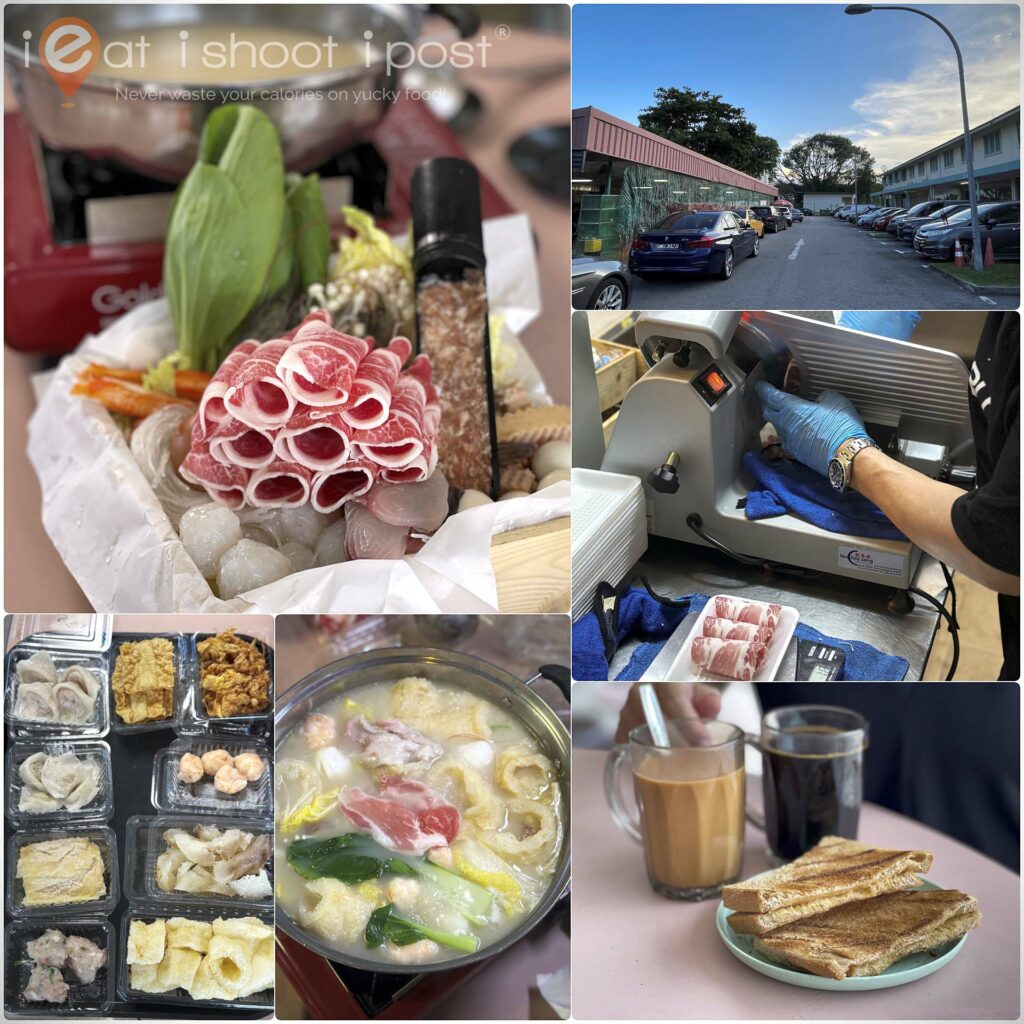 Jalan Benaan Kapal, which literally means "road construction ship" in Malay was once home to a vibrant hub of shipbuilding and ship repairing factories, which gave the road its name. This area served as Singapore's inaugural marine industrial estate specifically designed for these purposes. However, as time progressed, the landscape transformed, and the region underwent a remarkable metamorphosis into a sporting and recreational precinct that houses the National and Indoor Stadiums.
Stepping into the hawker center feels like stepping into a bygone era! This quaint and often overlooked food centre boasts a mere 10 stalls, and it's just a short 3-minute drive or 5-minute cycle from Grand Dunman. It's truly astonishing that such a charming place still thrives in Singapore! Despite its remote ambiance, it's conveniently located near the city.
This is where you can find probably the cheapest kopi (70 cents) in Singapore. The uncle has been at the same stall since its inception in 1968! He still toasts his bread the old-school way over a bed of glowing charcoal. It's not the best kopi and kaya toast around, but certainly one for nostalgia. 3.5/5
One Pot
In the evenings, the whole canteen is transformed into a place for hotpot. One Pot is known as a place where you get get your local hotpot fix at great prices and a place you can BYO and bring your dog.
Just remember that you have to order a day in advance so that Brent, the stall owner can specially procure the ingredients for you. He does a special market run in the morning where he picks up various ingredients from different places to ensure that his ingredients are all top-notch. The meat is only sliced upon your arrival to ensure its freshness.
Prices start from only $16 per pax for the normal pork set. That consists of vegetables, fish balls, fresh prawns, house-made minced pork, and sliced Batang fish. There are special items that you can add on, like fish maw $8, handmade fish dumplings $4, Teochew meatballs, deep-fried egg floss, etc. Of special mention is their rich pork broth which is made fresh every day using pork bones. Remember to pack an icebox with your favorite drinks! But even if you forget, he has canned drinks which you can purchase there. 4.25/5
One Pot
56 Jln Benaan Kapal, stall 4, Singapore 399644
6 – 10pm, closed Monday – Wednesday
4. Dining Enclave: Kallang Wave Mall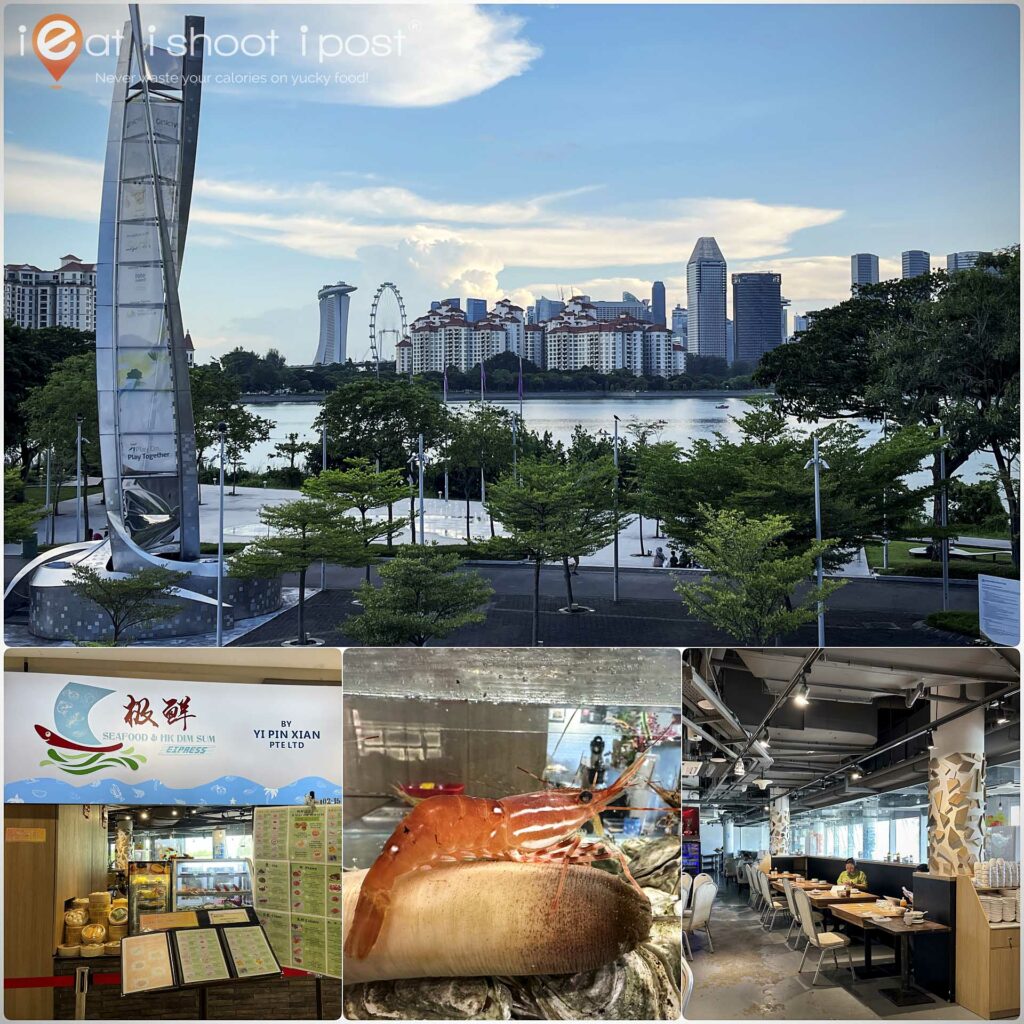 We end our food trail at the vibrant Kallang Wave Mall, where there are dining options aplenty! It is right in the heart of the Stadium precinct and only 2 MRT stops away from Dakota MRT station. This place is abuzz with activity and energy! For fitness enthusiasts, it's a mere 5-minute cycle or a pleasant 20-minute walk away from Grand Dunman. This gives an ideal option to stay active while enjoying the surroundings and finding something good to eat at the same time!
And we found something good to eat at a remarkable restaurant there! It not only serves incredibly tasty live seafood at competitive prices, but offers a mesmerizing panoramic view of the Marina Bay, featuring the Singapore Flyer and Marina Bay Sands as prominent highlights in the magnificent city skyline.
Ji Xian Seafood and HK Dim Sum Express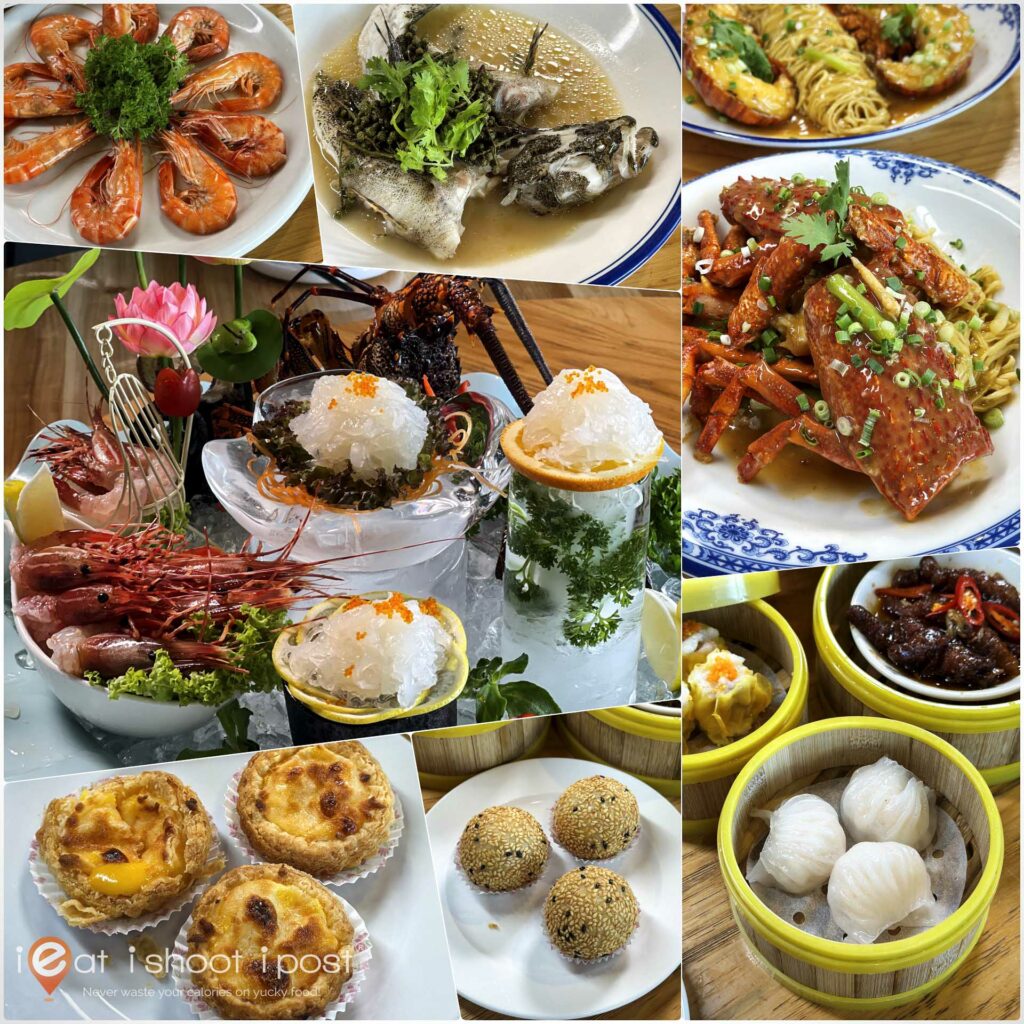 We must admit that we were initially quite intimidated by the tanks of live seafood at the entrance of the restaurant which usually means that it is a place for a special meal rather than a casual one. But what attracted us were the prices of the freshly made dim sum which were going for around $4.50 a basket, which in this current climate, is quite competitive. What finally enticed us was the offering of live tiger garoupa which was going for $28.80. It was steamed in an addictive pork bone broth and enhanced with green sichuan peppercorns to give it that addictive mala buzz. 4.5/5
Ji Xian is the restaurant arm of a seafood distributor, which is how they are able to offer their live seafood at such a competitive price. We managed to order a plate of live tiger prawns (300g) and live Soon Hock steamed with green peppercorn sauce for less than $13 each and they are both very good! Another recommendation that we wholeheartedly endorse is their live Australian Lobster Yee Mee, priced at $68 for a 700-800g lobster, with an additional $10 for the noodles. The live lobster infused the dish with a delectable crustacean sauce, which was beautifully absorbed by the noodles, resulting in a truly delicious noodle dish that had us making plans to go back for. 4.5/5
As for their Dim Sum offerings, the Black Sesame Balls priced at $3.90 for a set of three are particularly exceptional. These chewy glutinous rice balls delightfully burst with a molten sesame center when you take a bite. 4.5/5 Additionally, the Golden Lava Cheese Tarts are a must-try, offering a rich and flavorful filling. 4.25/5 The rest of the dim sum selection is also freshly made in the kitchen and of excellent quality. 4/5
NB: Pls note the price of live Botan Prawns is $25 per prawn! It is expensive but from what I gathered from my Japanese Chef friends, it is actually quite reasonably priced.
Ji Xian Seafood and HK Dim Sum Express
1 Stadium Pl, #02-15 Kallang Wave Mall, Singapore 397628
12 – 10pm, 11am – 10pm on weekends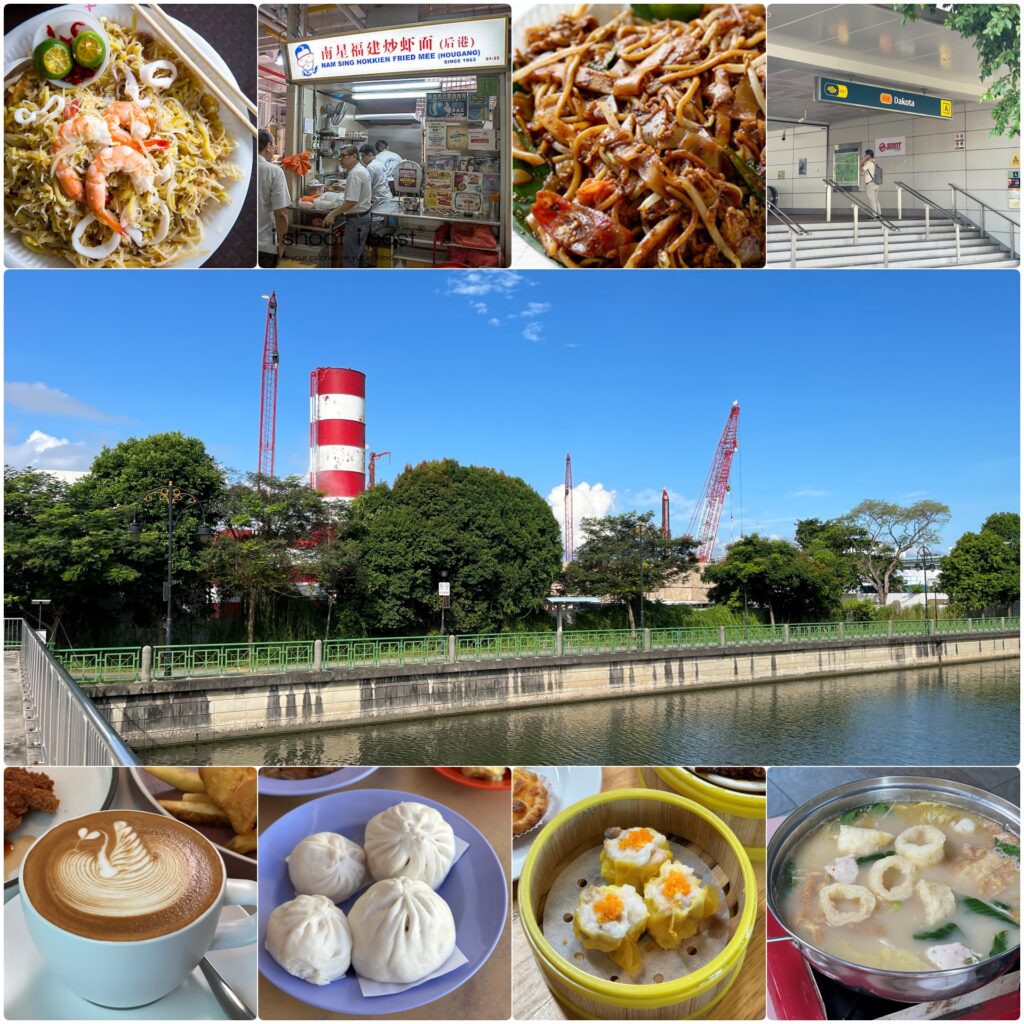 Conclusion
Thanks for joining us on this food trail around Dakota MRT! Residents of Grand Dunman will have a luxury home close to the city, that is accessible not only to good schools, Dakota MRT and PCNs, but to so many great eats around the area!
Disclosure: this post is written in collaboration with SingHaiyi Group and CSC Land Group