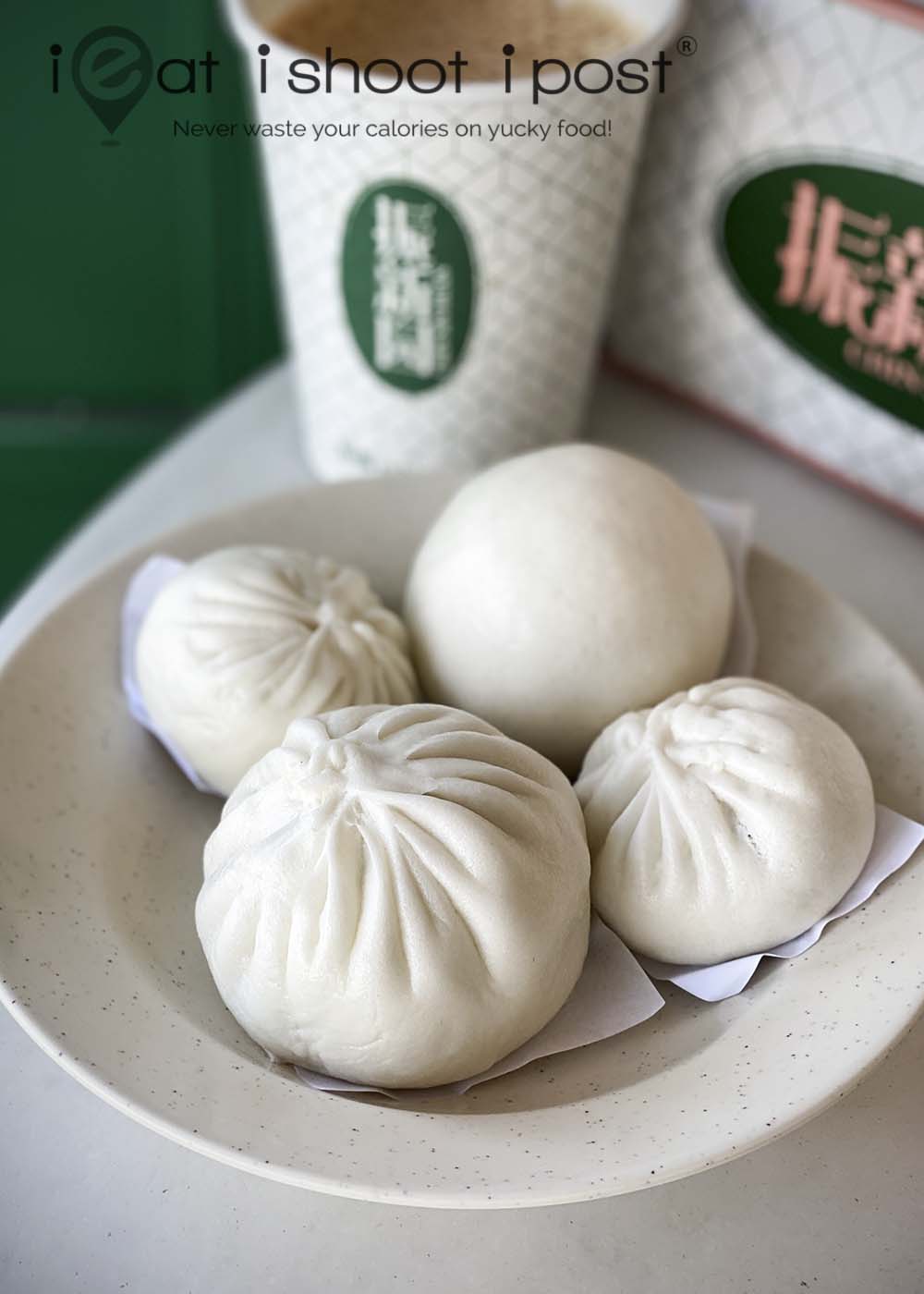 The top three pau shops in my books used to be Tiong Bahru Pau, Teck Kee Pau and Tanjung Rhu Pau.   Unfortunately, Teck Kee Pau is not more and Tiong Bahru isn't as great as before.  Tanjung Rhu Pau, is the only one left which I am still buying from but overall, the quality of paus in Singapore has really been quite meh over the last decade or so.  Sure, we are seeing quite few new brands coming into the market which advertise themselves as 手工包 (handmade pau), but so far, I haven't really found a pau which has come close to the kind  I enjoyed while growing up in the 70's.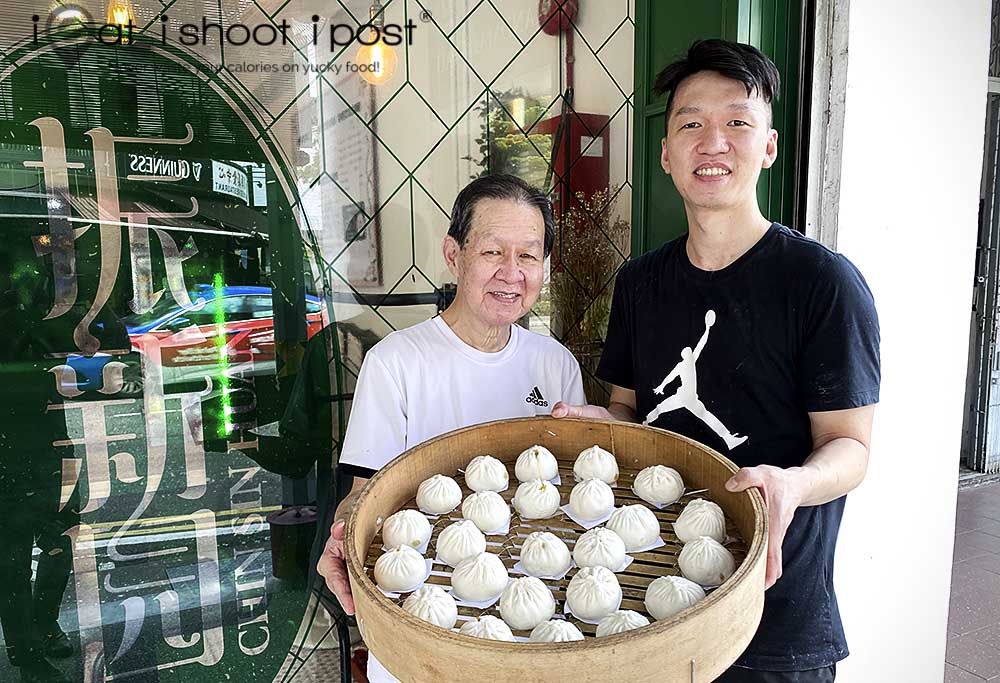 Chin Sin Huan is the new kid on the block which is actually an old kid with a new name.  It's founded by Yap Wei Jie and his sister Chloe whose dad, Mr Yap Peng Wah, 73, started making Chin Wah Bak Pau in 1974.  At the time, he started selling Fuzhou style paus in his family  coffeeshop which was founded in the 1930's.  His paus didn't become popular until the early 90's when he found a new partner and together they changed the recipe to what it is today.  They soon became famous and people began to call them "Tanjung Rhu pau" in reference to its location .
I started eating Tanjong Rhu pau back in the 90's when the big pau was $1 and the charsiu paus were 50 cents.  Those of you familiar with Tanjong Rhu pau will know that they are famous, or should I say infamous, for the size of their paus.  What they call their "Big Pau" is about the size of a small pau and their charsiu paus are basically one pop, one mouthful.  Despite that, people still line up to buy their paus because they are simply irresistible.
For me, the biggest mystery with Tanjong Rhu pau has always been why their big pau is so small.  I finally found out that when they were first introduced, they are actually much bigger.  However, their customers feedback that the skin was too thick, so they retained the same about of filling but made the skin thinner!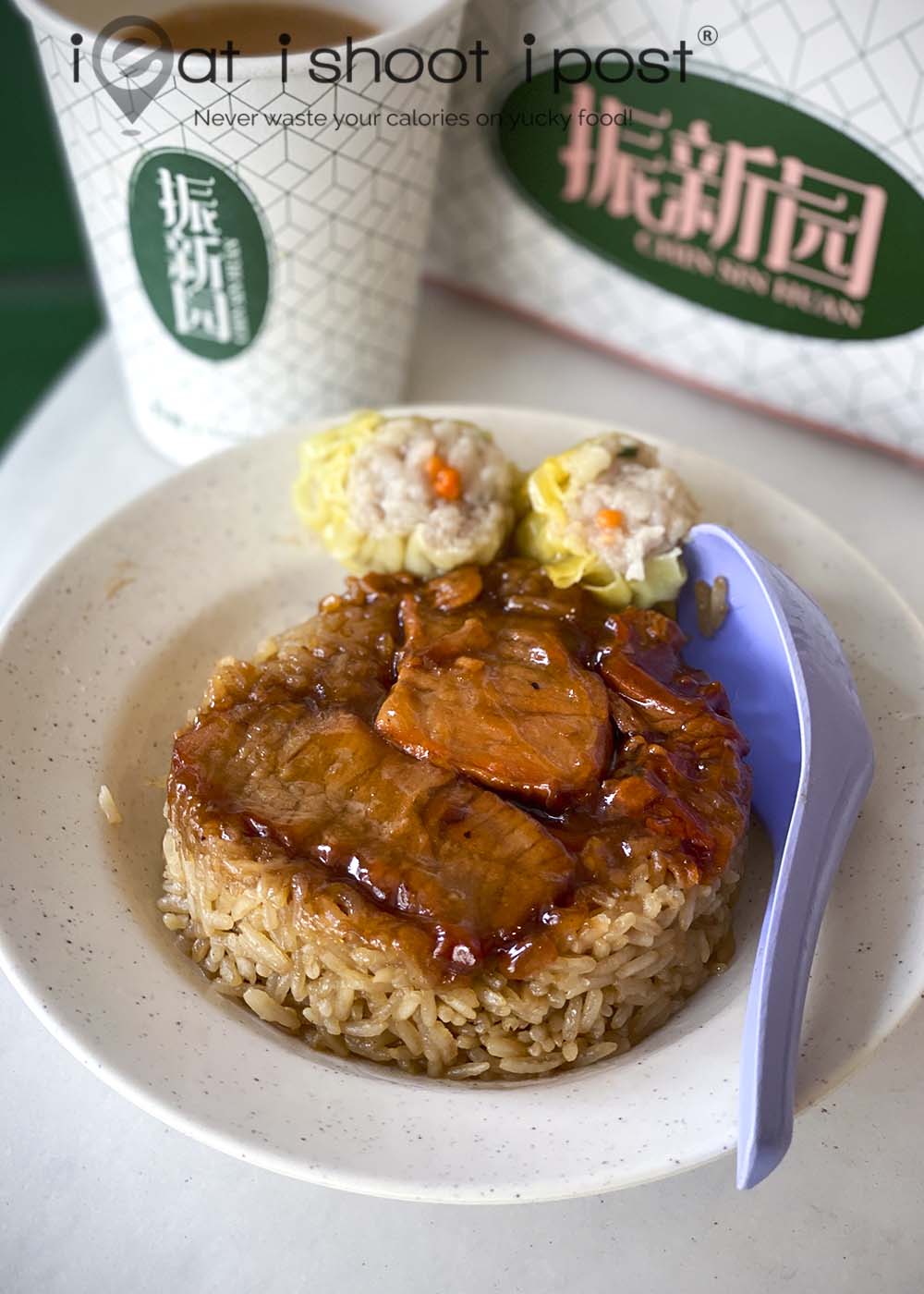 Wei Jie grew up at the coffeeshop.  After getting his basic degree in Chemical Engineering in Australia, he actually started on his doctorate before deciding that his real passion is in re-engineering his family's pau legacy.  So, he started the pau shop three years ago with his sister.  Because Tanjong Rhu pau was still a partnership, he chose to name his new shop Chin Sin Huan which is the name of his grandfather's coffeeshop.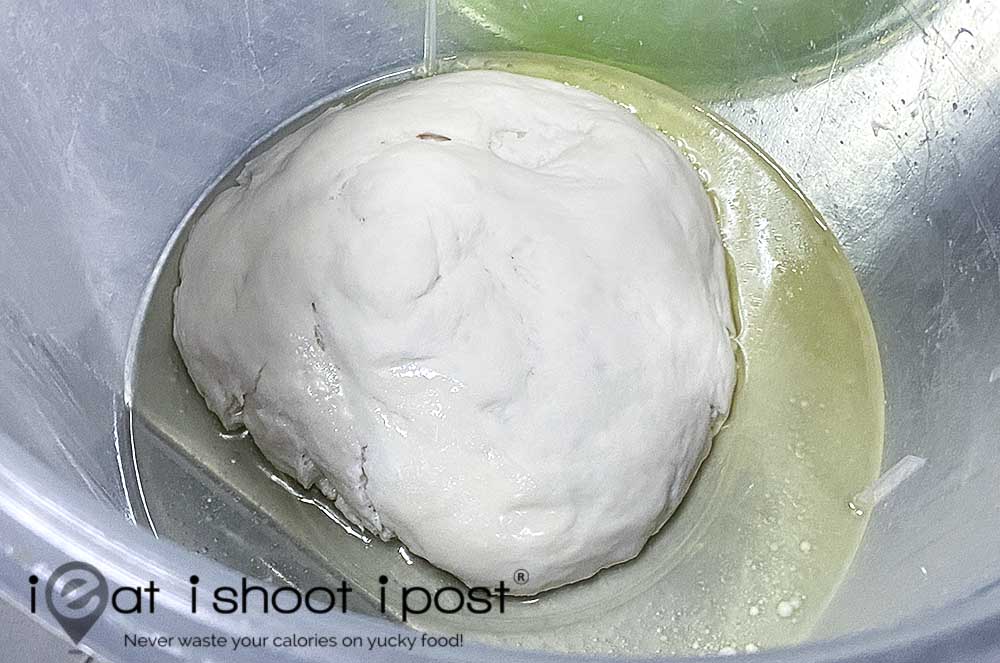 I was actually quite surprised to learn that the store has been opened for three years already!  Wei Jie told me that he needed some time to get his team and operations ready, so he kept it really low key.   The recipes have been handed down to him, including the 30 year old mother dough  started by his father back in 1974.  Over the last three years, he has been working on maintaining consistency and standardizing operations.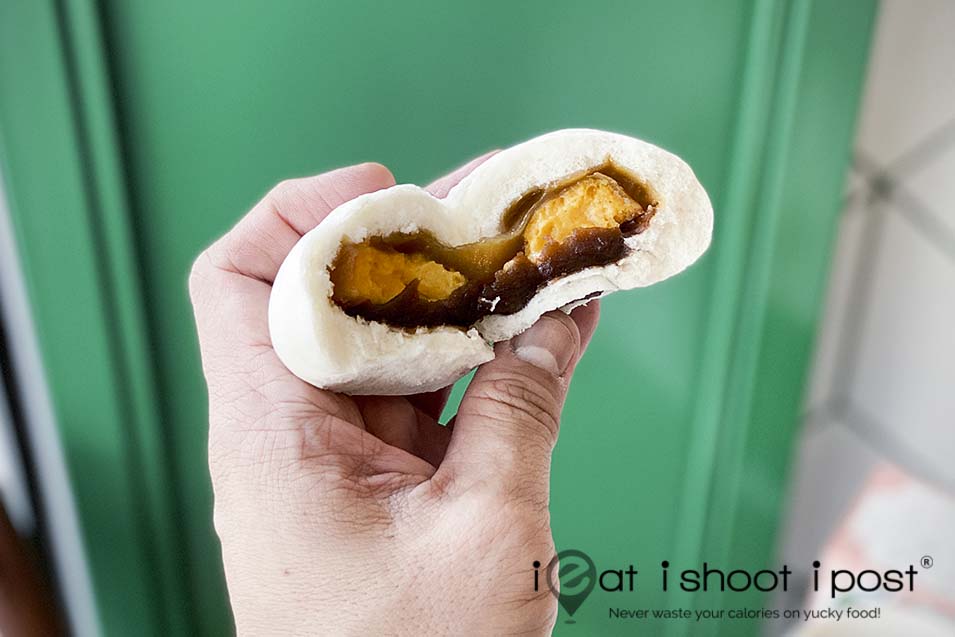 The pau skin is essentially the same but he has made some tweaks to the fillings like for the yuan yang pau.  Instead of having just salted egg yolks, he mixes the salted egg yolks with custard in order to give it a better texture and to balance out the flavours.  I felt it  was an improvement over the original version.
The bak pau is still essentially the same as the ones at Tanjung Rhu pau,  but the charsiu was lacking that smokiness of the original store.  Wei Jie tells me that he has switched to using a combi-oven to grill the charsiu because it takes a long time to train someone to use a charcoal oven and it was difficult to ensure consistency.  I felt the paus are still good overall, but they do lack that extra something that made them so irresistible years ago when I first had them.  4.25/5  
The good news is that now that things are running smoothly, Wei Jie is now beginning to do more R&D into making his pau better and coming up with new flavours.  I am very excited about this because I have yet to come across a progressive pau store.  Most seem to be content with serving the same o', same o' and no one really has the vision of bringing pau to the next level.  If people are willing to pay $5-6 for a doughnut, I would really like to see what Wie Jie can do if people are willing to pay the same for a really good pau!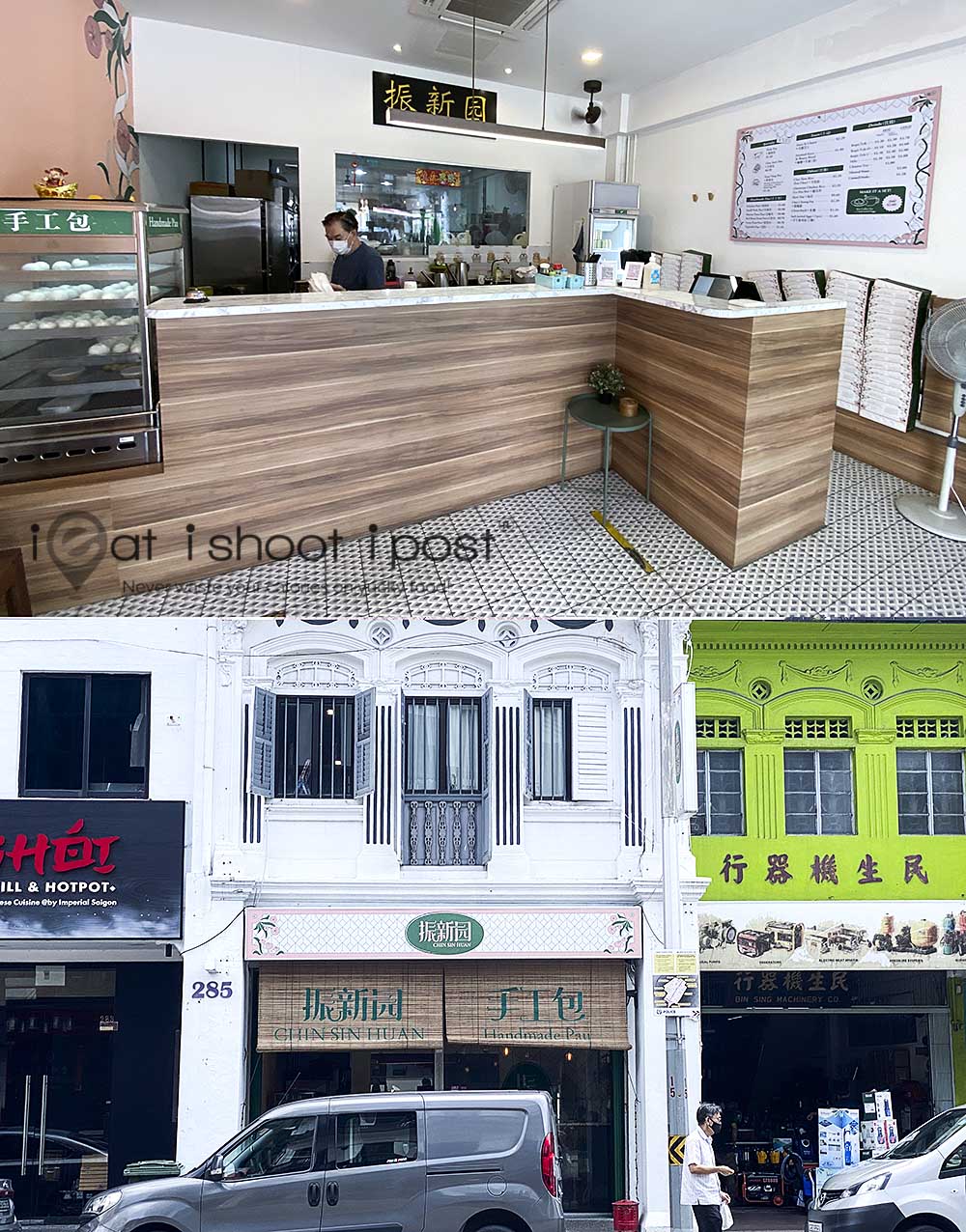 Conclusion
Pau shop founded by the next generation hawkers from Tanjung Rhu pau.  Their big paus may be the size of small paus sold elsewhere but that hasn't stopped Tanjung Rhu pau from being one of the most popular pau shops in Singapore.  It just goes to show that although Singaporeans like to complain, but at the end of the day, if something is tasty, they still don't mind lining up and paying for it!