Everyone knows Tiong Bahru Pau right? I guess it is about time to list them on the blog since it is one of the most famous Paus around.
When I was a kid, two of the most popular Paus were Tiong Bahru Pau and Teck Kee Pau. It was because of these two stalls that I developed my affinity to Paus. I guess any kid would love Paus. You can eat it with your hands, it is tasty and best of all there are no veggies in it!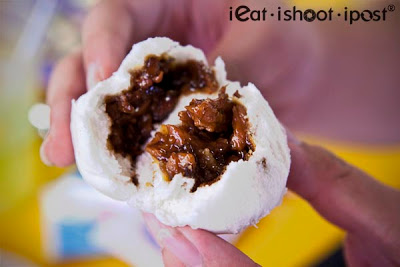 The distinctive feature of Tiong Bahru Pau is the lack of the egg in the Big Pau. This has always been my main complaint. You know how in the good old days, rather than being the ingredient that you avoid eating, the egg was always the prized bit? Yeah, believe it or not, eggs were once expensive and putting a slice of egg in a pau or curry puff was a luxury. But that was a long time ago, before the production of the modern egg.
But despite the lack of the egg, I have always liked the meat filling of the Tiong Bahru Pau. The Big Pau used to be a favourite of mine. It is still good, but nowadays the skin has gotten a bit thicker and dryer. It is not because they are trying to save cost, but I suspect it is because nowadays they have to make paus to supply so many branches that the skin needs to be resilient enough to withstand the transportation. So even though it is still good, it has really lost its edge. 4/5
Thankfully the Char Siew Pao is still very good and still one of the best ones around. The Char Siew is very tasty and still retains that distinctive smokey flavour. Again, the skin could be thinner but overall, still something you can showcase to an overseas visitor. 4.25/5
One of those things that I used to absolutely love was the Siew Mai. What is there not to like about eating pure meat? Before there were Chicken Nuggets, there were Siew Mais which are actually quite similar to the Nuggets in the sense that they are a mouthful of meaty goodness. One could argue that the amount of fats in a Siew Mai is really bad for you but it can't be worse than eating a Chicken Nugget which really is a product of food science. One can draw a parallel between eating Butter and Margarine. Which would you choose?
Again, I grew up eating Tiong Bahru Siew Mai. I always remembered how tasty they were and made even more so since I had to fight with two hungry younger brothers for them. I think they are still good but again, they were better in the past. 4.25/5
Conclusion
So is it just me or do you still remember what it was like years ago?