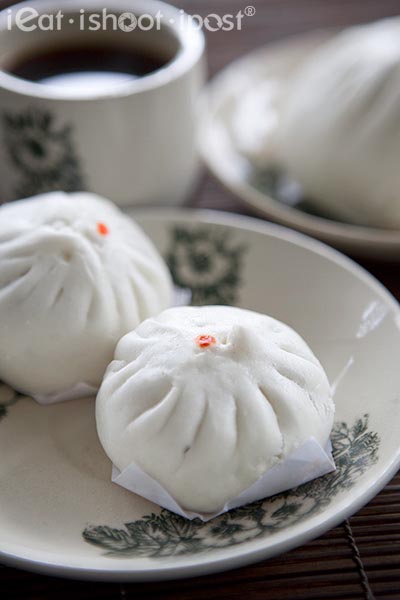 It might be debatable as to whether Teck Kee is the oldest Pau stall in Singapore, but I would say that they are probably the most well known brand. Who here doesn't recognize the iconic logo that is printed on the piece of paper at the bottom of each pau? I must have peeled it off countless times as I was growing up!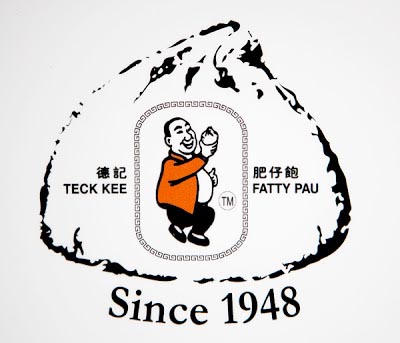 Talking about peeling off that piece of paper, have you noticed that the tastiest paus happen to be the ones where the pau skin sticks onto the piece of paper so that when you peel it off and you are left with a bottomless pau which is a mess to eat? Well when you think about it, it makes sense, because those are the ones where the skin is thin and soft. They also tend to be ugly as the skin is often translucent in those areas where the meat sauce has been absorbed by the skin. But I am sure you will agree that they are are bestest juiciest paus!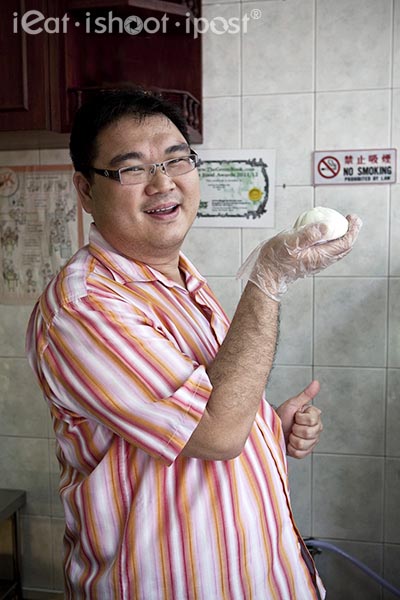 However, the problem is that most people don't want to buy paus that look ugly, so as a result a lot of pau shops tend to make their skin a little thicker. That is exactly the case for Teck Kee Pau. To be sure, most of the Paus are still very much handmade in their Serangoon Road Stall, but 3rd Generation owner, William Whey tells me that they have had to make their paus more resilient as people often reject the ugly ones.
Even their Char Siew Pau had to be altered in some ways over the years. They are still roasting their own Char Siew in charcoal ovens but nowadays they have to remove the black charred bits before dicing it for the filling. They had too many complaints from ladies in the past about "Chao Tar" bits!
William himself admits that their Paus used to be much better in the past. The Paus nowadays have less fat than the ones in the past because of the more health conscious public. But there are other factors which are beyond their control. The quality of pork in Singapore isn't quite as good as it was in the days when Singapore still had own own pig farms and there is still a ban on Malaysian pork, so most of the pork now comes from Brazil. Even the flour isn't as fresh as it was in the past!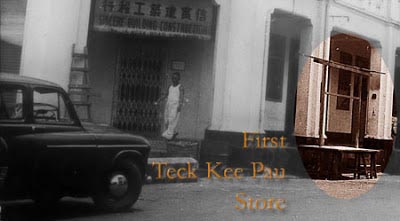 Teck Kee's legacy stretches all the way back to 1948 when William's grandfather, Mr Hui Tuck decided to quit his job as a chef at the Empress restaurant to start his own business. At the time, you could only eat dim sum at the restaurants during the day, so he decided to set up a little roadside stall along Koek road (off Orchard Road) to sell Char Siew Pau and Bak Pau in the evenings! It can be argued that he was the one who started the whole Pau Stall genre!
You probably know that our local pau is quite different from the Hong Kong style pau. Actually our style of Pau is quite unique to Malaysia and Singapore. However, the origins of Pau is not very clear at the moment. According to William, there are some Pau stalls which may be older than Teck Kee so he cannot be sure if it was his grandfather who started making Pau this way instead of the Hong Kong style pau with the puffed up top.
I used to love Teck Kee Pau when I was a kid. During the Pau Dark Ages in the 80's and 90's when commercial paus were introduced to the coffeeshops, Teck Kee stood out as one of the few stalls which continued to make their own paus by hand. Thankfully, we moved out of the Dark Ages and people started making Paus again. So there are many more stalls nowadays selling artisanal pau.
Although Teck Kee is still very much a family owned business and still making their paus by hand, its unfortunate that they have to make Paus which appeal to the masses in terms of presentation. As a result, with the Tua Pau, the skin is slightly thick and the Pau is healthier (fat and skin removed). It's still something that you can fall back on when you have a Pau craving, but only a shadow of what it once was.The Char Siew Pau is slightly better, the Char Siew has got that smokey flavour but as I mentioned earlier, all the nice charred bits have been removed, so its lost that rustic edge. 4/5
Conclusion
Teck Kee Pau is very much a part of our Food Heritage. The Paus are still good, although by striking a balance between taste, health and presentation, I feel that they have lost that artisanal touch. It would be great to see them introduce a heritage range of Pau which are made specially for foodies to enjoy instead.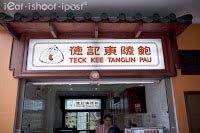 For other locations, please check their website: www.teckkeepau.com