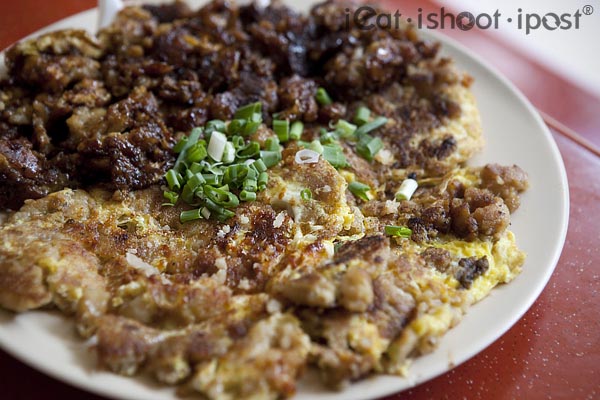 Ask any baby boomer about White Carrot Cake they will tell you about the Legendary Lau Goh Carrot Cake at People's Park. In its heydays in the 70's, Lau Goh was unrivalled. When others were selling carrot cake for less than a dollar a plate, he was already selling it at $1 plus and despite that inflated price, people were still queuing for his Carrot Cake!
Lau Goh started selling Carrot Cake from a pushcart along Merchant Road in the 60's and was responsible for re-introducing White Carrot Cake to our local food scene. The steamed rice cake is a common food in China and as far as we know, adding radish into the rice cake was something that has been traditionally practiced both by the Cantonese and the Teochews. During the 50's however, the most popular form was the Black version made from steamed rice cakes without radishes. This was known as Char Kueh (Fried Rice Cakes) rather than Chai Tau Kueh (Carrot Cake). During the post war years, Char Kueh was simply rice cakes fried without eggs or chye poh and Sweet Soy Sauce was the cheap and convenient means of adding flavour.
It is believed that Lau Goh was one of the earliest pioneers of White Carrot Cake. He started making his rice cakes with shredded radishes and fried it without adding Sweet Soy Sauce. There was no Chye Poh (preserved radish) either and people would bring their own duck eggs for Lau Goh to fry with the Carrot Cake. In those days, the Carrot Cake was cut with a string into long rectangular fingers, quite unlike the Carrot Cake you see nowadays. In the 70's, Lau Goh was chased off the streets and relocated to a permanent stall at People's Park Centre. This was where Lau Goh's popularity hit its peak.
It is interesting to note that in China, this dish is not called Chai Tau Kueh ( 菜头粿). In a TV series called "Food Hometown", Mediacorp artiste Chew Chor Meng, traced the roots of Carrot Cake back to its birthplace in Chaoshan and reports that they do have a similar dish of fried rice cake there. But in Chaoshan, this popular snack is known as Fried Gaoguo (炒糕粿) rather than Fried Carrot Cake ( 菜头粿). The steamed rice cakes are made from rice starch made from milling puffed rice. They are then cut into 4 by 1 by half inch blocks, marinated in fish sauce and dark sweet sauce before frying. During the frying process, eggs, fresh oysters and prawns are added. Chinese BBQ sauce (沙茶酱) is also used to give it a spicy kick and a bit of sugar is sprinkled over the dish just before serving. In Chaoshan, Chye Poh is never added to the carrot cake.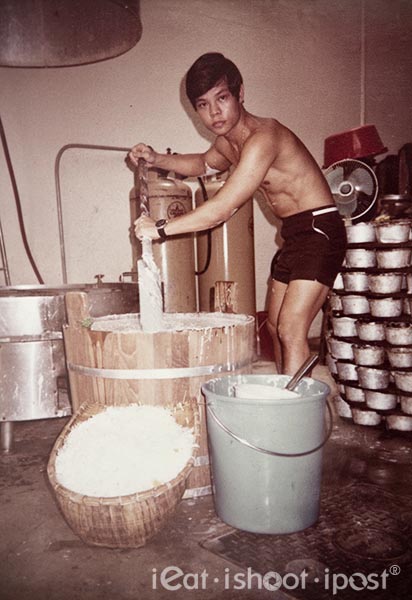 So it seems like Chai Tau Kueh is unique to Singapore and the style of Chai Tau Kueh with the eggs and Chye Poh evolved locally over the years to the familiar dish that we see today. Our facebook fans commented that in Malaysia there is also a dish of fried rice cakes. However it is called Char Kway Koek (炒粿角) over there and is fried with Sweet Sauce with no chye poh which sounds very similar our Char Kueh of the 50's.
Unfortunately, Lau Goh is not longer around so I can only imagine what his dish tasted like. However, his legacy lives on in is his third son, Peter Goh, who continues to fry Carrot Cake over at Zion Road. He is probably more well known as the hearing impaired hawker at Zion Road food centre where you have to order your food by pointing at the menu. His version of carrot cake is quite unlike the legendary Lau Goh version. One reason is that he has stopped making his own carrot cake and so his carrot cake is now powered by Chye Poh and fish sauce instead of radish.
However, it is still a carrot cake which I quite enjoy eating. I like how the Carrot Cake is soft and mushy and wonder-Fully flavoured. One of the things that Peter does is to mash the carrot cake into smaller pieces by hand instead of using a wire mesh to cut it into cubes. This results in pieces of carrot cake which have an irregular surface to which the egg, chye poh and fish sauce sticks to easily so that each morsel is covered with yummy umami. It isn't legendary, but it's still pretty addictive! 4.5/5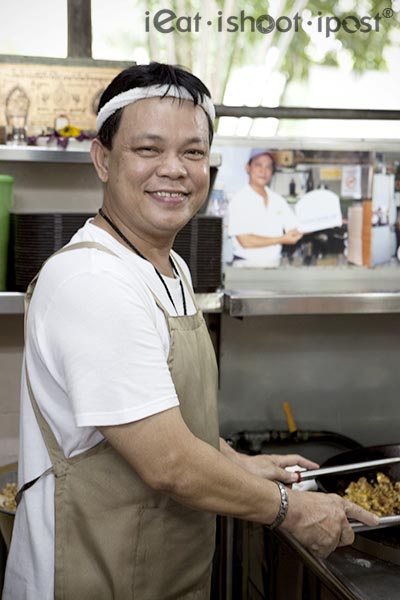 Conclusion
Fried Rice Cakes is something that our Teochew forefathers brought over from China, but it isn't called Chai Tau Kueh back in its home of origin. There are of course many variants of fried rice cakes in the region, but the style of frying it with eggs and Chye Poh is unique to Singapore which had evolved from the black version in the 60's. Peter Goh's current carrot cake might only be a faint replica of what it was in its heyday but its still a plate of carrot cake well worth some of your calories.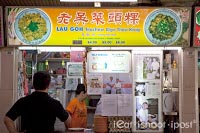 References:
1. Black and White Carrot Cake, Lian He Zhao Bao, 8 Jan 2006
2. Food Hometown, Teochew Fried Carrot Cake Episode, Wawa Pictures, Popular Book Company ,2010