Advertorial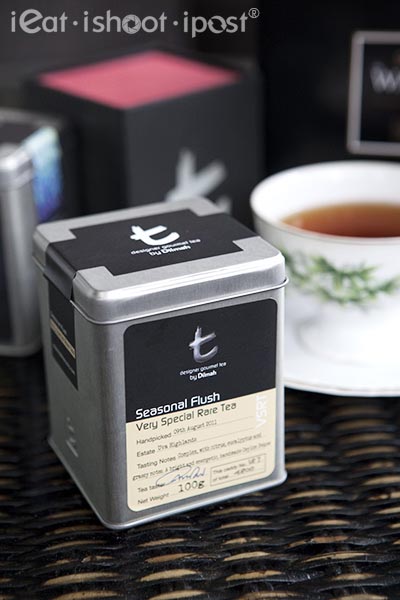 Rockett Girl and I have been having a sort of Tea Renaissance ever since we came back from the Dilmah tea gardens in Sri Lanka. During our trip, we tasted a wide variety of black teas but there was one that really stood out as the ultimate black tea for us. It is the "show off" tea that I always bring out when friends come over because it is the always a joy to see my friends experience the "Wow!".
So what makes the Seasonal Flush UVA estate a "Very Special Rare Tea"?

Just like wine, the taste, flavour and character of Tea is affected by climate and terrain. That is why there can be so many different types of Tea but they are all from the same plant, camilia sinensis. The familiar black tea that we order at the coffeeshop is like brandy, where teas from different regions are blended together to give a consistent character. The Seasonal Flush is more akin to vintage wine, where the tea comes from a particular region and its character varies from season to season depending on climatic conditions.
The four most famous black teas of the world are Darjeeling and Assam from India, Keemun from China and Uva from Ceylon. Teas grown in the UVA region of Ceylon are mid to high grown teas characterized by its intensity of aroma and flavour. The best UVA teas are plucked between June and September each year but every year, the tea grower waits in anticipation for a confluence of climatic conditions that produces teas of exceptional quality. They call this event the Seasonal Flush.
The tea plucking season at the UVA highlands starts when the South West Monsoon rains give way to the Eastern coastal winds in July. What the tea growers look for is three continuous weeks of hot, dry days accompanied by cold windy nights. There cannot be any rain during this time or the seasonal flush phenomenon will be disrupted.
Physiologically, what happens is that the tea bushes are stressed during this period and as a result, the chemical processes in the leaves (photosynthesis) undergo a fundamental change. It might be a bit complicated to discuss it here in detail, but for those who really want to know, the process of photosynthesis shifts from inside the chloroplasts to outside and this produces flavour compounds that are not found in your normal tea leaves. That is why Seasonal Flush is considered a Very Special Rare Tea!
According to the literature, this tea offers a "complex of citrus, with hints of eucalyptus, mint and an energetic personality." Honestly, for an untrained palate like mine, I can't taste the citrus, eucalyptus and mint. But I can honestly say that every time I drink the tea, the intensity of the tea aroma brings me back to my visit to the Somerset Estate tea processing factory and especially in the room where the teas are being baked.
This tea is not available in Singapore, but you can buy it from the Dilmah online store. They only produced 5000 tins of it and each one is individually numbered and signed. It costs $US35 for 100g and delivery is free. It's excellent value and worth every cent. I just bought another two cans from the online store and they arrived by Fedex within two weeks so I can confidently tell you that the service is very dependable.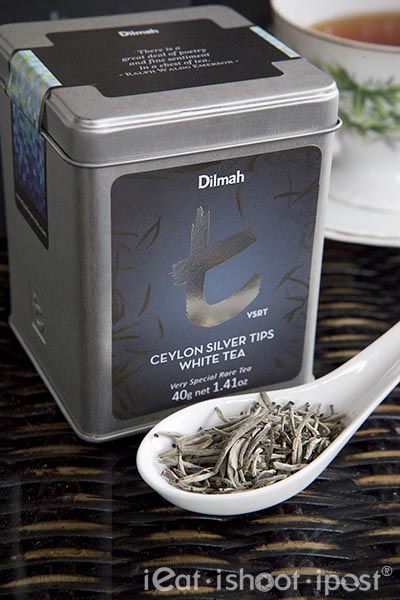 Another "Very Special Rare Tea" that I have been enjoying is the Ceylon Silver Tips White Tea which is also in the Dilmah t-Series range.
There has been much talk in recent years about White Teas containing the highest amount of antioxidants which has resulted in White Teas appearing in our supermarket shelves. But if you are about to pick up a pack of White Tea for $4.50, you should stop and ask yourself if you are getting the real deal, because White Tea cannot be so cheap.
It is said that White Tea used to be served to the Emperor of China and the leaves are never touched by hand. Instead, the tea pickers, (who have to be virgins) use gold scissors to carefully cut the buds of the tea plants and place them on a golden platter!
Of course, nowadays, the tea is plucked by hand and there is no requirement for the tea plucker to be a virgin. The reason they are still handplucked is because White Tea is only made from the buds of the tea plant and they have to be carefully picked and placed in a silk bag so that they don't get bruised. (Once bruised they start to oxidize and turn brown) They are then carefully dried in fitlered sunlight and packed.
So, when you open a bag of real White Tea, what you are supposed to see is only pale greyish spears with little downy hairs giving them that whitish appearance, hence White Tea. The brew is very gentle and lightly fruity with floral tones and full of antioxidants!
Again, this is only available at Dilmah's online store.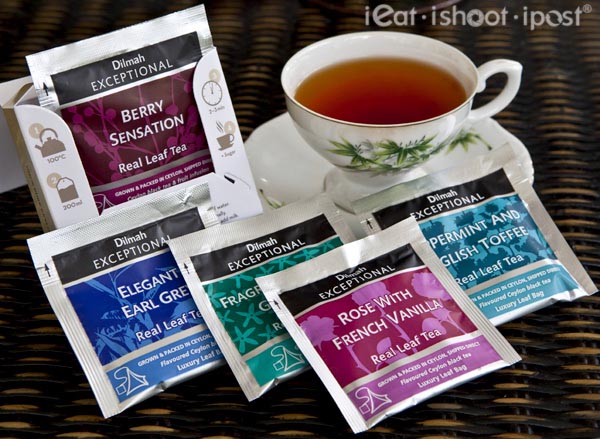 So far I have been telling you about their t-Series which will hopefully be introduced to the Singapore market sometime in the future. What Dilmah has just introduced to the Singapore market is the Dilmah Exceptional range which you can find on the shelves of NTUC Finest and Cold Storage.
The Exceptional Range is made from quality single estate Ceylon tea which have been carefully selected to pair with a range of nature identical flavours. With many of these flavoured teas that you can find in the market, you might find that the tea itself only adds tea colour to the brew as inferior tea leaves are often used. With the Exceptional Range, the tea makers at Dilmah have carefully chosen teas from their various Estates to complement the flavours.
If you enjoy Earl Grey Tea, you should give their Elegant Earl Grey a try. The tea used as the base is a delicate Ceylon Pekoe which is flavoured with Bergamot which results in a tea which is very bright with a nice balance of astringency and citrus flavour. The Rose with French Vanilla is also very good but unlike the delicate Earl Grey, it is medium bodied so you get a bit more mouth feel to complement the wonderfully floral Rose and Vanilla fragrance.
Get Free Samples Online!
No point me trying to describe all the tea flavours here. The best way for you to appreciate the tea is to taste it for yourself! All you got to do is to sign up at their website to receive a free sample of 6 different flavours Dilmah Exceptional tea delivered to your mailbox. Here's the link: http://dilmah.sg/trial-signup/.
Read my previous post on Dilmah's orthodox tea making process here.
Read about the MJF foundation's various social enterprises here.