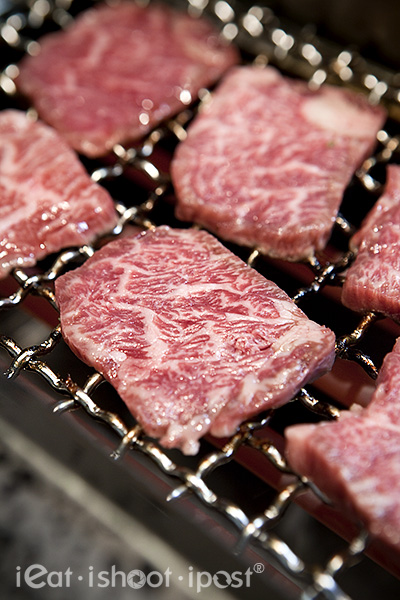 Don't you find it amazing that Japanese Cattle can walk around with so much fat in their muscles and yet the cow doesn't die of a heart attack? That incredible marbling is the result of years of genetic selection and careful choice of feeds.
Up till only a few years ago, Wagyu beef was still very much the stuff of legend. Tales of how the cattle are fed beer and get massages to produce that beautiful marbling were propagated in the West by videos such as the one below, giving Wagyu beef that Eastern mystique. But just how much of it contributes to that intense marbling?
Very little.
If you think beer gives the Cattle great marbling, think again. How many guys do you know who have beer bellies? That's the result of an accumulation of visceral fat, ie fat in the abdominal cavity. That is the kind of fat found in-between the intestines, liver, stomach etc, which results in a rounded tummy that rests precariously atop of the belt. But that is not the kind of fat we want in Wagyu. That intense marbling is the result of intramuscular fat which is the fat found in between muscle fibres.
Now, Cardio vascular disease is directly related to visceral fat and not intramuscular fat, so that is why the cow does not die of a heart attack. Actually I only assume they don't (I can't find any stats on it), but the point I am trying to make is that it is not the drinking of beer that creates that Shimofuri (snow flake) marbling in Wagyu. You can feed an Angus steer all the beer you want and it still wouldn't develop the marbling of a Wagyu.
So do they actually feed beer to the cattle? It turns out that it does happen in some Waygu ranches, but only during the summer months as a way of stimulating their appetite. Sake massages are done to keep the animal relaxed as too much stress will result in poor quality meat. Some ranches do play music while others rear their cattle in pairs. All of these are strategies to keep the cattle relaxed to improve the quality of the meat. But that intense marbling… it's all down to the genes.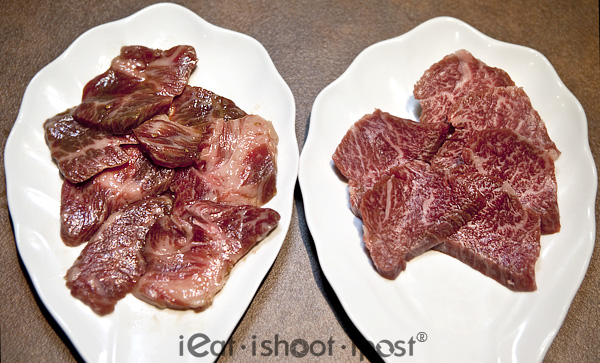 When you eat at a Yakiniku restaurant or Shabu Shabu restaurant for that matter, most of the work of delivering a great meal experience has already been done by the farmers beforehand. So if the restaurant carries beef from a good source, then most of the battle is won since all you need to do is simply grill the beef and eat it with a bit of salt.
If you are looking for Japanese Wagyu at a good price, Yakiniku Ten is one place which you can consider. As with many restaurants that are located in golf clubs, the main mission of the restaurant is to provide great food for their members at reasonable prices. What a lot of people may not realize is that a lot of these restaurants are also opened to the public and it is often at these places that you can find great value deals.
The selection at Yakiniku Ten is quite wide and you can order both Australian as well as the Japanese Wagyu here. For example, you can get 200g of Australian Premium Wagyu Kalbi for $39.80 or 100g Japanese Premium Wagyu Kalbi for the same price. So the Japanese beef is twice the price, but there is a discernible difference in the quality. Whether that difference is worth twice the price is, of course, subjective. It would have been perfect if they served a good Japanese rice with the beef and used real Japanese charcoal in the grill instead of an electrical BBQ, but all these extras would push up prices. 4/5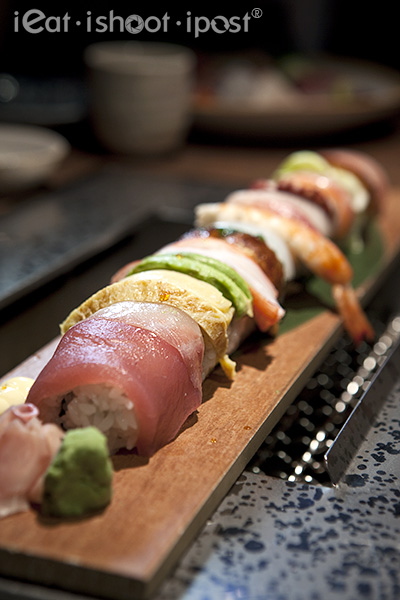 The other item that is well worth ordering is their house specialty, the Enmaru Roll. This is basically a sushi roll that is filled with cucumber and pickles and topped with a variety of ingredients like tuna, salmon, ebi, unagi, tamago etc. For around $22, you get 12 pieces of sushi which is rather good value and everyone on the table can take a pick of what they like. 4/5
Conclusion
Japanese Wagyu is not cheap, so I am always on the lookout for places where you can get it at a good price. The place might not have all the bells and whistles of a fine Japanese restaurant, but it's a great place for family and friends to gather around for Yakiniku.
Special Japanese Wagyu Set for ieatishootipost readers
Oumi Premium Kalbi (60g)
Oumi Kalbi (60g)
Satsuma Sirloin (50g)
Served with Rice, Miso Soup and Pickles
$59.80++
Just ask for the "Ieatishootipost Set" when make your reservations. Offer valid till 29 Feb 2012
This was an invited review