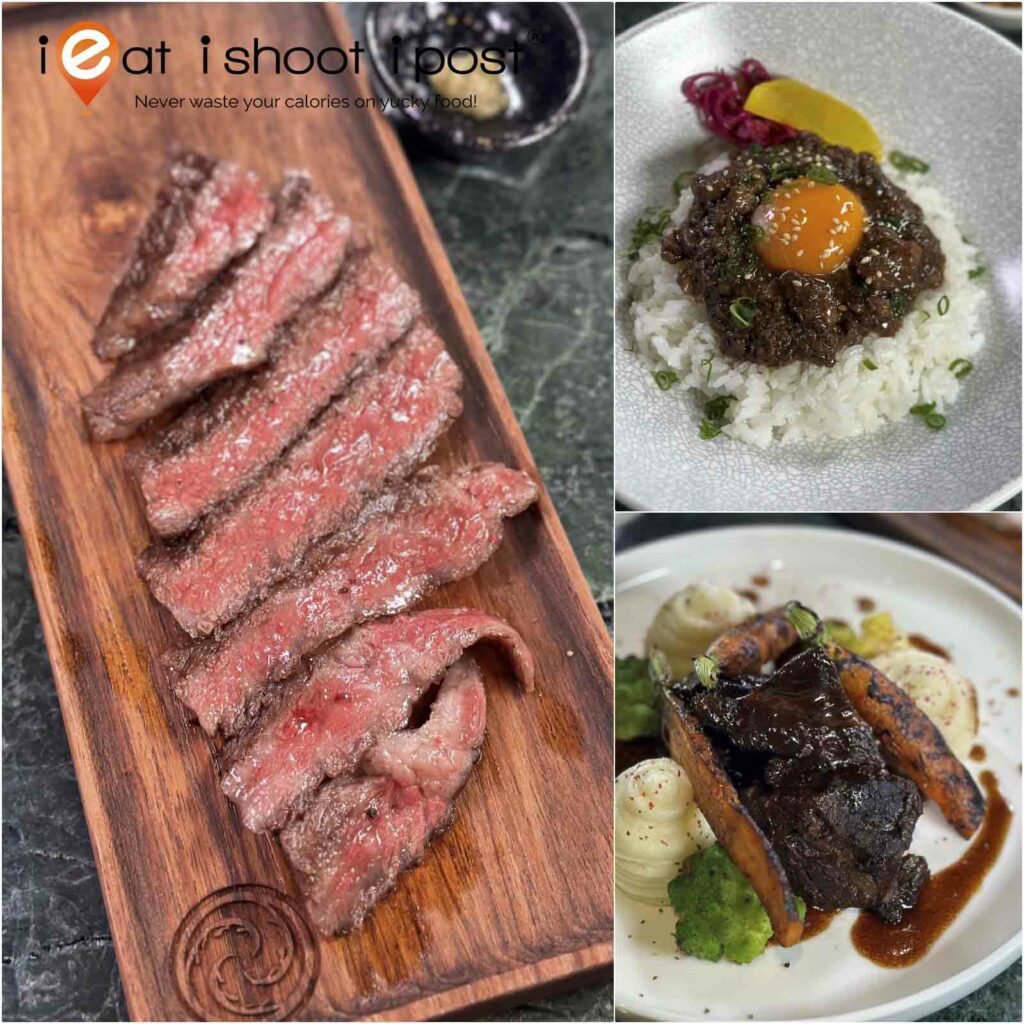 Yakiniku has been in Singapore for a long time but of late it has been gaining popularity, due to the emergence of restaurants like Yakiniku Like and Yakiniku Go which are making Yakiniku a more affordable indulgence for the masses.
As the Yakiniku culture here matures, we now have a good range of Yakiniku restaurants that will fit any budget. At one end of the spectrum are those found coffee shops like Wano Niku where you can enjoy grilled wagyu for less than $10. On the other hand, if you enjoy exquisite Wagyu and are willing to pay for it, then you'd probably find yourself at Yen Yakiniku at Ann Siang Hill! There, they will grill each slice of meat to perfection in front of you. Somewhere in the middle of the spectrum is Yen Social which is opened by the same people from Yen Yakiniku but targeted at the mid to upper-range budget.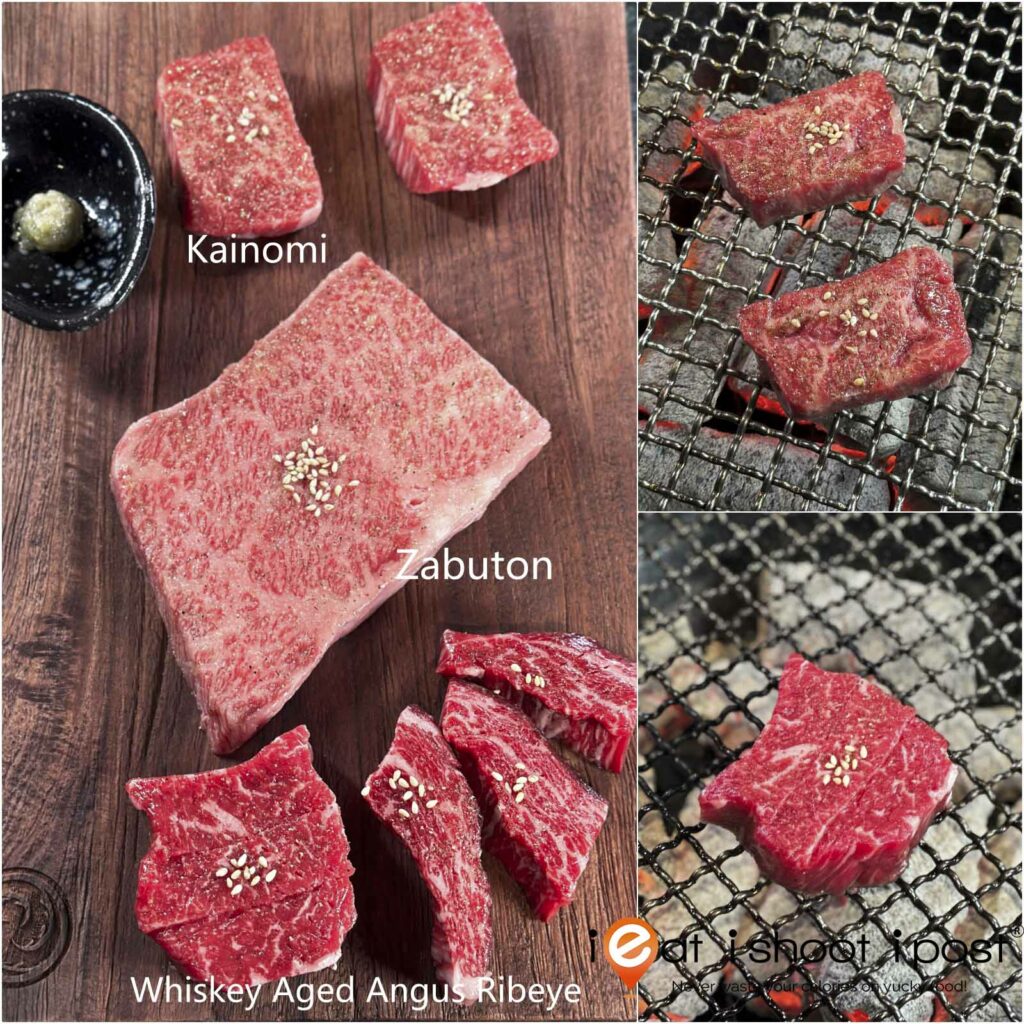 When Yen Social first opened in 2021, they were using Australia Wagyu to differentiate it from their first restaurant. They have since added Satsuma Gyu which is sourced from Master Wagyu farmers in the Kagoshima region.
Zabuton Chuck Flap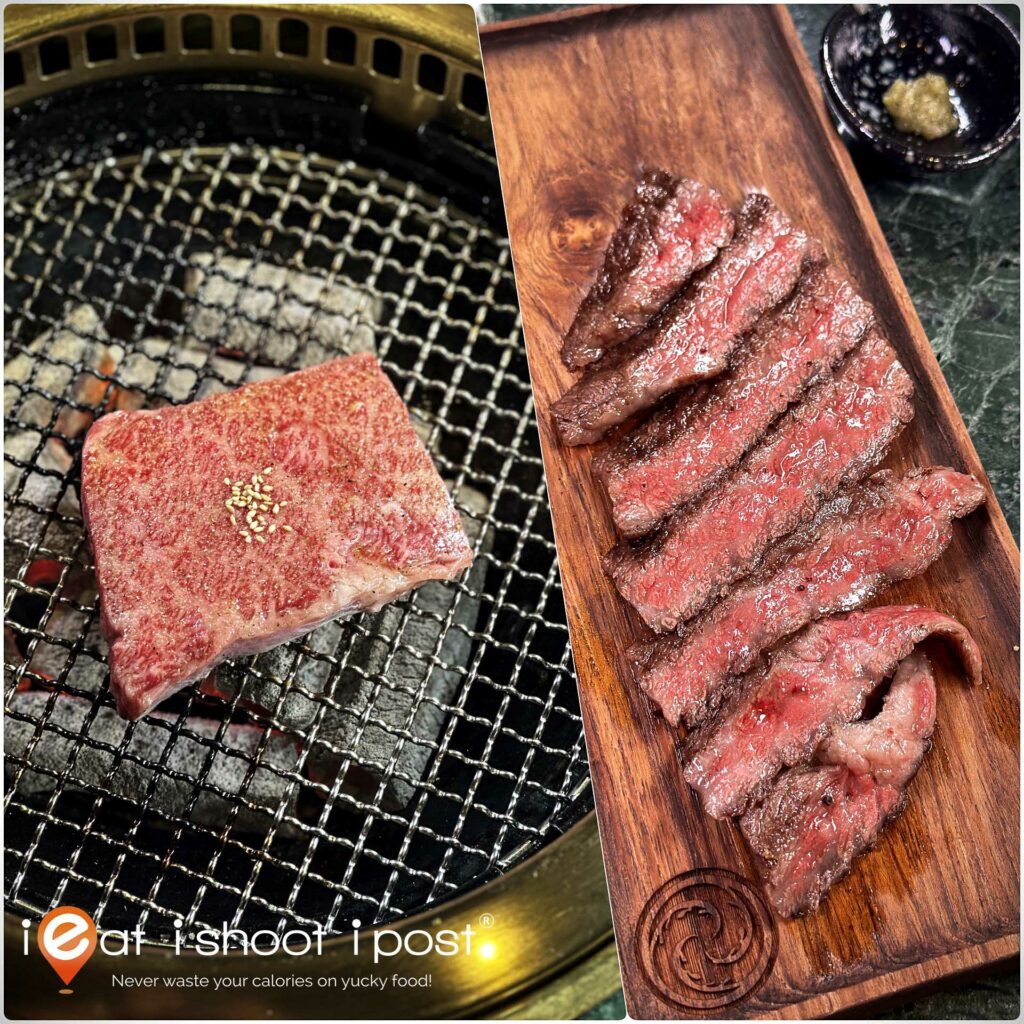 Zabuton Wagyu is a highly sought-after cut of beef renowned for its exceptional marbling and tenderness, making it a delicacy among Yakiniku enthusiasts. It translates to "cushion" in English and gets its name from its resemblance to a Japanese sitting cushion. The cut is taken from the chuck roll and possesses a perfect balance of rich marbling and flavor. The Satsuma Gyu Zabuton was exquisite. It is first grilled till it developed a crisp flavourful crust and then sliced into thin slivers of heavenly, melt-in-your-mouth "gyuness"! 4.5/5
Kainomi
The Kainomi is taken from the sirloin flap which is known in French as the bavette. This cut tends to be beefier and the meat fibers are thicker and looser than those of the Zabuton. While it may not be as tender as the Zabuton, it makes up for it with its more robust beefy flavor and juiciness. Definitely, a cut to add to your Yakiniku inventory! 4.5/5
Whisky Dry-Aged Angus Ribeye
The Whisky Dry Aged Ribeye offers a bit of deviation from the Japanese Wagyu. Australian Angus Ribeye is first covered with whiskey and then left to age for four days in the dry aging fridge. The short aging time doesn't really "age" the meat, but allows the whiskey to really penetrate into the meat fibers, creating a whole different flavor profile when the meat is grilled. 4.25/5
Misuji: Oyster Blade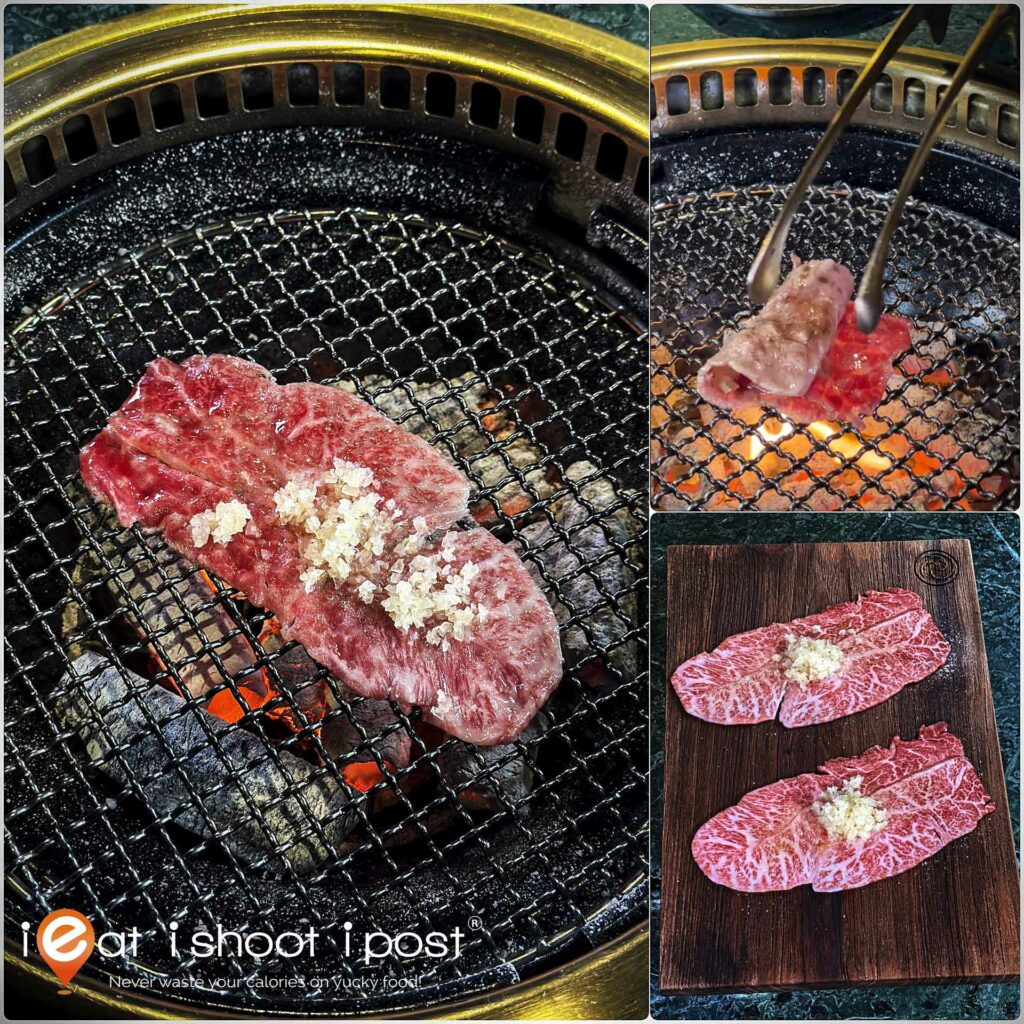 The Misuji is one of the most easily recognizable cuts as it has a thin ligament running through its center, making the cross-section look like a leaf. Known as the oyster blade in western butcheries, it is sometimes divided into two halves longitudinally and the membrane is removed to form the "flatiron" steak. The clever meat producers "discovered" this cut a few years ago and gave it a catchy name which elevated the oyster blade steak to a very popular cut.

At Yen Social, they slice the meat really thin and top it with finely chopped onions. The meat is really tender and the chopped onions, which have been soaked in water to render it less pungent, perfectly bring out the flavor of the meat. 4.25/5
New Lunch Sets: Grilled in the Kitchen!
Since June 2023, Yen Social is open for lunch from Tuesdays to Saturdays to cater to the growing number of visitors. If you're concerned about leaving with smoky clothes and hair after lunch, fret not, as all the grilling takes place in the kitchen. The lunch set menu, priced at just $25++ for two courses, offers delectable dishes infused with smoky flavors that are sure to tantalize your taste buds. Do take note of additional charges for certain mains.
Choice of Starters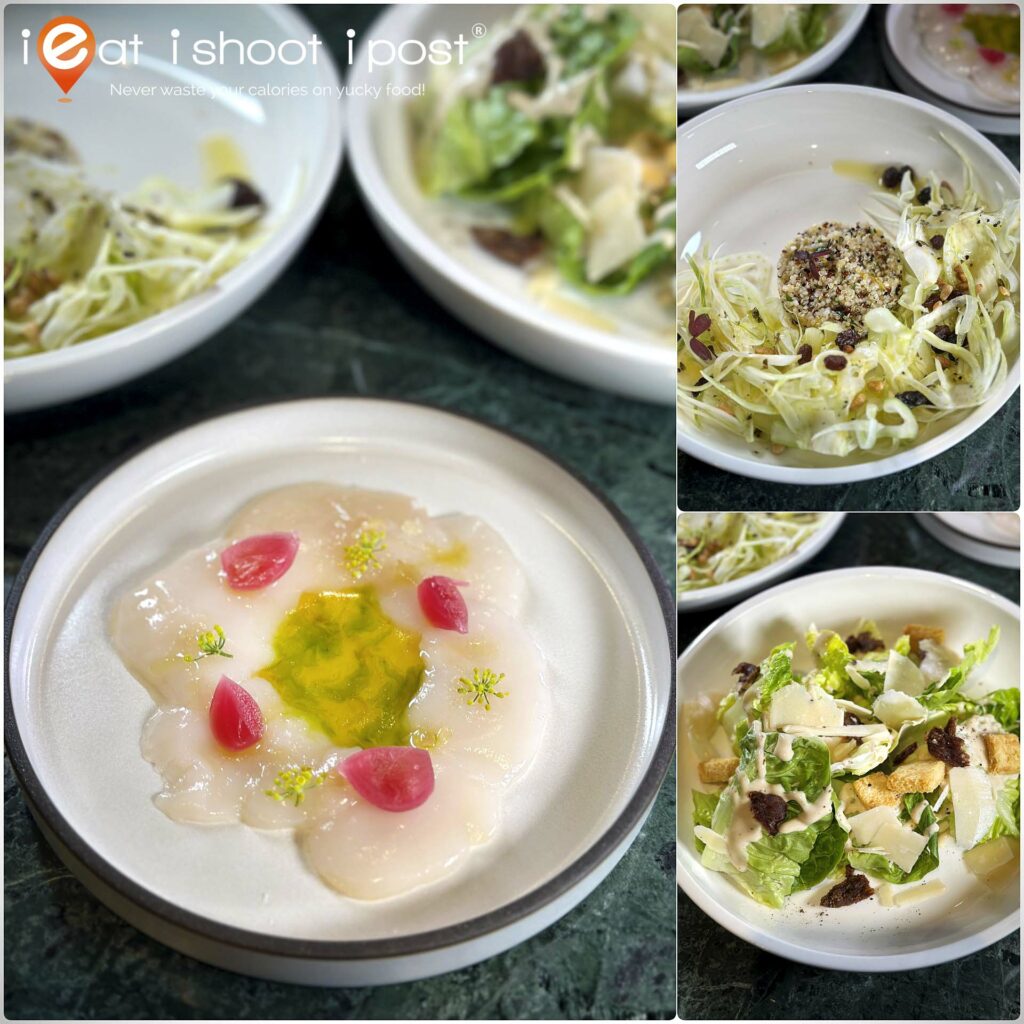 We got to taste 3 of the 4 starter dishes available. The Fennel and Quinoa salad presented a unique textural contrast. You get some refreshing crispness from the ice-shocked fennel and beady quinoa infused with delightful apple flavor. It felt like a healthy prelude to the main course.
The Caesar Salad felt equally healthy save for the bits of fully rendered wagyu fat. For an additional $5, you can opt for the Scallop Carpaccio. It is served with a house-made yuzu vinaigrette. Watch out for the silver onions that have been colored with purple cabbage as they are quite tangy. They also have the option of chargrilled seasonal vegetables if you are not so adventurous.
Choice of Mains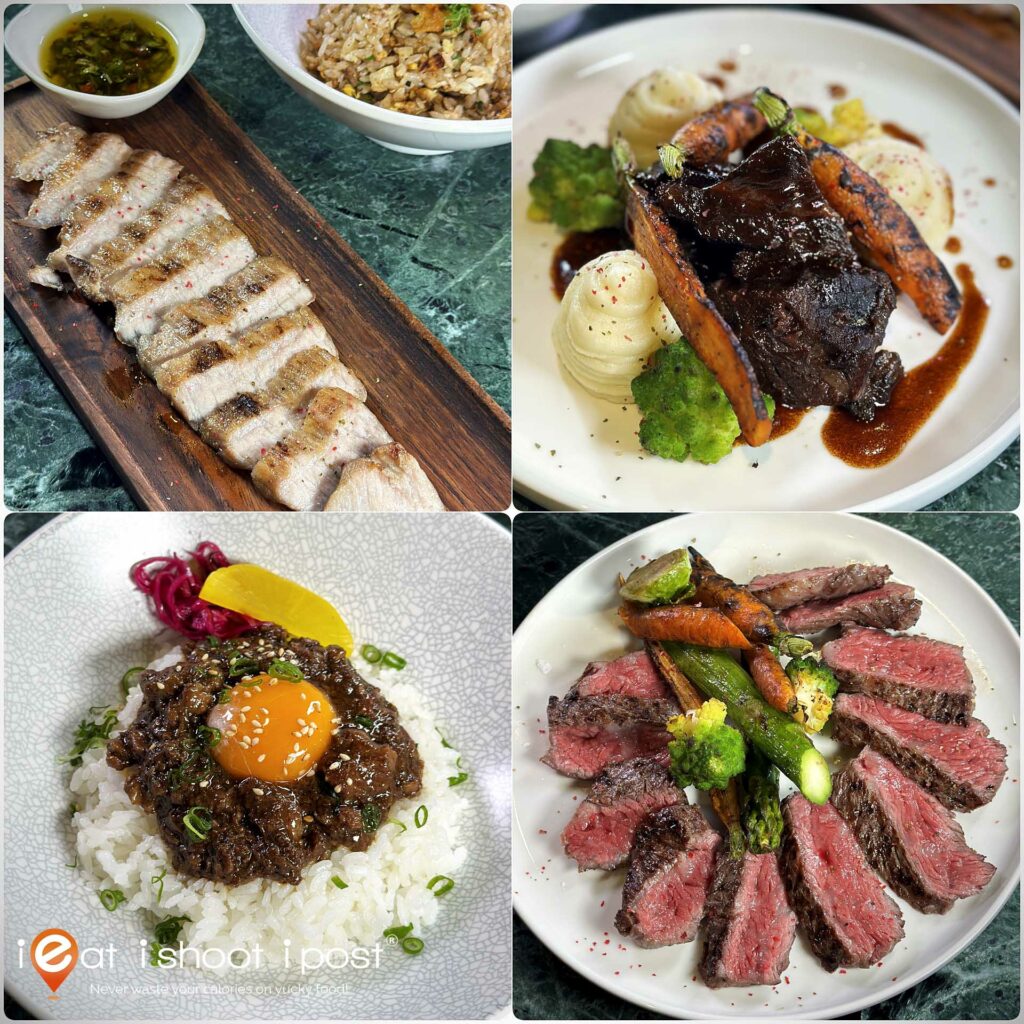 They have an eclectic selection of mains which are a bit of a deviation from their Yakiniku theme. Some, like the braised beef cheeks (+$14), felt too out of place for a Yakiniku restaurant. The meat was also a little dry. 3.5/5
What we did enjoy was the grilled Iberico Pork with garlic fried rice 4.25/5 and the grilled striploin steak. 4/5 Both of these items showcase their expertise in grilling.
I was skeptical about their Wagyu Lu Rou fan at first. But I'd have to admit it was actually done really well. The beef sauce, which is made from their quality beef off-cuts is nicely spiced without being overbearing. And the raw egg yolk added to the richness of the rice dish. 4/5
Needless to say, the Yen Social Signature Steak (+$18) was excellent! You get 150g of perfectly grilled prime USDA striploin. The meat is very tender and juicy. You wished you didn't need to go back to the office after that!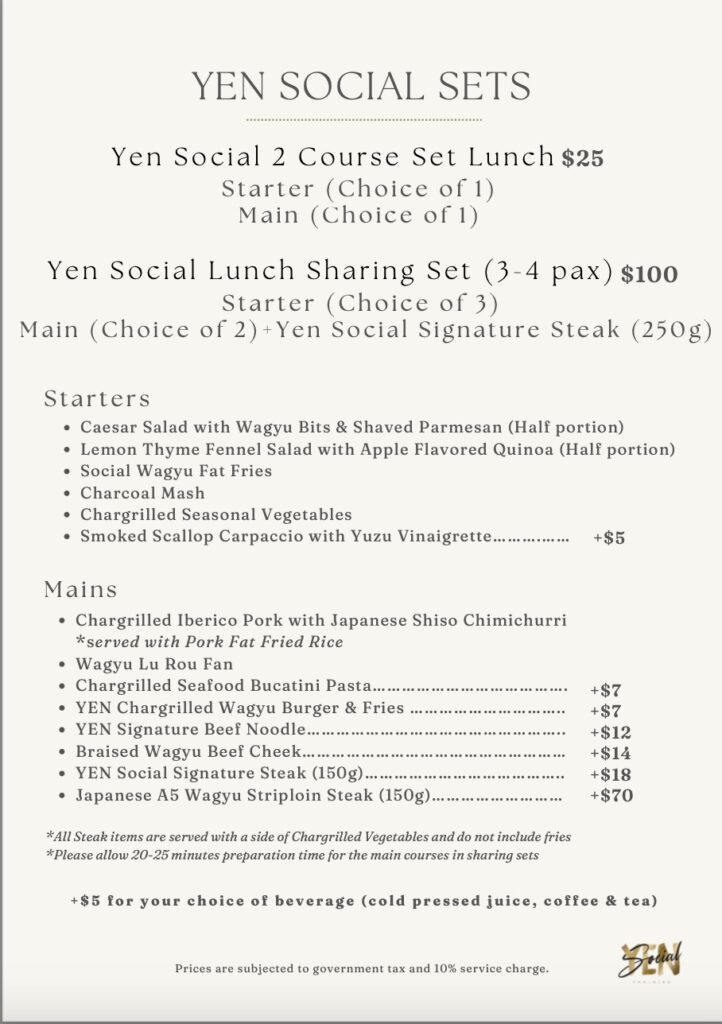 Wagyu Fat Fries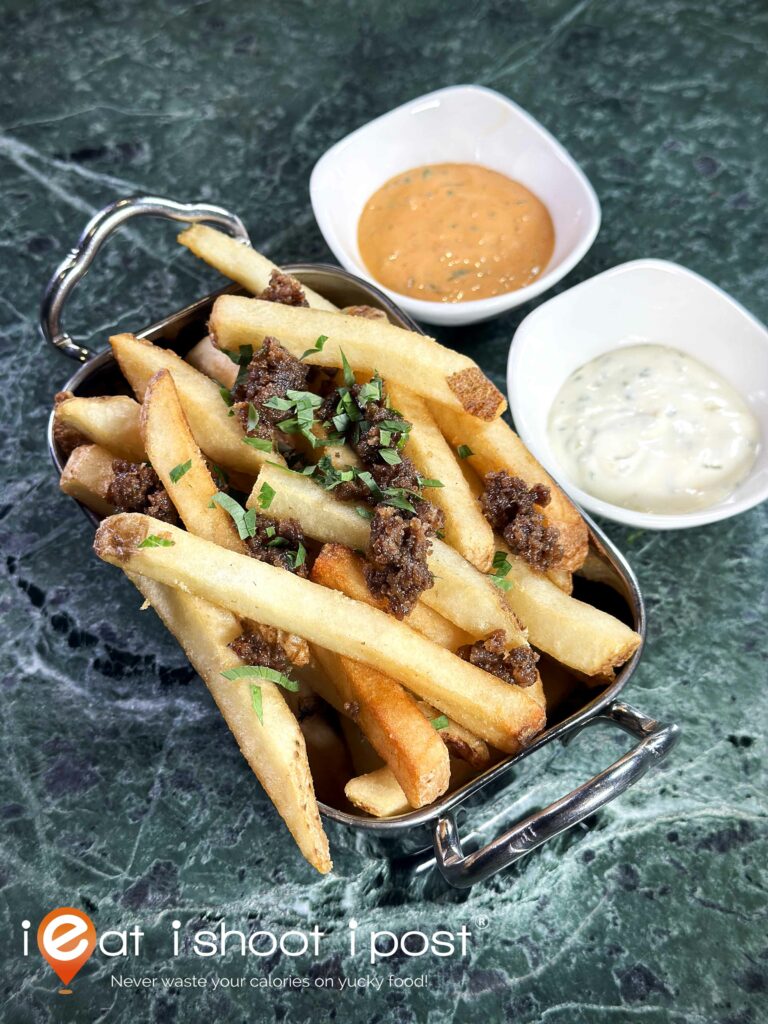 What do you do when you have leftover Wagyu fat? At Yen Social, they render it down to beef tallow and use it to deep fry potato chips! While the fries themselves come from a bag, the magic happens when they are baptized in the Wagyu tallow. The result is a delightful transformation, turning the fries into crispy and fluffy treats with a hint of beef flavor. Though we still craved a more robust beef flavor, these fries remain irresistible and are undoubtedly a worthy addition to any order. The true gems of this dish are the small, crunchy morsels of Wagyu fat scattered over it! They are served as a side dish when you order the YEN steak as an ala carte dish for lunch. 4.25/5
Wine and Sake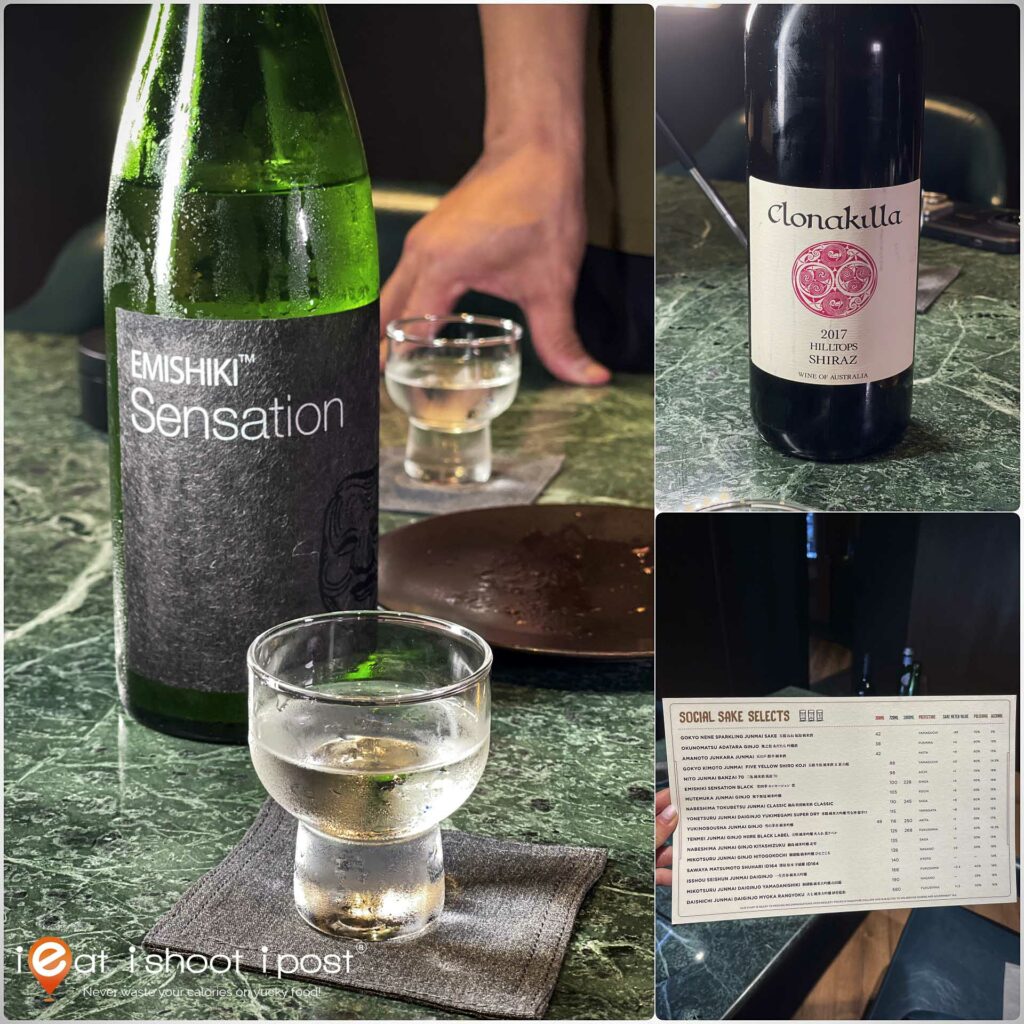 To cater to the lunch diners, they offer some wines by the glass like the Clonakilla, Hilltops 2017 (Shiraz – Hilltops, Australia) $88/bottle, $18/glass. It was smooth, crisp and paired well with the light starters and even the heartier mains.
Yen Social unfortunately no longer offers a sake flight pairing with grilled meats. Nonetheless, they still have a curated list of Junmais and Junmai Daijingyos. We had a taste of the Emishiki Sensation Black sake ($100/720ml bottle) that had a good balance of amami (sweetness) and karami (dryness). It did not overshadow the lip-smacking meats but enhanced the experience.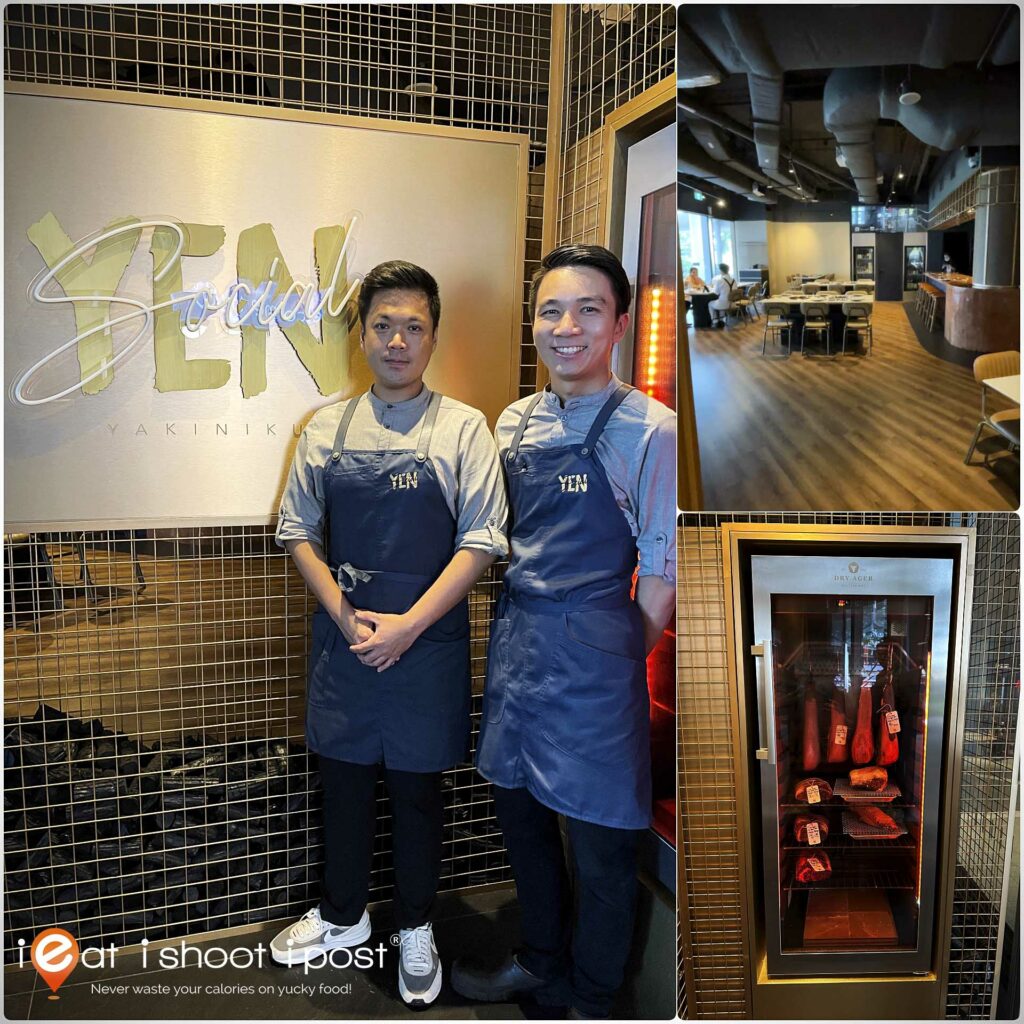 Conclusion
Yen Social is a good place for Yakiniku if you are looking for high-quality wagyu beef. They serve an excellent Satsuma Gyu which is the product of Master farmers in the Kagoshima region. Their whisky-aged Angus beef is also quite special. They are now also open for lunch and have lunch sets starting at $25++
Disclosure: This was a Media Invite. The food was provided with no obligation to write a review unless we feel the place is good enough to recommend.