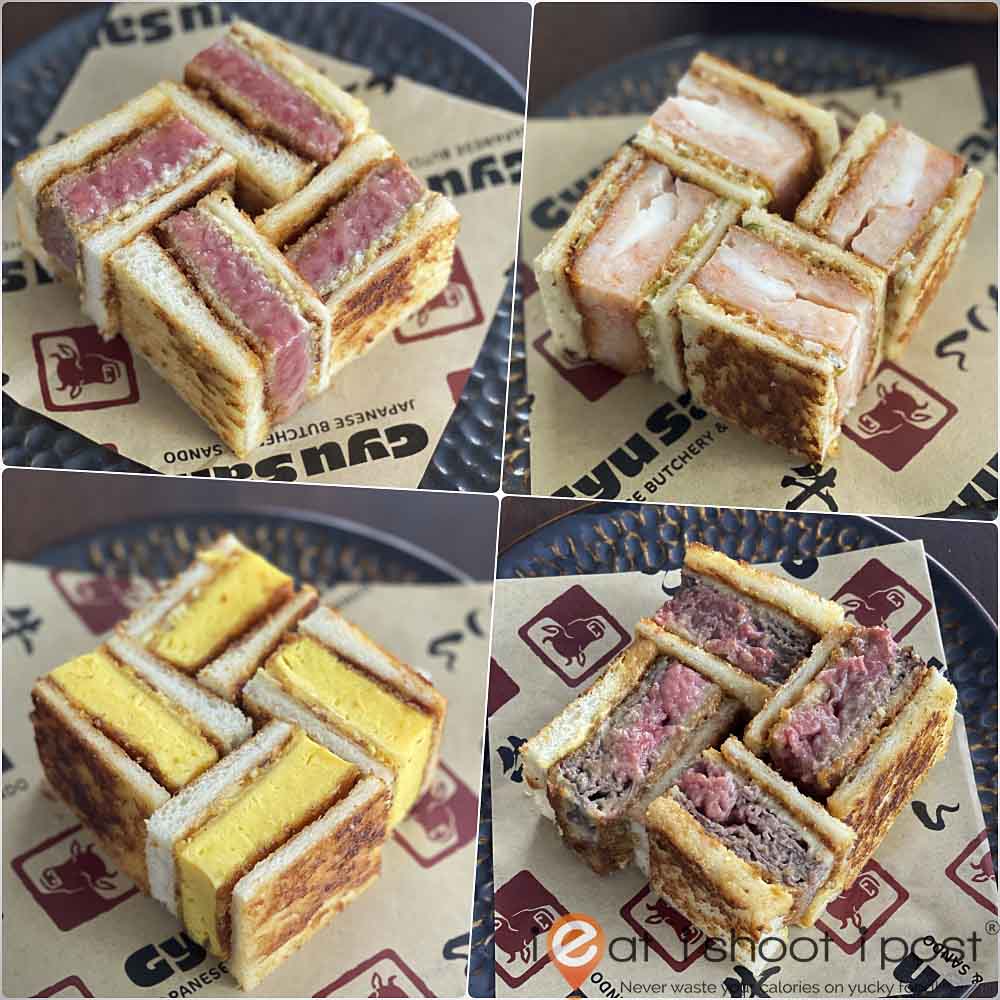 Do you still remember that first time you sunk your teeth into a slice of A5 Wagyu?
I do.
It was back in 2008, when Japanese Wagyu was still only available in Japan. Lisa and I made our way to Steak House Satou in Tokyo and lined up in the narrow staircase leading up to the little restaurant where I paid 12,800 yen for a 270g A5 Matsuzaka Striploin steak. Back then, the yen was stronger, so that steak cost just over $200, but oh, it was one of those life-changing moments!
Japanese Wagyu made its appearance in Singapore in 2009 and since then it has radically transformed our eating culture. Before the introduction of Wagyu, we were still balking at eating meat with so much fat in it. Nowadays, well-marbled meat has become an indispensable part of any hotpot meal.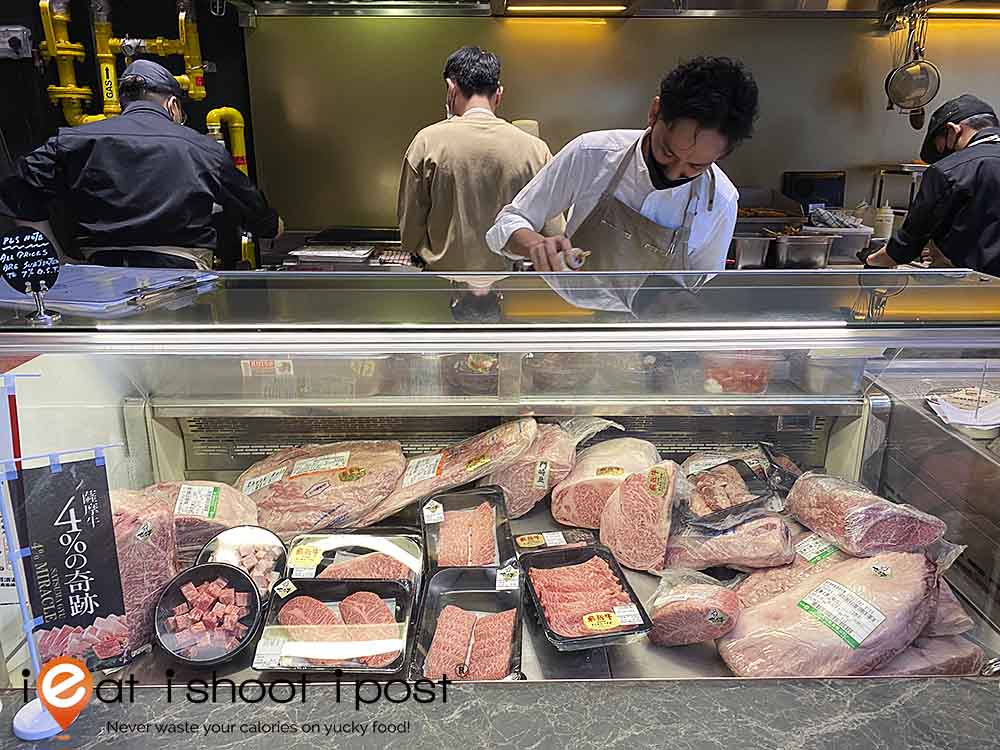 As our appetite for Wagyu grew, we saw famous Wagyu brands appearing in Singapore. Kobe, Ohmi and Matsuzaka began to be served in high-end restaurants. In 2014, Hokkaido Snow Beef made its debut and after that, we had Olive Wagyu. Japanese supermarkets started selling Japanese wagyu direct to consumers which is soon followed by online stores and more recently the opening of Ginkaguchi Onishi a Japanese butchery focusing on beef from Kyoto.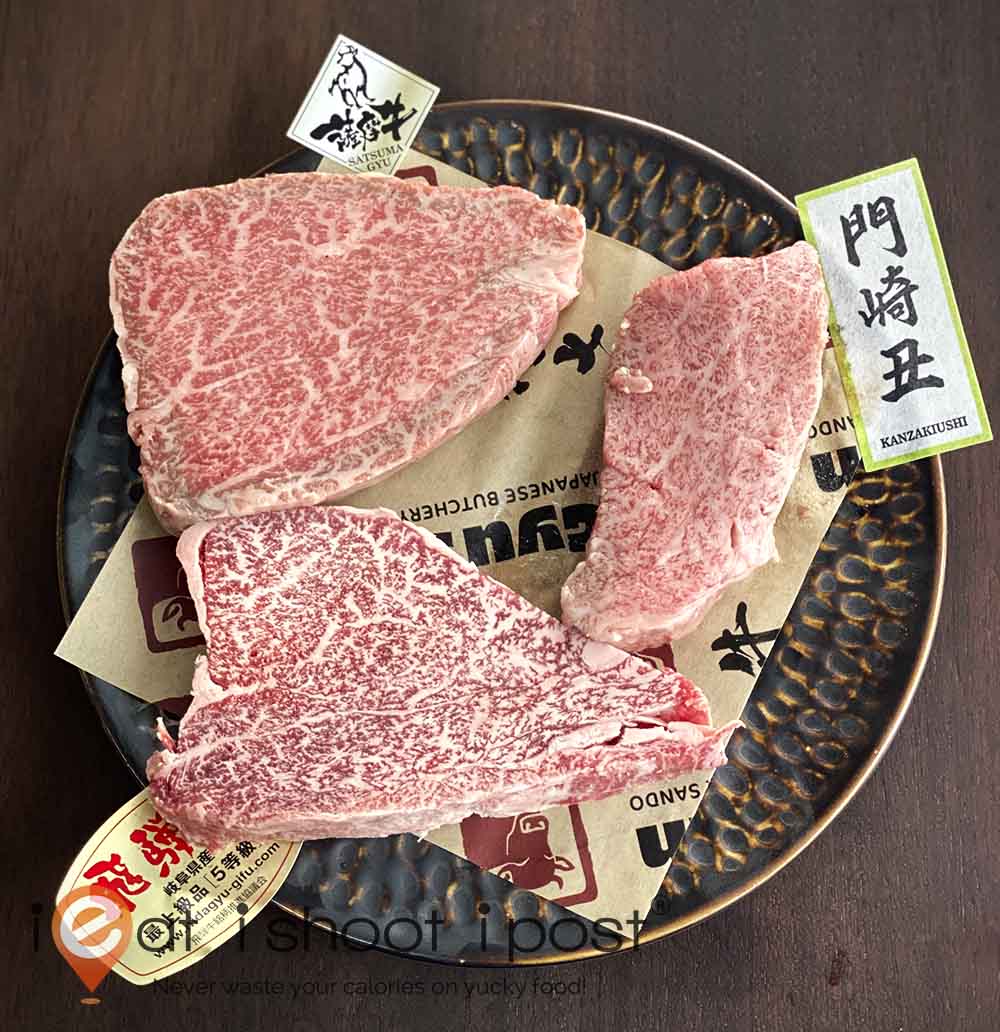 What's next?
Well, the next milestone is to have a butcher that curates the best Wagyu direct from the most reputable farms in Japan and focuses only on the highest grade Wagyu, because within the A5 Wagyu grading system there are still more ways to separate the good from the very good and the very very good.
Gyu San is more than a Sando shop. The Sandos (Sandwich in Japanese) is just a way for the butchery to let their customers taste their exquisite beef at a very attractive price. At its core, it is a butchery that brings in over 55 premium Japanese wagyu cuts curated from farms all over Japan.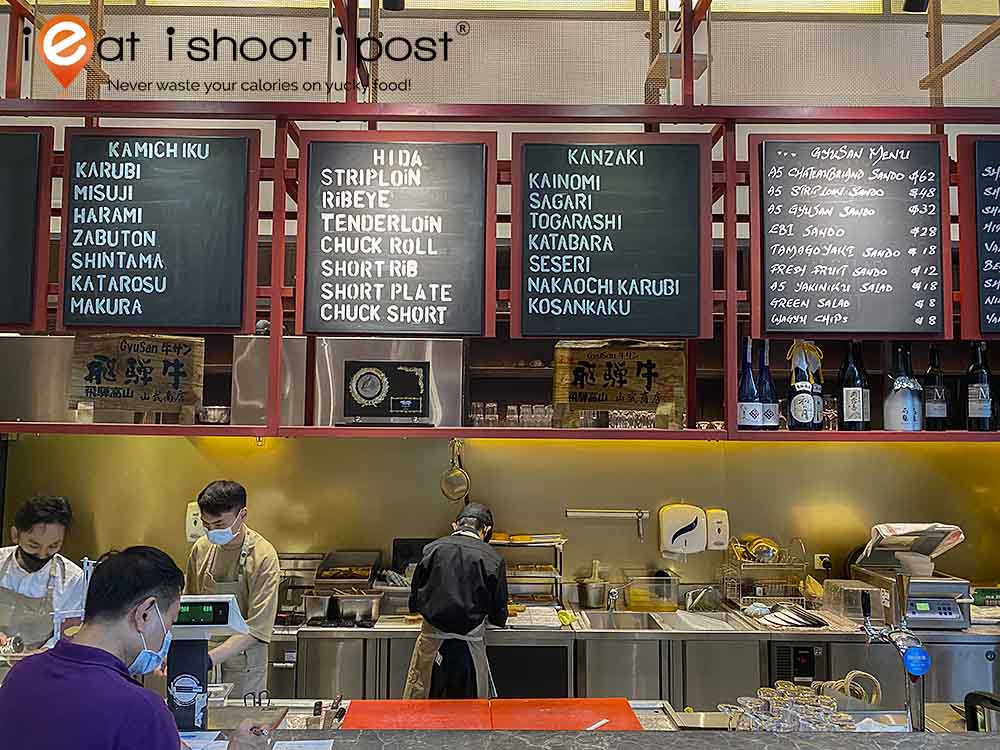 They currently bring in three premium brands. The first is Kamichiku's Satsuma Gyu 4% miracle beef. Satsuma Gyu is the brand that brings together 12 master farmers in the Satsuma Valley region of Kagoshima prefecture. These farmers have all been conferred the status of "Meijin" which means that they are recognized as the best in their craft. Of the Wagyu that these farmers produce, the top 4% constitute the 4% Miracle beef. During this season, Gyu San is using the 4% Miracle Beef in the Wagyu Sando and you can also buy home to cook.
Another premium wagyu brand is Kanzaki Gyu from Iwate prefecture. The cattle are 100% free of antibiotics and are fed with 100% organic feed. These cattle grow more slowly and are also smaller in size than the competition. What that translates to is beef which has been raised longer and subsequently has better flavor.
Hida Wagyu from Gifu prefecture has already made its debut in Singapore and may be familiar to many readers. Gyu Sando brings in the premium "Hida Gyu" which represents the best of Hida Wagyu and has undergone four strict checkpoints of quality control.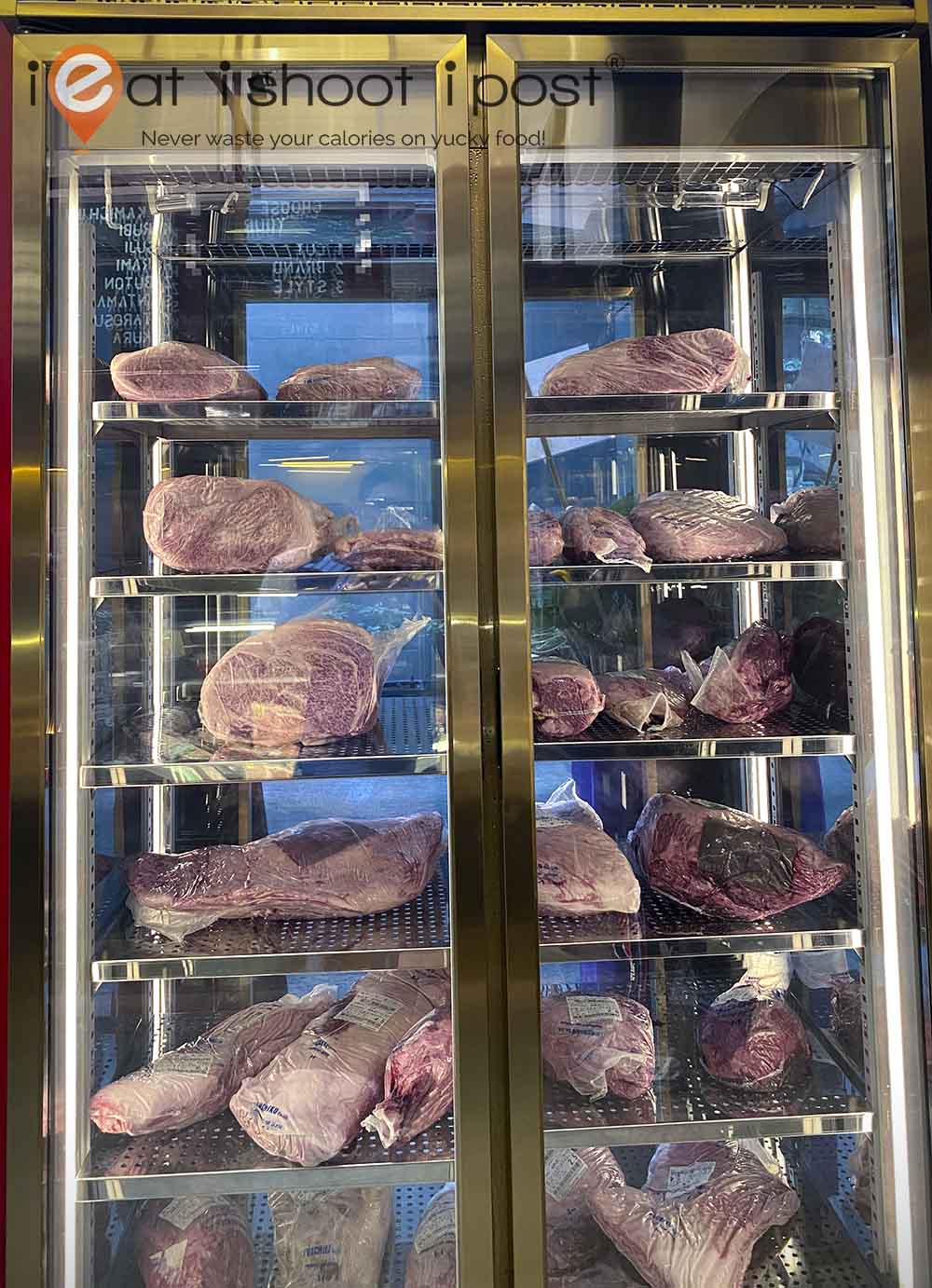 I am guessing that the real question on everyone's mind is whether these premium wagyu actually taste better.
I had the opportunity to sample three tenderloin fillets from each of the three farms and quite honestly, I wouldn't be able to tell the difference in a blind test. Once I was told what to expect, I felt that the Kanzaki Gyu had a beefier flavor that could be perceived after chewing the beef for a while.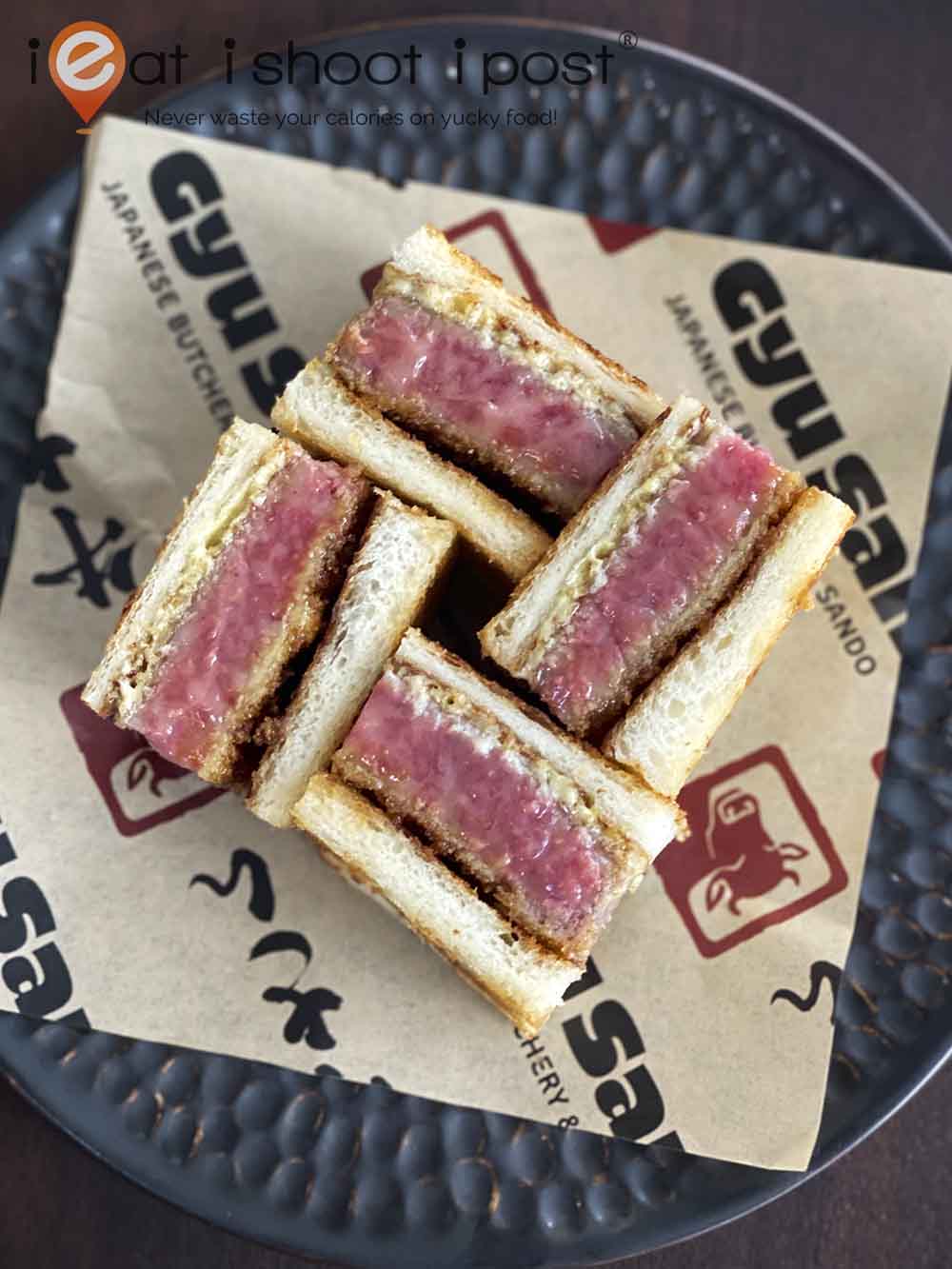 Gyu San currently offers a limited menu featuring their Wagyu. The star of the show is their Wagyu Sando where you get a slab of Satsuma Gyu 4% Miracle striploin (150-200g) which is coated with panko, deep-fried, and served between slices of toasted shokupan. No one would say that a $48 sandwich without any sides is cheap, but considering the fact that a 200g Wagyu striploin steak is going to cost in the ballpark of $150 at a steakhouse, it is quite a steal!
Personally, I think the best way of eating 200g of A5 Wagyu is to have it as shabu shabu or sukiyaki. The Wagyu Sando is, however, very pretty and smacks of casual indulgence.
Tastewise, you get to enjoy the unctuous tenderness of the beef but the flavor mainly comes from the buttered bread, fried panko, and the sauce. You can't really enjoy the flavor of the beef since most of it is rare and you don't get the Maillard reaction as you would with a grilled steak. Having said that, if you haven't tried an A5 Wagyu Sando before, then you really still should! It is just one of those things that you need to do in order to qualify as a serious foodie! As far as Wagyu Sandos go, this is about as good as it gets. 4.5/5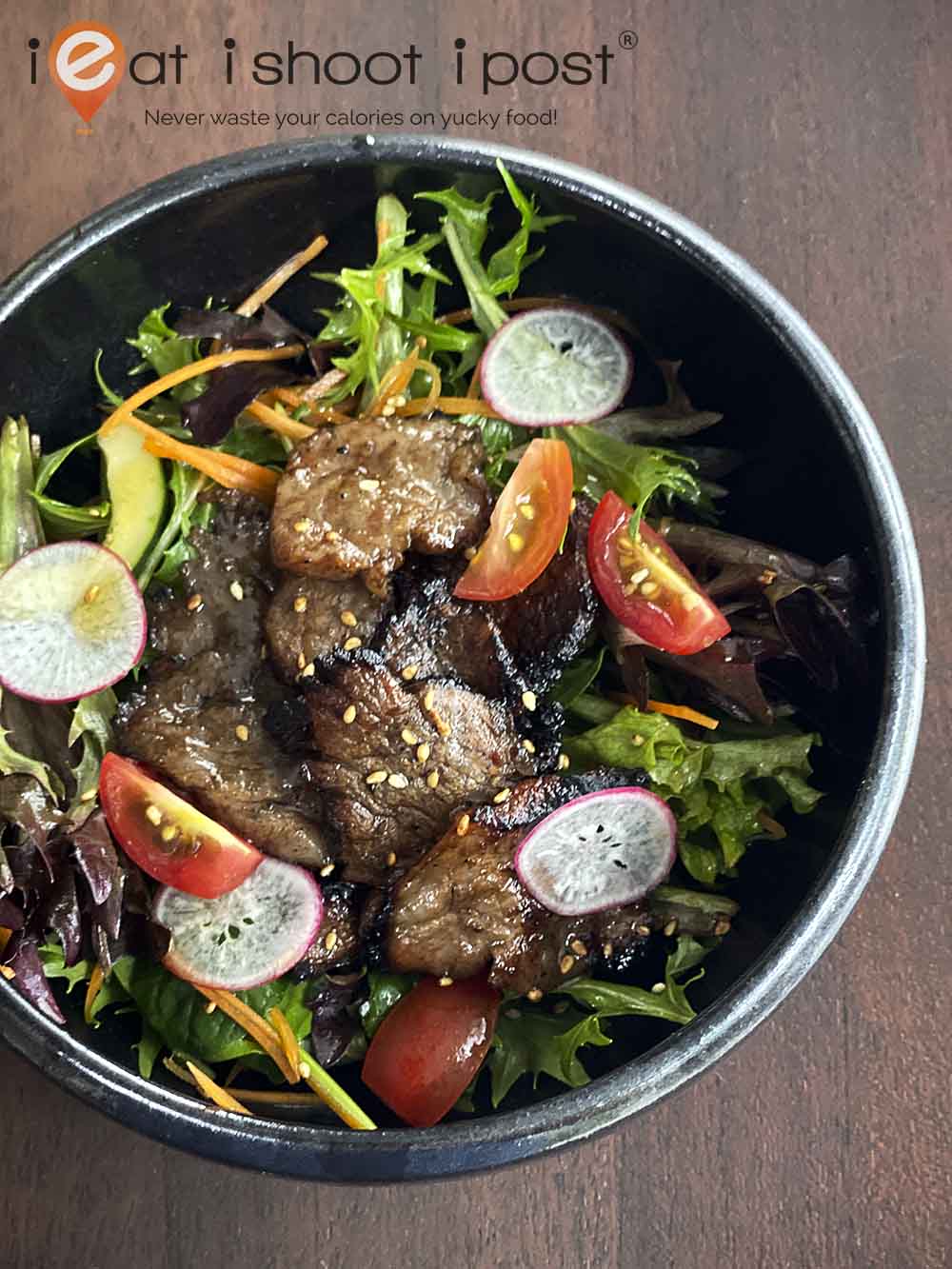 If you really want to enjoy the flavor of grilled beef, you can go for the Yakiniku Beef salad. This is the ultimate keto meal in my books. I just need maybe three bowls to get my satisfaction! 4.5/5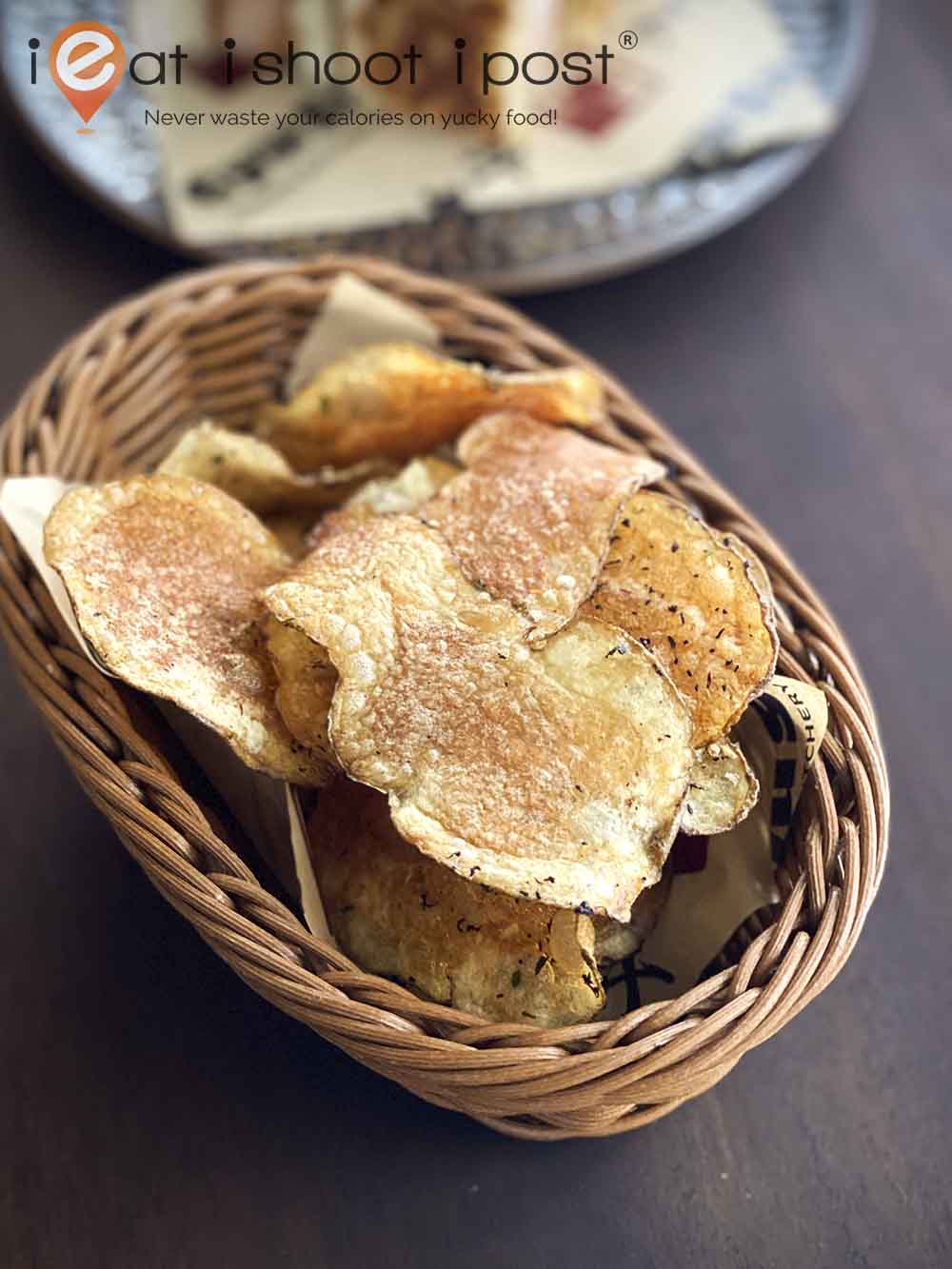 Gyu San's Wagyu Crisps is something you won't want to miss. Because they bring in whole cows, they have access to lots of A5 Wagyu fat. This fat is rendered into beef tallow and used to deep fry the potato crisps. The fragrance of the Wagyu fat is excellent. I just wish they would do potato chips well! 4.25/5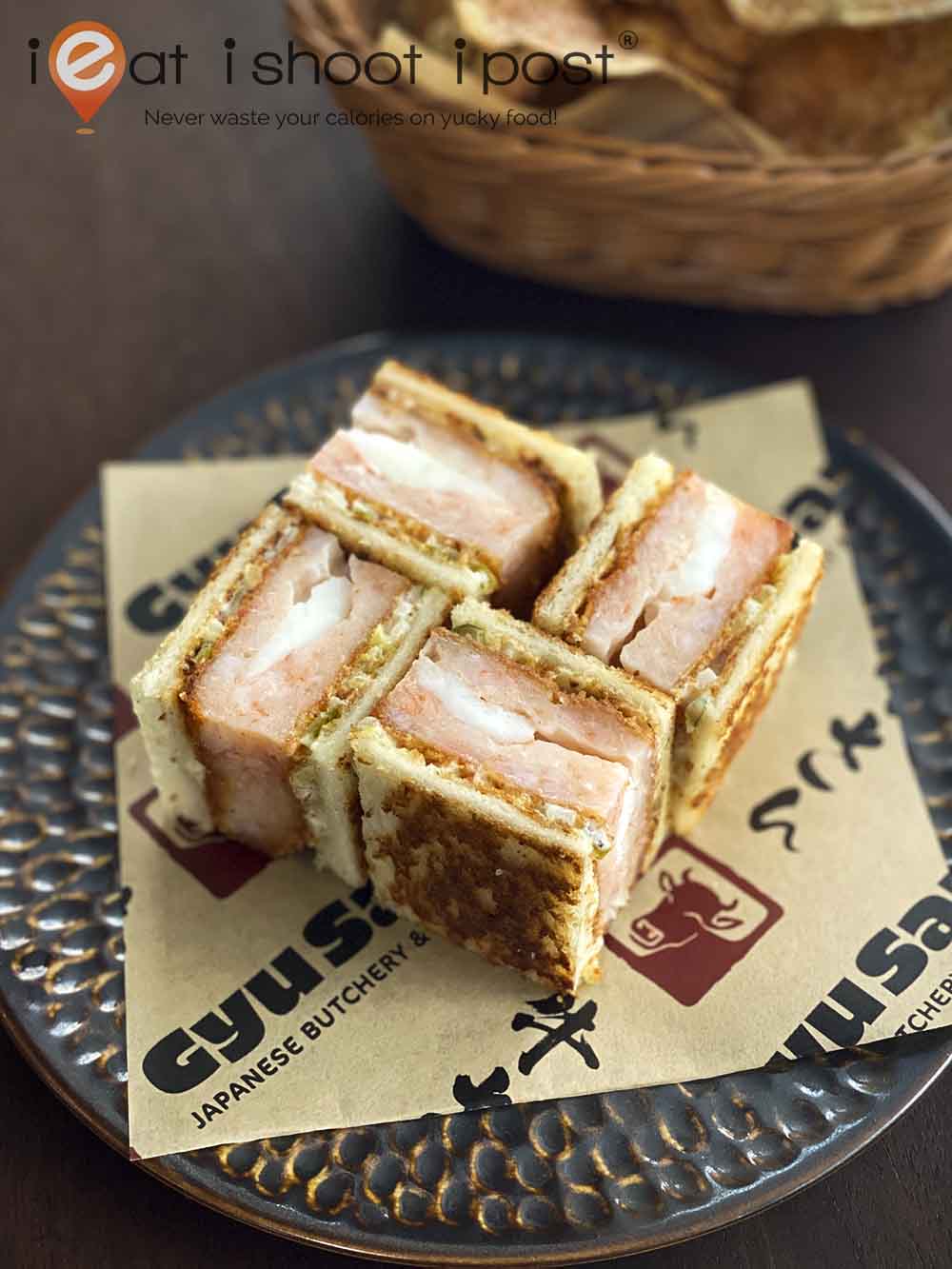 If beef is not your thing, then Gyu San also offers Ebi Sando and Tamagoyaki Sando. The Ebi Sando is very nice. It's made of prawn paste as well as the famed wild tiger prawns from Shark's Bay in Western Australia. 4/5
Their Tamagoyaki Sando is nice too but $18 is a bit expensive for what is essentially a fancy egg sandwich! 4/5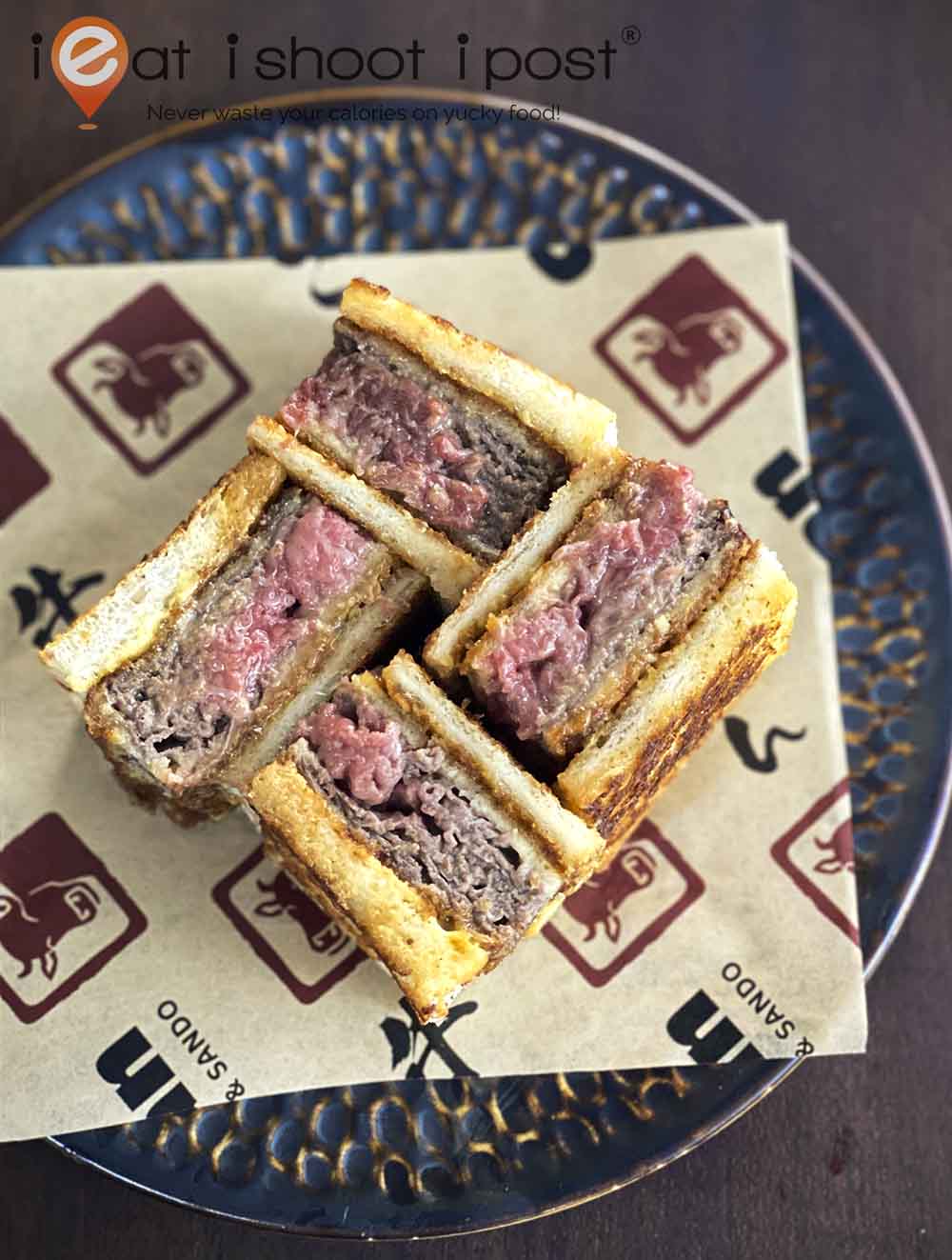 The Gyusan Sando is made from thin slices of Wagyu which are layered like a Mille Crepe cake and made into panko-crusted patties. The texture is different from the Wagyu Sando and has a beefier flavor as it is made from beefier secondary cuts. 4/5
Gyu San is planning to introduce other meal concepts such as shabu shabu, sukiyaki and yakiniku where you can sample the different cuts of Wagyu. It's something I am really looking forward to. I am also hoping they would come up with something like a Philly cheesesteak sandwich where you can taste the grilled wagyu in a soft buttery bun! Won't that be grand?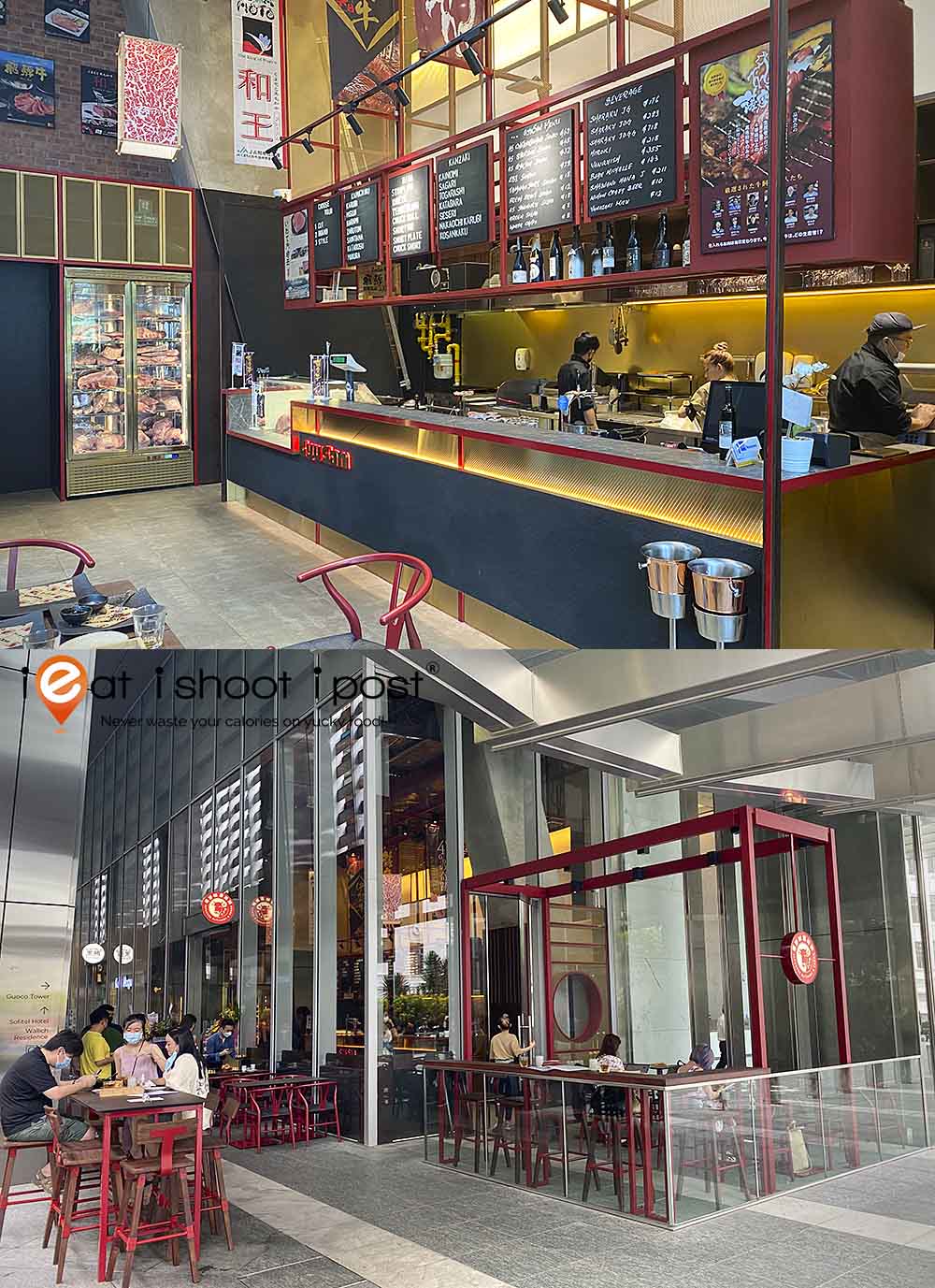 Conclusion
Japanese butchery for serious food geeks who are just looking for the best Wagyu in town. Although they are called Gyu San and their signature is the Wagyu Sando, their core business is really the butchery which sells exquisite Wagyu curated from all over Japan.
Disclosure
This was a media invite. That means the meal was hosted but there was no obligation to write this post.