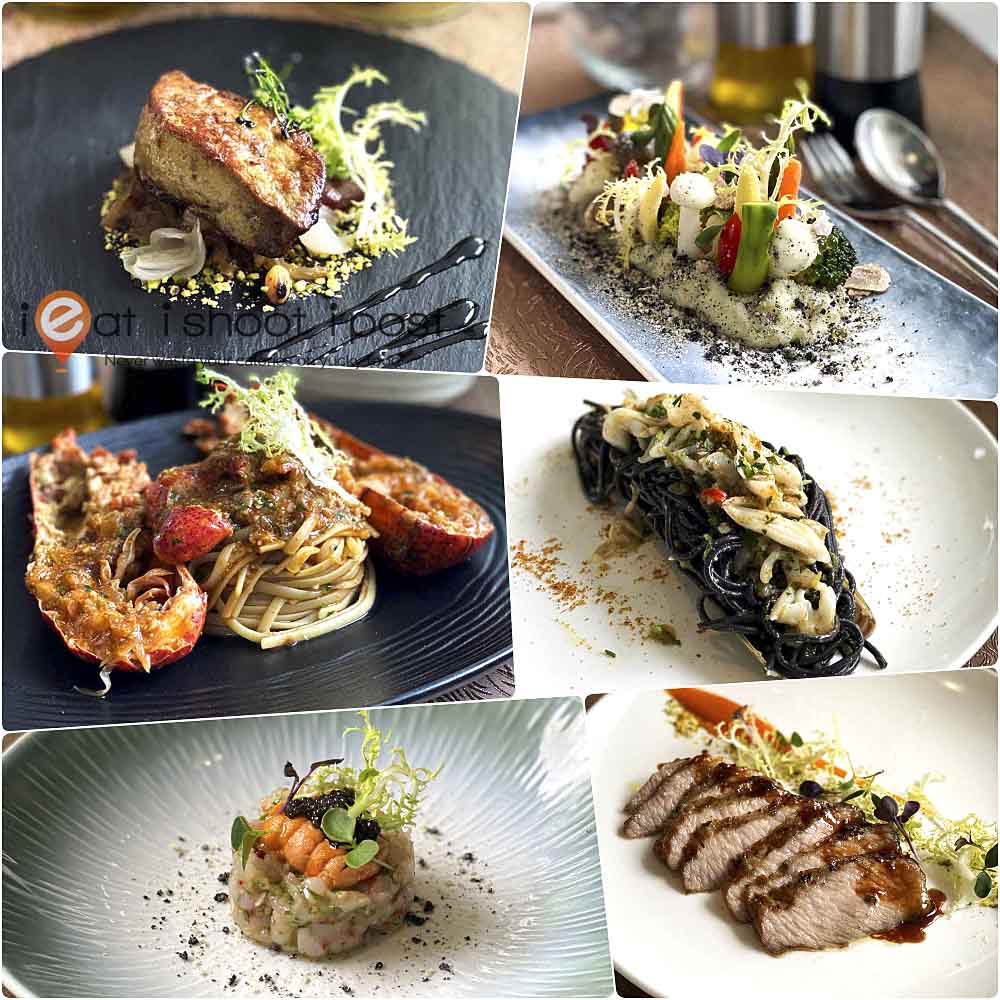 Dining precincts like Rochester Park are pretty special in land-scarce Singapore. The black and white bungalows, a relic of our British Colonial past, still have a romantic quality about them. Located amidst lush greenery, the 11 bungalows, which used to house British Military Officers, have been refurbished and turned into idyllic dining establishments.
One of them is Gary's where "contemporary Italian cuisine meets Japanese sensibility". In case you are wondering what that means, it means that you will get Italian dishes accentuated with popular Japanese ingredients such as Ikura and uni. In other words, in true Singaporean style, the owner of the restaurant has brought together all his favourite food under one roof!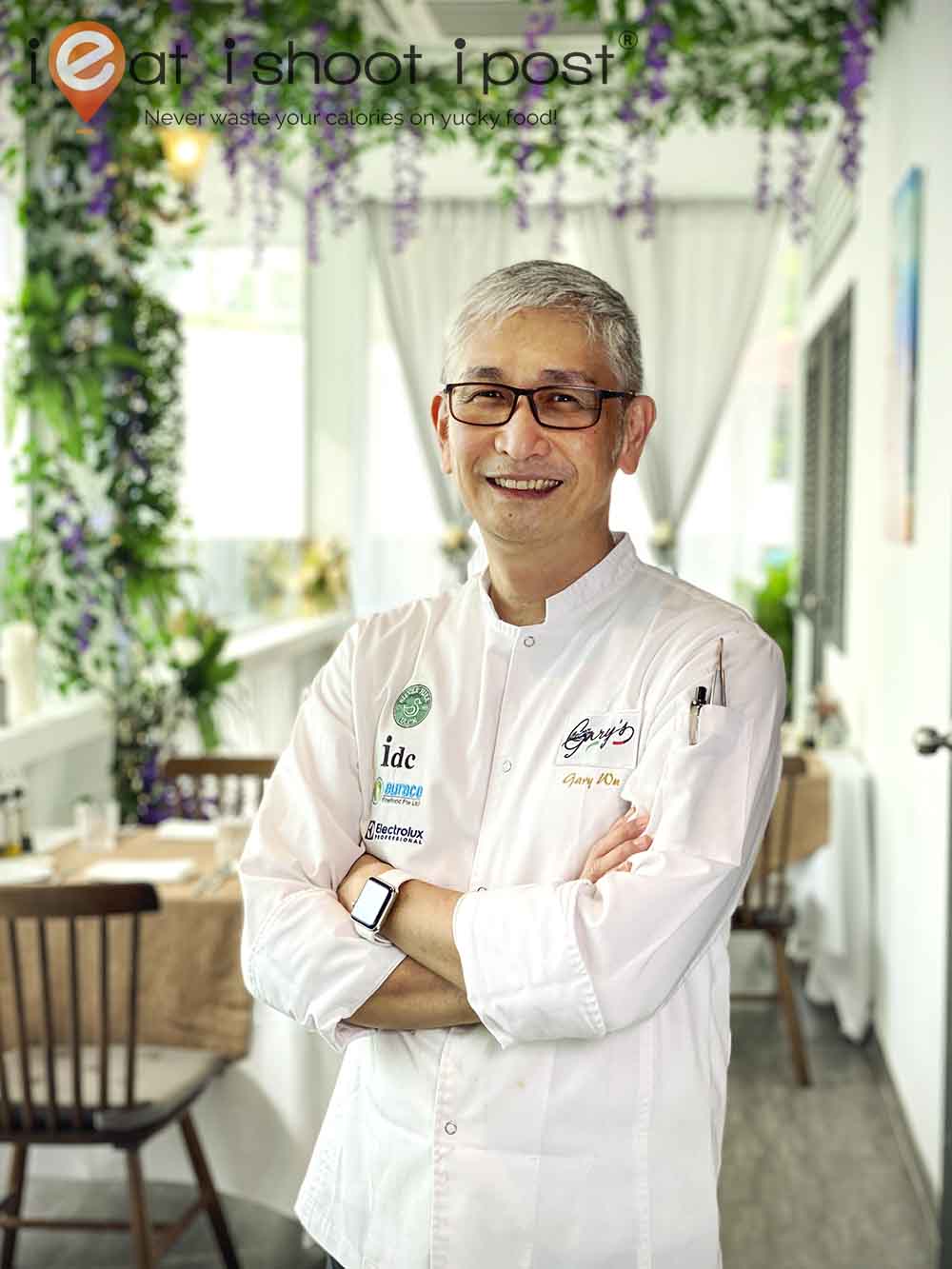 The man behind the eponymous restaurant is Taiwan-born, Chef Gary Wu, who turned out to be more affable than his online persona. Chef Gary started his career in a Cantonese restaurant in Hong Kong immediately after fulfilling his parent's wishes for him to get a degree in Economics. He made the switch to Italian cuisine in the early 2000s and had since won many accolades and worked as a private chef for the Royal Family of Brunei as well as the 1 Michelin Star Buona Terra where he was senior sous chef.
Gary's setting in a lush colonial bungalow is perhaps its most enchanting draw. In particular, the balcony which is enclosed such that you feel as if you are outside but are still protected from the mosquitos is the kind of place where I'd imagine a lot of proposals will take place. The faux greenery is a little off-putting initially, but you get used to it. Hopefully, they have plans to grow real plants as they are doing for the entrance to the restaurant.
The food is very good overall. It isn't so esoteric that you need to google every ingredient to know what you are eating, and it is presented in a way that is attractive but not pretentious. More importantly, at a time when you can easily expect to pay over $200 per pax at fine dining establishments, the 5-course set dinner menu at Gary costs a modest $118.
Postscript
Lisa and I went incognito on our own account to experience their 5-course set dinner menu and we were very impressed with it. The food was very well executed and the flavours were well balanced. The place is casual but elegant enough so you won't find kids running around. Priced at $118, we felt it was good value.
Ieatishootipost Special Promotion (1 – 30 Sep)



For the month of September, enjoy the $118++ 5-course menu at the price of $98++, minimum 2 pax. Just show this post to enjoy the offer.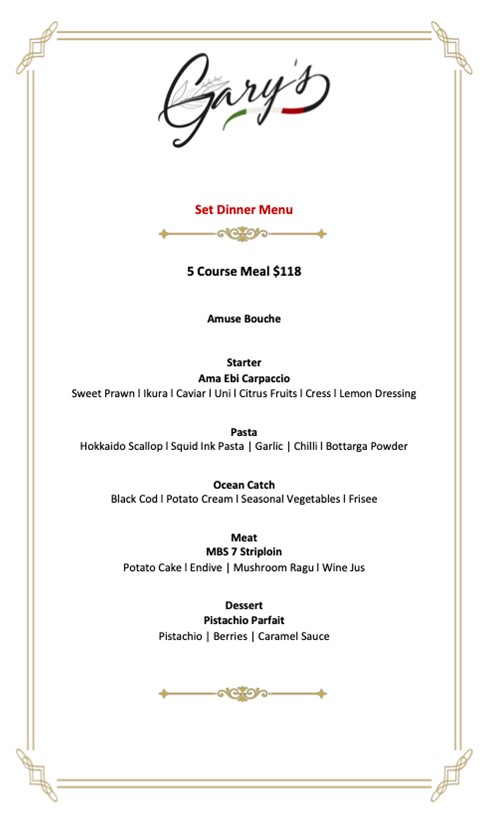 Here are the dishes we tried during the media tasting session:
Must Try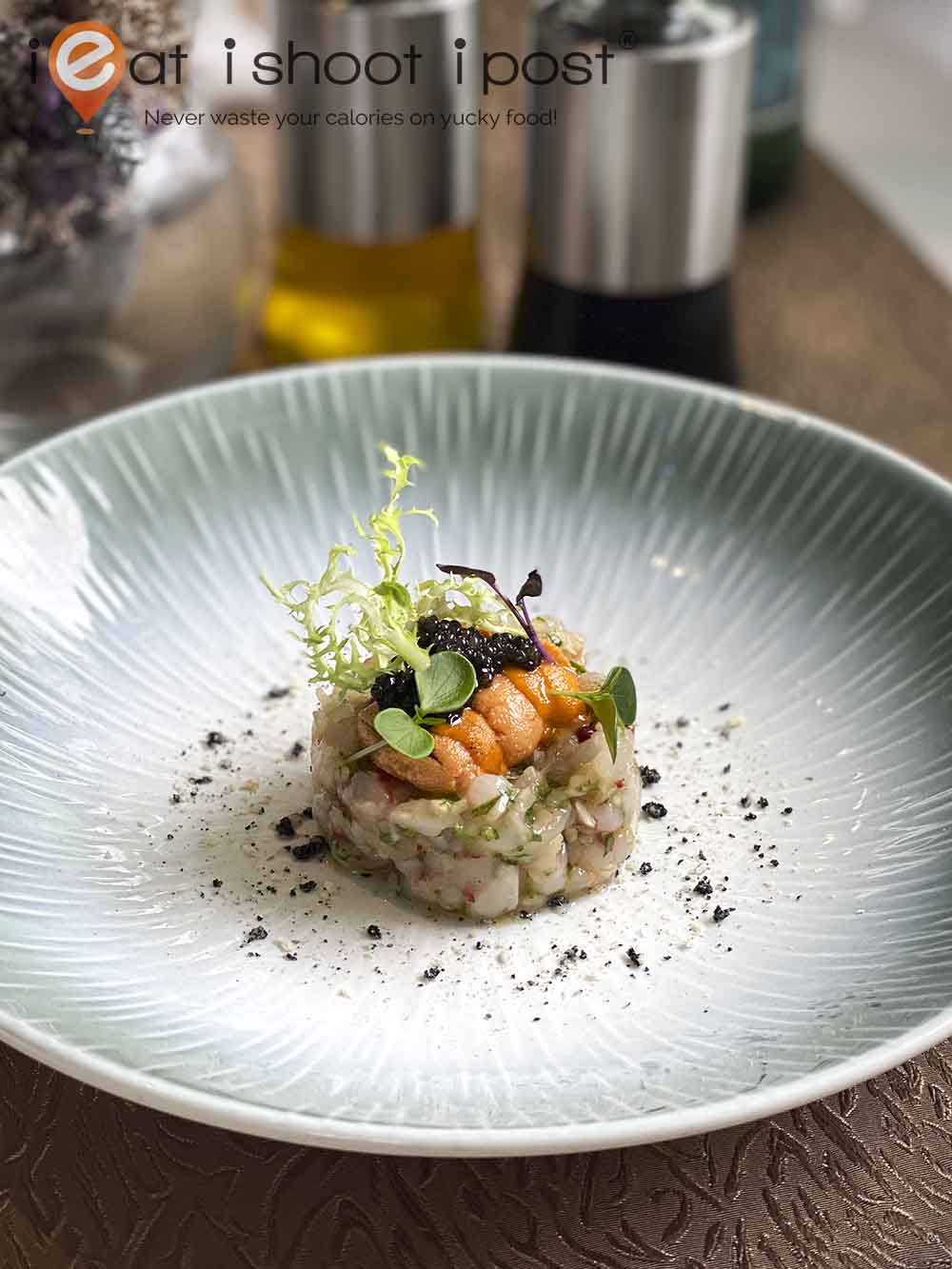 Red Prawn Tartare $26
The red prawn tartare is a real no-brainer if you ask me. Chef combines the sweetness and texture of Botan Ebi and Gambero Rosso prawns with a lemon dressing and tops it with Uni and Caviar. You really can't go wrong with this refreshing starter. 4.25/5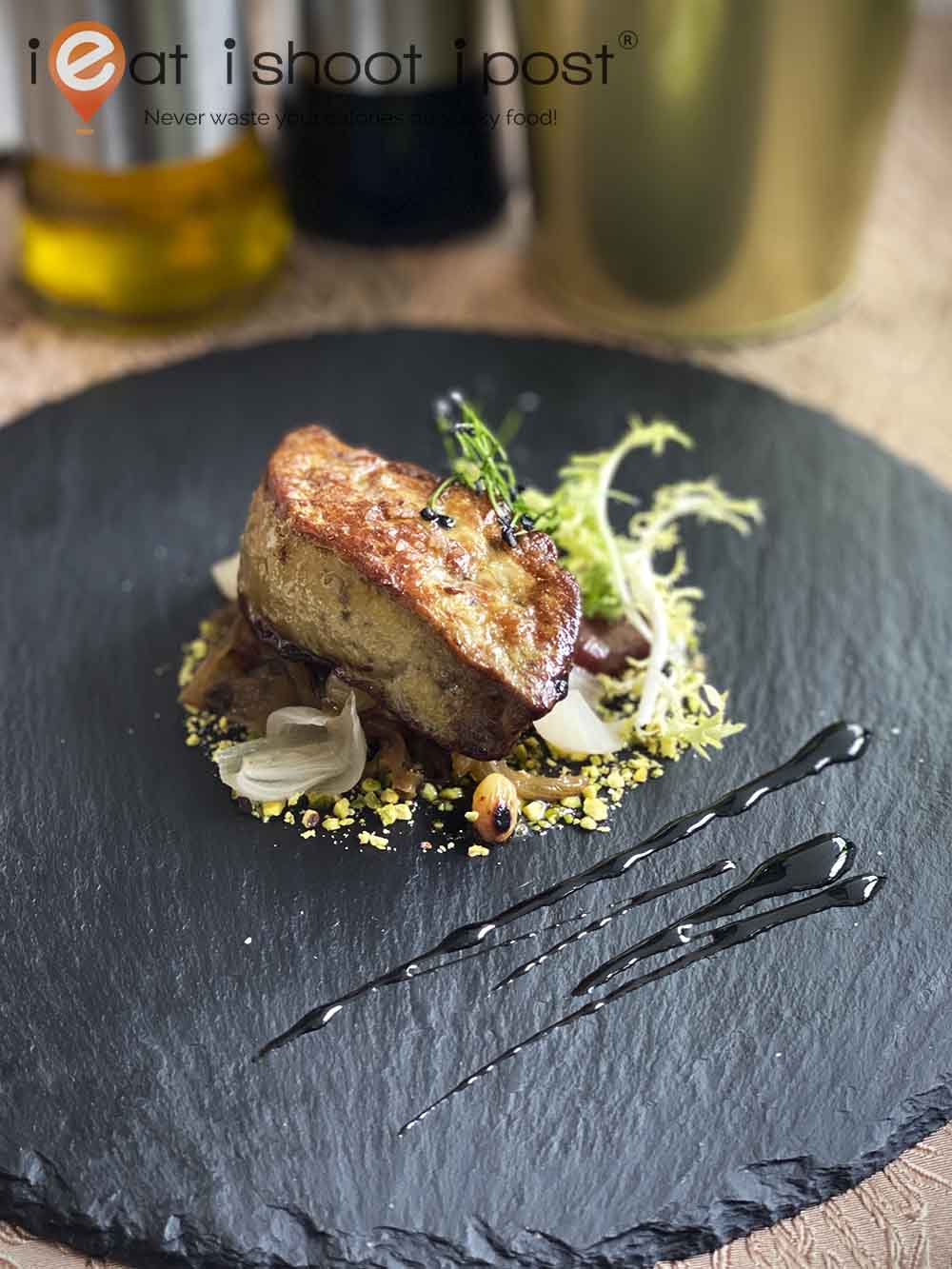 Pan Seared Foie Gras $26
We enjoyed the foie gras which was masterfully seared and served with caramelized pear and onion and raisin chutney. The quality of the foie gras is good, although I felt it could be even more buttery in the centre. 4.25/5
Can Try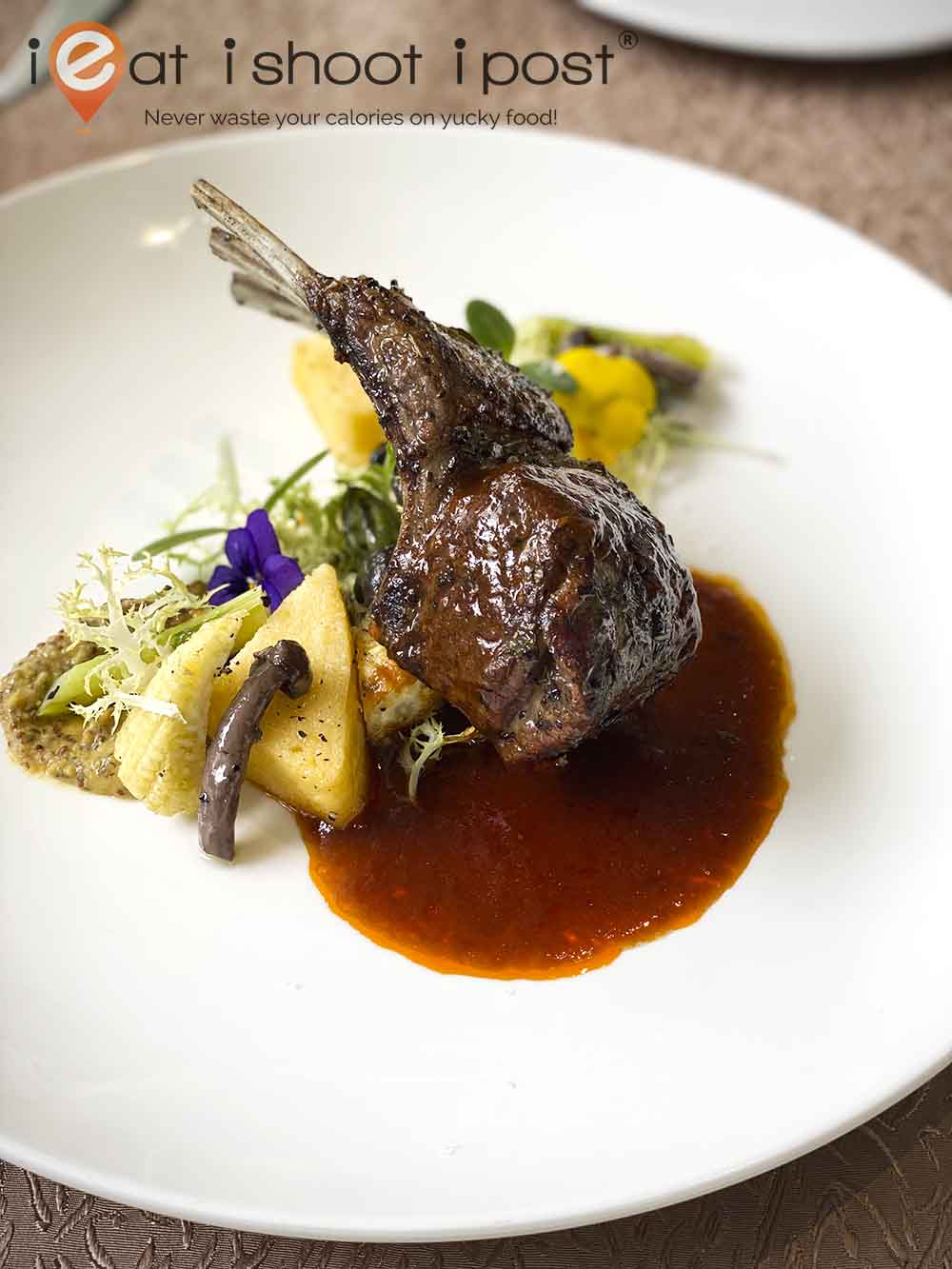 Lamb Rack $48
The lamb rack was cooked to perfection. Nicely seared on the outside while medium rare in the centre. It was served with a braising sauce that you'd usually find with lamb shank. Lisa liked it, but I would still prefer it if it was served with veal jus or a red wine reduction and paired with something sweet. 4.25/5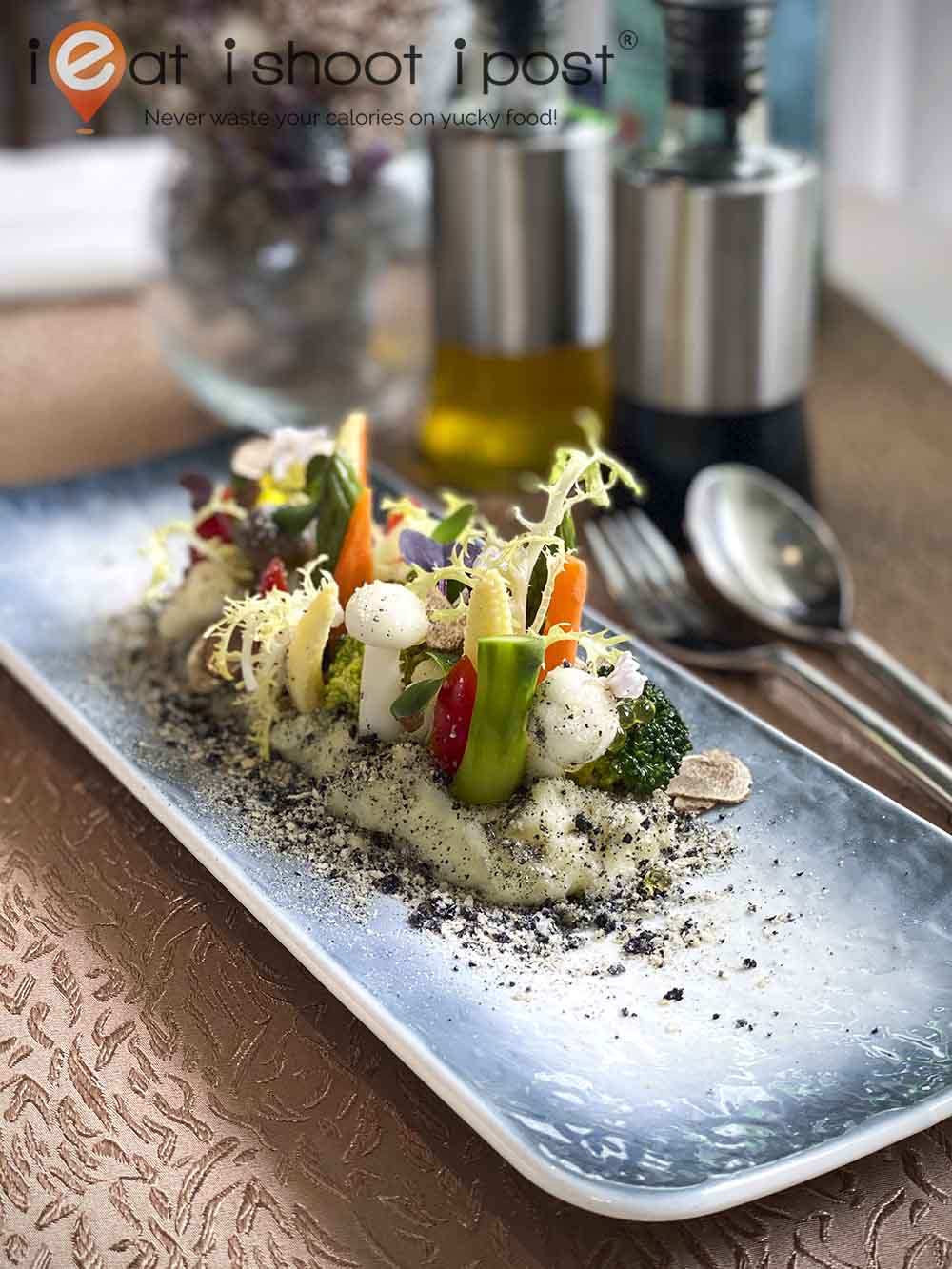 Iconic Gary's Garden Salad $26
The idea of the garden salad came about when Chef Gary was quarantined at MBS. Inspired by the Singapore skyline, he took out his drawing pad and started sketching ideas for the garden salad. It is essentially a dish of mashed potatoes dusted with squid ink crumble onto which various vegetables are stuck upright to represent buildings. A very pretty salad, no doubt. But personally, I found the boiled broccoli, carrots, baby corn, and asparagus a little pallid. It could have been better if they were charred to develop some caramelized flavours. Much of the flavour of the dish comes from the truffles-scented mashed potatoes. Good as a vegetarian main dish or a side dish to be shared but not as a starter, I think. 3.5/5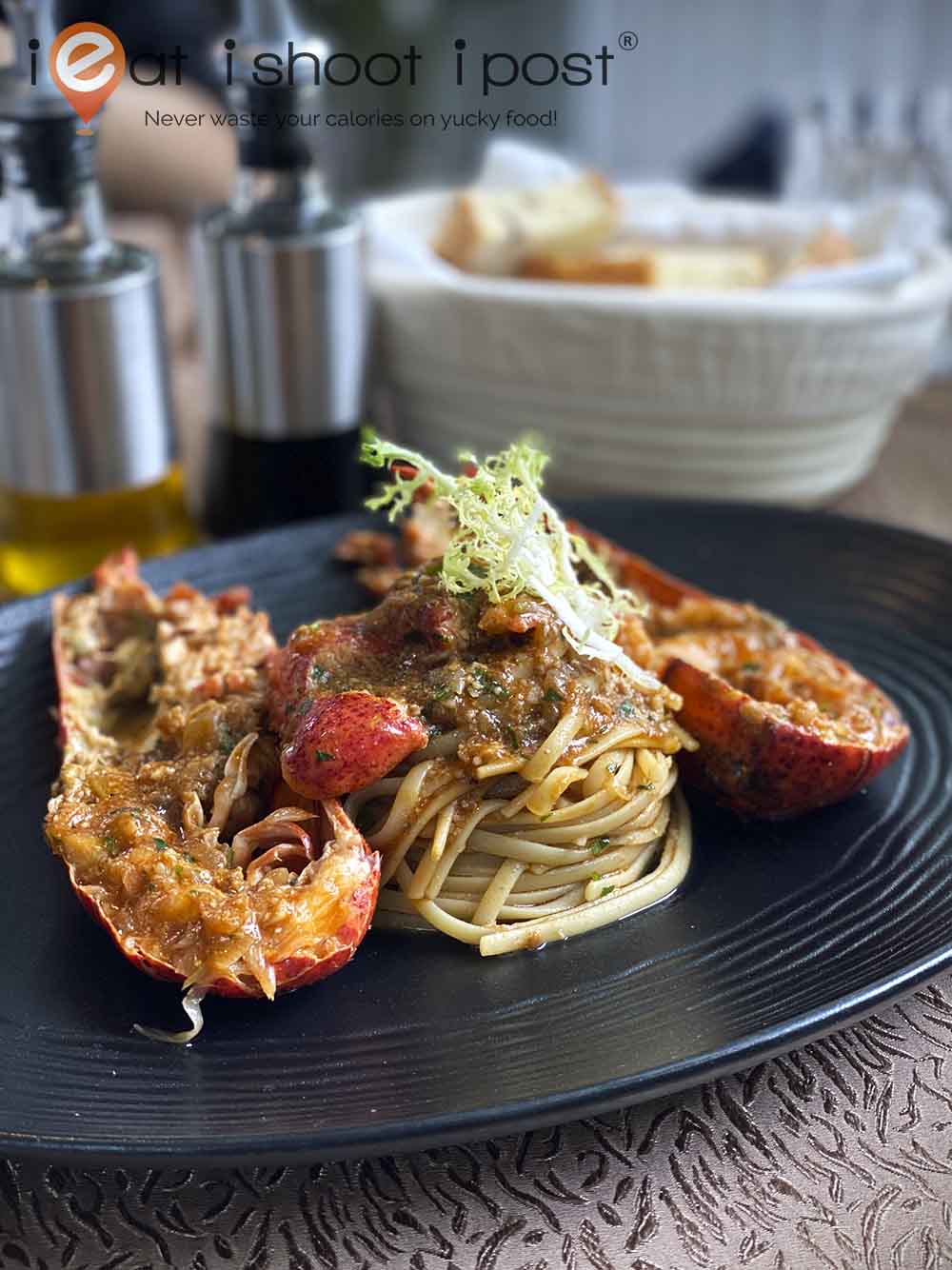 Lobster Pasta $98
Lobster pasta is always the kind of treat you'd order to congratulate yourself on a job well done, or perhaps as a consolation for not winning that important project after weeks of sleepless nights. Whatever the excuse, I always manage to find one for lobster pasta. The tangy tomato sauce goes really well with the pasta and succulent lobster meat. The pasta was nicely al dente but I just felt it didn't quite carry the sauce as well as I have liked. We have been told that Chef Gary uses all-natural ingredients in his cooking, which may explain why the flavours were a little more subtle. 4/5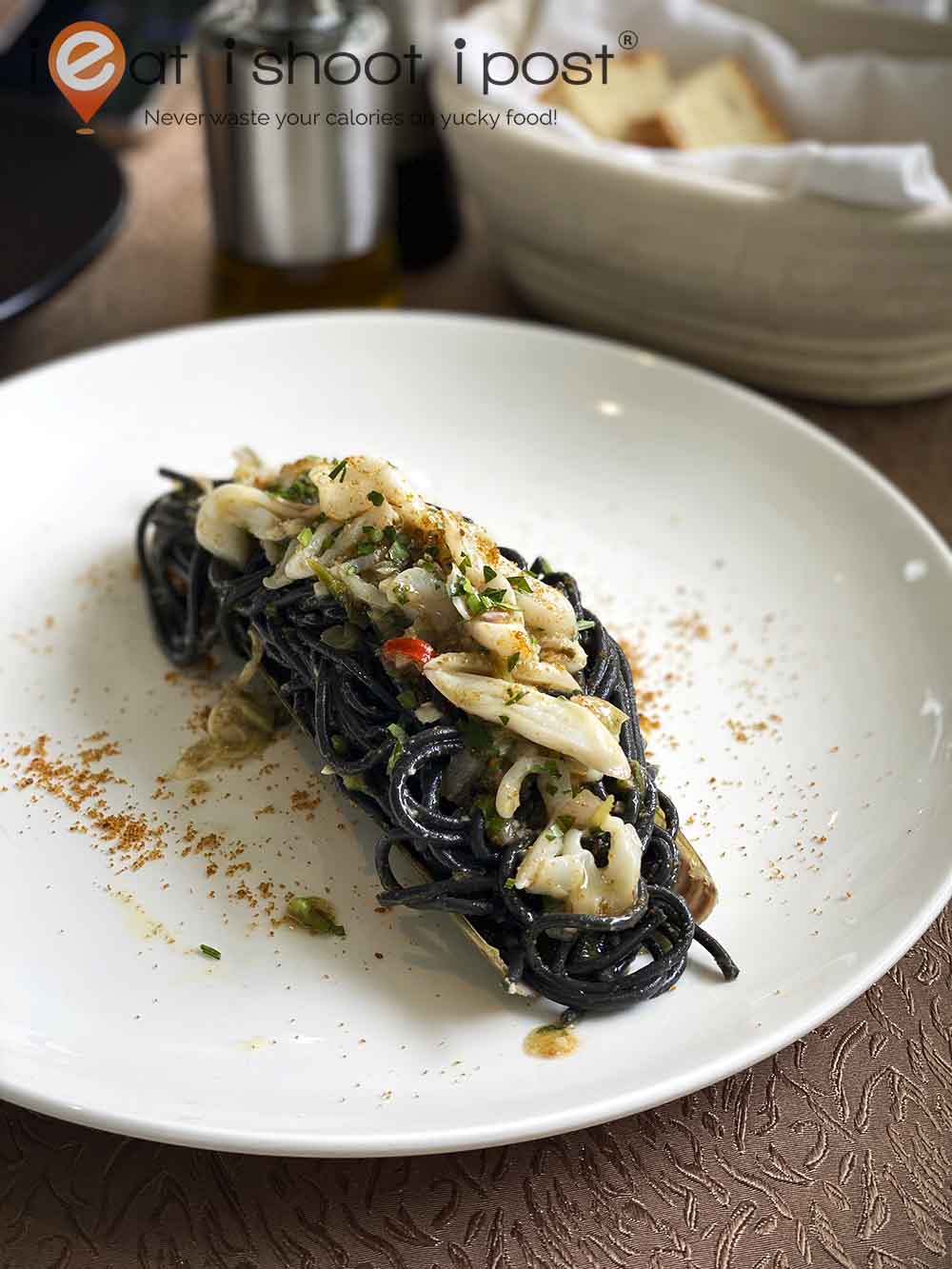 Scottish Bamboo Clam $36
This is the first time I have come across bamboo clams in an Italian pasta and I must say it actually works really well and the flute like clam shell makes a very nice base to carry the pasta. The squid ink pasta went very well with the succulent and sweet clams while the lemony sauce holds everything together. 4/5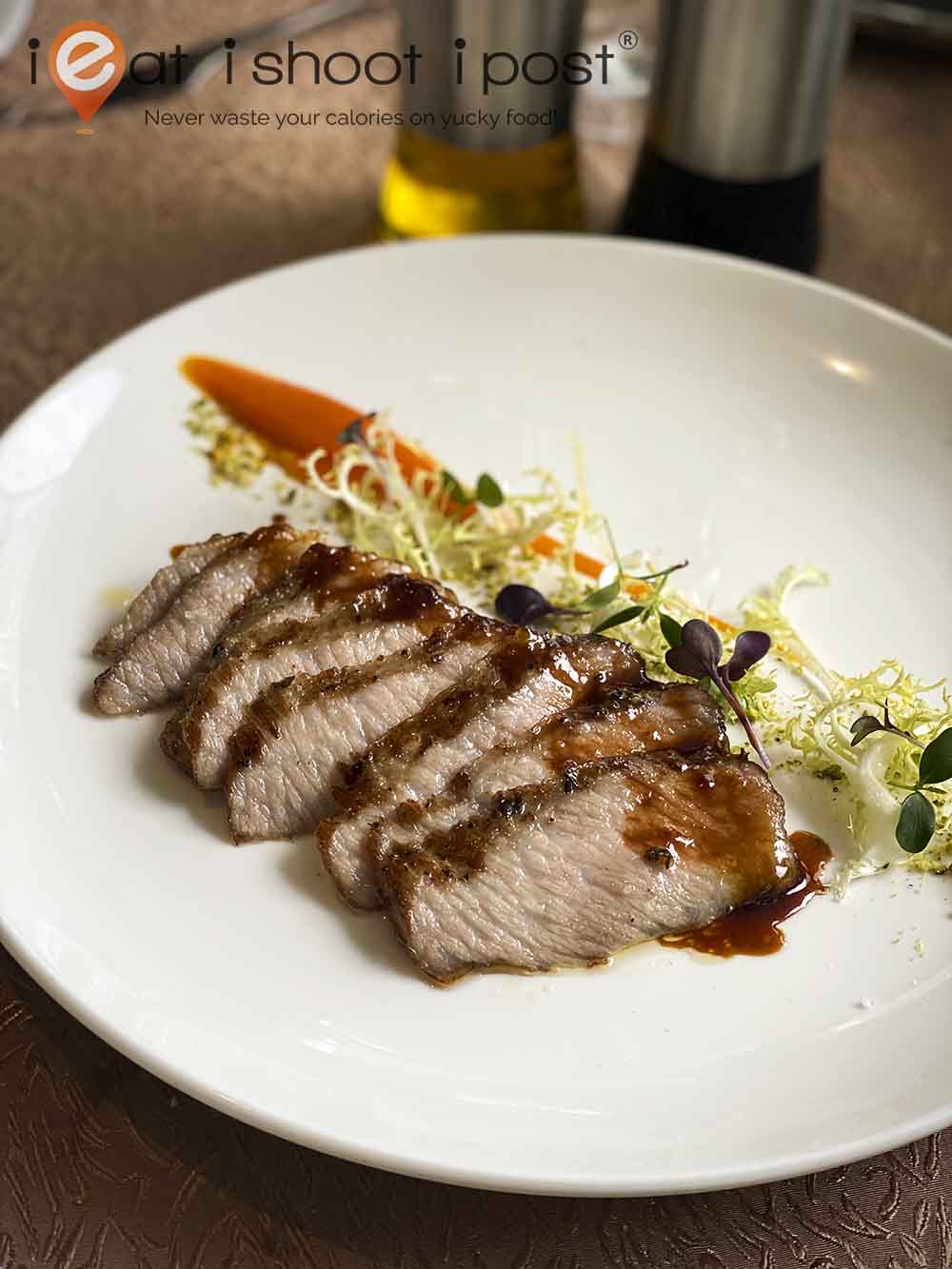 Iberico Pork Jowl $38
I loved the texture of the pork jowl. Chef marinates the Iberico pork jowl for 24 hrs before a 1 hour sous vide at 65°C. The jowl is then grilled to char the exterior before serving. As you can see, the texture is just perfect. The pork has a bouncy, satisfying chew, and bursts with juices with every bite. 4/5
Try If You Must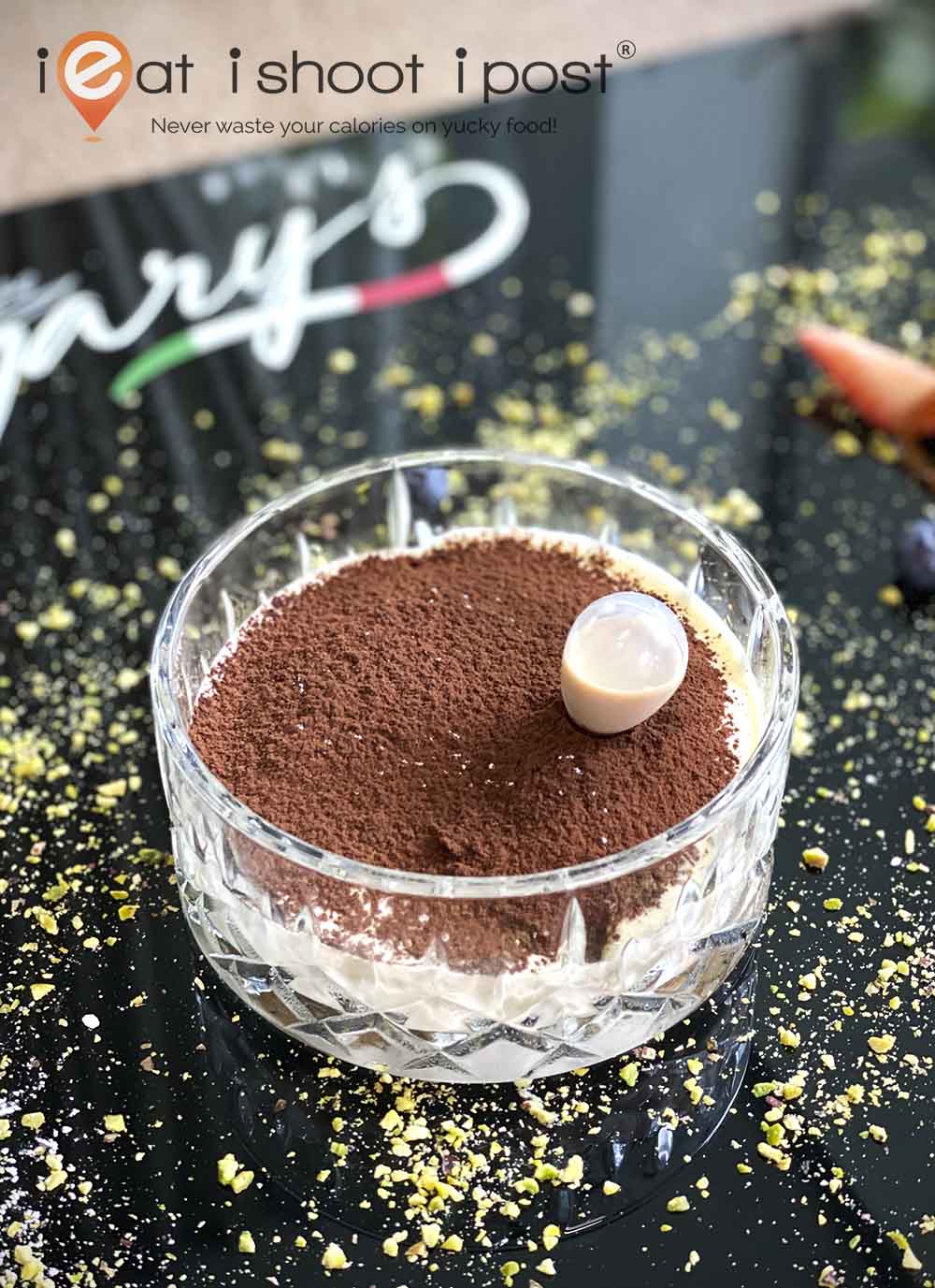 The desserts are not particularly strong at Gary's. They are competent and you can expect classics like Tiramisu, chocolate lava and apple tart. They do satisfy that need for a sweet end to the meal but they are not at the same level as the savoury dishes. 3.5/5
Lovely Location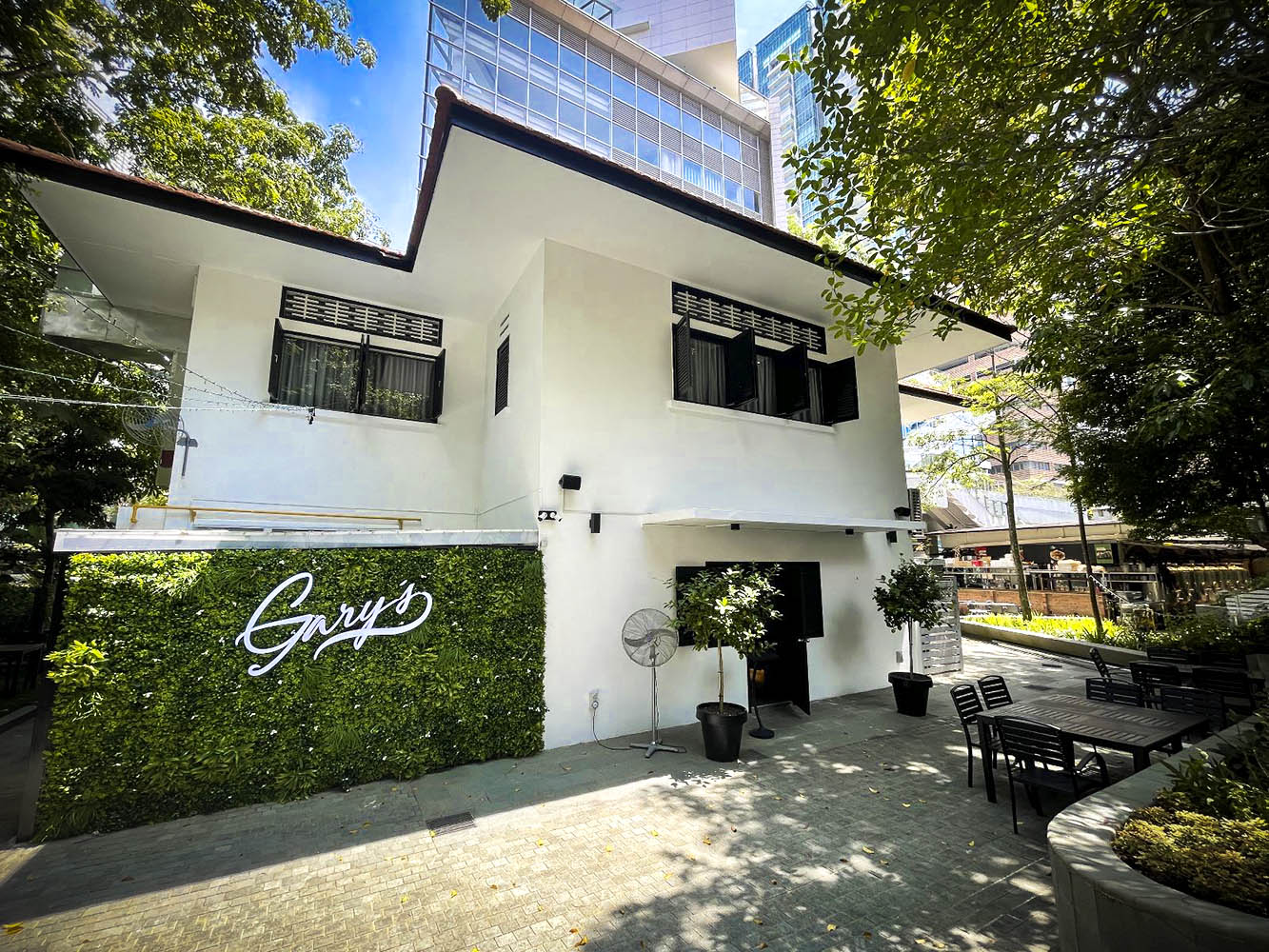 There is no question that Gary's location is one of it's plus points. The upstairs balcony area is especially private and good for a 2-4 person gathering. The outside is adorned with loads of fairy lights that will come on in the evenings, adding to the romantic and festive atmosphere.
If you are driving, suggest that you park at Rochester Residences or the nearby Star Vista mall.
Disclosure
This post was done in partnership with Gary's.