With liverpool, iwatch_ueat and introducing Leon our latest makankaki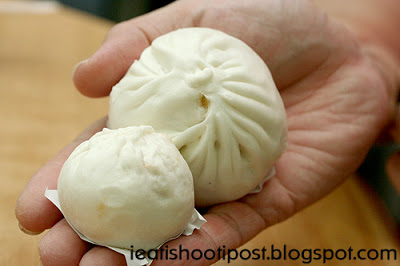 There is only one Pau in Singapore that has the audacity to call a small pau a Big Pau and charge you dollar for it. Yet there is a perpetual queue outside the stall around the clock. I have looked high and low for a cheaper alternative to this Pau but none have come close. It remains in a league of its own and as long as they remain there, suckers like me will continue to keep our mouths shut and obediently fork out our dollars for the tasty morsals.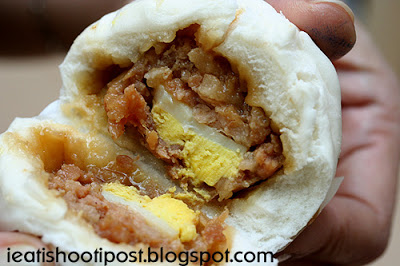 There is just something inexplicable about the taste of the pau. The combination of the soft sweet skin and the juicy savoury meat just makes the tastebuds resonate with excitement with each bite and since you can finish one in 2 mouthfuls, one pau is never enough. Its heads and shoulders above all the rest. 4.6/5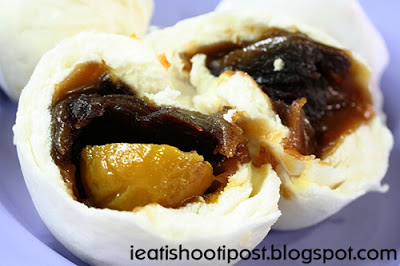 Many people also like the Char Siew Paus here. I guess you can really call the Big Pau Big when compared to the Char Siew Pau which is only about one third of the size. Each costs 50 cents and you can finish it in one mouthful. Those with really big mouths can probably down 2 at one go. Fortunately, there are bigger alternatives to the Char Siew Pau such that one does not have to submit to its tyranny. 4/5
They also have the Yuan Yang Pau here which contains lotus paste, red bean paste and salted egg. This particular one did not have a salted egg which is too good, but it might have been a one off. Quite nice but again alternatives can be found elsewhere. $1 4/5
Conclusion
What to do? Like a good Singaporean, I complain and complain but in the end still Kwai Kwai submit to the inevitable fate of paying premium for the Pau. Why can't someone else offer something just as good but double the size half the price?