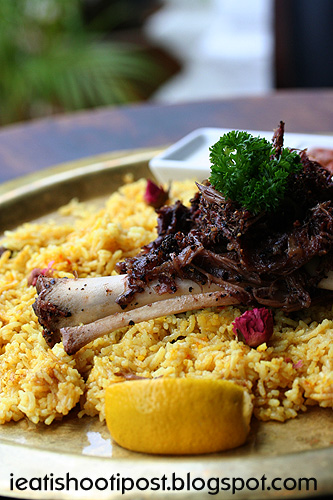 In my attempt to find the ultimate Briyani, I stumbled upon this Arabic restaurant where they serve a Yemenese Rice called Mandi. The waitress said that this was like the Arabic version of Briyani. I guess she meant that it was flavoured Basmati Rice. Mandi is supposed to be cooked in a tanoor (not to be confused with tandoor) which is essentially a hole in the ground lined by clay with firewood at the bottom. The rice and meat is then suspended over the embers in a net for hours to slow cook. I seriously doubt that they have a real tanoor in the restaurant but I could be wrong. Anyway at $24 dollars per serving, I really wanted to see if this "Briyani" can be that great!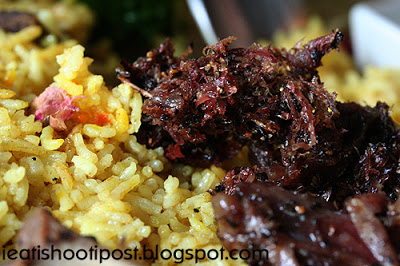 The Lamb Shank is roasted till it is crispy and all the fibres have separated off the sinews. It's almost like Jerky but not quite. I found the crispy lamb very tasty though I felt the rice was a bit too soft. The texture was not what I expect of perfectly steamed Basmati. Flavourwise, it had a floral fragrance as Rose Water was used in the cooking process. This being my first time eating this particular dish, I can't really tell you whether it is really good since I don't have any gold standard to compare it to. Perhaps our Arabic experts can enlighted us? 4/5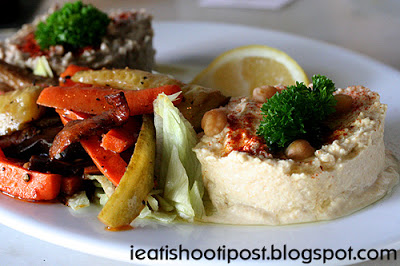 Bread and dip can be a very satisfying meal when done right. The Hommus here lacks the strong chickpea and tahini taste which I enjoyed. But it was still quite satisfying nonetheless, when eaten with the freshly baked bread. What was really good was the grilled vegetables. The carrots were wonderfully caramelised and sweet which complemented the savoury dips very well. 3.75/5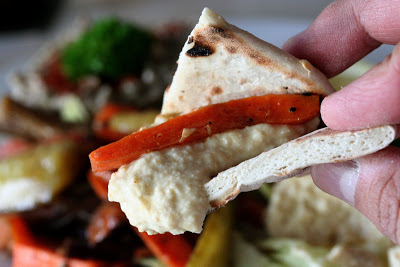 Conclusion
Something new for me. Quite enjoyable, though I think a $2.50 Briyanican buy me more satisfaction 10 times over. Of course this is a restaurant so the atmosphere is much better and we were getting a whole lamb shank rather then a few pieces of mutton.
7.5/10 (T3+V1.5+S2+E1)