I have been hankering for crab bee hoon ever since I saw Anthony Bourdain eating this dish at Sin Huat Seafood. However, the thing that kept me from fulfilling my hanker was the fact that I have been warned that a meal at Sin Huat could well work out to be more than a week's wages if one is not careful. Regular readers know that I always maintain that food that is great will never be better than food that is great and cheap. So rather than voluntarily putting my head on Sin Huat's chopping block, I have up till now adopted the "ignarance is bliss" posture to Crab Bee Hoon. That all changed when one reader wrote in to tell me that the is another restaurant closeby which sells the same style Crab Bee Hoon as Sin Huat! When I read it, I experienced a "Buay Tahan Liao" (Can't stand it anymore) plea from my tastebuds to make a trip down to eat it! Not many people would order Crab Bee Hoon at 11pm in the evening for supper. But that was how "Buay Tahan" I was. I found out that the crabs were going for $35 per kilo and the smallest one they had was 1.2kg. Tried to bargain with them but to no avail. I think the Lao Ban Niang there could see that I was really "Ngian" (Hardup) for the Crab Bee Hoon. You know, I seldom eat bee hoon. The only time I have it is when it is being served at a catered buffet or as mee siam. But I have to tell you that when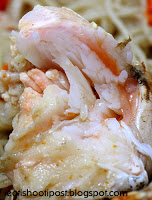 properly cooked, Bee Hoon is an excellent medium for absorbing all the flavours of the stock and ingredients! The Bee Hoon looked a bit dry at first, you have to really dig to the bottom get all that yummy gravy to mix it properly. Each mouthful of the savoury beehoon mixed with crab roe was absolutely heavenly! 4.5/5 The crab here is solid. The pincers were so full that I had a hard time separating the meat from the shell. Interestingly, the crab we had that day had a pink hue to it. The Aunty said it was because of all the roe, but I can't imagine how the roe could colour the flesh pink like the picture on the right. If you are a crab expert, please write in to let us know!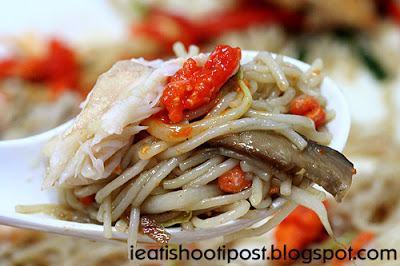 Conclusion
The crab bee hoon here was great and reasonably priced. My only problem now is that it has got me wondering if the Sin Huat version can be so much better that I would be willing to pay the cut throat prices for it. Tahan (control)……. must tahan…..