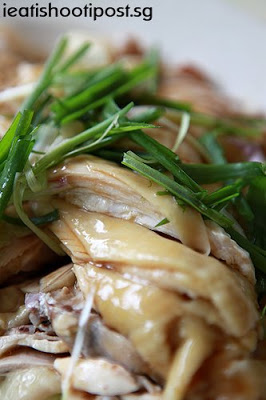 The competition for the best chicken rice in Singapore is a tough one. There are a lot of chicken rice out there and most of them are not bad. The thing with chicken rice is that it is very easily franchised because the rice, chicken, chilli and soup can all be made in a central kitchen and distributed to several branches. Very little of it is operator dependent. So, as long as you can find someone who can chop the chicken, you've set up another branch of your chicken rice chain.

It's getting more difficult to blog about chicken rice because I really need to find one that has that special something in order to justify it being included into the blog since there are so many good chicken rice out there.
I actually do have a stash of chicken rice photos that lie unpublished because they were good but I just did not have much to say about their chicken rice. So when I chanced upon Nan Xiang last week, I was actually quite excited that at last I have found another chicken rice which has a little something special.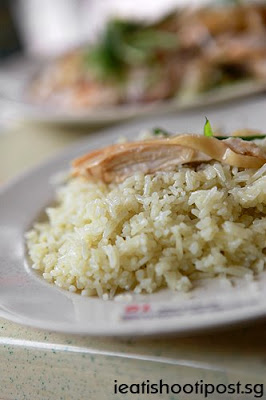 There are three things I would say about Nan Xiang. First, there are one of the very few stalls who claim that they still fry their rice before cooking. A lot of chicken rice stalls out there have stopped this practise because it is labour intensive especially if you have to cook bucket loads of rice. So when you eat the rice here, you can appreciate that extra fragrance and texture that sets it apart from the other stalls.
The second thing I would like to bring to your attention is that they have pasted on their display cabinet a newspaper cutting that proudly claim that their are one of the Top Five chicken rice in Singapore. I didn't take note of the details and who the other contenders were, but being able to be shortlisted as the Top Five is quite an achievement since I think that there are far more Chicken Rice stalls than any other types of food stalls in Singapore.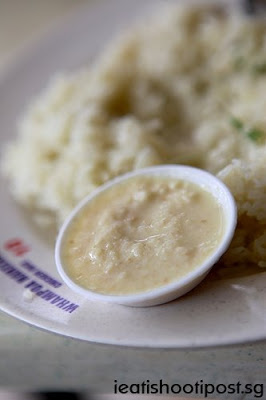 Now apart from the rice being very nice, I really like the ginger here. It is different from the ginger served at other places. The owner was mum about what goes into it, but it had a nice saltiness about it that went well with the chicken. If you are a lover of hot chilli, you would love their chilli sauce as well which is made from chilli padi and lime juice. That extra touch of lime juice rather than vinegar is also another indication that the owner is passionate about his food. The chicken is good, but much the same as any other good chicken rice stall around. Overall, this chicken rice gets a 4.5/5 because of the rice and condiments.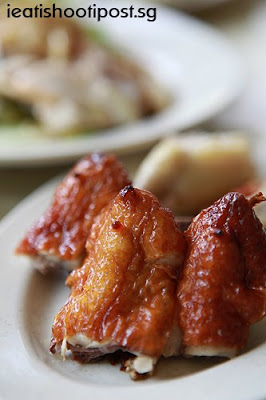 Since we were dining with our venerable Uncle Smart, we just had to request for the most prized part of the chicken for him. I actually wanted to try some but did not managed to get to them in time.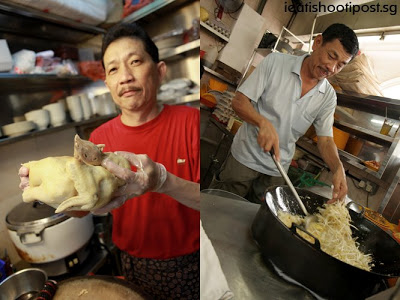 When I met the owner, I had a sense that I have met him before somewhere but I just could not put my finger on it. It was only when I started writing the blog that I realised that he looked a bit like our Hokkien Mee Uncle from Geylang Lor 29 Hokkien Mee! Have a look at the two gentleman and see if you agree with me.
Conclusion
Yes this chicken rice is special, but is it really Top Five? What would your Top Five be?