OK, the current score is Singapore 2, Penang 1. We are going to compare three more dishes in this post. The first one is the Char Siew and Sio Bak. When it comes to Char Siew, there is one undisputed champion of Char Siew and Sio Bak in Penang and that is the one at Sky restaurant. I was told by our resident food blogger, CK Lam that they start selling their Char Siew at around 11.30am and it gets sold out by around 2pm.

The thing about Malaysia is that the people aren't as health conscious as Singaporeans, so they don't bat an eye about eating strips of belly pork that has been BBQed to a crisp with lots of charred bits. If you are expecting juicy Char Siew then you will be dissappointed because eating the Char Siew here is like eating Bak Kwa. It's really very tasty but I think I still prefer a Char Siew which is juicy and tender on the inside. But if you are in Penang, this is definitely one of the stalls to visit. 4.25/5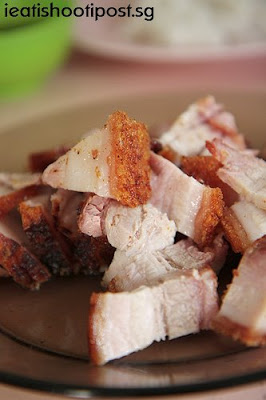 The Sio Bak on the other hand is very similar to Singapore and is very good. As good as my current favourite which is Fatty Cheong's at ABC brickworks. 4.5/5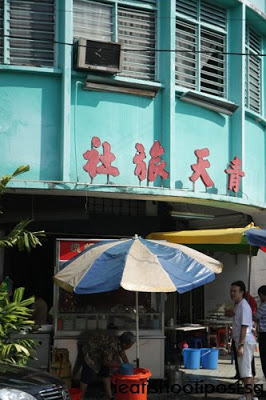 Sky Restaurant along Chulia Street
Ok, I think this one has got to be a draw, so it's Penang 2, Singapore 3.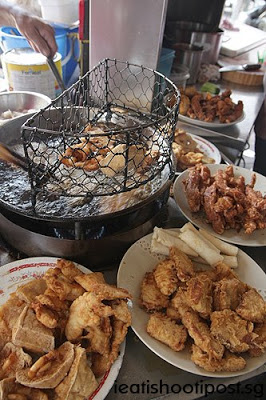 You know how they always have the Penang Hawkers fair at York Hotel every year where Hawkers from Penang and flown to Singapore to demonstrate their skills? Well, this particular hawker that operates this Lor Bak stall is one of those who make the pilgrimage every year. In case you don't know, Lor Bak is what the Penangites call our Ngoh Hiang and refers to a variety of deep fried items which are eaten with a chilli and sweet sauce dip.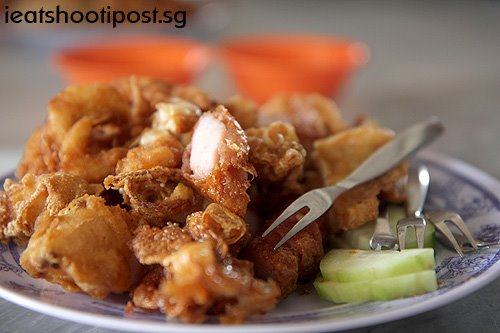 I don't think that the Penangites have commercialized their Lor Bak manufacturing just yet, so many of the the hawkers here still make their own items. I might be wrong since we only went to eat at the most famous stalls. Once again, all their items which feature their prawns are really good. Their prawns are really tasty and when fried together in a fritter, it just tastes like Keropok! 4.5/5
I think their Lor Bak wins our Ngor Hiang so its Penang 3, Singapore 3.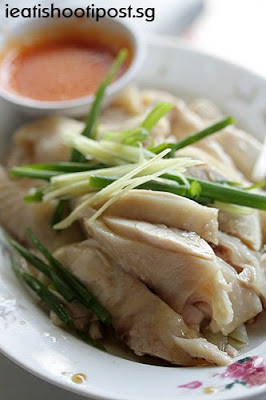 The last item on our list is the Chicken Rice. This Chicken Rice Stall just happens to be in the same coffeeshop as the Loh Bak stall, so it is one coffeeshop that you might like to visit in Penang. The Chicken Rice here is very well known around Penang.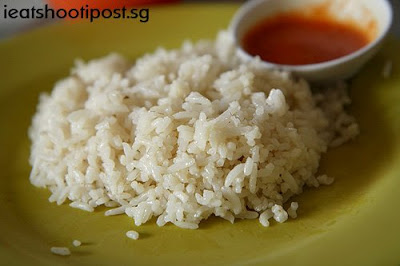 The Chicken here definitely beats the ones we have in Singapore. I think somehow they have better supply of free range chicken, so the chicken really has that extra chickeny flavour. However the rice here was rather dissappointing. I think Singaporeans are spoilt by having quality Jasmine Rice in most of our dishes. Over in Penang, they still use rice which is very light and lacks a good gummy bite. So overall, their Chicken is better than ours, but our rice is better than theirs. 4.25/5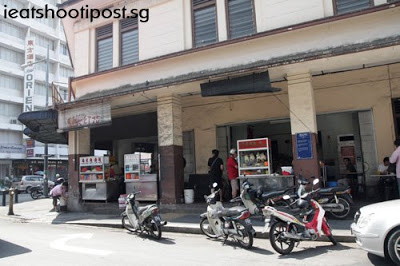 Penang Lorbak & Hainan Chicken Rice at Kheng Pin Coffee Shop along
Penang /Sri Bahari Road – near to Cititel Hotel
Conclusion
OK, so the final score is Penang 4, Singapore 4.
You might have guess that I purposely chose these stalls so that I can make it a draw between Penang and Singapore and you are absolutely right. I could have easily "Kelonged" it so that one side wins.
But the point I am making is this. Many people might say that Penang food beats Singapore's hands down, others might say that Penang food is overrated. Both are correct depending on what they managed to try. So the conclusion is this: Penang is a food paradize and so is Singapore. Isn't it wonderful that there is so much great stuff just waiting for you to try?