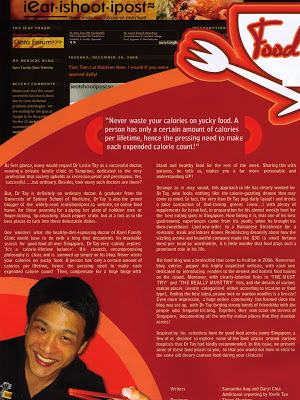 Pulse Magazine is the NUS Medical Society Publication ie the magazine for Med Students.
For those people who think that Doctors are all really health conscious and eat only salad and wholewheat organic stuff, then perhaps you don't know enough Doctors! Just last week I was having dinner with some colleagues from Malaysia and all we were talking about was the fantastic hawker food in Ipoh, KL and JB! The key, as always, is moderation or in other words "Never waste your calories on yucky food!"
Anyway, it is good to know that our new generation of Doctors are still very much into hawker food, so we might be nurturing the next generation of Food Blogger Doctors!
Reference:

Food Files, Pulse Mar 2009, Vol 1, Issue 6, Pg 24-29. NUS Medical Society Publication 2009