Address Updated 16 Nov 2020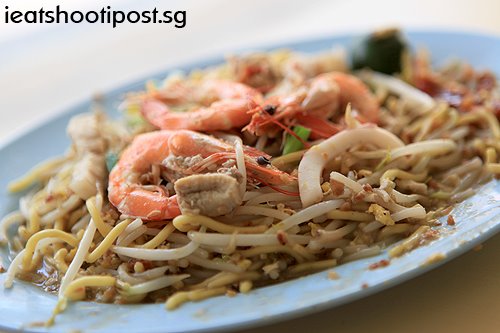 Hokkien Mee $3
Everyone loves an underdog right? One of our kakis, Champagne recently shared this video with me which was a real inspiration. In case you still have not heard about Susan Boyle, she is this 47 year old lady who managed to put a big smile on Simon Cowell's face. When she rocked up on stage, no one would ever imagine that this lady was going to bring the house down. Just watch this, it will really brighten up your day.

This relatively unknown Hokkien Mee in Redhill is just such an underdog. None of the usual accolades pasted on the front of the stall except one self proclaimed story of long snaking lines when the stall was still at Bedok Blk 85 more than 10 years ago. According to the owner, he moved to somewhere near Tampines Round Market where he used to only open for 1 and a half hours in the evening before he was sold out. How true this is, I do not know. Perhaps some of our readers might be able to shed some light on this stall?
Anyway the owner who is in his fifties now says that he had been frying Hokkien Mee since he was in his teens. He moved to Redhill after he took a break to have an operation and has been here for four months. Since no one talks about his stall in our forum or on the internet, we would have easily missed this stall except for the fact that Cactuskit had the sixth sense to give them a try.
We were unexpectedly surprised by how good this Hokkien Mee was. It is the thick bee hoon with gravy version but it is fried till the gravy is just nice and greyish brown. That grey brown colour might sound a bit dreary but for Hokkien Mee lovers, it is a sign of a tasty gravy. For $3 a plate it is probably the best tasting plate of Hokkien Mee at that price. 4.5/5
Conclusion
Always nice to be able to find a stall which not many people are talking about yet. Give it a try and see if you agree with us.

Update: 21 Mar 2012
They will move to 137 Tampines Street 11 #01-33 wef 1 Apr 2012
New Opening hours: 6am to 2pm, Closed Mon to Wed