With Smart, Sumosumo, Wahcow, Cactuskit, ijeff, chocolate and PK

If you enjoy Sotong with roe, you are going to like this post.
This is a stall that is frequented by Cactuskit and it has a perpetual queue outside the stall from the time they start selling. Now, I am not a big fan of Sotong, much less Sotong with roe. But our kakis that day, especially Sumosumo and Smart were all going on about this Sotong that I had to go buy a plate of rice just to be able to take a photo and find out what the fuss was all about.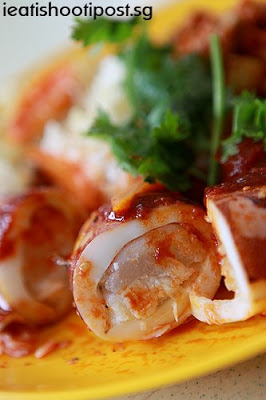 I guess it is not easy to find a place that almost guarantees that you will get a Sotong that is full of roe. I found it amazing that the three or four servings that we ordered were all full of roe, much to the delight of our kakis. To me it was a 4.25/5, sumosumo gave it a 4.5/5 and Smart a 4.75/5. So I guess this is one dish that depends on whether you really like Sotong roe.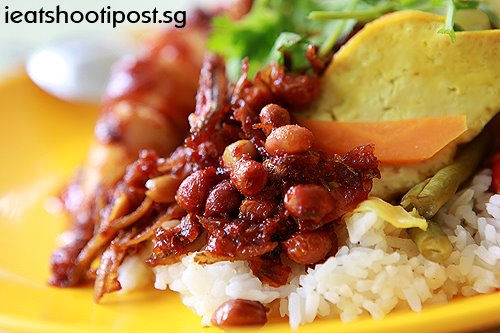 What I really did enjoy was the pennuts with ikan bilis which was excellent here, as was the bergedil. The Sayoh Lodeh was quite average. Cactuskit was also raving about the Assam Fish here.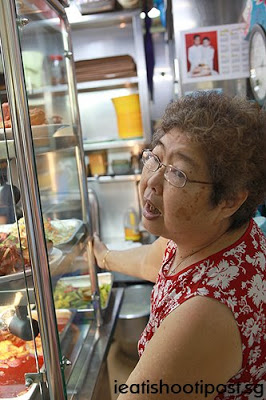 Be nice to this lady or you might not get your Sotong with Roe!
Now the Malay lady behind the counter is perpetually stressed and sweating away but she's actually quite personable when you talk to her. However, in order to get to her, you will have to get past the Food Nazi who stands guard at the door taking orders. I won't say that she is particularly nasty, but just very pragmatic and bent on taking your orders without wanting to engage in small talk. If you don't believe me, just try asking her with a big grin on your face whether she can make sure that your sotong will be full of roe! 😉
Conclusion
As I alluded to in my opening sentence, if you like Sotong with Roe, you will definitely want to make a beeline to this stall, but just make sure you behave yourself when you are making your orders! You have been warned.
Note: I use the term "Food Nazi" in a very tongue in cheek manner. Food Nazis are not really that nasty, they are really people with a heart of gold but just lack the ability to express it. To read about other the Hawker Food Nazis please click here