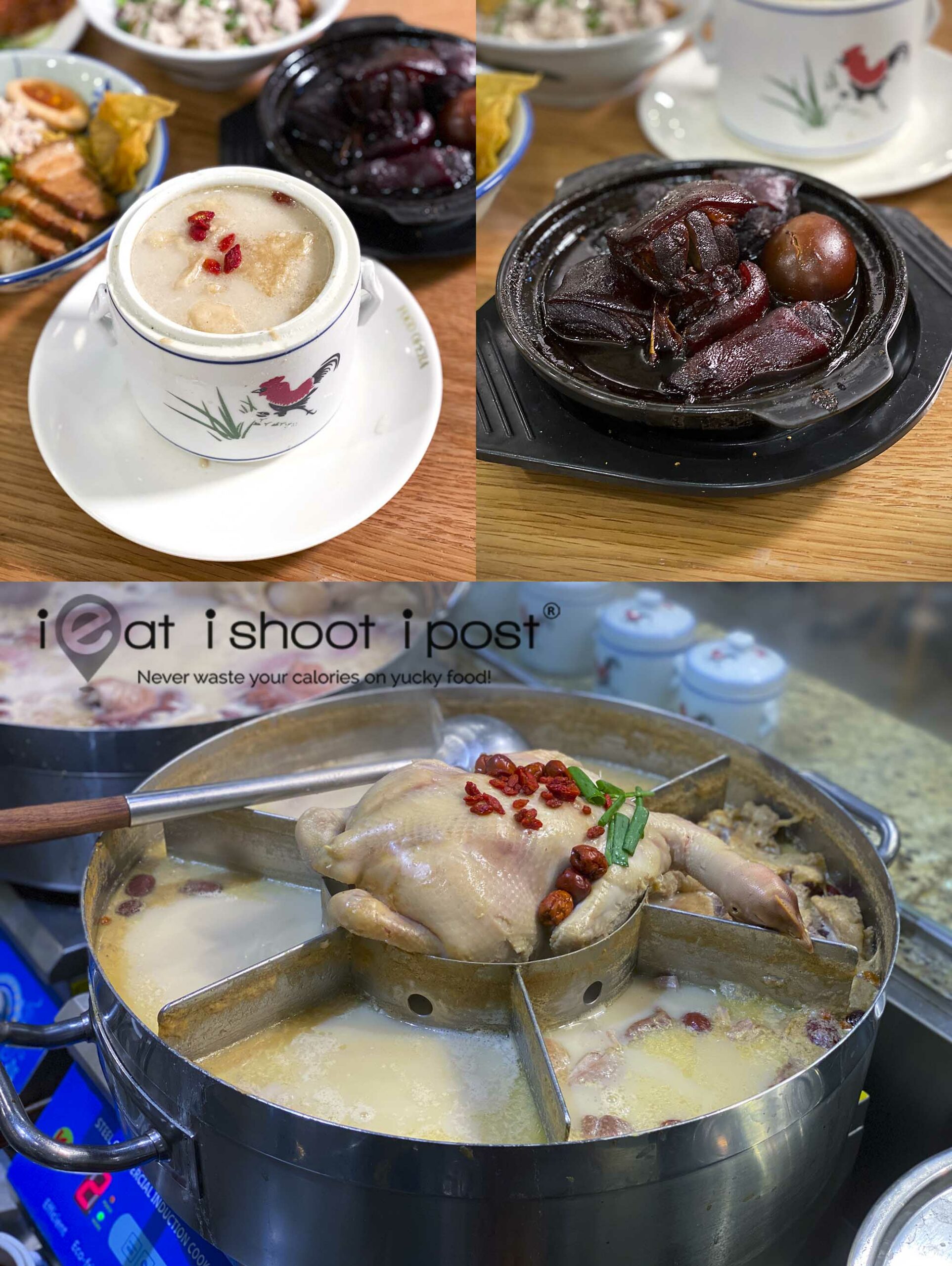 Mention "Food Republic" and most people would probably think about stalwarts like Sergeant Hainanese Chicken Rice or Li Xin Teochew Fishball Noodles. However, as I embarked on this Food Republic Food Trail with Lisa as part of their celebrations for winning "Brand of the Year" in the 2020-2021 World Branding Awards, I begin to realize that there are some hidden gems waiting to be discovered!
I have never been one to eat at food courts, as I share the popular perception that food courts mostly offer mass-produced run-of-the-mill foods. So, when Food Republic approached us to embark on a Food Trail to showcase some of their newer stalls, I was naturally quite skeptical. But, as you can see from the video, not only did we manage to uncover some dishes which are well worth your calories, but we also learnt about what Food Republic is doing to preserve some of our Heritage Brands!
In celebration of their win, Food Republic and Food Opera are giving away some specials at each of the stalls featured here until 31 Mar. All you need to do is to show the video or this blog post! (Available for first 50 redemption only!)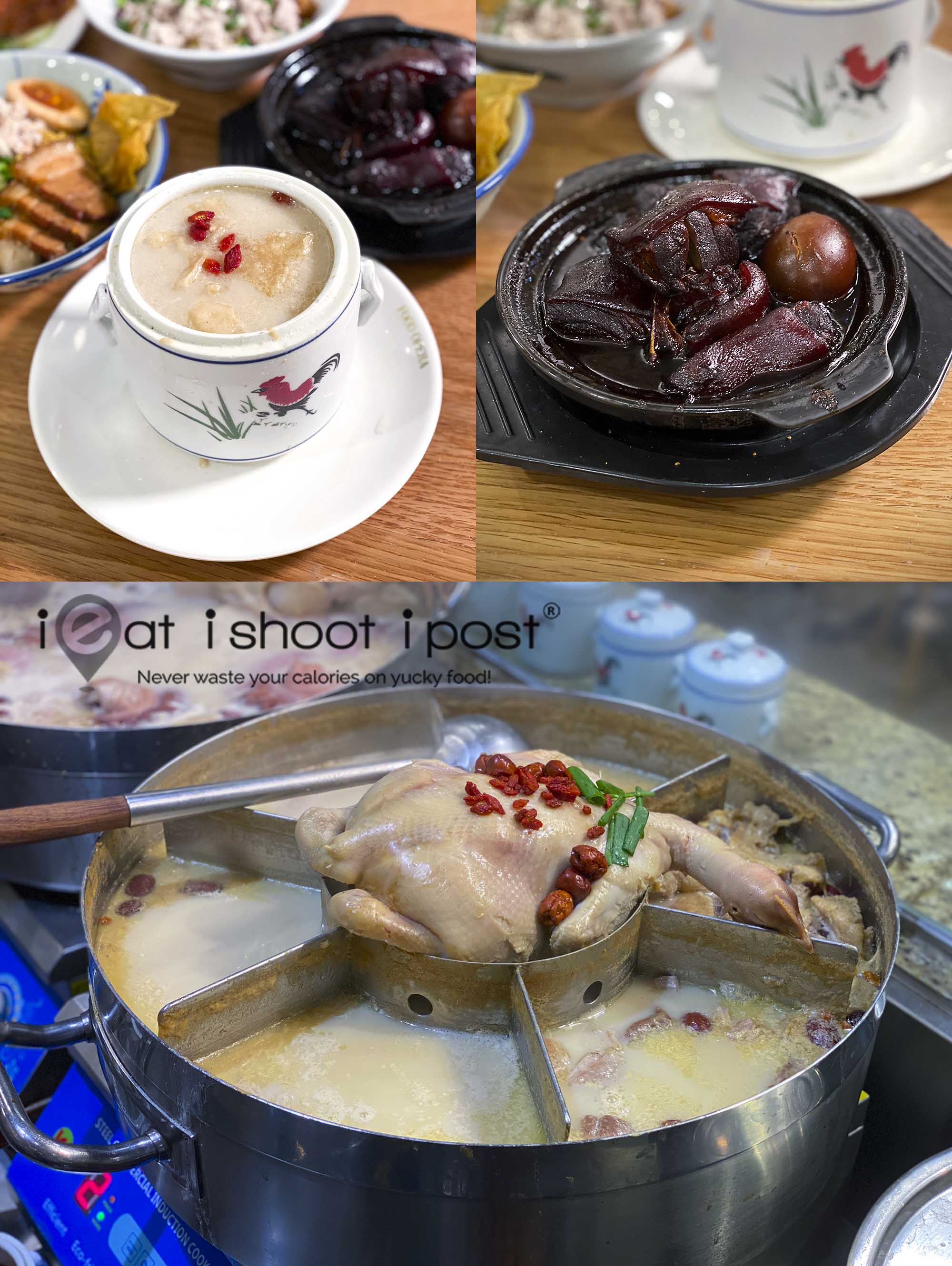 1. Chef Sham Fish Maw Pig Stomach Chicken (Food Opera Ion Orchard)
One outstanding new stall is Chef Sham's fish maw pig stomach chicken ($8.80) (FMPSC). It's owner, Chef Sham has been running the stall at Chinatown Complex for the past 7 years before branching out to his first stall at Food Opera. Chef came to Singapore in 1992 where he ran a Chinese Restaurant for 20 years before he closed it. After that he started Lao Huo Tang which he eventually sold. This FMPSC soup is his latest creation which he hopes will also get as popular as Lao Huo Tang!
The soup is made by boiling old mother hen and shark bones for a whole day in order to produce a very creamy, silky soup that slides easily down the throat. It's full of collageny goodness and is the perfect soup for ladies (and gentlemen) who wish to maintain their smooth complexion!
The pig trotter vinegar ($8). was good but not the best we have come across. The sauce has that vinegary punch but just wasn't balanced such that it had that "can't stop eating " quality about it! Having said that, it is not easy to find this dish in a food court setting, so in case you are looking for it for someone who has just given birth, then you know where you can buy it!
Lisa Adds:
Although I am not a fan of offal, I actually found the Fish Maw Pig Stomach Chicken Soup very good! I must admit that the sour notes of the pork trotter vinegar dish still gets me and I continue to be baffled by people who love pork trotter vinegar in general. Nonetheless, I must say that there is enough sweetness in the sauce to balance out so the vinegar is not too over-powering.
Flash this post and Redeem
1-for-1 Fish Maw Pig Stomach Chicken soup! ($8.80) Available for first 50 redemptions only!
*offer is different from the video but is of similar value to the vinegar pork trotters.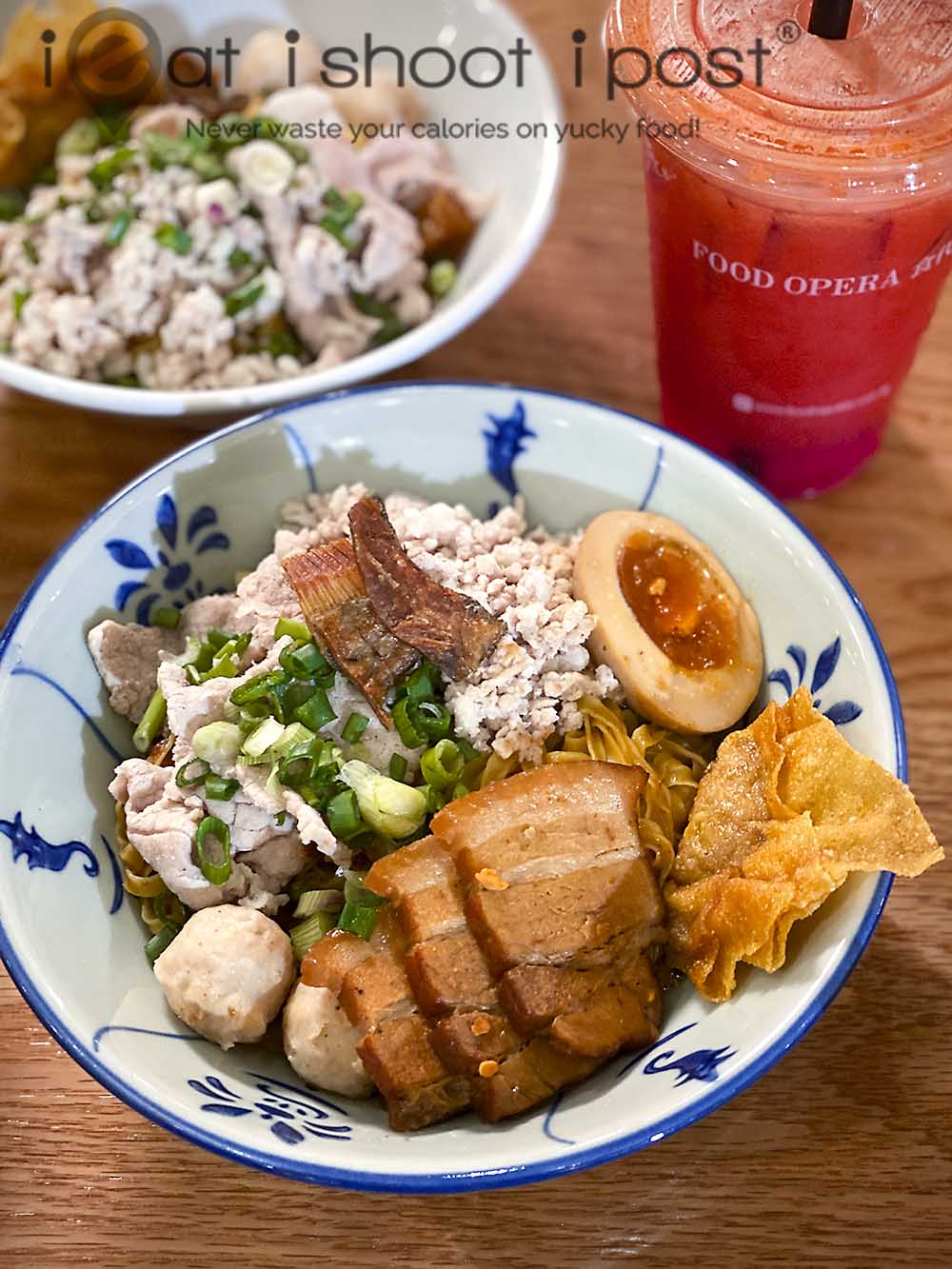 2. Capitol Bak Chor Mee (Food Opera Ion Orchard)
I must admit that I was really skeptical that a stall that is run by Food Republic themselves can be all that good. But I was soundly proven wrong by Capitol Bak Chor Mee. ($5.80) The fact that this BCM is a special project of the GM of Food Republic no doubt played a big role in its quality. He would make a trip to this particular stall every week to ensure that the noodles are cooked to his particular liking!
The noodles are nice and QQ and the sauce has just the right balance of savoury, salty, spicy, tang which makes the noodles a joy to eat. The minced pork and other condiments are also very good. It may not be the absolute best around, but it can certainly stand its ground amongst some of the best bak chor mees in Singapore. The premier version has got extra braised pork and ramen egg which I though was not really necessary. I was quite happy with the standard bowl already. The giao could perhaps be more tasty.
Flash this post and Redeem
Capitol BCM is having a giveaway of 1 free regular-sized original minced pork noodle ($5.80) by simply flashing this post or the video at the stall (@Food Opera ION Orchard)! Limited to first only 50 redemptions!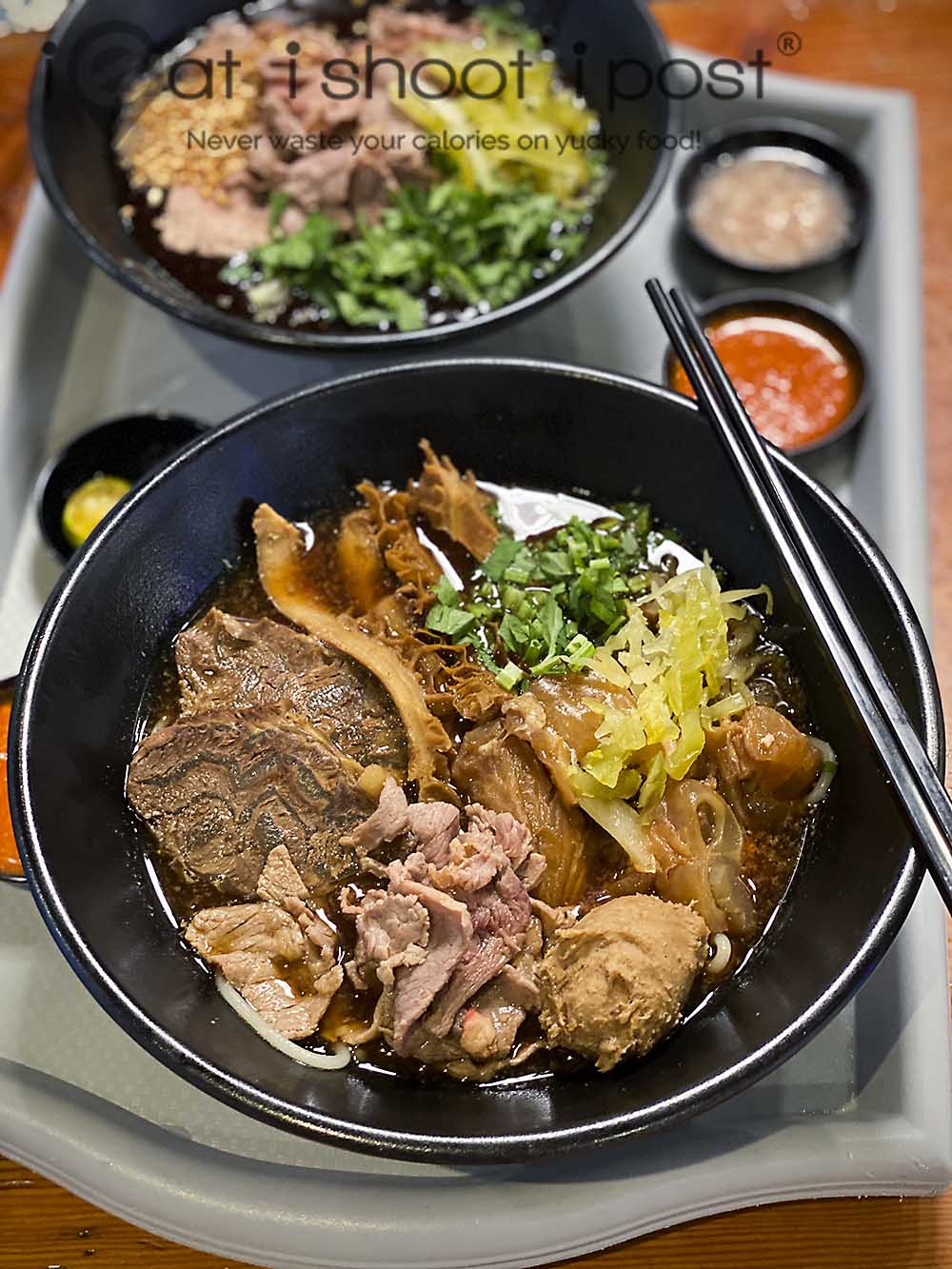 3. Blanco Court Beef Noodles (Food Republic Parkway Parade)
This stall is run by a second-generation hawker, hoping to preserve his Gu Ma's (Aunt) recipe, which has been improved over the last 30 years! It is heartwarming to see a next gen hawker working hard to carry on his family legacy.
The Beef Noodles (small size: $7.90) are very good. One thing good about being in a food court is that people are more willing to pay slightly higher prices which makes it easier for hawkers to continue to use good quality ingredients. Beef, as you are aware is one of the more expensive meats and it is not possible to sell a bowl of beef noodles at $4 and still use quality stuff. Their superior beef noodles ($10.90) is chock full of ingredients and still costs less than a typical bowl of ramen which I feel is quite reasonable.
Lisa Adds
This dish has a flavour that will make you go "就是这个味道"! The soup here is addictive and I could not stop stuffing myself with it! I really like the beef balls (made by machine or not) for their bounciness and flavour. I'm sure my mom who is Hainanese will approve of this dish!
Flash this post and Redeem
A free upgrade to small Superior Beef Noodles ($10.90) with the purchase of 1 small beef noodles ($7.90) (sliced / ball). Limited to first only 50 redemptions!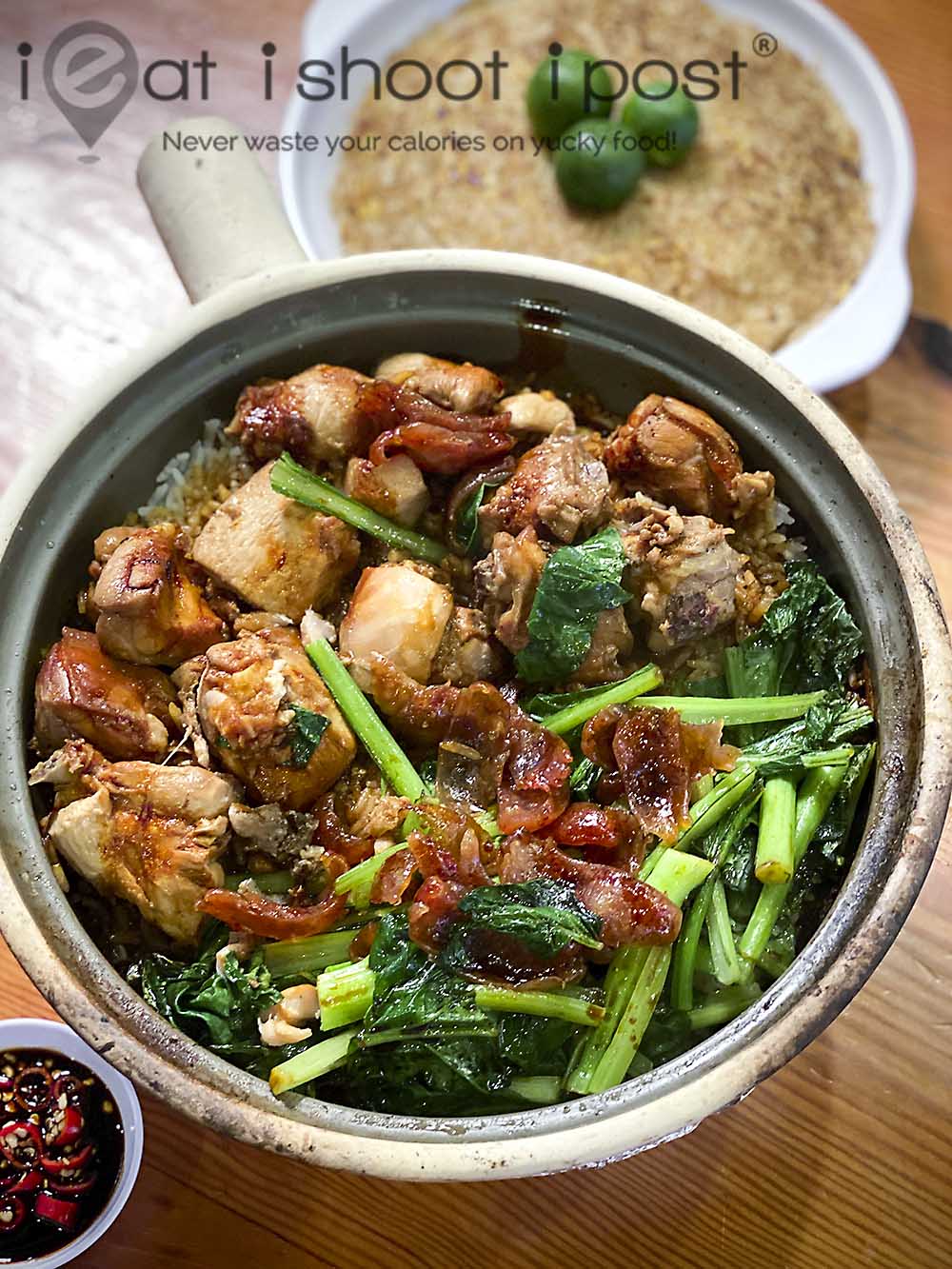 4. Sembawang Claypot Rice (@Food Republic Parkway Parade)
This stall was one of the winners of the 2018 Food Masters Competition so I had high hopes when I saw this on the list. The owner actually started making his own Claypot Rice (large size: 19.80) at home and invited all his friends over to get a taste. Some of them liked it so much but were too paiseh to ask for it again. So, the owner decided to open his restaurant so that his paiseh friends can enjoy their Claypot Rice any time!
The rice had a very nice crust which is the main reason for cooking rice in a claypot. It is good to know that they endeavour to cook the most authentic claypot rice here which means that you really do need to wait at least 20mins for your claypot to arrive. They cook both the chicken and rice from raw ingredients instead of precooking them to cut down on waiting time. Fresh chicken is used and they use premium salted fish and chinese sausage.
The san lou bee hoon ($6.80) was unexpectedly good! It didn't look like much but the bee-hoon was nicely charred on the outside while the inside was soft and chewy and very flavourful having absorbed all the lovely stock.
Lisa Adds:
I simply love the charred rice bits in the claypot and thought the balance of Chinese wine, salted fish, lup cheong and all the other ingredients came together very well.
Flash this post and Redeem
A Free small JB San Lou Bee Hoon ($6.80) with purchase of 1 small traditional Claypot rice. ($7.80) Limited to first 50 redemptions only!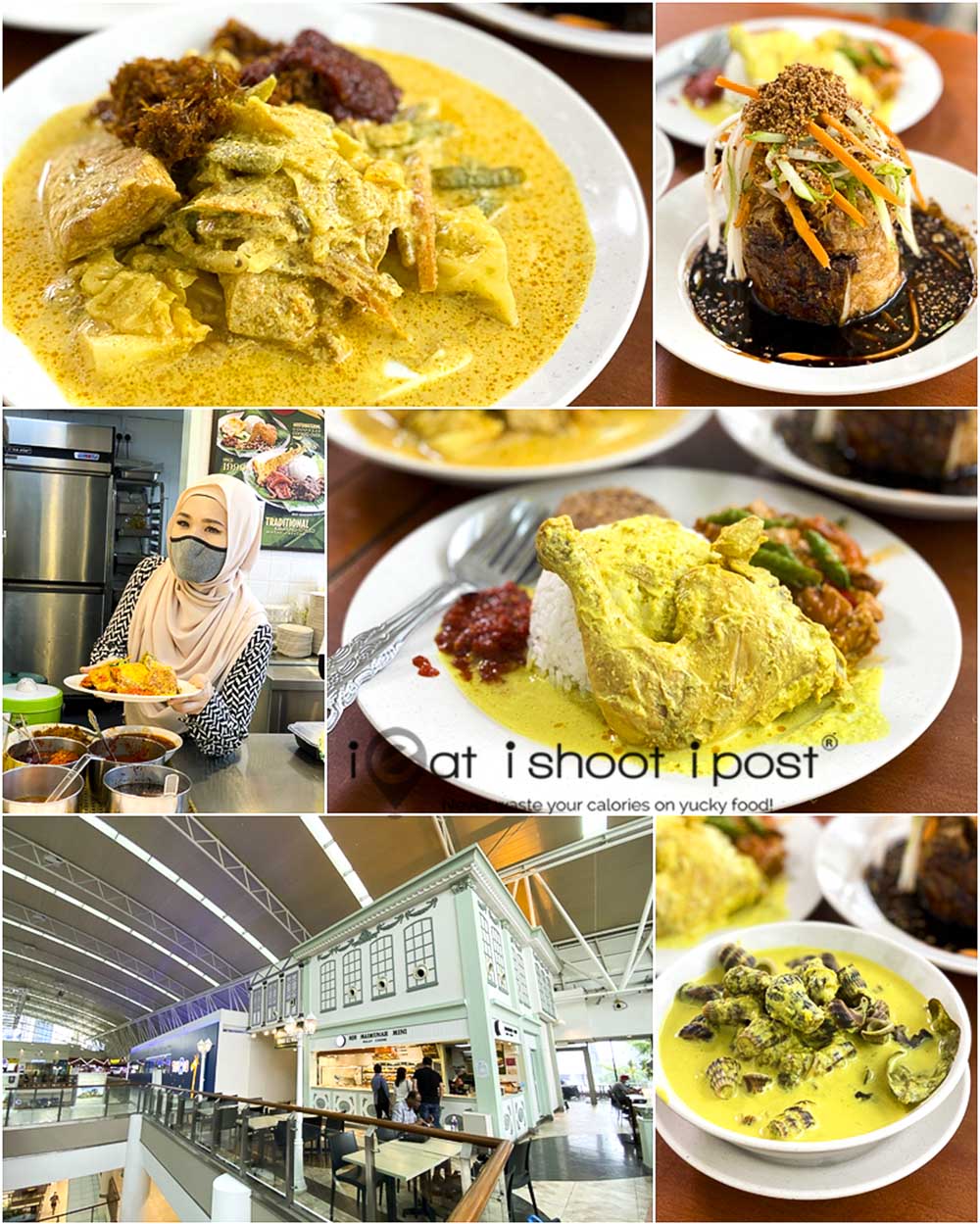 5. Hjh Maimunah Mini (Food Republic City Square Mall)
Our last stop was at Food Republic City Square Mall, where they featured a Peranakan Shophouse theme. It also had the distinction of having a very high roof which gave it a very expansive feel unlike the previous two basement level food courts.
Hjh Maimunah was awarded the Michelin Bib Gourmand in 2016 and 2019, an accolade that is well deserved! I have blogged about them before and I am very familiar with the quality of their dishes. It is good that they are now available at Food Republic!
The Tahu Telur Jakarta ($7) had a crispy exterior and a soft, creamy interior and the contrast of the crispy egg floss with the piquant sweet sauce is what makes it so special. This is one of the best dishes to order to complement the other spicy dishes! All their other dishes like the Beef Rendang ($4) and Ayam lemak ($3.50) were all as good as can be expected.
If you are after a one dish meal, you might want to go for the lontong . The gravy was rice and flavourful and the generous topping of serunding made the dish irresistible.
Lisa Adds:
These snails (Siput Sedut) were quite slimy, and your saliva will get caught on them! Best not to eat these when you're trying to impress your boss on the business table! Nonetheless, the flavour is great and they are quite crunchy. Despite having eaten the whole day for filming, I couldn't help eating all their wonderful dishes! The only regret I have is not being able to try their Kuehs as they were all sold out when we arrived!
Flash this post and Redeem
A FREE chicken set when you buy one. Limited to first 50 redemptions only!
Conclusion:
We certainly managed to find some special stalls on our food trail which goes to debunk the common misconception that food courts mostly serve souless food coming out of central kitchens . Like it or not, food courts have a big role to play in preserving our hawker heritage and I am glad that Food Republic is working with some of these 2nd and 3rd generation hawkers to do just that.
Once again, congratulations to Food Republic for winning the "Brand of the Year" title at the 2020-2021 World Branding Awards and don't forget to flash this blog post to enjoy the special giveaways!
Address and Operating Hours
#B4-03/04 ION Orchard,
2 Orchard Turn, Singapore 238801
Operating Hours
: 10am to 10pm (Daily)
#B1-85 to 87 and #B1-112 to 146, Parkway Parade
80 Marine Parade Road, Singapore 449269
Operating Hours:
10am to 10pm (Daily)
*Selected stalls open at 8.30am
#04-31, City Square Mall
180 Kitchener Road, Singapore 208539
Operating Hours:
10 am to 10 pm (Daily)