A Bib Gourmand Eatery 2019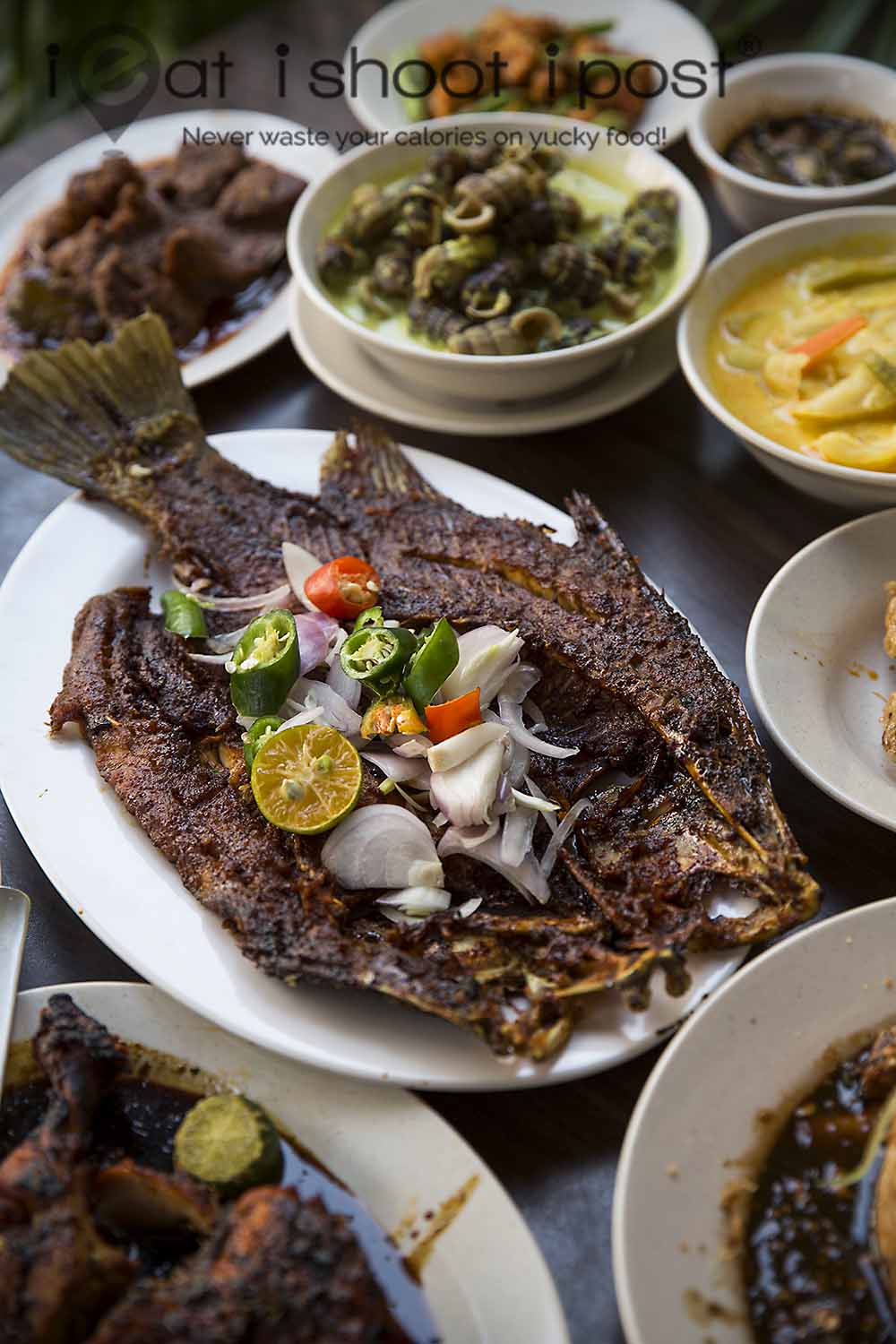 I just realized that I hardly know anything about Malay food.  Sure, I am familiar with nasi lemak and there are several dishes at the nasi padang stall which I order regularly, but my knowledge of the history of our local Malay food is barely at the pre-school level.  I met some Malay friends recently and had a very interesting conversation with them which sparked a new found interest in Malay cuisine.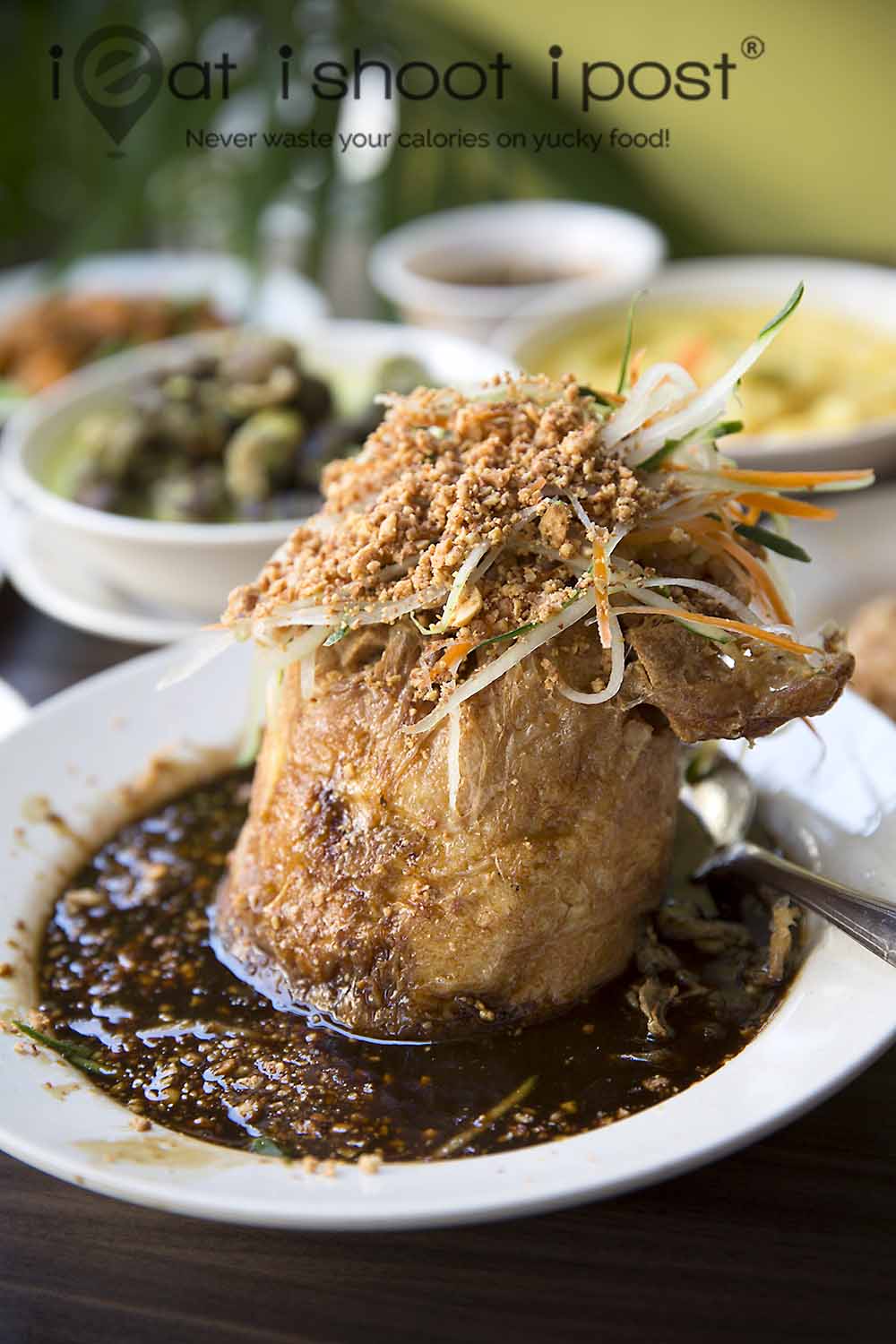 For example, the people I spoke to felt that the Malay food here in Singapore is actually better than those in Malaysia, Brunei or Indonesia!  It's no wonder then, that places like Hjh Maimunah would occasionally be booked out by the Sultan of Brunei who would come to Singapore in order to dine eat there!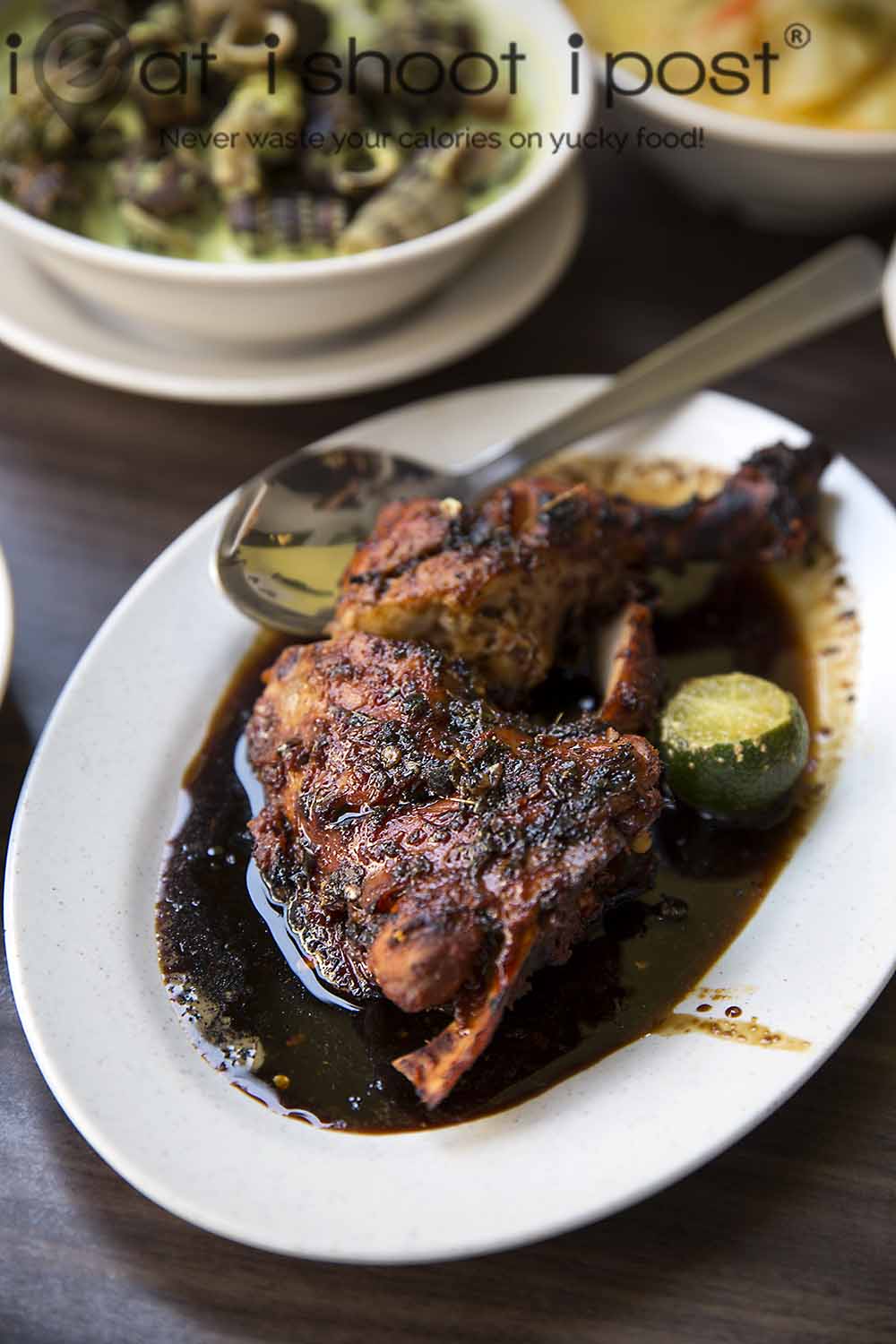 I am told the reason behind it is largely due to economics.  Singaporeans have greater buying power and so the quality of the produce used is better.  If you have ever eaten nasi lemak or nasi padang in Malaysia, you would realize that the rice is very different from what we enjoy here. Same goes with the beef and mutton that is used for cooking the dishes.  What we do lack here in Singapore is access to quality herbs and spices like shallots, garlic, coriander, cumin etc which is widely available in Indonesia and Malaysia.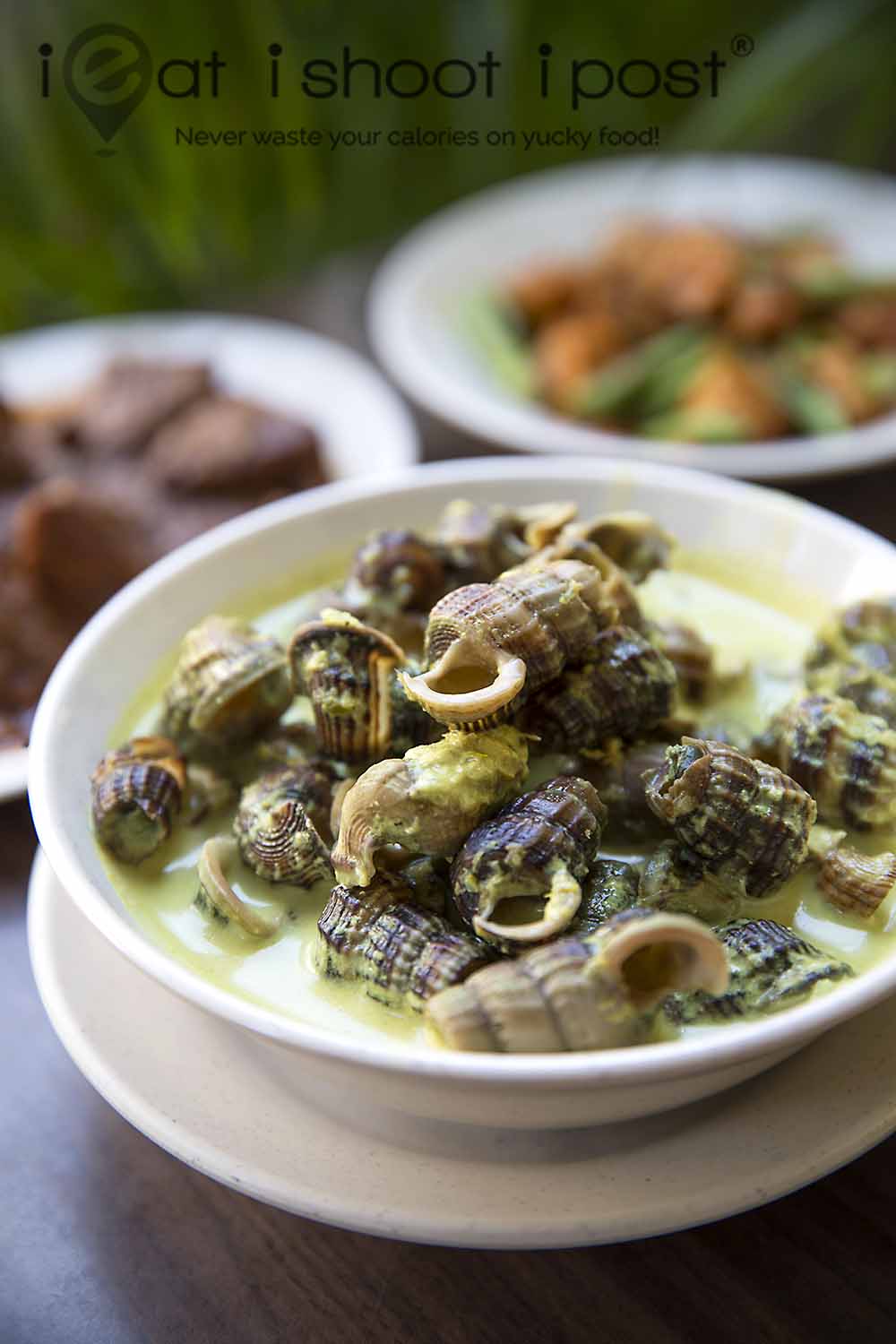 It's good to be able to dine with new friends as you would get to taste dishes which you wouldn't otherwise have ordered!  One of the dishes I got to sample was the siput sedut lemak.  This is one of Hjh Maimunah's signature dishes which most of their regulars will always order.
This particular shellfish is known as the horn shell (cerithidea obtusa) and it is a type of sea snail.  Yes, a snail or as the French would call it, an escargot.  To prepare it, the tip has to be chopped off first and then it is cooked in a rich coconut gravy scented with chilli padi and lemongrass.
To eat it, you suck the mollusk out from the larger opening. Just be careful that it has a sharp claw at one end which needs to be spit out!  It's my first time eating it and I must admit that it takes a little getting used to.  The texture is quite slimy but it does go well with the coconut gravy!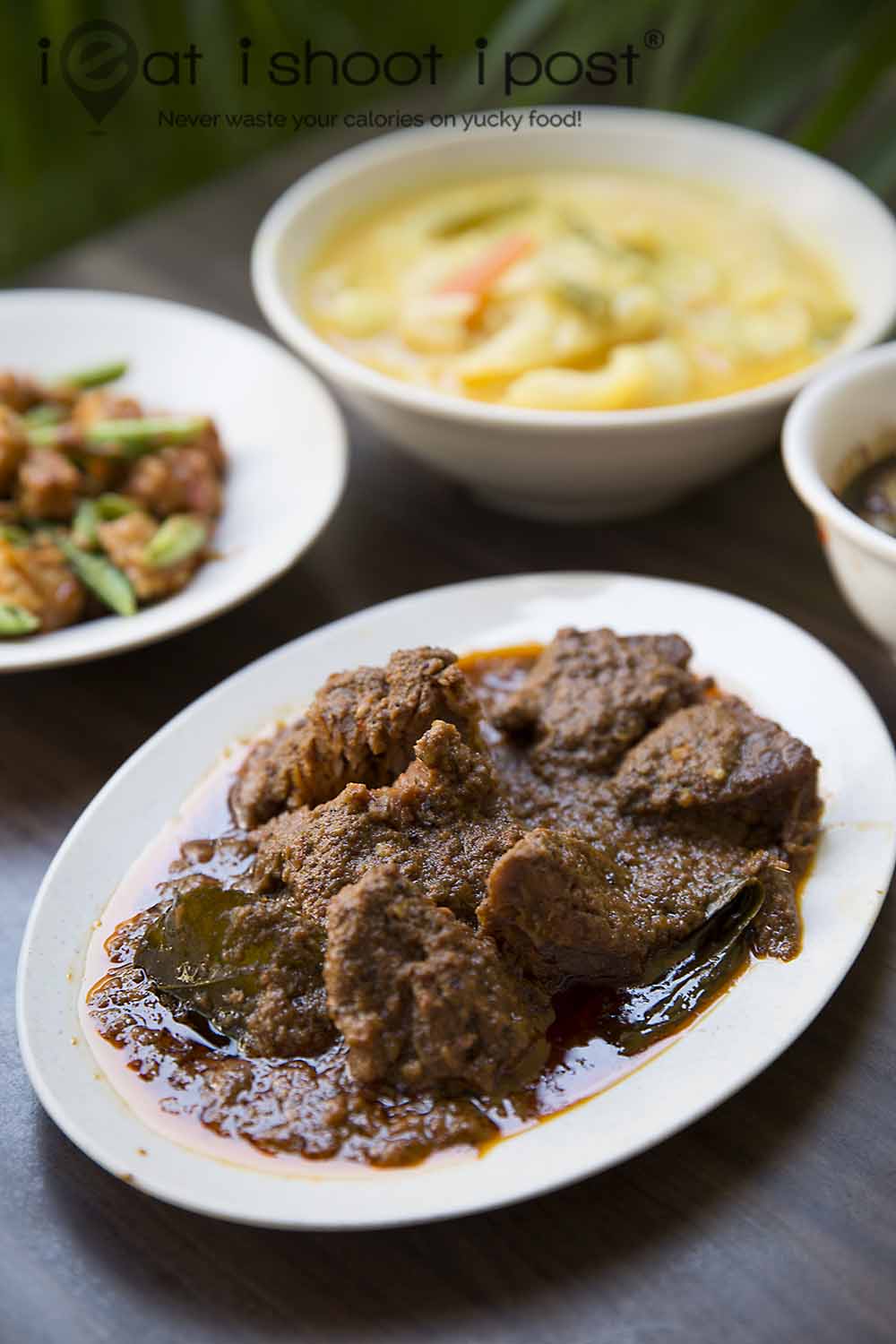 The stand out dish for me was the tauhu telor.  This is another one of their very popular signature dishes.  It is just about the best tauhu telor I have ever come across.  The eggy tauhu is fried to perfection and the sweet rojak sauce has just the right balance.  It's a good side dish as it provides a bit of sweetness to balance out the other rich and spicy dishes. 4.5/5
I also enjoyed their beef rendang which was delicious.  The meat was cooked till the fibers came apart and the gravy was not overly spicy which may disappoint those who are used to really spicy food, but for me, it was just right. 4.25/5
They use Asian seabass for their ikan bakar which is quite unusual as traditionally, ikan selar is used.  The grilled dishes are good but it would be even better if you get there earlier when they are freshly grilled as they do get a tad dry once they are left in the display case for a while. 4/5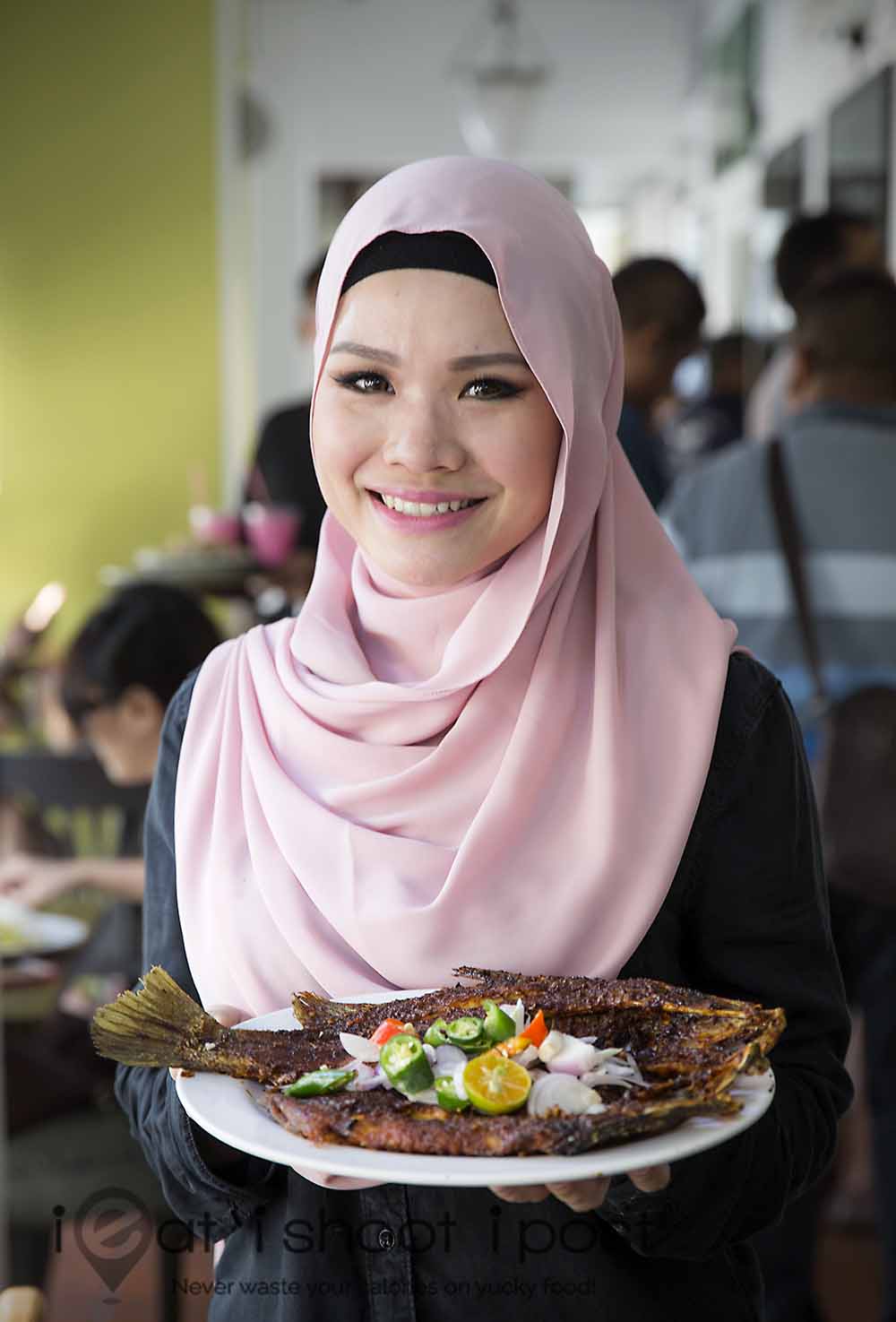 It was good to be able to meet up with Maria Didih Ibrahim, the 3rd generation lady boss who joined the business right after her studies.  Her grandma, Hjh Maimunah started the restaurant in the 90's and she literally grew up with the restaurant. She told me that taking over the family business was the natural thing for her as she simply loves food!
Conclusion
If you are still ordering the same dishes every time you eat Nasi Padang, then try going with some friends and allow them to order!  You just might end up finding new favourites!  But the one thing you must order at Hjh Maimunah, no matter what, is the tauhu telor!