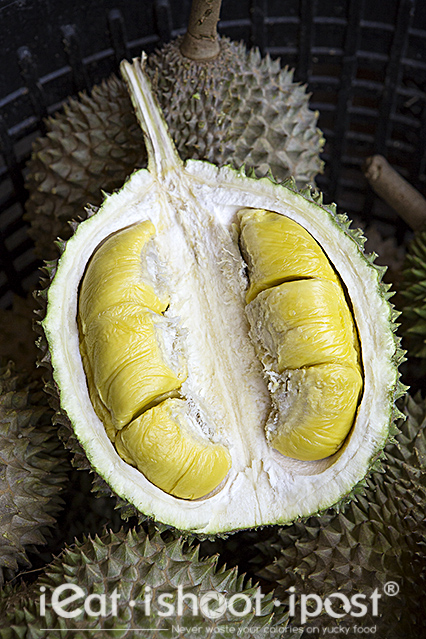 When people buy durians, they want two things. One is good durians and two is paying an honest price for it. This is what everybody wants. But as you and I know, it isn't always easy to fulfill both criteria. I guess that is why most people would stick to a particular durian seller when they feel that they have found someone who is honest and has a supply of good durians.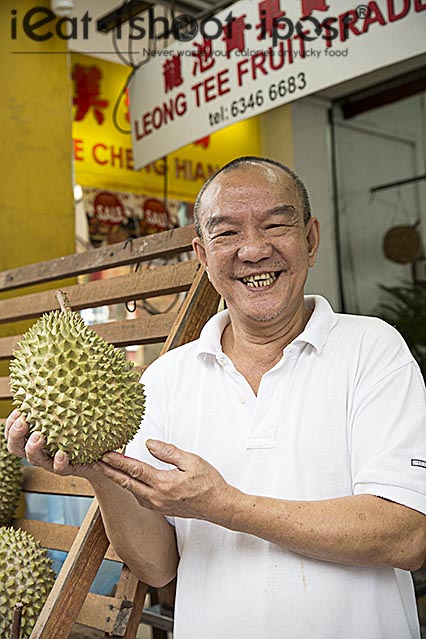 My quest is to find these "Sticky" Durian sellers who conduct their business with honesty and integrity and acknowledge them for their business ethics. Hopefully it will inspire a new generation of Durian sellers who will see them as role models for business success. Durian sellers have always had a bad reputation ever since I was a kid, but this does not mean that we should just accept things as they are. If we customers can make use of social media to encourage more sellers to conduct their business honestly, then I am sure that in years to come, we will have more and more sellers walking the straight and narrow.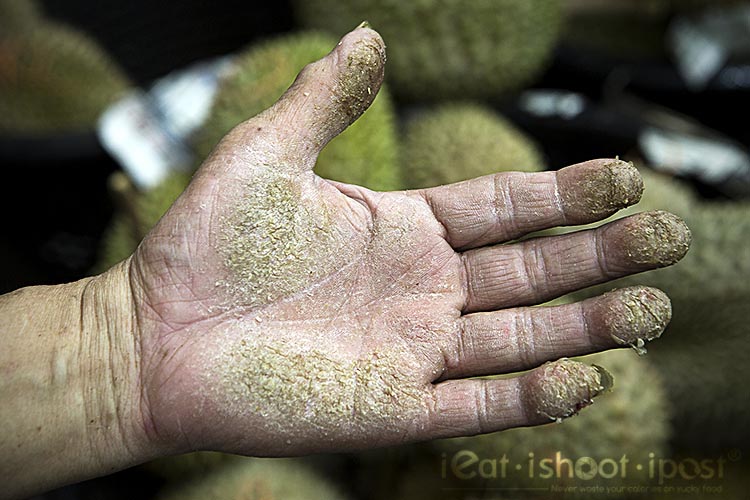 So today I want to showcase Leong Tee Durians. Although this is the first time I have visited Leong Tee, he was highly recommended by our facebook fans. His reputation for honest dealing and providing excellent quality durian is almost legendary.
I spent a good hour photographing and interviewing Mr Lim Leong Tee and in that hour, I managed to speak to quite a few of his customers. All of them spoke highly of his integrity. A lot of them have been his customers since his days at Jackson Centre (Macpherson). Most of them don't even care for the usual ritual of testing the ripeness of the durians before they pay. They just trust Uncle Leong to pick the best ones for them. They also tell me that if they are not satisfied with their durians when they get home, all they need to do is to tell him the next time they visit and he replaces it for them — no questions asked.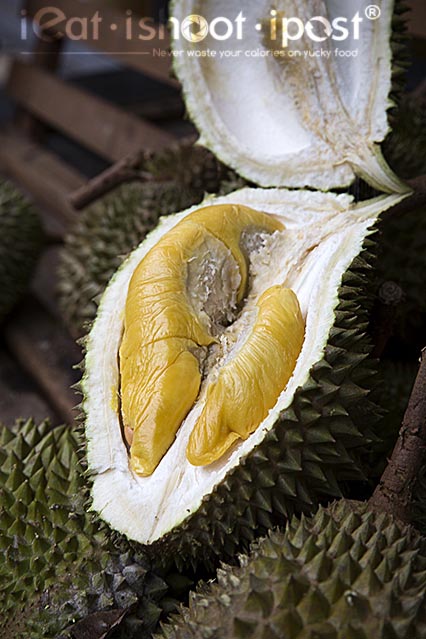 But aside from his honesty, he also sells very good quality durians. Mao Shan Wang connoisseurs know that there are many grades of Mao Shan Wang. The very best ones come from the more extablished plantations where the trees are very old. WhenMao Shan Wang became popular, many new plantations sprung up to cultivatethe durians.A lot of our Mao Shan Wang come from these newer plantations and the fruit from these trees have slightly different characteristics.
Information concerning old and new tree Mao Shan Wang is still scant. However, from my observations so far, the old tree Mao Shan Wang seem to have a few distinct characteristics. The husk of these durianstends to be greyish brown colour in colour rather than bright green. The flesh of the durian is also a deeper buttery yellow compared to the younger trees. The flavour of the durian is also a little more mellow and bitter. At Combat durians, they have tried to distinguish the old tree Mao Shan Wang from the original plantationsby calling themthe "King of Kings" (王中王) and they are priced differently. Over there, however, the King of Kings have green rather than brown husks which go against whatever most people tell me. Sigh.. still more research needs to be done!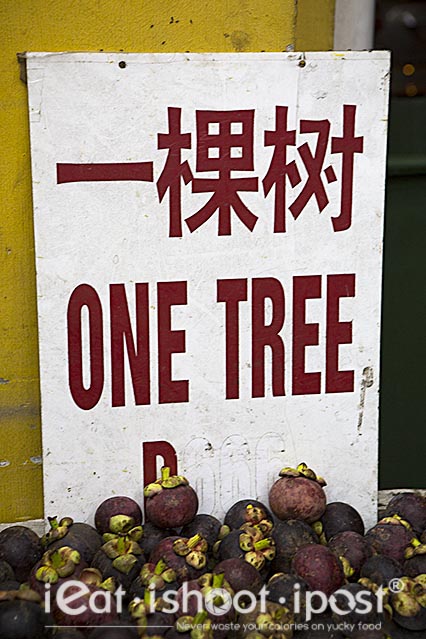 Uncle Leong tells me that he has been selling Mao Shan Wang from the same plantation for almost 20 years ever since it first appeared on the market.Back then, it was not even known as Mao Shan Wang but Durian Kunyit because of the deep tumeric yellow colour. Many of his customers were reluctant to try it at first because they saw the parts of the seeds were exposed and deemed it to be an inferior durian. However, once they tried it, they kept asking for durians from the same tree. As a result it became known as "One Tree" durians at Leong Tee!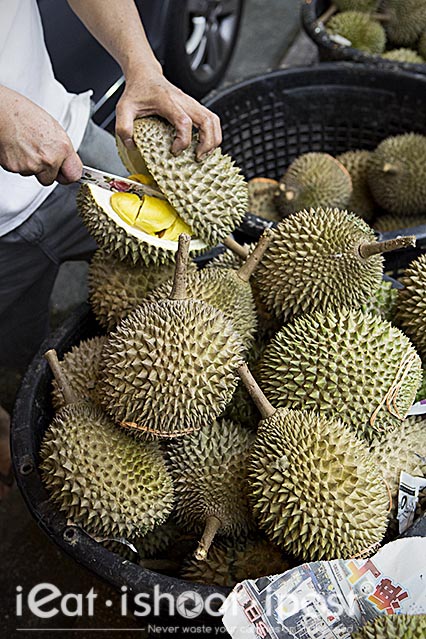 A basket of Old Tree Mao Shan Wang durians
Uncle Leong makes it his policy to sell only the quality Mao Shan Wang that he can get his hands on. Arhlim Huttons shared on facebook that he has been known to reject basketsof Mao Shan Wang because they were not up to his standards, absorbing the losses himself instead of selling them to his customers.Some of his customers, knowing thishave been known to pay him more than what he asks for! Now, that is something I have never heard of till now! Imagine paying a Durian man more than what he asks for! Most of the time we hear only of Durian sellers who ask for more than what the durian is worth!
Conclusion
Leong Tee's reputation for honesty is legendary. Every one of his customers are fiercely loyal to him and tell me the same thing. He is one Durian seller who is always happy and smiling because he finds contentment in an honest business and satisfying his customers. What a wonderful world it would be if every durian seller was like him! We would have a durian cultural revolution!