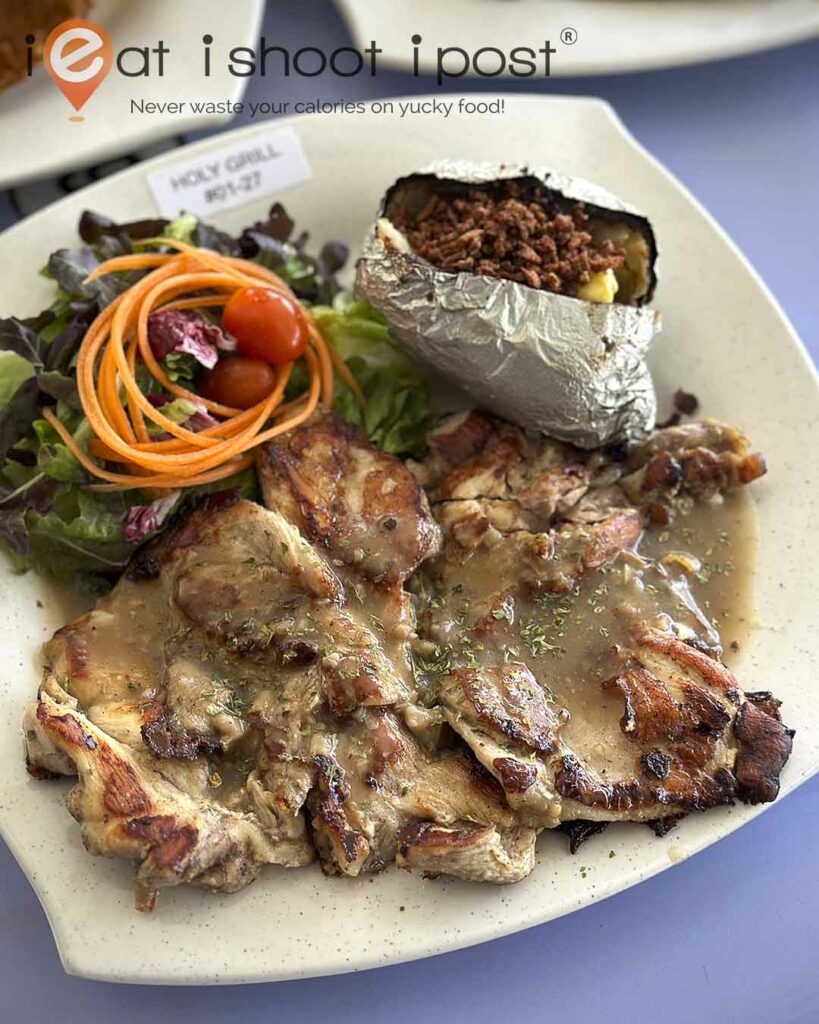 Big Portions, Great Sides
Traditional hawker-style Western food has always revolved around that piece of meat. The standard sides of crinkle-cut fries, baked beans, and coleslaw are often provided almost as an afterthought. However, this is not the case for the Western Stall at Old Airport Road, which has been nominated for Best Hawker Western at the DBS Paylah Hawker Awards. At Holy Grill, not only are the portions generous, but they also offer a selection of quality side dishes.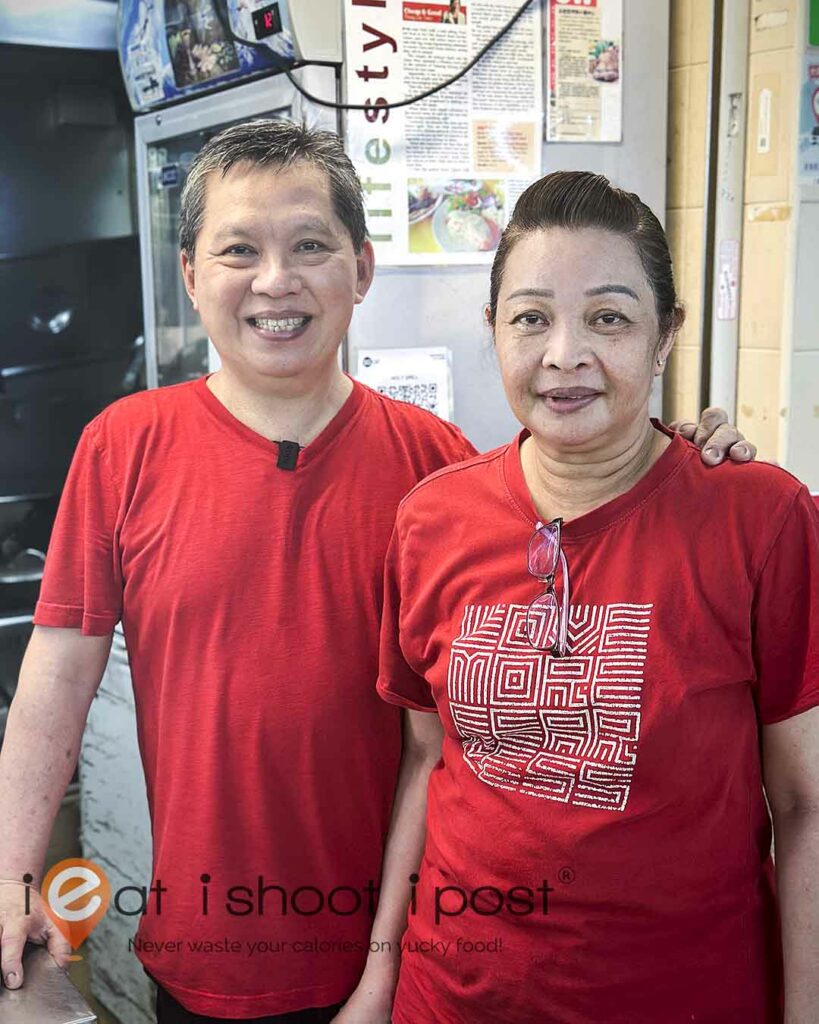 From School Canteen to Hawker Stall
The stall is run by Johnny and Grace, who have been operating it for 15 years. These self-taught chefs began by serving Western food at the canteen of Tanjong Katong Girls School but became so popular that they were persuaded to open a hawker stall, allowing parents to also enjoy their food! To this day, they continue to serve their dishes to some of the students and former teachers, with a few even introducing their own children to the stall!
Review of the Food
Chicken Chop
I think the best way to describe the food is to say that it is very similar to what you might get at Astons but at a fraction of the price. Of course, you don't get to sit in an air-conditioned environment and enjoy table service, but if you are just after a quick and hearty, value-for-money Western-style meal, then this stall is exactly what you are looking for.
For $8, we got one and a half pieces of chicken Maryland, marinated and pan-seared on a hotplate, a whole roasted potato, and a fresh garden salad. When they started 15 years ago, the same dish was going for $5.40, and they were using fresh chicken. Unfortunately, they have now switched to frozen chicken in order to keep the prices down. However, the chicken is well marinated, so there is no off flavor that you sometimes get from frozen chicken. Their homemade brown sauce is also very good. Overall, it's a very good chicken chop. It's not a "must-try," but it's the kind of thing that you could eat twice a week if you live nearby. 4.25/5
Pork Chops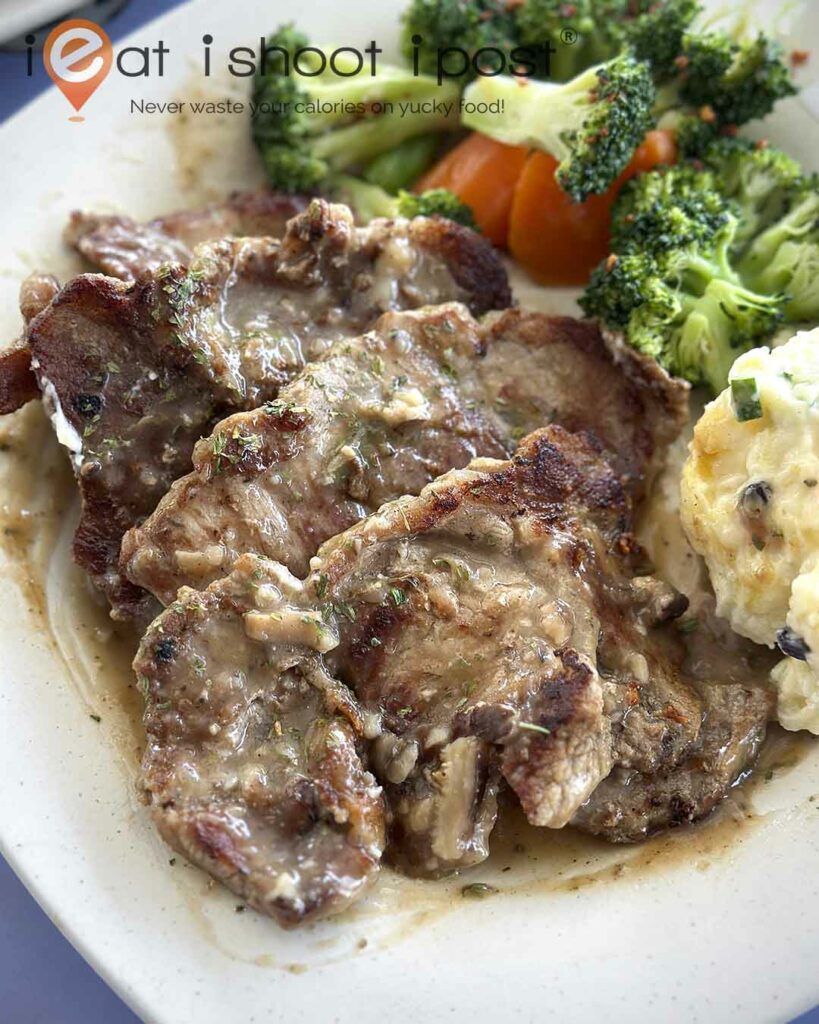 Their "France" Pork Chop is a bit confusing. First, I'm not sure what a "France" pork chop is. I'm not sure if they meant "French" pork chops, which typically involves removing the meat from the end of the ribs, i.e., "Frenching." Secondly, they don't actually use the "chops" – the loin with the bone attached. Instead, they use pork shoulder.
Having said that, it's actually a good thing that they use pork shoulder instead of loin because pork loin can be dry if overcooked, similar to chicken breast meat, while pork shoulder is more like chicken thigh meat. So, I actually prefer the pork shoulder steak to a pork chop. Again, the meat is nicely marinated, resulting in tenderness and juiciness. But between the pork and chicken, I'd go for the chicken. 4/5
Just a quick note about the sides: I like that they use fresh broccoli instead of frozen ones, which tend to be mushy. The house-made potato salad is also good! It's definitely an improvement over the usual hawker western offerings.
Fish and Chips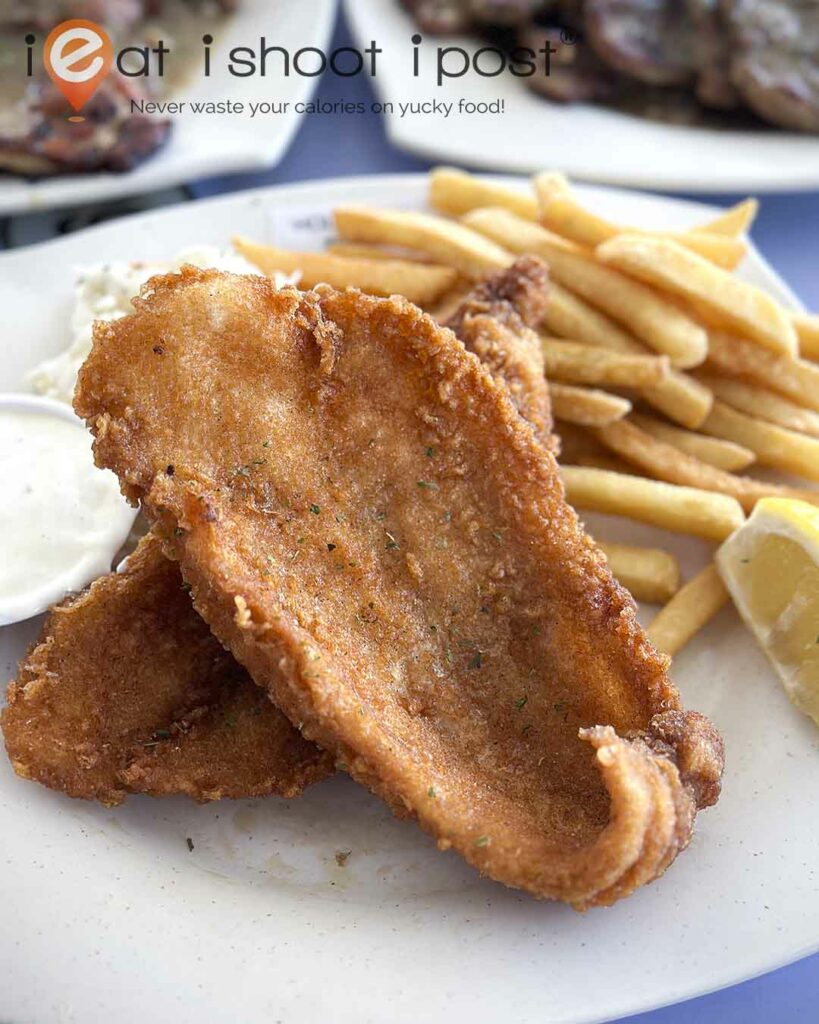 Their fish and chips is quite standard hawker western offering. I prefer a nice puffy beer batter. Theirs is a thin and crisp batter and the dory fish didn't have a muddy taste. Again, for $8, you get two whole fillets, well fried chips and coleslaw, which I think is pretty good value. 3.5/5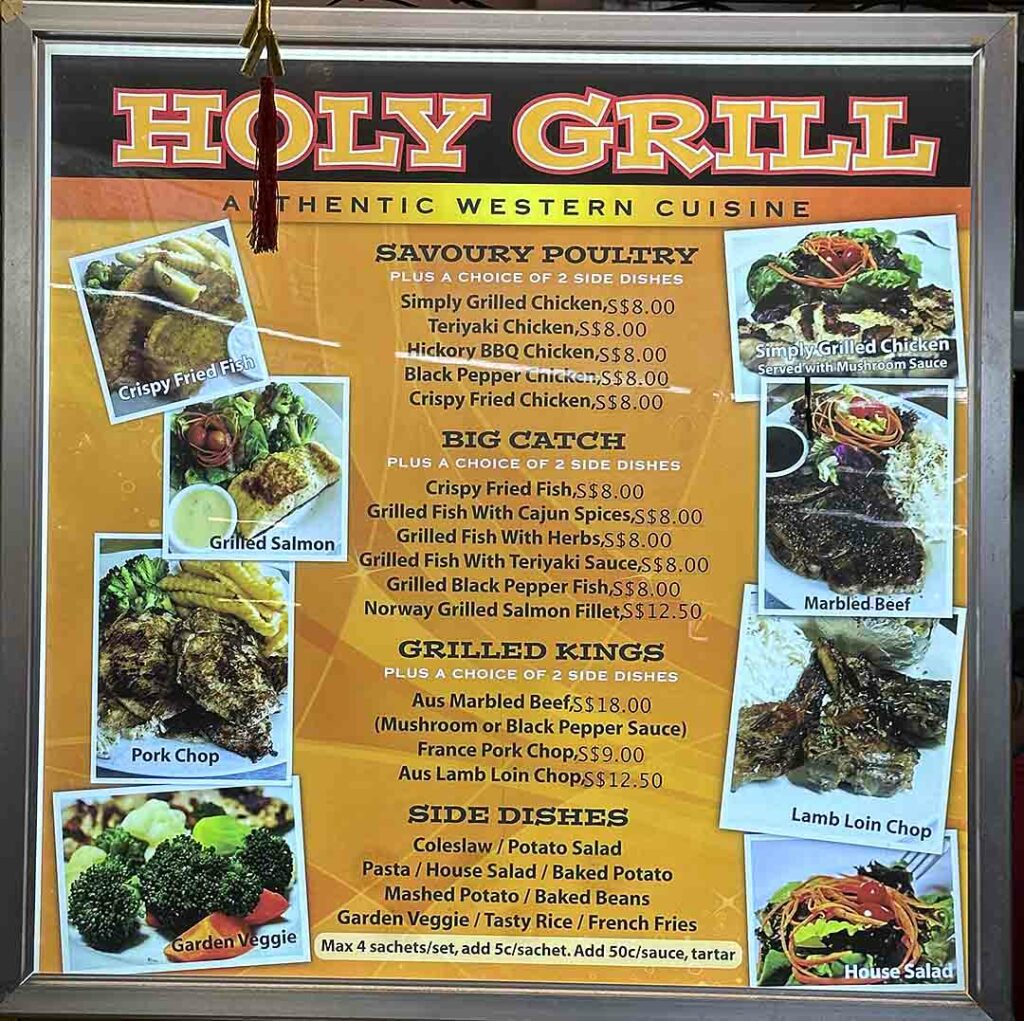 Conclusion
Come to Holy Grill to enjoy generous serving for your main proteins and choose from a range of quality sides. I'd personally go for the baked potatoes and garden veggie.