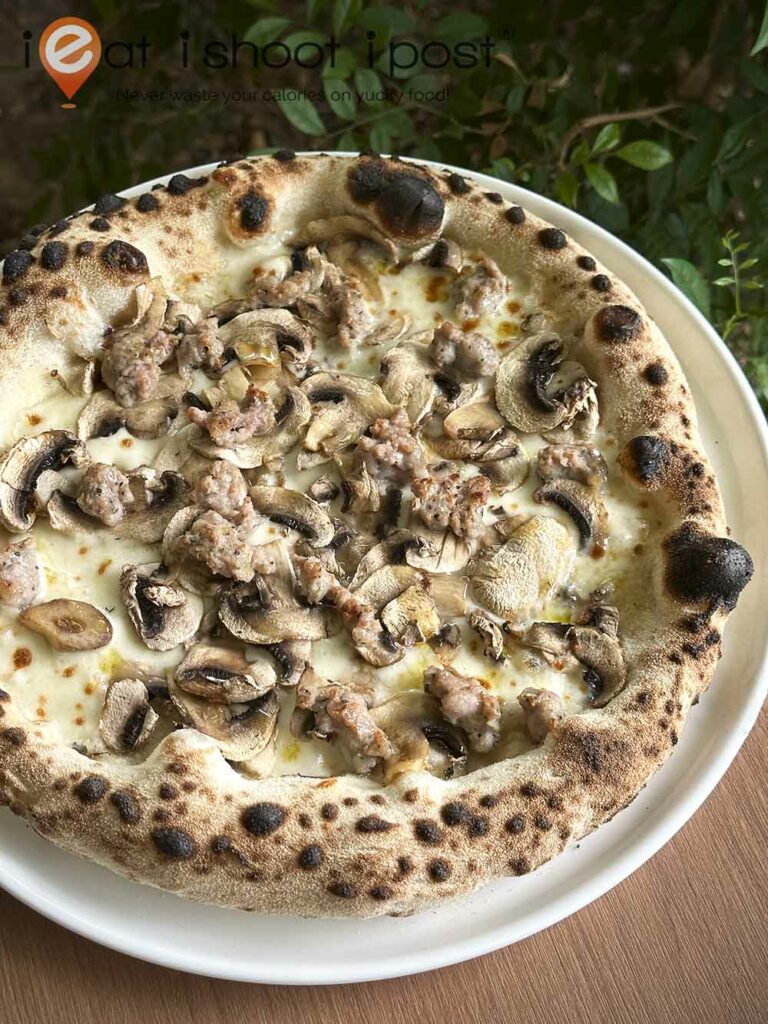 I have to admit that I haven't really followed the pizza trend in Singapore as closely as I had before. I was most excited in 2011 when L'Opretta became the first pizzeria in Singapore to receive Vera Pizza Napoletana certification. I thought that would herald the start of many other restaurants receiving the certification, but strangely that never really happened. However, in the last decade, we have seen many pizzerias springing up all over our little island.
Back in 2011, a restaurant with an authentic Italian wood-fired pizza oven was a novelty, and procuring the wood was no easy feat. Nowadays, it is a given for any pizzeria which wants to claim that they serve authentic Neapolitan pizza. In those days, the debate was about whether one preferred "thin and crispy" or pan pizza. When Neopolitan pizza became established, the debate was whether the oven was gas or wood-fired and how long the dough is fermented.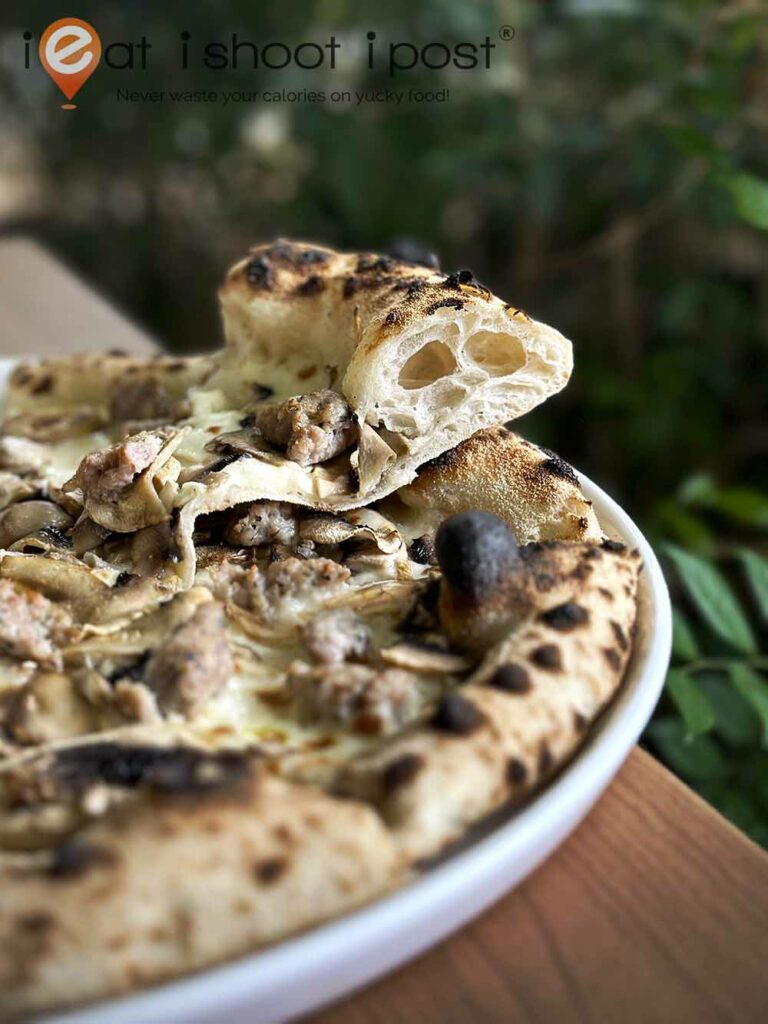 Pizza has become such a part of our local food culture that there are many home enthusiasts, like myself have invested time and resources in making the perfect Pizza. Some have even invested in actual wood-fired ovens and pizza peels. Pizza has become so popular that there are even companies set up to sell these equipment to home enthusiasts!
We are now so familiar with Neapolitan pizza that it is not so easy for a new pizzeria to stand out from the crowd. Most already can boast of wood-fired Italian ovens, Italian 00 flour, and buffalo mozzarella from Campana. Yet, I was drawn to Daniele's Pizza because of the beautiful leopard spotting on their pizza crust. Even though there are many pizzerias that can boast of using authentic this and that, ultimately, a really good pizza still boils down to the skills and passion of the pizza chef!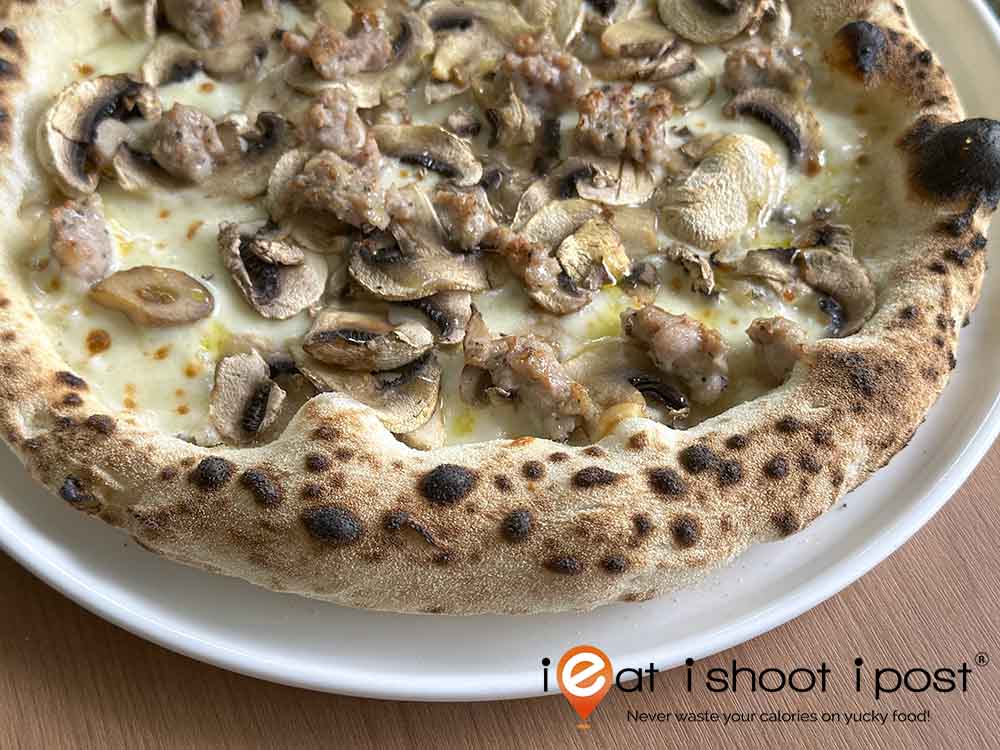 The crust here is light and has a nice crunch, unlike the more classic Neapolitan-style pizza which tends to be a bit chewier and soft, especially in our humid weather. Chef Daniele uses a higher protein Italian Pizza flour and a higher hydration level (70%) in order to create the lovely light and airy crust. He typically ferments the dough for at least 48 hours to develop its flavour. They use fior di latte cheese as the base for their pizza which is light and chewy. We tried a few flavors and my favourite was the Pizza Bosciola which is a white sauce pizza with mushrooms and pork sausage. 4.5/5 Their current pizza of the month is also a white sauce pizza with potatoes and cooked ham which is also very good!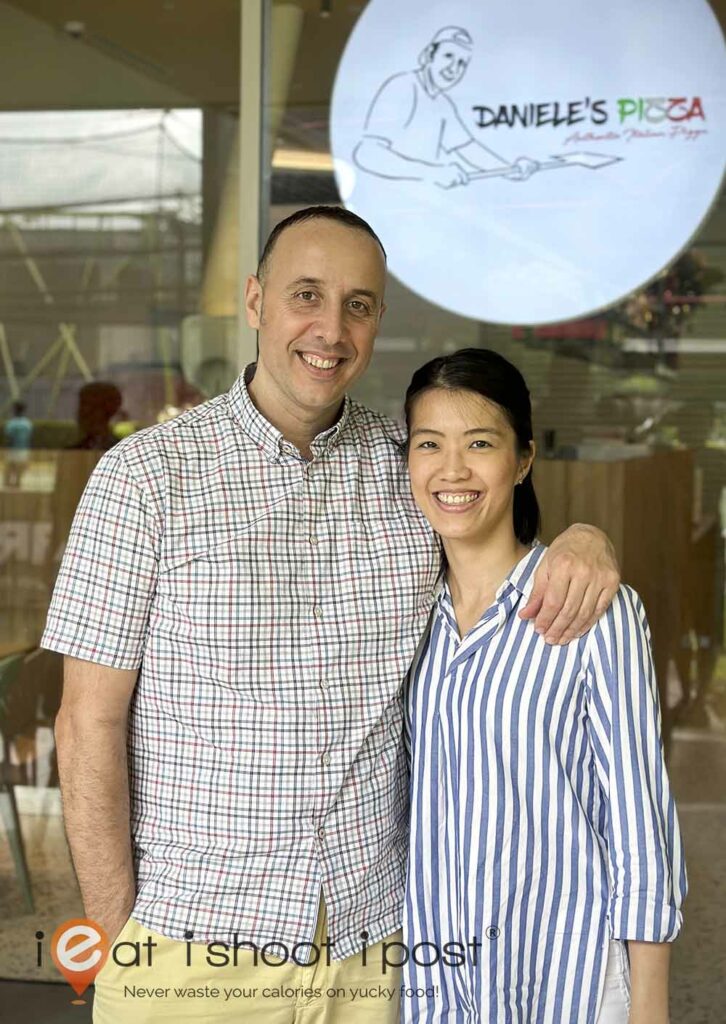 The couple behind this newly opened Pizzeria in Changi Business Park is Daniele and Esther who met over a decade ago when they were both working at Al Forno East Coast. Daniele had left school in Rome at 14 and after a few stints doing odd jobs, finally found his calling as a Pizzaiolo. After his stint in Singapore, he returned to Rome and tried opening his own Pizzeria selling Pizza Al Taglio. But it wasn't easy as competition is very stiff in Rome and his shop location wasn't good. He returned to Singapore and has since been working at various Italian restaurants before venturing out on his own during the pandemic with a cloud kitchen concept. Now, he has finally realized his dream of opening his very own pizzeria!
Special for ieatishootipost readers
Discount: 10% off total bill, no minimum spend
Promo code: ieatishootipost10
Validity: 31st December 2022
Dine-in & Take-away
Order on www.danielespizza.com (pre-orders until 31st December 2022 available on website)
Watch our video review
Conclusion
If you are a pizza enthusiast, then the sight of those beautiful leopard spots would undoubtedly be calling out to you! If you are not yet a pizza enthusiast, then this place might just make you change your mind about what a good pizza should be!
Disclosure
This was a media-invited review. The food was provided for tasting with no obligation to write a review.