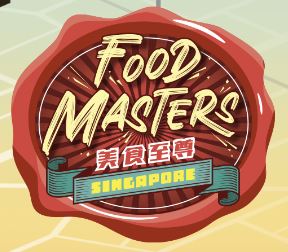 Time flies! This is now the fifth year that I am presenting the awards for SgFoodMasters! In previous years, the award presentations were done live and so I had to travel to 12 eateries all in a single day to give out the awards! Thankfully, this year they have decided not to do it live, so we split the presentation of awards over 2 days. This is much better as it gives me more time to talk to the stall owners to find out more about their dishes.
The winners are divided into four zones according to MRT lines and from each zone, the top ten are selected through online votes. Judges then taste the food incognito and give their own assessments and from the top 10, three eventual winners are chosen.
Here are the 12 winners for 2022. A few of them are familiar names as they have won in previous years, and this year, as in previous years, we managed to uncover some hidden gems! Have a look at the winners and pay some of them a visit and you might uncover some gems for yourself too!
East West Zone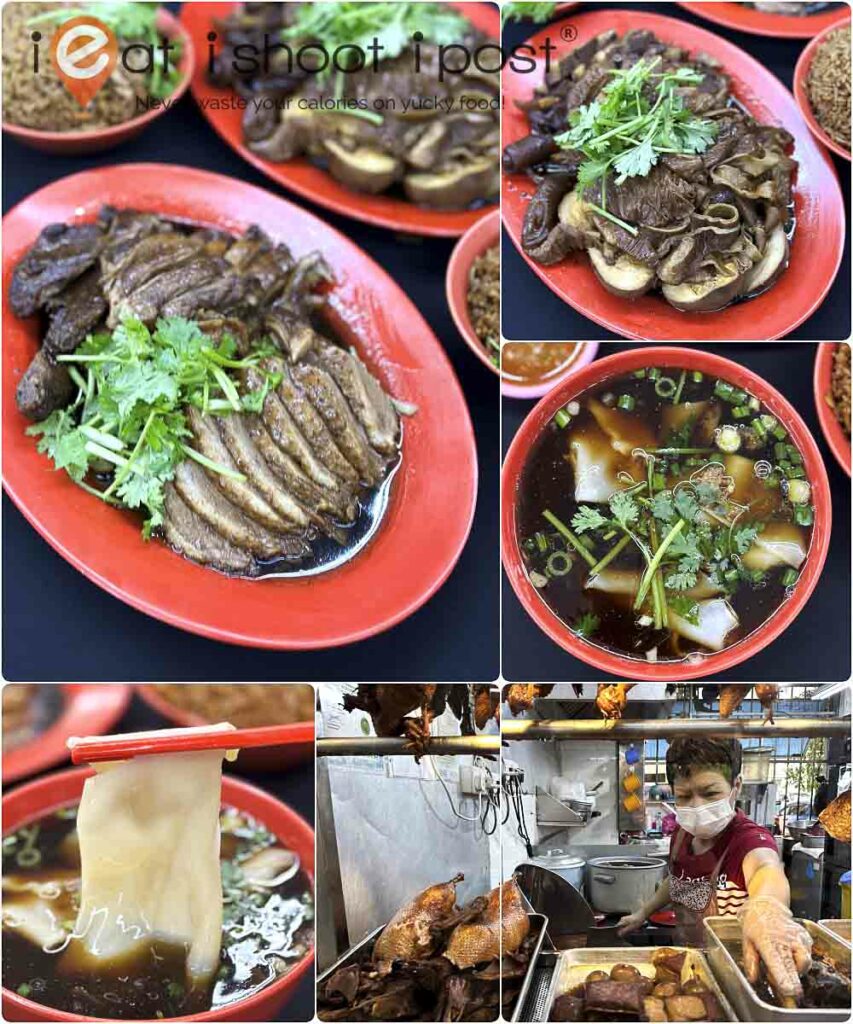 I was quite impressed with the energy and enthusiasm of Ah Ping, the stall owner of this rather unassuming stall in a Bedok coffee shop. She actually arrived from Fuzhou 16 years ago and learnt the recipe from her mother-in-law who is the sister of the popular Ah Xiao braised duck. The stall serves duck as well as pork kway chap and the bones of the duck are used to make the soup base for the kway chap which is very well cooked such that it has a lovely qq texture. They also make a bean curd skin roll with fish paste which is very good. The braising sauce is the watery Teochew style sauce which is robust and flavourful and all the pork items are cooked to the perfect texture.
Ah Ping Teochew Braised Duck KwayChap
Blk 128 Bedok North St 2, S460128
Opening Hrs: 8am – 5pm (Closed on Tue & Wed; open on PH)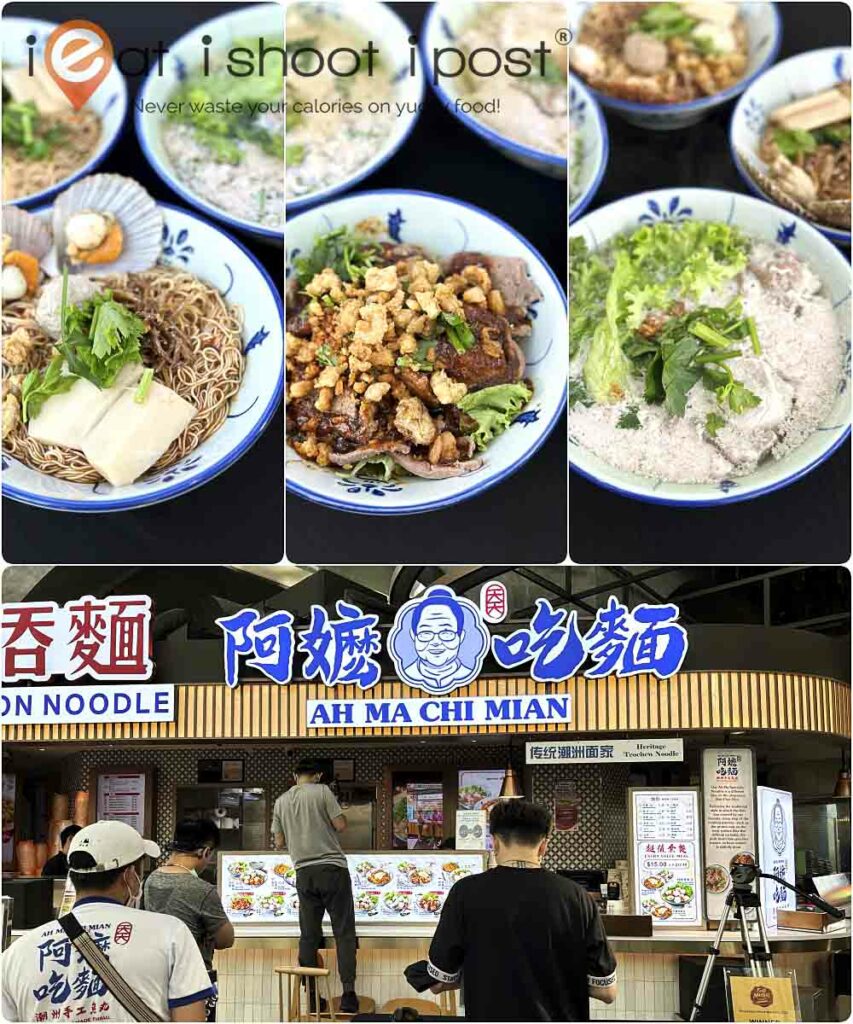 This is the 2nd year that Ah Ma Chi Mian has won the award and deservedly so. While many of such food court brands serve rather generic food, Ah Ma Chi Mian has managed to distinguish themselves by serving quality food. I managed to speak to the owner's father, who, being a typical Teochew Ah Hia, was boasting about how they use only fresh pork and how he personally makes sure that his workers at the central kitchen slice the pork lard to his exacting dimensions in order to bring out the aroma of the crispy pork lard. This year, they are showcasing their dry mee sua with scallops and liver slices with chilli sauce. Well worth a try the next time you visit a food court.
Ah Ma Chi Mian 阿嬤吃麵
1 Jurong West Central 2, 03-42 Jurong Point
Kopitiam Foodcourt S648886
Opening Hrs: 8.30am – 9.30pm (Daily)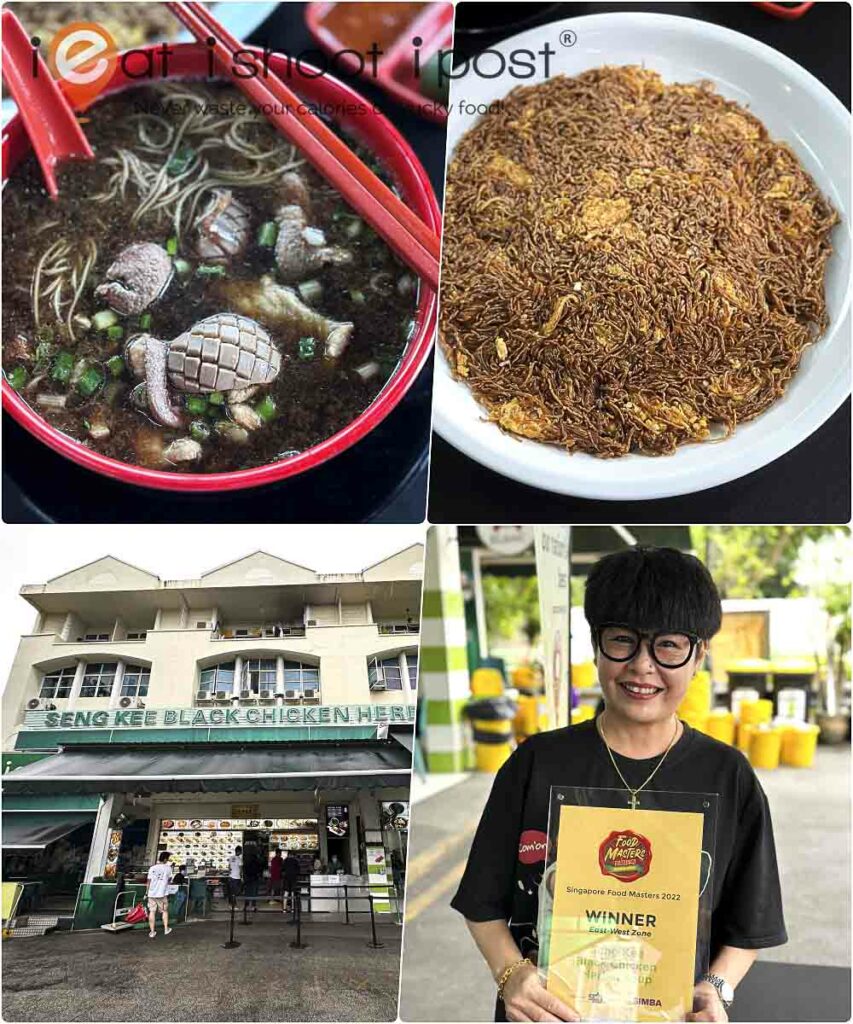 Restaurants like Seng kee Black Chicken Herbal Soup really don't need any more publicity. The restaurant has been around since the 1970s and is already quite well known in foodie circles for its black chicken soup and kidney mee sua. But what is perhaps not so well known, is their selection of zi char dishes like their crispy fried bee hoon which has that requisite wok hei flavour and is slowly fried till uniformly crisp! I am not a fan of pork innards, but I have to say that the soup base for the kidney mee sua is quite potent!
Seng Kee Black Chicken Herbal Soup
475 Changi Road, S419892
Opening Hrs: 11.30am – 2am (Daily)
North East Zone
This little eatery at the beginning of Jalan Besar is super cosy with its low tables and chairs, lanterns and rotating fans with orange blades which would surely evoke a sense of authenticity for those who have travelled to Vietnam. They are the first restaurant to serve a Vietnamese-style BBQ when they opened 7 years ago. They serve marinated beef, pork and seafood sets and especially source herbs direct from Vietnam for that authentic Vietnamese flavour. The marinated beef short ribs and iberico pork belly is very good. They use quality meats and ingredients for the marinade and the charcoal infused the meat with a lovely smoke flavour.
Lang Nuong Viet Nam
18 Foch Road Singapore, Singapore 209260
Opening Hrs: 12pm to6am (Daily)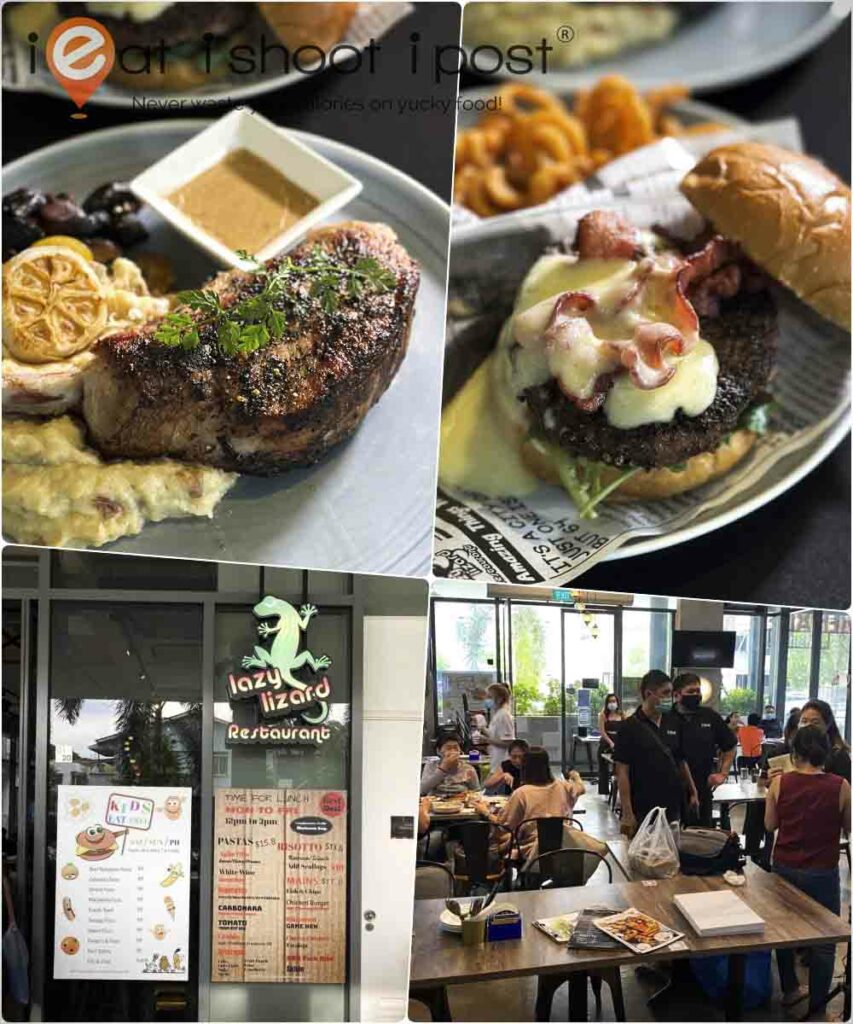 This is the third year that Lazy Lizard has won the SgFoodMasters award and deservedly so. Their food is much more than simple pub grub that comes out from a bag and deep fried. It is actually very good and the portions are generous and prices are kept family friendly. Their duroc pork rack is well worth trying. The slab is 2 inches thick and perfectly cooked such that it is juicy and tender in the middle while the encased in a delicous crust. It is served with house made mash made from ratte potatoes with truffle oil and sauteed mushrooms. If you go on a weekend or public holiday, kids below 11 get a free meal from the kids menu when accompanied by an adult!
Lazy Lizard The Promenade
183 Jln Pelikat #01-20
The Promenade @ Pelikat, S537643
Opening Hrs: 12nn – 10.30pm (Daily)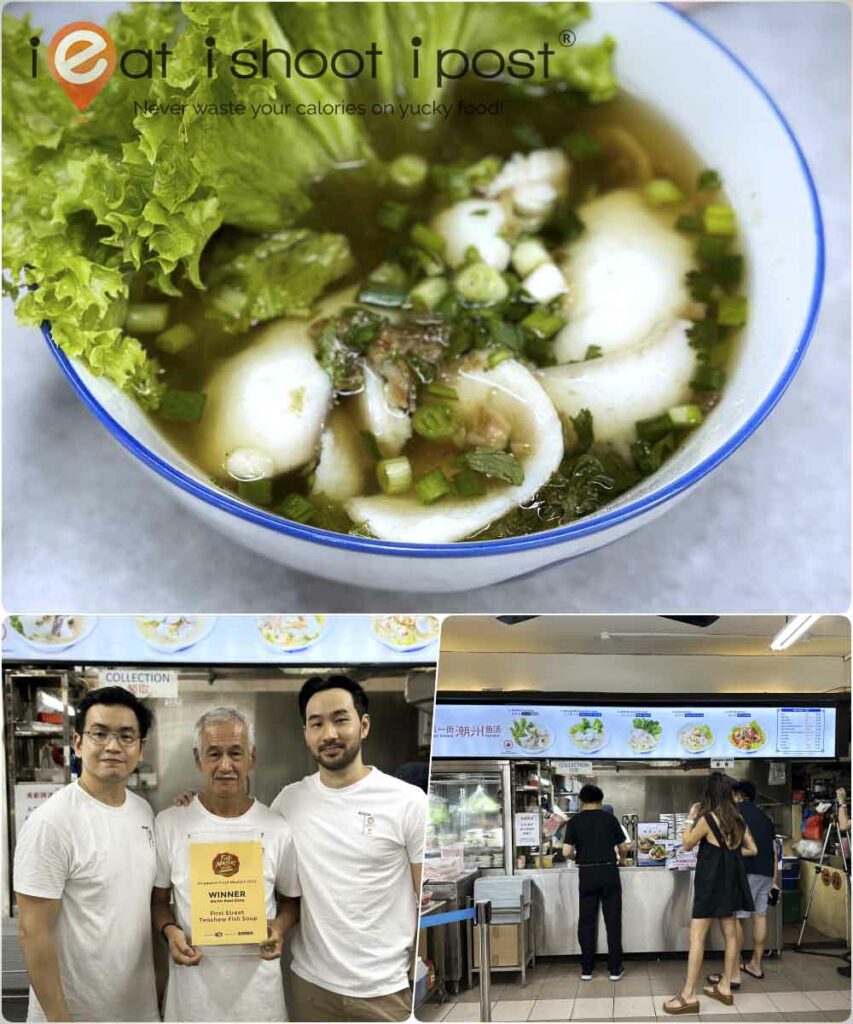 This is the 2nd year that First Street Teochew Fish Soup has won the award. The stall is run by 2nd generation Desmond and Aaron who took over from their father a few years ago. This is one of the few coffeeshop stalls that offer pomfret and red grouper fish soup. That the fish is fresh is a given, but how they manage to handle the fish such that it doesn't break apart after cooking and turns out smooth and tender is their secret to success!
First Street Teochew Fish Soup
1014 Upper Serangoon Road S534752
Opening Hrs: 8am -3.30pm (Daily)
North South Zone
If you have ever walked past this restaurant without trying their noodles, then you don't know what you are missing out on! I was delightfully surprised by their noodles with Hakka sauce. Although the noodles are supposed to be "ban mian", they are a unique house recipe which is slightly translucent and very nice and chewy. The secret fish-based sauce is made from the bones of 14 different fish and they even go to the extent of securing a secret dried fish bone from Pangkor Island to give their soup its distinctive flavour. Having spoken with the owners of the brand who flew down from KL to accept the award, I can tell you that they are real foodies who know how to make a tasty bowl of noodles! Their dry noodles topped with century eggs and other condiments is worth a trip!
GO Noodle House
313 Orchard Road, B3-37/38,
313@Somerset S238895
Opening Hrs: 11.30am – 9.30pm (Sun – Thu), 11.30am – 10pm (Fri – Sat)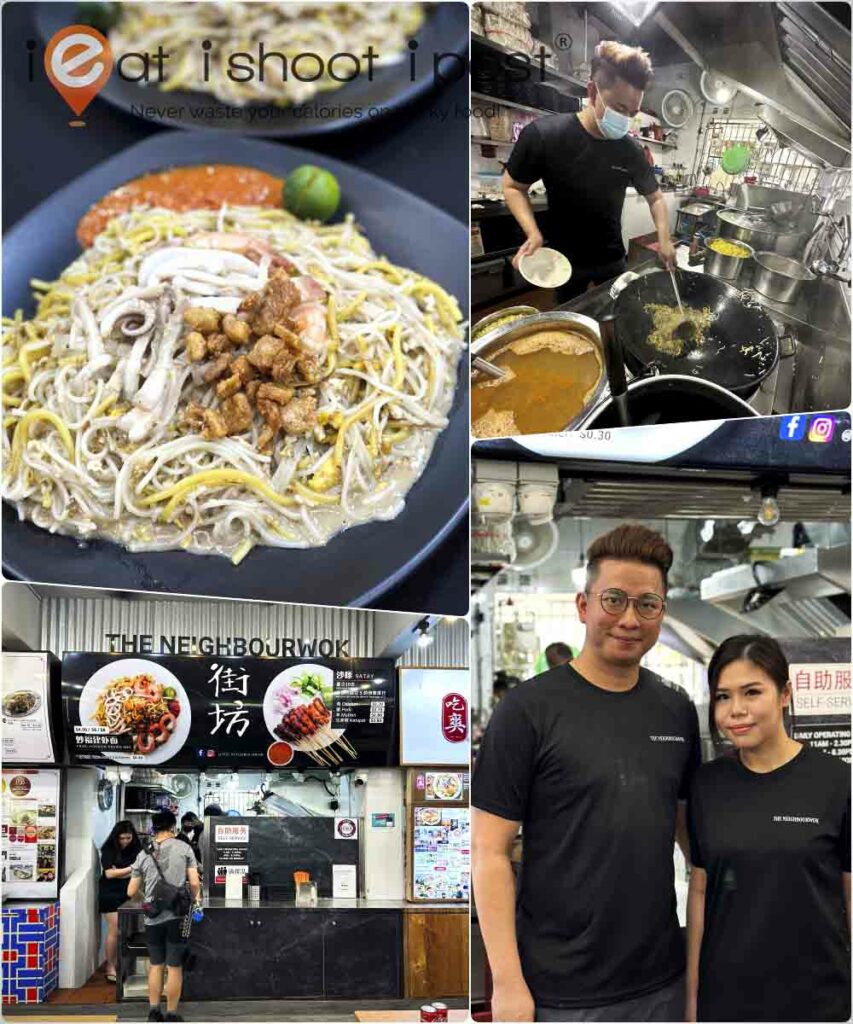 Born out of the pandemic, this next-generation Fried Hokkien Mee stall run by Kelvin Teo is well worth your calories if you are in the West. The Hokkien mee is well fried with that requisite char and delicious stock which should appeal the those who like their Hokkien Mee wet and gooey. The noodles were perhaps a little broken, but the flavour is robust and I like the fact that they still add sliced pork belly! The pairing of Hokkien Mee and Satay is one of my favourite combinations and it turned out that they decided to include it as a side dish because Kelvin's father used to be a satay seller! I'd be happy to eat there if not for the fact that I live on the other side of the island!
The Neighbourwok
177 Bukit Batok West Avenue 8,
Get Together Coffeeshop, S650177
Opening Hrs: 11am -2.30pm, 4 – 8.30pm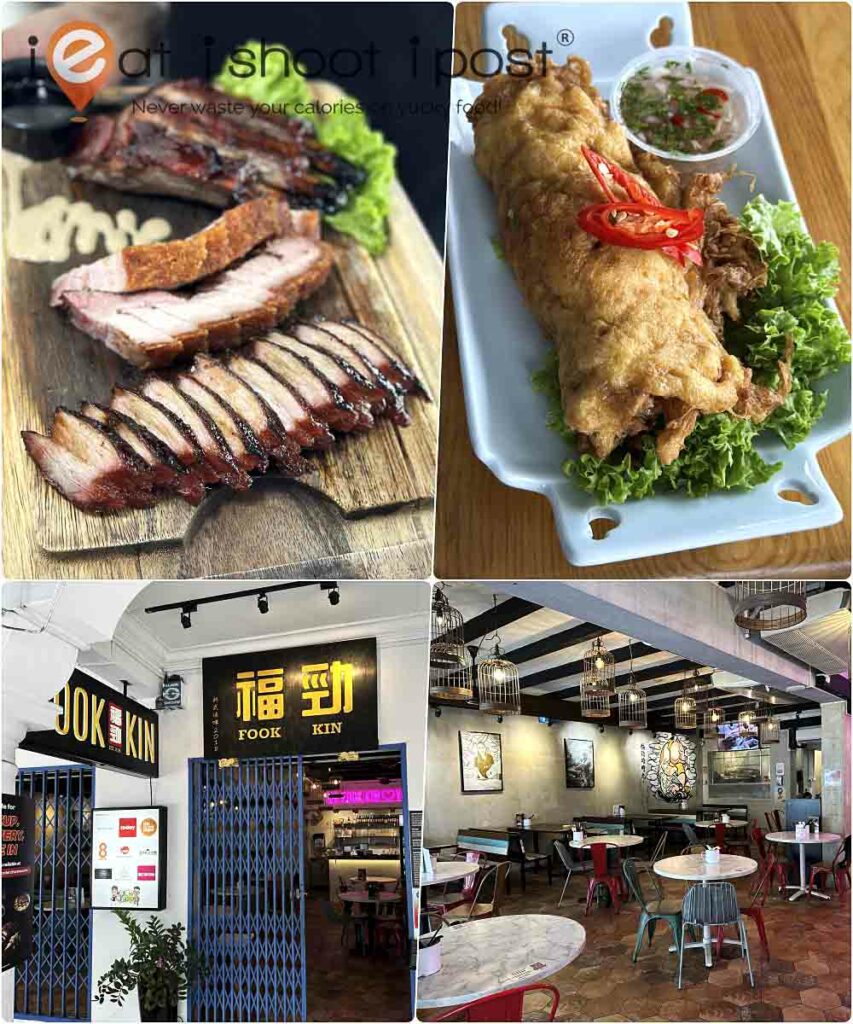 I have written about Fook Kin previously and I was quite happy when I found out that they managed to win the award this year. I would rank their Charsiu as one of the top five in Singapore. The place is opened by Justin and Vernon of "The Muttons" in collaboration with Roast Paradise. Since Roast Paradise is a hawker stall, one would naturally wonder why the charsiu at Fook Kin is more expensive? Well, the roasting technique and marinade might be the same, but they use a better quality pork here which results in a juicier and more flavourful charsiu! Aside from Cantonese Roasts, they also serve Zi Char with a Thai twist. Their 2nd dish is a Jai Fai style Crab omelette which is worth a try too!
Fook Kin
111 Killiney Rd S239553
Opening Hrs: 11am – 9.30pm (Daily)
Circle Zone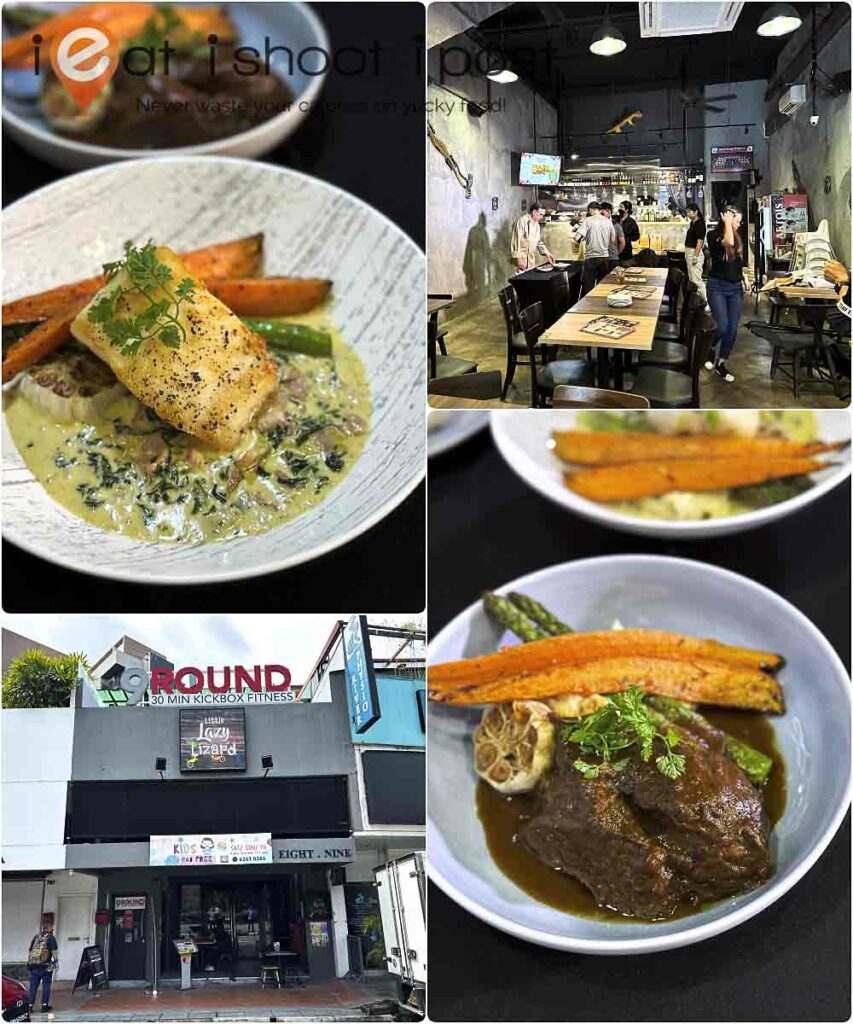 If you are looking for a hearty western meal around Bukit Timah, then do check out this unlikely little watering hole. The place looks like a typical neighbourhood bar, but the food is very good. This is the 2nd year that Little Lazy Lizard has won the award. It's larger sister restaurant at The Promenade has won it three times. They both share the same menu by Chef Werner and the quality is maintained. Two of Chef's signatures are featured here. His braised beef cheeks and codfish. Both are very good and the portions are generous and prices are attractive. The food is unpretentious and dependable. Well deserving of the award.
Little Lazy Lizard
789 Bukit Timah Road, S269763
Opening Hrs: 12pm -10pm (Mon – Thu), 11am – 10.30pm (Fri – Sun)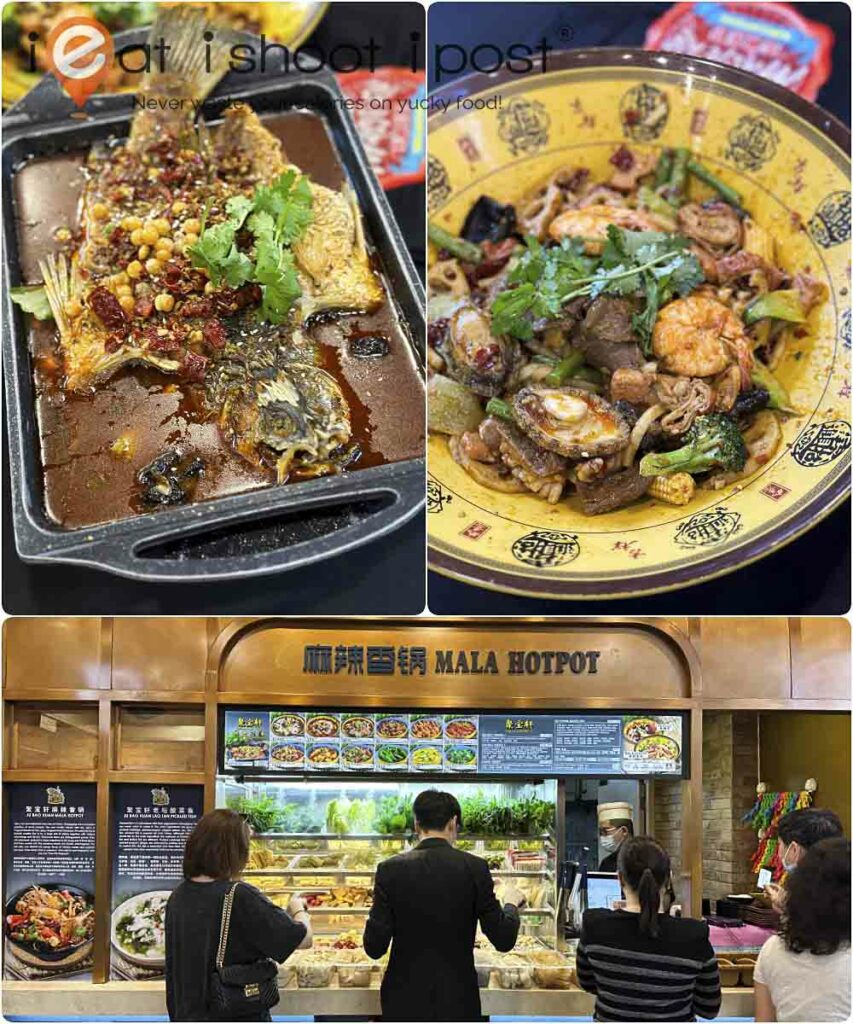 Mala hotpot has been very popular of late and if you are hankering for that masochistic sweat inducing experience at MBS, then head down to Rasapura Food Masters and look for Ju Bao Xuan Mala Hotpot. Their winning dish is a spicy chilli seabass with different levels of spiciness. Beware the "Demon" hot level as it has been known to send some people to the A&E!
Ju Bao Xuan Mala Hotpot
The Shoppes at Marina
Bay Sands Rasapura
Masters #B2-49A
Opening Hrs: 10am –
10pm (Daily)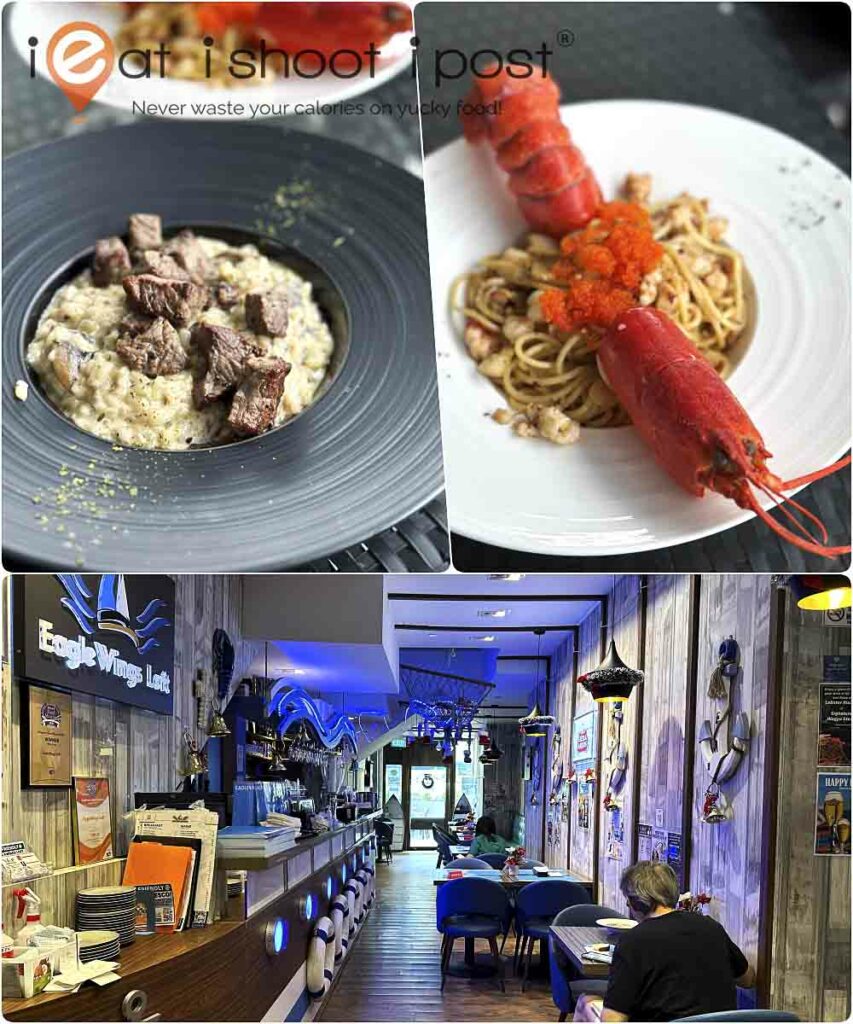 Eagleswings loft is no stranger to the Sg Food Masters. This is the third year which I have given out the awards to them. It's a good place to have a casual western style meal while you catch a movie at the cinema. This year's winning dish is a lobster aglio olio. They tell me that their lobsters come from a fattening farm in Malaysia and the secret to their winning dish is a broth which has been simmering for many hours to extract all the umami goodness. Their 2nd dish is a risotto that is topped with seared wagyu cubes.
Eaglewings Loft
9 King Albert Park
01-33/34/56/57 KAP Residences Mall S598332
Opening Hrs: 10am – 10.30pm (Weekdays), 8.30am – 11pm (Weekends)