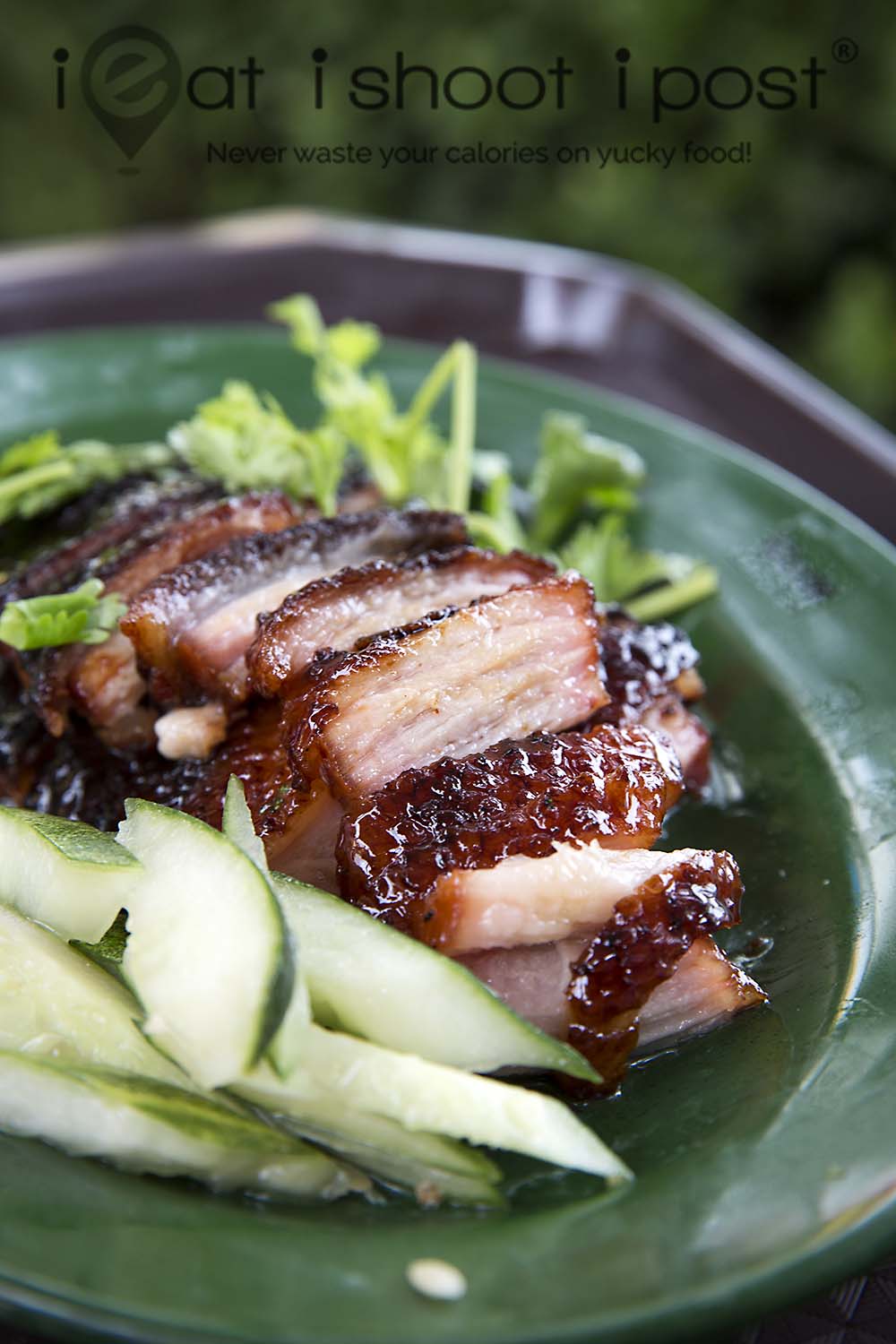 It is good to see our two young hawkerpreneurs, Kai and Randall doing so well at Roast Paradise one year on.  When I initially posted their story on Facebook in Oct last year, they had just opened their stall and though the char siew was promising, I felt that it needed more fine tuning before I would recommend it on the blog.
Since that Facebook posting, the duo has been making steady progress, appearing on various social media sites and even making it into the Makansutra guide!  It really goes to show that persistence really pays off and you can succeed in this tough industry if you put your heart and soul into it.
There is also the very inspiring back story of two guys who were willing to give up on the ritzy night life industry to become humble hawkers.  Kai told me that he came to see that kind of person he had become decided that he had to do something about the state of his soul.  That was when he flew to KL to spend a few weeks learning how to roast char siew from a distant uncle. He put the final nails on the coffin of his old life when he got baptized in church the week that these photos were taken!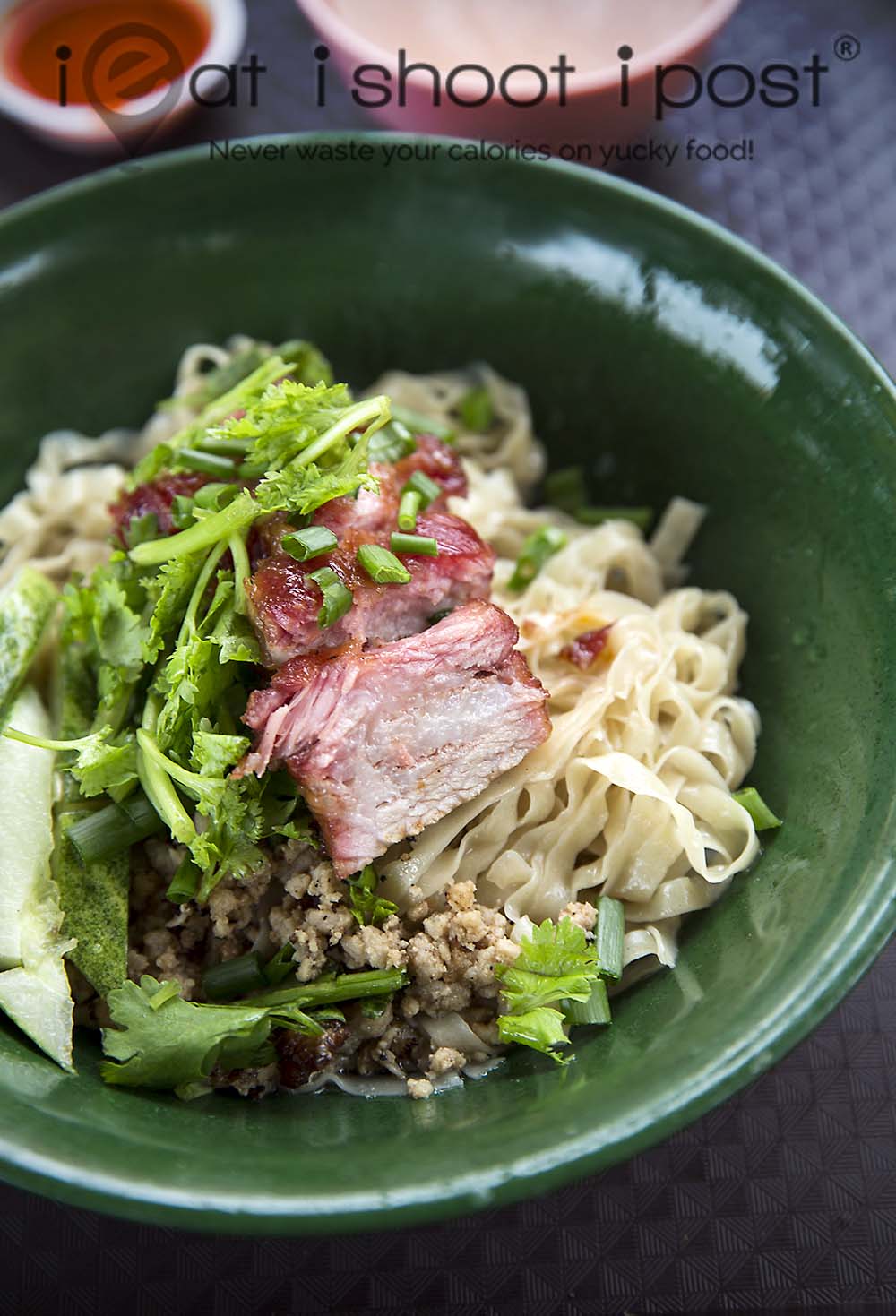 There has been many conflicting opinions about their style of char siew.  Some people really go gaga over it whilest others can't figure out what the fuss is all about.
Let me just offer you my analysis of the char siew.  Once you understand what these young hawkers are trying to achieve, then I am sure you will come to appreciate it too.
I will start by saying straight off that this is not the typical char siew that you usually find at the hawker stall.  Yes, the marinade is slightly different and those of us familiar with KL style char siew will tell you that it has that Malaysian flavour.  But that is not the main thing.  The big difference is that their char siew is roasted for 2 hr and 15 mins which is almost three times longer than the roasting time of the typical char siew.  The long roasting time melts all the collagen and fats in the pork, turning it into a really tender and juicy piece of meat which you can literally pull apart with your fingers.  In that sense, the texture is more like braised pork or pulled pork rather than char siew which usually tender but not falling apart.
That long roasting time means that the boys need to use a cut of pork with enough fat in it to prevent it from drying out.  That is why they use only pork belly from Portugal to make their charsiew.   Kai tells me that they have tested pork belly from other places, but some were just not fat enough and dry out after roasting!
During the 2 hour 15 min roasting process, the char siew is removed from the heat and basted in the sauce at least 8 times in order to produce that caramelised exterior.  This long roasting process means that they can only produce two batches of char siew a day.  They do one roast which is ready by 11am and the 2nd batch which is ready by 4.30pm.  It also means that they are unable to produce other meats like sio bak and roast duck, so they are really char siew specialists.
Is this the ultimate char siew?
While I don't think we can call it "ultimate" just yet, there are several things I do like about it. First I think the flavour of the caramelised crust is excellent and the quality and cut of meat used results in a very juicy end product.  I still feel that char siew should have a bit of a bouncy bite rather than having a texture like pulled pork, but the texture will appeal to a lot of people.  I still don't like the fact that the top layer of caramelised fat falls off easily and is a little chewy and sticks to your teeth. 4.25/5
The mee pok is good but its not the thing that would make you go all the way to Old Airport Road Food Centre to eat.  I feel that Kai should just focus on the char siew because the queuing time is already quite long as it is and making the mee pok just slows him down too much.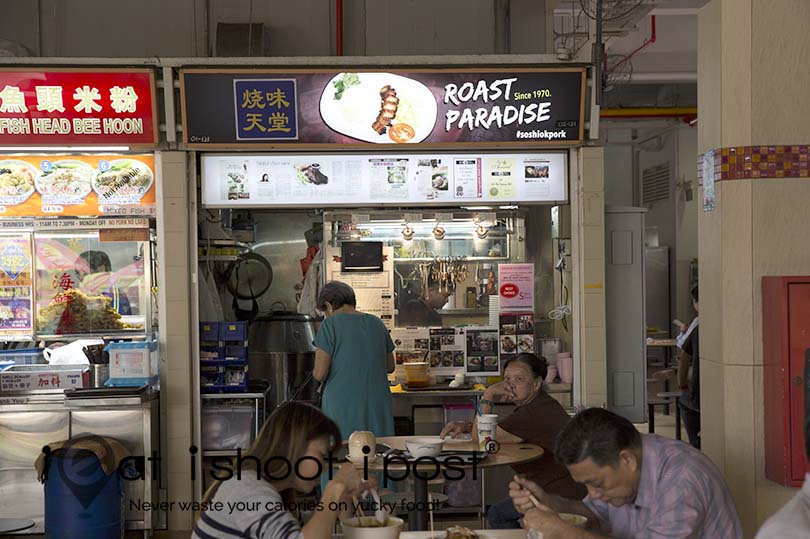 Conclusion
Great to see two young hawkerpreneurs passionately pursuing charsiew perfection!  The charsiew here is very different from what you find at other Cantonese roasts and it behooves any charsiew lover to at least give it a try.