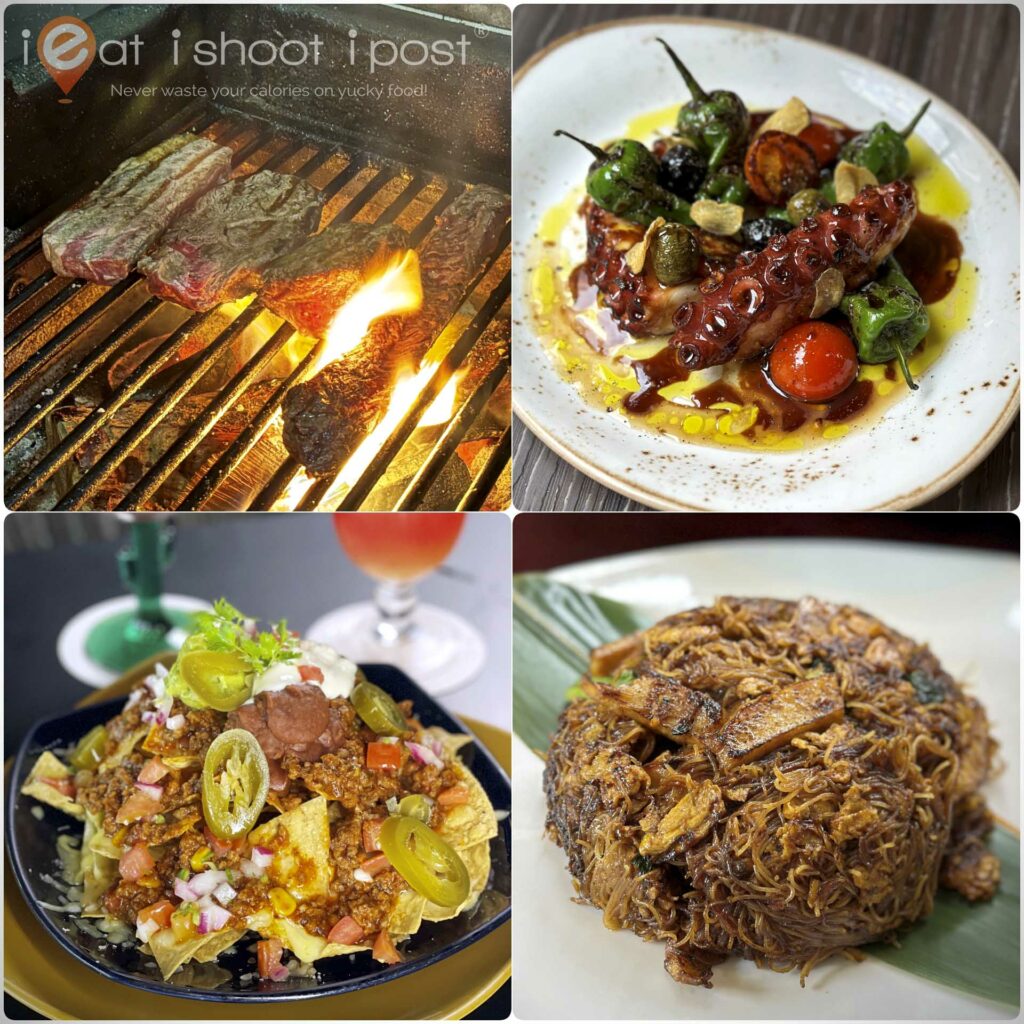 When it comes to food, Singaporeans have a penchant for sharing. Even when dining at upscale restaurants where dishes are meticulously plated, Lisa and I frequently opt for different selections, enabling us to savor a broader array of menu offerings. Given our collective enthusiasm for sharing, today we invite you on a gastronomic journey, delving into four distinct cuisines as we embark on a "Share-Share" culinary adventure with Citi Gourmet Pleasures offers.
Food for Sharing Food Trail – with Citi Gourmet Pleasures
Restaurants featured on this trail with Citi Credit Cards:
Click here for the full list of restaurants with Citi Gourmet Pleasures offer.
Bochinche – Gathering around the Argentinian Asado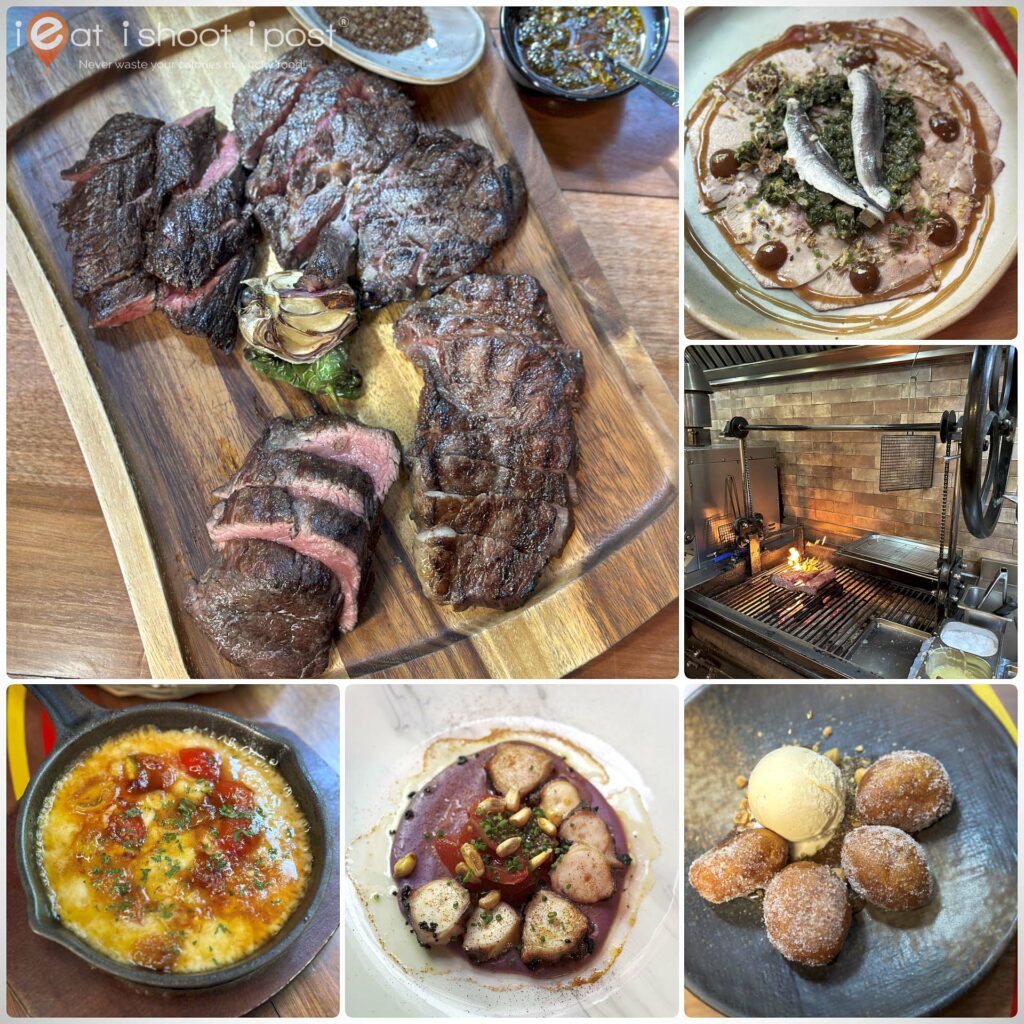 The Asado culture of Argentina is deeply ingrained in the country's culinary and social traditions. Asado refers to the Argentine barbecue. It's more than just a method of cooking meat, it's also a social event where people get together to enjoy a whole day of feasting! In this respect, it is very much like our very own BBQ culture!

Bochinche is an Argentine-inspired steakhouse where the parrilla grill takes centre stage. However, the manager was quick to point out that the food is also inspired by delicious flavors curated from other parts of the world.
I was especially impressed with the selection of beef they offer. From grass-fed Argentinean Ribeye to a 32-day dry-aged Pure Black Op ribs, to the Stone Axe Pure Blood Wagyu Ribeye, which is aged 21 days in beef tallow, the menu really appeals to any serious steak connoisseur. The steaks are seared over a wood and charcoal fire and then finished in a Josper-style oven. So, you can be assured of that lovely smoky aroma and a nice char.
We had the Heavenly Meat Board that featured 1.2kg of pure beef steak! You get 300g of Australian Sirloin/Striploin, 300g of Argentinian Ribeye, 300g of Argentinian Tenderloin and 300g of Australian Hanging Tender. The highlight of the board was the Hanging Tender! It had a deep beefy flavour that resonated perfectly with our palettes!
Aside from the excellent steaks, their appetisers are also very well executed. We want to draw your attention to their Provoleta. It is a dish made from melted provolone cheese and fermented tomatoes. It goes so well with their breads (Canasta De Pan with Bordier Butter $16) which is mostly baked inhouse.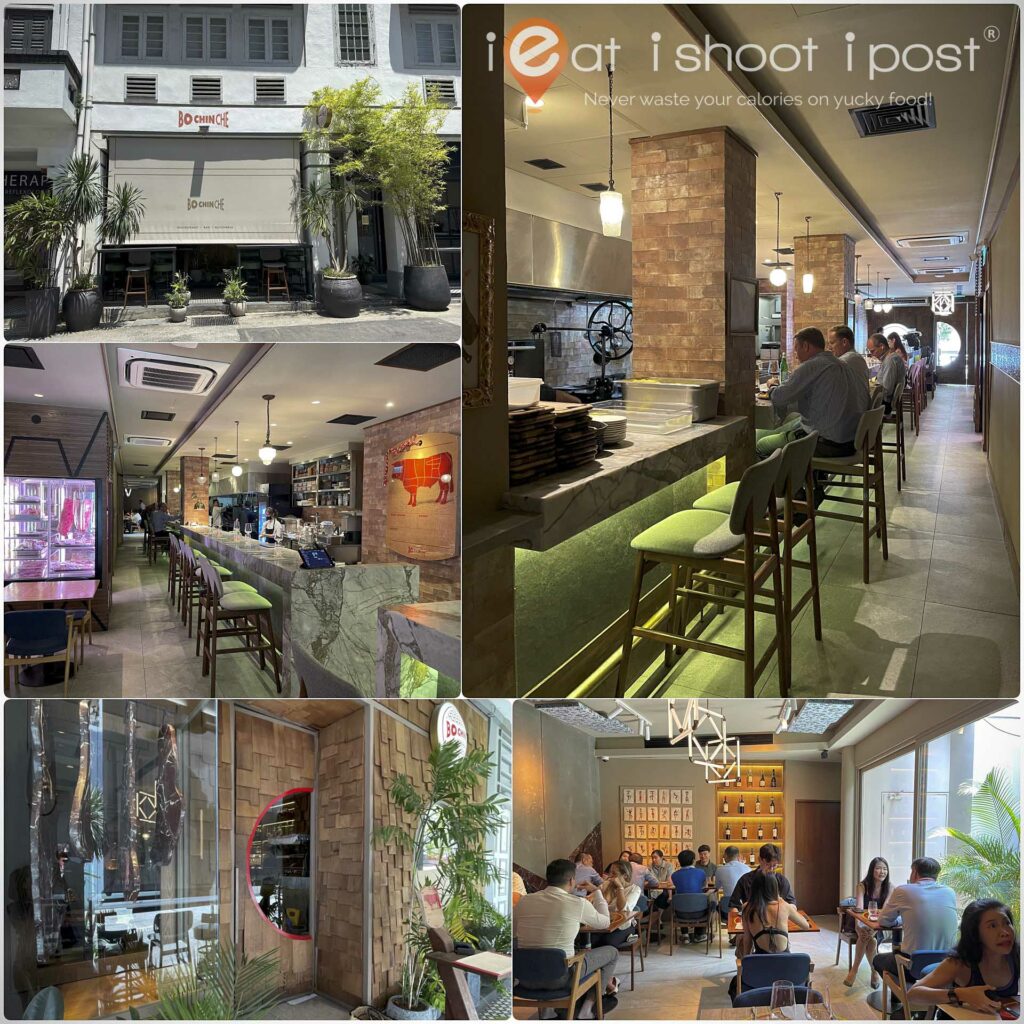 There is a very "happening" vibe about the place. You have the option of sitting in at the counter overlooking the chefs at work in the open kitchen or in the main dining area that overlooks a little courtyard garden.
Citi Gourmet Pleasures Offer:
Receive $20 return voucher with any spend, redeemable with min. $200 spend
Valid until 14 June 2024
Click for more details here.
Bochinche
27 Club St, Singapore 069413
12pm – 3pm, 6pm -11pm, Closed: Sundays
Sanchos – Mexican Party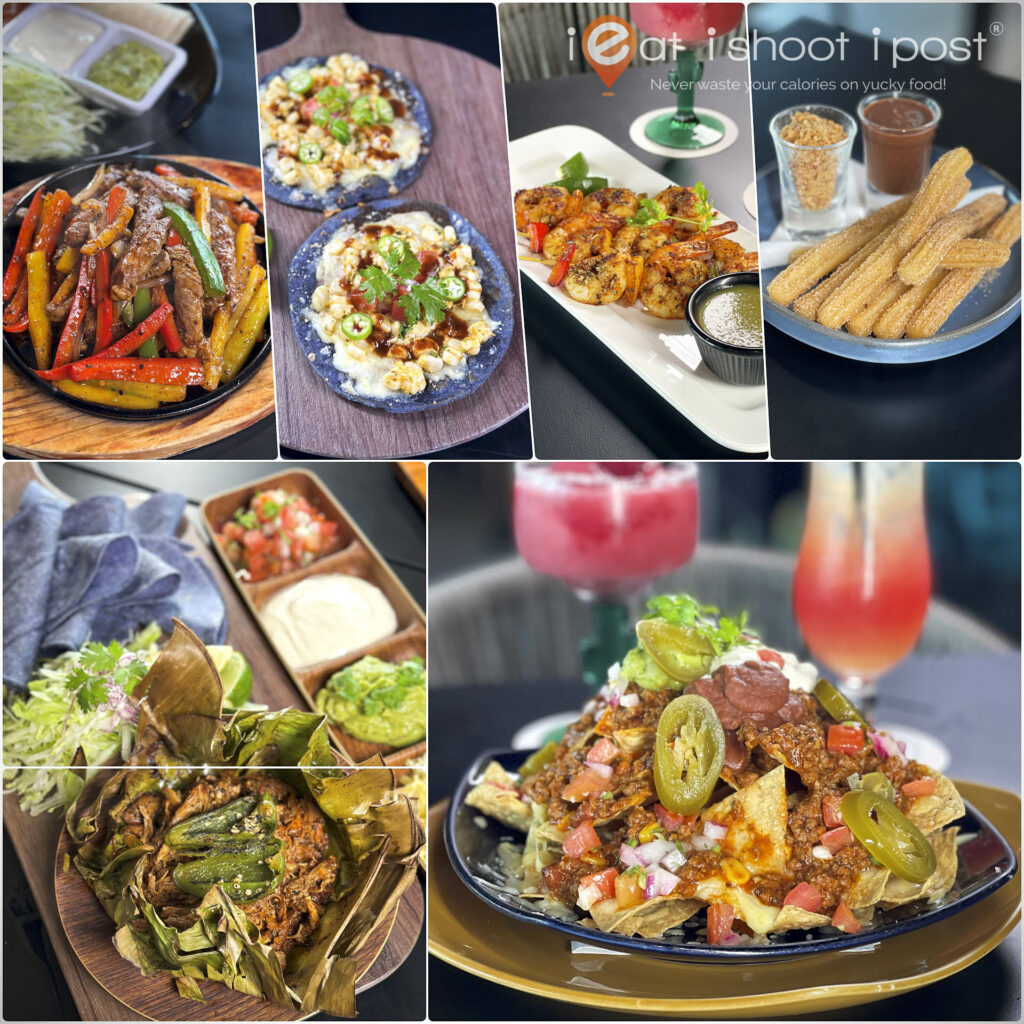 While we're sticking to the Latin American theme, the Mexican cuisine at Sanchos offers a quite a different experience. Nevertheless, the spirit of Share-Share still prevails at this Mexican restaurant in Clarke Quay.
Mexican food enthusiasts will find the familiar classics like Nachos, Burritos, and Fajitas. If you are looking for a road a little less travelled, Sanchos now serves blue corn tortillas that can be enjoyed as tacos or mini pizzas (Tlayudas). These are an excellent choice for those following a gluten-free diet.
Additionally, they've introduced Barbacoa, a flavorful dish of slow-roasted shredded duck meat wrapped in banana leaves. It is traditionally made with beef. If you are the type who like a bit of heat in your food, then this is a good place for you as most of the dishes are on the spicy side.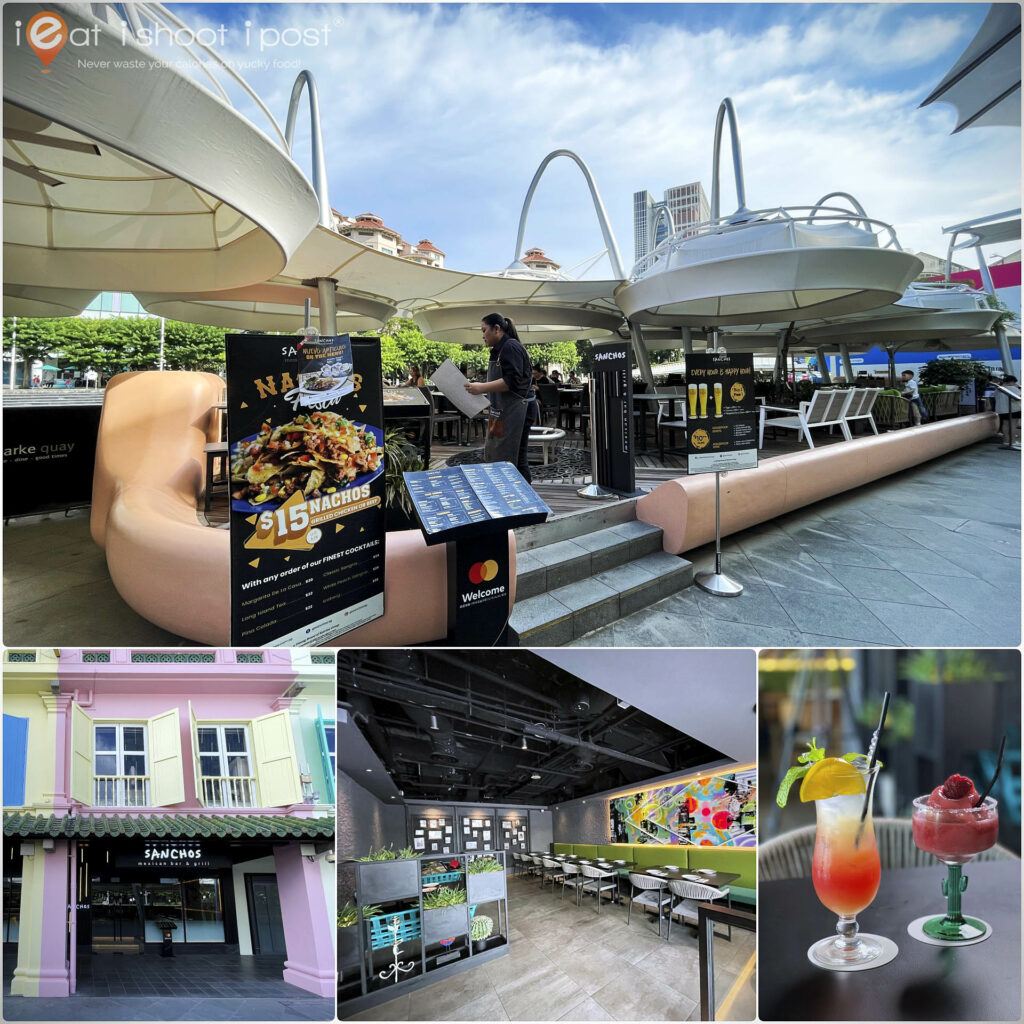 Sanchos' riverside location provides the perfect setting for enjoying a meal with friends, savoring Margaritas, and relishing the refreshing river breeze!
Citi Gourmet Pleasures Offer:
10% off with min. $80 spend
Valid until 30 April 2024
Click for more details here.
Sanchos
3D River Valley Rd, #01-07, Clarke Quay, Singapore 179023
Sun – Thurs | 12pm – 11pm
Fri – Sat | 12pm – 1am
La Taperia – Spanish Tapas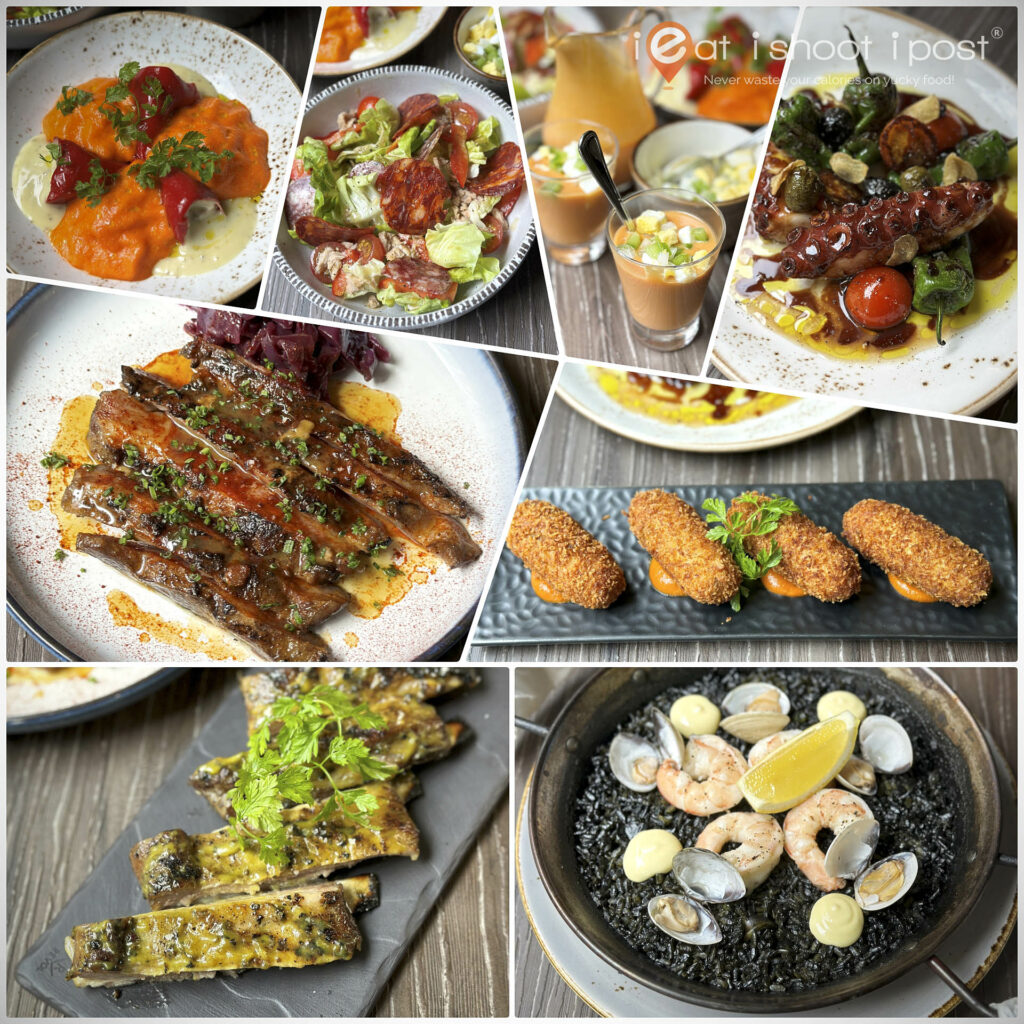 The Spanish Share-Share culture is best embodied by their numerous tapas bars which come alive at night! That's when everyone comes out for drinks and small bites after their afternoon siestas.
Lisa enjoyed the Gazpacho Andaluz, a cold tomato soup, as well as the Capricho de Santona, where piquillo peppers are stuffed with tuna and anchovy paste. Personally, I'm not as keen on cold appetizers. My excitement only peaked when the Croquetas de Jamon and grilled meats arrived.
The grilled meats were excellent. We savored their Pulpo a la Plancha (octopus), Presa Iberica a la Parrilla (Iberico pork), and lamb ribs, all skillfully prepared. Most importantly, served in reasonably sized portions that allowed us to sample a variety. (Precisely why we love tapas!) The standout was the Costillitas de Cordero a la Parrilla! The marinated and slow-cooked lamb ribs were tender and flavorful.
On a separate occasion, we also tried their grilled striploin steak (US Prime a la Parrilla 200g, $30), which is certainly worth ordering too! Their Paella Negra de Marisco (seafood paella) was good but didn't quite have that soccarat (crust) we were looking for. Well, the crust might have softened after being left out too long for photo taking before consumption.
As for dessert, we indulged in the Marquesa de chocolate, a wonderfully dense chocolate marquise crowned with a delightful baked almond praline, making it a must-try for chocolate enthusiasts. Personally, I lean towards the Crema Catalana, the Spanish twist on creme caramel. It features fresh mango chunks for a touch of tanginess that lightens the dessert, making it a delightful finish!
Citi Gourmet Pleasures Offer:
$35 off with min. $250 spend
Valid until 31 Dec 2023
Click for more details here.
La Taperia
1 Scotts Rd, #02 – 10 / 11, Shaw Centre, Singapore 228208
Sun – Thurs | 12pm – 3pm, 6:30pm – 10pm
Fri – Sat | 12pm – 3pm, 6pm – 10pm
New Ubin Seafood – Not Your Everyday Zi Char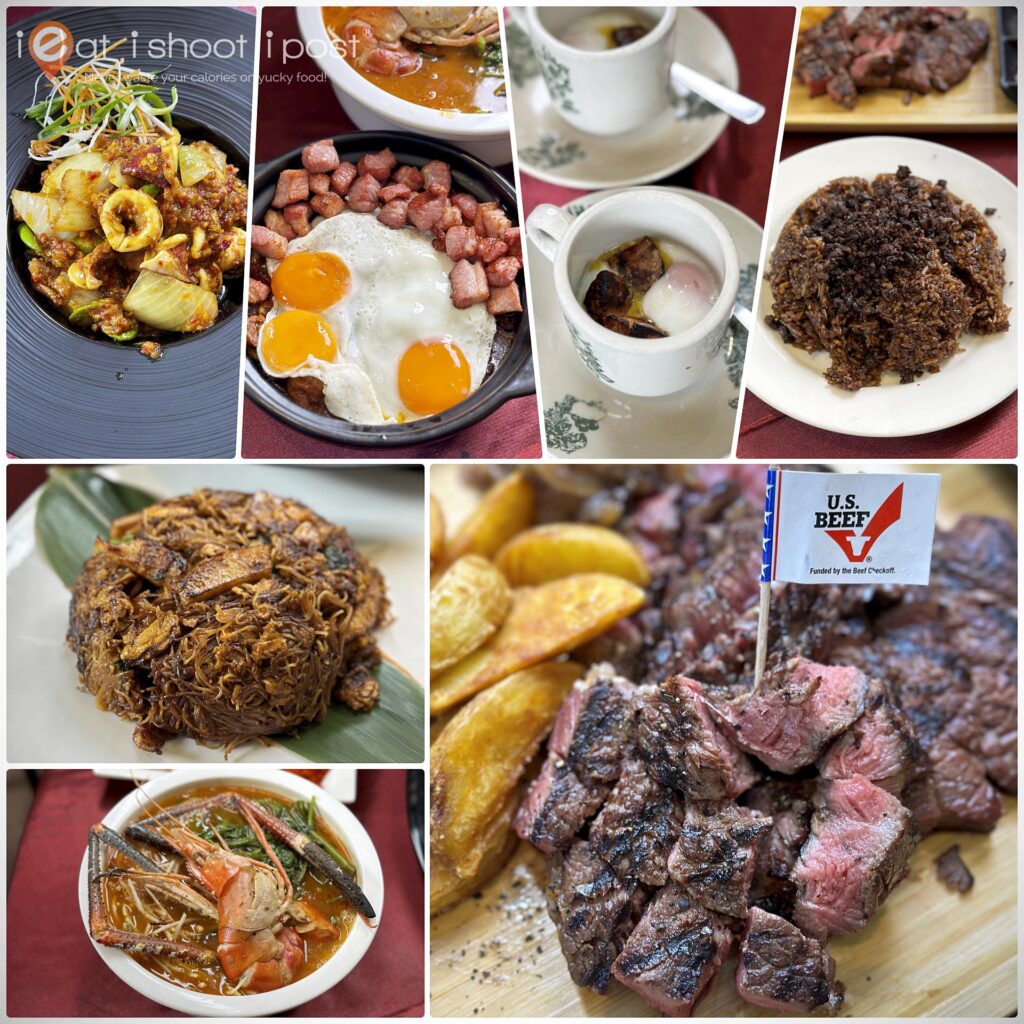 We are no strangers to New Ubin Seafood having written about them when they were still a kampung style shack in the industrial estate of Sin Ming back in 2011. What distinguishes New Ubin Seafood from other Zi Char restaurants is the owner's love for Western-style meats. It's one of the few Zi Char places where you can also order a USDA Ribeye steak cooked in a Josper oven and American-style smoked pork. The enduring popularity of their Boss Beehoon and Heart Attack Fried Rice is one of the reasons patrons keep returning.
During this visit, we were introduced to a few new dishes like their River Langoustine Noodle Soup. It is their take on the prawn mee using Giant River Prawns. Unfortunately, the broth was a little too light for our liking. On the other hand, their Free Range Egg Foie Gras Special, served in kopitam-style cup and saucer made for a delightful starter. Their Smoked Pork Curry is served over a bed of spicy rich curry topped with eggs over easy. It is a very rich dish.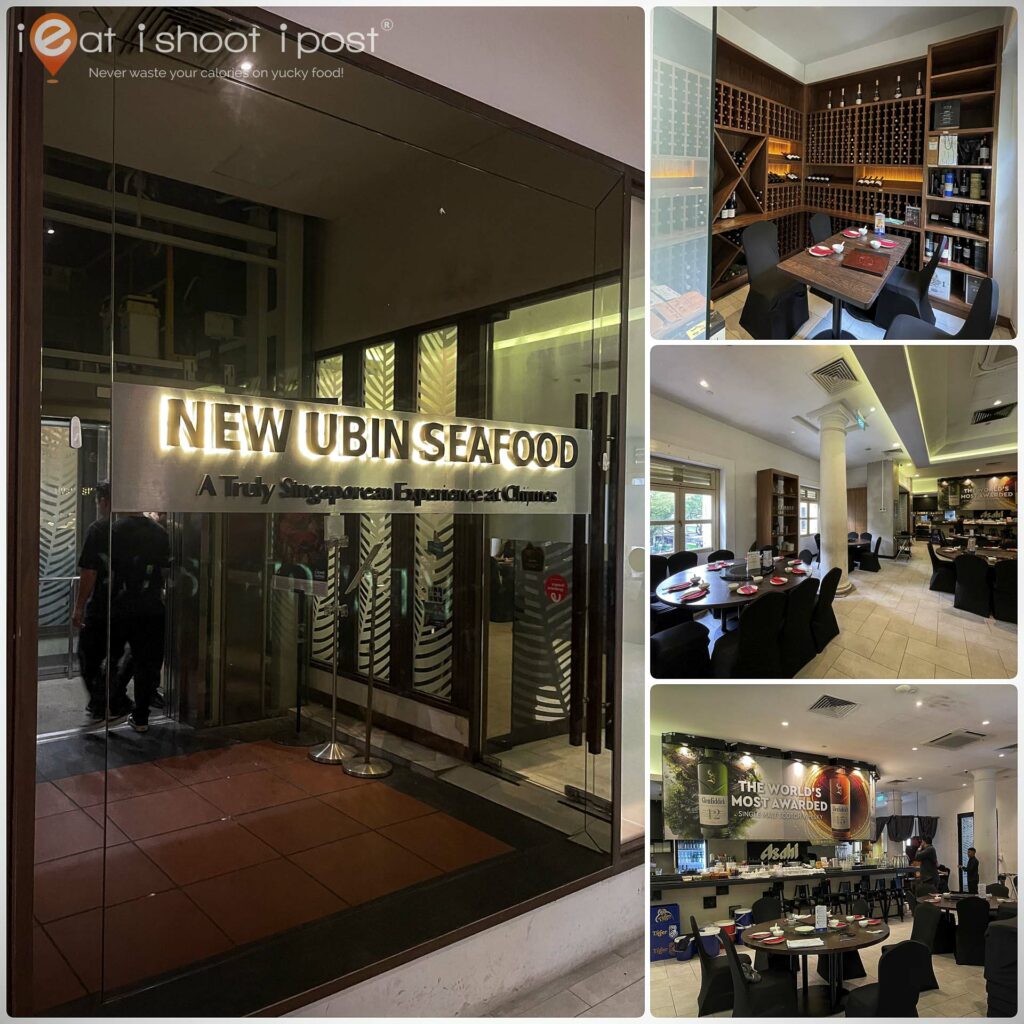 Located at CHIJMES, the upscale restaurant is a far cry from the little shack. Nonetheless, what remains unchanged is their moorish signatures which had made them such a success over the years.
Citi Gourmet Pleasures Offer:
– 15% off total bill with min. $100 spend (Mondays to Thursdays)
– 10% off total bill with min. $100 spend (Fridays to Sundays)
Valid: 31 Dec 2023
Click for more details here.
New Ubin Seafood
30 Victoria St, #02-01B C, CHIJMES Singapore 187996
Tues – Sun | 11am – 3pm, 5:30pm – 10pm
Mon | 5:30pm – 10pm
In Conclusion
So there you have it! Four different cuisines but with a culture of Share Share so that you will never miss out on something yummy! Besides it's more fun when you get to eat with your love ones!
And don't forget to check all the Citi Gourmet Pleasures dining offers with your Citi Cards! If you are a Citi Cash Back Cardmember, you can enjoy 6% cash back* on all your dining too.
Savour even more savings with an exclusive welcome gift of S$300 cash back* when you successfully apply for a Citi Cash Back Card. Sign up now. (*Terms and conditions apply)
Discover hottest destinations, and best deals with Citi. Visit Life and Money by Citi for more information.
Enjoy!
This post is written in partnership with Citi Gourmet Pleasures.