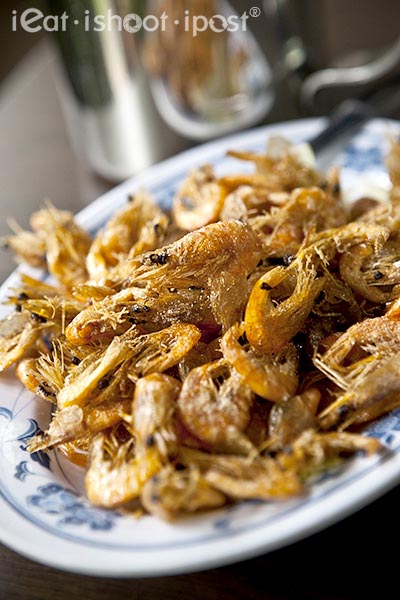 What comes to mind when you mention Pulau Ubin? Probably images of Kampong houses, kids running around in singlets and catching spiders right?
I guess that is the kind of image that a restaurant called New Ubin Seafood wants to project in the mind of the potential customer and they have managed to do it to a certain extent. When you step inside this rustic little restaurant inconspicuously hidden amongst the motor mechanic workshops in Sin Ming, you might momentarily imagine that you are in a little Kampong hut in Pulau Ubin! And, just as Pulau Ubin had somehow managed to escape the ravages of development, this eponymous little shack of a restaurant seemed that have done the same. In rapidly developing Singapore, shady little shacks like these are hard to come by!
The restaurant is run by Mr Pang, a retired professional who runs the restaurant as an excuse to have a big kitchen to experiment with the kinds of food he likes to eat. How else can you explain a menu which not only consists of atypical Cze Char dishes, but also western dishes like USDA Ribeye steaks and German pork trotters?
If you have ever dined in Pulau Ubin before, you might remember dishes which feature local seafood which are simply cooked so that you can enjoy the original fresh flavours of the Kelong. Here at the New Ubin Seafood, that experience is re-created with the Crispy Fried Baby Shrimp and the Steamed Baby Sotong. Mr Pang specially orders these fresh and wild caught from his suppliers. These two dishes are excellent appetizers for your main meal or simply as beer snacks which you are order if you decide to sit at the bar counter instead! 4/5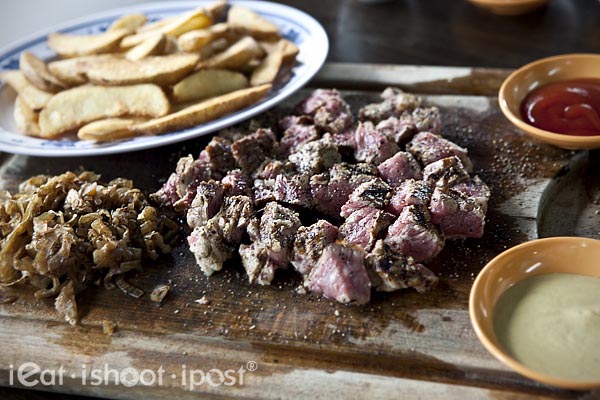 The reason that they serve Beef Steak here is simple. The owner likes to eat meat. Not only that, he likes good meat. So he buys USDA choice Ribeye, pan fries it and serves it with mustard, ketchup, fries and sauteed onions. The meat quality is very good, but our steak was just slightly underdone that day and needed to be returned to the kitchen for another quick saute.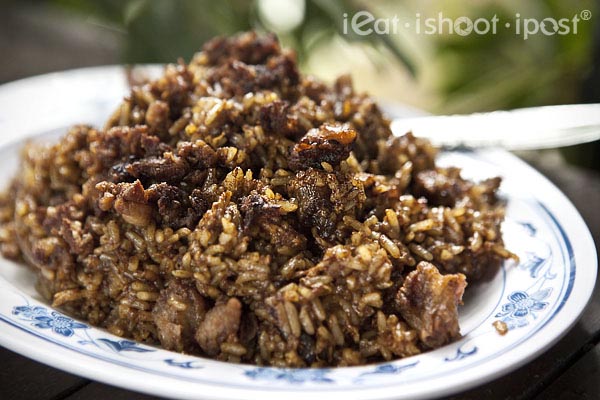 The real star is the fried rice they serve after the beef. After they cook the steak, the meat is cut up into cubes while the fats are removed and used to fry the rice. I know it is really bad for you but this fried rice is amazingly simple and yet simply amazing! It's one of those dishes that just hit your palate receptors with a flavour symphony. Sinful but shiok! 4.5/5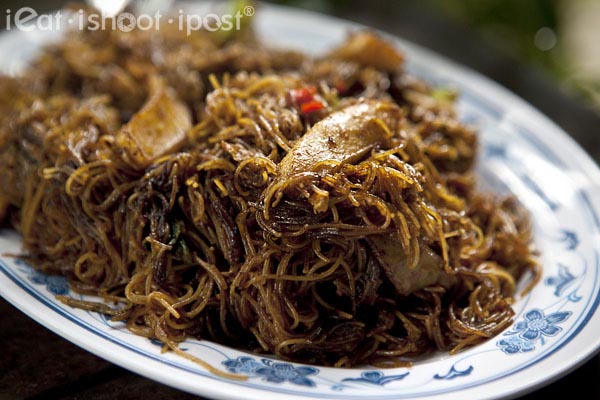 Now, if you are all alone and don't wish to fork out $50 to try the beef fried rice, then a good alternative for your carbs is the Boss Bee Hoon. Why is it called "Boss"? Well, simply put, that's how the Boss likes to eat his beehoon. On the surface, this looks like a simple plate of Bee Hoon fried with black sauce. I suspect that the magic probably lies in the combination of Pork Lard and Dark Soy that gives the Bee Hoon its addictive flavour. There's also a sprinkling of chopped Chilli Padi strategically hidden amongst the strands of Bee Hoon to induce some pleasurable pain when you least expect it. 4.25/5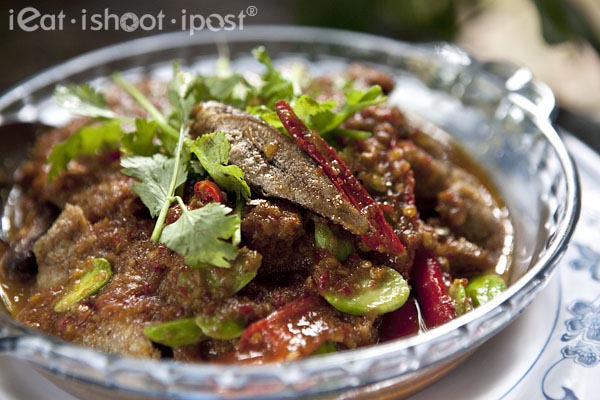 Eggs of any type are delicious. We are all created with tastebuds that seek out foods which are nutritious and there isn't any other food more nutritionally power packed than an egg. It contains just about everything a growing embryo needs and that means lots of protein and fats which equals flavour. That is why Caviar, Salted Eggs and Hairy Crabs are right up there amongst the most yummy foods on earth!
So what do you get when you take the eggs of the Spanish Mackeral and fry it with another tasty ingredient called Cinchalok (fermented baby shrimp)? Flavour explosion, that's what. Add a bit of sambal which contains belachan and you add yet another layer of umami flavour. All you have to do after that is to balance out the umami with a bit of sour and a bit of bitterness from the petai and you have a dish which would make you finish a bowl of rice and ask for a second. 4/5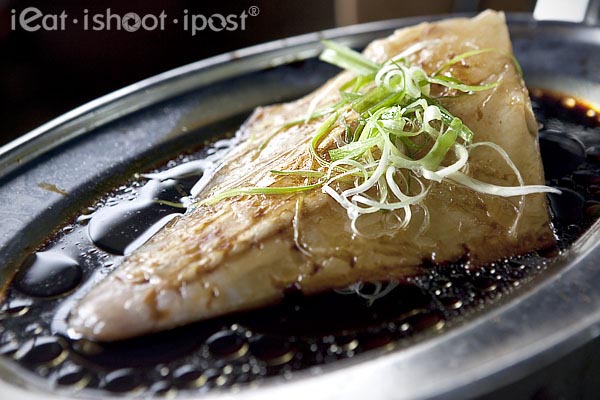 If you enjoy the gooey, gelatinous mouth feel of eating stuff like stewed sea cucumbers and are always the one who go for fish eyes, then nothing will satisfy you more than a whole Shovel Nose Ray head. All that collagen is also great for those who want to reduce their wrinkles or make their lips look more like Angelina Jolie! The shark is nice and gelatinous but the steaming sauce could do with a bit more oommph. 4/5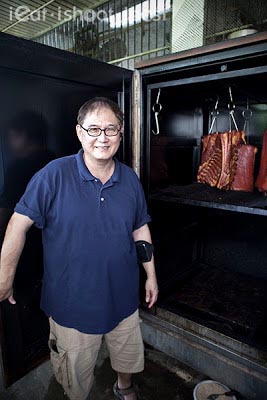 As I alluded to at the beginning of the post, New Ubin Restaurant is an excuse for owner, Mr Pang house his extra large kitchen gadgets. After our meal, he took me to the back of the restaurant to show off his smoker. Yes, I also wondered what a smoker is doing in a Chinese restaurant. Basically he uses it to smoke pork belly and other stuff. The smoke belly is actually quite tasty and I can just imagine how it would taste in a fried rice!
Conclusion
There aren't many places in Singapore where you can enjoy Steak and Cze Char and even fewer who serve rice fried with crispy beef fat! We did not taste the crabs that day, but they have a big banner in front of the restaurant saying that if you buy two crabs, you get the third one free! (Sri Lankan Crabs, $40 per kg) Might be a great place for your next Cze Char fix, don't you think?
Congrats to New Ubin for being awarded the Bib Gourmand 2016!