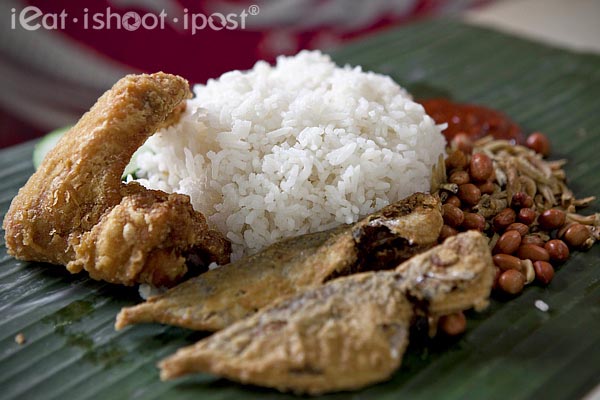 Chong Pang Nasi Lemak hardly needs any introduction. Together with Ponggol Nasi Lemak, they are both probably the most well known Nasi Lemak brands in Singapore. Both actually started out making those pre-packed banana leaf wrapped Nasi Lemak but expanded to serve Nasi Lemak Ala-carte. In those good old days (they have been around for 50 years), Nasi Lemak was simply rice, eggs, fried fish and the sambal. In fact, some Nasi Lemak aficionados insist that it is sacrilegious to have Luncheon Meat or even fried Chicken Wings with it! Personally, I do agree that Nasi Lemak is about the rice and the chilli, but I still love to have my fried chicken wings! So I guess you can brand me a fair weather traditionalist!

Chong Pang Nasi Lemak has been on by blogging radar since I started the blog. But since they were all the way in Sembawang and only opened for business at night, it took me all this while before I got to blog about them. The final push came about because I needed more stalls up North to populate the Food Map of the Ieat Hawker App. So this entry will make it into the next update!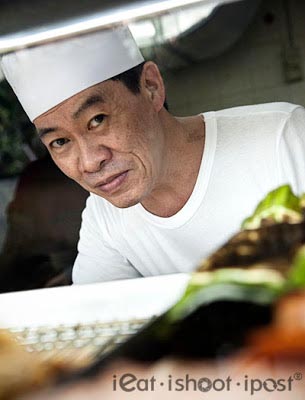 Although Ponggol and Chong Pang both serve Chinese Style Nasi Lemak with extra dishes that you can choose from, the character of both Nasi Lemak are actually quite distinct. The rice at Chong Pang is the more traditional starchy rice which is lighter and doesn't clump together as much as Jasmine Rice which Ponggol uses. The traditionalist would favour this style of Nasi Lemak rice. It isn't heavy on the coconut milk, so it is very light. The chilli here is brighter and more tangy than the Ponggol which is sweeter and heavier to the palate.
What Chong Pang does really well are the Chicken Wings and the fried Ikan Kuning. The wings are lightly battered and marinated so well that you are rewarded with a crunchy, juicy bite filled with that elusive "Chickeny" flavour you get from perfectly fried chicken. The Ikan Kuning is first lightly coated with batter and fried till the bones are edibly crunchy such that you can just about finish the whole fish. 4.25/5
Conclusion
There are a few compelling reasons for visiting Chong Pang Nasi Lemak. The fried chicken wings are excellent and my advise is to get an extra one ($1.20) so that you don't have to queue up again. It is also one of those places that are opened right up to 7am in the morning! So if you have ever gotten hungry in the middle of the night, this is one place that you need to keep in mind!