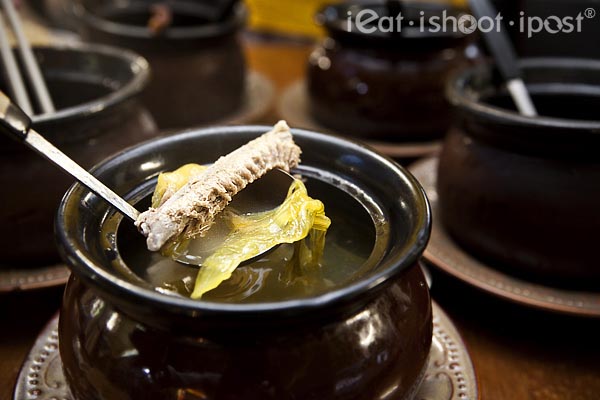 OK, so you have been pigging out a little too much lately and feel a little bloated and a lot guilty. So you are looking for something a little bit more healthy in order to satisfy your conscience. Perhaps you even have to face your cardiologist (or your wife, mother or whoever) soon, and dread having to tell them that you have been eating all the wonderful yummy cholesterol laden, artery clogging foods! What you need is a plan, a kind of alibi, so that you can enthusiastically tell them about that ONE healthy meal you had and give them the impression that you have been a good boy (or girl) all along! What you need is this story about healthy medicinal soup!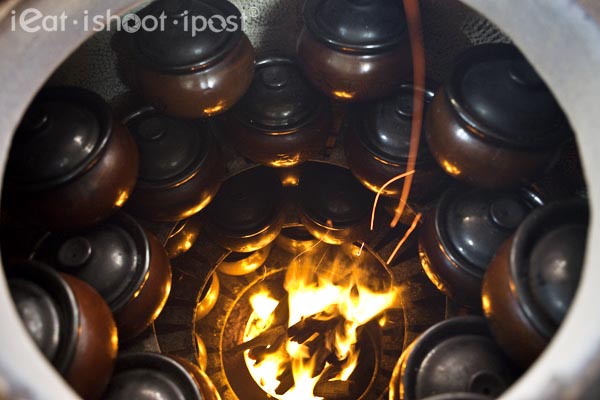 The recipes for these soups actually come from a TCM physician who specially formulates the herbs for different purposes. So for instance, if you are feeling a little tired and need a bit of pick me up, you might go for the ginseng chicken soup. On the other hand, if you are fighting a cold or just simply want to boost your immune system, you might go for the Black Chicken Soup which is traditionally used for post-natal women or simply as a tonic to prepare for the coming winter.
Ever wondered why Black Chicken is black? In case you are, Black Chicken is actually a special breed of chicken call the Silkie which is an odd looking creature with a plume of downy feathers on its head that makes it look like its wearing an afro. Although the Chinese have been using it for centuries as a medicinal food, it has only recently been entered into the list of Super Foods in the West. They have found that the Black Chicken has less fat than and more antioxidants than the normal chicken! So what your grandma hah always told you is no old wife's tale! (Although she is indeed an old wife)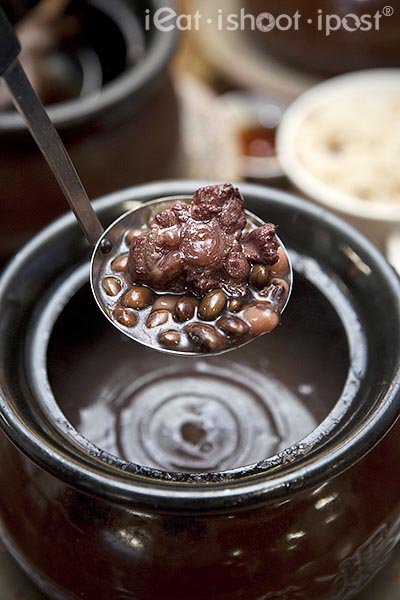 Don't confuse these soups with double boiled soups which are soups that are cooked over boiling water. Instead, the raw ingredients and the herbs and put into small clay pots and cooked in a charcoal oven for 3-4 hours. So they are more like broiled or baked soups. The pots are generally half filled when they serve it as some of the water would have evaporated during the broiling process.
For around $6 per pot, it is actually quite good, considering you are getting a whole chicken thigh plus a bag of chinese medicinal herbs packed in filter paper. Overall, the soups are very good, but I did feel that they could do with a longer cooking time to extract more of the savoury goodness from the meats. The soups do come across as a little on the sweet side because of the addition of rock sugar to substitute for MSG. As an extra bonus, each pot of soup comes with a bowl of savoury dried shrimp rice is actually quite good! 4/5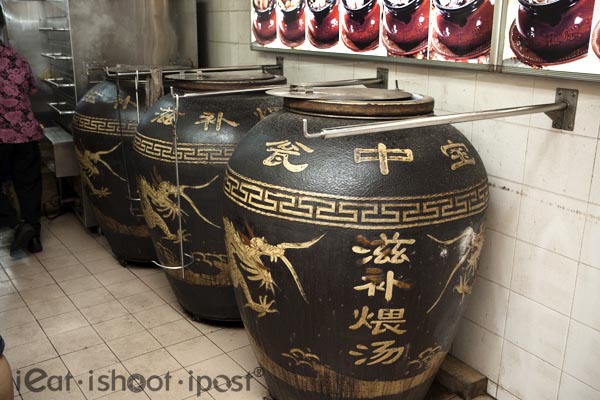 Conclusion
Great place to satisfy you conscience and get a good feed at the same time! Personally, I don't see the advantage of having the soup cooked in a big urn as opposed to cooking it in a double boiler, but those urns really does grab your attention doesn't it?