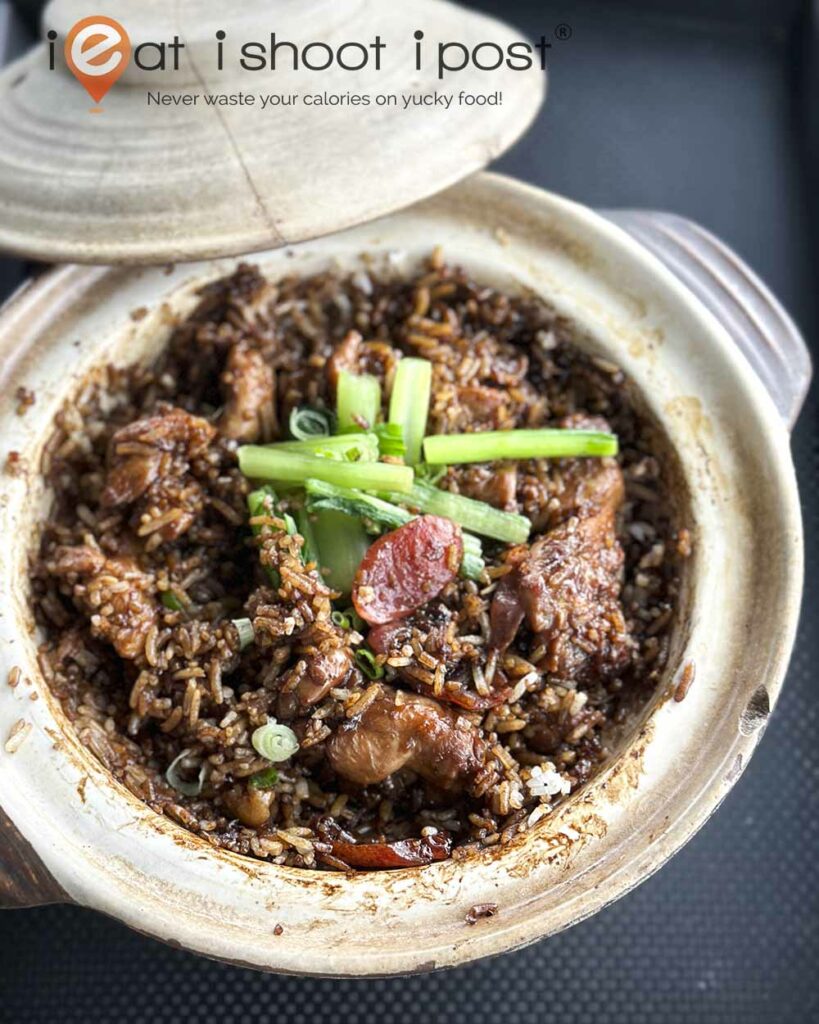 What is it about Claypot Rice that makes connoisseurs willing to wait 30mins to eat?
Well, it has to be that layer of crispy rice that is stuck to the sides of the clay pot. The Spanish call it "soccarat" while in the Middle East, it is known as "tahdig". The Chinese call it 锅巴 (guōbā) but in English, it is known simply as "crust" which just goes to show that the English don't really eat rice! I shall refer to that delectable crispy layer of rice as "soccarat" which sounds sexier than "rice crust."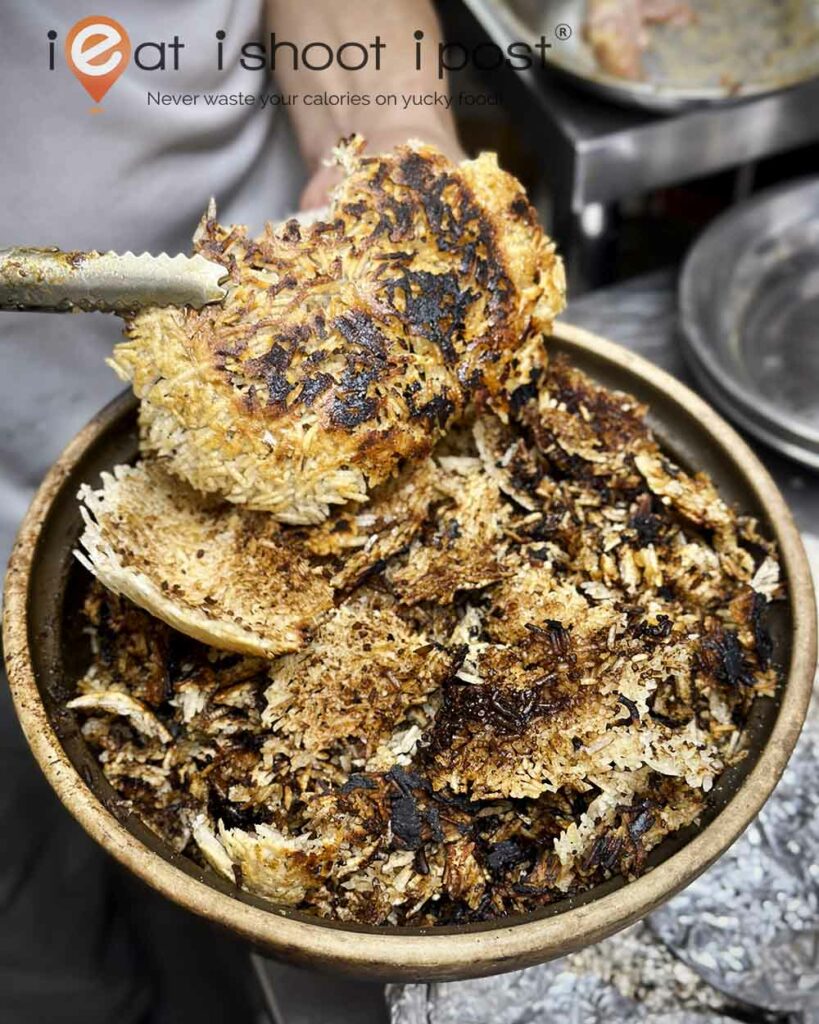 But it is not just the crispy layer of rice that claypot connoisseurs look for. They also what that special flavor that comes from the claypot that is cooked over charcoal. Claypots are porous and older clay pots develop fine cracks through which the charcoal smoke can penetrate to get to the rice. That explains why you can't get the same taste when you simply place the marinated ingredients on top of the rice in the rice cooker.
There are shortcuts that some hawkers take to try to reduce the waiting time. Some will cook the rice first instead of starting with raw rice in the claypot. This shortcut will shave off at least 15 mins from the actual cooking time, but you are not going to get that thick layer of soccarat, because cooked rice will not have as much surface contact with the clay pot as if you actually start off with raw rice.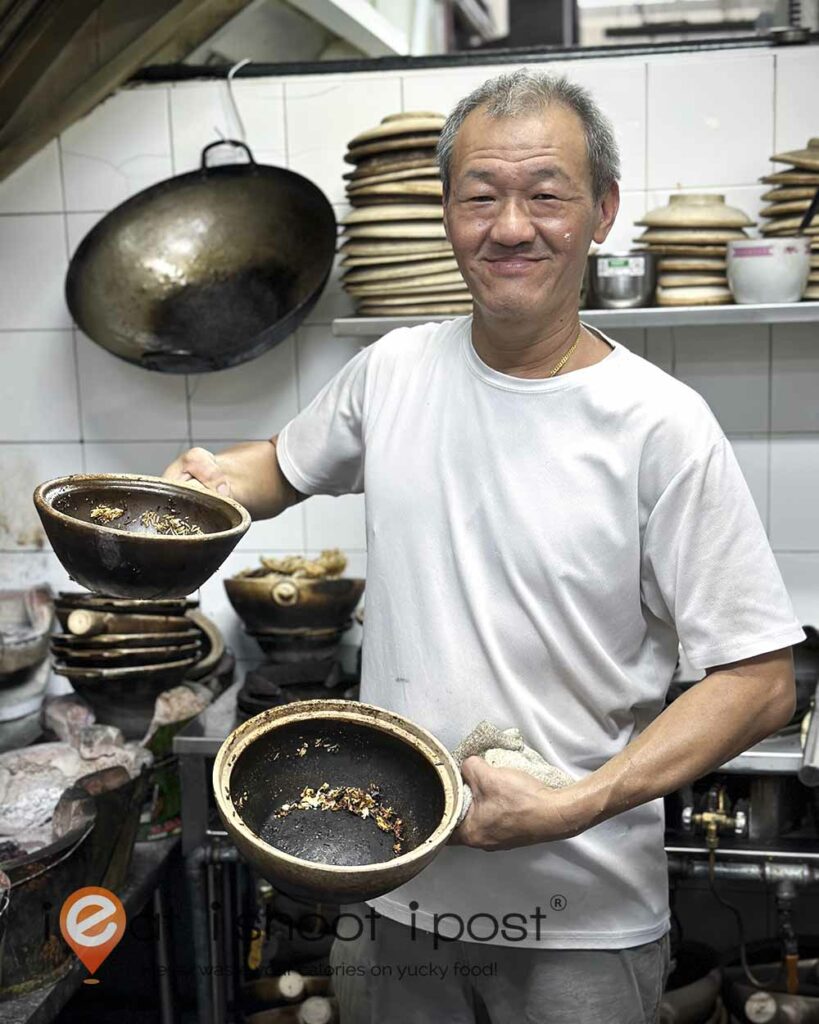 Ah Ching is one man who is determined to make a proper claypot rice without taking any shortcuts. However, he also knows that waiting half an hour during a one-hour lunch break is not feasible for most busy execs. So what he does to pre-empt the office crowd is to make pots of claypot rice ahead of the actual order. This does mean that he would end up having a few pots of rice lying around after lunch, but he felt it is worth it.
He has spent most of his working life cooking clay pot rice. He started after NS as a cook at Geylang Claypot Rice and worked there for 20 years before venturing out on his own. Prior to moving to Midview City, he was working at East Village, making the Claypot Rice at Eng's Wanton Mee and Claypot Rice. To him, cooking Claypot Rice is a vocation, not just a job.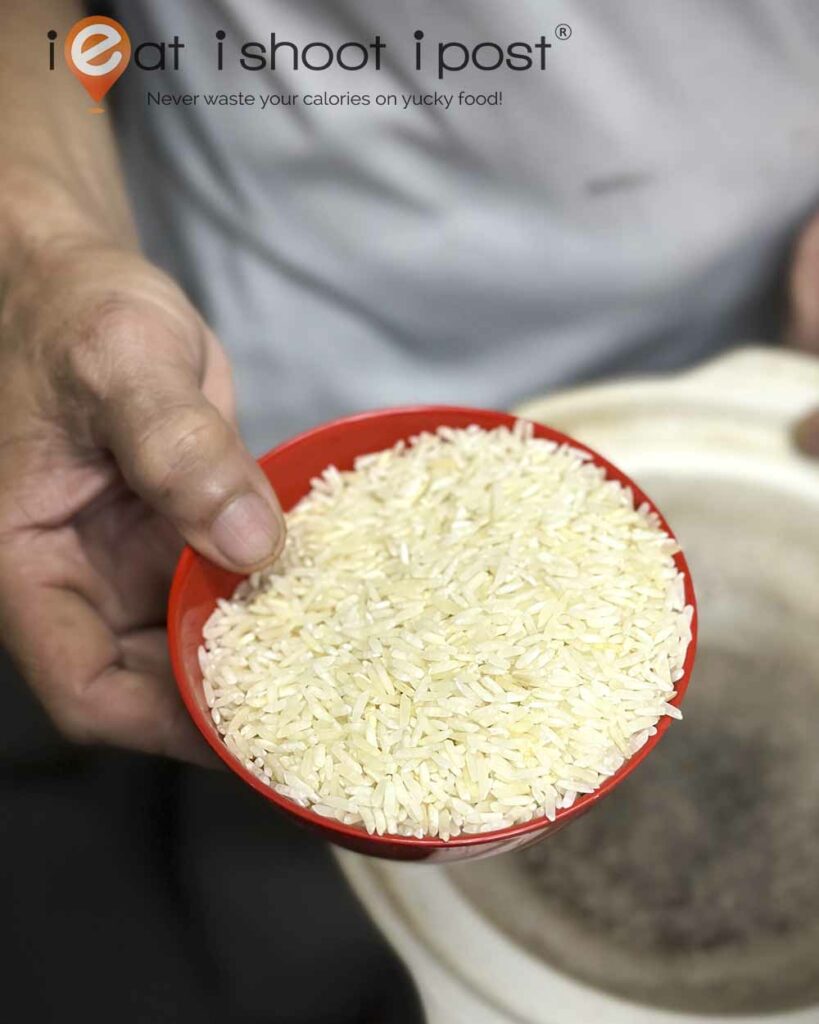 One key ingredient in the recipe is, of course, the rice. I think this is something that most of us don't even consider. In order to make aromatic rice with a good bite, he uses very old rice that is so aged that it has turned yellowish brown. This type of rice is not available from the supermarket and must be specially ordered from the distributor.
Another key ingredient is salted fish. Ah Ching uses the more expensive Mui Hiong ie salted Spanish mackerel which is soft, mushy, heady, and more potent than the more common salted snapper. To lower costs he uses frozen chicken which he marinades very well such that it's moist and tender and doesn't have any off flavors. The only ingredient which I thought could have been much better was the lup cheong which didn't quite have a strong rose wine aroma.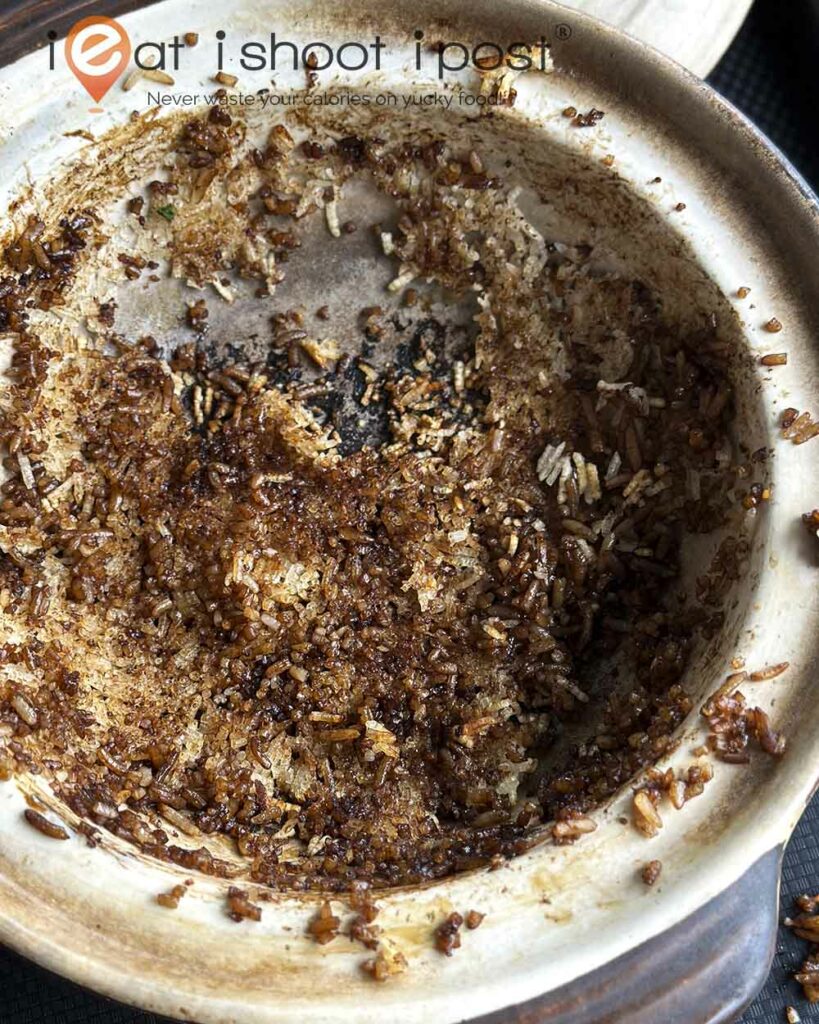 Overall, the clay pot rice is very well made with a really thick layer of soccarat which should please clay pot rice lovers. The charcoal smoke-infused rice was toothy and had a good bite. However, I just felt that the flavor could be a bit more punchy. A bit more Mui Heong and a better quality lup cheong would have really elevated the dish. 4/5

I spoke with Ah Ching after the meal and he told me that he does have better quality lup cheong and regulars will know to "jia liao" when they order the claypot rice! OK, so now you know!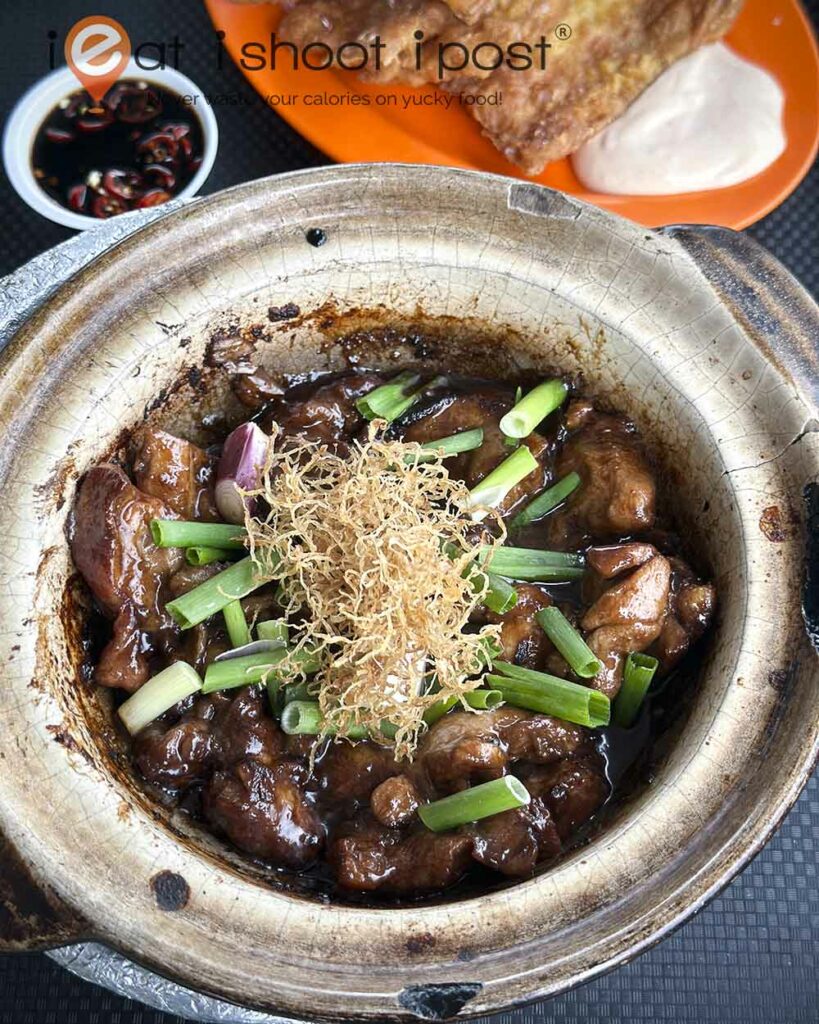 Aside from claypot rice, Ah Ching also does other claypot dishes as well as side dishes. The sesame chicken is very nice. It is also cooked in the claypot for that smokey flavor and moister and flavourful compared to the chicken in the claypot rice. A good dish to add-on to the meal if you are sharing with a friend and are on a low-carb diet! 4.25/5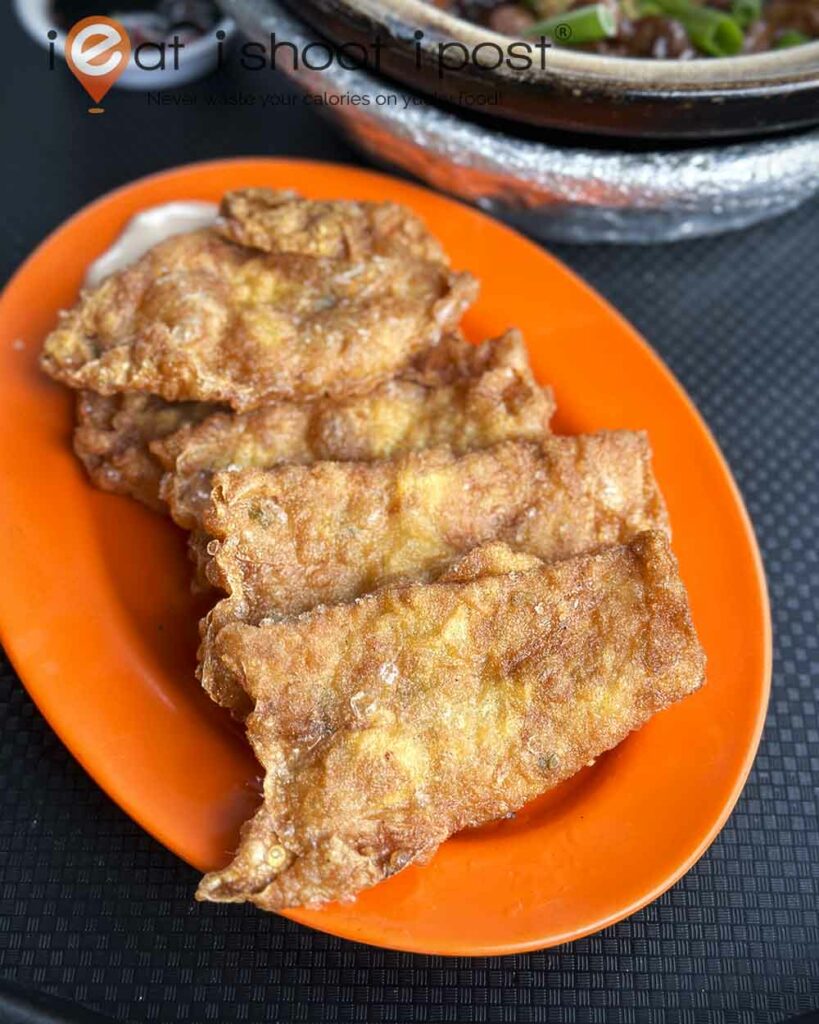 Ah Ching's handmade bean curd roll is another good side dish to have with the claypot rice. It's not exceptional but is good. 4/5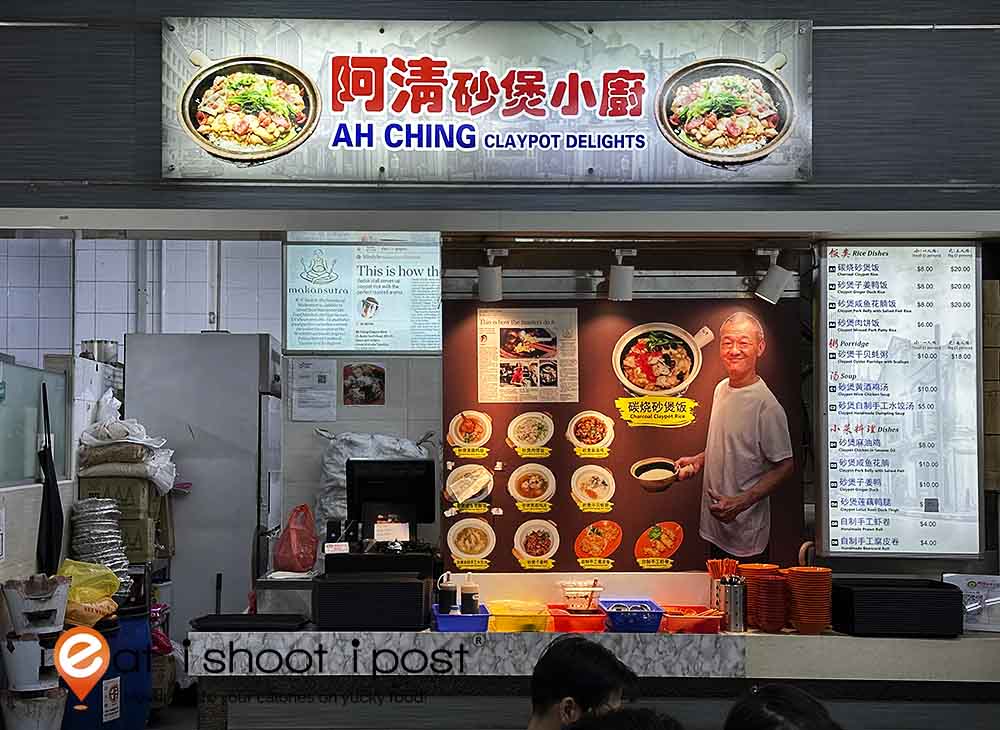 Conclusion
There is no doubt that Ah Ching knows how to cook proper claypot rice which has a thick layer of rice crust that would please lovers of Claypot Rice. To elevate your experience, remember to ask for better quality lup cheong and add more salted fish!