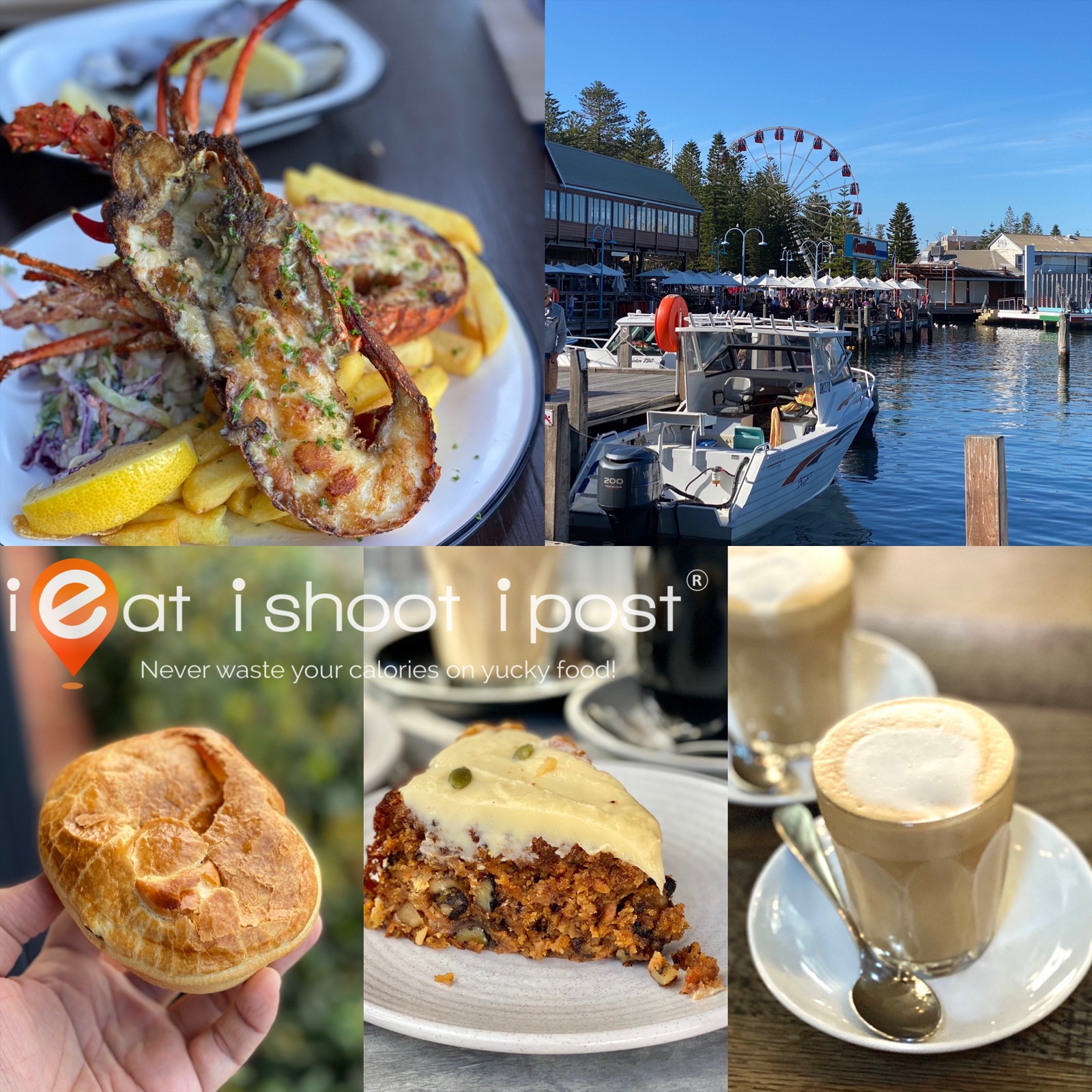 I am sure many of our readers are quite familiar with Perth.  It is actually our first time visiting, even though we have many friends and family who are living there.  My home base is Sydney where I lived for a few years while doing my degree, so we never did consider travelling to the Western part of the continent. Compared to Sydney, Perth is more laid back. There are lots of beautiful outdoor spaces to visit and is good for a quiet respite from the busyness of Singapore.  There is a  large community of Malaysians and Singaporeans there and we have been recommended many Malaysian restaurants to try their chilli crabs.  However, being first time tourists, the last thing we wanted to eat was something we could find in Singapore.  So, we opted to hunt down the best cafes, fish and chips, steaks and pizzas,  with the exception of dim sum which we were told was very good (and big!) in Perth. Unlike Singapore where there is a dearth of food blogs, the sources of info on where to eat come from recommendations from our readers,
urbanlist
and google maps.  As with all these recommendations, some were hits, others were misses.  So, here is a list of places we have visited based on these recommendations and my own review.  We hope it will be useful to you when you are planning your trip to Perth!
Cafes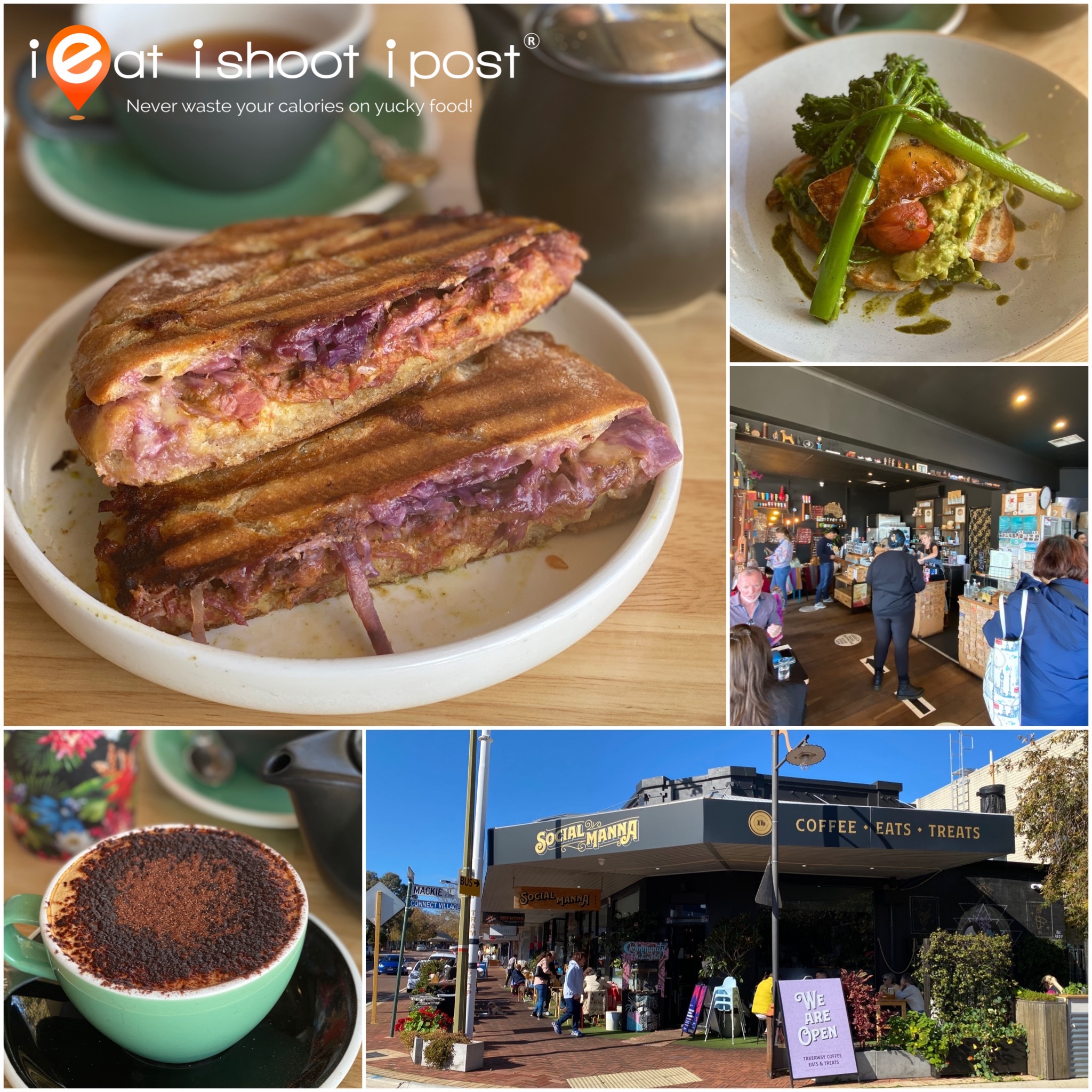 Victoria Park, or Vic Park as the locals call it, is known for its cafes and restaurants. Since we lived nearby, we have spent quite a bit of time checking out its cafe offerings. We enjoyed the brunch menu at Social Manna. This cafe which lies at one end of the cafe stretch served a very good avocado smash which is topped with sautéed zucchini and baby spinach. We also enjoyed the toasted Reuben sandwich there. The corner shophouse has outdoor seating which is perfect for a sunny brunch.
Social Manna 

4.5/5
253 Albany Hwy, Victoria Park WA 6100, Australia
MAP and Info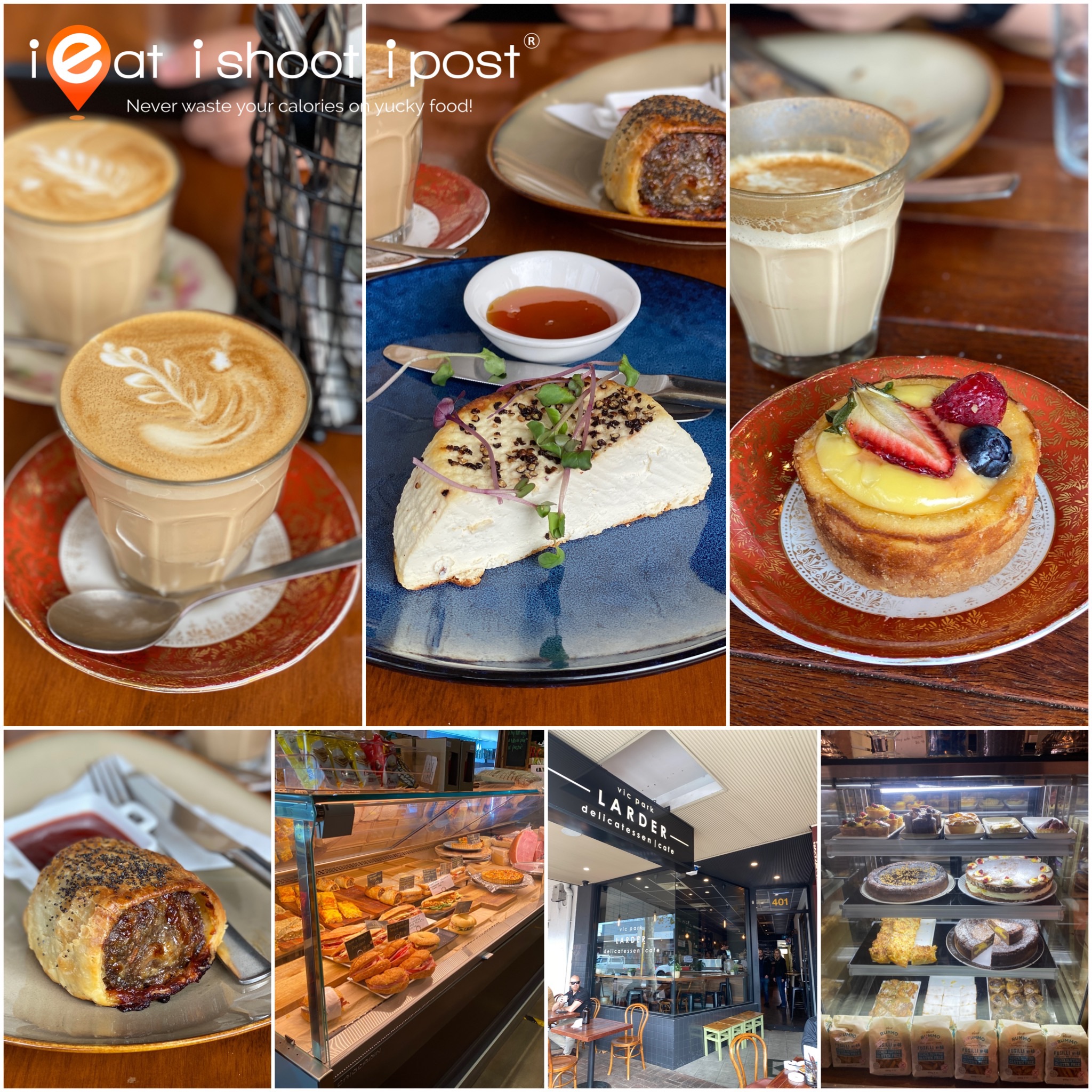 This European delicatessen cafe bakes its own cakes and pastries and has a good selection of cured meats which you can buy. We had a very nice baked ricotta, sausage rolls and a New York Cheesecake which comes in a small cup size portion.
Victoria Park Larder

4/5
401 Albany Hwy, Victoria Park WA 6100, Australia
Map and Info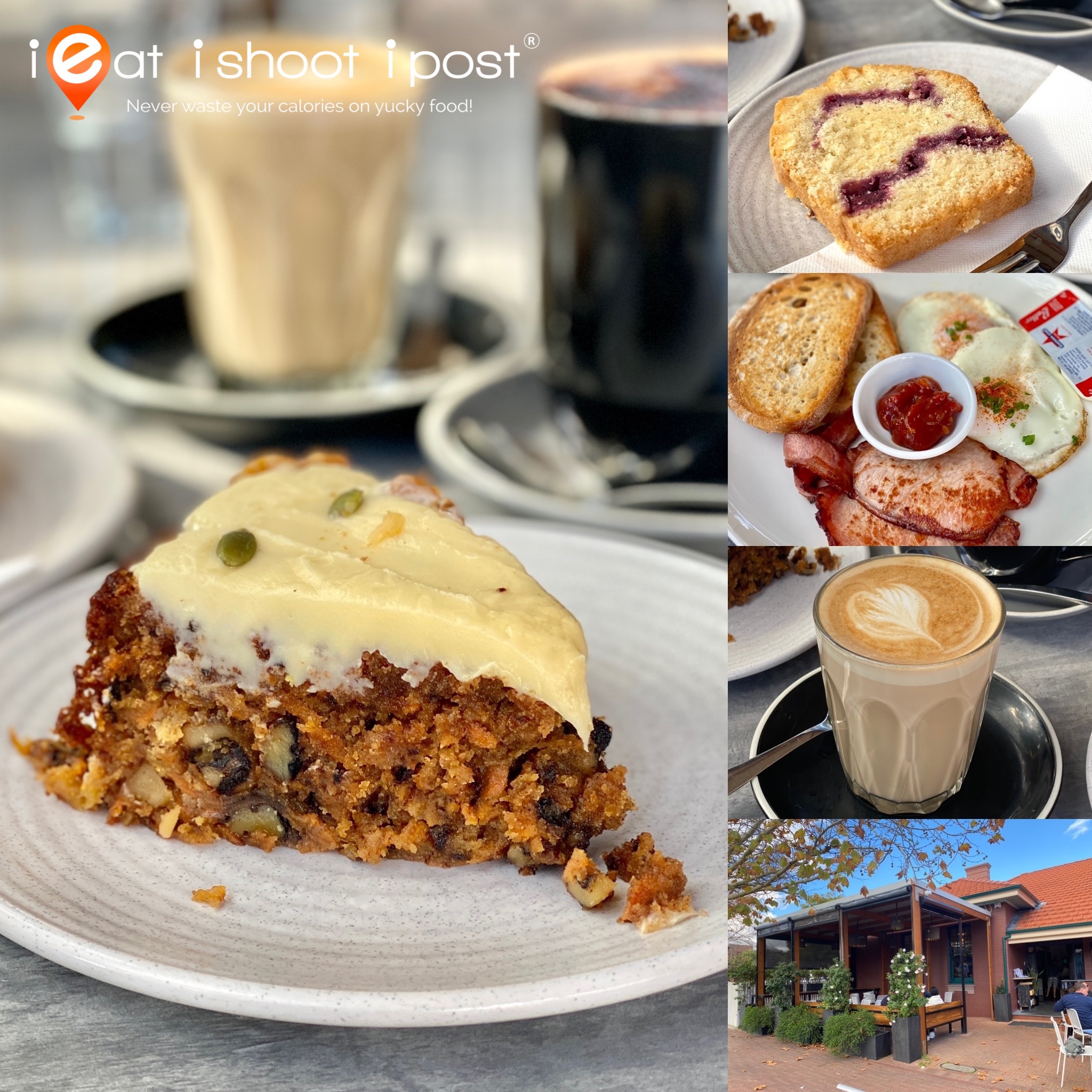 At the other end of the stretch of cafes is Sage which has a nice gazebo area where you can have your brunch, coffee and cakes. We had one of the best carrot cakes here.  The cake itself is moist and crumbly and full of nuts.  It set the standard for carrot cake for me and inspired me to develop a recipe for it.  They also serve a very competent brunches although we only managed to try the basic bacon, eggs and toast.  Definitely one the cafes in Vic Park which we would head back to the next time we are in Perth.
Sage

4.25/5
414 Albany Hwy, Victoria Park WA 6100, Australia
Map and Info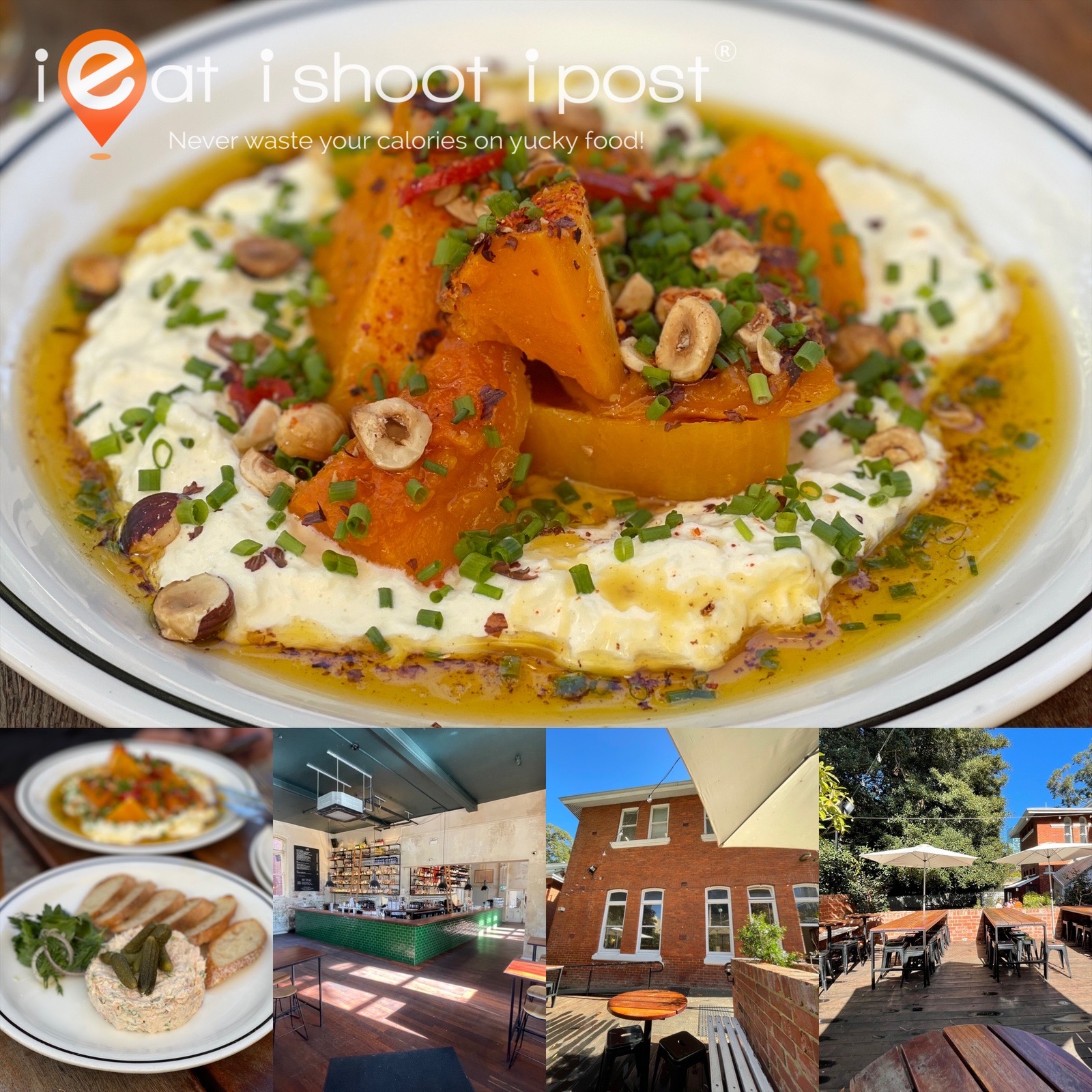 This place was an unexpected find.  We were visiting the Perth Institute of Contemporary Arts and simply wondered into attached restaurant for a bite.  The roasted pumpkin with strachiatella, brown butter and hazelnuts was surprisingly good!  I was so taken by it that I have since attempted to make it at home.  We also had a salmon rillette which was also delicious.  I don't think it is somewhere you would go out of your way to eat, but if you are visiting the Perth Cultural Centre, then it is definitely a good place to sit down and have something to eat.
Picabar

4.25/5
51 James St, Northbridge WA 6003, Australia
Map and Info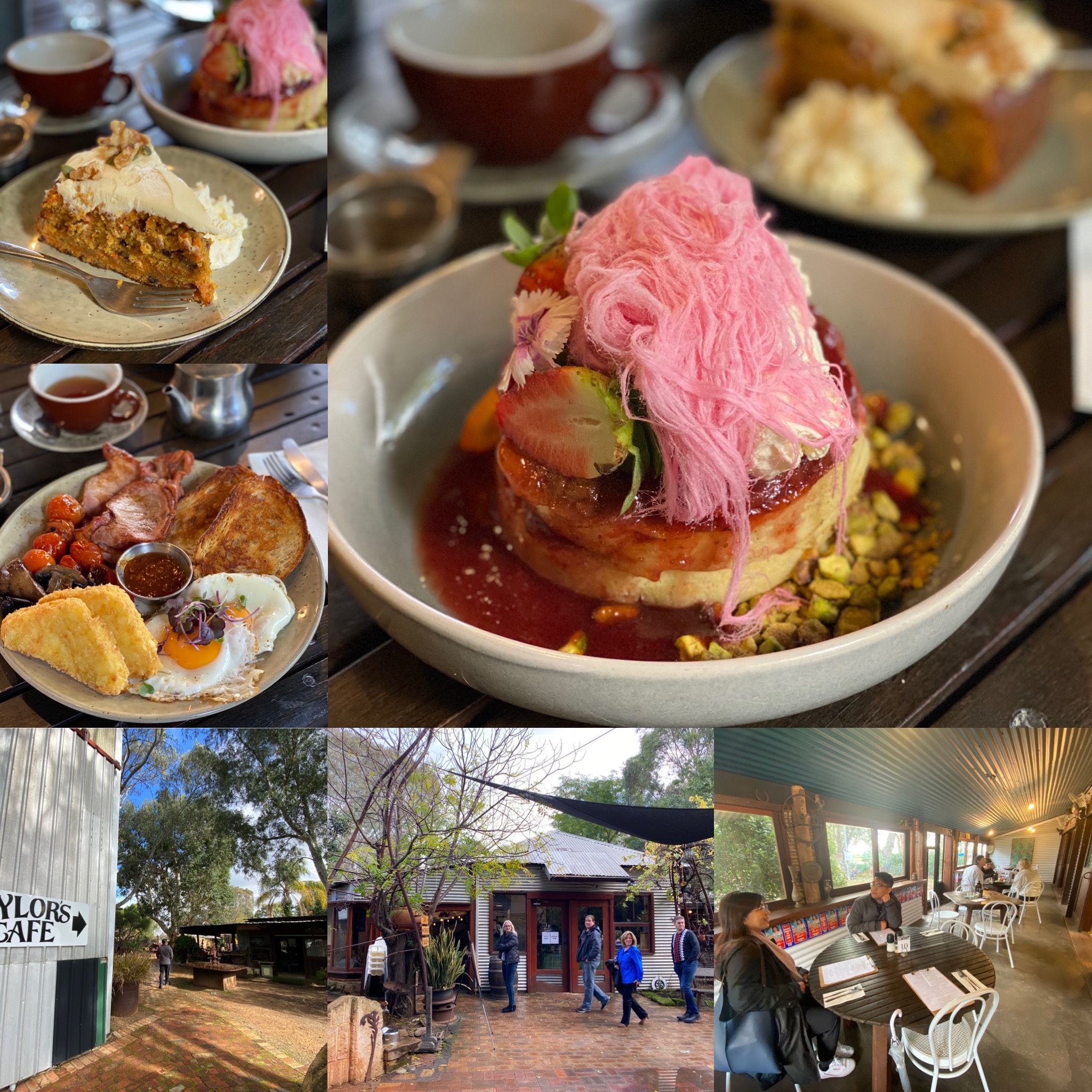 We had a lovely meal at Taylor in the Valley before we headed to the Airport for our evening flight home. I think it worked quite well as it is located in the Swan Valley which is quite close to Perth International Airport. The restaurant is housed in an old shack with plenty of outdoor seating. The food was very competent. We had a nice breakfast platter with free-range farm eggs and the house-made sourdough bread was lovely. A good place to spend some time in the middle of the vineyards before heading home!
Taylor in the Valley

4.25/5
510 Great Northern Hwy, Middle Swan WA 6056, Australia
Map and info
Italian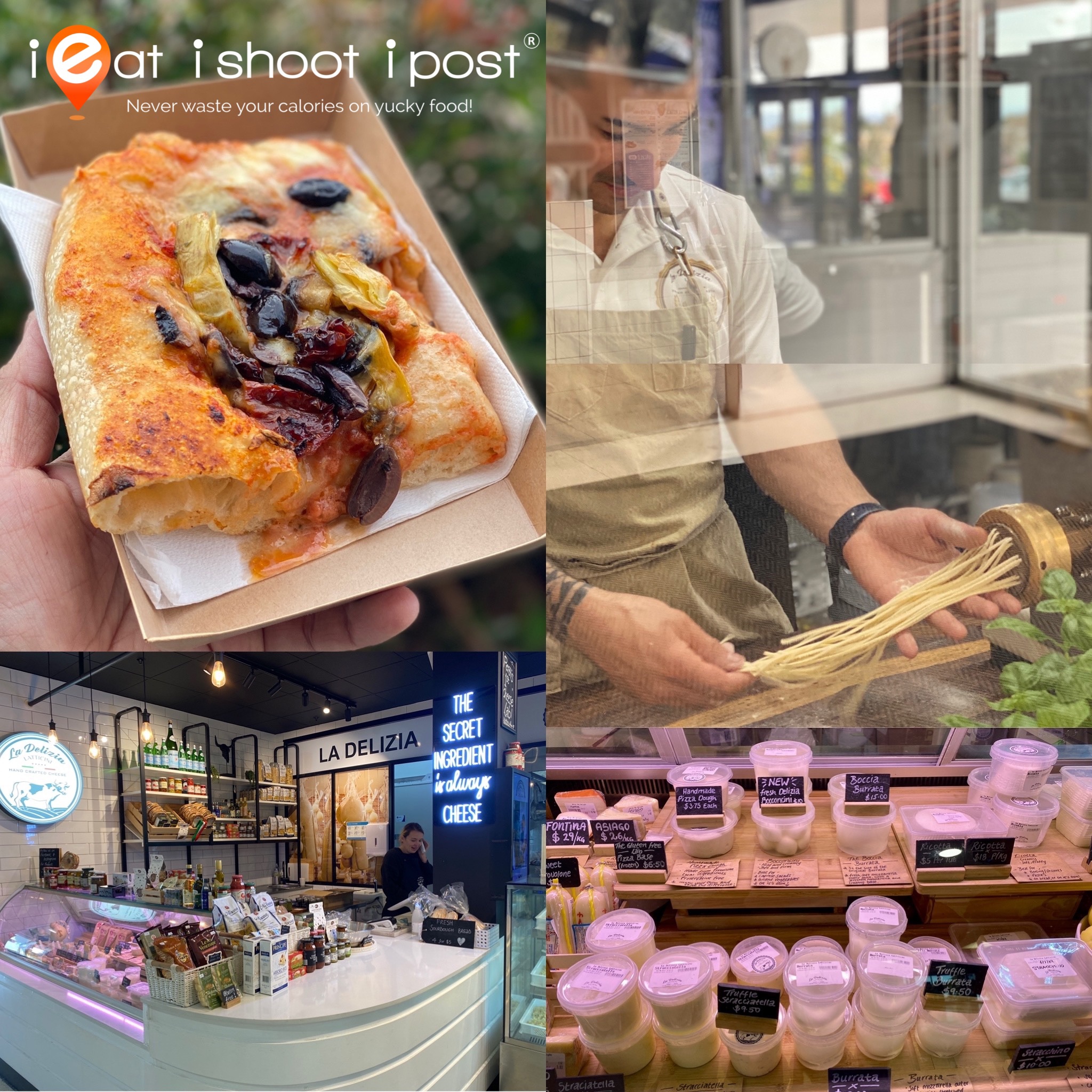 I was so happy to find this place at Vic Park which sells freshly made fresh cheeses like mozzarella, bocconcini and stracciatella. They also make their pastas on the spot using a brass mold! If you don't have access to a kitchen, you can also buy pastas that are made on the spot and get your hands on some fresh out of the oven focaccia bread! Definitely worth a visit to get some freshly made cheese!
La Delizia

4.5/5
Shop 47, 789 Albany Hwy  East Victoria Park WA 6101, Australia
Map and Info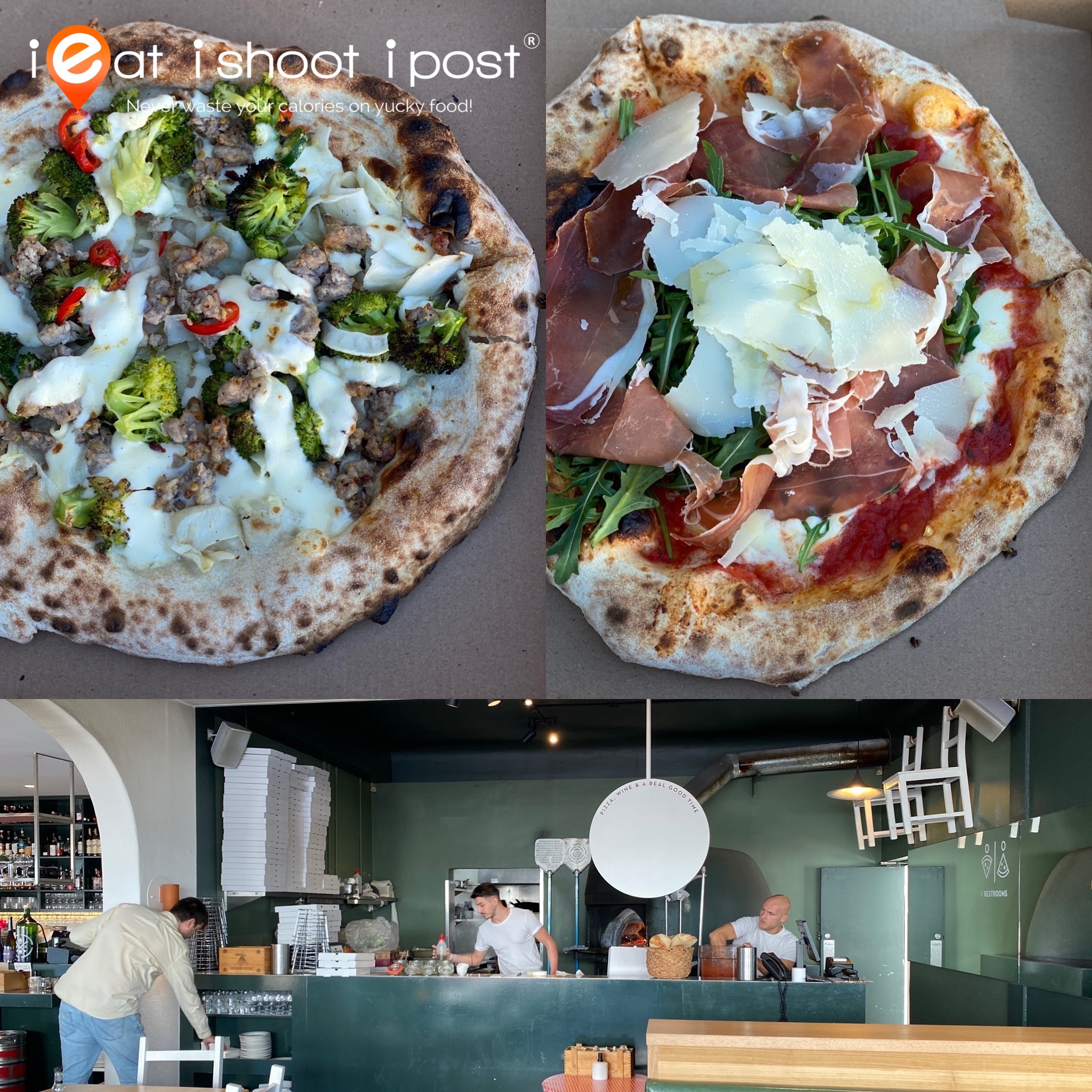 Like every other major city around the world, the Napoletana Pizza culture is well and truly established in Perth. This is one dish that I always seek out in whatever city I find myself in. Canteen Pizza is located right next to the beach and is a great place where you can pick up your pizza and enjoy it with the sea breeze. The pizza dough is fermented for 48 hours using Caputo flour and many of the toppings are imported from Italy. The pizzas are baked in a wood-fired oven and are cooked in 90 seconds as per Vera Pizza Napoletana standards. I can't say it is the best pizza I ever had, but it was what you'd expect of in a Napoletana pizza.
Canteen Pizza

4.25/5
110 Marine Parade, Cottesloe WA 6011, Australia
Map and Info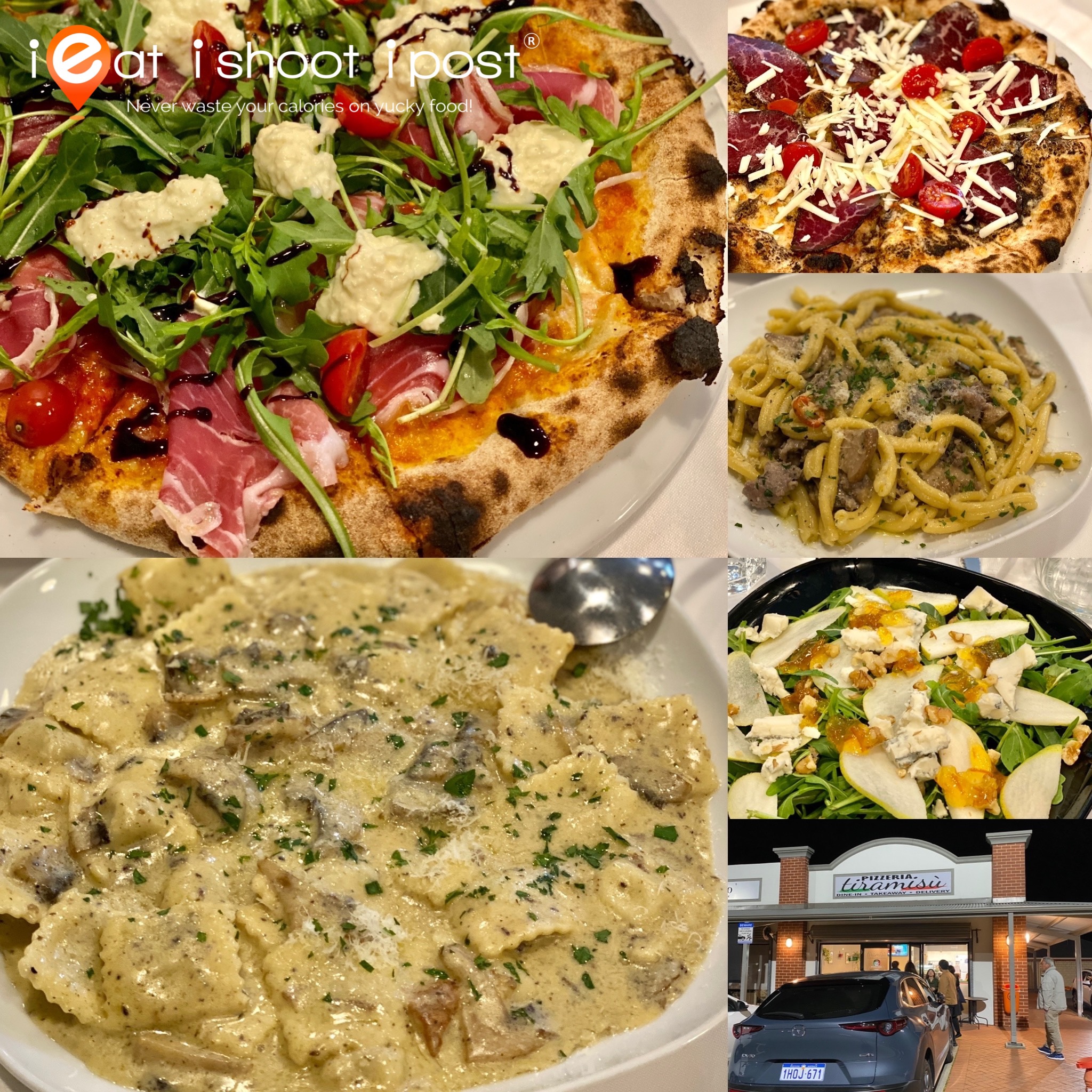 The one Italian place which most Singaporeans recommend is
Ciao Italia
. I didn't get to visit it as some people tell me that it is Italian food that is catered to Asians.  It's one of those places which is popular amongst Singaporeans, so you might want to add it to your list. We did have quite a nice meal at Pizza Tiramisu which is a little neighborhood restaurant that is within walking distance from my Aunt's place. The pasta were quite delicious and I actually liked their Pizza crust which was fermented for 72 hours.  Although it's baked in an electric oven, the 3-day fermentation gave it a good depth of flavour.  Wouldn't mind revisiting them again next time I visit my Aunt.
Pizza Tiramisu

4.25/5
78-82 Vellgrove Ave, Parkwood WA 6152, Australia
Map and Info
Fish and Chips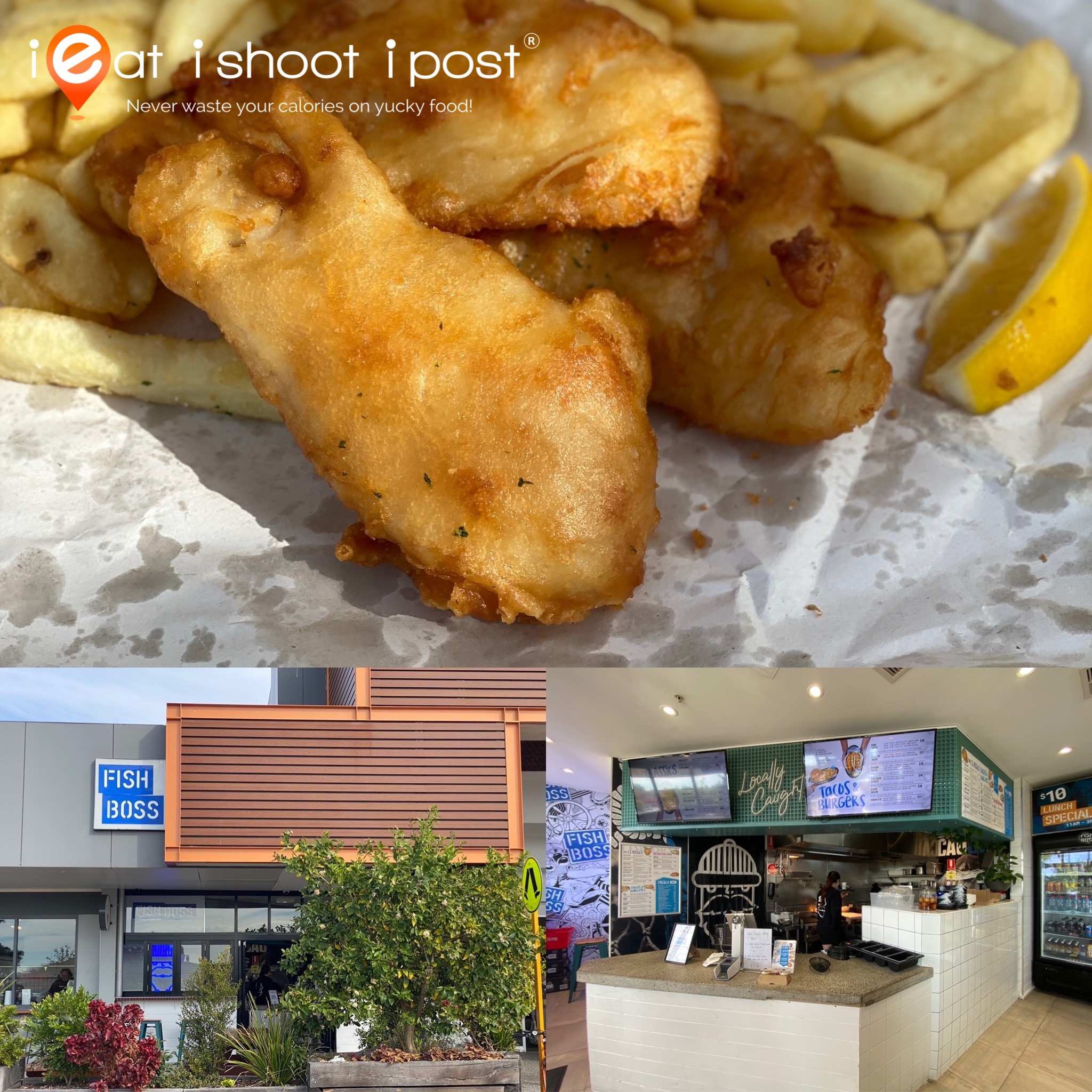 Right opposite La Delizia in Vic Park is a place that sells very decent fish and chips. You don't get to choose from a list of fish, they only serve Silver Trevelly here, but the crust is thin and crisp and the chips are quite decent.
Fish Boss

4/5
Shop 49/789 Albany Hwy, Victoria Park WA 6101, Australia
Map and Info
Dim Sum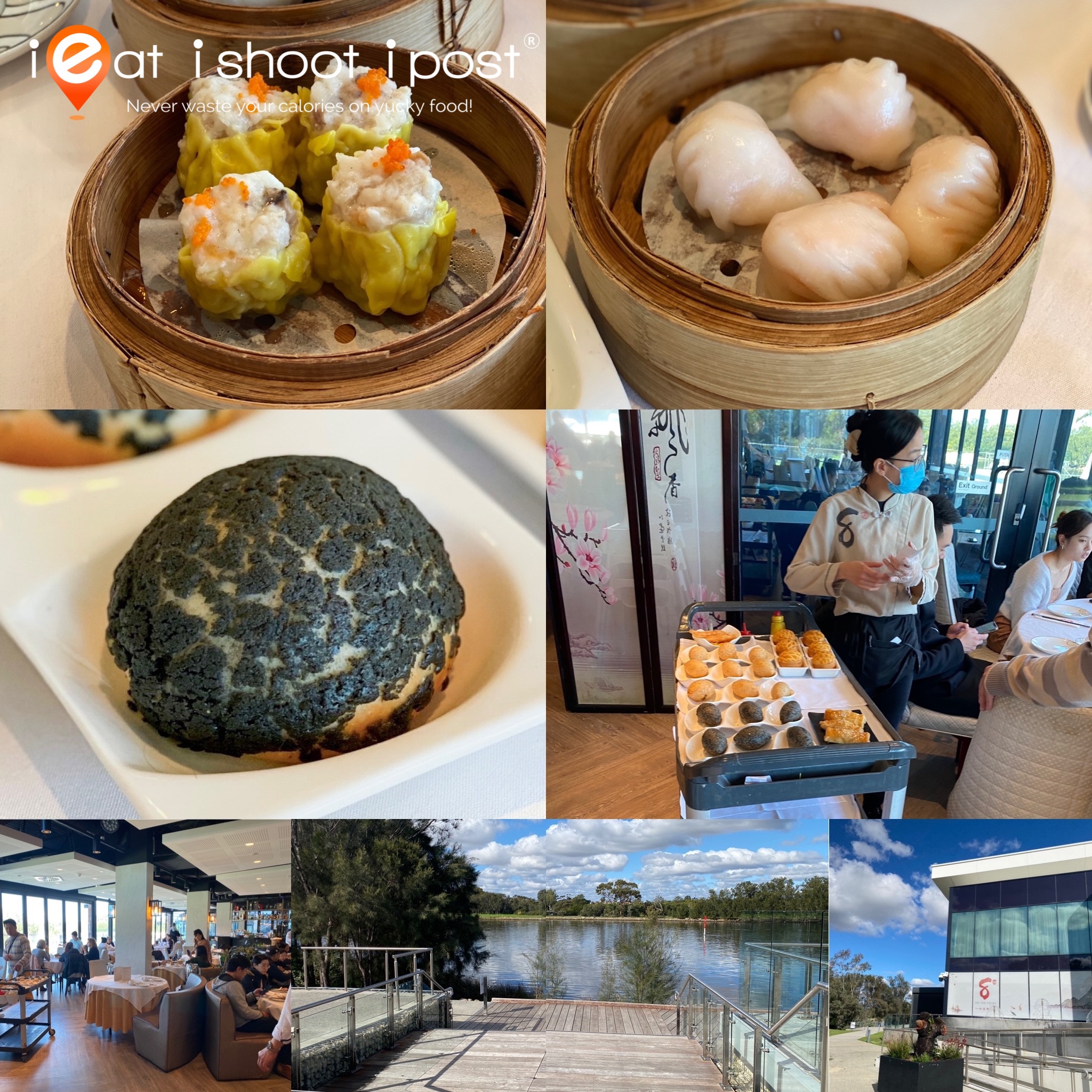 We were told that the standard of Dim Sum in Perth is quite good, so we had quite a few dim sum meals during our stay in Perth. The portions here are at least 50% bigger than what we get in Singapore and prices range from $9-$12 without the ++. This particular restaurant that's located right by the Swan River is quite popular with tourists. The dim sum is competent enough but I think it is one of those places where you would go for the view as well. The one item which stood out for me was the roasted duck buns which were very good.  The rest of the usual items are good but not something you need to make a special trip to eat.  Prices are just a slightly higher than the competition. 8 on the Point
4/5
306 Riverside Dr, East Perth WA 6004, Australia
Map and info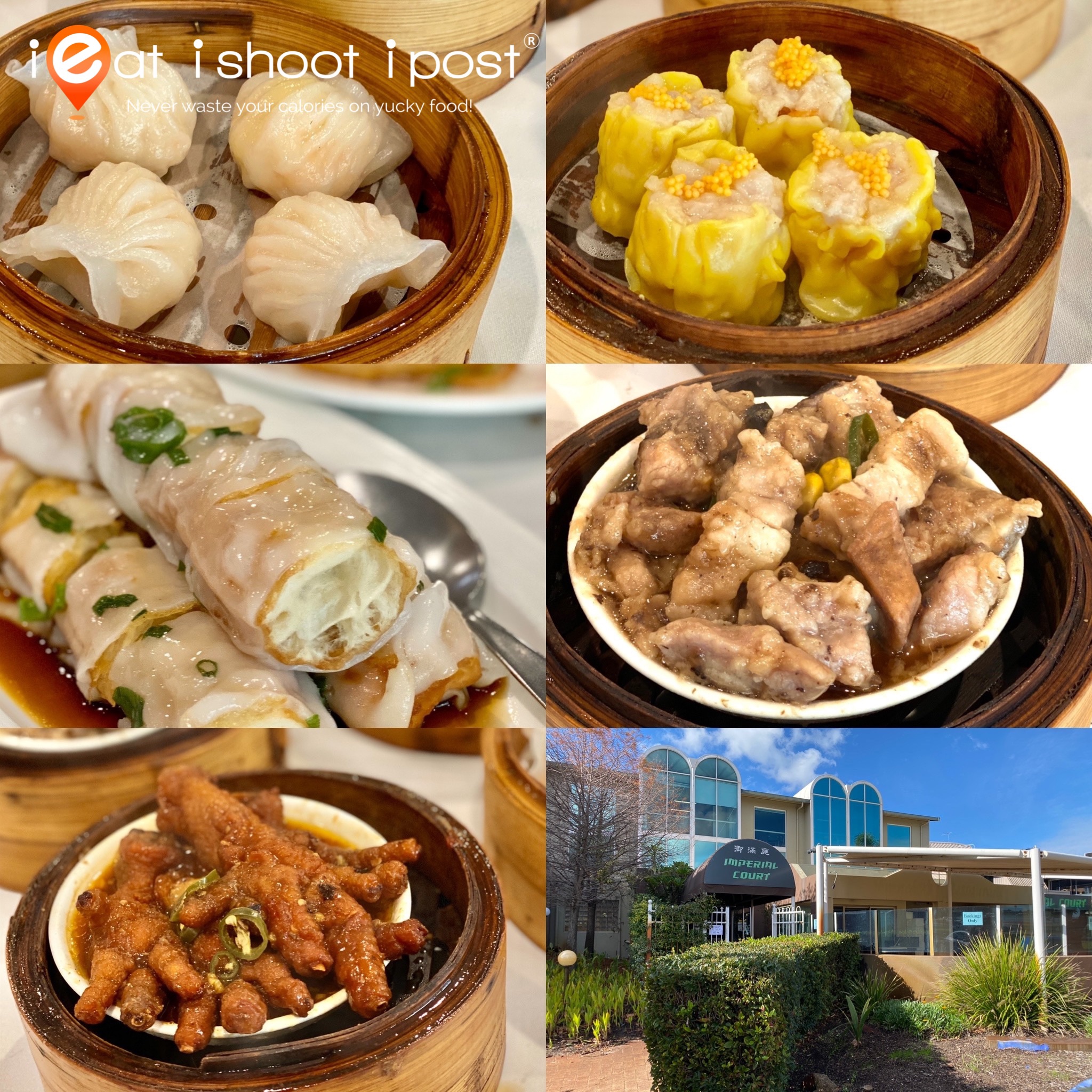 Imperial Palace was recommended by our friend Jason who runs Ya Kwang at Spencer Village (see below). Of the dim sum places which we visited, this is the one which I would return to next time I am in Perth. All the items were very good with the exception of the Zha Leong where the
youtiao
was cold and not crispy. When we visited, they were experiencing a severe lack of manpower and the
 ban niang
was doing all the serving. The 
lao ban niang
 has quite a reputation for being a little impatient with customers like what you might experience in Hong Kong, so you need to know how to handle that type of situation. Fortunately, Jason knows her very well, so we were well looked after. At the time of this writing, they are in the process of relocating, so do check for their latest address. You also need to reserve as they don't accept walk-ins due to manpower shortage.
Imperial Court

4.5/5
Marview House, 125 Melville Parade, Como WA 6152, Australia
Map and Info
Note: They are in the midst of relocating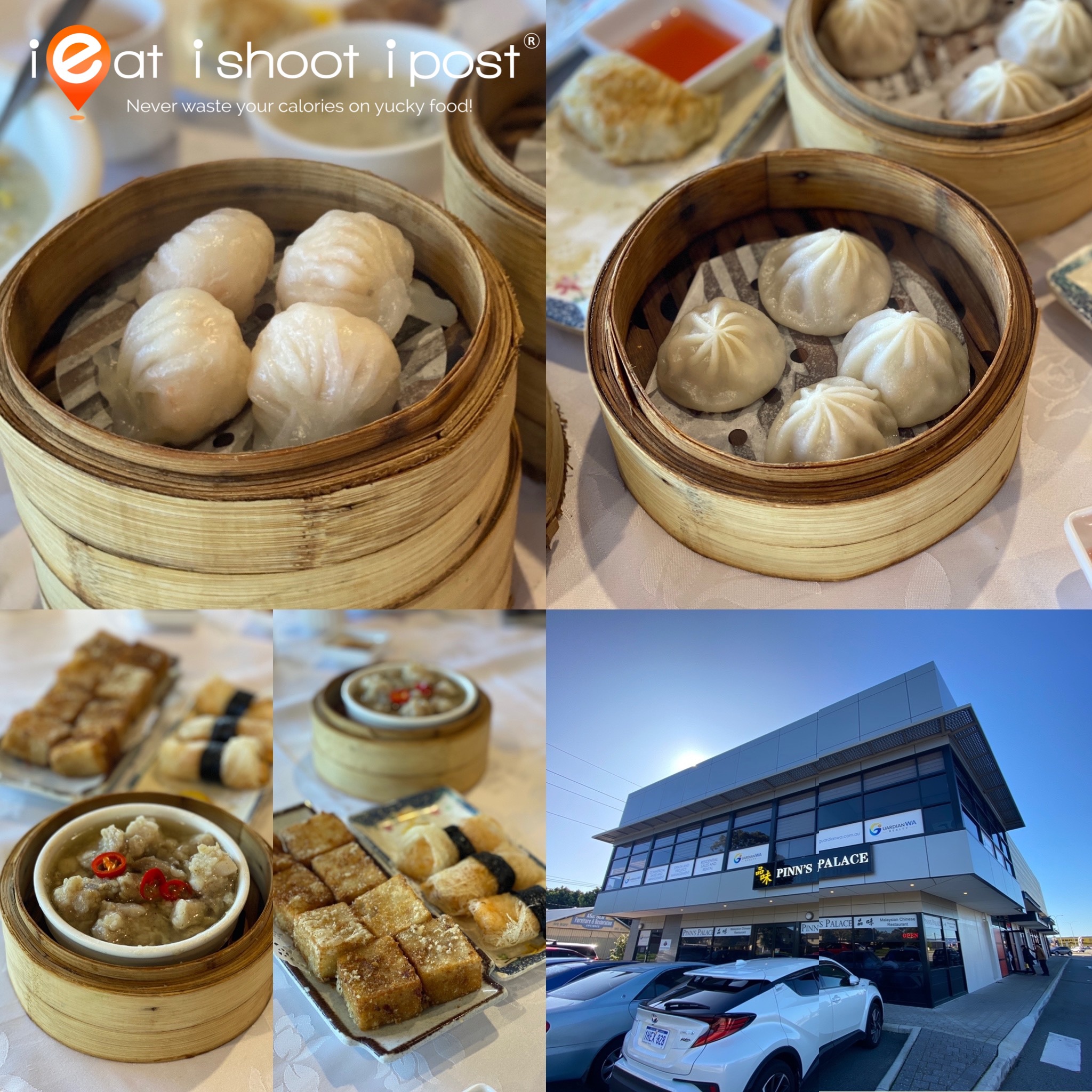 Pin's Palace serves Malaysian-style dim sum. The food is alright, but what is going for it is the convenience of a car park right outside the restaurant. I am listing them here for those of you who might be traveling with kids or the elderly and are just looking for a place that is convenient and easy to get a seat.
Pinn's Palace

3.5/5
Shop 3/1481 Albany Hwy, Beckenham WA 6107, Australia
Map and Info
Singaporean Food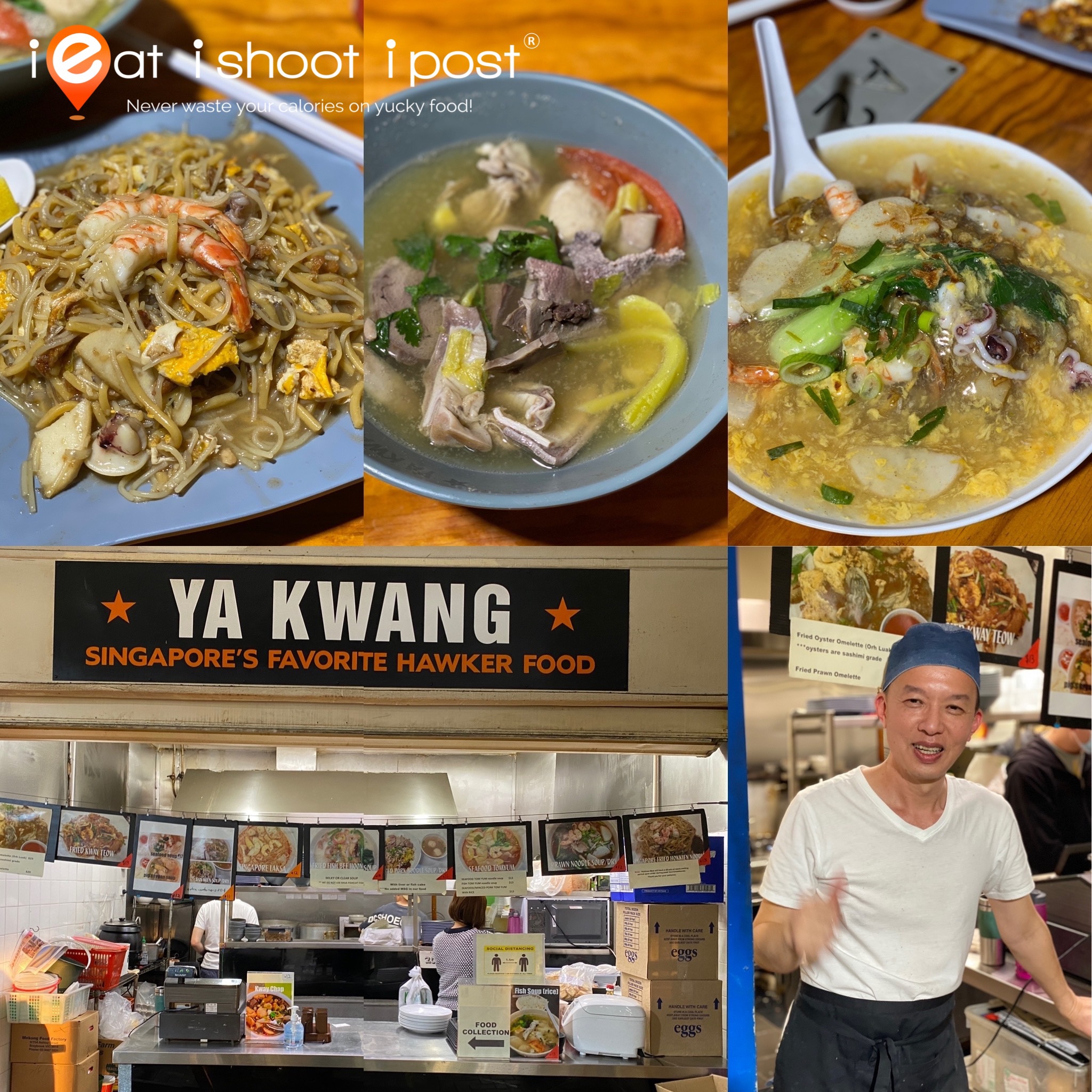 I am not sure if you'd be trying to eat Singaporean food while having a holiday in Perth, but if you are living there long term, then Ya Kwang is where you can find some decent Singapore food. Those of you who have been reading my blog since the early days would recall my fascination with
Ya Kwang
in the early days. Jason had been an air steward who gave up flying to pursue his passion in food. Our
kakis
were all quite enamoured with his no nonsense approach to his cooking and we were quite sad when he announced that he was planning to migrate to Perth. Fast forward 15 years and we managed to catch up with Jason at Ya Kwang which is located at Spencer Village Food court. The whole food court is pretty old and run down and really felt that it could be somewhere in Singapore or Malaysia. Jason has a very wide menu which ranges from
kway chap
to pig organ soup to bak chor mee,
Hokkien Mee
and
Char Kway Teow
. It's almost as if he is trying to be a whole hawker centre in one stall. The place to go if you are staying in Perth for an extended period of time and are yearning for a taste of home!
Ya Kwang Singapore Hawker

4/5
Spencer Village, 17 Southdown Pl, Thornlie WA 6108, Australia
Map and info
Meat Pies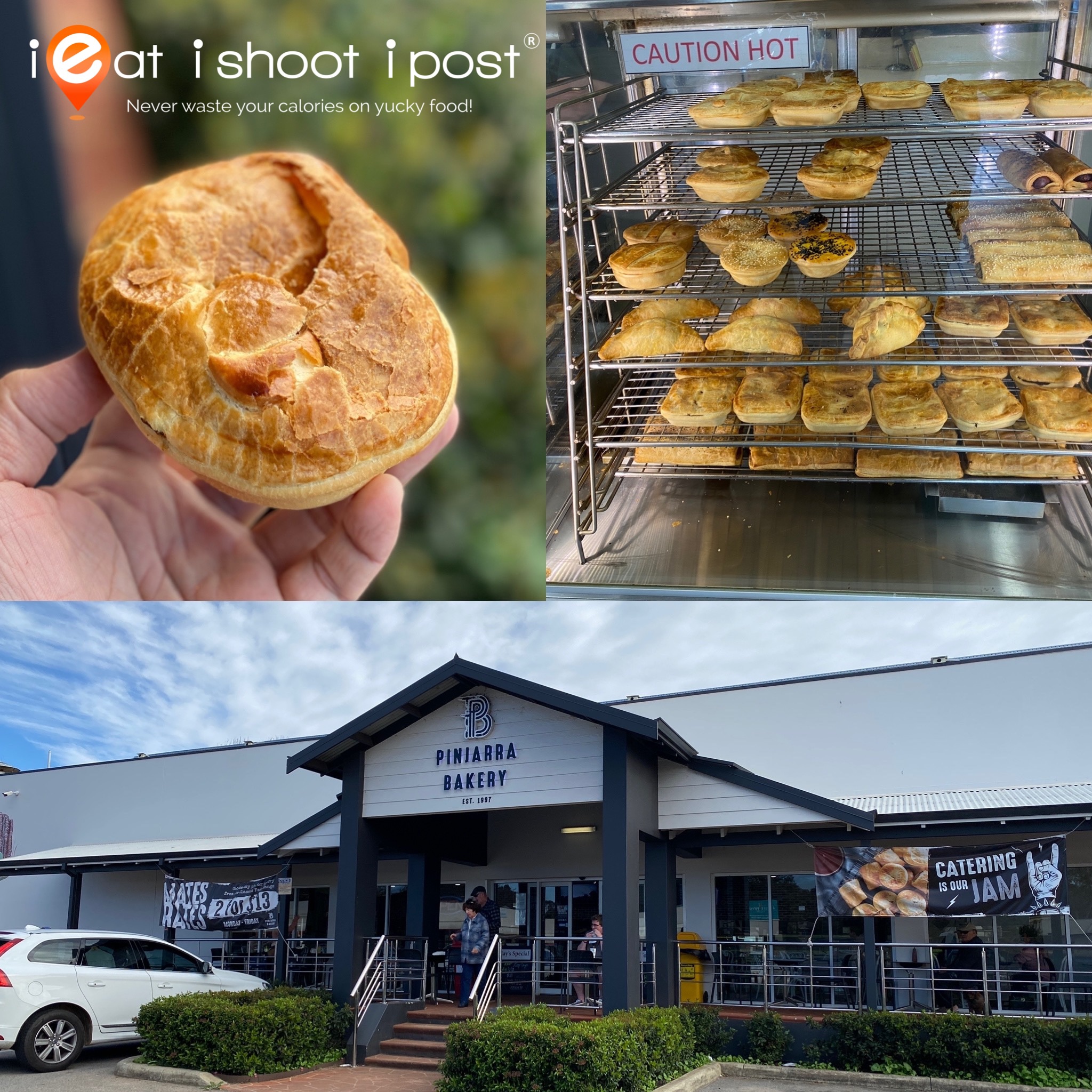 I do enjoy a good Aussie meat pie, so it is something I always look forward to eating when I am in Australia.  Along the way to Margaret River, we stopped by the original Pinjarra bakery which won the award for Australia's best pie in 2021. (That's a nationwide competition, not just WA). With such an accolade, our expectations were, expectedly, quite high. The pies were good but I'd have to admit that I have eaten better pies in Australia. Still, I think it is worth a stop for a bit of a stretch and to pick up some pies for the road.
Pinjarra Bakery

4/5
6/2 Peel St, Pinjarra WA 6208, Australia Map and Info NB: There are o
ther outlets in Perth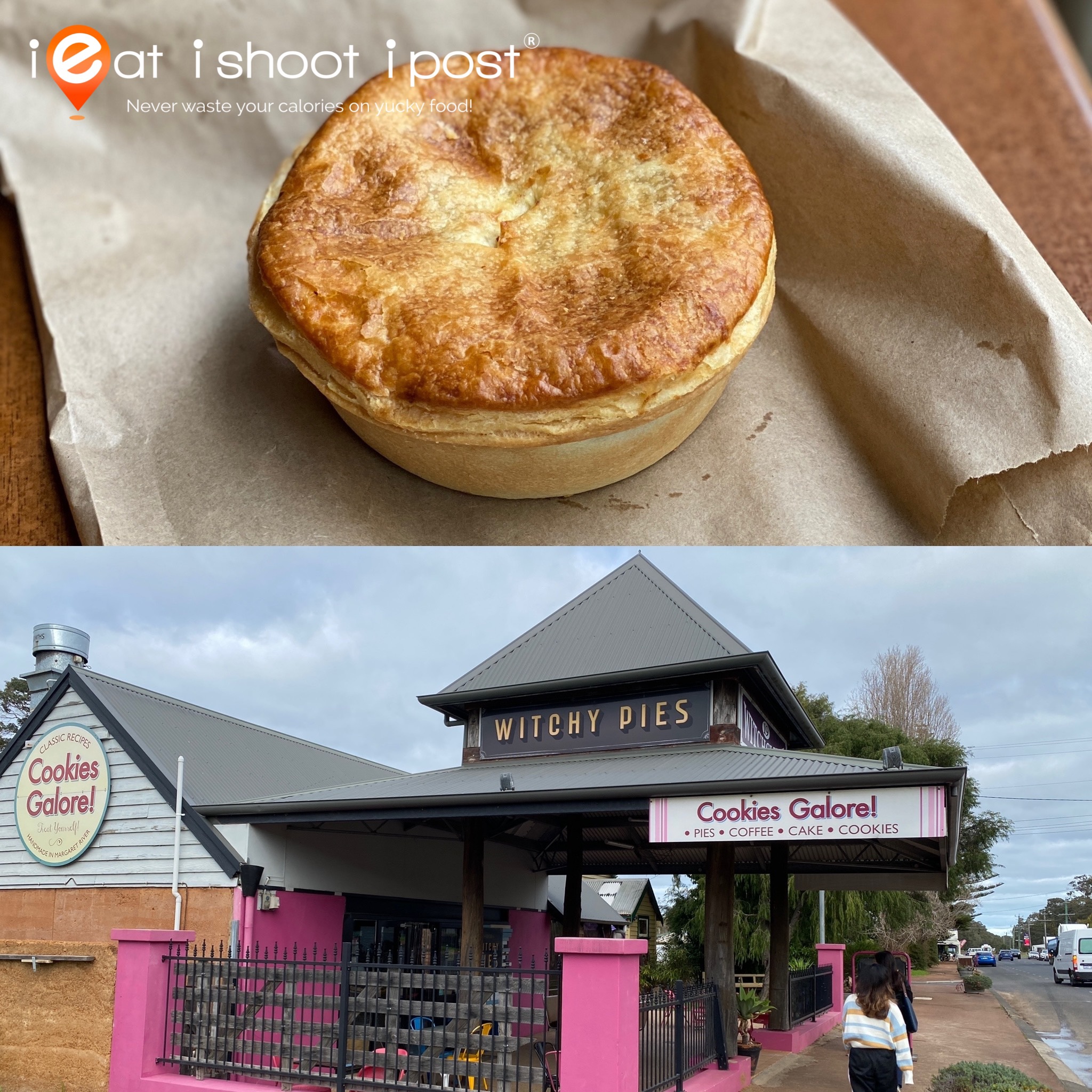 This is another pie place that is hard to miss as it is located along the main highway in the Margaret River area. It is worth a stop for their meat pies which I felt were slightly better than the ones we had at Pinjarrah. Just to manage expectations, the pies we had featured so far are the typical Aussie beef pies and not gourmet pies. I spent my undergrad years in Sydney and these were the type of pies you typically pick up from the neighborhood bakery.
Witchy Pies

4/5
19 Bussell Hwy, Witchcliffe WA 6286, Australia
Map and Info
Burgers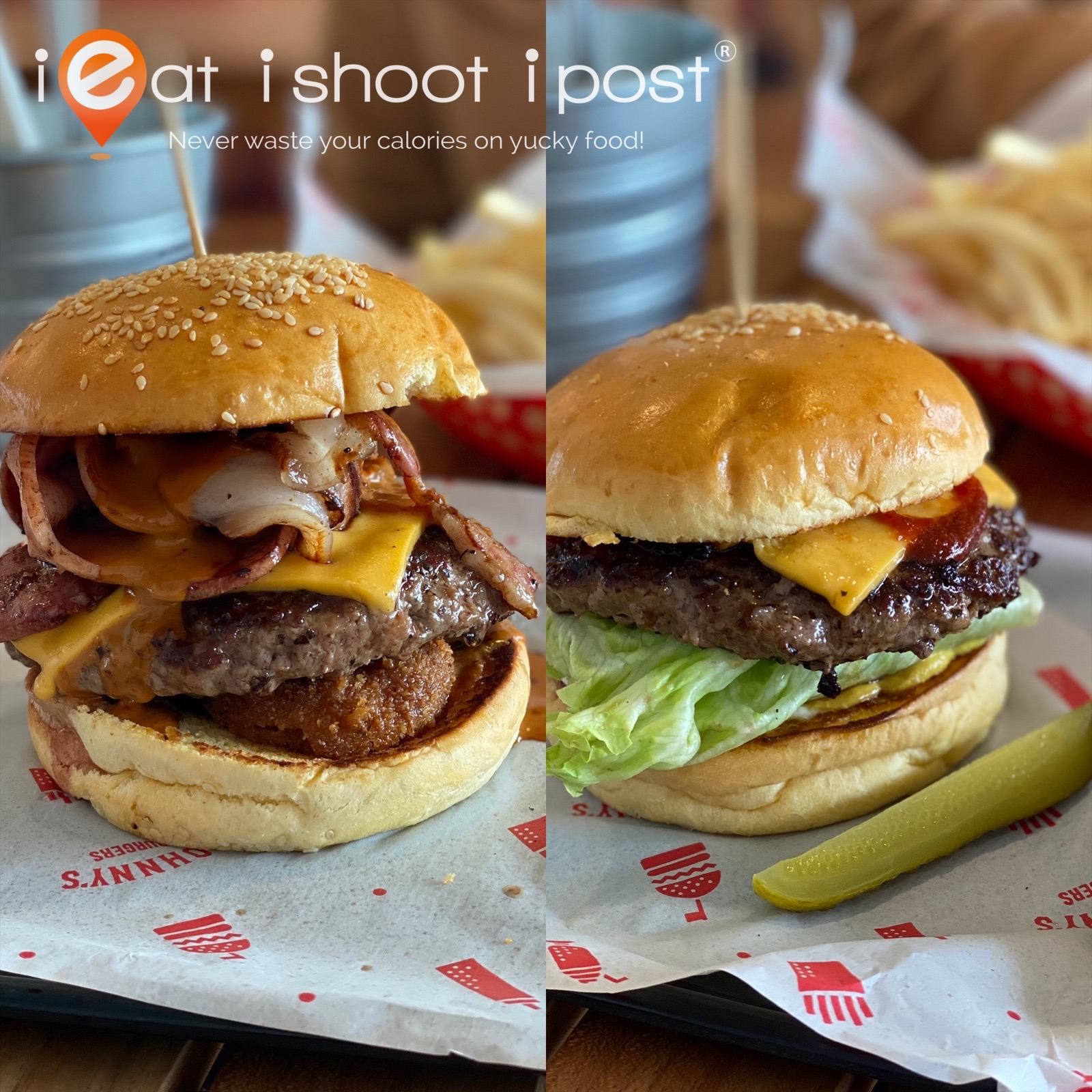 Johnny's Burgers serves American style burgers with a 200g locally sourced beef patty and house made tomato and ranch sauces.  Started by a Malaysian family in 2013, it was one of the first burger joints to serve an American style burger.  We liked their "The Cure" which comes with bacon and a special "The Cure" sauce.  Not something you'd go out of your way for, but if you are around the area and looking for a satisfying burger, the The Cure might just be the poison you are looking for!
Johnny's Burgers Canning Vale

4/5
6/395 Warton Rd, Canning Vale WA 6155, Australia
Map and Info
Other burger joints that you might want to check out:
Hello Harry's 
Hood Burger (
Recommended by Jaymus who is quite the burgermeister)
Steaks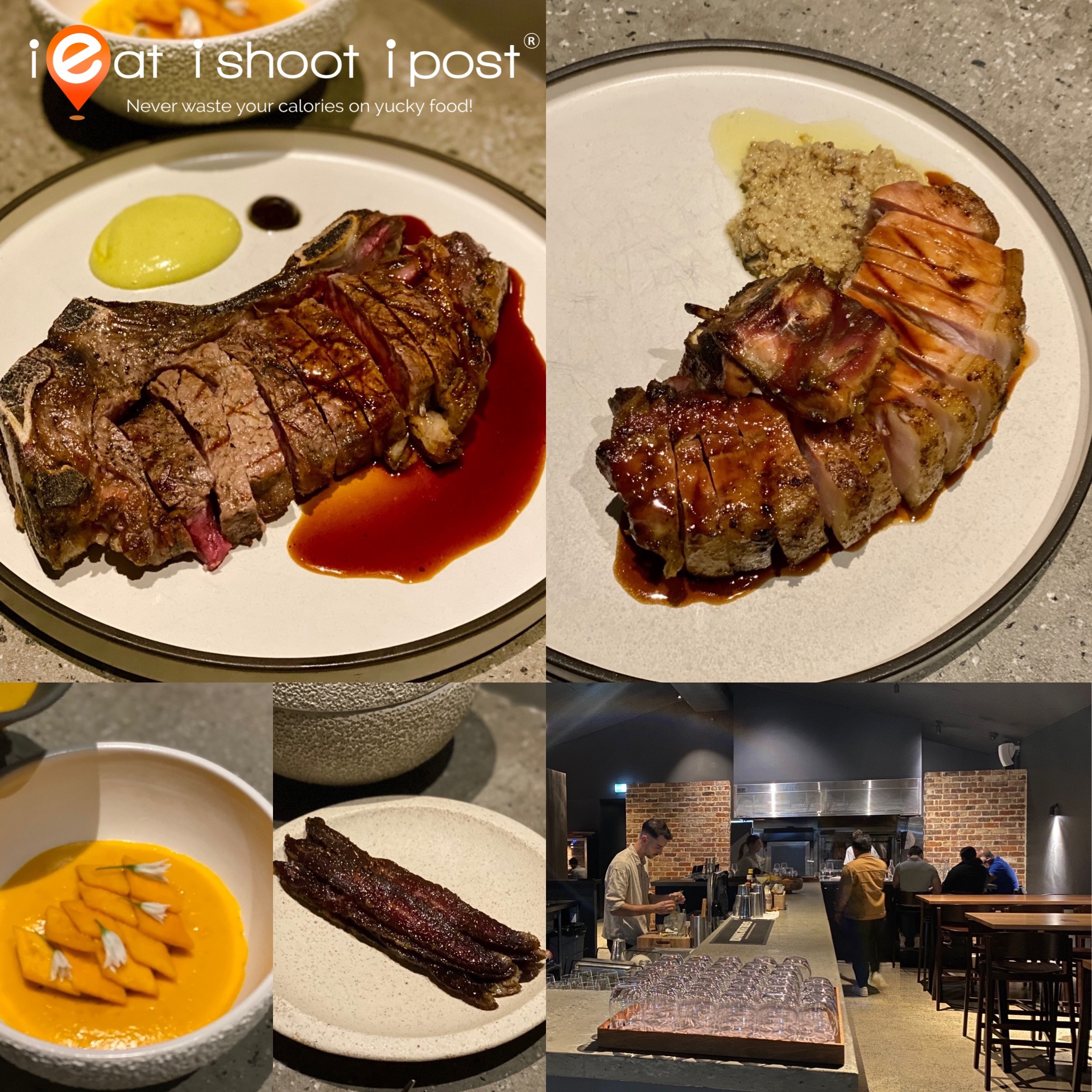 This place is called Nextdoor because it is an offshoot of the Olsen butchery, a third-generation premium butchery located right next door. We got a seat at the fire bar where we got to see them grilling the meats over an open flame. I enjoyed the 72-day dry-aged grass-fed Cape Grim Angus sirloin as well as their 21 days dry aged Berkshire pork loin chop which is grown locally.  Unfortunately, their starters were pretty disappointing. I wouldn't recommend their scallop and pear and the soft milk buns ($18 for 4 small buns) seemed rather expensive. The thin slivers of old dairy cows were interesting enough. They are made from retired dairy cows and were like beef jerky which were hung over the indirect fire to smoke  a long period of time. Worth trying once, I won't need to order again.  Just go straight for the dry aged steak and you'd leave happy.
Nextdoor 79

4/5
79 Angelo St, South Perth WA 6151, Australia
Map and info
The steakhouse that we really wanted to visit was
Meat and Wine Co
, but we couldn't get a table so we ended up at
Firewater Grill
which is another steakhouse that appears frequently in many of the "Top Steakhouses in Perth" lists.  Unfortunately, the food there was average at best, so I can't recommend them.
Roast Duck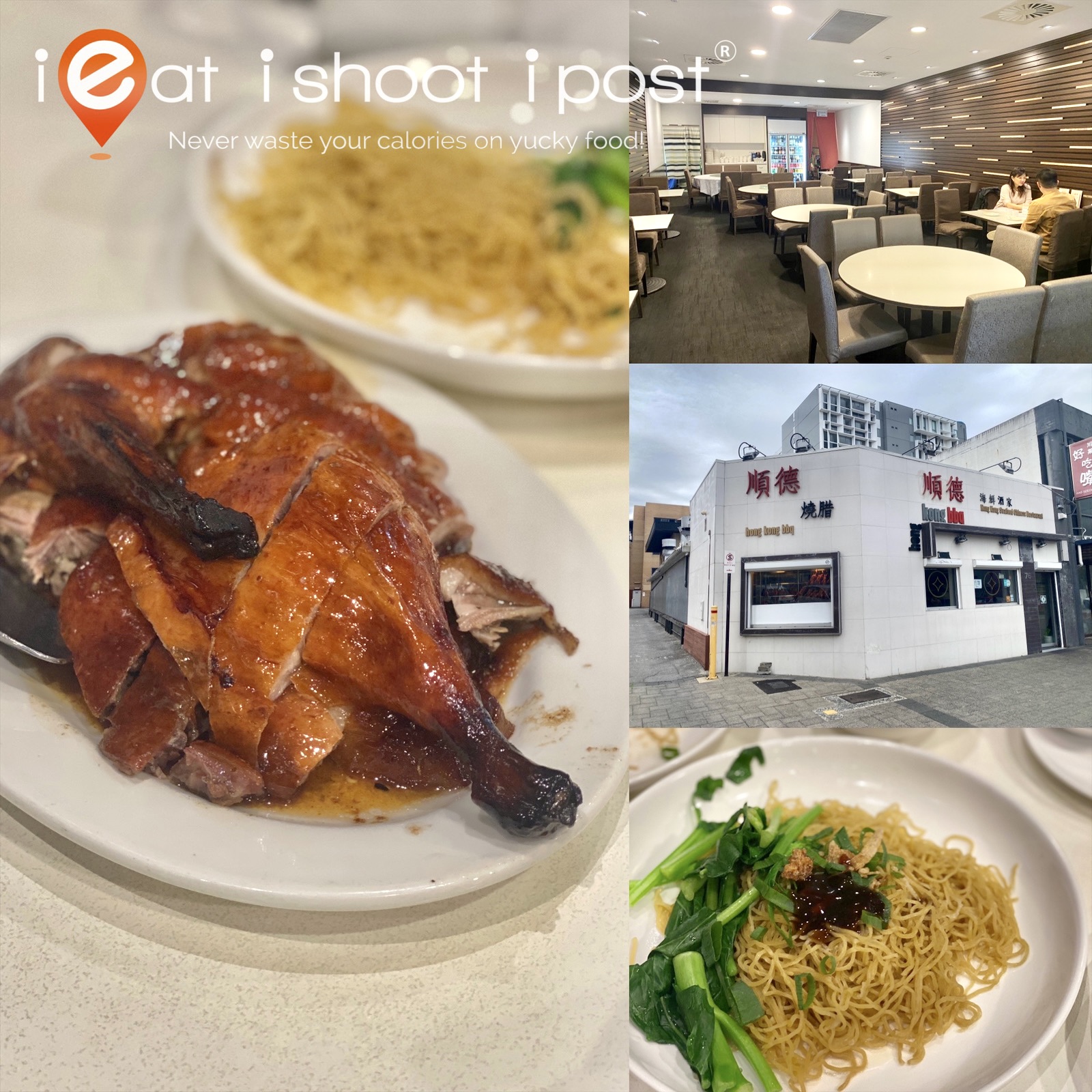 Roast duck is something I enjoy in Australia. The local ducks that are raised here make for a tender and juicy roast duck which I feel are better than the Malaysian ducks which are used in Singapore. There are also many roast masters who have migrated here from Hong Kong in the 90's prior to the handing back of Hong Kong to China, so there is no lack of expertise here. I think the roast duck here is well worth trying if you are visiting the Northbridge area of Perth. They have been around for decades even though it is roasted in a gas oven, the roast duck here is delicious. It was recommended by Jason as the best roast duck in Perth.
Hong Kong BBQ House

4.5/5
76 Francis St, Northbridge WA 6003, Australia
Map and Info
Japanese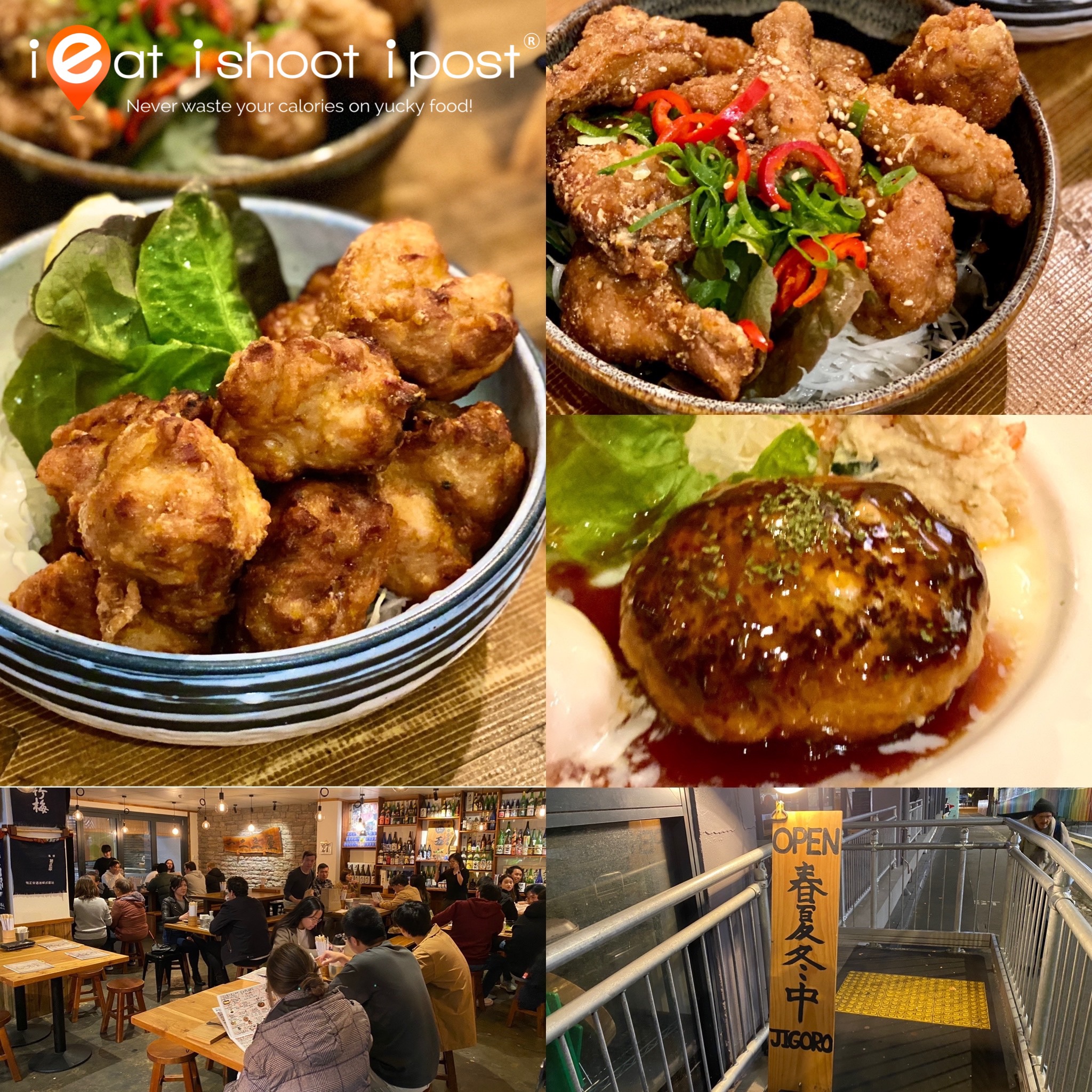 Jigoro is well worth a visit for their Izakaya style food especially if you are staying in the CBD. During lunch, they are known for their freshly made udon, but in the evenings, they transform into an Izakaya. The food is very good overall, the dashi is very good (probably the same as what they use for their udon) and so the Chazuke were delicious. Other dishes like chicken
kaarage
and Hamburg were all quite authentic. The kitchen staff, as well as service staff, were all Japanese.  Prices are quite reasonable too!
Jigoro

4.5/5
Shop 2, Ground Level/100-104 Murray St, Perth WA 6000, Australia
Map and info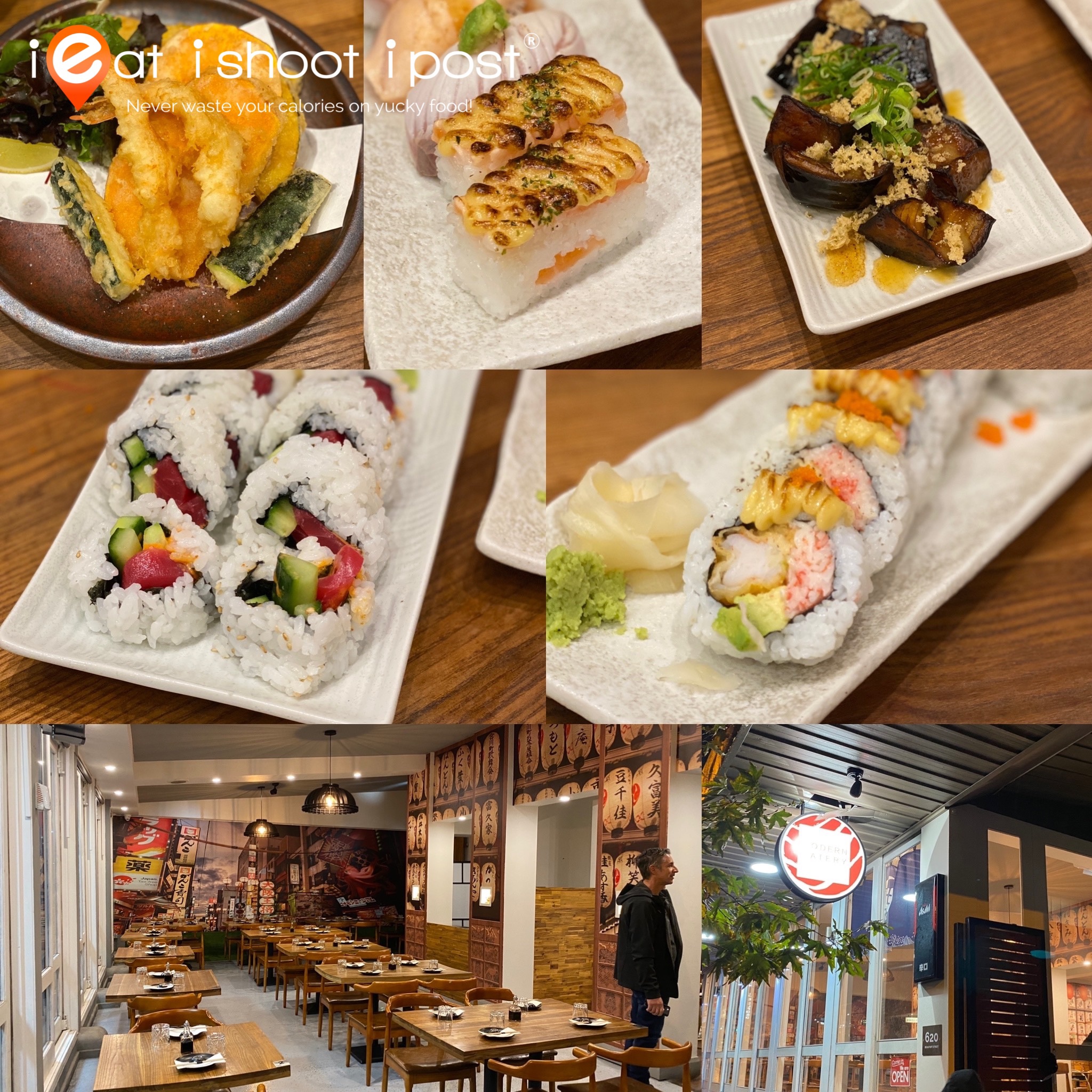 I don't think Perth is a place where you specifically look for Japanese food. Unlike Singapore which imports its seafood direct from Japan, the fish used in the Sushi bars here are mostly local.  So, the Salmon comes from Tasmania (but then again, most of the salmon served in Singapore are Norwegian), they use local Kingfish for hamachi and local tuna for Maguro. That said, if the family is looking for some sushi rolls and Aburi sushi, this particular restaurant is quite decent. They have just moved to a new place which is quite spacious so it will be easier to get a seat for the family. The selection of rolls and sushi is quite limited but I did enjoy their tempura, croquettes, and the "kamikaze" sushi rolls. Not something I would go back to myself, but good enough if your kids are hankering for sushi rolls.
Modern Eatery

4/5
620 Beaufort St, Mount Lawley WA 6050, Australia
Map and info
Fremantle and Margaret River Eats
To be continued in the next post