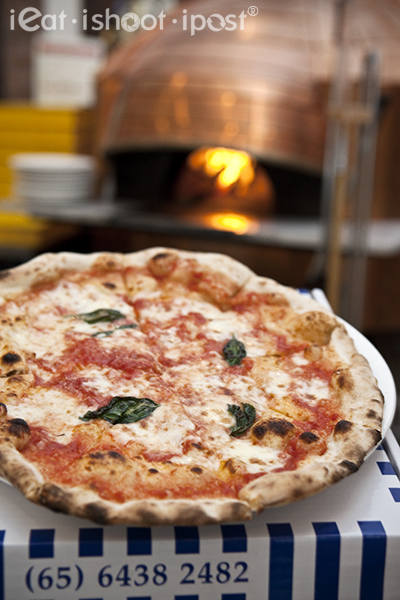 Singapore's first VPN Pizza Margharita (Photo taken at Pizzeria L'Opretta)
I don't usually make announcements on this blog but this piece of news is something I have been waiting for over two years. It's official, Singapore now serves Vera Pizza Napoletana (VPN), ie the True Napoletana style pizza certified by the Associazione Verace Pizza Napoletana, a non-profit organization where members all comply to the exacting standards of the traditional pizza made in Naples.
When I first wrote about VPN back in March 2009, I was left wondering when I would ever get to taste a VPN. My plan was to make a trip to either Australia or even Italy to see what a True Napoletana Pizza is supposed to taste like. At that time, I was on my crazy Pizza spree trying to make my own VPN at home The wood fired oven is a major stumbling block, but we managed to come quite close by using the G3-Ferrari pizza oven. Still, the VPN remained elusive.

Then in January this year, I discovered a strange little Italian restaurant called Enoteca L'Opretta in Boat Quay which was gunning for VPN certification. I say it was strange because it was an Italian restaurant opened by a Japanese guy who sings Italian Opera! (Read the story here)
Anyway, fast forward six months, a load of effort, headache and a change of Italian flour later, I am glad to be able to post the photo of Singapore's very first VPN certificate:(Officially dated 6 July 2011)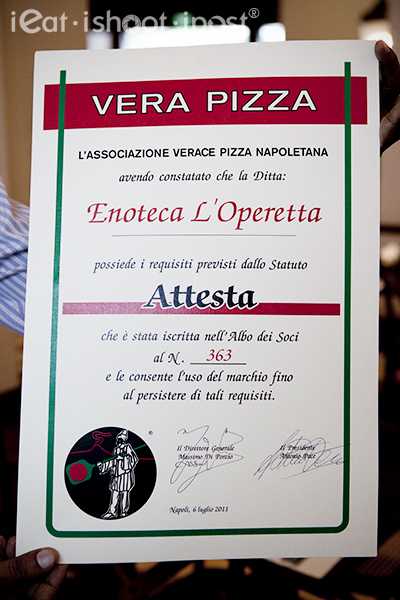 If you check the AVPN website, you will see that the Singapore Flag has been added in their members directory, the first in South Asia to be admitted.
In order to be certified VPN, the following rules must be adhered by the members:
1. A Wood-Burning Oven.
The real Pizza Napoletana must be cooked in a wood-fired dome oven operating at roughly 900oF.
Gas, coal or electric ovens, while capable of produce wonderful pizza, are not conformed to the Pizza Napoletana tradition.
2. Proper Ingredients.
Only fresh, all-natural, non-processed ingredients (preferably imported from Naples or Campania region) are acceptable: Flour (Type 00),San Marzano (plum) tomatoes, all natural Fior-di-Latte or Bufala fresh mozzarella, fresh basil, sea salt and yeast.
3. Proper Technique.
Pizza dough kneaded either by hand, or with a low speed mixer (fork or spiral). No mechanical dough shaping, such as a dough press or rolling pin, are allowed. Pizza baking time should not exceed 90 seconds.

4. Proper Equipment.
A proper work surface (usually a marble slab), a wood pizza peel to introduce the pizza into the oven and a long handle metal round peel to turn and remove the pizza from the oven.
5. The Final Product.
Pizza Napoletana is not larger than 11 inches with a raised edge crust and thin center. The pizza should be soft and elastic, and easily foldable.
Source: VPN Americas
Conclusion
My heartiest congratulations to Mizutani-San and his team for achieving a milestone in Singapore's Pizza culture! Hip Hip Hurray!
To read about more about how the pizzas are made at Enoteca L'Opretta, please click here.
Branch:
Pizzeria L'Opretta (Awaiting VPN)
12 Gopeng Street #01-78-81
Icon Village Singapore 078877
62229487
Mon-Sat 11:30am-11:00pm