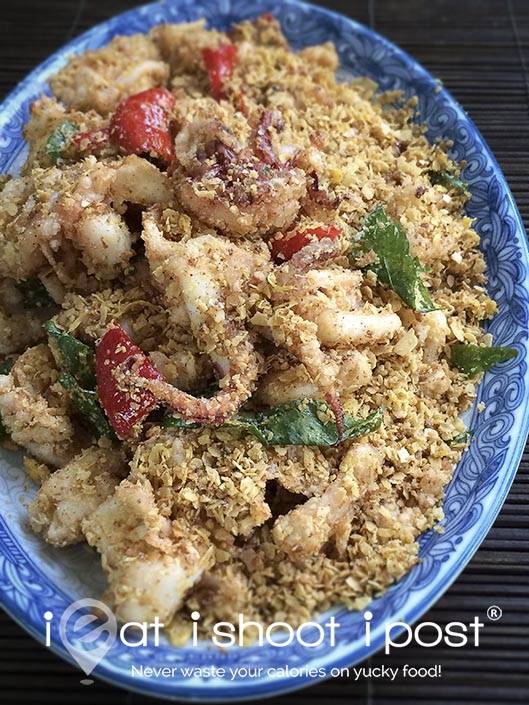 Cereal prawns must be the weirdest dish ever invented by the Cze Char Chef!  Just imagine trying to tell a Westerner about a wonderful dish made with breakfast cereal and prawns!  I am sure you will get that "Wait a minute, this is not one of those 'you have to drink the tea after you washed your fingers in it' trick of yours again, is it?"  look.  But don't tell them what it is and you will see them mixing up the savoury, sweet flakes into their rice and savoring every little scrap!
This recipe is actually very easy and you should be able to get it right the first time.  The cereal mix can be used for prawns or squid or any even pork and chicken although the most commonly used meat is prawns.  Here I am using squid only because I came back from a fishing trip with a whole lot of squid.  But you can easily substitute the squid for prawns to make the classic dish.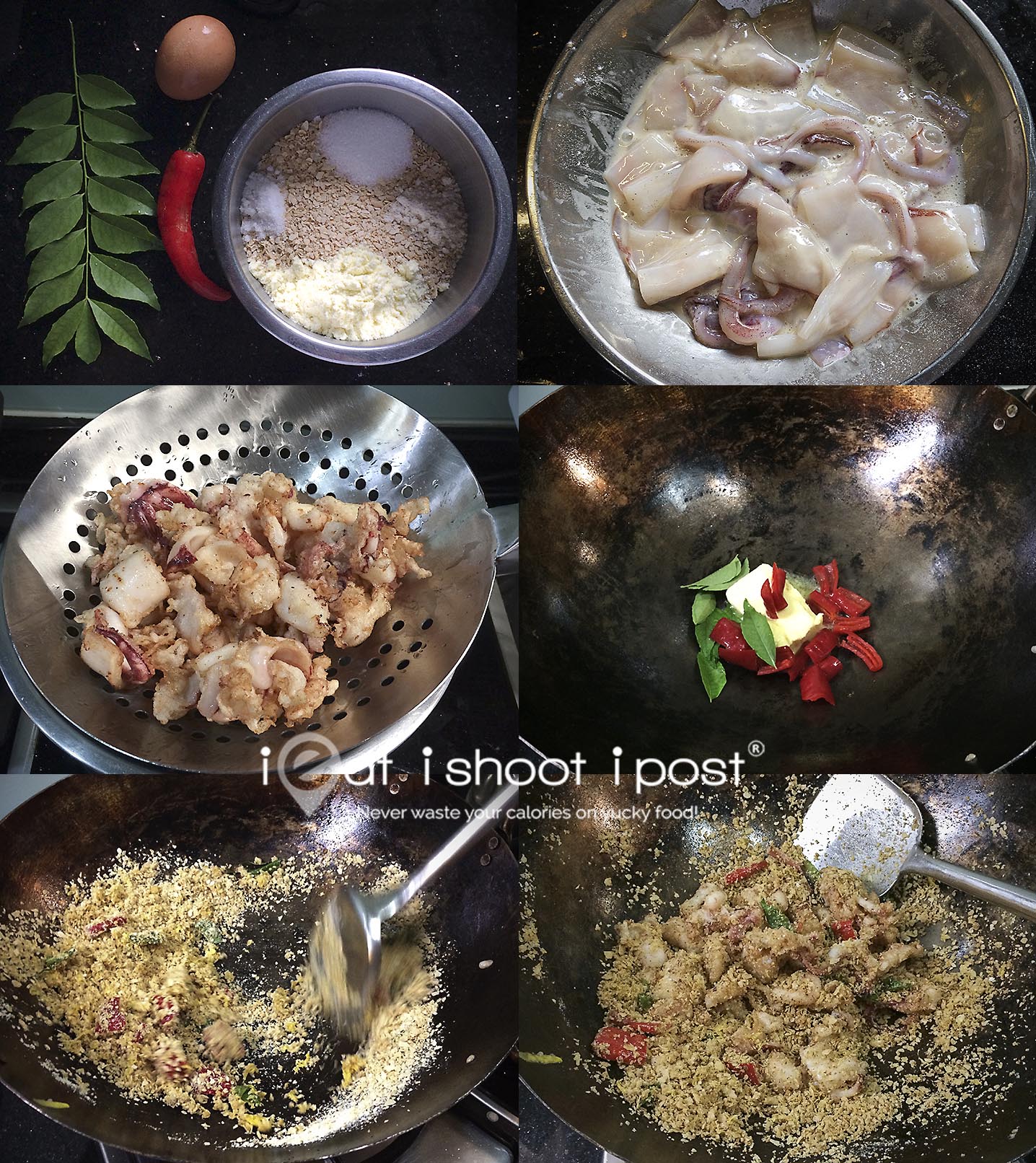 Ingredients
Part A
Squid 400g
Salt 1/2 tsp salt,
White pepper 1/2 tsp
Egg white 1
Plain flour 2 Tbsp
Potato or cornflour 2 Tbsp
Part B
Curry leaves 10-20
Chilli 1 sliced (or 3 Chill Padi for more kick)
Butter/Margarine 3 Tbsp
1 egg yolk
Part C
Nestum cereal 1 cup
Milk powder 1 Tbsp
Sugar 1 Tbsp
Salt 1 tsp
Chicken powder 1 tsp
Procedure
First cut squid into bite sized pieces and marinade with ingredients from Part A for 15 mins. Heat oil to 170 degrees C (medium heat) and deep fry till light golden brown ( 2-3mins). Set aside.
Heat wok and melt 3 Tbsp butter and fry the curry leaves and sliced chilli till fragrant. Add 1 egg yolk and stir for 20 seconds to allow it to form egg strands.  Lower the heat and add all the ingredients in Part C.  Fry till crisp but don't allow the sugar to burn (approx 1-2 min) Turn off the heat, add the squid and toss to mix.

Disclosure: Some links above are affiliate links, meaning, at no additional cost to you, we will earn a small commission if you click through and make a purchase.