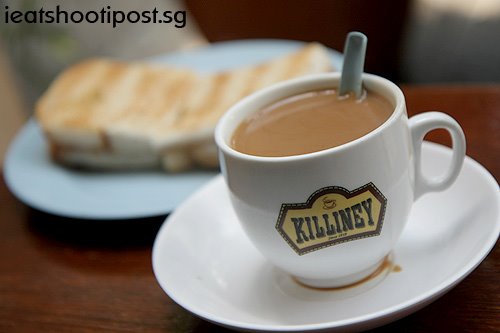 Kopi $1.10
I was told that if you wanted the best cup of Kopi from Killiney Kopitiam, you still had to go back to the original shop at Killiney Road where the coffee is brewed by an old Hainanese gentleman who has been making the Kopi there for the longest time. Now, I have always enjoyed the Kopi and Teh from Killiney Kopitiam, but never really blogged them because, well, they are everywhere and everyone knows about them already. But when I heard about the old man, I decided that I must pay the original kopitiam a visit.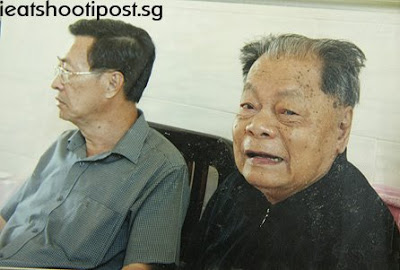 "Ah Gong"
As it turns out, I was a little late. Four years too late as a matter of fact. The old man in question, affectionately known as "Ah Gong", retired in 2004. (Now who was it in the forum that told me about him?) Anyway, I was unfortunate not to have ever tasted the Kopi from this legendary "Barista" who had spent 54 years of his life brewing Kopi in the very same shop till he retired. Such was his dedication that he never had time to start a family and thus on retirement, he did what a Salmon would do and went back to Hainan island. Unfortunately, "Ah Gong" died last year at the age of 86 after having served close to a million cups of Kopi. (Assuming he makes 500 cups a day for 54 years with 2 weeks break each year)
You don't get people like "Ah Gong" anymore, so here's a little tribute to him for his contribution to our Singapore food Heritage. I am very sure that some of our readers will remember him fondly. Do write in and let us know yeah?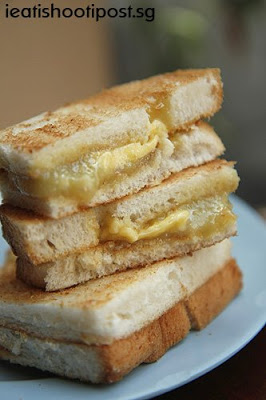 Kaya Toast
According to the Singapore Book of Records, this original shop at 67 Killiney Road is Singapore's oldest existing Hainanese Coffeeshop, having been around since 1919. The shop used to be known as Qiong Xin He and was a typical Hainanese Coffeeshop which served really good Kopi and Kaya Toast. It was only in 1993 that the shop was bought over by Mr Woon who then changed the name to Killiney Kopitiam and started expanding its operations. Fortunately, when Mr Woon took over Killiney Kopitiam, he managed to persuade "Ah Gong" and two other Hainanese men to continue serving the Kopi and Kaya toast.
Now, I used to think that franchising and expansion was a bad thing for our Singapore food heritage. There are some franchises out there which I feel have deviated too far from the original recipe. However, with Killiney, somehow they managed to still preserve a part of our heritage that would have otherwise been lost back in 1993. Now at least, I can still get a good cup of Kopi accompanied by Kaya Toast that is made to a certain standard at several locations around Singapore.
Whether it is a placebo effect or not, both Amagada and I felt that the Kopi C that day was about the best cup of Hainanese style Kopi compared to the rest of the other Killiney stores that we frequent. It was smooth, aromatic and very fragrant with only a slight tinge of bitterness and acidity. 4.75/5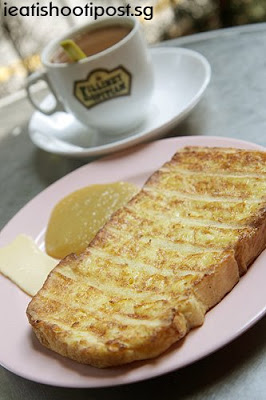 French Toast
This issue about vanishing Heritage Hawkers is something that we should be concerned about. The good old hawkers of yesteryear who, like "Ah Gong" consider their jobs their life's calling are getting very rare. For many Heritage Hawkers their craft ends the moment they retire because for a lot of them, their kids have been educated and are not willing to carry on the family business. Over the next 10 years, we will be seeing hawkers from the post war "Baby Boomer" generation dissappear from our food scene. I think something has to be done to preserve some of these famous names.
Now, if we can draw upon what we learn from Killiney Kopitiam, it would seem apparent to me that one of the ways to preserve some of these Heritage Hawkers is for their businesses to be acquired with plans for expansion. Purists may baulk at the notion, but it is either we do that or we can just enjoy them in their current state for the next few years before they fade into history. I think for a lot of these hawkers in their 60's who do not have an heir apparent, an attractive retirement plan might be a good way of getting them to part with their skills. I feel that if they have been building up their "Brand" for the last 40 years, that this brand as value and this value can be repackaged into a sort of pension for the hawker so that he can still have some steady income, go into semi retirement and act as consultant to ensure that their recipes and skills are passed onto the next generation. This idea is not new and there are some other people who have already taken on the task of preserving our Heritage Hawker Brands, but this needs to be accelerated over the next 10 years in order to preserve some of these famous stalls. I must admit that not all of them work out well, but for those that do, like in the case of Killiney, it is a piece of tradition that has been preserved for posterity.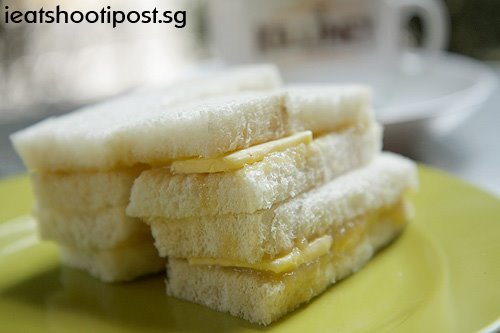 Fresh Bread with Butter and Kaya
Here's a little something from the regular customers of the kopitiam which you might want to try. Rather than ordering the usual Kaya Toast, get there first thing in the morning and try their fresh bread with butter and their fragrant Kaya which incidentally is still hand made with freshly squeezed coconut milk. You will have to get there early in the morning because by the afternoon these traditional bread would have already become a little stale. If you think about it, the real reason for us to toast bread or make french toast is because stale bread doesn't taste good. But freshly sliced bread is super soft and you can really savour the taste of the butter and Kaya while you enjoy nibbling on the soft texture of the bread. 4.25/5
Conclusion
Great Kopi and Kaya Toast and a legacy of an old Hainanese man preserved for future generations to enjoy.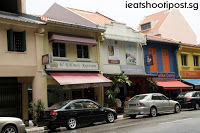 What to do next?
Check out the other stalls where you can get a great cup of kopi
See where else you can get traditional Hainanese food
Remember to vote for the dialect group you are in!