There is little doubt that Japanese food is still the current favourite foreign cuisine amongst Singaporeans and the trend doesn't look like it is going to wane anytime soon. You get a sense of this just by observing the number of new Japanese eateries that are appearing everywhere. But we also know this from the poll results that was done earlier this year. So judging from the trend, I think we are going to see more Japanese eateries appearing and they are going to move away from the general Japanese fare to more regional and specialty cuisine as the restaurants try to differentiate themselves from the established players.

One of the new players in the scene is Tomo Izakaya. An Izakaya is basically the Japanese version of a Tapas Bar or Dim Sum restaurant, in the sense that they serve a variety of small dishes which you can order to accompany your drinks. Being situated in Clarke Quay, I think this concept would work well with the afterwork crowd looking for a place to unwind.
The food here is quite decent and there are several items which really caught my attention. The first was the Uni shot which is fresh Uni submerged in Sake with a wasabi and soy dressing. The Uni here is very fresh and the restaurant prides itself in having their seafood flown in from the famed Tsukiji Market in Tokyo twice a week. Certainly a very nice starter! 4.25/5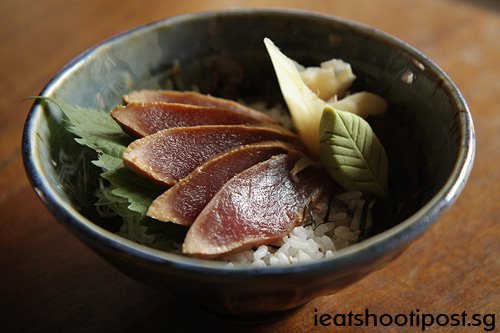 Tuna Bowl (Part of Tempura Udon Set) $16
Aside from the freshness of the seafood, another indicator of the quality of a Japanese eatery is the standard of the sushi rice and the wasabi. The rice is is very good and perfectly seasoned such that, like the Gardenia Bread slogan from long ago, it's "So good, you can even eat it on its own!". 4/5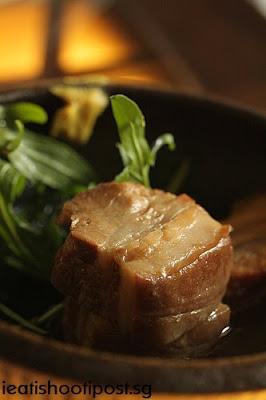 Braised Pork $12
I highly recommend the Braised Pork dish. I think the photo speaks for itself. The braised pork was superbly done with that "melt in your mouth" texture and that elusive "Kong Bak" taste. I would be very happy to come here and just eat this! 4.5/5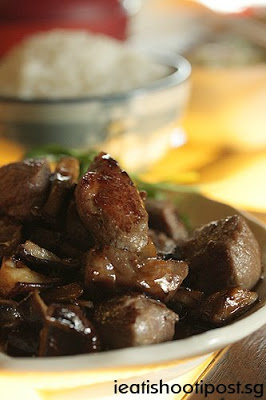 Saikoro Steak Lunch Set $14
The lunch sets here are pretty good value which is an important consideration in our current economic climate. Most of them are priced in the teens and you get quality that you can taste in a very cosy setting.The Saikoro Steak Lunch was very good value as I got more cubed Australian Sirloin than I expected for the price. The meat was a good and was tender and flavoursome. I thought that the sauce could be a little sweeter to give it a bit more ooomph. 4.25/5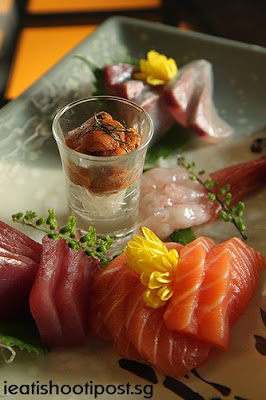 Sashimi Plate $58
Being an Izakaya, they strive to serve all your favourites here and that must include Sashimi. I am not a big fan of Sashimi but I can appreciate that the seafood here is very fresh. I especially liked the amaebi (sweet prawns) and the uni (sea urchin). Of course, you get what you pay for so don't come here expecting really cheap prices since all the seafood are flown in from Japan. 4/5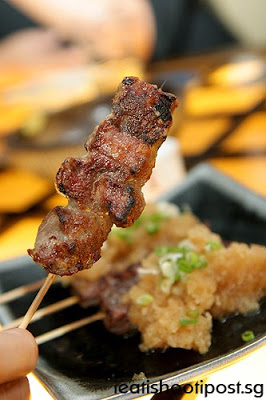 Beef Robatayaki
If you are going for drinks and nibblies, then I am sure you will end up with some Robatayaki dishes. I tried a few and in general they were good but not quite spectacular as it lacked that charred flavour that I was expecting. They don't serve Karubi beef or US Angus which I feel should be included in any joint that wants to label itself as a "Robatayaki" which has the connotation of a higher end form of Kushiyaki. I also couldn't find Butabara (Pork Belly) on the menu which was again something I would expect at a Robatayaki joint. I think this is one department that can be spruced up prior to their official opening. 3.5/5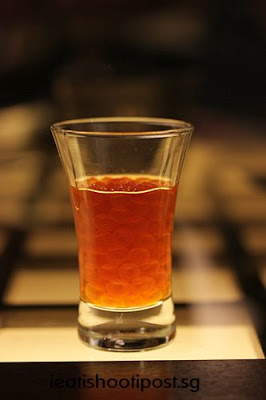 Salmon Roe Shot
Conclusion
This would be wonderful place to hangout with a few friends after work for drinks and a few bites to eat as the location is great and it's got a really cozy laid back ambiance. The lunch sets are pretty good value and the Braised Pork is something I would highly recommend if you have a few calories to spend. I do hope to see them expand their Robatayaki menu to include good quality Karubi and Butabara.
Update: 23 Oct 2008
Sorry there was an error with regards to the Braised Pork Set. The Braised Pork is not part of the lunch set but can be ordered as a separate dish on its own.

This was an invited review