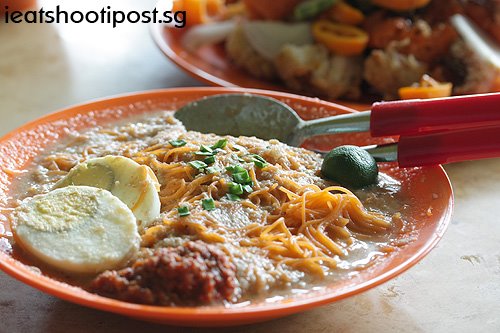 Update 15 July 2010
After renovation, the stall's name has been changed to Sabeena Indian Food and is operated by Sabeek's sister. Sabeek is now running another stall called Siraj Indian Food at Blk 270 Queen St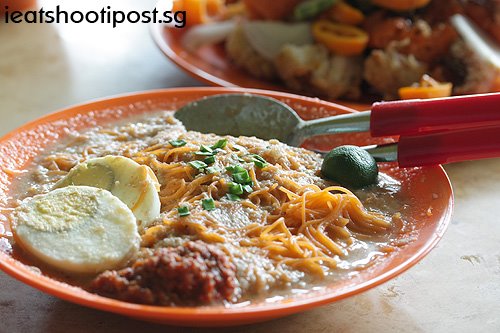 Have you ever had one of those experiences when you eat something and suddenly felt as if you were being transported back in time to a scene from a distant past? I am sure you have. Actually taste and smell can help trigger memories which are hidden in the subconscious mind.
For example, there is one particular smell that I sometimes still come across that would invoke memories of my days at the PAP kindergarten in Toa Payoh Lor 1. It might have been the mixture of dilute red bean soup, mildew, sweat and dried urine but I haven't come across the exact same sort of smell in kindergartens nowadays.

When it comes to food, there is one that really transports me back to my primary school days at St Andrew's Junior School. I wrote about this before in my previous post on Rajis Indian food. It is a really simple dish of Indian Mee Siam which is simply Orangey Beehoon in a sweet gravy served with hard boiled eggs, but the taste is distinctive and very unlike the more common Nonya and Malay version of the dish. We used to buy a plate for 30 cents and the old man gave us a quarter of an egg cut with a piece of string hanging from the handle of the pot which I am sure was not changed for the 10 years I was in school. In fact, I think I might have eaten eggs cut from the same string as my seniors for who knows how many generations. Wierd thought that we might all be united by the same string.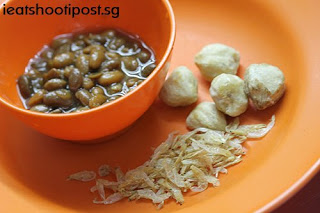 Anyway, I know I am not the only one reminiscing about this type of mee siam as I did come across a lady who was asking me for exactly this Indian Mee Siam. It's just one of those fast dissappearing heritage foods that you might like to try before it's too late.
Tastewise, its sort of sweeter than the other versions of Mee Siam but savoury at the same time. In case you are wondering, the principal ingredients that go into the Mee Siam is Tau Cheo (Bean Sauce), Candlenuts and dried whitebait. This is actually my favourite version of mee siam and I wonder why it is not readily available. Maybe I am one of the few that likes it because I grew up eating it in school? 4.5/5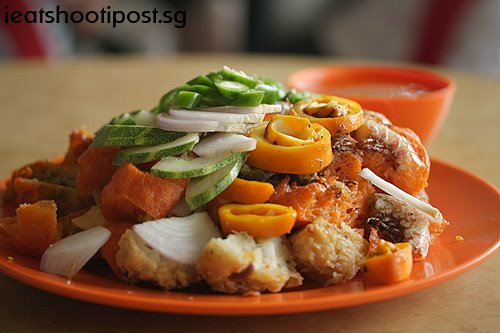 I don't know if Indian rojak is also losing popularity or not, but it seems to me that you don't really see a lot of this nowadays except in 24 hour joints where the rojak is procured from a supplier. Sajis still insist on making their own fresh daily and it is a tradition that I hope will enjoy a renaissance. To say that it is losing popularity simply because it is FRIED FOOD would not make that much sense since we are all enjoying deep fried stuff like Tempura and Donuts. Perhaps the dish needs to have a little makeover to appeal to the younger generation?
Conclusion
This is in all sense of the word, "Old School" Mee Siam!
Post Script:
What new flavours of Indian Rojak would you like to see? Maybe something more healthy? More vegetables perhaps? Or maybe something more fusion like cheese or salami? Or perhaps it is something that you used to enjoy that is not available nowadays? This stall owner is quite open to exploring new ideas so write in and let us know!