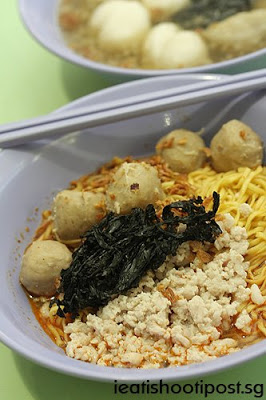 It was reported that a recent poll done by Shin Min newspaper voted Tampines Round Market the Best Hawker Centre in Singapore. OK, I agree Tampines Round Market has got a pretty good selection of Hawkers but I was suprised that it was voted the best. If you ask me, I think Old Airport Road Food Centre should be one of the contenders for Best Hawker Centre. The other contenders in my books would be Maxwell Road and Golden Mile Food Centres.

How would you judge a great food centre? For me it is mainly based on the number of great stalls around and the variety of food that you can find there. So, on one of those "Don't know what to eat days" you should be able to just pop down to the Food Centre, have a look around, and end up with a table full of great eats. And for me, Old Airport Road Food Centre is just one of those places. There are lots of good stalls around and I think you can find almost any hawker dish there, even uncommon ones like this Fuzhou Fish Ball noodle. And it is not just that it is available, this particular stall also happens to be quite popular and there is almost a perpetual queue till around 11pm when they close.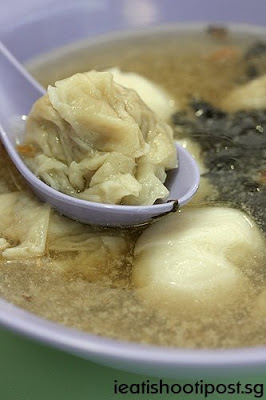 If you are looking for something warm for a light supper, this Fuzhou Fishball and Meatball soup might just do the trick and it is quite good value too! For $3, we counted at least 4 of each type of ball. The Meatball is a bit unusual and is sort of like a big Wanton that is filled with a pork filling. It has quite a special taste and is something you don't come across very often because it is imported from China (which might not be a good thing nowadays, but I still quite like it).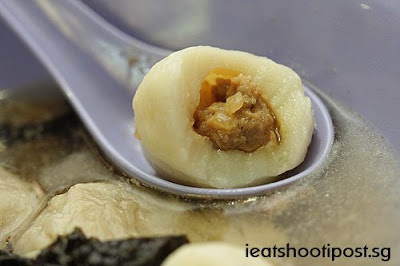 The Fuzhou Fishball is specially made in their factory and for those who might not have come across it yet, it is basically a fishball filled with meat. Fuzhou style fishball has quite a different texture to Teochew fishball as there is a higher ratio of flour to fish meat. So it is more doughy rather than springy to the bite. The soup is tasty (?msg++) and full of protein precipitate. 4/5
Unfortunately, most of our kakis found the Bak Chor Mee so so only. Nothing exceptional but an above average Bak Chor Mee which you can find late at night if you are hankering for this dish. 3.75/5

Conclusion
I am not really familiar with Fuzhou food. Any Fuzhou people out there who would like to recommend other Fuzhou places to eat?