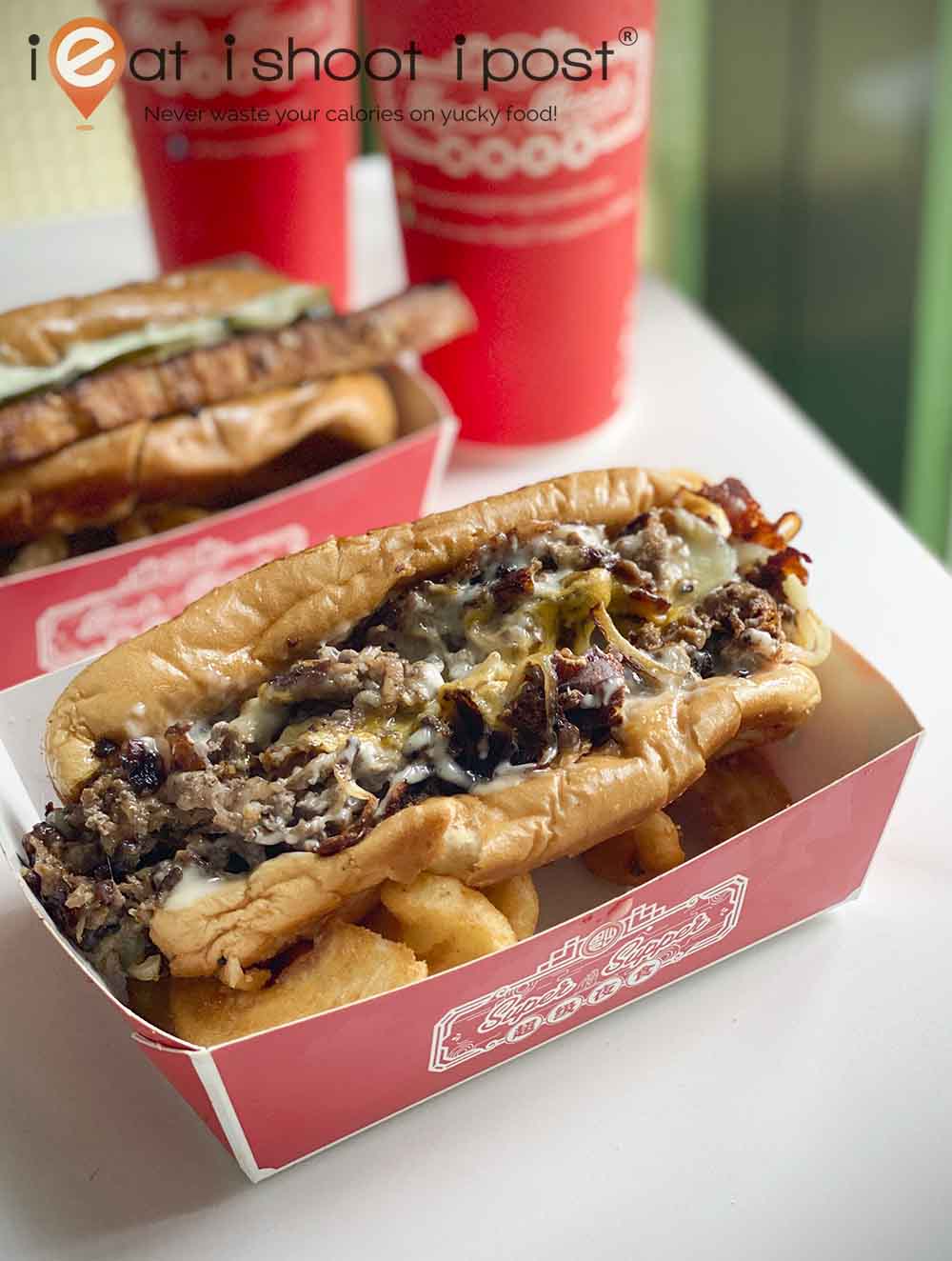 This establishment is now closed.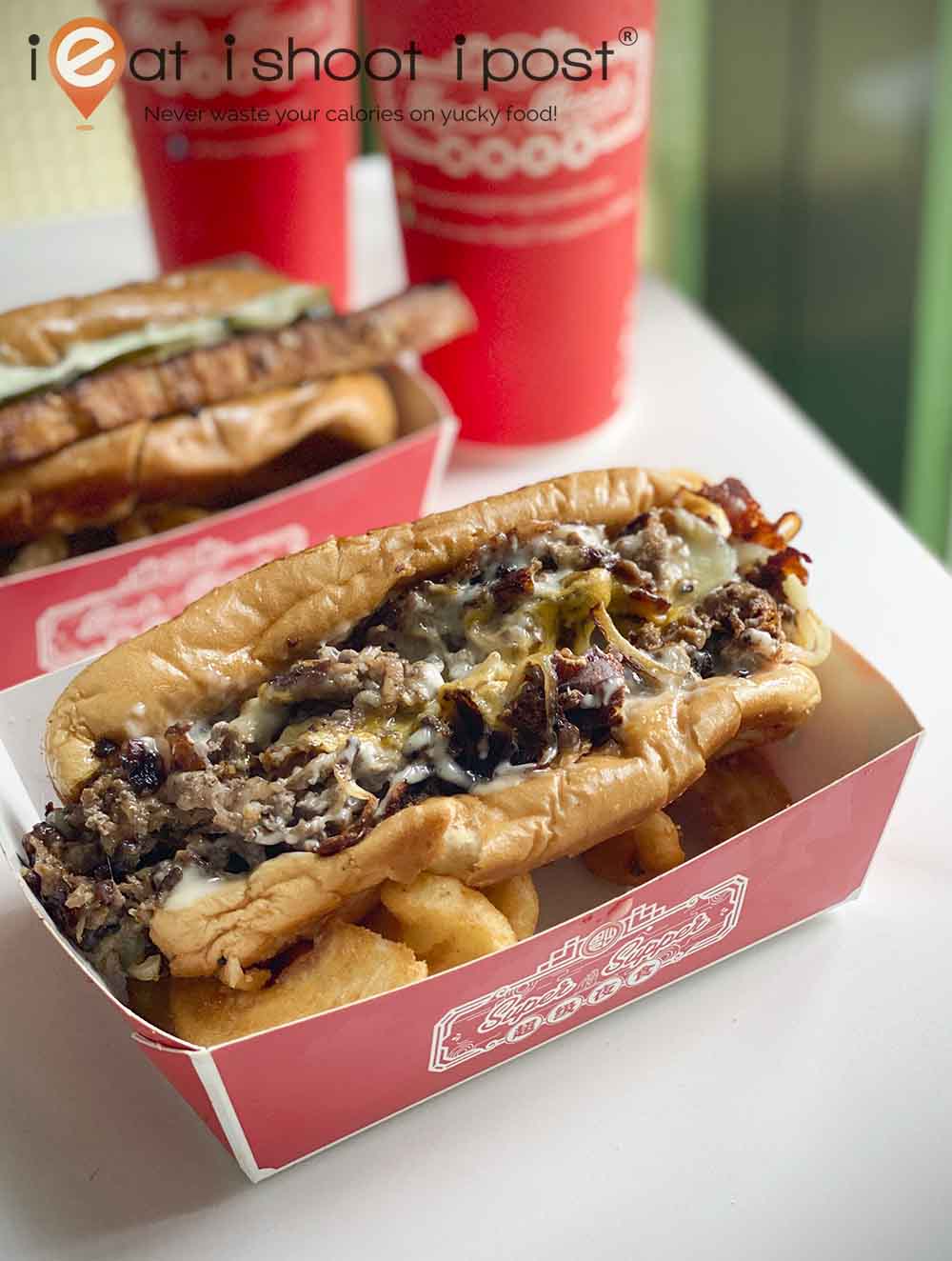 It's late and you are hungry. Where do you go?
There's the 24 hour roti prata place or McDonald's or perhaps one of those late-night hotpot places. If you are around the areas where the night owls hang out, like Jalan Besar, you might think of the Scissor Cut Curry Rice, Jalan Bersih Food centre or Swee Choon dim sum. You might also venture a few shophouses down Desker road to Super Supper where you can get yourself a warm Philly cheesesteak or some deep-fried comfort food.
The concept is a little offbeat and somewhat haphazard. It looks like it might be a fast-food joint, but the food isn't exactly fast. Everything is made ala minute like a proper restaurant but you place your orders through an automated ordering station and the food is served in takeaway boxes like a fast food joint.
It is quite obvious that the place is set up on a budget and the menu is made up of a hodgepodge of dishes that the owners like to eat. The good thing is that there is no service charge and GST here which is just as well, as there are no service staff to serve your food and you are expected to clear your own tables after your meal like you would at the hawker centre. But if your idea of a supper snack is warm luncheon meat and egg sandwich served in pillowy sweet buns, then this is where you can find it when it is already past midnight and even past midday.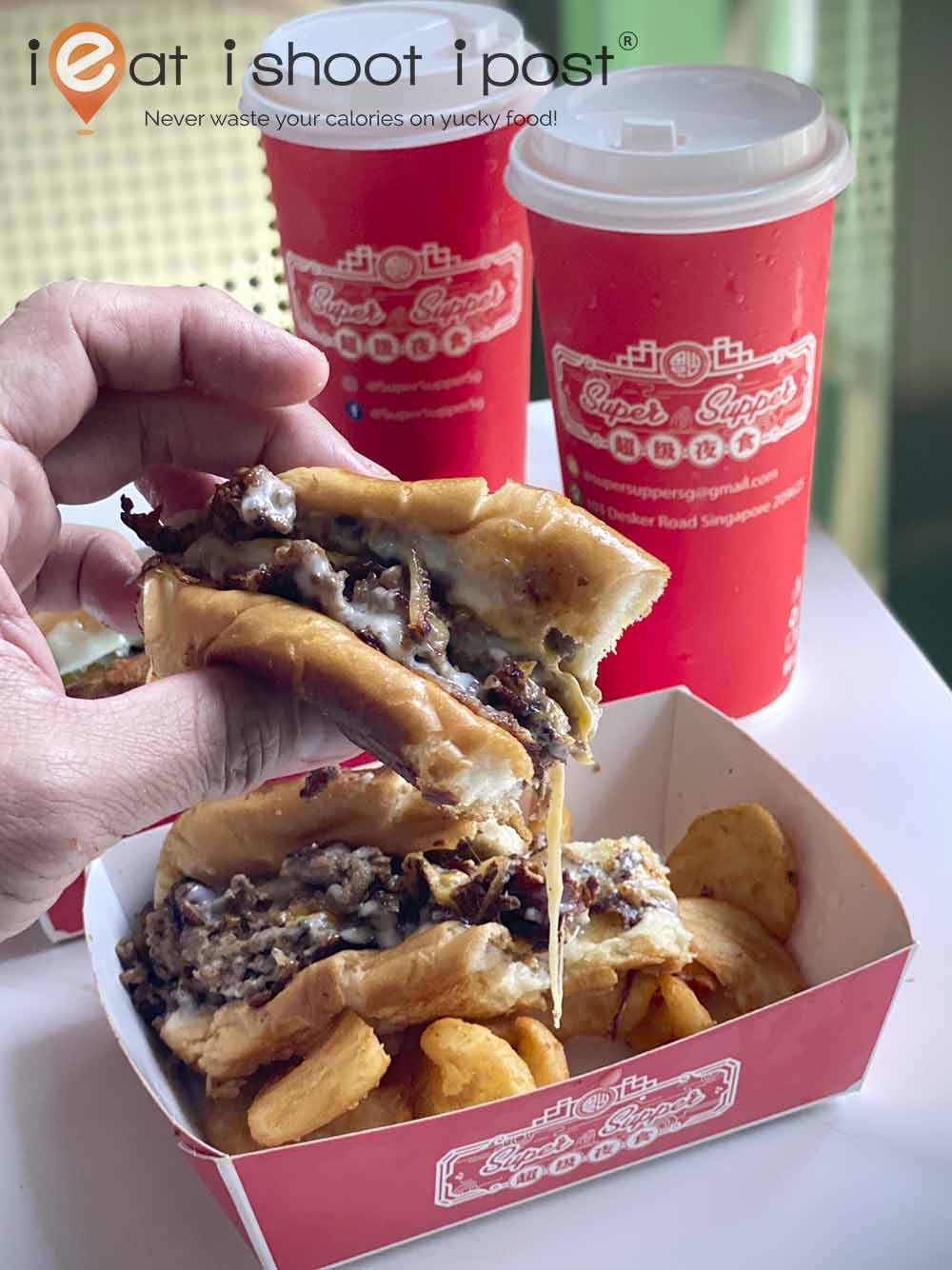 Having said all that, once you get over their "can't quite figure out what the theme is" theme, this is a place where you can find something that is actually good to eat.
One of them is their Cheese Steak Roll which is actually a nice departure from the usual beef burger. It's essentially a sandwich made with thinly sliced New Zealand ribeye steak that is pan-seared and served in a soft bun with melted cheese. Priced at $10.90, it comes with a serving of fries which you can (should) upgrade to sidewinder fries for another $1.50. Not my idea of supper food, but I'd be quite happy having this for lunch. 4.25/5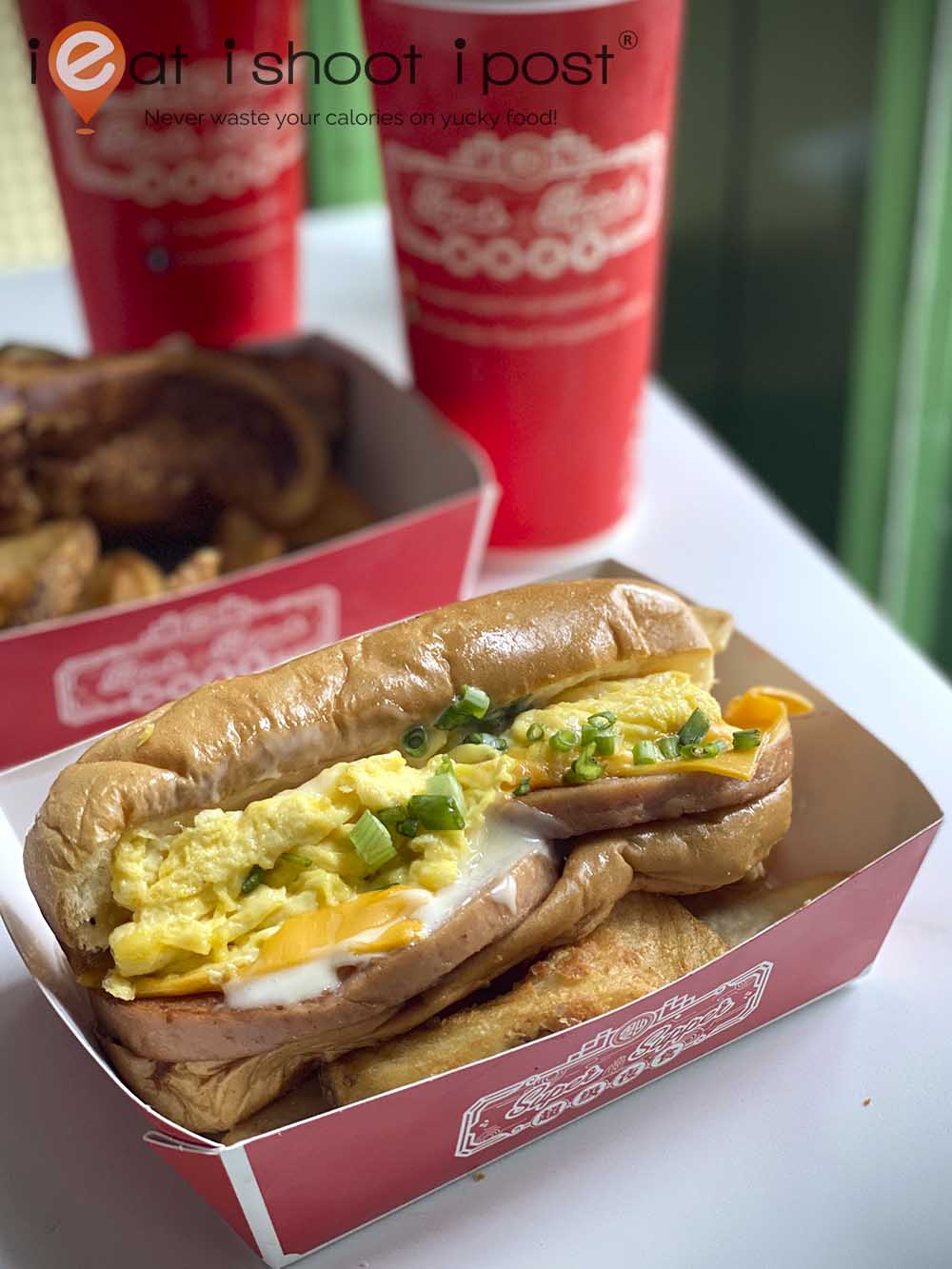 I have already mentioned about their luncheon meat and egg sandwich which is the kind of supper food I grew up eating. Again, it's not rocket science but luncheon meat, scrambled eggs, soft bread and mayo are just perfect together and it's good that they use a brand of luncheon meat which I would use myself at home. 4/5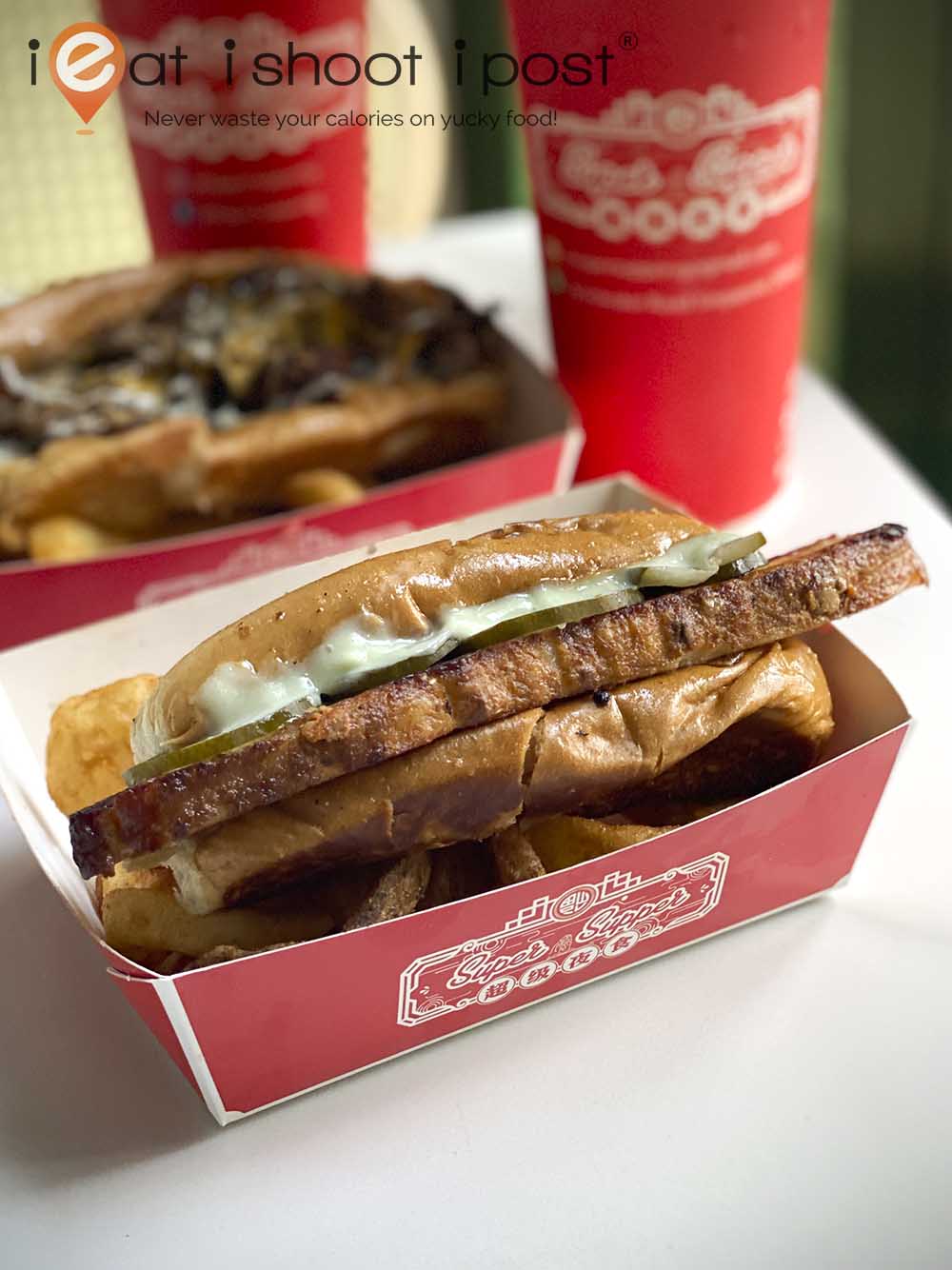 For something a little more unique, go for their smoked pork belly which you can order as a sandwich or even on fried udon. They actually have a smoker in the kitchen where whole slabs of pork belly are smoked. With such equipment available, it's amazing that they aren't actually serving other smoked dishes like smoked salmon, pulled pork, short ribs and beef brisket. Maybe it is in the pipeline, but at the moment, they are only doing pork belly. It's got a nice smokey flavour and they manage to get the meat to be tender and juicy. It is so tender that it's not a problem that it is served like a hotdog in a bun. The cucumbers and wasabi mayo goes quite well with it. This is something quite unique that you can't find anywhere else in Singapore. 4/5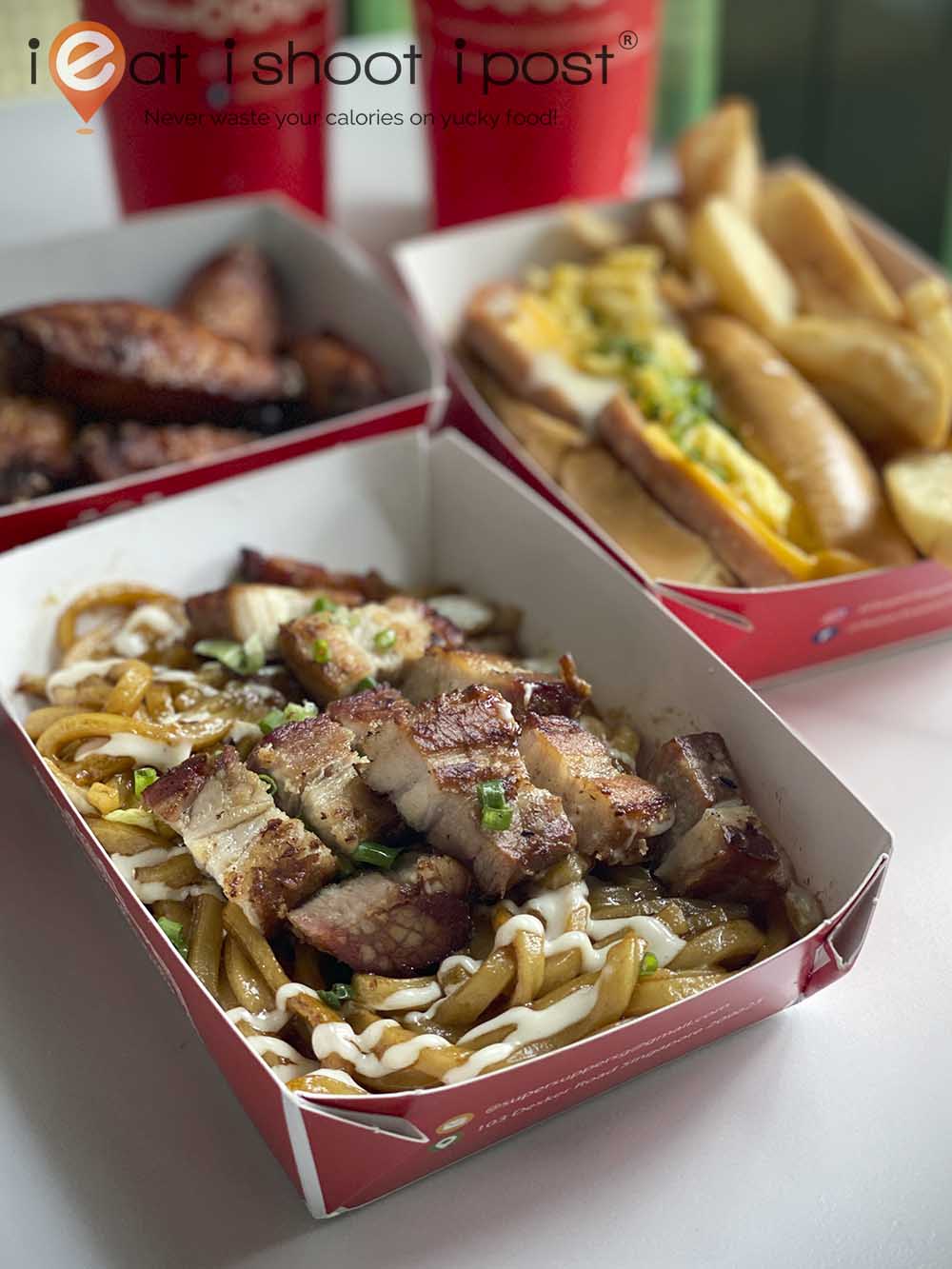 Their fried udon is also worth trying. The udon has a nice chewy bite which complements the smoked pork quite nicely and the mayo and okonomiyaki sauce gives it that Japanese vibe. 4/5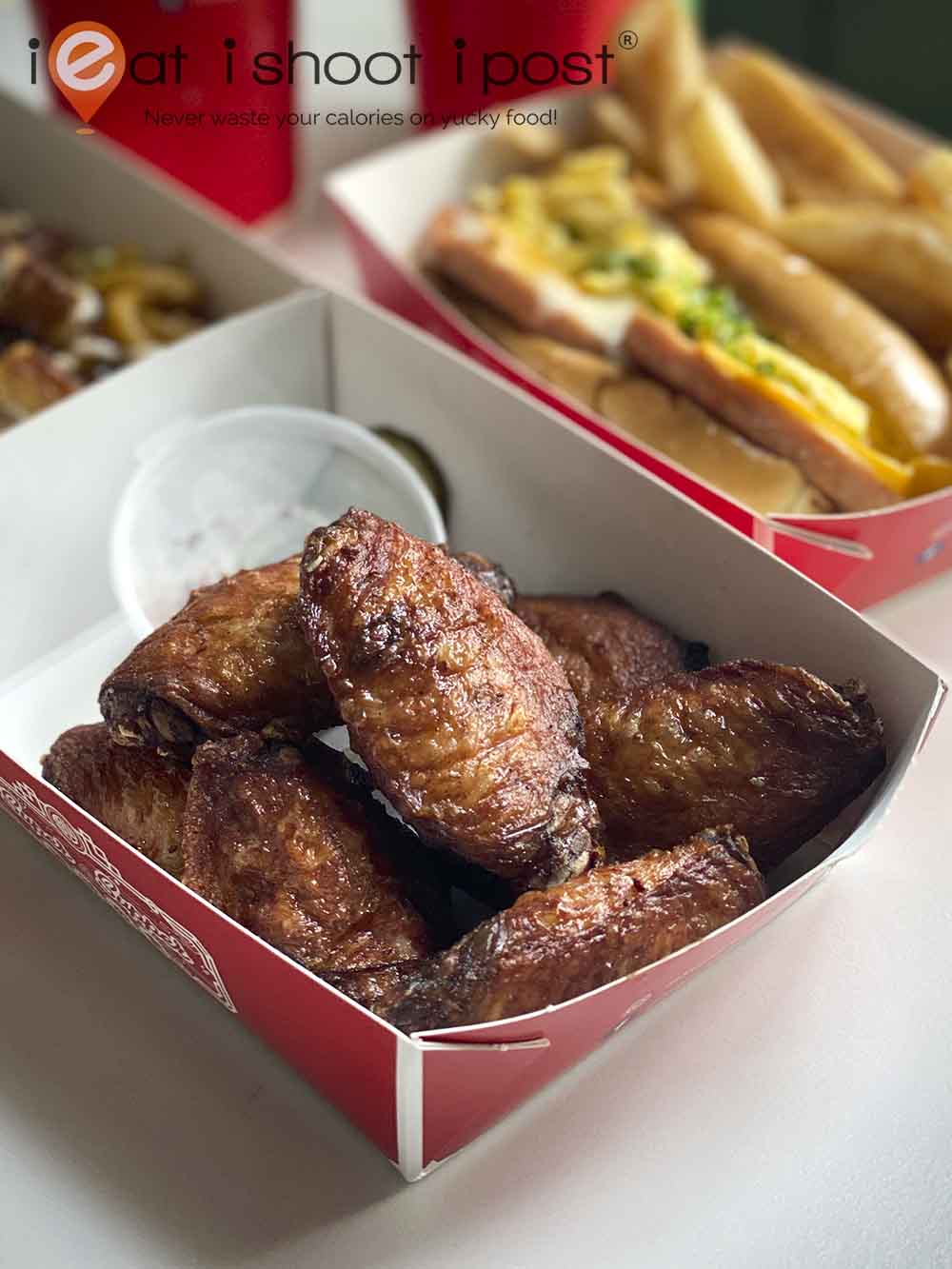 Another interesting dish is their Lao Po Wings. It's named in honour of Raymond's wife, Vivian, who came up with the recipe. The mid wings are marinated with Coca-Cola and secret herbs which give it a dark bronze appearance and a flavour you can't quite put your finger on. 4/5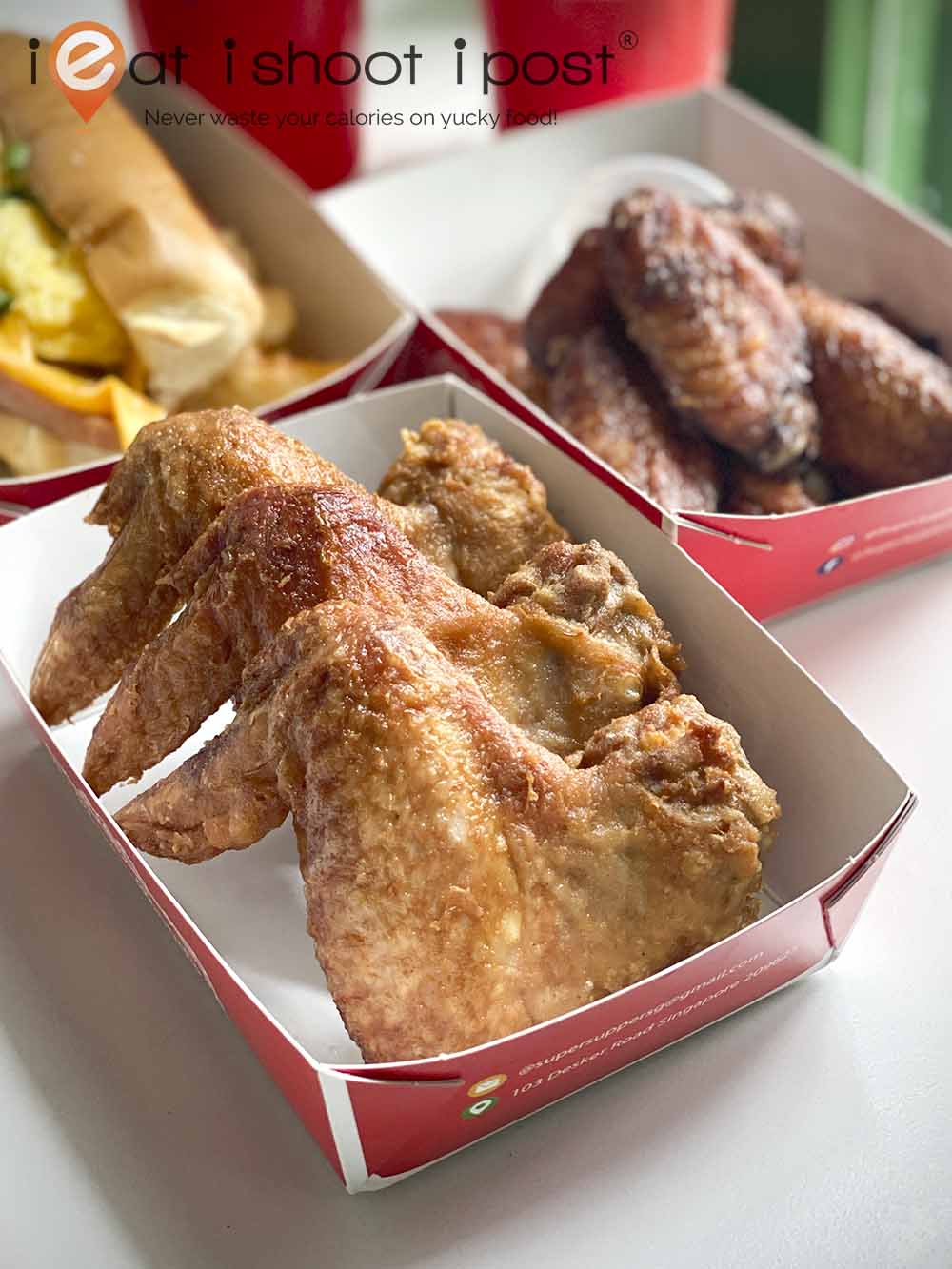 In case you are not so adventurous, you might go for the Lao Gong wings which are more like your dependable fried chicken wings. these are actually quite competent and they managed to the the wings really juicy by using a vacuum tumbler to marinate the wings. 4/5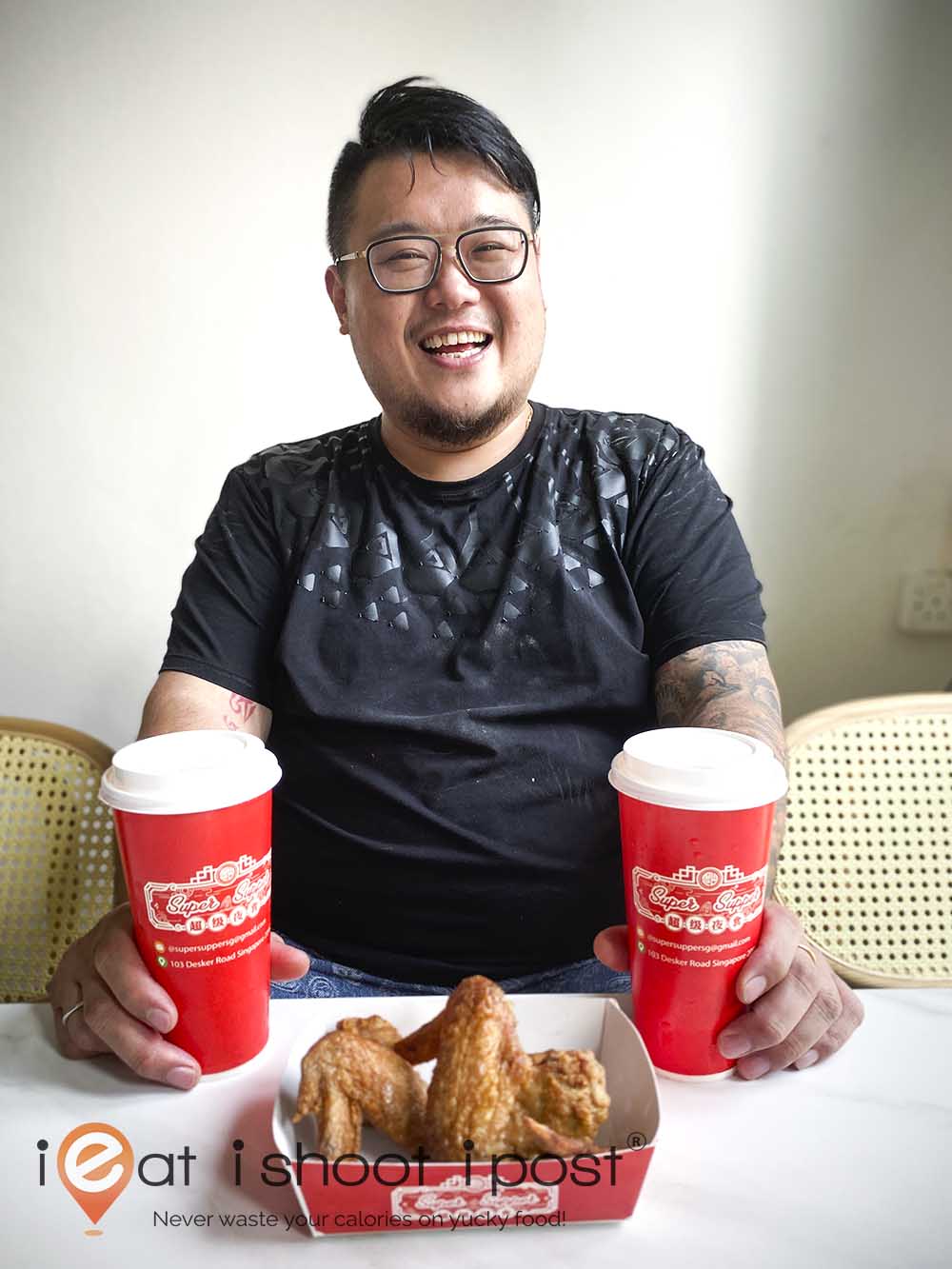 The man behind the venture is Raymond Tan who made quite a splash on social media when he opened Reimondo Seafood Congee sometime back. Aside from his Wok Hei congee, netizens were fascinated with his convict to riches to rags story.
I first met Raymond back in 2014 when I wrote about Crabmeat Wonton mee. He subsequently closed that stall to go into the car repair business before his passion for food (you can tell that he loves food, right?) brought him back into the food business. He has always had a penchant for putting new twists on dishes and so he came up with his wok hei seafood congee concept which went viral. He went on to open Reimondo Seafood Truck at Timbre+ and now Super Supper. He tells me that aside from being a place where he can express his culinary interests, it also provides the opportunity for him to hire youths who, like his younger self, had gotten themselves in trouble with the law and want to turn over a new leaf.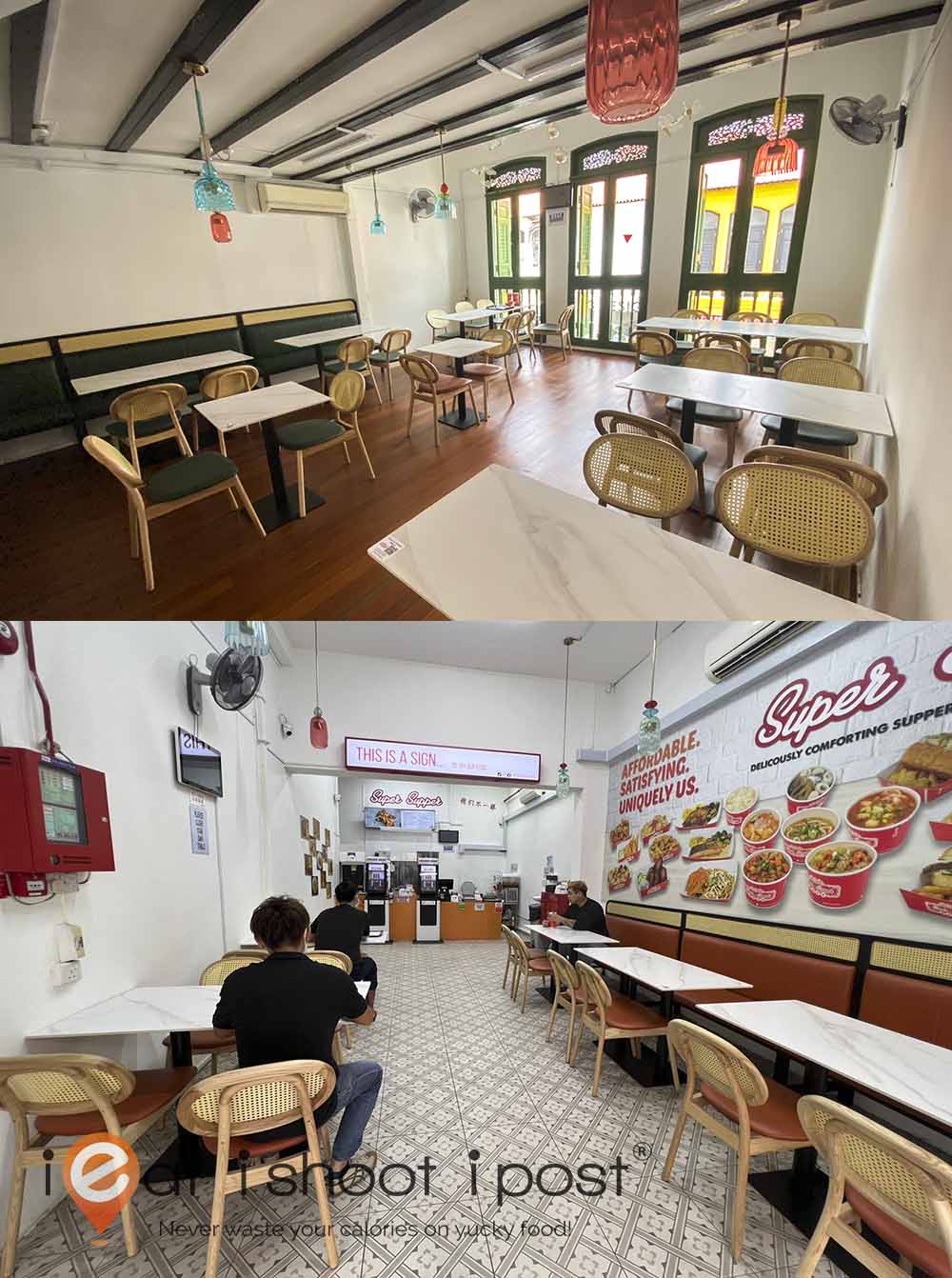 The restaurant has extra space on the 2nd floor which is a dining space that is opened when the first level is full. It can also be booked for private functions and can hold up to 50 pax. We recently held our post-Covid Cell Group meeting there and catered food from the menu.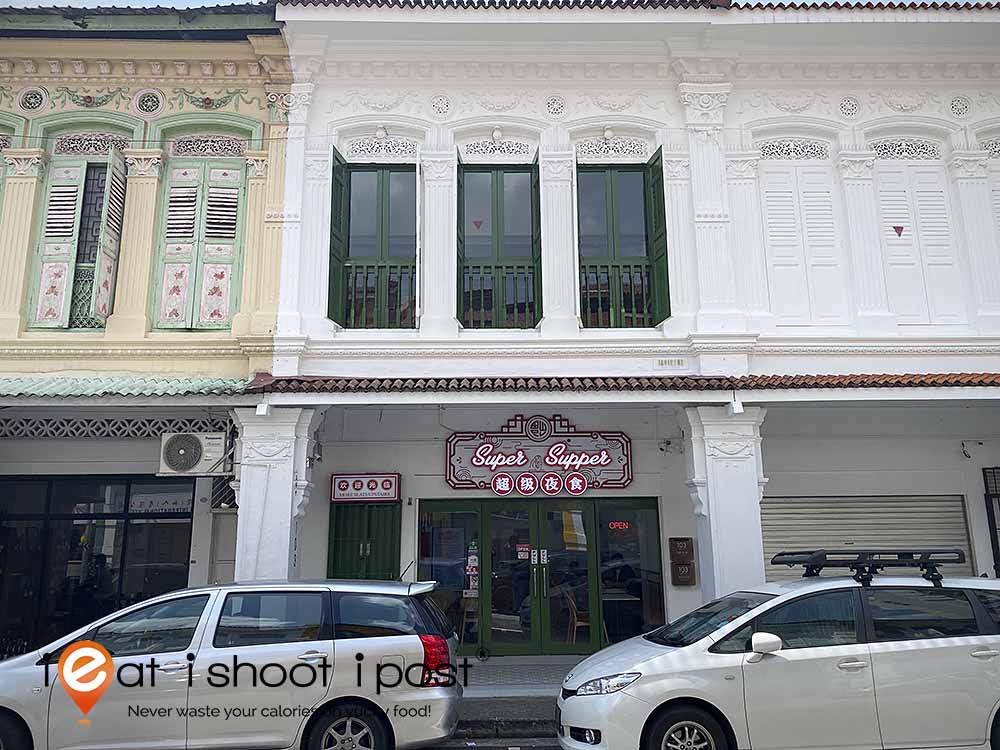 Conclusion
Another place to add to your list of supper spots. The menu features food that is quite unique like the smoked pork belly. The place itself is obviously done on a budget but it is air-conditioned, clean and comfortable. The 2nd storey can be booked for a private function for 50 pax. Its also a good place to get a quick sandwich for lunch.
Ieat Special Promo Code
10% off and 1 free Ice Longan lychee tea. Just enter the promo code "ieatsuper" when ordering.
Disclosure
The meal was hosted by Raymond whom I know very well.